Recently, the United States Olympic Committee chose Chicago to represent the U.S. in the effort to host the 2016 Olympic Games. We'll have to wait and see what happens on that one. But on July 28-August 1, 2007, the city will definitely be the site of an event that as food professionals we might be more closely involved with. Yes, I'm referring to the IFT Annual Meeting and Food ExpoSM.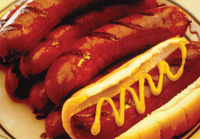 Stimulated by the selection of city, one might begin thinking about some of the similarities between the Olympics and the AMFE. What comes to mind first is that both events have official names which have been shortened to a more personal, familiar form. We refer to the Olympic and Paralympic Games as simply the Olympics. And the IFT Annual Meeting and Food Expo has become known under such names as IFT, the IFT Show, Annual Meeting, Food Expo, and even just Expo.
Both the Olympics and AMFE are international events, with participants coming from all around the world. Both highlight a multitude of categories representing a wide range of disciplines. Both showcase a competitive spirit. And from simple beginnings, both have kept growing with new blood always helping to reinvigorate it.
Like the Olympics, which end goal is world peace, AMFE has a lofty aim as well, bringing together participants whose product development efforts can ultimately lead to better food safety, health, quality, and the addressing of consumer needs and desires. Judging by the number of ingredient innovations that will be highlighted at this year show, it's a good guess that we won't lose sight of that goal.
• In the "Competition of Colors," metallic pigments, recently approved by FDA, will be highlighted in a number of applications. New lines of natural colors are being introduced, while synthetic colors are offering improvements of their own.
--- PAGE BREAK ---
• In the "Competition of Flavors," various applications associated with Chicago, such as hot dogs, pizza, grilled foods, and barbecue sauces will demonstrate unique flavors. Regional tastes from the rest of America will be highlighted, as well. And then, of course, there's the world itself, with flavors from such places as the Middle East, Asia, Africa, and Hispanic regions represented.
• In the "Competition of Sweeteners," new ingredients are being developed from different grains and fruits, as well as new custom blends that rely on synergy.
• In the "Competition of Savory," new developments provide solutions to sodium reduction challenges. Ingredients enhance the umami taste sensation. And the flavors of some popular condiments are now available for manufacturers to use in dry blends.
• In the "Competition of Grains/Flours," new whole-grain flours provide texture, color, and nutritional benefits. Nontraditional applications such as yogurt are being made with whole grains. And processors are developing flours that combine different grains and ingredients.
• In the "Competition of Lipids/Lipid Derivatives," new ingredients that contain less saturated fat or trans-fatty acids are featured for product developers who want to create healthier food options. Emulsifiers enhance the appearance and quality of foods.
• In the "Competition of Chocolate," new ways are being found to improve the functionality of cocoa powders and reduce fat in chocolate. Newest trends related to chocolate will be highlighted, and non-traditional uses for chocolate will be featured.
For full coverage of these events, read the following Ingredients preview which will give you a front row seat to watch these competitors in action.
--- PAGE BREAK ---
Special Themes
Meeting the needs of kids and baby boomers
Ingredient solutions will be presented that help overcome challenges when formulating foods for kids and baby boomers. Attendees can sample a variety of prototype foods and beverages developed for these two markets that demonstrate the functionality, taste, and nutrition of whole grains, meat alternatives, phytosterols, and other ingredients from a broad portfolio.
School-age children can start the day off right with a whole-grain, microwave-baked muffin formulated with Prolite™ wheat protein isolate or a protein-rich, grab-and-go cereal. Possibilities for an after-school snack include peanut butter nougat bars or black-bean formulations, created using the Aspire™ approach. Finish with a fun and refreshing treat such as a reduced-sugar gelatin dessert or a dairy-free, fiber-enhanced strawberry vanilla yogurt drink.
For baby boomers, a protein-packed raspberry smoothie provides vitality throughout their day. Also new twists on classic favorites include a Chicago hot dog Panini made with Kansas Diamond™ white whole wheat flour, a savory cheesecake containing CardioAid™ plant sterols, and a Chick'n Caesar salad wrap featuring Midland Harvest™ meat alternatives. For a sweet treat, try a white whole-wheat crepe with strawberries and fig sauce or a low-trans fat gourmet Ambrosia® chocolate cookie made with NovaLipid™ interesterified shortening. ADM, www.admworld.com, Booth 153
How flavors reflect American regions
Under the theme, "Great Tastes of America," food and beverage prototypes demonstrate regional tastes created using flavors and extracts. Examples of products available for sampling include milk-and soy-based smoothies, premium vanilla ice cream with a selection of sauces and toppings, and a snack bar. A variety of flavored tea and fruit beverages will also enable attendees to experience how several different tastes can be incorporated into health and wellness products.
Consumer research has been conducted to determine awareness and preference of various traditional regional flavors, foods, and beverages from around the country. Results of this research will be announced at the show, along with live music featuring traditional American varieties from different regions of the country. Virginia Dare, www.virginiadare.com, Booth 4542
A taste of the ballpark
A beverage application will highlight the dispersibility and clean flavor of a new organic maltodextrin product called Maltrin®. Also to be showcased are ballpark-style foods that contain TruBran™ corn bran, which provides good or excellent sources of fiber. Various applications will also feature Pure-Gel® and Inscosity® modified food starches.
--- PAGE BREAK ---
These ingredients and other products can supply texture and stability to bakery, dairy, meat, sauce, snack, and confectionery applications. Attendees can learn more about their functionality attributes and how they can enhance the formulation. Grain Processing Corp., www.grainprocessing.com, Booth 164
• Technical creativity, aided by a continued investment in new ingredient categories, brings customers innovative product formulations supporting their future business success. These formulations, several of them new launches, demonstrate how to deliver creative ideas through a combination of new technology, key consumer insights, proactive problem solving, and the identification of new markets and applications. Kerry Ingredients, www.kerryamericas.com, Booth 2748
• "Mediterranean Culinary Technovations" feature the flavors of Morocco, Spain, Italy, Greece, and Lebanon. By sampling such dishes as kefta "sliders" (mini Moroccan burgers), chicken souvlaki with tzatziki, and a Mediterranean salad, attendees can experience a culinary crossroads celebration of ingredients from North Africa, Europe, and the Middle East. Griffith Laboratories, www.griffithlaboratories.com, Booth 1554
• Product demonstration highlights the use of Excel™ Series Stabilizers in a gelatin-free chocolate mousse. Excellent aeration, product texture, and stabilization are possible with these easy-to-use and versatile stabilizers. Other demonstrations include egg replacement using specialty proteins and premixes for fat reductions and trans fat replacement. These ingredient systems can improve texture properties and product stability. Excelon International, www.exceloninternational.com, Booth 5548
• Sample hot wings and sliced chicken while attending presentations on fresh poultry. Family of brands includes Wayne Farms, Dutch Quality House, and Platinum Harvest. Wayne Farms, LLC, waynefarmsllc.com, Booth 4754
Turning 'green'
Green has become a global metaphor for the environment as well as our planet's survival. Helping to inaugurate the theme of "turning green" is a line of flavor and ingredient innovations.
--- PAGE BREAK ---
Trend-setting "tart and tangy flavors, functional ingredients, and, of course, plenty of green colors will be featured in a variety of beverage, frozen dessert, and baking applications. These finished food concepts, including Green Guava Smoothies, Green Tea Frozen Yogurt, and Soybean Okara Cookies, demonstrate such ingredient solutions as B-Block™, StabilEase™, and Soycream®. In addition, proprietary emulsions deliver water-soluble, functional antioxidants. Blue Pacific Flavors, www.bluepacificflavors.com, Booth 836
Prototypes showcase expanding capabilities
In response to customer demand for food and beverage products that combine health benefits, taste, and convenience, more that a dozen prototypes will be showcased, representing such categories as bakery, cereals and snacks, confection, dairy, and beverage. These prototypes address a range of issues from weight management and heart health to the satisfying of consumer cravings for pure indulgence.
Featured prototypes include baked goods with flavor variety and healthier fats, beverages that address bone health and energy, adult-focused indulgent cereal and convenient snacks with health benefits, confections with no or reduced sugar and low calories, and organic products—a decadent confection and a refreshing, low-calorie beverage. Cargill, www.cargill.com, Booth 2348
Picking up your guide to the 'blues'
A booklet, Smart Blue Restaurant Guide, lists Chicago eateries that offer delicious blueberry dishes on their menus. While picking up a free copy of their guide to these blueberry-savvy establishments, attendees can also learn more about the booth theme, "Blue: The Color of Smart."
Today, product designers are adding blue to pastry fillings, baked goods, sauces, smoothies, frozen novelties, and a number of other products. And, of course, one way of doing this is by using blueberries, which, in addition to its pleasing color, provides novelty, taste, functionality, and the health benefits of fruits. A number of blueberry goodies will be offered. U.S. Highbush Blueberry Council, www.blueberry.org., Booth 2974
A Taste of Little Italy
"Ristorante Edlong" will offer a Taste of Little Italy. Attendees will feel like they're at the corner of Taylor and Halsted Streets on Chicago's West Side. Italian cuisine will be chef-prepared to feature many cheese and dairy flavors. Dishes include appetizers, soups, salads, entrees, and desserts.
--- PAGE BREAK ---
Making their ingredient debut are a heavy cream replacer powder, CremeLong™, and Sodium Reduction Flavor, intended for reducing salt content in savory applications. Milk-type flavors will be shown to mask nutraceutical/soy applications and give the impression of 2% whole milk. Edlong Flavors, www.edlong.com, Booth 3953
• What's cooking? Find out by sampling a number of dishes formulated with new flavor sensations. Attendees can indulge in a dairy-based drinkable dessert or in savory applications made with vanillas. Also, they can enter for a chance to win a free trip to an annual Innovation Roadshow, held in Philadelphia on October 4. David Michael & Co., www.dmflavors.com, Booth 1353
• Ingredient solutions are highlighted that can help manufacturers meet the health and wellness trend in their product development. Showcased developments include sweetness enhancers for reduced-sugar systems, natural cure system for meat products, natural dairy flavors and mouthfeel enhancers, probiotics, and a full range of natural colors and flavors. Chr. Hansen, Inc., chr-hansen-us.com, Booth 1527
• Culinary demonstrations highlighting the advantages and quality of freeze-dried fruits and vegetables will be performed by Chef Andrew Selz on Monday. In particular, the benefits of utilizing "superfruits" in today's health-conscious markets will be emphasized. Also featured is a new freeze-dried cheese with multiple applications prepared for tasting and a new mushroom extract that delivers a robust flavor, earthy notes, and a umami effect. Coated products will be served with flavorful dipping sauces. On-hand are representatives sharing new trends and concepts. Chaucer Foods, www.chaucerfoods.com, Booth 925
Flavors
Organic flavor delivers charbroiled notes
A charbroiled grill flavor in an organic form will be showcased in an Organic Grill Corn Bisque application. The new flavor addition, Organic Grill Flavor®, delivers the charbroiled, savory, and smoky notes associated with cooking over charcoal.
--- PAGE BREAK ---
The natural product, an extension of the Flavors of Cooking™ line, can be used when formulating organic meats, entrees, sauces, gravies, broths, dressings, soups, snacks, and side dishes. The cost-effective flavor does not contain hydrogenated oil, is kosher certified, and is available in liquid or spray-dried forms. Kraft Food Ingredients, kraftfoodingredients.com, Booth 1548
Database provides flavor solutions
When developing functional foods and beverages, product developers face various problems in designing a flavor system that matches the flavor preferences of consumers. The functional ingredient contained in the products often has an off-flavor, which can become more intense after heat stress and light exposure. Choosing flavors that work well with these ingredients and the overall product design can take months of trial and error.
To help address these challenges, an online database is available for registered users which provides off-flavor information and presents compatible flavors for each functional ingredient. Included in the database are highly stable natural flavors that can mask off-flavors induced by heat, light, and oxygen. These flavors may be used in beverages, confections, savory products, baked goods, and other categories. Examples from the database and prototypes using these flavors will be highlighted. Ogawa & Co., www.ogawa.net, Booth 1565
'Topping the Bill' with new distillates
Two new additions to the Treattarome™ range of innovative natural flavor distillates are Tamarind and Rooibos. The products are wholly distilled from the named food and can be incorporated into numerous applications, including juices, alcoholic drinks, dairy products, and dressings. Green Tea Treattarome 9767 will also be introduced to the U.S. market for the first time.
Other highlights include Eartharome™ products, derived from the organic named food, and the Eartholate™ range obtained from essential oils. These organic distillates and isolates can be used in a variety of flavor blends to create organic products. Treatt USA, www.treatt.com, Booth 4118
Presentation looks at emerging flavor trends
Flavor trends are often difficult to discuss, as they are so varied from country to country and market to market. A presentation, to be held Sunday, Monday, and Tuesday at 4:30 p.m., looks specifically at key emerging flavors in the U.S., new product launches, and traces how they have developed outside of the U.S. and traditional categories. Mintel Trend & Tasting Presentation, Global New Products Pavilion
--- PAGE BREAK ---
Eggs
Eggs' future—On the sunny side up
Today's consumer is seeking a combination of flavor, convenience, and nutritional profile. As an ingredient, the egg continues to surprise the food community with its versatility and functionality benefits. A press conference, to be held on June 30 at 10 a.m., will focus on these benefits, discussing the growing potential of eggs in product development and its role as a problem-solver.
Research shows the advantages that egg products offer over various egg replacers in products such as angel food cake, mayonnaise, and pasta. These include an impressive list of nutrients that do not detract from other ingredients. Also, new studies continue to uncover additional health benefits derived from egg consumption. For example, eggs can help promote weight loss and provide choline, an essential nutrient often lacking in the diet.
Representatives will be on hand to answer questions how egg products can help meet today's formulation challenges in a wide range of products, including gluten-free, weight control, and energy-boosting applications. American Egg Board, www.aeb.org, Booth 2226
New Web site provides info on eggs
How can you tell if an egg is fresh? Do brown eggs taste better? What does the color of the egg yolk say about the hen? What new dishes can be cooked using eggs? These are only some of the many technical and consumer-related questions that can be addressed by a new egg-info Web site.
The electronic site provides a variety of information about eggs, including videos, 3D animations, photos, and recipes. It is available in English (www.yellow-egg.com) and in German (www.das-geleim-ei.com). Other languages—Spanish, French, and Italian—will be offered as well. DSM Nutritional Products, www.nutraaccess.com, Booth 4148
Eggs offered in freeze-dried form
A new line of freeze-dried eggs for use in a number of applications will be highlighted. Attendees will get to see how the product looks freeze dried raw and then rehydrated and cooked.
The functionality of the egg product will be demonstrated, and samples distributed along with product information sheets discussing its specifications, benefits over other products, and potential applications. And since some consumers like meat with their eggs, a line of freeze-dried meat products will be featured with their specification sheets.
And perhaps for those with more upscale tastes, how about eggs with shrimp? Freeze-dried shrimp with cocktail sauce will be available for sampling. Also, a freeze-dried ice cream can be tried. Oregon Freeze Dry, Inc., www.ofd.com, Booth 3137
--- PAGE BREAK ---
Sweeteners
Beverages highlight customized blending with Ace-K
High-intensity sweetener, acesulfame potassium (Sunett®) may be blended with other nutritive and non-nutritive sweeteners to create products with fewer calories while maintaining a sugar-like taste. A diverse selection of beverages highlighting customized blending will be available.
Attendees can sample such low-calorie beverages as flavored waters, teas, energy drinks, yogurt smoothies, flavored milk drinks, and a variety of exotic drinks. Reduced-sugar beverage demonstrations will show how blends with Sunett optimize functionality and taste. Furthermore, synergies with other high-intensity sweeteners and sucrose can lead to overall lower sweetener costs. Nutrinova, Inc., www.nutrinova.com, Booth 3354.
New sweetener developed from grain sorghum
Grain sorghum is an underutilized food crop with more than 95% of all production going into nonfood uses. However, a novel food application has been recently developed for this grain. Through extraction and enzymatic conversion, this grain can be used to produce a nutritious, all-natural sweetener.
The resulting sorghum syrup is high in protein and amino acids, and is suitable as a substitute for malted barley extract, which functions as a sweetener or browning agent in many food products. Various conversion ratios and corresponding dextrose equivalents allow grain sorghum syrups to have the right functionality for different applications, including grain-based beverages such as sorghum milk or beer, gluten-free or multigrain baked goods, and confections. Briess Malt & Ingredients Co., www.briess.com, Paper 28-1 and Booth 1760
Myths on HFCS debunked
Food developers and manufacturers have found many benefits in using high-fructose corn syrup in the product formulations, but recently this sweetener has come under public scrutiny. New research on HFCS will be discussed as well as myths and facts about this sweetener.
For example, one myth is that HFCS is metabolized differently than other nutritive sweeteners and uniquely contributes to obesity. Actually, such comments are based on studies that looked at pure fructose, not the mixture of fructose and glucose found in HFCS. The most recent metabolism research found "no differences in the metabolic effects" of HFCS and sucrose on circulating levels of glucose, leptin, insulin, and ghrelin in a study group of lean women.
--- PAGE BREAK ---
Another myth is that HFCS impacts the body's calorie control mechanisms, making the consumer hungrier and fatter. However, when HFCS is studied, research shows that it does not affect satiety any differently than sucrose. New research from the University of Washington analyzing the comparative effects in beverages containing HFCS, sugar, aspartame, and 1% milk found that all have similar effects on feelings of fullness. Corn Refiners Association, www.hfcsfacts.com, Booth 5159
• Prototypes demonstrating the functionality of ingredient systems containing Splenda sucralose will be highlighted. These systems are specifically designed for use in dairy products, beverages, and bakery products. Consumer research studies will also be shared. Tate & Lyle, www.tateandlyle.com, Booth 140
• Flavor modifier, Mag-nifique Sweet Lift, enhances the sweetness of any food and beverage while reducing the sugar content. The ingredient does not break down or alter its flavor in cooking, freezing, or shelf-life applications. Wixon Fontarome, www.wixon.com, Booth 1064
• Honey is one of several natural sweeteners that will be showcased in a variety of applications. Products include Mate 'N Match™ (invert sugar and honey), honey granules and powders (Natural and Organic Quik-Flo®), and Dri-Flo® HoneyBuds series. Domino Specialty Ingredients, dominospecialtyingredients.com, Booth1570
• Natural sweetener powders are freeze-dried, designed to reduce the production challenges associated with thick syrups and liquids. These free-flowing powders offer higher concentrations of sweetener solids and are especially suited for dry mix applications such as bakery mixes, marinades, topical seasonings, and coatings. Mastertaste, www.mastertaste.com, Booth 2748
• Taste tests demonstrate how Magnasweet line of products can mask bitter aftertastes, and how it can work in baked goods to enhance and extend flavors. Mafco Worldwide Corp., www.mafcolicorice.com, Booth 639
--- PAGE BREAK ---
Dairy
Dairy ingredients add benefits
Functional dairy ingredients meet the specific requirements for producing ice cream and other dairy applications.
In cheese manufacturing, Promilk® 85Y and Promilk 852A2 milk protein isolates increase the cheese yield without changing the processing parameters. When used in processed cheese, they help to develop specific textures and a milky taste.
A soluble milk protein isolate extracted directly from milk, Promilk 852 FB1, improves the texture, mouthfeel, and appearance and reduces fat content in yogurts, creams, cheese, meat, and other products.
For ice cream manufacturing, there is Procream® LF, a combination of milk proteins, emulsifiers, and stabilizers; Provream LF/HP, a mix of milk proteins, starch, emulsifiers, and stabilizers; and Procream HF2, a dairy preparation made of milk proteins selected for their foaming properties. International Dairy Ingredients, www.idi-ingredients.com, Booth 5224
Meals get saucy
A new product allows you to produce high-quality sauces within minutes of heating. When added to meat or vegetables, Custom Melts™ has excellent cling, creamy texture, intense flavor, and a cleaner dispensability than ready-made sauces.
The refrigerated product, which comes in shreds, dices, cubes, or slices, melts directly with entrées right in the pan. It is produced using a patent-pending technology.
Flavors include Cheddar/American, Pepper Jack Sauce, Blue Cheese Sauce, Sharp Cheddar Sauce, Monterey Jack Sauce, Alfredo Sauce, Garlic-Herb Sauce, Creamy Tomato Basil Sauce, Creamy Pesto Sauce, Smoky Cheddar-Bacon Sauce, Strawberry Cream Sauce, and Country Gravy. Sargento Foods Inc., www.sargentofoodingredients.com, Booth 3337
Whey protein isolate reduces acid
The demand for protein-fortified beverages is constantly growing; however, the overwhelming sour taste associated with increased protein content has caused the favorability of protein beverages to suffer.
A whey protein isolate system, Provon® A-190, is formulated to enhance the taste of high-acid beverages. Produced using a proprietary patent-pending process, the ingredient is pre-acidified, allowing for better flavor expression with less acid burn and astringency. Glanbia Nutritionals, www.glanbianutritionals.com, Booth 4112
--- PAGE BREAK ---
Cheese quiz makes you a whiz
Think you know your dairy ingredients? Stop by the Leprino Food's booth to test your knowledge of reduced fat and reduced sodium cheeses and whey protein ingredients and how these can help you to develop products. Part of your education includes sampling these ingredients in final applications.
Some of the ingredients that you will learn about include Temp Pro Plus™ 80%, a whey protein hydrolysate. This ingredient can be blended into ready-to-drink beverages up to 12% protein. Made to withstand high heat processing without falling out of solution, the ingredient is ideal for retort and UHT processes. Leprino Foods, www.leprinofoods.com, Booth 2913
• Textured whey protein, TWProteinTM, will be used in meat alternatives. Also featured are whey protein crisps for use in healthy snacks and cereals. Grande Custom Ingredient Group, www.grandecig.com, Booth 2332
• A purified alpha-lactalbumin contains a minimum of 90% alpha-lactalbumin on a protein basis. is fully soluble, and has a bland, neutral taste. BioPure-Alphalactalbumin™, derived from fresh dairy whey, is fully soluble. Davisco Foods International Inc., www.daviscofoods.com, Booth 4153
• Refrigerated and hot fill formula cheese sauces are useful in many products. Y Not Foods Inc., www.ynotfoods.com, Booth 4860
• Learn to maximize whey protein's functionality in a range of food systems. Highlights include new research on whey protein stability, clarity, and flavor and on extending the shelf life of nutrition bars made with whey protein. Dairy Management Inc., www.innovatewithdairy.com, Booth 4548 and Session 217
• Acid and heat-stability attributes allow Hilmar™ whey protein isolates to withstand the rigors of juice fortification and standard pasteurization. A clear liquid, Hilmar 9400 WPI, also has a clean flavor. A second ingredient, Hilmar 9410 Instantized WPI, can be easily dispersed in dry-mix applications. Hilmar Ingredients, www.hilmaringredients.com, Booth 3570
--- PAGE BREAK ---
• Dairy concentrates made from butter, cream, and cheese are available. Butter Buds Food Ingredients, www.bbuds.com, Booth 1361
• A prebiotic product, Vivinal GOS, that is rich in galacto-oligosaccharides, is water soluble and heat and acid stable. Friesland Foods Domo, www.domo.nl, Booth 3361
• Dairy powders from the Pro Mix® line incorporate only the nutrients essential to your application providing manufacturers with a cost-effective way to formulate dairy-based products. All American Foods Inc., www.aafoods.com, Booth 4525
• Instant dispersing whey proteins, 80WheyUSA and 90WheyUSA, functions in a variety of products. Marron Foods, www.marronfoods.com, Booth 4929
Colors
Pigment gives metallic luster
A mica-based pigment, added to the Edible Glitter product line, gives a metallic luster to ground edible film. Approved by FDA in 2006, it can be added to cereals, confections and frostings, gelatin desserts, hard and soft candies (including lozenges), nutritional supplement tablets and gelatin capsules, and chewing gum.
At lower usage levels, this pigment exhibits a pearlescent luster in Edible Glitter so that the flakes can now be incorporated onto dark surfaces such as chocolate bars and frostings. The color and particle size of the flakes can be optimized to give the desired visual impact for the intended application. Also, the solubility rate can be controlled from rapid dissolution to insoluble. Watson, Inc., www.watson-inc.com, Paper 29-7 and Booth 2327
Take a turn at the color wheel
Want to treat your eyes to something colorful? Attendees can explore a giant version of the on-line color wheel while resting their feet at the tasting bar and sampling an array of foods and beverages produced with Exberry® natural colors.
The line of natural colors provides applications with a wide range of color solutions. The heat- and light-stable colors are all-natural, organic compliant, and kosher. They are made without chemical solvents or preservatives. GNT USA, Inc., www.gntusa.com, Booth 2335
--- PAGE BREAK ---
All that glitters
Panning demonstration of a new product, Spectracoat™ Pearl, highlights a novel dispersion that brings luster and iridescent shimmer to food products. Utilized in the process is SensiPearl™, a range of pearlescent pigments.
Another new offering is the SensiSpers™ range, a synthetic color system that offers brighter shades over standard lake colors.
These solutions are the latest addition to a portfolio that includes SensiJet™, a delivery system that provides full color digital imagery on a variety of food products; SpectraFlecks™, inclusions that add sparkled bursts of color; and a natural and organic product line. Sensient Colors, Inc., www.sensient-tech.com, Booth 4127
New line of natural colors launched in the U.S.
A new range of natural colors, marketed under the name Natracol, is now offered in the U.S. It was previously launched in Europe where it had success in a variety of applications. Also featured is a complete range of pearlescent colors, which have been recently approved by FDA.
Also highlighted is a new series of coating solutions for confectionery industries. Called Idacoat™, these color coating systems are available in sugar-based, sugarless, and oil-based versions, and are ready to use. Roha USA LLC, www.rohadyechem.com, Booth 4552
Cheesecake toppings feature natural colors
A broad spectrum of color solutions, including natural colors, custom blends, and caramel colors, will be highlighted for use in foods and beverages. An updated brand identity reflects, in particular, the growing portfolio of natural colors.
Bite-size cheesecakes, topped with natural colors, will be provided each day from 11 a.m. until 2 p.m. Natural color palette includes annatto extract, turmeric, paprika, red beet, and anthocyanins. Also highlighted is a certified organic caramel color. D.D. Williamson & Co., www.caramel.com, and colorMaker, Inc., colorMaker.com, Booth 1770
Special-effect pigments add glamour to foods
Innovative special effect pigments, Candurin® Pearl Effect Colors, provide a multitude of color and tints that can add vibrancy, glamour, and identity to a variety of food products. Potential applications include confectioneries, cake decorations, fondants, fillings, gelatins, snacks, and tablets.
The FDA-approved colors are especially effective when used in pigmented sugar and shellac coating systems. They can also be mixed with FD&C colors to impart new color impressions to food. EMD Chemicals, www.candurin.us, Booth 1719b
--- PAGE BREAK ---
New advancements in beta-carotene
A new line of beta-carotene powders and emulsions is the most recent addition to a comprehensive portfolio of carotenoid formulations. For example, Altratene 10% WSC is a high-potency beta-carotene powder which matches the market standard for orange color shades.
Other products in the new line include Altratene 5%WSC, which combines and improves the properties of the 1% formulation, while providing a more cost effective alternative to manufacturers seeking a beta-carotene product with a yellow color profile. A new generation of emulsions, Altratene 2% and 3% provide a range of yellow color shades. They are specifically targeted at any beverage manufacturer who seeks to eliminate concerns about "ringing" issues. Allied Biotech Corp., www.altratene.com, Booth 919
Nano-encapsulation broadens use of natural colors
Nano-encapsulation technology allows products to be reduced to a size of 30 nanometers. This size allows for multiple benefits, including increased light and temperature stability as well as solubility. A new line of natural colors, NetColors, are produced by this technology, which makes possible their use in applications which otherwise would have been problematic.
For example, Net Anthocyanin, may now be used as an oil-soluble, kosher red color alternative to carmine/cochineal for use in butter-based coating, chocolate, and fat-filling applications. Net Turmeric demonstrates advancements in both light and heat stability and improves the longevity of the color in candy, cereal, yogurt, seasonings, and ice cream. Wild Flavors, Inc., www.wildflavors.com, Booth 170
Grains/Flours
Black and white solutions
Whole-grain flour, Organic Briess® Black Cocoa Replacer, has the intense black color, particle size, and flavor characteristics of black cocoa. Milled from 100% pure roasted barley, the innovative ingredient may be used as a 1:1 replacement for black cocoa in chocolate sandwich- and wafer-style cookies, breakfast pastries, and other foods. Furthermore, as a natural source of color, it can be used in any application requiring a dark black or brown note, including sauces, gravies, sausages, spice blends, or meat rubs.
A second grain-based solution that will be highlighted is BriesSweet White Sorghum Syrup, a gluten-free malt extract substitute for browning cereals, crackers, snack foods, particulates, baked goods, and other products. It differs from other sorghum syrups because it is produced from the starchy heads of the grain, not the cane, of the sorghum plant. Briess Malt & Ingredients Co., www.briess.com, Booth 1760
--- PAGE BREAK ---
Corn flour provides texture and whole-grain benefits
Whole-grain corn flour, Hi-maize, is made from specialty hybrid high-amylose corn to deliver a wide range of functionality and nutritional benefits. The new ingredient has been shown to work well in low-moisture food systems, including flaked and extruded cereals, dinner and hard rolls, artisan breads, English muffins, pizza, batters and breadings, cookies, and cakes.
The corn flour delivers many important textural and eating qualities, providing foods with considerable consumer appeal. Some examples may include cereals with more crunch and longer bowl life; high-fiber, whole-grain cookies that have a better taste; hard rolls with a crustier outside; battered foods that possess extra crunch; and whole-grain cakes with a light texture.
The ingredient has a total dietary fiber content of 30-33%, approximately three times that of traditional whole grain sources. It also contains resistant starch, which provides the natural fiber lacking in conventional flours. National Starch Food Innnovation, www.foodinnovation.com, Booth 942
Whole-grain yogurt formulated
Whole-grain yogurt, Ricera® Rice Yogurt, is formulated with an organic whole brown rice ingredient that delivers the nutrients of whole grain without its typical texture and taste. The RiceLife® ingredient has been enhanced with additional organic brown rice components to double its protein content, and provides a smooth texture and taste. Creative Research Management, crmcorp.net, Booth 1159
Flour combines several whole grains
Natural cooking process allows several whole grains to be mixed together to produce a flour that has the texture and profile of a refined flour. This process can also be used to stabilize organic cereals, legumes, and rice.
The resulting flour has application in pasta, bakery products, confections, and baby foods. Several foods made with these multigrain flours will be demonstrated. Caremoli USA, Inc., Booth 3118
--- PAGE BREAK ---
Starches
Starch useful in gluten-free products
Create a wide variety of gluten-free products with Expandex™ modified tapioca starch. The ingredient provides a structure to finished products that is more like foods that include wheat gluten, while its clean flavor lets gluten-intolerant customers enjoy their favorite foods like breads, cookies, and pizza.
The features of this starch include excellent water binding and freeze-thaw properties, clean flavor, and non-GMO status. It has one-of-a-kind expansion properties for the creation of structures and textures similar to wheat counterparts. It enhances the appearance, texture, and flavor of bakery products; helps bread to rise higher; creates a moist and expanded crumb; improves food's crispy texture in bakery applications; can reduce the amount of gums used; extends shelf life; and brings out the natural flavor of bakery products. Corn Products International, www.cornproducts.com, Booth 3348
Starch improves poultry products
A new functional native, potato-based starch, N-Hance™ 59, retains moisture in poultry products while eliminating the need for modified starches, sodium phosphate, and carageenan additives.
Typical processed poultry products often include modified starches, salt, and phosphates in varying combinations to help retain moisture, which improves both yield and eating qualities. The new starch offers poultry producers a new option for preparing tumbled, injected, marinated, coated, par-cooked, frozen, and other packaged poultry products with clean labels.
The ingredient further adds to the value of natural product offerings by lending succulence, flavor, good cutting ability, and improved yields to a wide range of poultry. It retains moisture, particularly in vacuum packed meats, to maintain high yields. Because the starch is potato based, it is inherently bland and does not affect the flavors of meats and marinades.
Processors do not need to use any special processing techniques when this ingredient is included in products. The starch has a low gelatinization temperature, neutral pH, and low shear and stress conditions and is relatively stable at low cooking temperatures. National Starch Food Innovation, www.foodinnovation.com, Booth 942
Resistant starch acts as stabilizer
Tate & Lyle has developed a new resistant starch with greater process stability. It is classified as RS3 (re-crystallized), may be labeled as "corn starch", and is made from a native, non-GMO starch.
When compared using a differential scanning calorimeter and tested at 35% dry solids, the new resistant starch has a melting peak of 150°C while the melting peak of other resistant starches tested were only about 100-120°C. It has very low water holding capability so bake times are equivalent or less to standard products, crisp textures are maintained, and cookie stack height is not increased.
When the ingredient is added to cracker dough, the dough remains cohesive and pliable throughout processing. What's more, the starch is able to withstand strenuous processes such as extrusion and sheeting. It can be used to reduce fat pick up by 15-20% and subsequently affect the caloric values of fried foods such as corn chips or batters and breadings. Tate & Lyle, www.tateandlyle.com, Session 029-08 and Booth 140
--- PAGE BREAK ---
Enzymes
Enzyme improves bakery products
Designed for use in a variety of baking applications, CakeZyme™, an enzyme-based ingredient, enables manufacturers to use fewer eggs in their recipes and, when added directly to the cake mixture, it significantly enhances emulsification, resulting in lower batter density, improved batter viscosity, and a delayed crumb setting. The resulting products have increased softness, improved crumb structure, and extended shelf life.
It is said to be the only enzyme developed and formulated specifically for use in cake applications available on the market. Previously available baking enzymes were formulated for use in bread or flour correction applications.
Eggs and lecithin are used as providers of natural emulsifiers in cake recipes mainly due to the presence of phospholipids that have surface active properties. A microbial phospholipase, CakeZyme hydrolyses the eggs' phospholipid into lyso-phospholipids, which have significantly stronger emulsifying properties. This increases the viscosity. As more air is retained in the mix, a higher cake volume results.
Manufacturers know that providing consistent quality through softer, fresher cakes is a key to keeping the product popular with consumers. The enzyme helps to increase the softness of crumbs by acting to release lyso-lecithin, which reacts with the starch helixes in the batter mixture, causing starch to retrograde more slowly. The result is a softer crumb.
The ingredient allows manufacturers to use fewer eggs, which can lower the cholesterol content of the finished bakery product. Additionally, it is a pure enzyme that does not contain undesired side additives. DSM Food Specialties, www.dsm.com, Booth 4148
Enzyme enhances cheese making
Lipases and esterases hydrolyze triglycerides to liberate fatty acids. These fatty acids have strong flavor characteristics and are responsible for the flavors associated with many products derived from both dairy and non-dairy fats. Two new enzymes for use in enzyme modified cheese manufacture produce very specific flavors and provide other functions.
Commonly, enzyme modified cheese is produced using lipases of animal origins but Lipomond™ 619P, which is a mixed fungal lipase, can be used in products sold to vegetarian and kosher markets. It also hydrolyzes medium- and long-chain fatty acids.
A mixed fungal esterase, Lipomond 768P, contains both lipase and esterase. It is active against all three positions on the triglyceride molecule, hydrolyzing short-, medium-, and long-chain fatty acids. It produces "waxy" or brown flavor notes in enzyme modified cheeses. Since this enzyme is also of non-animal origin, it is useful for vegetarian and kosher products.
Both of these ingredients have optimum activity around neutral to slightly acidic pH, so no pH adjustments are required whether milk, milk fat, or actual cheese is used.
The company also offers a wide range of enzymes for use in many different applications and can customize enzymes for use in specific formulas. Biocatalysts Ltd., www.biocatalysts.com, Booth 3758
--- PAGE BREAK ---
Gums
Pass the soup (and bread), please
Soup and bread. Perhaps the most basic, satisfying meal. And yet new ways have been found to make this combination even better.
Several gum systems will be highlighted that can boost dietary fiber while improving texture, taste, and appearance of these products. To find out first hand about the benefits of these products, make a place for yourself in this very special soup line.
One innovative gum system, Ticaloid® LC-SR5, allows manufacturers to boost the soluble dietary fiber content of bread products. Traditionally, the fortification of bread has proven difficult because of the delicate gluten structure that is either destroyed or weakened with the addition of soluble fiber at a functional dose. However, this system allows both soluble and insoluble fiber levels to be increased without negatively changing the texture of the bread.
Of course, what would bread be without some creamy soup? Gum system, Caragum® 200 , replaces starches and roux in soups, sauces, and gravies; improves mouthfeel; and provides freeze/thaw stability without masking delicate flavors. An organic version of this system, Nutriloid® 7000 is used to increase the soluble dietary fiber in soups and sauces without increasing the viscosity of the finished product. Fire-roasted tomato soup containing both of these gum systems will be available for sampling. TIC Gums, www.ticgums.com, Booth 2539
Texture systems geared for foods with a healthier focus
Hydrocolloid-based texture systems will be showcased for applications with a healthy focus. These functional systems, marketed under the name Textureze™, were developed for ultimate performance in dressings and sauces, imitation and processed cheese, baked goods, and meat products. Healthier, low-fat, and reduced-calorie alternatives from these categories are in demand but only if they exhibit the quality of the original product.
The benefits of these systems for bakery applications include improved bake stability, enhanced taste and appearance, shelf life extension through reduced moisture loss, and flexibility in hot or cold processing. Systems for imitation and processed cheese can provide reduced stickiness, modified melt characteristics, increased firmness, structure, and hot viscosity. Systems for meat products allow manufacturers to bind meat without the need for salt and phosphate, and can effectively turn trimmings into larger-sized meat blocks. Optimized stabilizer systems for low- or no-fat dressings and sauces provide a rich, creamy mouthfeel and appearance without compromising stability. International Specialty Products, www.ispcorp.com, Booth 2917
--- PAGE BREAK ---
Stabilizers enhance eating experience
A variety of hydrocolloid-based ingredients will demonstrate how they can help customers create the desired texture, structure, stability, and mouthfeel, resulting in the ultimate eating experience. These ingredients, their effectiveness demonstrated in a number of formulations, include cellulose gel, carrageenan, alginates, and stabilizing blends.
Gelstar IC stabilizer will be featured in frozen fruit smoothies and a refreshing sorbet. It produces a rich, creamy texture in low-fat and reduced-fat products, controls meltdown, minimizes ice crystal growth, and controls product shrinkage.
Protanal® alginate will be demonstrated in cookie dough. The alginate reduces stickiness, allowing for efficient sheeting and cutting of the dough. Commercially available Soft Bake Cookie produced with this alginate has a soft, moist texture, and will be available for sampling.
Avicel® BV 1518 stabilizer is being launched in low-viscosity protein beverage. The cellulose gel-based ingredient was developed to provide stability and superior suspension of insoluble ingredients in low-viscosity, neutral-pH beverage systems. FMC BioPolymer, www.fmcbiopolymer.com, Booth 1348
New gums feature heavy hitters
Gums can be used to improve the performance of food products in a number of ways. Highlighted will be a line-up of new gums for fat replacement, gluten-free applications, films, dips, fiber-added snacks, and a replacement for gum tragacanth.
For example, Coyote Brand Fat Replacers are specifically designed for reduced fat applications while maintaining a similar texture and mouthfeel to the standard product. Coyote Brand Dairy Fat Replacer, CKX-Fat Replacer, and CAX-0119 are featured in fat-replacement recipes.
Gluten-free brownies are made with Coyote Brand Stabilizer ST-101, a combination of xanthan and guar gum. The cost-effective blend provides the structure that gluten-free products lack and is easy to work with. Gum Technology, www.gumtech.com, Booth 929
--- PAGE BREAK ---
New polymer offers film-forming advantages
A new polymer, enzyme hydrolyzed cellulose gum, can form novel food films which are more soluble and which can fully dissolve in a matter of seconds. The cellulose gum, Cekol® EH01, can be dissolved in hot or cold water at concentrations up to 35% by weight. This high polymer level means that less water is added and so less water has to be removed during frying. Heat-sensitive flavors and ingredients can be used with less damage during frying.
In cases where a more slowly dissolving film is needed, the very low viscosity cellulose gum can be blended with a higher viscosity cellulose gum to tailor the dissolution rate. An example of this would be in a chocolate confection where slower dissolution leads to the impression of creaminess and richness. When a quick dissolving film is needed with high flavor impact, the gum can be used alone. CP Kelco, www.cpkelco.com, Paper 90-2
• New alternative in gelatin replacement was recently developed. The carrageenan extract, Ceambloom 3240, possesses a superior elastic behavior, making it possible to formulate clear "gelatin-like" textures. The result of advances in carrageenan technology, the ingredient provides a cost-effective alternative to carrageenan/locust bean gum blends which traditionally have been used to replace gelatin in food products. Introduced in the global marketplace in June 2006, the extract was developed to give food and beverage manufacturers a vegetable alternative to gelatin that is closer in texture and mouthfeel than traditional carrageenan/locust bean gum combinations, and is easy to work with. P.L. Thomas, www.plthomas.com, Paper 28-2 and Booth 970
• Gum products are among the ingredients available in a broad portfolio that includes fiber ingredients, licorice extract, honey, and coatings. Gums are quick-soluble additives for food, beverages, confections, and flavor emulsions. For instance, Quick Gum™ is easy to use as a free-flowing, highly purified powder or as a stabilized aqueous solution. Other hydrocolloids offered are acacia gum, agar-agar, guar, locust bean gum, xanthan, and carrageenan. Alfred L.Wolff, www.alwolff.com, Booth 4413
• Current hydrocolloid line includes xanthan gum of all mesh sizes; kappa, iota, and lambda carrageenans, both refined and semirefined types; agars with a full range of gel strengths; CMCs with all standard viscosities; purified konjac gel products with a range of viscosities; and alginates with a range of viscosities and gel strengths. Guaranteed Gums, www.guaranteedgums.com, Booth 5240
--- PAGE BREAK ---
Coatings and Inclusions
Protective coatings seal in quality
Manufacturers can protect their chocolate enrobed pieces with Crystalac® FB coatings. These coatings, which are in the field testing stage, are odorless and tasteless in both water- and solvent-based formulations. When applied to enrobed chocolate cookies by spraying, dipping, or brushing, the coatings form a thin protective coating on the chocolate surface, offering improved packing efficiencies and improved visual appeal.
Another coating, Crystalac Zein, is made from GMO-free zein. It is clear, odorless, tasteless, hard, water insoluble, and edible.
A surface treatment, NatureSeal®, is said to extend the shelf life of fresh-cut fruits and vegetables such as sliced apples, pears, avocados, potatoes, onions, carrots, and bananas. Mantrose/Agricoat, www.mantrose.com, Booth 3554
Toppings and fillings enhance products
Custom-blended caramel, savory sauces, and bakery fillings help to add flavor and texture to many products.
The caramel, which can be used as a topping or inclusion in bars, cakes, pastries, and cookies, and the bakery fillings can be formulated to meet trans fatty acid-free, high-fiber, no sugar added, low-carbohydrate, preservative-free, or organic applications. Additionally, the bakery fillings are available in whole fruit, purees, preserves, and slices.
Using sauces allows manufacturers to add visual appeal to food products. They come in many different international and regional flavors, including Indian, Thai, Oriental, Hispanic, and North American. Depending on your needs—low sodium, organic, trans fatty acids free, preservative free—a blend can be formulated. Skjodt-Barrett Foods Inc., www.skjodt-barrett.com, Booth 413
Powders offer benefits over paste
Hazelnut and pistachio praline powders provide the manufacturers of chocolate, confectionery, bakery, and frozen desserts with the opportunity to develop new items or enhance or improve existing products for which praline pastes are currently being used. The powders are made from ground nuts and sugar. There is no premixing required due to oil separation as there is when using liquid pastes. And since there is no product loss from adhesion to the containers, using the powder means less waste.
Hazelnut and pistachio praline are popular flavors in many parts of Europe, and the products are widely used in the bakery and confectionery industries in the region. The hazelnut and pistachio praline powders were developed in collaboration with a European chocolate manufacturer.
--- PAGE BREAK ---
The powders can also be used in spreads, beverages, sauces, dairy products, coatings, and glazes. Bedemco Inc., www.bedemco.com, Booth 858
• Liquid peanut butter is a flowable peanut butter that can be used as a topping on frozen foods, variegate, or background flavor. When used in a frozen product, the peanut butter has a smooth consistency and excellent binding properties. When used on a frozen product, it flows like hot fudge but requires no heating and it adheres to ice cream. Superior Nut Co. Inc., www.superiornut.com, Booth 4858
• Organic confectionery coatings and a line of confectionery coatings that delivers functional ingredients, Impac™ Nutritionally Enhanced Confectionery Coatings, will be showcased. The organic coatings can be used in any product where an organic certified designation is desired. Fruit- and yogurt-flavored coatings and peanut butter coatings are offerings as well. Clasen Quality Coatings Inc., www.clasen.us, Booth 2528
• Product usage, food safety, and nutritional information about nuts and dried fruits is available to manufacturers looking to add these ingredients to products. The market outlook for these products is explained. Brochures detailing all of this information will be distributed. International Nut and Dried Fruit Council Foundation, www.nutfruit.org, Booth 1160
• Freeze-dried ice cream bite-size pieces that require no freezing can be used in shelf-stable products such as cereal or snack mixes. They are available in vanilla, strawberry, and chocolate flavors. Oregon Freeze Dry Inc., www.ofd.com, Booth 3137
Fruits and Vegetables
Freezing preserves berry's quality
he açai berry is one of the most nutrition-packed fruits in the world. Grown in the rainforests of Brazil, Guyana, and Suriname, the berries are so potent and flavorful that they are believed by many native Brazilians to have almost mystical qualities.
Scientists know that the açai berry contains plenty of antioxidants, omega-3 fatty acids, and polyphenols.
--- PAGE BREAK ---
Manufacturers looking to add value to their products can use frozen açai berries made from berries harvested in the Amazon rain forest by Bolthouse Do Brasil, the new subsidiary of Bolthouse Farms. The frozen açai is deep purple in color and has a flavor that is often described as a blend of fruits and chocolate.
The company processed the berries using proprietary cold fusion continuous processing techniques to ensure that the delicate natural flavor and high nutrition content of the berries are preserved.
The frozen berries can be used in blended fruits juices, smoothies, yogurts, sorbets, dairy-based desserts, and many other health food and beverage products.
Also available at the booth will be carrot juice concentrates (yellow and purple carrot juice concentrates), frozen carrots, including yellow and red carrots, and carrot fiber (the dried natural fiber obtained from fresh carrots that is utilized to provide an economical and natural way to replace tomato solids in all types of tomato-based sauces). Bolthouse Farms Inc., www.bolthouse.com, Booth 1251
Fruit pieces tolerate processing
Cranberry cooperative Ocean Spray ITG will showcase its range of BerryFusions™ Fruits. These fruits, which have a 24-month shelf life, allow manufactures to include process-tolerant fruit pieces that come in a variety of natural flavors in applications such as baked goods, cereals, and trail mixes. They are produced using a patented process that combines a cranberry base with natural fruit flavors, juices, natural colors, and sweeteners. Available varieties include blueberry, cherry, raspberry, strawberry, orange, mixed berries, and mango.
Also featured will be a range of sweetened dried cranberries (SDCs). This includes the high-fiber, less sugar SDCs, which are suitable for low-calorie and "lite" applications, and the cost-effective diced and double-diced SDCs, which allow manufacturers to chose the format that they require to optimize cranberry piece count in items such as baked goods and granola bars.
Other cranberry ingredients include powders, frozen cranberries, and concentrates and purees.
The company will discuss the various functions of these cranberry products as well as distribute copies of its brochure that details the research studies conducted on the health benefits on cranberries. Ocean Spray ITG, www.oceansprayitg.com, Booth 3713
--- PAGE BREAK ---
Adding value to products
Fire-roasted and sautéed vegetables, fruits, and potatoes, onions, and other vegetables are a way to add color, texture, and nutrients to your finished products.
Jon-Lin Foods, which is part of McCain foods, uses direct heat with no water blanching to deliver IQF vegetables and fruit with exceptionally high solid content and balanced moisture. Caramelized and sautéed items are fresh vegetables that are cooked slowly in natural juices or soybean oil. Fire-roasted and smokehouse-roasted products are cooked over direct fire in natural juices or extra virgin olive oil to create authentic grill marks and sear in natural flavors. These are part of Jon-Lin's Chef Sensations™ line.
These vegetables and fruits are perfect as topping for pizzas, salads, and tacos and when used in soups and stews.
Plenty of the Jon-Lin products will be available for sampling at the booth. McCain Foods USA Inc., www.mccainusa.com, Booth 3376
Harnessing the power of fruit
Specialist fruit and food science company, HortResearch is studying the health properties and fruit breeding technologies of fruit to help deliver new fruit varieties to health-conscious consumers.
The company is currently involved in developing the next generation of so-called "superfruits" that will provide consumers with demonstrated health benefits beyond basic nutrition.
When HortResearch breeds a new fruit variety or discovers the specific attributes of a fruit, it can use various legal mechanisms to protect that intellectual property for use by customers. This can involve Plant Variety Rights, patents, or trade secrets. If customers have this control, they can effectively brand their superfruit product and invest the necessary funds to ensure its success.
The company has been responsible for a number of interesting developments. For example, it is working on creating new berry cultivars that will result in value-added products that have optimum phytochemical compositions for enhanced health.
Researchers at the company claim that they have fine-tuned the science of gene discovery to such a degree that they can now accurately determine which genes create the individual flavors and fragrances found in fruits. This ability, combined with traditional biofermentation techniques, makes it possible for natural tastes and aromas of fruit to be recreated. For example, researchers have recreated a fruit compound called alpha-farnesene, which is responsible for the distinctive aroma of green apples. Isolating genes that produce desirable flavor and fragrance compounds can open up new opportunities for high-quality, more healthful foods. HortResearch, www.hortresearch.co.nz, Booth 815
--- PAGE BREAK ---
Shelf Life Extenders
Antimicrobial does not affect taste or texture
An antimicrobial based on lauric arginate, a derivate of lauric acid, L-argeinine, and ethanol, is ideal for controlling the shelf life of refrigerated food products. The ingredient, CytoGuard™, is designed for use in meat products, juice beverages, refrigerated pizzas, poultry products, dried fruit products, and all types of prepared salads.
Used at very low levels, the ingredient does not affect the flavor, color, texture, or pH of the finished product. It kills bacteria and prevents bacterial growth in food products by altering the cell membranes of the microbes, preventing their growth. It is effective against Listeria, Salmonella, Escherichia coli, Campylobacter, yeasts and molds, Lactobacillus, and others. The pH of the system does not affect the efficacy of CytoGuard. A&B Ingredients, www.abingredients.com, Booth 3564
Inhibiting Listeria growth in meat
A new technology that simultaneously inhibits the growth of Listeria monocytogenes and reduces juice purge loss in meat, poultry, and seafood by 3-4% of net weight is available. The patent-pending development, Flavix BioProtection Coatings™, is believed to be the first technology to combine these two capabilities.
The technology encapsulates flavor oils, oleoresins, and spices in a colloid gel. The gel matrix may be used in gel form and injected or mixed into meat products or it may be further processed before it is added to the food system. In addition to protecting the food from bacterial growth, the gel matrix has the added benefit of protecting many core ingredients from heat, moisture, and acidity during food processing.
Encapsulation assists in maintaining a separation between the food processing ingredient and air, thereby reducing the opportunity for oxidation, degradation, or other chemical reactions.
When using the Flavix technology, color deterioration, particularly in dark-colored meats, is greatly diminished. It also does not affect the perceived smell or taste of protected foods. Arnhem Group, www.arnhemgroup.com, Booth 1056
--- PAGE BREAK ---
Rosemary extracts improve shelf life
A line of rosemary extracts, Nat'Stabil™, enables food manufacturers to enhance the shelf life of many food and beverage products naturally. A patented extraction process used to produce StabilEnhance®OSR preserves the natural oxidative stabilization characteristics of the rosemary plant while removing the flavor and color components. Many commercial extracts contain carnosol, rosmanol, and methoxy compounds, which result from the degradation of the carnosic acid from the heat and chemicals used in the extraction process. The StabilEnhance OSR ingredient contains up to 50% natural carnosic acid, the highest level available. It is said to preserve the quality and flavor of food products that contain fats and oils and have excellent solubility and clarity in fat and oil solutions.
Another ingredient called StabilEnhance WSR is a water extract of rosemary standardized up to 20% rosmarinic acid, a hydrophilic antioxidant and natural phenol. Completely water soluble, StabilEnhance WSR controls the oxidation of flavors in beverages and emulsions. It has been shown to inhibit the formation of citral degradation in beverages, thereby preventing the development of off flavors and off odors. Naturex, www.naturex.com, Booth 939
• A liquid acidifier, pHresh 10.0, controls microbial activity in all acidified foods, bakery items, pastas, ready-to-eat meals, sauces, and dressings. It prevents enzymatic browning and reduces or eliminates microbial populations on fruits and vegetables. In winemaking applications, pHresh reduces fermentation time by controlling spoilage and pathogenic organisms, eliminating the use of sulfites prior to fermentation. The ingredient has little or no acidic taste. XIM Group LLC, www.ximgroup.com, Booth 3422
• Antimicrobial ingredients, including Opti. Form Ultra, a formulation of sodium or potassium lactate and sodium diacetate, control pathogens in and extend shelf life of meats and poultry. Purac America Inc., www.purac.com, Booth 2513
• Oxidative stress decreases the nutritional and flavor qualities of foods. Studies have recognized mechanisms for each of several different antioxidants on delaying or retarding the oxidation of foods. This session will discuss the chemistry and kinetics of oxidation and antioxidants in foods; antioxidant evaluation and synergism; needs of standard assay of antioxidant effects; and antioxidant methods and validation. Session 127
• A polypeptide, Nisin, has antimicrobial activity against a wide range of Gram-positive bacteria. Another ingredient, Natamycin 50%, protects food from mold and yeast growth. Tianjin Ecobio Biotech Co., Ltd., www.ecobio.com.cn, Booth 5223
• Antioxidants help to prevent the oxidative deterioration of many different types of food products. Session 062
--- PAGE BREAK ---
Chocolate
Protein reduces fat in chocolate
While it is possible to find light or diet chocolate formulas in today's marketplace, these products achieve fewer calories by sugar reduction or elimination. A novel ingredient solution, Gelita Instant Gel Schoko, offers manufacturers an alternative approach.
The novel ingredient solution reduces calories by partially replacing cocoa butter in chocolate compounds and coatings with a natural, cholesterol-free protein. Its use can result in a 25% overall reduction in fat content without affecting the critical properties of the chocolate, such as snap, mouthfeel, and crystallization. At the same time, it adds collagenous protein to the chocolate, increasing protein level by 75%.
By using the protein-based ingredient, no additional steps in the production processes are necessary. It has a neutral odor and flavor, easily refines with the other dry ingredients to a particle size range of 20-25 microns, and constitutes 5% of the total formulation. In taste tests conducted comparing regular chocolate with chocolate containing the protein, participants were unable to tell the difference in taste and texture. Gelita North America, www.gelita.com, Booth 2758
Method increases dispersibility of cocoa powder
An improved method has been developed for increasing the dispersibility of cocoa powder treated with liquid solvent extraction procedures to reduce fat content. The recently patented process adds a dispersing agent, such as lecithin, to a reduced-fat wet cocoa mass containing solvent from the liquid extraction. The residual solvent improves the uniformity of mixing between the cocoa mass and the dispersing agent.
Traditional methods of extracting cocoa powder from the cocoa bean can be complex and problematic. By allowing for fat reduction and greater dispersibility in cocoa powder, this new method offers the manufacturer several advantages including reduced costs, greater flexibility, and reduced fat content. Cargill, www.cargill.com, Booth 2348
New chocolate innovations will be highlighted
A new processing method, Acticoa™, allows for the preservation of polyphenols in cocoa which would be otherwise lost during chocolate manufacture. Chocolate produced by the process is available in a variety of forms.
This innovative technology and other techniques to preserve chocolate flavor and to harness the inherent health benefits of cocoa beans will be discussed. Also, new certified chocolates under the platforms of origin, organic, and fair-trade will be highlighted. Recognized professionals in chocolate will be available for hands-on learning.
An important announcement will be made that Chicago is home to the company's new headquarters in North America. The move demonstrates a commitment to supporting customers throughout the U.S., Canada, and Mexico. Barry Callebaut USA, LLC, www.barry-callebaut.com, Booth 3140
--- PAGE BREAK ---
Lipids/Lipid Derivatives
Shortening features less saturated fat
A reduced saturate, trans fatty acid–free, nonhydrogenated all-purpose shortening, SansTrans™ RS39 T20, offers the same functionality as traditional bakery shortenings but with 30% less saturated fat than typical trans-free alternatives. Loders Croklaan developed the SansTrans brand as a no-trans, nonhydrogenated baking shortening for cookies, cakes, fillings, and dairy substitute systems. For food manufacturers who want to eliminate trans fatty acids but reduce saturates, the company extended the line to meet this demand.
The shortening, which is based on palm and canola oil, has an oxidative stability similar to traditional bakery shortenings and improved processability compared to other reduced saturate shortenings. Its solid fat crystallizes readily in the ideal beta-prime form. Loders Croklaan, www.croklaan.com, Booth 1135
Emulsifier enhances prepared foods
A new emulsifier with a very low trans fatty acid content, Nutrisoft® 55, can increase the stability and quality of prepared foods. This ingredient enhances the quality and appearance of food. When used in bread or yeast-raised products, it interacts with the starch to improve crumb softness and increase bread volume, both of which significantly enhance the products' overall appearance, making them more attractive to consumers.
The ingredient also stabilizes the helical structure of starch, thereby slowing the staling process and greatly increasing the shelf-life of bread. In ready-to-eat mousse desserts, the emulsifier makes for a more-stable texture and structure, and increases the product's volume.
Highly unsaturated emulsifiers give the best results for extrusion and heat-shock stability in ice cream; however, such emulsifiers have an iodine value of 40 or higher. This makes them viscous and sticky and therefore difficult to incorporate into the ice cream mix and not practical for ice cream manufacturing. With an iodine value of about 25, Nutrisoft 55, does have functionality in extrusion processes and heat-shock stability in ice cream. The ingredient is available in a free-flowing powder. Cognis Nutrition and Health, www.cognis.com, Booth 342
--- PAGE BREAK ---
Lipids provide functionality
A line of lipids and lipid-derived ingredients offer a variety of functions. A polyglycerol ester derived from medium-chain fatty acids, Drewpol® 3-5-CC, functions as a carrier of flavors, colors, essential oils, and vitamins. A wetting agent and dispersant for whey, starch, and flour, Drewmulse® GMC-810 also promotes instantizing of powdered products. Developed as a high-melting lipid component in micro-encapsulation, Stepan® EDS acts as a surface-active lipid. Products that incorporate Drewpol PGPR emulsifier exhibit improved stability, are easier to spread, and show a reduction of splatter when used for frying. Stepan Co., www.stepan.com, Booth 1858
• A line of trans fatty acid ingredient solutions includes RighT Technology that results in a greater than 80% trans fatty acid reduction; identity-preserved low-linolenic soybean and high oleic canola oils, palm, and palm kernel fractions; and custom-blended and interesterified oils designed to deliver specific nutritional profiles or product functionality. The Novel Lipid System includes Phytobake, a vegetable-based plastic shortening that replaces traditional shortening via the use of phytosterol esters, and Lipid Protein Complex, which delivers significant levels of protein via a high-melting systems Bunge North America, www.bunge.com, Session 090-04 and Booth 2317
• Refined peanut oils have a long shelf life, appealing flavor profile, are allergen and cholesterol free, and have a very high smoke point of about 450°F. When used in frying applications, the oils have little or no flavor carryover. Golden Peanut Co. LLC, www.goldenpeanut.com, Booth 3828
• A flaxseed and fish oil combination, MeadowPure™ O3 Ultra, blends and bakes easily into most cereal-based products and does not compromise the smell or flavor of the finished product. Pizzey's Milling, www.pizzeys.com, Booth 2573
• Palm kernel stearin, part of the PalmFruit™ organic palm-based product line, is used as a cocoa butter substitute for producing compound coatings, molded products, and fillings for confectionery and bakery products. Ciranda Inc., www.ciranda.com, Booth 634
Savory
Blends feature famous flavors
The flavors of three products familiar to consumers are available in dry blends for product formulators.
For that distinctive sweet and smoky flavor with a touch of molasses, Cattlemen's® Classic Barbecue Sauce Dry is available to use in any application where the signature flavor is desired and dry forms are required. This includes use as a topical for snacks or as part of snack seasoning blends, dry sauce blends, or rubs, marinades, or general seasoning blends.
--- PAGE BREAK ---
Adding mustard flavor and color to formulations that can not use liquid ingredients is possible with French's® Classic Yellow Mustard Dry. In addition to being used in the same applications as the Cattlemen's ingredient, this ingredient can be easily incorporated into ground meats.
If heat is required, Frank's® RedHot® Cayenne Pepper Sauce Dry provides moderate heat level. The sauce is spray-dried into a powder that can be used in applications where a liquid sauce will not work. French's Flavor Ingredients, www.frenchsflavoringredients.com, Booth 551
Ingredient maximizes umami flavor
Specially selected dairy cultures and a novel fermentation process provide a whole milk–based flavor concentrate that augments and enhances the savory flavor nuances in a broad range of food systems.
The Savory Flavor Enhancer 36490 (maltodextrin carrier) and Savory Flavor Enhancer 36491 (nonfat dry milk carrier) enhance savory notes in a wide range of applications by producing "mouth-watering" and umami effects. Alternatives to MSG and HVP, the ingredients enhance salt perception and reduce sodium without compromising taste and flavor.
The ingredient can be used in both dry and liquid applications, including crackers, salty snacks, meal kits, sauces and dips, and soups. DairiConcepts LP, www.dairiconcepts.com, Booth 4124A
Improve flavor with less salt
A new ingredient combines sodium chloride with potassium chloride and adds special proprietary natural ingredients that remove the bitter aftertaste that is often characteristic of sodium chloride/potassium chloride blends. The technology that is used to create this ingredient, KCLean, is patent pending.
The ingredient is said to provide the flavor of salt with about one-half the sodium; have the taste and texture of salt; have the same chemical behavior of salt; and have the heat stability of salt for processing and baking. It carries the label claims "all natural flavors" and "no artificial flavors added."
--- PAGE BREAK ---
It can be used in a number of products, including soups, sauces, meats, frozen entrees, dairy products, cereals, salad dressings, canned foods, and batters and breadings. As a topical addition, KCLean can be used on popcorn, French fries, potato chips, and snack foods. Wixon Inc., www.wixon.com, Booth 1064
Mineral salts reduce sodium
A blend of mineral salts can reduce the sodium content of processed foods by up to 50% without losses in taste.
The ingredient, sub4salt®, has similar salty taste characteristics and no metallic off notes. In bakery products, the ingredient regulates the fermentation process and other biochemical reactions during dough fermentation resulting in products that do not appear differently than products that do not contain the ingredient. In meat products, sub4salt helps to stabilize the proteins and ensure a good water binding capacity.
One gram of sub4salt contains 0.26 g of Na (compared to 0.4 g of Na in 1 g of salt). It can be used as a one-to-one replacement for salt in a variety of foods. Actual usage levels of the ingredient vary with the application. Jungbunzlauer Inc., www.jungbunzlauer.com, Booth 4842
Potassium's benefits explored
Morton Salt will highlight its product line for sodium reduction and potassium fortification, including its Morton® Lite Salt™ Mixture, a 50/50 blend of salt and potassium chloride.
Potassium chloride offers dual benefits in healthy food products: sodium reduction and potassium fortification. To optimize taste, a partial potassium chloride substitution approach is recommended. In many applications, potassium chloride can be substituted for sodium chloride at levels of 25-40%. Potassium chloride can cause a metallic flavor or aftertaste. Masking agents for potassium chloride will reduce or eliminate the aftertaste. Morton Salt, www.mortonsalt.com, Booth 2365
--- PAGE BREAK ---
Yeast extracts boost flavor
A flowable yeast extract paste, #3020 Organic Yeast Extract Light (Paste), enhances flavor, particularly in poultry where it provides a light, broth flavor. It is also useful for enhancing the umami flavor of and providing overall rounding to soups, sauces, marinades, dressings, and entrees.
To lightly enhance the flavor of a product or give a boost to soups or Asian-type products, #1071 Yeast Extract Enhancer is available. This product can also replace MSG starting at a one-to-four ratio and adjusting to the desired flavor.
A yeast extract, #1079 Yeast Extract High Enhancer, contains 22% natural, flavor enhancing nucleotides and can be used at low doses of 0.1-0.2% enhance flavor.
Other flavor enhancers, yeast extracts, and beef and chicken flavors are certified organic. Savoury Systems International Inc., www.savourysystems.com, Booth 713
• Bring flavor enhancement benefits to savory products with SavorCrave™ proprietary technology. It is heat stable, adds no characterizing flavor to the finished product, and can be easily blended with other dry ingredients. It enhances the umami taste sensation in many products. Wild Flavors Inc., www.wildflavors.com, Booth 170
• A new full-flavor sodium reduction technology provides a comparable flavor to full-salt foods but with a 50% reduction in sodium. Mineral Resources International, www.mineralresourcesint.com, Booth 5352
• Formulate low-sodium products with Benephos™, a mixed cation polyphosphate with both potassium and sodium. It contains about 70% less sodium than traditional polyphosphates and can be used in most beverage and dairy applications. ICL Performance Products LP, www.icl-perfproductslp.com, Booth 348
• A flavor modulation technology helps food and beverage manufacturers to create products with reduced levels of salt and sugar. Mastertaste, www.mastertaste.com, Booths 2748, 3152
• Enhance taste with Sensarite™. It has a subtle but wide-ranging effect on the flavors of foods; in some foods it boosts saltiness while in others it reduces bitterness and off notes. DSM Food Specialties, www.dsm.com, Booth 4148
--- PAGE BREAK ---
Fiber Functionality
Fiber technology makes possible a low-calorie pasta 
new line of reduced-calorie food products are based on FiberFlour technology, which successfully incorporates 40-50% dietary fiber with no significant loss of texture or flavor. First commercially available product is FiberGourmet Light Pasta, which contains 18 g of fiber per serving and has 40% less calories than standard pasta.
A limiting factor when using insoluble dietary fiber is that it can have a negative impact on the sensory properties of the finished product, as well as interfering with the food production process. The patent-pending technology makes possible the development of food products with fiber at levels of more than 12%. The pasta product is offered in bulk, and opens new possibilities for creating low-calorie frozen entrees, instant soups, and other noodle-based products. Samples of the pasta will be available at the booth.
Manufacturers are currently working with the technology to produce "light" chocolate chip cookies, biscotti, savory crackers, and other products. Once developed, these products will be offered as premixes and frozen batters. Food Industry Technology, www.fibergourmet.com, Booth 3670
Soluble corn fiber provides functionality benefits
New soluble corn fiber, unlike other fiber, is highly soluble and stable to low pH and aggressive processing procedures. At extended storage periods, it has been shown to be stable at elevated temperatures and low pH. It is clean in color and flavor, and can be added to a variety of food and beverage applications.
The ingredient provides approximately 75% fiber. Manufactured as a corn syrup, it can be identified as either "soluble corn fiber" or "corn syrup" on the product label. It is easy to use and acts like corn syrup in most applications. Replacing traditional full-calorie sweetener systems with soluble corn fiber makes almost no difference in product quality in most cases. Tate & Lyle, www.tateandlyle.com, Paper 116-1 and Booth 140
Fiber ingredient delivers crunchy texture
An ingredient system which resembles crisped rice delivers a crunchy texture and high fiber content to a variety of food products, including bars, cereals, confections, snacks, and yogurt. The extruded crisp, Fiber Krunch, is made with modified food starch and chicory fiber, and provides 2.6 kcal/g.
With its crunchy texture, neutral color and taste, and 35% dietary fiber, the ingredient makes it easier for food manufacturers to incorporate higher levels of fiber into food products without compromising their taste, and achieve "good" to "excellent" fiber source claims. Cargill, www.cargill.com, Booth 2348
--- PAGE BREAK ---
Sugarcane fiber has smaller, more spherical particles
Sugarcane fiber, Vitacel®, is a new insoluble dietary fiber derived from the byproduct of the sugar refining process. When compared to other refined fibers, it has a smaller particle size with a more spherical particle shape.
These characteristics impart some special functional properties in a variety of applications. In bakery products, for example, the small particle size and round shape of the fiber minimizes the impact on dough extensibility seen with other fibers. Its relatively low water absorption also reduces the need for added gluten commonly seen in high fiber/low calorie breads. In beverage applications, the small spherical shape of the sugarcane fiber reduces the mouthfeel and texture typically associated with high insoluble fiber beverage products. In tablet applications, its shape allows for improved flow and easier tableting than other fiber products with a more thread-like shape. Rettenmaier USA, Paper 116-03 and Booth 2713
Two fibers in one
A line of ingredients that combine a soluble fiber (acacia gum) with an insoluble one (wheat fiber) provides functionality and health benefits in a variety of food products. Marketed under the name Equacia, the coprocessed ingredients achieve an optimized and balanced ratio between the two types of fiber, and contain a total level of 90% dietary fiber on a dry weight basis.
Application studies have demonstrated that ingredients mimic the rheological properties of fat or sugar. In light mayonnaise and dressings, they can effectively function as natural emulsifiers. In some bakery products, they allow a 3% gain in water and a 50% fat reduction with noticeable texture improvement.
When used in ice cream, they have improved roundness and mouthfeel, increased the melting point, and reduced both sugar and fat content. Colloides Naturels International, www.cnius.com, Paper 29-4 and Booth 2158
Citrus fiber replaces fat in meat and bakery
A fiber-based ingredient derived from citrus pulp, Citri-Fi controls moisture migration, improves yields, adds moistness to products, and has application as a processing aid. Because of its moisture-trapping properties and smooth mouthfeel, it is especially suitable for use in processed meat and poultry products, as well as baked goods.
Up to 50% of the animal fat in meat and poultry products can be replaced by the ingredient and water. Its high water holding capacity (up to 13 times its weight in water) makes the ingredient ideal for syneresis control and for increasing yields in injected products.
In bakery products, the ingredient may be used for fat replacement, moisture management, water and oil binding, or thickening. Up to 50% of the oil and shortening can be replaced with the ingredient and water, resulting in products that bake faster. Fiberstar, www.fiberstar.net, Booth 828
--- PAGE BREAK ---
Formulation Tools
Soy allergen-free products offered
Eliminating allergens from food products and processing aids is becoming critical for processors. A line of allergen- and soy lecithin–free release agents for baked goods, confectionary products, processed meats, and cheeses is available.
The release agents offer food processors the ability to offer soy allergen–free products. Soy allergens must be labeled on food packages wherever the possibility of soy protein contact to the food product exists. Soy lecithin, which contains trace amounts of soy proteins and is commonly used as a release agent, must be declared as an allergen.
These non-allergenic release agents are formulated using a proprietary ingredient that is said to be more efficacious than acetylated or phosphated mono- and diglycerides. In addition to being allergen free, the formulations provide a greater heat stability, which eliminates equipment and product discoloration.
The release agents are effective across the same range of temperatures and processes as soy lecithin–based products. In addition to the company's standard release agent product line, allergen-free alternatives to the company's other release agents, including trough and pan greases, can be formulated.
The company is also offering a new brochure that showcases these and other products. The format includes a "features and benefits" description of and a list of common applications and processes for each product. Avatar Corp., www.avatarcorp.com, Booth 4908
Leavening agent enhances products
A leavening agent that delivers controlled release, uniform cell structure, and a neutral flavor profile is available. The ingredient, Levona™ calcium acid pyrophosphate, can be used in a variety of health-oriented baked goods as well as in products developed for consumer convenience.
--- PAGE BREAK ---
End product applications include dry mixes, refrigerated dough, frozen batter and dough products, batter coating systems, and baked goods such as snack cakes, pizza crusts, breakfast foods, muffins, cakes, and biscuits.
Chemical leavening is the reaction of sodium bicarbonate with an acid source. The acid neutralizes the bicarbonate, releasing carbon dioxide. As the carbon dioxide expands, it provides volume and affects the texture and appearance of the finished product. The leavening acid controls the rate of release of carbon dioxide.
In addition to contributing calcium and zero sodium to bakery formulations, Levona provides controlled release, delayed reaction, consistent leavening, resilient structure, ideal cell structure, clean flavor profile, and excellent volume. It does not affect the flavor of finished products into which it is incorporated. ICL Performance Products LP/Astaris, www.astaris.com, Booth 348
Organic anti-caking agent debuts
An anti-caking agent is now available in an organic option.
The introduction of Organic Nu-Flow™ allows processors to effectively replace silicone dioxide and other synthetics in certified organic systems requiring anti-caking agents and flow aids.
This rice-based, non-GMO ingredient does not require allergen labeling. It provides a label declaration to read "rice concentrate."
Available in a variety of distinct particle sizes, Nu-Flow is made from organic vegetation that contains silica. Applications ideally suited for the ingredient are where anti-caking agents, flow aid, flavor carriers, and excipients are required for organic production. Ribus Inc., www.ribus.com, Booth 814
International
Pavilion offers matchmaking services
The Food Valley Pavilion consisting of 13 Netherlands-based companies give instant access to international food and nutrition research. The pavilion brings together institutes such as TNO and NIZO Food Research, the Wageningen University and Research Centre, and other state-of-the-art facilities, and start developing new products.
Services are offered that match the R&D interests of the interested company with those institutes or companies that make up the pavilion. Food Valley Pavilion, www.foodvalley.nl, Booths 3162-3361
--- PAGE BREAK ---
Flavor-watching on the Riviera
Looking for a creative and audacious flavor signature? A line of flavored syrups may help provide food and beverage manufacturers with the answer.
First-time exhibitor is an American subsidiary of an established flavor company located in Grasse on the French Riviera. Since 1779, the company has played an important role in Europe, Middle East, Africa, and Asia. So stop by and ogle some hot flavors. Jean Niel, Inc., Booth 411
Trio addresses tomorrow's formulating
Three ingredient businesses, emphasizing color, taste, and health, have come together to form the Natraceutical Group. The group will showcase the theme, "Welcome Today to Tomorrow's Healthy Food."
Overseal Natural Ingredients bring to the group its portfolio of natural colors, coloring foodstuffs, flavor enhancers, and topnote flavor extracts. Obipektin AG, contributes pectins and natural fruit and vegetable powders. Natraceutical manufactures cocoa functional derivatives and natural extracts. Natraceutical Group, www.natraceuticalgroup.com, Booth 1010
Sunflower pectin in acidified milk drinks
Esterification of sunflower pectin produces a complete range of calcium-sensitive pectins which are used for stabilization of acidified milk drinks, according to an India-based university.
Esterified sunflower pectins having 65-80% degree of methylation are suitable for stabilization of acidified milk drinks. Optimum stabilization dose of these pectins varies between 0.15 to 0.4% and it depends on milk solid nonfat concentration, pH, and calcium sensitive pectin ratio. Pectins of lower DM create high viscosities while pectins of higher DM create low viscosities in acidified milk. North Maharashtra Univ., India, Paper 29-5
Flavor enhancers from Brazil
Yeast extract line, Bionis, enhances the original flavors of a variety of food products, providing more body, mouthfeel, and natural umami enhancement. Other products include Goldcell, a line of dry, autolyzed yeasts, and Mannovin, a natural flavor enhancer for wines. Manufacturing facilities are located in Brazil. Biorigin, Brazil, www.biorigin.com.br, Booth 5313
--- PAGE BREAK ---
Companies in the News
Wixon celebrates 100th anniversary
his year marks the 100th anniversary for Wixon Inc., Saint Francis, Wis., a spices, seasonings, flavors, and specialty products company.
The company's founder, Charles Franklin Wixon, prepared spices by night and sold them during the day from a pushcart to sausage makers around Chicago. The company bearing his name grew in 100 years to a plant of several buildings on a location covering more than 300,000 sq ft of manufacturing, R&D facilities, packaging, warehousing, and administrative operations, with more than 200 employees.
Much has changed since Charles Wixon first began selling spices from a cart. After several moves, including from its initial location at 153-55 Illinois St. in Chicago to 1705 S. Clark St. in Chicago, the company eventually established its headquarters in Saint Francis, Wis. A series of mergers has allowed the company to expand its product offerings beyond spices.
In the past few years, Wixon has increased its focus on flavor technologies and specialty products, serving large food and beverage companies with flavoring agents and ingredients. It has developed a salt substitute and a line of flavorful proteins. Wixon Inc., www.wixon.com, Booth 1064
Global presence emphasized
With a theme of "A World of Ingredients. A World of Ideas," Corn Products International will focus on the company's international presence as a global ingredient supplier.
The company will introduce its new line of polyols acquired from SPI Polyols. These low-caloric sweeteners will strengthen and expand the Corn Products platform by offering a wider range of sweetener functions and intensities.
Taking the global theme one step further, every visitor at the booth will receive a Corn Products passport. If visitors get it stamped at each station, they will be entered to win two roundtrip tickets to anywhere in the world. Corn Products International, www.cornproducts.com, Booth 3348
--- PAGE BREAK ---
Joint venture to increase output capacity
Ocean Nutrition Canada Ltd., Dartmouth, Nova Scotia, Canada, has formed a joint venture agreement with Alicorp S.A.A., a leading edible oils and food manufacturer in Peru. Under the agreement, Ocean Nutrition will open an omega-3 fish oil manufacturing facility in Peru. When combined with the company's existing manufacturing facility in Nova Scotia, the new plant in Peru will more than double Ocean Nutrition's total output capacity.
Ocean Nutrition will increase its capacity to manufacture standard 18:12 fish oil by more than 200% and increase it omega-3 high concentrate oil capacity by more than 50%.
Ocean Nutrition has invested technology transfers to Alicorp during the last 24 months so that the omega-3 fish oil ingredients manufactured in Peru are made to the highest quality world standards. Ocean Nutrition Canada Ltd., www.ocean-nutrition.com, Booth 1365
Sargento acquires Portionables
Sargento Foods Inc., Plymouth, Wis., last month acquired Portionables Inc., Bellingham, Wash., a manufacturer of high-quality frozen sauce and other value-added food products. Sargento said that it plans to use Portionables' expertise to further enhance its new product portfolio for the company's food ingredient and foodservice businesses.
Portionables specializes in the development, production, and co-packing of IQF portion control foods. Its products include sauces, soups, desserts, side dishes, and fruit and vegetable purees for both the foodservice and food ingredient sectors across the United States, Canada, and Western Europe. Sargento Foods Inc., www.sargentocheese.com, Booth 3337
---
• New fruit flavors, such as Sour Sop, Blood Orange, and Quince, may be used in teas, still drinks, flavored and carbonated waters, sports and energy drinks, alcoholic cream based products, and other beverages. The trendy flavors duplicate the tastes of superfruits, classic fruits, and emerging botanicals. Bell Flavors & Fragrances, Inc., www.bellff.com, Booth 2148
--- PAGE BREAK ---
• Flavor trends driven by consumer insight will be discussed, along with a proprietary system for collecting information called Flavor Radar®. Prototypes reflecting featured flavor trends will be available for sampling. FONA International, www.fona.com, Booth 1113
• Line of organic vegetable flavors has been expanded to include Organic Roasted Onion and Garlic, Organic Fresh and Caramelized Tomato, Organic Roasted Vegetable, and Organic Minestrone flavors. Additions have also been made to the seafood flavor portfolio. Summit Hill Flavors, www.summithillflavors.com, Booth 534
• Mints made with different flavor combinations will be offered, including Green Apple, Lemongrass, and Coffee and Creamy Vanilla. Also for sampling will be new ethnic flavors—Wasabi, Acai, Azuki Bean, Yuzu, and others. Gold Coast Ingredients Inc., www.goldcoastinc.com, Booth 2532
• Shelf-stable coffee extracts will be demonstrated in ice cream and a new carbonated soda, Java Pop. X Café, www.x-cafe.com, Booth 4813
• Flavors of a meatless entrée, soft-serve ice cream with a twist, and iced beverages can be enjoyed while watching the artistry of Shan Ichiyanagi as he sculpts edible masterpieces. Comax Flavors, www.comaxflavors.com, Booth 3958
• New CD-ROM includes educational information about egg products. The CD, which will be introduced at the IFT Food Expo, contains articles showing how eggs can help in product development. Such topics as nutrition, functionality, application, and purchasing of eggs will be covered, and emerging research studies on their nutraceutical value will be provided. American Egg Board, www.aeb.org, Booth 2226
• Processed egg products in liquid, frozen, and dried forms, are available in many sizes. Custom blends are also offered to meet specific customer needs and specifications. Oskaloosa Food Products, www.oskyfoods.com, Booth 2066
• Specialty egg products, EggStreme™ Options, offer enhanced benefits. The line includes EggStreme Yolk and EggStreme WE300, egg products that have been enzyme modified to enhance functionality, emulsification, and stability, allowing for lower usage rates and reduced costs. They are formulated for use in sauces, dressings, bakery products, and any other application utilizing egg yolks or whole eggs. Instantized Albumen has been specially processed to provide a dustless, freeflowing dried egg white powder with rapid dispersion and dissolution. This product is suitable for use in formulations such as beverages and frostings. Soy-based ingredients are also available for use as egg replacers. Primera Foods, www.primerafoods.com, Booth 3963
--- PAGE BREAK ---
• Mica-based pigments, coated with titanium dioxide, are applied topically to or included in the mass of a product, imparting a pearlescent or metallic effect. Since the effect is dependent upon proper substrate surface characteristics, it is important to understand application techniques and considerations such as sugar crystallization and polishing. This presentation will look at how these pigments have been incorporated into aqueous- and solvent-based coating systems and techniques used to achieve different effects. Colorcon, www.colorcon.com, Paper 29-1
• Organic powdered caramel color, OC234, can improve the visual appeal of organic baked goods, cereals, dry blends, meat rubs, and seasonings. The product, an alternative to organic liquid versions, will be launched at IFT Food Expo and samples made available. Also offered are two certified organic liquid caramel colors. Sethness Products Co., www.sethness.com, Booth 2655
• Carrot extract can provide a cream to golden yellow hue. The natural color has good light and pH stability, making it suitable for a number of food and beverage applications. Kalsec, Inc., www.kalsec.com, Booth 156
• Natural colors—called ColorFruit™—are based on two pigments, natural carotene and anthocyanins. The range includes red, orange, yellow, and violet shades, and has excellent stability. Chr. Hansen, Inc., chr- hansen-us.com, Booth 1527
• Natural coloring , Tomat-O-Red® SG 2%, contains lycopene which may be used in fortifying beverages. Part of the LycoRed product line, it is water and lipid soluble. P.L. Thomas, www.plthomas.com, Booth 970
• FD&C colors in powdered form are offered. Specific colors are also available in liquid and granular form. Special custom blending is possible. Spectra Colors Corp., www.spectracolors.com, Booth 4827
• Organic juice concentrate, black carrot, may be used for color application. Representations will be on hand to discuss its functionality and potential use. Marroquin International, www.marroquin-organics.com, Booth 522
• Blends of carotenoids from carrot, tomato, paprika, and annatto have been developed for the Nat'Color™ line. This natural color line offers water- and oil-soluble liquid extracts that can be used in a variety of food and beverage applications. The stability of these blends is enhanced by rosemary extracts. Naturex, www.naturex.com, Booth 939
• Antioxidant, Sanmelin® Y-AF, is highly effective in preventing deterioration of various pigments, including carotenoids, anthocyanins, anthraquinons, and synthetic colors. It can also improve stability and intensity of anthocyanin color because of a unique co-pigmentation effect. The water-soluble antioxidant is derived from Chinese bayberry, and its main compound is myricitrin. San-Ei Gen F.F.I. (U.S.A.), Inc., www.saneigen.com, Booth 313
--- PAGE BREAK ---
• New preformed snack pellets for healthier snacking will be available for sampling. These microwavable pellets demonstrate unique shapes and grain combinations. New additions to the line include ring-shaped, whole-grain, corn-based product; ring-shaped multigrain product; ring-shaped, whole-grain, wheat-based product with cinnamon; wave-shaped multigrain product; traditional chip-shaped tapioca-based product with a seafood flavor; and a variety of other special flavors and shapes. These products, which do not have to be processed by deep frying or other traditional methods, could fit into the "under 100 calorie" category of snacks. J.R. Short Milling Co., www.shortmill.com, Booth 729
• New texturizer, Homecraft® Gold, is a combination of corn starch and wheat flour. It works well in a broad range of high-moisture foods, providing enhanced mouthfeel, smooth textures, a deep shine and opacity, and clean flavor delivery. National Starch Food Innovation, www.foodinnovation.com, Booth 942
• Stabilized white wheat bran/germ blend is a recent addition to a portfolio of conventional and organic grains. The ingredient provides improved performance and shelf life, and meets whole grain labeling claims. Grain Millers, Inc., www.grainmillers.com, Booth 329
• Whole-grain ingredients will be spotlighted, with recent studies on the cholesterol-lowering properties of barley available. Experts will be on hand to explain how natural and whole-grain product lines can benefit formulations. Minnesota Grain, Inc., www.mngrain.com, Booth 1154
• A resistant wheat starch, Fibersym® RW, has a clean flavor, smooth texture, white appearance, and low water-holding properties. It boosts the fiber content and aids in the reduction of calories for a diverse line of food products while maintaining positive sensory attributes. MGP Ingredients Inc., www.mgpingredients.com, Booth 4739
• Specialty starch products, Pure-Cote® film-forming starches, Pure-Dent® absorbent starches, Inscosity® cold water-swelling starches, and Pure-Gel® stabilized starches, supply texture and stability to bakery, dairy, meat, sauce, snack, and confectionery applications. Grain Processing Corp., www.grainprocessing.com, Booth 164
• Rice starches can help maintain the creaminess and consistency of soups that must undergo freezing because of its shear-resistant and freeze-thaw stability aspects. These starches prevent the separation of liquid from solid, and this helps to improve the mouthfeel of the soup. It takes just a small amount of rice starch to emulsify oils and broth. An additional benefit of using these starches is that they do not impart off tastes to soups. A&B Ingredients, www.abingredients.com, Booth 3564
--- PAGE BREAK ---
• Cereal and legume grains indigenous to Asia and Africa such as sorghum, millet, and cowpeas are often underutilized and underexploited. There are novel food and non-food uses for these grains based on their functional components such as starch. Starch quality, particularly as it affects starch behavior in indigenous processed Chinese specialty grain crops will be discussed. Session 178
• An enzyme product, YieldMax™, increases the yield of cheese by 2-4% during pasta filata production by acting on the phospholipids in the cheese-milk. It has also shown to reduce the costs of cheese production by saving milk. Chr. Hansen, www.chr-hansen.com, Booth 1527 and Novozymes, www.novozymes.com, Booth 870
• A lactase enzyme can be used in many lactose-free products. Lactose-free milk shakes featuring Validase® Fungal Lactase Concentrate will be available. Valley Research Inc., www.valleyenzymes.com, Booth 1522
• Enzyme-based custom formulated baking blends enhance final baking characteristics such as oven spring, volume, crispiness of the crust, crumb texture, and taste in a wide range of wheat-flour–based products. Equichem International Inc., www.equichem.com, Booth 1616
• Using Maxinvert Invertase in products is said to help hydrolyze sucrose into glucose and fructose, thereby eliminating the need to add invert sugar or other humectants. It can enhance sweetness, improve color and flavor, modify texture, and provide moisture retention and viscosity reduction. It prevents sugar from recrystallizing, thereby extending shelf life and stability. Centerchem Inc., www.centerchem.com, Booth 539
• An enzyme complex, Panc-Zyme™, consists of protease, amylase, lipase, trypsin, and chymotrypsin and can be used in formulations to hydrolyze proteins such as those in milk, meat, and cheese. American Laboratories Inc., www.americanlaboratories.com, Booth 5342
• Foam stabilizers, Aerowhip® Hydroxypropyl Cellulose (HPC), allow formulators to reduce fat in dairy and non-dairy whipped topping applications, while still maintaining their desired whipped properties. Recently, a new line of products, Aerowhip EZ, provides significantly improved handling performance. The microencapsulated powder is specifically designed to allow excellent dispersion and dissolution of the product, enabling the food manufacturer to obtain superior topping performance while not sacrificing productivity. Aqualon, www.aqualon.com, Booth 5029
--- PAGE BREAK ---
• Natural gum systems for stabilizing specific food applications will be introduced. A-1010S Premium, composed of various natural hydrocolloids, is acid stable, functioning as a thickener, suspending agent, and stabilizer in salad dressings, sauces, gravies, drink mixes, and other food products. A-600S Premium significantly enhances moisture retention in cream cheese, cottage-cheese dressings, and pasteurized process cheeses spreads. At a suggested usage level of 0.1-0.2% in cream cheese, 0.3-0.5% in spreads containing 45-50% moisture, and 0.6-0.8% in spreads containing more than 55% moisture, this stabilizer minimizes syneresis while improving mouthfeel, body, and texture. Gumix International, Inc., www.gumix.com, Booth 3829
• Guar flour for baking applications is offered, in addition to U.S. grown certified organic guar gum and standard food-grade guar gum. Guar gum products are supplied to food and ingredient companies for a dependable alternative source inside the U.S. Guar-Tex, www.guar-tex.com, Booth 517
• A variety of cranberry products, including cranberry juice spray dried powder, frozen cranberry juice concentrate, dried cranberry fiber, freeze-dried cranberries, and cranberry pieces, granules, and powder have not been heavily diluted with sugar or maltodextrin. Freeman Industries LLC, www.freemanllc.com, Booth 856
• An expanded selection of fruit varieties and packs and forms such as aseptic concentrate and purees, are available to food manufacturers looking for value-added ingredients. The Dole® Industrial Frozen Fruit Line can infuse manufactured foods, including frozen entrees and novelties, specialty dairy, bakery goods, baby foods, sauces, jams, and condiments with the flavor, texture, and appeal of just-picked fruit. Dole Packaged Foods Co., www.dolefoodservice.com, Booth 4417
• Processed green chili peppers, enchilada sauces, and tomatillos add flavor to any dish. Salsa has surpassed ketchup as the number-one condiment in the United States, increasing the demand for salsas and other chili pepper–containing foods. Try samples of green chili stew, salsas, and Hispanic sauces. Border Foods Inc., www.borderfoodsinc.com, Booth 3660
• Açai juice concentrate provides plenty of antioxidants and has 10-30 times the anthocyanins of red wine grapes. The concentrate is 32 times more concentrated than pulp. Plus, it is clarified to make it easier to use in formulations. A&B Ingredients, www.abingredients.com, Booth 3564
• Individually wrapped dried plums, Sunsweet's Ones™, provide hand-held convenience, portability, and healthy snacking. The functionality of dried plums will be discussed. California Dried Plum Board, www.californiadriedplums.org, Booth 3366
• Garlic and onion extracts can be used to replace dehydrates without compromising flavor. Learn how to manage heat and pungency expression with capsicum products. Kalsec Inc., www.kalsec.com, Booth 156
• Wild blueberries add a sweet and tangy flavor to products while maintaining shape, flavor, texture, and color during manufacturing processes. They are naturally smaller and more compact than other blueberries. Wild Blueberry Association, www.wildblueberries.com, Booth 5339
--- PAGE BREAK ---
• Refined pepper puree is produced from milling cayenne, habanero, and jalapeño peppers that were cured in brine. The seeds of the pepper are also milled into the puree but they are not visible. What results is a product with plenty of heat without using flavorings or colorings. Comexa Foods, www.comexa.com, Booth 613
• Goji berries have a sweet taste and chewy texture and can be eaten raw or cooked. The fruit can be used in entrees, soups, beverages, cereals, granolas, and nutrition and energy bars. Samples of bars made with goji berries will be available at the booth. Bedemco Inc., www.bedemco.com, Booth 858
• Various new chocolate innovations will be showcased, including a premium line of Organic Milk and Dark Chocolate, High Cocoa Mass/70% Dark Chocolate, and a variety of Nib Alkalized Specialty Cocoa Powders. Blommer Chocolate, www.blommer.com, Booth 2422
• Dark chocolate product has a 70% cacao content. Yucatan® Seventy, a reformulated version of Merckens® Yucatan dark chocolate, is available in wafers for easy melting and is packed in 25-lb cases. It is described as velvety and full bodied, with a strong chocolate punch. ADM Cocoa, www.admworld.com, Booths 148, 153
• Cocoa extract delivers a minimum of 20% polyphenols and is rich in other functional compounds including theobromine. In the manufacturing process, the undesirable insolubles are removed, and at the same time the flavor components are selectively concentrated. The cocoa extract is highly soluble, more intense in flavor than cocoa powder, and virtually fat free. CPC Ingredients Conesa, www.cpcingredients.net, Booth 5520
• Cocoa derivatives include a full range of cocoa powders with an intense color, aroma, and flavor. Varying cocoa butter contents are also offered, such as 1% in Defatted Cocoa Powder; 10-12% in regular cocoa powders; and 20-22% in high-fat cocoa powders. A whole range of organic cocoa and chocolate products are also available. Natra U.S., Inc., www.natracacao.com, Booth 3716
• Two wheat-free ingredients, Wheat Free Non-GMO Natural Flavor Enhancer and Wheat Free Soy Sauce will be featured in sauce applications. Other natural savory flavors and soy sauce powders are available to enhance the savory notes and aroma of finished products. Nikken Foods USA Inc., www.nikkenfoods.com, Booth 3158
• A sodium-reduced, magnesium-enriched sea salt, Solo®, can be used to replace salt on a 1:1 basis in virtually any recipe without sacrificing taste or functionality. The ingredient, which also contains potassium, has 60% less sodium than ordinary salt. It is said to dissolve much faster than salt. Nexcel Food Ingredients, www.soloseasaltusa.com, Booth 664
--- PAGE BREAK ---
• A range of flavors with specific taste profiles, including chicken and pork, that are produced by the Maillard reaction, as well as bouillon bases for taste enhancement of soups and sauces will be featured. Exter Aroma, www.exteraroma.com, Booth5354
• Add a light, beefy flavor profile to products with Natural Beef Fat Powder. It contains no artificial ingredients and is minimally processed. International Dehydrated Foods Inc., www.idf.com, Booth 2128
• To bring about salt reduction in processed foods without compromising the consumer demand of good-tasting foods, a better knowledge of the molecular chemistry of taste and flavor perception is needed. Emerging perspectives on salt taste and current practices in salt reduction in foods will be discussed. Session 043
• Soluble dietary fibers, named ForteFiber™, are suitable for use in energy bars, cookies, biscuits, candy, and supplements in chewable or tablet form. Derived from cellulose, the new fiber line is available in a variety of grades and can be custom designed to address specific texture needs or formulations. Dow Chemical Co., www.dow.com, Booth 722
• Sweet liquid chicory fiber, Frutalose L92, is an easy-to-use 75 brix syrup containing 92% fiber, with 45% the sweetness of sucrose. The inulin/oligofructose product offers a range of functionality and nutritional benefits, including fiber addition and sugar replacement. It also works to reduce the aftertastes of artificial sweeteners, and can be used to mask soy as well as bitterness in coffee and green tea. As a humectant, it is particularly useful in applications such as granola bars, helping to maintain a soft and chewy texture throughout shelf life. Sensus America, Inc., www.sensus.us, Booth 3925
• Brown rice flour, produced from parboiled long-grain varieties of rice, includes the bran layer of the rice grain. It has a rich, nutty flavor and higher nutritional values than white rice flour. Applications include extruded ready-to-eat breakfast cereals and multi-grain breads and dry bakery mixes. Riviana Foods, Inc., www.rivianaindustrial.com, Booth 3753
• Oil content of fried foods may be reduced by using fiber. A study was performed to determine if oat fibers would affect oil content and whether it was more effective to add oat fiber to the center of a fried food or to the outer battered layer. The study found that it is more effective to add fiber to the outer layers of a fried food rather than the central portions of a fried food to reduce oil uptake. SunOpta Ingredients Group, Session 212-3 and Booth 4848
• Organic soy fiber, Soy Profiber, has a low water absorption capacity and a neutral taste with slight nutty, roasted aroma, A good source of protein and fiber, the ingredient may be used in breads, cakes, muffins, crackers, tortilla chips, pizza crusts, pastas, nutrition bars, meat analogs, and other products. SK Food International, www.skfood.com, Booth 435
• Formulations such as a snack mix or triangle nachos demonstrate the fiber properties that a new line of microwavable preformed snack pellets provide. These whole-grain pellets are available in a variety of sizes and shapes. J.R. Short Milling Co., www.shortmill.com, Booth 729
--- PAGE BREAK ---
• Fiber in gummy confections will be available for sampling. Highlighted in the application is FibersolR-2, a digestion resistant maltodextrin that is manufactured by treating corn starch with heat and enzymes so that it behaves like a dietary fiber. Matsutani America, www.matsutaniamerica.com, Booth 556
• Innovative leavening solutions will be highlighted, using Arm & Hammer brand sodium bicarbonate products. Representatives will explore new directions for the ingredient and how to apply various grades and custom blends. Church & Dwight Inc., www.ahperformance.com, Booth 4752
• Calcium-containing ingredients will be introduced. The line, VitaCal™, includes VitaCal O (calcium oxide), VitaCal H (calcium hydroxide), VitaCal LCH (liquid calcium hydroxide), and VitaCal PCC (precipitated calcium carbonate). A new brochure explains the qualities of these ingredients. Mississippi Lime Co., www.mississippilime.com, Booth 5650
• The Amberlite™ FP line of ion exchange resins and adsorbents for the recovery and purification of nutraceutical and functional foods offers cost-effective solutions and consistent quality recommended for product recovery, impurity removal, demineralization, taste and color improvement, decolorization, and chromatography. One offering in the line, Amberlite FPX66, is used for polyphenol purification and recovery. It has a large internal surface area and is capable of selective adsorption and repeated elution of organic molecules. When conditioned and regenerated properly, the resin is reusable and can last up to five years. Rohm and Haas France S.A.S., www.rohmhaas.com, Booth 5230
• Emulsifiers, including Sta-Crème, diglycerides, and other ingredients to help achieve desired results in the manufacture of processed foods are available. Caravan Ingredients, www.caravaningredients.com, Booth 4536
• A line of processing ingredients, including phosphates and calcium carbonates, is available. Brenntag North America, www.brenntagnorthamerica.com, Booth 2522
• Coffee and tea products include concentrates, essences, and powder extracts. Spinning Cone Column extraction technologies provide the capability to extract fresh brewed aroma and flavor concentrates of fresh-roasted coffee. Green Tea and Black Tea powder extracts are offered. In addition, a variety of specialty products such as sandalwood, citronella, patchouli, guarana, pandan, tropical fruit, yam bean, and java tea are featured. PT Haldin Pacific Semsta, Indonesia, www.haldin-natural.com, Booth 5433
• "Quick" efficiency is offered by a line of products, including Quick Fibre™, a water-soluble, wellness-promoting acacia dietary gum that will be featured in a summer drink. Other products include Quick Gum™, a free-flowing powder for stabilizing; Quick Chew™, a gelatin-free texturant for chewy sweets; and the Quick products for gumming, glazing, sealing, anti-caking, and souring. Alfred L. Wolff Ghbh, Germany, www.alwolff.com, Booth 4413
• Sorbic acid and potassium sorbate are among the products offered. Others include dehydoacetic acid, sodium dehydroacetate, nicotinic acid, and niacinamide. Nantong Acetic Acid Chemical Co., Ltd., China, www.ntacf.com, Booth 862
--- PAGE BREAK ---
• Vegetable conserves in oils are produced by five Italian companies. Featured products include Chicago chargrilled onions in oil, grilled Italian olives in oil, and caramelized baby carrots. Genius Food Ideas SRL, Italy www.genius foodideas, Booth 1619B
• Organic sweet and savory flavors have use in beverages, dairy products, baked goods, confections, and other products. In liquid, emulsion, powder, and encapsulated form, they offer a variety of organoleptic notes and profiles. Aromatech Group, France, www.aromatech.fr., Booth 326
• ABF Ingredients will launch its new visual identity and a new business unit, Proteol. Also, it will highlight its brand migration of the former Provesta and Ohly organizations into the new Ohly global yeast organization. ABF Ingredients Ltd., www.abfingredients.com, Booth 130
• NutraCea recently announced that it has entered into an agreement with ADM Rice Inc., whereby NutraCea will implement its proprietary rice stabilization technology into the ADM Rice facility located in Arbuckle, Calif., to produce stabilized rice bran for distribution to the human, companion pet, and equine feed markets. NutraCea, www.nutracea.com, Booth 3370, and Archer Daniels Midland, www.admworld.com, Booths 148, 153
• The Ingredient House recently signed a strategic alliance with Novel Ingredient Services to leverage their sourcing and customer contact network to help the companies participate in the "better-for-you" and "nutrition-enhanced" food and beverage markets. Ingredient House, www.theingredienthouse.com, Booth 4925
• Synergy Flavors recently purchased Brazilian-based American Flavors and Fragrances do Brasil. Synergy Flavors, http://us.synergytaste.com, Booth 359
• Erie Foods has opened a distribution center at its Rochelle, Ill., manufacturing plant. Erie Foods International Inc., www.eriefoods.com, Booth 2152
• Caravan Ingredient recently acquired the Specialty Bakery Ingredients Business of Archer Daniels Midland. Caravan Ingredients, caravaningredients.com, Booth 4536, and Archer Daniels Midland, www.admworld.com, Booths 148, 153
by Donald E. Pszczola,
Senior Associate Editor
[email protected]
by Karen Nachay,
Assistant Editor
[email protected]