Chicago is known for its deep-dish pizza, and attendees at the Institute of Food Technologist's 2007 Annual Meeting & Food Expo in Chicago on July 28–August 1 will enjoy a deep-dish event with all the ingredients—reports of innovative and cutting-edge research, new special sessions addressing this year's "Health, Wellness, and Foods" theme, international conferences, a new programming format, and new additions to the exhibits, including Food Expo Innovation Awards and a New Products & Technologies Forum.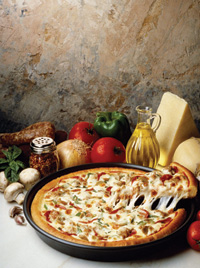 This year's Annual Meeting & Food Expo is expected to draw more than 20,000 food professionals from around the globe. This article presents highlights of this year's event and is followed by previews of some of the symposia, papers, and exhibits written by Food Technology's editors; a listing of Food Expo exhibitors; and a complete listing of the Scientific Program as of press time.
Town Hall Meeting
The first official event during the Annual Meeting will be IFT's first Town Hall Meeting, to be held on Saturday morning, July 28. All IFT members are invited to discuss with IFT leaders opportunities for IFT. The topics will be announced prior to the Annual Meeting.
Awards Celebration
At the Awards Celebration in the Grand Ballroom of McCormick Place South on Saturday evening, IFT President Dennis Heldman will present his State-of-the-Institute Address, describing what IFT has done this past year and what's being planned for the future. He will also introduce IFT's next President and President-Elect—John D. Floros and Sheri Schellhaass, respectively— who will take office in September.
Next, IFT will recognize this year's 14 Achievement Award winners and 17 newly elected Fellows for their outstanding achievements and contributions to the field of food science and technology.
The session will be followed by the Networking Reception, where attendees can meet and congratulate these honorees, as well as network with friends and colleagues.
The Hall of Honor, located in the Level 1 Lobby of McCormick Place South, will feature descriptions of IFT's achievement awards, photos of the 2007 award recipients and newly elected Fellows, a listing of this year's Section and Division Outstanding Members, and lists of past award winners. The Hall of Honor will be available for viewing throughout the entire meeting.
--- PAGE BREAK ---
Keynote Session
During the Keynote Session on Sunday morning, after introductory remarks by President Dennis Heldman, this year's keynote speaker, Jason Jennings, business thought leader and speaker on the subject of innovation, will share his insights into the ways in which leading organizations of all sizes are keeping the spirit of innovation alive. Author of Think BIG, Act Small and other books, Jennings has spent 20 years founding and leading successful businesses, and helping other companies learn how to achieve their full economic potential.
Also during the Keynote Session, IFT will recognize the 50th anniversary of IFT's Japan Section and the 10th anniversary of the Partnership for Food Safety Education and will announce this year's winner of the World Food Prize. The winners of IFT's new Food Expo Innovation Awards Competition will also be announced.
The session will conclude with a video presentation setting the stage for IFT's 2008 Annual Meeting & Food Expo in New Orleans, La., June 28–July 2.
Scientific Program
The Scientific Program on Sunday–Wednesday will feature more than 150 sessions, including more than 1,400 oral and poster presentations on a wide variety of topics. More than 40 of the sessions will address five key elements related to the theme, "Health, Wellness, and Foods": Product Development, Innovation, International & U.S. Approaches, Health-Promoting Ingredients & Foods, and Regulations.
In contrast to previous Annual Meetings in which the technical sessions were scheduled for 3 hours each, this year's technical sessions will be 90 minutes long, the ideal length of time for learning, according to accepted adult-learning principles, and there will be a 30-minute break between sessions. All this more than doubles the number of sessions that someone can attend, staying for the whole session, and allows more time for networking between sessions as well. Poster sessions—which inherently allow ample time for networking and interaction—will continue to be 3.5 hours long on Sunday afternoon and Monday and Tuesday morning and afternoon.
--- PAGE BREAK ---
Health & Wellness General Session
The general session on Monday morning, "Senior Executives Cut the Fat on Industry's Approach to Health, Wellness, and Foods," sponsored by Cognis Nutrition & Health, will focus on health-promoting ingredients and foods. Senior executives from leading global food companies will speak on such issues as obesity, food safety, trans fats, sustainability, regulations, tariffs, GMOs, and other issues pertaining to this year's theme of health, wellness, and food. They will address the opportunities and challenges of making health and wellness products work in the market and ultimately increase business. The moderator will be Cathy Kapica, from Ketchum, and the speakers will be Marc Belton of General Mills, and Lance Friedmann of Kraft.
Trends General Session
In the general session on Tuesday morning, Food Technology Contributing Editor A. Elizabeth Sloan will moderate the program, "Food Technology Presents: Where Do We Go From Here? The Experts Speak Out!" Barbara Katz of HealthFocus will discuss highlights from the HealthFocus 2007 survey on changing consumers' health, nutrition, and wellness attitudes, behaviors, and concerns. LuAnn Williams of Innova Market Insights will identify the trends and product categories that have staying power and what products, packaging and positionings can translate across borders. Joe Pawlak of Technomic, Inc., will focus on the macro trends underlying away-from-home food choices and concerns, up-and-coming industry issues, and future directions for the restaurant and foodservice industries. And Peter Barton Hutt of Covington & Burling will provide insights into where food regulations and issues are headed in the U.S. and abroad.
ALACCTA Safety Conference
On Tuesday morning, the Latin American and Caribbean Association of Food Science and Technology (ALACCTA) will present a two-session conference on "Challenges and Impact of Food Safety Assurance in Latin America and the Caribbean." The back-to-back sessions will cover "Food Safety Challenges and Foodborne Disease Surveillance" and "Food Safety Implementation: Case Studies."
Professional Development Sessions
Also on Tuesday, IFT's Knowledge & Learning Center is offering several nontechnical programs designed to help attendees improve their skills and abilities. The programs are "How to Negotiate with Vendors and Suppliers," "The Essentials of Communicating with Diplomacy and Professionalism," "Conflict Resolution and Confrontation Management." "Excelling as a Highly Effective Team Leader," and "Asset Protection and Retirement Planning." No registration fee is required, but seating is limited.
--- PAGE BREAK ---
Food Expo
At Food Expo—open from 11:00 a.m. until 5:30 p.m. on Sunday–Tuesday—more than 1,000 companies from around the world will exhibit their new products, tools, techniques, and services in more than 240,000 sq ft of space. Food Expo will also feature some new as well as returning activities:
• Food Expo Innovation Awards. Open only to exhibiting companies, this new IFT competition will honor the most innovative products, technologies, ingredients, instrumentation, equipment, or services—or new applications of existing products and services—commercially introduced by Food Expo exhibitors since January 1, 2006.
Judged by an independent, expert panel, the winning entries will be announced during the Keynote Session prior to the opening of Food Expo, allowing winning companies to promote their achievements at their booths.
• New Products & Technologies Forum. This new activity onstage on the Food Expo floor will feature the top six of the nearly 100 abstracts submitted for presentation in the traditional New Products & Technologies sessions. The six presenters will be provided 30 minutes—15 minutes more than in the sessions—to discuss their latest technologies in greater depth. Attendees will have the added opportunity to obtain food samples and literature. Three presentations are scheduled for Sunday afternoon and three more for Monday afternoon. In addition, eight other New Products & Technologies presentations will be available as tabletop exhibits during the forum.
• Mintel Pavilion. At Mintel's "Global New Products Pavilion" (Sunday–Tuesday), Maria Caranfa will discuss "The Next Big Thing in Health," determined through analysis of U.S. restaurant menus, at 11:30 a.m. each day. Also each day, Lynn Dornblaser and David Jago will discuss "Products for Enhanced Memory and Brain Function" at 12:30 p.m., "'Free-From' Foods" at 2:30 p.m.; and "Emerging Flavor Trends" at 4:30 p.m.; attendees at these three sessions will have the opportunity to view and sample more than 60 new products from around the world illustrating the latest trends.
• Innova Pavilion. Innova's "Taste the Trend" pavilion located on the Food Expo floor on Sunday–Tuesday will focus on accelerating international trends and emerging technologies. The pavilion will be divided into three zones: Packaging, Flavors, and Consumer Insights. Each zone will include a series of poster sessions. The pavilion will also demonstrate more than 200 international products, complete with opportunities for six new beverage concepts and tastings. The Innova Database team will be on hand to answer questions and guide attendees around the pavilion.
--- PAGE BREAK ---
• IFT/RCA Culinology® Demonstrations. Chefs from the Research Chefs Association (RCA) will again team up with IFT food scientists and IFTSA and RCA student members to present live product development demonstrations on the Food Expo floor. This year's theme is "A Taste of Health." Each day, a new team will present an innovative food product that addresses the nutritional needs of a specific demographic group. They will explain their collaborative process from idea to final product and will provide the audience with samples.
Sunday's demonstration, "Children's Obesity," will focus on development of a nutritionally balanced breakfast product for children. Monday's demonstration, "Campus Dining," will focus on development of a nutritionally balanced and enticing lunch option for onsite dining facilities (e.g., campus, corporate, military, etc.). And Tuesday's demonstration, "Adult Wellness," will focus on development of a high-quality dinner product for adults that satisfies their taste buds as well as their lifelong commitment to healthy living.
• The Healthy Food Ingredients Pavilion will feature the latest and nutraceutical, functional, and organic products.
• The Food Safety & Quality Pavilion will offer innovative instruments, services, and processing and packaging technologies to protect and ensure food safety.
• The Organic Food Ingredients Pavilion will showcase certified organic products from around the world.
• The Food Ingredients (Fi) International Pavilion, presented in cooperation with CMP Information, will provide an arena for purchasing agents, buying teams, and other decision makers to find new products and vendors with the capacity for business overseas.
• Conversation Café on the Food Expo floor will allow attendees to relax and network with fellow attendees. Tables will be set up and assigned a variety of discussion topics each day.
--- PAGE BREAK ---
Student Activities
A wide variety of student activities are sponsored by the IFT Student Association throughout the Annual Meeting. Don't miss these opportunities to see, hear, and encourage these up-and-coming food scientists.
• Student Product Development Competition Oral Presentations (Session 002, Sunday afternoon). Teams from the six regions of the Student Association will describe the food products they developed in this popular competition.
• Information for Food Scientists: The Road Map for 2007 (Session 019, Sunday afternoon). Cosponsored by the International Food Information Service, this symposium is designed to help attendees make use of the growing number of information resources now available.
• Student Product Development Competition Poster Presentations (Session 059, Monday morning).
• Graduate Student Paper Competition (Session 076, Monday morning).
• Undergraduate Student Paper Competition (Session 093, Monday morning).
• Diversity and Multinational Teams in the Food Industry and Academia (Session 107, Monday afternoon). Cosponsored by the International Div., this symposium will feature international speakers from industry and academia describing their experience in building multicultural teams.
• Speed Networking, Mixer, & Welcome Assembly (Monday evening). In this session, students spend 5–10 minutes in an informal interview with an industry representative, then move down the line to the next one. The session is followed by the Mixer sponsored by PepsiCo and the Welcome Assembly.
• Intercollegiate Food Technology College Bowl Competition (Monday evening). Finalist teams from the six regions of the Student Association will compete in this annual competition.
• How to Interview and Negotiate for Your First Job (Session 199, Tuesday afternoon). Professional career coach Vickie Austin will tell students how to sell themselves when interviewing and how to negotiate the salary and benefits package for their first job.
--- PAGE BREAK ---
• How to Successfully Transition into Your First Job (Session 215, Tuesday afternoon). In this panel discussion cosponsored by the Marketing & Management Div., three professionals will share their experiences for a successful transition from student to professional life.
• Student Awards Ceremony (Wednesday morning). The winners of the various student competitions will be honored at this annual breakfast held by the Phi Tau Sigma Food Science Honorary Society.
• Student Oral Professional Development Sessions (Wednesday morning). In four 3-hour sessions, students will give 15-minute presentations on their research, and food professionals will provide written feedback.
Technical Field Trips
Five technical field trips have been scheduled to provide attendees with a first-hand look at some of the food-related companies in the Chicago area.
• Knechtel (Monday morning). This international food and pharmaceutical consulting company assists clients with creating new products, evaluating new ingredients, improving existing products, and problem solving.
• Vegetable Juices, Inc. (Monday afternoon). This company supplies premium natural ingredients ranging from juices and concentrates to purees and diced products. Visitors will tour the company's new Innovation Center—a 10,000-sq-ft R&D facility and culinary kitchen.
• FONA International (Tuesday morning). This company creates and manufactures flavors at its 23-acre campus. Visitors will tour the flavor development labs, product solutions labs, sensory lab, analytical lab, manufacturing floor, quality assurance and control lab, warehouse and corporate offices, and employee areas.
• McDonald's Corp. & Hamburger University (Tuesday morning). Visitors to the headquarters of McDonald's Corp. will tour Hamburger University, a 130,000-sq-ft facility that trains more than 5,000 restaurant managers each year. Visitors will participate in a demonstration of the sensory science grading system for French fries, tour the Executive Chef Kitchen, view the testing protocol and sensory panel booths, see the operational testing area, and have lunch at the on-site McDonald's restaurant, which serves as the prototype for new equipment, food and beverage products, and restaurant design innovations.
Siebel Institute of Technology and World Brewing Academy (Tuesday afternoon). The Siebel Institute of Technology is one of the world's most respected brewing schools and analytical laboratories. It offers courses on all aspects of brewing, manufactures laboratory media, and offers various services. The visit will include a presentation and a tour of the brewery.
--- PAGE BREAK ---
Teaching Science Workshop
IFT Food Science Ambassadors are invited to attend a science educator's workshop, "Teaching Science with Food," on Monday morning. The workshop, held at McCormick Place, will draw from the IFT/Discovery Education multimedia kit. Members of IFT's K-12 Career Guidance Committee will demonstrate three experiments for Chicago-area middle and high school teachers, and the teachers will have the opportunity to conduct two experiments themselves.
Food Science Ambassadors are IFT members who volunteer to help promote the field of food science to teachers, counselors, parents, and students. IFT maintains a publicly available database that teachers, counselors, and students can use to find food scientists in their area who are willing to provide information, demonstrations, presentations, etc., about food science. To become an Ambassador, visit https://members.ift.org/IFT/Member/MemberCenter/DiscoverySignup.htm.
Employment Bureau
The IFT Employment Bureau will be open Sunday–Wednesday. Employers with job openings can post their positions, review applicants' resumes, and interview prospective candidates onsite. Job seekers can post their resumes and schedule interviews online and be interviewed onsite. More information is available at www.ift.org, under "Employment."
Editors Preview the Events
In the following pages, Food Technology's editors preview selected technical sessions, papers, and exhibits to help you determine in advance which of them you will want to be sure you get to. These previews are followed by a complete list of Food Expo exhibitors and their booth numbers, plus the Scientific Program as of press time.
The complete Scientific Program, abstracts, and exhibitor descriptions are available in searchable form online. You can plan your schedule by using the Program Planner, available at www.ift.org/amfe by clicking on Scientific Program, then Program Planner. The planner's Advanced Search page lets you search the entire program by keyword and other criteria.
We hope that this preview will entice you to attend and help you plan your schedule ahead of time. We look forward to seeing you in Chicago!
In support of its mission, vision, and values, the Institute of Food Technologists continually strives to provide unparalleled programs and services that are at the forefront of the industry, for the benefit of the audiences it serves. Such programs and services may include partnerships with other organizations. These working relationships should not be misconstrued to represent an expressed or implied endorsement of such organizations, or their products, services, and programs.
--- PAGE BREAK ---
Pre-Meeting Activities Include Courses and Conference
Prior to the official Saturday, July 28, start of the Annual Meeting & Food Expo, IFT will present nine short courses, and the Chinese American Food Society will present an international conference on Chinese health food.
• Short Courses. IFT's Knowledge & Learning Center is presenting nine one- or two-day courses beginning on Friday, July 27. The two-day courses are "Flavor Interactions in Foods," "Food Packaging for the Non-Packaging Professional," "Food Science for the Non-Food Scientist," "From Concept to Commercialization: Blending Culinary Arts and Food Science," "Ingredient Applications for Total Health & Wellness," "Nonthermal Processing Technologies," and "Preparing for Third-Party Audits." The one-day courses on Saturday are "Introduction to Nanobiotechnology" and "New-Generation Oils." The courses will be held at the Hilton Chicago hotel and require registration fees in addition to the Annual Meeting registration. Details and registration information are available at www.ift.org/amfe.
• Global Chinese Health Food Symposium. Organized by the Chinese American Food Society (CAFS) and IFT, this two-day symposium is the first international conference held in the United States on Chinese health food and its associated concepts and technologies. It will be an excellent opportunity for the international community to exchange ideas and develop a common vision for the future of Chinese health food. Researchers from around the world who have made important contributions to Chinese health food in such areas as biotechnology, functionality, safety, regulation, and processing technology will be on the program. Sessions will address "Biotechnology and Innovations," "Regulations and Labeling," "Education and Marketing," and "Interchange Among Industries." The symposium will be held at McCormick Place South and requires a registration fee in addition to the Annual Meeting registration. Details and registration information are available at www.chinesehealthfood.net.
---
Run for the Money
On Monday morning, get up early and exercise—and help the Student Association raise money for the IFT Foundation for scholarships and fellowships—by participating in the IFTSA Fun Run. Last year, runners and walkers raised more than $37,000.
---
Post-Meeting Activities Focus on Nanoscience, Food Safety
On Wednesday, August 1, IFT will present two full-day conferences, both requiring registration fees in addition to the Annual Meeting registration. Details and registration information for both conferences are available at www.ift.org/amfe.
--- PAGE BREAK ---
• International Food Nanoscience Conference. This year's theme, "Nanoscale Science of Food: Challenges and Opportunities," underscores the emergence of nanotechnology as one of the most exciting research areas in decades. This emergence is based on the improved ability of researchers to image, measure, model, control and manipulate matter at dimensions of 1–100 nanometers, where novel interfacial phenomena introduce new functionalities.
The three sessions of the conference will address "International Aspects of Food Nanotechnology," "Benefits and Application Areas in Food," and "Risk Assessment, Regulation, and Toxicology." Luncheon speaker Daniel S. Kohane will discuss "Micro- and Nanoparticles for Drug Delivery." The conference—cosponsored by Canada's Advanced Food Materials Network (AFMNet), the Royal Dutch Embassy, and Blue Pacific Flavors/Wilkes and Associates Inc.—will be held at McCormick Place South.
• Global Food Safety & Quality Conference. IFT's second Global Food Safety & Quality Conference addresses how to evaluate public health consequences of product-agent scenarios associated with potential tampering and criminal, malicious, or terrorist activity. Attendees will participate in a demonstration of software that applies computerization to the CARVER + Shock methodology—a tool to assess the vulnerability of the food system—and will receive a copy of the software. The all-day conference will be held at McCormick Place South.
---
Nutrition Education Conference Also Available
IFT Annual Meeting & Food Expo registrants also have the opportunity to attend the Society for Nutrition Education's 40th Anniversary Conference, Saturday–Wednesday, on the subject "Exploring Nutritional Bio-Optimism." The conference is being held in Chicago at the same time as IFT's Annual Meeting & Food Expo. The conference sessions will address research, programs, and policies regarding food and nutrition education. Ambassador George McGovern is one of the opening keynote speakers. The fee for IFT registrants to attend all SNE events is $50. In a reciprocal arrangement, SNE registrants can attend Food Expo for $50. For details and registration information, visit www.sne.org/conference/index.html.
---
To register
To register, or to obtain further details on the program, visit www.ift.org/amfe.
by Neil H. Mermelstein , a Professional Member of IFT, is Executive Editor of Food Technology magazine ([email protected]).