With highly publicized scandals involving E. coli in spinach, salmonella in peanut butter, and melamine in pet food, food safety has become a top concern for many consumers, regulators, politicians, and food processors. At the upcoming Annual Meeting & Food ExpoSM, attendees will be able to select from a variety of activities to aid them in their food safety efforts. These food-safety tools include a Food Safety & Quality Pavilion of more than 50 exhibitors on the Expo floor, several scientific sessions ranging from produce safety and microbial biofilms to bacteriophages and HACCP, and a full-day Global Food Safety and Quality Conference.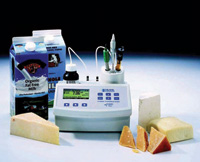 Food Defense
Taking place on the last day of the meeting (Wednesday, August 1, 9:00 a.m. to 4:35 p.m.), the conference will focus on food defense. All attendees will participate in an interactive demonstration of a user-friendly software tool that applies computerization to the CARVER + Shock methodology and will receive a copy of the tool for their personal use.
FDA is providing for the implementation of an offensive vulnerability assessment tool to further refine vulnerability assessments for the food sector. CARVER + Shock is designed to identify "critical nodes" likely for terrorist attacks in order to design "shields" that reduce risk. These assessments evaluate the public health consequences (i.e., risk of morbidity and mortality) of product–agent scenarios associated with potential tampering, criminal, malicious, or terrorist activity.
This tool incorporates economic and pathway analysis with risk assessment and focuses on the food sector as a system of industrial pathways (i.e., farm-to-table food supply chain, food packaging, and transportation systems). CARVER + Shock is expected to be used within the food industry to increase awareness of factors influencing food security, to encourage the conduct of threat assessments, and to assist in developing methods to enhance security of food production facilities and processes.
Speakers include David W.K. Acheson, Director, Office of Food Safety, Defense and Outreach, FDA CFSAN; Frank F. Busta, Director, National Center for Food Protection and Defense, University of Minnesota; Susan K. Harlander, Senior Vice President, Government and Industry Relations, BT Safety, LLC; Phillip I. Pohl, Susan D. Carson, and Jeffrey J. Danneels, Sandia National Laboratories; John T. Hoffman, Coordinator, University Center for Post-Harvest Food Protection/Defense, University of Minnesota; Kim Green, Senior Scientist, USDA FSIS; and Dave Wankowski, Manager, Regulatory Affairs, Kraft Foods Global, Inc. Cory M. Bryant, Senior Research Scientist, Institute of Food Technologists, will moderate the conference.
--- PAGE BREAK ---
The Global Food Safety & Quality Conference requires a separate registration fee, which includes lunch. For more information, please visit www.ift.org.amfe.
Scientific Sessions
Dozens of scientific sessions will explore food safety and quality assurance. On Sunday afternoon, Session 021 will examine "Produce Safety: Problem and Solution." The more recent E. coli outbreaks associated with consumption of spinach and lettuce have highlighted the urgent need for understanding the ecology of pathogens and for developing a farm-to-table strategy to improve the safety of fresh and fresh-cut produce. Following a brief overview of the outbreaks associated with fresh produce in recent years, the session will examine whether and how human pathogens survive and multiply in water, soil, and produce. Understanding the ecology of the human pathogen will help to develop interventions to enhance produce safety. Representatives from industry will discuss the latest measures that they are taking to improve the safety of produce. After incorporating the latest scientific research, industry is likely to develop and adopt integrative and comprehensive practices that are specific, measurable, and verifiable. Currently, the USDA Agricultural Marketing Service has developed a program called "Qualified Through Verification" for the fresh produce industry. Under the program, USDA experts work with a company to validate the facility's HACCP plan and conduct an on-site audit to verify its effectiveness. Using HACCP-based principles, USDA first inspects the company's facilities to ensure they are properly designed, are consistent with the FDA's GMPs, have on-site microbiological testing, follow accepted sanitary operating procedures, etc. The system can help processors and buyers to produce safe fresh-cut produce.
Also on Sunday afternoon, Session 042 will explore "Post-harvest Intervention Technologies to Improve Produce Safety." The recent outbreaks associated with consumption of spinach, lettuce, and other produce have highlighted the urgent need for effective food safety intervention technologies. This symposium will discuss the latest science on treatments and technologies, including chemical, physical, and biological interventions. Currently, the fresh produce industry is relying mostly on aqueous sanitizers. These sanitizers include chlorine, ozone, acidified sodium chlorite, peroxy acids, cetylpyridinium chloride, and organic acids. Gaseous or vaporized antimicrobials, such as chlorine dioxide, have the potential to diffuse into areas that aqueous sanitizers can not reach. The interaction of human pathogens and native microflora is another topic in the symposium. Understanding this interaction may lead to the development of biological interventions to minimize the multiplication of foodborne pathogens in produce.
--- PAGE BREAK ---
Session 041 on Sunday afternoon will examine "Microbial Biofilms and Food Safety." The rise in the number of produce-related outbreaks, coupled with the lack of an effective intervention, has given rise to an intense research effort into the ecology of human pathogens in the agricultural environment. Recently, the intimate interactions between human pathogens and plant tissues have begun to be characterized. Bacteria have been found to be capable of attaching to and colonizing the surfaces of food and food handling and processing equipment. It is now becoming clear that once attached, human pathogens are capable of forming biofilms on these surfaces. This formation of a biofilm was reported to be one of the main factors in the failure of washing treatments to remove or inactivate human pathogens on food surfaces and in the food handling areas. This symposium will discuss the nature of biofilm formation and the effects that growth in a biofilm can have on bacterial cells and their resistance to inactivation using traditional food processing treatments. The discussion will cover techniques to measure and manage biofilm control in food handling settings. Also, the session will discuss ways to manage and remove biofilms, including traditional cleaners, tools, and mechanical means to eliminate microbial communities.
On Monday morning, Session 063 will investigate "Bacteriophage as an Anti-Listerial Treatment in Ready-to-Eat Meats." The approval by FDA and USDA to use phages to combat the growth of Listeria monocytogenes has caused many different responses. For example, some consumers are very wary of the inclusion of viruses in the food supply; the effectiveness of phage to control Listeria monocytogenes in actual food products lacks verification; and a host of other concerns including potential phage resistance and availability of phage. This symposium attempts to answer some of these questions.
Also on Monday morning, Session 065 will examine "Botulism from Carrot Juice: Lessons that Need Revisiting." In 2006, an outbreak of botulism from consumption of pasteurized, low-acid carrot juice occurred in North America. Failure to control proteolytic C. botulinum in a susceptible product that is intended to be stored chilled underscores the existence of gaps between known risks and actual practice. This session will review outbreaks of botulism from proteolytic and non-proteolytic C. botulinum in foods and beverages while discussing processing or handling mishaps that led to outbreaks and lessons learned. Attendees will also gain knowledge on methods that may be used by food safety professionals to combat C. botulinum. Research on spore and toxin detection will be covered as well as the use of food safety objectives for controlling C. botulinum in chilled foods.
Another symposium on Monday morning will highlight botulism as well. "Assessing Risk of Botulism in Chilled Foods and Beverages" (session 080) will present a quantitative assessment of the risk of botulism in commercial, chilled foods, and beverages to identify and prioritize steps that may be taken to reduce risk. How the risks rank relative to one another will be considered for both proteolytic and non-proteolytic C. botulinum. Both risk models will incorporate product handling and other pertinent factors that might assist in food safety management and prevention of botulism in chilled products.
--- PAGE BREAK ---
On Monday afternoon, a two-part symposium (sessions 106 and 124) will address "Control of Antimicrobial Resistant Pathogens in the Food Supply." Understanding how food production, processing, and handling influences development or transmission of antimicrobial resistance is vital to the safety of our food supply. With the increasing use of antibiotics for human therapy and increasing reliance on imported food products, there is potential for adverse consumer consequences. The symposium will address issues on whether production agriculture is a major contributor to resistance, whether uncontrolled use of antibiotics in less developed markets can lead to resistance, and the impact of future demographic shifts in human susceptibility to infectious diseases, and our increasing reliance on imports on resistance. Speakers will provide an overview of commodity-specific concerns and examples of control strategies. Emphasis will be placed on how the food processing industry can act as stewards to ensure that foods do not serve as vehicles of antimicrobial resistant pathogens. There will also be a panel discussion with audience interaction and Q&A.
Also on Monday afternoon, a two-part symposium (sessions 111 and 123) will examine "Retail HACCP." Speakers from McDonald's, Jack in the Box, and Denny's are experts in applying HACCP to the safety of food served in foodservice establishments and innovating new safe processes. They will discuss their HACCP programs, including how they control the safety of supplier-prepared food as well as hazard identification and control procedures in their operations. The second session will be roundtable discussions with the speakers.
On Tuesday afternoon, a two-part symposium (sessions 195 and 216) will explore "Emerging Foodborne Pathogens in Muscle Foods." Meat and poultry are associated with microbial pathogens such as E. coli O157:H7, Salmonella, Listeria monocytogenes, Yersinia, and Campylobacter. In some cases, the toxins produced by pathogens such as Staphylococcus aureus or Clostridium botulinum cause foodborne illness. New regulatory actions, various interventions and improved sanitation by the industry, and extensive research targeting control of pathogens have resulted in reduction of foodborne illness associated with muscle foods. These pathogens, which emerged in the last 25 years, have been slowly replaced with new and evolving pathogens. Session 195 will give an overview of emerging foodborne organisms and will specifically address two pathogens—non-O157 verotoxigenic E. coli and Salmonella Typhimurium DT 104. It will also discuss the prevalence and survival of these pathogens in muscle foods and strategies to control them. Session 216 will focus on prevalence and control of two emerging foodborne pathogens associated with muscle foods. Mycobacterium paratuberculosis and Arcobacter will be discussed in detail with respect to their prevalence, control, and significance of their occurrence in muscle foods.
--- PAGE BREAK ---
Exhibits
On the show floor at Food Expo, a special area will house the Food Safety & Quality Pavilion. This exhibition area will host more than 50 companies offering a range of products and services from analytical instruments, independent testing, and environmental sampling to online analyzers, sanitation audits, and test kits for allergens, GMOs, and toxins. Here's a sampling of what some exhibitors will be highlighting at their booths throughout the exposition.
• Full-service laboratory provides expert analytical and consulting services in areas of microbiological & chemical quality, safety, and preservation of foods. Microbiological services include enumeration, isolation and identification of pathogen and spoilage organisms; safety and stability assessments; and inoculated pack studies. Research investigations involve intervention strategies for microbial control, challenge studies, or process validations. Chemistry services include antibiotics, toxins, pesticide residue, and nutritional component testing. Product development services include sensory evaluation, product duplications, and shelf-life testing. Vendor Specification Program aids restaurant operators, retailers, wholesalers, and processors by insuring quality throughout the supply chain. ABC Research Corp., www.abcr.com, Booth 2929
• Analytical instrumentation line includes devices for measuring density, specific gravity, % concentration, Brix, viscosity, temperature, CO2 in beverages, and rheology. Anton Paar USA, www.anton-paar.com, Booth 5129
• Automated hydrolysis system performs total fat/oil analysis. Taking up minimal bench space, the instrument allows for batch hydrolysis of up to 20 samples at a time. Filter bag technology simplifies total fat/oil hydrolysis by eliminating potential handling errors. To operate, the technician inserts up to 20 samples into the Teflon vessel, adds the acid solution, and follows the system screen prompts. Once the program is selected, the system automatically completes the process and rinses the samples. Sample size is 1–3 g. Total test time is 90 minutes. Ankom Technology, www.ankom.com, Booth 3665
• Texture Analyzer offers a new precise method for grading the quality of tofu and other curd products. Using the old method, a motorized stage would lift a curd sample toward a test probe. A technician would simultaneously watch the curd sample and the mechanical pointer in an effort to determine the curd strength at the point of rupture. Now with the LFRA Texture Analyzer, the tofu or curd sample is placed on a test table. At the press of a button, the instrument compresses the sample with a special "curd probe" (available in three sizes) until it ruptures. The peak load appears in grams on the instrument's easy-to-read display, eliminating guesswork and operator error. Other typical food texture applications include butter and cheese products, sauces, dough and baked goods, gels, vegetables, meats, candies, yogurts, and puddings. A wide variety of probes, fittings, and accessories are available for specific applications and customized components can be designed for new applications. Brookfield Engineering Labs, www.brookfieldengineering.com, Booth 2558
--- PAGE BREAK ---
• Moisture sorption isotherms are important for new product development, ingredient research, shelf-life estimation, and to fully understand the moisture within a product. New AquaSorp IG instrument makes determination of isotherms quick and automatic. The AquaSorp IG is simple to use and consists of inserting a food sample into the instrument, setting a few parameters for the experiment, and walking away. It is the only isotherm instrument that directly measures water activity using Decagon's patented chilled-mirror-dewpoint technique. Desorption and adsorption are achieved by flowing wet or dry air respectively, and moisture loss and gain are determined by weight changes. The instrument generates the complete absorption and desorption isotherms in approximately 24 hrs with >50 points on each isotherm curve. Decagon Devices, www.decagon.com, Booths 3522, 3920
• Contract sensory and consumer research firm uses the latest software for fully computerized data collection, analysis, and reporting. Company can provide descriptive analysis of your food and beverage products, eliminating the need to maintain your own trained panel. Utilizing flexible data collection that delivers same-day results, consumer research can be conducted at in-house 20-booth facility or off-site at homes or other facilities. Compusense, www.compusense.com, Booth 1766
• Instrumentation is designed for testing the physical properties and quality of various materials utilized within the food industry. On display will be the Farinograph-E, Viscograph- E, Micro Visco-Amylo-Graph, and laboratory mixers. The Farinograph-E is popular for evaluating flour and dough products, but has been used for many unconventional applications. The Viscograph measures the viscosity of starch and products containing starch. For applications where sample size is an issue, the Micro Visco-Amylo-Graph can evaluate small amounts. Both the Viscograph-E and the Micro Visco-Amylo-Graph offer variable speed and real stock temperature monitoring. C.W. Brabender Instruments, www.cwbrabender.com, Booth 3970
• Hand-held digital refractometer weighs in at only 100 g and fits perfectly in your hand for ease of use. Unit digitally and automatically measures your sample in seconds and displays results in refractive index or % Brix. You can change the reading mode with the push of a button and get your full reading in the LCD display screen—no partial display or scrolling numbers. Two AAA batteries supply 10,000+ readings. Durable housing and IP65 dustproof/ water resistant rating take on any environment. Reichert Analytical Instruments, www.reichertai.com, Booth 2126
--- PAGE BREAK ---
• Product development and labeling software allows users to add a barcode to their label. In addition, an audit trail has been added, which allows users and administrators to track changes to a document. A dairy formulation feature has also been added, allowing users to virtually combine dairy products for analysis. New dairy density report shows the density of ice cream and other dairy formulations based on industry formula. Trans fat label display is now included in all new versions of Genesis R&D. And HACCP guidelines are available to add to all formulas. MyPyramid and protein quality reports have also been added. ESHA Research, www.esha.com, Booth 770
• Distance education from Kansas State University provides educational opportunities in food science, agribusiness, human resources, engineering, and more. It offers the food industry the right educational partnership to help you complete a degree, pursue an advanced degree, or gain valuable training. Programs offered include master's degrees in agribusiness, food science & industry, industrial/organizational psychology, and engineering; certificate programs in food science, business administration, organizational leadership, applied statistics, and public administration; and bachelor's degrees in food science & industry, animal sciences & industry, general business, and dietetics. Kansas State University, www.distance.ksu.edu, Booth 2653
• Water activity instruments use advanced digital signal processing circuitry to bring a high level of flexibility to aw measurement. Instrumentation includes a hand-held portable solution, a PC-based solution, and a stand-alone instrument for the measurement of aw. All instruments use the Rotronic sensor for high accuracy and reliability. HygroLogNT data logger/digital transmitter features HygroClip digital humidity technology, FDA CFR 21 part 11 and GAMP4 compliant software, compact flash memory card for virtually unlimited logging capacity, Bluetooth interface options, and a wide measuring range—maximum -50–200°C/0–100%RH; maximum accuracy of ±1.0%RH/±0.2°C. Rotronic Instrument Corp., www.rotronic-usa.com, Booth 3630
• Full line of lab instruments for physical testing and quality control include refractometers, moisture meters, thermometers, thickness gauges, color meters, texture analyzers, viscometers, and balances. Paul N. Gardner, www.gardco.com, Booth 4815
• Global services for testing, auditing, and certification include a vast network of 33 labs and 1000+ offices in more than 140 countries. Company audits and certifies such standards as ISO 22000, HACCP, GMP, ISO 9001:2000, ISO 14001:2004, etc., along with customizing an audit solution specific to your needs. "Food Safety Audit Pack" programs can eliminate numerous audits into one simplified, all encompassing assessment. Combinations could include ISO 22000-GMP-HACCP, ISO 9001:2000-HACCP-BRC, etc. SGS Group, www.foodsafety.sgs.com, Booth 4910
--- PAGE BREAK ---
• Titrators come pre-programmed to perform common food applications, including salt, titratable acidity, vitamin C, and SO2 analyses. Typical results are achieved in 3 minutes, with reproducibility of ±0.2%. IFT Expo attendees received double factory rebates. Denver Instrument, www.denverinstrumentUSA.com/titrators, Booth 5512
• Instrumentation catalog features 96 pages of food safety and quality testing devices, including balances, microscopes, pH meters, refractometers, sieves, viscometers, temperature meters, probes, and more. Cole- Parmer Instrument Co., www.coleparmer.com, Booth 2922
• Full-service testing lab offers chemistry, microbiology, sensory, consumer research, pilot plant, nutrition labeling, and information research services. Laboratory is ISO 17025 accredited, and recognized as a reference laboratory by AOAC for conducting validation studies. Although experts in dairy analysis, lab performs a broad range of routine testing as well as specialty assays. Sensory/consumer research group is experienced at difference testing, acceptance testing, descriptive analysis, and consumer guidance testing. Pilot plant is capable of producing small batch runs in many product categories across a broad range of processing conditions. Rtech Laboratories, www.rtechlabs.com, Booth 4348
• Sensory evaluation specialist and custom market researcher offers a broad range of services to the food industry, with expertise in consumer behavior, sensory science, product marketing, and statistics. Company will demonstrate three new areas: Flash QDA™ Training—sensory tool designed for technical, marketing, and joint venture teams; Qualitative Sensory Immersion—a unique tool to delve deeper into the sensory experience of your consumer; and Global Optimization—how many unique formulations do you need to satisfy your global consumer target? Tragon, www.tragon.com, Booth 3717
• Intellectual property rights play a critical role in protecting investments in innovation, marketing, and reputation. Understanding intellectual property rights and the value-added by such rights is essential to protecting ideas and inventions. Volpe and Koenig, P.C., www.volpe-koenig.com, Booth 3877
• Custom blender of dry ingredients is firmly committed to TQM and has been rated "Superior" by AIB for over a decade. All products are packaged to customer's specifications with or without private labeling. Company offers custom formulation, packaging, storage and shipping. New blending procedures for allergenic and nutraceutical products in a climate-controlled, dust-controlled environment are now available. Blendex Custom Blending, www.blendex.com, Booth 2165
--- PAGE BREAK ---
• Publisher of scientific and technical books, journals, and electronic databases will provide free sample copies of its food science and nutrition journals. IFT Food Expo attendees can sign up for a free trial of online reference libraries FOODnetBASE and NUTRITIONnetBASE, which provide hundreds of reference publications at your fingertips. CRC Press - Taylor & Francis Group LLC, www.crcpress.com, Booth 4329
• Bacteriophage product, used as a processing aid, can control Listeria monocytogenes in meat, cheese, fish, and other food products. Listex bacteriophage has been granted GRAS (Generally Recognized As Safe) status by the U.S. FDA through a thorough safety review. Phages are the most abundant microorganisms on earth and are present in significant numbers in water and foods of various origins. Phages are harmless to humans, animals, and plants, and are extremely specific in regard to the bacteria they target. This allows their potential for combating dangerous bacteria, such as foodborne pathogens. EBI Food Safety B.V., www.ebifoodsafety.com, Booth 3361
• American Oil Chemists Society (AOCS) is a not-for-profit international scientific society with 4,000 members working in the science and technology of fats, oils, and related materials in industry, academia, and government. On display will be new 2007 releases of the Edible Oils Manual (published by AOCS and SFA); Olive Oil, 2nd Edition; Dietary Fats and Risk of Chronic Disease; and Deep Frying: Chemistry, Nutrition, and Practical Applications, 2nd Edition. AOCS, www.aocs.org, Booth 3872
• Automatic titrator and pH meter is designed for dairy and cheese applications. Instrument has a powerful and effective built-in algorithm to analyze the shape of the pH electrode response and determines the reaction. By pressing the start key, the instrument automatically conducts an end point display titration. The results are immediate. It has a simple and reliable peristaltic pump to ensure accuracy and repeatability. The HI84429 system allows the user to log and store their data for accurate recordkeeping and the data can also be transferred to a PC if necessary. Hanna Instruments, www.hannainst.com, Booth 2725
• Independent testing laboratory announces the opening of its dedicated Tea Lab, which will continue to offer flavanoids, antioxidant activity, sucralose, microbiological, and nutritional testing. New assays include caffeine, preservatives (sorbate & benzoate), artificial sweeteners (i.e., aspartame, ace-K, and saccharin), and catechins (including EGCG). Medallion Labs, www.medallionlabs.com, Booth 2722
• Design-builders of onsite industrial wastewater treatment systems use technologies ranging from low-rate anaerobic to sequencing batch reactor and membrane biological reactor. Bench-scale and pilot-scale studies are offered at the company's laboratory or onsite when deemed necessary to confirm treatability. Each system is custom-designed according to strength of waste, amount of flow, effluent permit limits, site constraints, and customer's preferences. ADI Systems Inc., www.adisytemsinc.com, Booth 4811
--- PAGE BREAK ---
• Rapid test kits for foodborne bacteria determine the presence of Salmonella, Listeria, and Listeria monocytogenes. Tests for food allergens detect the presence of peanut, milk, egg, almond, gliadin (gluten), soy flour, and hazelnut residues. AccuPoint ATP sanitation monitoring system puts the speed and convenience of ATP testing in a lightweight, rugged instrument that fits in the palm of your hand. Soleris system rapidly detects microbial contamination by monitoring the color changes produced by changing pH, and other reactions, generated by microbial growth. The automated optical system needs only a fraction of the time of traditional methods, with significantly less hands-on time. It offers a wide array of rapid tests, including total viable count, coliforms, E. coli, yeast and molds, lactic acid bacteria, and enterobacteriaceae. Neogen, www.neogen.com, Booth 2730
• Testing systems for food products and ingredients include texture analyzers, density and color instruments, temperature, pressure, and signal calibrators. Exhibitor will demonstrate the operation of the TAPlus texture analyzer by performing texture tests on cheese, meats, crackers, nuts, fruits, confections, and rolls using a variety of fixtures and probes. A new material testing catalog, a NEXYGENPlus demonstration CD, and product literature will be available upon request. AMETEK Test & Calibration Instruments – Americas, TCI. [email protected], Booth 2729
• Near-infrared photometric gauge measures up to three constituents (e.g., moisture, oil, and protein) in a variety of products. It allows paste/slurry samples to be presented in a static state, such as a petri dish or flat-bottomed vials and bottles. MCT-600P unit is housed in an aluminum case, complete with sample presentation plate, operator controls, and moisture display. A variable sample testing time of 1 to 99 seconds provides at-line operators with instantaneous results. These measurements supply information that enables maximization of product yield. Process Sensors Corp., www.processsensors.com, Booth 4960
• Food & beverage analyzer includes methods with pre-defined parameters most commonly used when working with food ingredients. Salt content, total acidity, free fatty acid, and Vitamin C are only a few of the pre-defined methods that make the DL22 Food & Beverage Analyzer an excellent choice for simple yet accurate testing when you run single samples or in small batches. Mettler-Toledo, www.mt.com, Booth 5450
--- PAGE BREAK ---
• Water analyzers monitor water safety, product quality, and wastewater discharge. Monitoring the quality of water used for washing, cooling, rinsing, or conveying food helps prevent microbial, chemical, and physical hazards. As part of the sanitizing process, CL17 chlorine analyzer offers an economical method for analysis of chilling water treatment, insect control, disinfection, and rinsing. Features include total or free residual analysis of chlorine (0–5 mg/L range), automatic, self-testing diagnostics, and manual or automatic feed pump control. Hach Co., www.hach.com/food, Booth 3875
• Particle analyzing instrument, which combines rapid particle analysis with microscopy, rapidly captures and analyzes microscopic images of individual particles in liquid products or suspensions of dry products. Data is presented in a graphical format that allows users to select regions of graphs to view images and summary statistics representing the regions selected. Images can be sorted by various parameters, and automatic image matching can be used to search for morphological similarities. Users can also utilize saved images as references for pattern matching in future data sets. The key benefits of this technology are its ability to rapidly collect microscopic images and analyze them (in real-time) for size and appearance. This, combined with in-situ capabilities, make the technique a powerful tool for monitoring process efficiency. Fluid Imaging Technologies, www.fluidimaging.com, Booth 3323
• Spectrophotometers are used in the food industry to detect contaminants and for color measurement. With dynamic auto-alignment as a standard feature, the FTIR-8400S spectrometer continuously maintains optimal alignment during data acquisition, ensuring consistently reproducible spectra without the need for tedious mechanical adjustments. The UV-1700 spectrophotometer features a double-beam design and a highly stable optical bench to ensure integrity and trouble-free operation. Exclusive design accommodates any size or type of sample to accurately measure the color of food products in any form. Shimadzu Scientific Instruments, www.ssii.shimadzu.com, Booth 4415
• Testing lab for glycemic index provides accurate, scientifically valid, and confidential determination of the glycemic index and other metabolic and physiological research. The lab's scientific directors are internationally renowned scientists who pioneered the research related to the glycemic index since its development more than 25 years ago. Company will host an exclusive seminar and reception during the 2007 IFT Food Expo. "The Low-Down on GI: The glycemic index explained and explored in the marketplace" will take place on Monday, July 30, 2007 at 6:00 p.m. at the Hyatt Regency McCormick Place. As capacity is limited, please email [email protected] or visit Booth 5153 during the IFT Food Expo to receive your complimentary invitation. Glycemic Index Laboratories, www.gilabs.com, Booth 5153
• Food safety and technical support services program is designed for fresh-cut and leafy green growers, processors, and retailers. From field to farm, the program helps companies identify safety risks through the increasingly expansive and complex produce supply chain. Employing an integrated approach—ranging from field sample collection to on-site employee training—the program provides companies with expert support services to implement efficient, cost-effective control measures. Silliker, www.silliker.com, Booth 1126