A leading cause of death, cardiovascular disease (CVD) remains one of the top consumer health concerns. Major risk factors for CVD include high cholesterol levels, high blood pressure, and obesity. According to the American Heart Association, of Americans age 20 and older, 140 million are overweight or obese, 72 million have high blood pressure, and 105.2 million have total blood cholesterol levels of at least 200 mg/dL.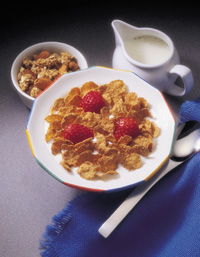 Functional food manufacturers have addressed CVD with products that offer heart-health benefits. Products ranging from beverages and nutrition bars to confectionery and prepared meals have been tailored for heart-health–conscious individuals. These products contain ingredients—fiber, whole grains, phytosterols, soy proteins, omega-3 fatty acids, and flavonoids—that are said to lower the risk factors for CVD. Here is a look at some of the latest research and ingredient offerings.
Fiber and Whole Grains
Food and Drug Administration-approved health claims and qualified health claims link whole grains and soluble fiber from barley, psyllium husk, and whole oats to a reduced risk of heart disease. Queenan et al. (2007) reported that consuming 6 g of concentrated oat beta-glucan daily for 6 weeks significantly reduced total and low-density-lipoprotein (LDL) cholesterol levels in subjects with elevated cholesterol. The researchers randomly assigned 75 healthy hypercholesterolemic men and women to either an experimental group (6 g of concentrated oat beta-glucan/day) or a control group (6 g of dextrose/day). The subjects who consumed the oat beta-glucan had a significant reduction in total cholesterol and LDL cholesterol.
In November 2006, GTC Nutrition, Golden, Colo. (phone 800-522-4682, www.gtcnutrition.com), began offering OatVantage™, an oat bran concentrate that is a soluble fiber that is high in oat beta-glucan, dispersible in water, highly viscous, and nondigestible in the small intestine.
According to a press release (Orafti, 2006) from Orafti Active Ingredients, Malvern, Pa. (phone 610-889-9828, www.orafti.com), prebiotic fibers, inulin, and oligofructose, helped to inhibit atherosclerosis in mice with a predisposition to heart disease. The researchers showed that diets supplemented with oligofructose-enriched inulin (Orafti's Beneo™ Synergy1) or 10% long-chain inulin (Beneo HP) inhibited the build-up of fatty deposits in the animals' arteries.
Behall et al. (2006) showed that increasing the consumption of whole-grain foods high in soluble or insoluble fiber can reduce blood pressure and may help to control weight. The researchers gave seven men, nine premenopausal women, and nine postmenopausal women a controlled Step I diet for 2 weeks, then replaced about 20% of energy in the diet with whole-wheat/brown rice, barley, or half wheat-rice/half barley for 5 weeks each. The subjects' systolic pressure was lower after consuming the wheat/rice and half-and-half diets. The diastolic and mean arterial pressures were reduced after consuming any of the three whole-grain diets.
--- PAGE BREAK ---
Soy
Like fiber and whole grains, soy protein also boasts an FDA-approved heart-health claim. Reynolds et al. (2006) conducted a meta-analysis examining the effect of soy protein supplementation on serum lipid levels in adults. Soy protein supplementation was associated with a significant reduction in mean serum total cholesterol, LDL cholesterol, and triglycerides, and a significant increase in high-density-lipoprotein (HDL) cholesterol. Meta-regression analyses showed a dose-response relationship between soy protein and isoflavone supplementation and net changes in serum lipids.
The United Soybean Board reported that new research indicated that soy may contribute to heart health through a process referred to as "decreased platelet aggregation" (USB, 2006). The researchers gave 29 post-menopausal women a daily supplement of 100 mg of isoflavones or a placebo for 3 mo. The subjects who received the isoflavone supplement showed a significant decrease in the density of a particular platelet receptor known as TxA2. The density of TxA2 was mostly unchanged in the subjects who took the placebo. The researchers said that decreasing the density of platelet receptors reduces the risk of forming a blood clot that could lead to a heart attack or stroke.
Phytosterols
According to the American Heart Association, a 10% decrease in total cholesterol levels may result in an estimated 30% reduction in the incidence of coronary heart disease (CHD). Phytosterols, which help to reduce cholesterol, were recently introduced in two new retail products. In February 2007, Nautilus Mineral Waters of America Inc., Winnipeg, Manitoba, Canada (www.hearthealthywater.com), partnered with the Growth Capital Group and Xetex Beverage to launch Heart Healthy Water™, a mineralized water made from calcium-3-phytosterol and natural spring water. La Belle Inc., Ripon, Calif. (phone 209-599-6605, www.labelleinc.com), introduced CardioPro™ nutrition bars with plant sterols as the active ingredient. The bars provide 1.5 g of plant sterols and 5 g of dietary fiber/serving.
Several ingredient suppliers offer phytosterols for use in heart-healthy products. Enzymotec, Migdal HaEmeq, Israel (phone +972-4-654- 5112, www.enzymotec.com), won the NutrAward prize at SupplyExpo 2007 for its heart-healthy ingredient, CardiaBeat™, a conjugated matrix of sterol-omega-3.
Kerry Ingredients, Beloit, Wis. (phone 800-328-7517, www.kerryingredients.com), launched a new phytosterols line in January 2007. A proprietary encapsulation process allows manufacturers to use free sterols as an ingredient during the manufacturing process without the use of special equipment or any organoleptic effects in the finished product.
Cargill Health & Food Technologies, Minneapolis, Minn. (phone 866-456-8872, www.cargillhft.com), offers CoroWise™ plant sterols. Vitalicious Inc., New York, N.Y. (phone 877-848-2877, www.vitalicious.com), uses the ingredient in its Dark Chocolate Pomegranate VitaTops™ muffin tops and was the first baked goods company to include CoroWise plant sterols in its product line. Cargill's other heart-healthy ingredients include Prolisse™ soy protein isolate and Barliv™ barley beta-glucan.
--- PAGE BREAK ---
Omega-3 Fatty Acids
Omega-3 fatty acids are included in a plethora of products. Ocean Nutrition Canada, Nova Scotia, Canada (phone 888-980-8889, www.ocean-nutrition.com), announced the addition of its Meg-3® eicosapentaenoic acid/docosahexaenoic acid (EPA/DHA) ingredient in several new products, including a shelf-stable juice, multi-grain bread, and nutrition bars.
Cognis Nutrition and Health, LaGrange, Ill. (phone 708-579-6150, www.cognis.com), last year introduced Omevital™ omega-3 fatty acids, which are of marine origin and have high-potency concentrations of up to 60% combined EPA/DHA long-chain fatty acids in ethyl ester and triglyceride forms. In addition, the company offers Vegapure® plant sterols and plant sterol esters.
P&G Food Ingredients, Cincinnati, Ohio (phone 800-477-8899, www.pgfoodingredients.com), offers Omegaphyl™ omega-3 fatty acids and Nutraphyl® phytosterols.
Recent studies have backed up omega-3 fatty acids' heart benefits. Wang et al. (2006) conducted a systematic review of studies and found that increased consumption of omega-3 fatty acids from fish or fish-oil supplements reduced the rates of mortality from all causes, cardiac and sudden death, and possibly stroke. Theobald et al. (2007) indicated that a moderate increase in the daily intake of DHA to ~0.7 g lowered diastolic blood pressure. And Yokoyama et al. (2007) showed that EPA is a promising treatment for the prevention of major coronary events, especially non-fatal coronary events, in Japanese hypercholesterolemic patients.
Flavonoids
Dietary flavonoids may have beneficial cardiovascular effects. Mink et al. (2007) used flavonoid food composition data from three available U.S. Dept. of Agriculture databases to evaluate the association between flavonoid intake and CVD mortality. The researchers concluded that dietary intakes of flavanones, anthocyanidins, and certain foods rich in flavonoids—bran, apples, pears, red wine, grapefruits, strawberries, and chocolate—were associated with a reduced risk of death due to CVD.
Taubert et al. (2007) conducted a meta-analysis and found that the consumption of foods rich in cocoa may reduce blood pressure. Polagruto et al. (2006) suggested that consuming a flavanol-rich cocoa snack food containing phytosterols such as CocoaVia® from Mars Inc., Hackettstown, N.J. (phone 866-290-6849, www.cocoavia.com), effectively reduced plasma total and LDL cholesterol levels in a population with hypercholesterolemia.
According to Polyphenolics, Madera, Calif. (phone 559-661-5556, www.polyphenolics.com), its MegaNatural BP grape seed extract lowered blood pressure in subjects with metabolic syndrome (Polyphenolics, 2006). Three groups of eight subjects each received either 150 mg or 300 mg of grape seed extract/day or a placebo for one month. The subjects who took the extracts showed a significant reduction in blood pressure. The group taking the 300 mg of grape seed extract also had reduced serum oxidized LDL cholesterol levels.
Gorinstein et al. (2007) compared the influence of hesperidin and naringin, the main flavonoids of orange and grapefruit, on plasma lipid profile and antioxidant activity in rats fed a cholesterol-containing diet. After 30 days, they found that diets supplemented with hesperidin and naringin significantly hindered the increase in plasma lipid levels caused by dietary cholesterol.
--- PAGE BREAK ---
More to Come
Research is pointing to other ingredients said to lower blood pressure and cholesterol.
InterHealth Nutraceuticals Inc., Benicia, Calif. (phone 800-783-4636, www.interhealthusa.com), reported that its oxygen-coordinated niacin-bound form of supplemental chromium, ChromeMate®, improved blood lipids in a mouse study (InterHealth, 2007). Chromium significantly lowered total cholesterol, LDL cholesterol, and triglyceride levels and increased the level of HDL cholesterol in mice that were born obese and diabetic.
A vegetarian form of superoxide dismutase, GliSODin® from PL Thomas & Co., Morristown, N.J. (phone 973-984-0900, www.plthomas.com), was shown to be a preventive agent against atherosclerosis in individuals with metabolic syndrome (PL Thomas, 2007). The subjects who took GliSODin had a significant improvement in antioxidant status and a reduction in malondialdehyde, a measure of lipid oxidation. They also had a significant reduction in intima media thickness (thickening of the artery).
The company also offers MenaQ7, which provides natural vitamin K-2 as an extract of natto, a fermented soy food from Japan. Vitamin K-2 was recently shown to reverse arterial calcifications in rats (PL Thomas, 2006). Arterial calcification is generally regarded as an independent risk factor for cardiovascular morbidity and mortality.
by Linda Milo Ohr,
Contributing Editor, Denver, Colo. 
[email protected]
References
Behall, K.M., Scholfield, D.J., and Hallfrisch, J. 2006. Whole-grain diets reduce blood pressure in mildly hypercholesterolemic men and women. J. Am. Dietetic Assn. 106: 1445-1449.
Gorinstein, S., Leontowicz, H., Leontowicz, M., Krzeminski, R., Gralak, M., Jastrzebski, Z., Park, Y.S., Jung, S.T., Kang, S.G., and Trakhtenberg, S. 2007. Effect of hesperidin and naringin on the plasma lipid profile and plasma antioxidant activity in rats fed a cholesterol-containing diet. J. Sci. Food Agri. Published online March 26.
InterHealth. 2007. ChromeMate® favorably influences genes that promote muscle development, burning of brown fat - Study also provides further insight into how ChromeMate improves lipid profiles and glucose tolerance. InterHealth Nutraceuticals Inc. press release, Jan. 16.
Mink, P.J., Scrafford, C.G., Barraj, L.M., Harnack, L., Hong, C.P., Nettleton, J.A., and Jacobs, D.R. Jr. 2007. Flavonoid intake and cardiovascular disease mortality: A prospective study in postmenopausal women. Am. J. Clin. Nutr. 85: 895-909.
Orafti. 2006. New research shows Beneo prebiotics could improve heart health. Orafti Active Food Ingredients press release, Dec. 20.
PL Thomas. 2006. Vitamin K2 shown to reverse arterial calcifications in a new study in the journal Blood. PL Thomas & Co. press release, Dec. 7.
PL Thomas. 2007. GliSODin® supplement shown to be a preventative agent against atherosclerosis in individuals with Metabolic Syndrome. PL Thomas & Co. press release, March 13.
Polagruto, J.A., Wang-Polagruto, J.F., Braun, M.M., Lee, L., Kwik-Uribe, C., and Keen, C.L. 2006. Cocoa flavanol-enriched snack bars containing phytosterols effectively lower total and low-density lipoprotein cholesterol levels. J. Am. Dietetic Assn. 106: 1804-1813.
Polyphenolics. 2006. UC Davis study shows grape seed extract may be effective in reducing blood pressure. Promising results prompt second human clinical study. Polyphenolics press release, March 27.
Queenan, K.M., Stewart, M.L., Smith, K.N., Thomas, W., Fulcher, R.G., and Slavin, J.L. 2007. Concentrated oat beta-glucan, a fermentable fiber, lowers serum cholesterol in hypercholesterolemic adults in a randomized controlled trial. Nutr. J. 6: 6.
Reynolds, K., Chin, A., Lees, K.A., Nguyen, A., Bujnowski, D., and He, J. 2006. A meta-analysis of the effect of soy protein supplementation on serum lipids. Am. J. Cardiology. 98: 633-640.
Taubert, D., Roesen, R., and Schömig, E. 2007. Effect of cocoa and tea intake on blood pressure: A meta-analysis. Arch. Intern. Med. 167: 626-634.
Theobald, H.E., Goodall, A.H., Sattar, N., Talbot, D.C.S., Chowienczyk, P.J., and Sanders, T.A.B. 2007. Low-dose docosahexaenoic acid lowers diastolic blood pressure in middle-aged men and women. J. Nutr. 137: 973-978.
USB. 2006. Study sheds light on soy and heart health. United Soybean Board press release, Oct. 2.
Wang, C., Harris, W.S., Chung, M., Lichtenstein, A.H., Balk, E.M., Kupelnick, B., Jordan, H.S., and Lau, J. 2006. n–3 Fatty acids from fish or fish-oil supplements, but not a-linolenic acid, benefit cardiovascular disease outcomes in primary- and secondary-prevention studies: A systematic review. Am. J. Clin. Nutr. 84: 5-17.
Yokoyama, M., Origasa, H., Matsuzaki, M., Matsuzawa, Y., Saito, Y., Ishikawa, Y., Oikawa, S., Sasaki, J., Hishida, H., Itakura, H., Kita, T., Kitabatake, A., Nakaya, N., Sakata, T., Shimada, K., and Shirato, K., for the Japan EPA lipid intervention study (JELIS) Investigators. 2007. Effects of eicosapentaenoic acid on major coronary events in hypercholesterolaemic patients (JELIS): A randomised open-label, blinded endpoint analysis. Lancet 369: 1090-1098.