Stick to it and often you can reap the benefits—that is the tale of stick packs in the United States. Thirty years since their introduction, stick packs are in the mainstream, but most people do not even notice their presence because they are so pervasive.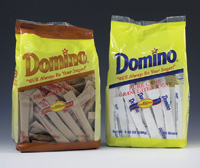 Stick packs are elongated tube-shaped flexible pouches usually sealed longitudinally along the back and across the top and bottom. Because they are smaller than conventional square or rectangular pillow pouches, they necessarily contain less product volume or weight. The claim is made that the area of material required for containment is up to 45% less than with square or rectangular pouches. As most consumers would concur, square/rectangular pouches are sometimes awkward to open and difficult to dispense.
Lexicons of industry usage and even the Institute of Packaging Professionals' Glossary of Packaging Terminology neither define nor even mention stick packs. A reasonable descriptor might be a package with a vague length-to-width ratio, such as greater than 2:1, plus an ovoid or even circular cross section, but such a simplistic mathematical proportion would not illustrate the extremes to which many stick packs go: up to a 10:1 or 15:1 ratio of length to width. These look like straws and are sometimes used as packages for condiments.
Products
Among the more familiar "mainstream" products currently appearing in stick packages are General Mills, Inc.'s Yoplait® Go-Gurt® squeezable yogurt and all of its clones in cold and hot fill and even aseptic technologies; and Kraft, Inc.'s Kool-Aid® Singles, Crystal Light® On the Go, and other bottled-water flavor additives; and General Foods International® coffees.
While Go-Gurt may be the most familiar of the food products in stick packs (or tubes, as some might describe them), many other familiar brands have also opted for stick packs. Among those in the fluid category are ConAgra Foods' Hunt's Snack Pack Squeeze 'n Go portable pudding and Kraft Foods' X-treme Jell-O® Pudding Sticks, all aseptically packaged to permit ambient-temperature distribution.
Stonyfield Farm's Yo Squeeze yogurt and a number of private-label "portable" or squeeze yogurts are or have been in commerce. Peanut butter and jelly have long been packaged in flexible tubes, sometimes paired, for institutional foodservice applications. In one major foray into expanding the peanut butter market, Unilever's Skippy peanut butter appeared in Squeeze Stix form—just before it debuted in "toothpaste" tubes with dispenser spouts.
In the dry-powder categories are or have been Nestlé's® Taster's Choice instant coffee; Kraft's General Foods International Coffees; Smucker's Magic Shake; Abbott Laboratories' Similac infant formula; Mead Johnson's Enfamil infant formula; Domino® sugar; Lipton's Green Tea to Go; and 4C Foods' Totally Light™ 2Go™ drink mixes.
Note the positioning of the products: portability and "on-the-go," both of which are familiar themes for food and beverage marketing today. The positioning of the fluids and pastes as "squeezable" suggest a fun-type orientation toward children.
History
Most chroniclers of food packaging history date the advent of stick packs to 1975 in Japan, but they overlook the freezer pops which have been popular among children for more decades and even the ill-fated 1960s attempt by ICI (UK) to package beer in its flexible Merolite tubular pouch.
The "official" history compiled by Neil Kozarsky, President of T.H.E.M., Marlton, N.J. (www.them.net), credits Sanko Machinery Co., Ltd., Bangkok, Thailand (www.sanko-thai.com), for introducing the stick pack to reduce materials usage over traditional flexible pouches. "Sweeteners" in long, narrow flexible pouches were the first products meeting Japanese consumers' desires for new and more convenient packaging. These were followed by condiments, non-dairy coffee lighteners, instant coffee, and "nutritionals." Benefits cited were portion control, fit into pocket or purse, tamper evident, easy open and dispensing, and no mess. A single unit-portion stick pack could be emptied into a coffee mug, a baby bottle, or a water bottle to provide the correct flavor dose.
Package success in Japan was followed by interest in the U.S. for a wide variety of dry and liquid food products during the mid- to late 1990s. The ultimate trigger had to have been General Mills, Inc.'s Yoplait Go-Gurt yogurt tube, the result of more than ten years of intensive research and development. Acceptance of this concept among its target audience led to an explosion of reexaminations by food packagers seeking to differentiate their products through shelf and consumer attributes. And Sanko, through its American affiliate T.H.E.M., responded with a vigorous marketing effort that has resulted in dozens of installations for its equipment.
Other companies, in Japan and Europe, entered the competition to spark even further expansion of the stick pack notion in areas previously far removed from the original thoughts. Among the other companies offering stick pack equipment today are the German companies Hassia (www.hassiausa.com) and Sigpack (www.bosch/sigpacksystems.com), the Italian company Fres-Co (www.Fresco.com), and the U.S. company Ropack (www.ropack.com).
Technologies
Technical and economic rationales for stick packs relate to the fact that 20–40% less flexible package material is needed to contain the same amount of product packaged in flat pillow or standup flexible pouches. Commercial equipment up to 26 lanes wide capable of speeds of nearly 100 cycles/min can output more than 2,000 unit-portion packages of powders/min. Ropak's continuous-motion StikPak machine, rated at 120 cycles/min in five-lane configuration, can output up to 720 stick packs/min.
With some exceptions, stick packs up to 7 in long and up to about 2 in wide contain 1–2 oz of powder, granules, gels, or liquids. The products should be flowable by gravity, such as volumetrically fed sugar or auger-fed infant formula, or pumpable, such as pudding or applesauce.
Most if not all stick packs are produced on vertical form/fill/seal machines starting with roll-stock flexible materials. Most are three-side-seal machines, meaning that they begin with a single roll of flexible package material. Some machines such as those from the U.S. company Prodo-Pak Corp. (www.prodo-pak.com) and variants may use two rolls of flexible package material, one face and one back, employing face-to-face fusion sealing along all four edges.
Although most stick pack machines are engineered for dry flowable products, some such as the Hassia can hot-fill high-acid fluids such as applesauce or aseptically fill products such as pudding. Hydrogen peroxide is the sterilant for the stick pack barrier material. The aseptic stick pack filler is capable of producing up to 480 stick packs/min. About six such machines were operating in the U.S. last year. Hot-filled products were introduced a few years ago, but the consumer reception was less than hot, so the product category was shelved (perhaps to be renewed soon as one outcome of reading this article?).
To facilitate opening and dispensing, a number of different devices may be built into the end-seal area of the stick pack. With a tapered end seal, the pouch may be notched in the offset fin area, to be opened by a twist of the cross notch area. With an extended end seal, the notch may be integrated into the side of the seal to tear across into the open area. Either opening method depends on orientation of the substrate flexible package material.
Secondary Packaging
It's easy enough to praise the primary stick packaging and the ability to move enough product and flexible package materials synchronously at such high speeds, but how does a food packager transfer such unstable packages for delivery to the store shelf and even the consumer? The old standby of dump filling into a paperboard carton or corrugated fiberboard will not do for retail distribution, even though it appears to suffice for foodservice. Stack packing, i.e., alignment in log fashion, is volume efficient and protects and displays the primary sticks.
Sticks may be stacked in vertical or horizontal attitude within a paperboard carton die cut to display the contents and permit easy access for individual stick removal and purchase. Sticks may be similarly stacked in windowed flexible pouches for sale as a multiple stick unit. In some singular secondary packaging, Nestlé used nested paperboard coffee cups to contain sticks of instant coffee, powdered lightener, and a selection of sweeteners. Heinz (or its suppliers) has designed a round transparent bowl in which the sticks are vertically stacked for easy removal and use. Many of the more recent stick pack entries are multipacked in paperboard folding cartons, evidently because the marketers perceive the primary package as so well known that it need not be visible.
More Products Ahead
That many stick-pack products are no longer in the marketplace is indicative of the hardly uncommon packaging strategy of imitation. Food packagers tend to resist innovation even when it is thrust on them by suppliers but leap when a competitor or competitive category suddenly steals market share by boldly introducing a unique packaging concept for an old product or a wholly new concept. In some instances, however, the stick pack alone was not sufficient incentive for consumer repurchase.
Because contract packagers have installed stick pack equipment, we can expect to witness more stick-packaged products entering the marketplace in the future—and almost assuredly in other food categories—limited only by the imagination of food packaging technologists and marketers.
Aaron L. Brody, Ph.D.,
Contributing Editor, President and CEO,
Packaging/Brody, Inc., Duluth, Ga.
[email protected]