Beware of the Dark Side, Luke. That may serve as excellent advice in Star Wars, but as entirely wrong directions for a journey through the confectionery sector. Indeed, today we are seeing an emphasis on dark chocolate products in the marketplace. Well-known candy brands such as M&M's®, Snickers®, and 3 Musketeers® are all going over to the dark side with new versions of their classic product. And with a number of health studies promoting the potential benefi ts of dark chocolate, the "force" may be with them. Sorry, Yoda.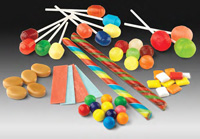 The proliferation of dark chocolate products is only one of the many "sights" that we are likely to witness as we travel down that sweet thoroughfare commonly known as Candy Lane. On this particular route, you can expect to fi nd, for example, exciting fl avor combinations that are adding new taste sensations to confections. You might see chocolate paired with chilies, cool mint with blends of fruit fl avors, and coffee fl avor crossing over into products ranging from chewing gum to chocolates.
You will also see signs that confections are being upscaled or given a gourmet quality. Much like wine or cheese, chocolate can have a distinctive fl avor profi le based on its origins. Made with cocoa beans from such locations as Venezuela, Tanzania, and Ghana, these single-origin chocolates are becoming increasingly popular. Furthermore, strategic alliances between companies—for example, The Hershey Co. and Starbucks Coffee—can help upscale a confection by incorporating different fl avors and ingredients (some of them not so traditional) into the formula.
Flavor is not the only thing of interest on this road, however. Other factors can play an important role in differentiating the confectionery product in the marketplace. Formulators have a wide range of options that can enhance the product's appearance. These might include pearlescent pigments and other glitter-type ingredients, surface glazes and polishing agents, innovative toppings and coatings, color-delivery systems, and innovative sweeteners. Also, a variety of approaches can be taken to create novel textures and mouthfeel. The use of whipped nougats, multi-layers of different ingredients, inclusions, and even sea salt can provide distinctive textural sensations.
--- PAGE BREAK ---
And confectionery products that are said to be more health-conscious are being developed as well. I already mentioned the emphasis placed on the potential antioxidant benefi ts of dark chocolate. In the processing of cocoa beans, companies are using patented methods to maximize heart-healthy cocoa fl avanols. Candy made with sweetener alternatives are promoted for their oral health benefi ts or serve as suitable sweets for diabetics. Increasingly, confections such as chewing gums are being used as vehicles for delivering immune-boosting antioxidants, energy-enhancing extracts, vitamins, and probiotics. Because of this health focus, ingredients such as green tea are making the crossover. Also, related to this trend, manufacturers are providing consumers with more information, such as cacao content, on the packaging.
Addressing these functionality and health trends are technological innovations. These developments are helping to pave the way on this route, leading to new and even more exciting product developments on the horizon. Some examples might include new fl avor delivery systems, improved processes for chewing gum, breakthroughs in taste-modulation technology, and objective ways to measure the physical properties of the confectionery item, to name just a few.
At this moment, let's blow our horn as we pass by PEZ, which is celebrating its 80th anniversary. Don't know about you, but I still remember as a child collecting those dispensers. And you never know who you may see passing by on Candy Lane. There's another sighting of Elvis … Elvis Pez-ley, that is—a new line of dispensers that are being tied in to events celebrating the singer. The things that this road has seen over the years.
And will continue to see, based on the exciting trends that were highlighted at the 2007 All Candy Expo, held September 17-19. At the industrial event, more than 2,000 sweet treats (and savory snacks) made their debut. (See sidebar on page 49 for a brief roundup of some of these products.) These new launches give an idea not only of current confectionery trends but the kinds of ingredients and fl avors that formulators are looking to for solutions.
This month's article will map out some of the new directions that ingredient developments will be taking in confectionery products. We'll be focusing on two of the hottest sectors right now—chewing gum and chocolate—as well as different ways that confectioners can put a shine to their products. We will also be taking a short detour to check out some new laboratory/processing advancements that may have relevance to the confectionery manufacturer.
One more thing. As we journey down Candy Lane, please leave your windows open. I hear they're paving the road up ahead. And unlike other major thoroughfares, they use real chocolate on Candy Lane. I wish other roads would hear about that. It would make construction delays so much easier.
--- PAGE BREAK ---
New Sensations for Chewing Gum
A feature article, "Understanding the Science Behind Chewing Gum" (2007 September issue of Food Technology), discussed cutting-edge research by independent experts to explore the health benefi ts of chewing gum. The research, funded by Chicago-based Wm. Wrigley Jr. Co., looked at such areas as stress relief, weight management, mental alertness, and oral health. See this article for a good overview of the potential of chewing gum as a vehicle for delivering healthful components.
Over the past year, the company has also developed a number of innovative processes for the production of chewing gum. For example, a new gum-making process allows for the manufacture of multi-colored, multi-fl avored chewing gum. The patented process involves molding one mass of gum into a fl at slab and embedding another, smaller layer before dividing the mixture into segments and adding patterns such as stripes and undulating waves. The company also received a patent for continuous gum manufacture, allowing fl avors and sweeteners to be added to the gum base in a single-step process. And according to the company, a coated chewing gum product has been formulated using the same polyol in both the center portion and the coating, which results in a product with improved crunch and a longer shelf life.
Wrigley launched a number of new gum products at the 2007 All Candy Expo. A sugar-free stick gum, simply named 5 (appealing to the fi ve senses), is available in a tingling spearmint fl avor (Rain™), a cooling peppermint fl avor (Cobalt™), and a warming cinnamon fl avor (Flare™). The product is being promoted as giving consumers, especially teenagers, a sensation "you can feel as you chew." Wrigley's new Orbit flavors, Mint Mojito and Raspberry Mint, also made their debut. Other products introduced in 2007 included Orbit White® Melon Breeze (a sugar-free whitening gum that blends the fl avors of melon, pear, and kiwi); Eclipse Fusion® Freshmint Tropical (a sugar-free pellet gum that features a burst of freshness followed by a cooling blend of mint and undertones of tropical fruit fl avors such as orange, lemon, and lime); and Extra® Supermint™ (a sugar-free mint gum that delivers an enhanced chewing experience.
And, of course, Wrigley was not alone with its new introductions. From Cadbury Adams USA LLC came Trident Splash® Summer Spearmint, a sugar-free gum that combines a sweet burst of watermelon in a liquid-fi lled center surrounded by spearmint gum; Trident Wild Blueberry Twist, a gum which is a blend of blueberry and pomegranate fl avors; and Stride™Forever Fruit, a long-lasting gum that offers a full-fruit experience. The Hershey Co. contributed Ice Breakers® Lift™, a sugar-free strawberry-fl avored gum enhanced with antioxidants from vitamin C and green tea, while Schuster Product LLC offered Blitz® Caffeine Energy Gum, a sugar-free peppermint-fl avored gum enhanced with caffeine.
--- PAGE BREAK ---
The rapidly growing gum sector is creating opportunities for new ingredient developments. (And vice versa.) For example, fl avor-delivery technology from Givaudan Flavors Corp., Cincinnati, Ohio (phone 513-948-8000, www.givaudan.com), makes possible the development of time-release fl avors for chewing gums. Flavor release can subsequently be extended or controlled, allowing one or more quick-fl avor bursts as well as postponed and prolonged fl avor delivery.
A range of chewing gum flavors, Qpearl Release™, were recently launched using this technology, based on a highly stable patented encapsulation system. The fl avor-encapsulating matrix blocks de-stabilizing oxygen molecules from entering and prevents fl avors from fading. By changing the material properties of the matrix, the company developed ways to precisely control the timing of fl avor release based upon different release triggers typically encountered during chewing gum consumption.
According to Givaudan, "In the case of chewing gum, you often sense a concentrated burst of fl avor at the start and then the brain gets used to the degree of fl avor and does not perceive it to be so strong. With Qpearl Release fl avors, however, we can control the fl avor impact so that you get a second or a third burst of fl avor as the chewing process continues, reawakening the intense sensation. And in fact, we can combine any sequence of shorter and longer fl avor releases, creating a whole repertoire of fl avor sensations in a single piece of gum."
The company adds that another exciting breakthrough made possible by the technology is the ability to "layer" completely different fl avors in a single gum, releasing them at different stages as you chew. Previously, you could only blend fl avors such as cherry and orange, and taste them at the same time, but never in sequence, as separate waves of fl avor.
The gum fl avors are said to be highly stable, avoiding fl avor degradation for more than two years. Their highly controlled fl avor release ranges from 10 to 200 seconds of chewing, a characteristic reportedly unique to these fl avors. The fl avors are suitable for both sugar-based and sugar-free gums.
Another new fl avor development, Givaudan's ImpaQ Cool™, allows chewing gum to hold its cooling effect in the mouth for much longer than previously possible. The range of cooling fl avors were developed using a technology based on taste receptor understanding. In confectionery applications, ranging from cough drops and breath mints to chewing gum, the fl avors allow manufacturers to develop cooling properties without any negative effects on taste or fl avor enjoyment.
--- PAGE BREAK ---
With this development, Givaudan has been able to move away from the restrictions of conventionally used menthol, which becomes bitter in large amounts. These new fl avors deliver a full mouth-freshness with no bitter aftertaste. The cooling effect is immediate and long-lasting, providing a new sensation in the mouth. The company notes, "The technical breakthrough making this kind of cooling fl avor delivery possible is based on a better understanding of the function of 'involved receptor cells' in the mouth, enabling us to design molecules with specifi c functions. These molecules then can be combined to deliver the desired refreshing or cooling effect for each application."
We'll probably be seeing other new taste sensations in the near future, as well. Recently, Cadbury Schweppes extended its collaborative research and license agreement with Senomyx, Inc., San Diego, Calif., for the discovery and commercialization of new fl avor ingredients in the chewing gum area. The ingredient company focuses on using proprietary technology to develop novel fl avors, fl avor enhancers, and taste modulators, helping Cadbury to launch new gum products and expand its business in this confectionery sector.
Also, Mastertaste, Teterboro, N.J. (phone 201-373-1111, www.mastertaste.com), has developed modulation technology that can enhance a product's sweetness, improve the aftertaste of products containing non-nutritive sweeteners, and mask the negative taste attribute of bitter notes caused by other ingredients. Such a development may have an impact in chewing gums and other confections.
As you can see from the above examples, this is a particularly exciting time for chewing gum fl avors. Many of these fl avors are not traditionally associated with chewing gums. For example, the Denmark-based company Gumlink A/S recently introduced a chewing gum containing real cranberry in its formulation. Kona Kreme, chewing gum fl avored with coffee powder, was introduced in Germany by Wrigley. And, of course, here in the U.S., we're seeing a fusion of different fl avors, as was demonstrated at the 2007 All Candy Expo. Furthermore, there are opportunities for brands to crossover into the gum territory. Remember Jolt Cola and how that brand was then shared by Jolt Energy Gum, a caffeinated chewing gum from GumRunners LLC, Hackensack, N.J.
And fi nally when you think about chewing gum, what is the one negative aspect? Everyone is familiar with fi nding discarded gum sticking to the bottom of your shoes or on seats. Well, that problem may eventually be overcome. British scientists at the University of Bristol have reportedly developed a chewing gum with reduced stickiness while maintaining its taste. The product, Clean Gum, is made with a special polymer which modifi es its properties, making it far less sticky. The result is a chewing gum which resists sticking to many surfaces and can be easily removed. The researchers developed a company, Revolmer, to commercialize the technology.
--- PAGE BREAK ---
Innovating with Chocolate
In the 2007 October Ingredients section, we looked at different ways that chocolate crossed over into nonconfectionery applications. But let's not overlook the popularity of chocolate as a confectionery product, and the number of innovative ways that ingredients are being used in these products.
A new range of products from Barry Callebaut USA LLC, Chicago, Ill. (phone 312-496-7300, www.barrycallebaut.com), uses white chocolate with fruit powder made from natural fruit juice concentrate.The product line, White Chocolates & Real Fruit , is available in 10 fl avors, including blackberry, cranberry, banana, passion fruit, strawberry, bilberry, elderberry, grape skin, lime, and blood orange. According to the company, the products allow confectioners to extend the chocolate season by offering consumers a fresh new taste sensation. Furthermore, the chocolates are suitable for a number of applications, including enrobing and fl avoring. A 100-g serving of White Chocolate and Strawberrry, for example, contains 6 g of strawberry powder, and provides a healthy way of getting more fruits into your diet.
Barry Callebaut also offers several other chocolate innovations. One concept, Turona, combines layers of chocolate with layers of hazelnut and almond nut pastes. It is said to be a contemporary version of Turron, a traditional Spanish nougat and whole nut confection that goes back several centuries.
To serve its industrial food manufacturing customers in North America, the company is making available several Single-Origin Chocolates. These chocolates are made from a single cocoa bean variety grown and harvested in a specifi c region of the world, with each one having a distinct fl avor and aroma. They include a Ghana Dark Chocolate (60% cacao), Tanzania Dark Chocolate (73% cacao), Mexico Milk Chocolate (40% cacao), Venezuela Dark Chocolate (75% cacao), and Arriba Dark Chocolate (50% cacao). And to meet the requirements for specifi c applications that call for a bolder, more-intense dark chocolate, the company also offers High-Cacao Chocolates formulated with up to 85% cocoa solids.
A chocolate emulsifi er from Palsgaard USA, Morristown, N.J. (phone 973-285-3299, www.palsgaard.com), recently received approval from the Food and Drug Administration. The ingredient, ammonium phosphatide, may be used as an alternative to soy lecithin to reduce the viscosity of liquid chocolate during production. Called Palsgaard 4448, it is made from rapeseed oil and glycerol—phosphoric acid is attached to these through a chemical process and is then neutralized with ammonia.
--- PAGE BREAK ---
At the recent 2007 All Candy Expo, chocolate products in a wide range of fl avors, shapes, textures, and forms made their debut. These products demonstrate some of the innovative directions that confectioners are taking with chocolate.
For example, some of the new product launches from Mars Snackfood U.S., Hackettstown, N.J., include 3 Musketeers® Mint (delicate mint nougat dipped into rich dark chocolate); Dove® Beautiful (milk chocolate with skin-nourishing ingredients such as vitamins C and E, biotin, and zinc); the Snickers® brand expanded to include Snickers Dark and Snickers Nut'n Butter Crunch; M&M's® Razzberry Chocolate Candies (the fi rst fruit-fl avored M&M's product launched nationally); and Skittles® Chocolate Mix (a combination of Skittles and a variety of chocolate fl avors). In certain chocolate products, the company uses its patented Cocoapro® process to maximize heart-healthy cocoa fl avanols. New products made with this process include Dove® Vitalize™ (dark chocolate with energy-releasing B vitamins, cocoa fl avanols, and plant sterols) and Dove® Extra Dark (available in a milder roast version at 63% cacao content or a more intense roasted version at 71%).
The Hershey Co., Hershey, Pa., highlighted such new products as Hershey's® Bliss (individually wrapped chocolates available in milk chocolate, dark chocolate, and milk chocolate with a melt-away center) and Reese's® Select Clusters (individually wrapped confections featuring pecans, peanuts, peanut butter, and caramel wrapped in milk chocolate). The company also introduced Starbucks Chocolate™, a line of products that combine Starbucks coffeehouse fl avors with distinct chocolate products that contain fruits, nuts, herbs, and spices. The result of a new development and distribution agreement between Starbucks Coffee and The Hershey Co., these products will include origin-inspired solid chocolates, indulgent truffl es, and exotic chocolate-coated coffee beans. This agreement should extend the possible opportunities for chocolate.
An artisan chocolate manufacturer, Chuao Chocolatier, Carlsbad, Calif., featured a variety of new products that demonstrated how fl avors are crossing over into the confectionery arena. Products included Spicy Maya Bar (dark chocolate infused with pasilla chili and cayenne pepper), Earl Grey Bar (milk chocolate infused with Earl Grey tea), and Chinita Nibs Bar (premium dark chocolate with nutmeg and caramelized cacao nibs). Terra Nostra Organic Chocolate, a confectioner based in Vancouver, British Columbia, also launched several chocolates made with nontraditional ingredients. These included Robust Dark (60% cacao with chocolate pomegranate truffl e center) and Intense Dark (73% cacao with goji berries and pink Himalayan mineral salt).
--- PAGE BREAK ---
And, of course, prototypes developed by ingredient companies not only demonstrate the functionality of their ingredients, but also showcase the possible directions that chocolate can take in the future. For example, a sugar-free mint cream patty from Cargill, Wayzata, Minn. (phone 952-742-7575, www.cargill.com), has an indulgent taste but with 50% less calories comparedto a regular version and is suitable for a diabetic/low-glycemic diet. The patty and its coating contain the sweetener erythritol. In June 2007, the company gave its erythritol product line a new name, Zerose™, to convey to manufacturers that the ingredient contains no sugar, calories, or aftertaste. Previously called Eridex, it is said to taste and function like sugar and appeals to consumers who want to manage their weight or sugar intake. Other ingredients in the formulation include maltitol syrup, chocolate liquor, oligofructose, cocoa butter, milkfat, soy lecithin, acesulfame K, vanillin, sucralose, sorbitol, hydrolyzed milk protein, and peppermint oil.
Another prototype from Cargill, Organic Chocolate Raspberry Truffl e, features Wilbur® organic dark and milk chocolate from cocoa beans sourced from Central America. The formulation also contains organic-compliant fl avors and fl avor enhancers and organic glucose syrup—a transparent, versatile sweetener. Organic is said to be one of the fastest growing food trends with food and beverage sales at about $15.8 billion in 2006.
Kerry Ingredients, Beloit, Wis. (phone 608-363-1200, www.kerryamericas.com), developed Intercontinental Chocolate Ice Cream Bonbons, a prototype that demonstrated different fl avor profi les, including Ghanaian, Cote-d'Ivoirian, Ecuadorian, and Peruvian. Other prototypes from the company included Triple Chocolate Anti-Stress Bar, which provides the indulgent taste of chocolate with an extract that helps the body increase resistance to fatigue, and an Omega-3 Enrobed Chocolate Crisp Bar.
Taking a Shine To
Confectionery manufacturers continue to look for innovative ways to differentiate their product in the marketplace. One way is to enhance the appearance of the product.
In 2006, the Food and Drug Administration added mica-based "pearlescent pigments" to the list of food-approved color additives (21 CFR 73,350). These pigments, which provide a metallic luster, can fi nd use in a wide range of foods, especially confectionery products where these colors can bring a vibrancy and excitement that might appeal to children and novelty seekers while creating brand identity.
--- PAGE BREAK ---
For example, PearliCoat Pearlescent Pigment System from Colorcon, West Point, Pa. (phone 215-699-7733; www.colorcon.com), can be applied topically to or included in the mass of a confectionery product, imparting a shimmer or speckled effect. The thin-coat product, in liquid or dry concentrate form, is available in fi ve brilliant colors. Potential applications can include chocolate, jelly beans, and other confections.
Watson, Inc., West Haven, Conn. (phone 203-932-3000, www.watson-inc.com), incorporated pearlescent pigments into its line of Edible Glitter™ products. Glitter in new metallic gold can be applied to the surface of milk chocolate, added to the surface of pan-coated gumballs, or used inside a hard candy similar to a lollypop. Metallic silver and other pearlescent pigments are also available.
Other companies that have versions of pearlescent pigments include Sensient Colors, Inc., St. Louis, Mo. (phone 314-889-7600, www.sensient-tech.com), which offers Spectracoat™ Pearl, a novel dispersion that brings luster and iridescent shimmer to your panning application, and EMD Chemicals, Inc., Hawthorne, N.Y. (phone 888-444-7662, www.candurin.us), which provides Candurin® Pearl Effect Colors for new color impressions to confections.
Of course, there are other ways to put a shine to those confectionery products. 
Colored Confectioners Sugars from Domino Specialty Ingredients, Baltimore, Md. (phone 410-783-9730, www.dominofoods.com), can be applied as a topping to accentuate confections. These uniform crystals are available in a variety of colors such as blues, oranges, violets, greens, and rainbow. Also, pure cane products from the company offer an attractive natural alterative to traditional sweetening agents. Its Organic and Natural Evaporated Cane Juice and Specialty Sugar options may be used as a natural colorant, providing light to dark golden hues, sweet sugarcane fl avor, and functional properties suitable for confections. The company also offers a variety of fondant sugar systems for candy products and other confections. These systems are resistant to caking and can help improve the appearance and texture of cream centers, cordials, caramels, fudge, glazes, and other products.
Medium-chain triglycerides from Stepan Company, Maywood, N.J. (phone 201-712-7642, www.stepan.com), can function as a polishing agent in confectionary applications. The ingredients, Neobee M-5 and Neobee 1053, provide brilliance, luster, and visual appeal to individual hard candies, candy canes, lollipops, and other products. As a free-fl owing, low-viscosity liquid, they can be added during the fi nal tumble-stage processing or sprayed directly onto hardened candies just prior to packaging.
--- PAGE BREAK ---
A uniform surface glaze protects hard and soft panned confectionery products while making them more appealing. A new line of four glazing agents, developed by Germany-based Alfred L Wolff, are said to correspond to individual product characteristics, different production parameters, and technical equipment used by confectionery manufacturers. Products in the Quick Glanz line include a powdered glazing wax for hard dragees; a liquid polishing dispersion for pan-coated candies made with or without sugar; a liquid polishing agent for soft, coated sweets such as jelly beans; and a glazing wax mix in a powdered form. The company has an offi ce in Chicago (phone 312-265-9889, www.alwolff.com).
Even nanotechnology can play a role in improving the visual appearance. A new line of colors from Wild Flavors, Inc., Erlanger, Ky. (phone 859-342-3600, www.wildflavors.com), is produced using this technology. Net Turmeric demonstrates advancements in both light and heat stability and improves the longevity of the color in candy and other applications, while Net Anthocyanin may be used in chocolate applications.
New Measuring Methods
When developing a confectionery product, human sensory evaluation is one tool that formulators rely on. After all, the success of the product in the marketplace will be ultimately determined by whether the person likes it. However, because of the subjectivity of humans which can present certain drawbacks, methods are also being explored which can more objectively determine the properties of the product, contributing to a greater understanding that can impact future formulating.
One new method may be a prototype chewing simulator, developed by researchers from France-based University of Bourgogne. By mimicking human chewing, it can provide formulators with a more detailed understanding of mastication and fl avor release. According to the researchers, the device "can precisely reproduce the compressive and shear strengths of a human jaw, causing the breakdown of food with suffi cient reliability when compared with in-vivo measurements."
--- PAGE BREAK ---
The breaking strength of chocolate, which plays an important role in infl uencing the consumer's perception of taste and quality, can also be objectively measured. The Haake Mars rheometer from Germany-headquartered Thermo Fisher Scientifi c (phone 603-436-9444, www.thermo.com/mc) uses a new measuring geometry to provide bending, breaking, and penetration data. The new measuring geometry consists of two parallel support bars on a base plate. The sample lies on these bars and a piston can be lowered onto the sample, making possible the different tests.
Using the new bending geometry, it is possible to investigate the breaking behavior of small bars of milk and dark chocolate. With the same method, different formulations of a certain chocolate type may be analyzed for effi cient product development, or the quality of different production lots can be controlled. Unlike subjective sensory tests, the new method provides objective and reproducible results, independent of the analyst.
And while we're still in the laboratory, here's an interesting study that just came out. For the fi rst time, scientists have linked a preference for chocolate to a specifi c chemical signature that may be programmed into the metabolic system and is detectable by laboratory tests. According to the Swiss and British researchers, the signature reads "chocolate lover" in some people and indifference to the popular sweet in others. See, people actually are programmed to love chocolate. The study breaks new ground in a rapidly emerging fi eld that may eventually classify individuals on the basis of their metabolic type, which can be used to design healthier diets that are customized to an individual's needs. The study is to be published in the Nov. 2 issue of American Chemical Society's Journal of Proteome Research.
Chewing on the Future
Several of the developments discussed in this article were related to chewing gum, a fast-growing segment in the confectionery industry. Because of the popularity of chewing gum, one might also wonder what directions other "chewy" types of candy might take.
For example, you have "chews," which is not a new concept (think Starburst), but increasingly the product has been reshaped to serve as a vehicle for delivering better-for-you ingredients as well as fl avors and textures. At the 2007 IFT Food Expo, Kerry Ingredients featured a prototype, Pineapple and Raspberry Fruit Smoothie Chews, which provide an indulgent taste with a soft texture. The pineapple soft chew offers a creamy tropical real fruit taste experience while the raspberry soft chew combines yogurt and real fruit juice. Also, at this event, Wild Flavors highlighted fruit and veggie chews as a way of getting the nutrition associated with the natural food.
Another chewy food is licorice, which popularity was spotlighted at the 2007 All Candy Expo. The candy is available in a variety of different fl avors, shapes, and forms, and may even be suitable as a crossover ingredient. The Jelly Belly Candy Co. recently released for Halloween its Black and Orange Halloween Mix (consisting of orange juice and licorice fl avors) and the Monster Mash Mix (an assortment of Island Punch, kiwi, orange sherbet, and licorice fl avors).
--- PAGE BREAK ---
A sour gummy candy prototype from Cargill is designed to provide the taste and texture of the traditional treat, but is also sugar free. The chewy candy contains sugar alcohols maltitol (25 g) and erythritol (6 g) to create the no-sugar indulgence. Several companies are also developing gum-based ingredients to replace gelatin in these chewy candies. Colloides Naturels, Inc., Bridgewater, N.J. (phone 908-707-9400, www.cniworld.com) offers its WhipGum brand, a combination of acacia gum and vegetable protein, which provides a special chewy texture. And TIC Gums, Inc., Belcamp, Md. (phone 800-899-3953, www.ticgums.com), provides Agaroid RS Readily Soluble Agar, which has the ability to create gels and other textures, and can replace gelatin in confections.
We can also expect to see confections having a wide range of textures, which can have an impact on their level of "chew." In recent years, National Starch Food Innovation, Bridgewater, N.J. (phone 800-797-4992, www.foodinnovation.com), has been adopting a texture approach as a way of demonstrating the functionality of its starch-based ingredients. In fact, if you recall, the company highlighted a "Texture Changes Everything" theme at the 2007 IFT Food Expo where it introduced a new line of texturizers, N-Dulge™, developed for dairy products. Such an approach could easily apply to confectionery products as well, ranging from gummy candies to chocolate.
And I've seen confectionery and snack products take on the appearance and texture of chewing tobacco. These products can range from chewing gum to beef jerky. Perhaps there are opportunities for other confections such as freeze-dried fruit powders, coffee beans, or chocolate with some technological modifi cations. I'm not sure if these products are possible—just a few concepts to chew over—but they are probably a lot healthier than chewing tobacco. And unlike tobacco juice, you can feel free to swallow them.
Well, the exit ramp is soon approaching and we'll be turning off Candy Lane. I hope all of you had a smooth, pleasant ride. And I wish Yoda would stop his whining about the Dark Side already. That little guy is such a back seat driver.
---
Product Launches Refl ect Latest Confectionery Trends
A wide range of sweet treats from around the world made their debut at the All Candy Expo, held September 17-19 in Chicago. Confectionery products ranged from dark, decadent cacao creations to new fl avor fusions to twists on traditional favorites.
The photo on this page, for example, shows one of these introductions: the 3 Musketeers® Mint Bar from Mars Snackfood U.S. A twist on the classic favorite, the candy bar offers a fl uffy, mint nougat dipped in dark chocolate. The company also unveiled other classics in dark chocolate form, including its M&Ms Dark Chocolate Peanut Candies and Snickers® Dark. (Also see page 50 of this article for a discussion on dark chocolate innovations.)
--- PAGE BREAK ---
The following roundup of new products demonstrates trends in fl avor combinations, health consciousness, dark chocolate, gourmet products and single sourcing, the imparting of different textures, and many others.
• A chocolate candy bar with a whipped peanut butter nougat, Reese's® Whipps, has a light, fl uffy texture with 40% less fat than the traditional peanut butter and chocolate cups. The Hershey Co.
• Line of dark chocolate bars, Ghirardelli Intense, comes in two new fl avors. Mint Bliss™ infuses 60% cacao dark chocolate with natural mint, and Evening Dream™ has 60% cacao dark chocolate with a hint of Madagascan vanilla. Ghirardelli
• Chocolates made with single-source cacao beans from international regions offer distinctively different taste experiences. Private Reserve Origin Select samples include Belgian 41% Cacao, Ecuadaor 60% Cacao, Venezuela 60% Cacao, and Ghana 60% Cacao. For those who can't decide which country to try, boxes of chocolates are available containing samples from the entire line. Russell Stover Candies, Inc.
• The fi rst sugarless gum from Dentyne to contain a refreshing liquid center, Dentyne Blast is available in Cool Lime™ and Winter Chill™ fl avors.
Cadbury Adams USA LLC
• A lollipop (or candy pop) combines candy with a chocolate coating. The product, Vertigo Candy & Chocolate Flavored Pops, comes in three new fl avors, Chocolate Cookies & Cream, Chocolate Strawberry, and Chocolate Caramel. The Topps Co., Inc.
• A dark chocolate bar containing 70% cacao is heating up with a new fi lling fl avor, cherry and chili. Lindt Creation 70%, which combines a rich dark chocolate mousse and cherry chili fi lling, is said to intensify the decadent fl avor experience. Lindt & Sprungli
• Also turning up the heat is Spicy Maya, a premium dark chocolate bar made with a hint of Pasilla chile, cayenne pepper, and cinnamon. Chuao Chocolatier
• Candy corn goes tropical? Orange Mango Candy Corn has the same look and feel of the tri-colored candy, but delivers a punchy new tropical taste. Galerie
• Sugar-free mints, available in orange and mint fl avors, come in mini sizes. The product, PEZ Mini-Mints, are featured in dispensers based on the original PEZ dispenser design as well as licensed art in a variety of categories. PEZ Candy
• Cranberries coated in dark chocolate provides a refreshing, healthy treat. The product delivers 70% cacao and no cholesterol. Terri Lynn, Inc.
• Crisp bar, Nestle® Crunch®, provides layers of light, crispy wafers and chocolate crème topped with airy crispies. Nestlé USA
• A candy bar, Kona Caramacs™, offers a smooth, soft caramel fl avor with a real Kona coffee blend. The bar is fi lled with dry-roasted Macadamia nuts and covered in rich milk chocolate. Hawaiian Host
• Also taking advantage of coffee as a crossover fl avor is Twix Java, a new way to enjoy the traditional candy bar. The product features coffee-fl avored caramel paired with chocolate cookie and covered in Twix chocolate. Mars Snackfood U.S.
• Mints dipped in chocolate provides a "curious" eating experience. Yes, we're talking about Altoids®Dark Chocolate Dipped Mints. The product delivers a classic premium peppermint fl avor cloaked in dark chocolate. Wm. Wrigley Jr. Company
by Donald E. Pszczola,
Senior Associate Editor
[email protected]