At this year's IFT Annual Meeting & Food ExpoSM, ingredient companies showcased a variety of new developments that help food manufacturers solve functionality challenges.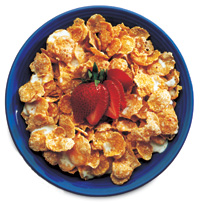 Briess Malt & Ingredients developed a whole-grain flour that functions as a one-to-one replacement for black cocoa. An enzyme-based ingredient from DSM Food Specialties enhances emulsification in cake batter and improves crumb structure and softness in finished cakes. And a salt substitute from Wixon Inc. is useful in developing healthful products. Ingredients like these help manufacturers meet specific formulation challenges and develop better-tasting, more-appealing foods and beverages.
In some cases, the developments featured at the IFT Food Expo were the result of various business mergers, alliances, operations expansions and investment, and acquisitions that took place between companies in the months leading up to the event. Several of these will be discussed in this article.
Flavor Modulation Line Launched
Mastertaste, Teterboro, N.J. (phone 201-373-1111, www.mastertaste.com), launched its flavor modulation line of proprietary mixtures and featured applications highlighting these ingredients. The modulators are said to allow food and beverage processors to reduce the level of sodium by up to 50% in certain products and significantly reduce the caloric content in sweet products without sacrificing flavor.
The company's Salt Modulators are all-natural flavor systems designed to enhance the perception of saltiness while providing an overall increase in the flavor profile in applications where reduced-sodium finished products are desired. It does not have a residual aftertaste. The ingredients do not contain added MSG or HVP, are readily water soluble, and are thermally stable. Depending on he application, there are several different modulator systems available that contain such ingredients as maltodextrin, salt, potassium chloride, and autolysed yeast extract.
Designed for use in virtually any reduced-sugar or carbohydrate product application, including alcoholic beverages, Flavor Modulators enhance a product's sweetness and can also improve the aftertaste of products that contain a non-nutritive sweetener.
Applications showcased included a pasta sauce at 50% reduced sodium made with Salt Modulators and an organic lemon-lime carbonated beverage at 20% reduced sugar that featured Flavor Modulators.
--- PAGE BREAK ---
Solae Acquires Prolisse Line
Solae Co., St. Louis, Mo. (phone 800-325-7108, www.solae.com), recently completed the acquisition of Cargill Inc.'s, Minneapolis, Minn. (phone 952-742-7575, www.cargill.com), isolated soy protein Prolisse product line, including the patented membrane technology for processing ISP.
Solae, which supplies soy protein to the food industry, will transition Cargill's products and technology into an existing plant to ensure reliability of supply. Both companies will continue to service their customers without interruption.
"With this purchase, we gain new technology that will enhance our ability to take new products to market and will allow us to offer more solutions for our customers," said Tony Arnold, President and CEO of Solae. Adding Cargill's membrane-based technology and patents to Solae's existing portfolio will enable Solae to offer a wider range of products and innovation, he said.
Innovative Chocolates Showcased
Chocolate in many shapes, textures, and forms debuted at the IFT Food Expo. And Barry Callebaut USA LLC, Chicago, Ill. (phone 312-496-7300, www.barry-callebaut.com), recently announced several strategic business plans.
To serve its industrial food manufacturing customers in North America, the company will begin manufacturing six rare and exclusive Barry Callebaut Single-Origin Chocolates at its facilities in North America. These chocolates are made from a single cocoa bean variety grown and harvested in a specific region of the world, and each one has a distinct flavor and aroma. They include a Ghana dark chocolate (60% cacao), Tanzania dark chocolate (73% cacao), Mexico milk chocolate (40% cacao), Santo Domingo dark chocolate (70% cacao), Venezuela dark chocolate (75% cacao), and an Arriba dark chocolate (50% cacao).
The new Barry Callebaut Aerated Chocolate provides a light, almost fluffy texture and melts quickly in the mouth. It has tiny, visible air bubbles and is one-third the weight of standard chocolate; can float in liquid; and is ideal for cereals and in baking and dairy applications in which standard chocolate is typically used. The company suggests that manufacturers can use the aerated chocolate to increase the total number of chocolate pieces in a product while maintaining the total chocolate mass.
A range of inclusions, Barry Callebaut Inclusions™, offers a variety of tastes and comes in different sizes and shapes. Some of the inclusions available are caramelized cocoa nibs (roasted kernels of cocoa beans) and coffee-flavored crystals.
--- PAGE BREAK ---
To meet the requirements for specific applications that call for a bolder, more-intense dark chocolate, the company now offers Barry Callebaut High Cacao Chocolates formulated with up to 85% cocoa solids.
The company in July announced plans to increase its cocoa processing operations by more than 50% in the Ivory Coast over the next two years in response to an increase in demand for cocoa liquor.
The company will also increase the volumes of beans sourced directly from farmers and cooperatives. The company said that direct bean sourcing provides the company with greater access to quality cocoa beans.
Finally, Barry Callebaut will begin supplying liquid chocolate and finished products to Hershey Co. within the next few months under a long-term supply agreement. Patrick De Maeseneire, Chief Executive Officer, Barry Callebaut, explained that there is an ongoing outsourcing trend in the chocolate industry that he believes will continue to grow.
As part of the agreement, the companies will partner on research and development activities, particularly in the areas of new chocolate taste experiences, premium chocolate, health and wellness, and ingredient research.
New Brand Name Debuts
A.M. Todd, Kalamazoo, Mich. (phone 800-968-2603, www.amtodd.com), introduced a new brand name for its organic ingredients and flavors.
The name, Mooreganics, captures the heritage of Moore Ingredients, which A.M. Todd acquired during the first quarter of 2007, as well as its focus on providing organic taste solutions. For the last 15 years, Moore Ingredients has created and manufactured natural and certified organic specialty ingredients.
"Mooreganics stands for a full line of certified organic isolates, colors, and flavors for use in beverages, confections, and foods, as well as the know-how behind creating the market products that require them," said Ray Hughes, President of A.M. Todd's Ingredients and Flavors.
Açai Berries Add Flavor and Color
Wm. Bolthouse Farms, Bakersfield, Calif. (phone 661-366-7205, www.bolthouse.com), a grower and processor of fresh and frozen carrots, fresh juices, and carrot-based food ingredients, now offers frozen açai berries for use in all types of food and beverage applications, including fruit juices, smoothies, yogurts, sorbets, and dairy-based desserts.
--- PAGE BREAK ---
The berries are said to contain seven times the antioxidants of cultivated blueberries, as well as omega fatty acids and polyphenols. The deep purple–colored berries have a flavor that tastes like fruit and chocolate.
Bolthouse Do Brasil, a newly formed subsidiary of Bolthouse Farms, harvests the açai berries and processes them using proprietary "cold fusion" continuous processing techniques to help retain the berries' flavor and nutrition content.
The company exhibited some of its other ingredients as well, including carrot juice concentrates (yellow and purple carrot juice concentrates), frozen carrots (novel yellow and red carrots), and carrot fiber. The fiber, which is obtained from fresh carrots and then dried, can provide a cost-effective way to replace tomato solids in all types of tomato-based sauces.
Starch's Role in Texture
National Starch Food Innovation, Bridgewater, N.J. (phone 800-797-4992, www.foodinnovation.com), announced how it will advance the knowledge of texture and position itself as a distributor of potato starch in certain markets.
The company said that it is building a multimillion dollar Texture Center of Excellence to support its programs to meet the growing industry need for texture understanding and control, as well as accelerate innovation and new product development.
"Our research shows that, compared to flavor, texture is clearly an under-exploited dimension in foods," said Joseph Light, Senior Director of Customer Solutions and Product Innovation. The center will also support National Starch's leadership positions in clean label/organic texturizers (Novation® functional and organic starches and Homecraft™ flours) and functional fibers and whole-grain flours (Hi-maize® 5-in-1 Fiber, Nutriose soluble fiber, and Hi-maize whole grain), he added.
Specialty starches can provide texture properties in most food systems. Researchers at the center will study nearly every starch raw material currently available to understand how they perform and interact in foods and beverages.
The center, which is scheduled to begin operations in 2008, will be located at National Starch's global headquarters in Bridgewater, N.J., and will include a focus group room with an observation area; computerized descriptive analysis room; culinary kitchen; isolated testing booths; client meeting rooms; and specialized instrumentation to conduct texture characterization and accelerate the pace of development.
In other news, the company entered into an alliance with Avebe Group whereby National Starch will become the sole distributor of Avebe's specialty potato starch portfolio of food ingredients in North America, South America, and Asia and will provide exclusive marketing and technical service regarding these products. Avebe will continue to market its full specialty potato starch portfolio in Europe and its native and non-food potato starch ingredient portfolio globally through their existing channels. The alliance will allow National Starch to complete its portfolio of starch-based ingredients, adding potato-based technology to its existing positions in corn, tapioca, and other starches. It will also allow Avebe to enhance market presence and penetration for its specialty potato starch products in regions that represent significant growth potential.
--- PAGE BREAK ---
Phyto-Source Increases Capacity
Phyto-Source LP, Pasadena, Texas (phone 281-291-7990, www.phytosourcelp.com), recently increased the capacity of its manufacturing facility in Houston, Texas, that produces plant-derived sterols. This was done to meet the demand for its Phyto-S-Sterol™ cholesterol-lowering ingredient. The company also announced that it will continue to expand capacity at the plant and introduce new product varieties.
Additionally, Phyto-Source plans to build a manufacturing plant somewhere in Europe to serve the European market's demand for phytosterols.
Naturex Helps Maca Growers
Naturex, Hackensack, N.J. (phone 201-440-5000, www.naturex.com), which manufactures natural ingredients such as colors, oleoresins, extracts with antioxidant properties, and essential oils, has developed a plan to enhance economic and social conditions for Peruvian maca growers and their communities.
The company takes maca, a traditional Andean crop, and makes it into extracts called Maca Pure® and Maca Tonic™. To support innovation and advancement in the Peruvian maca trade, Naturex will grant free patent licenses to 100% Peruvian-owned companies in Peru to manufacture mace extract for sale to end users.
Currently, the company holds patents on the processing of maca but under the new plan, Peruvian companies that market maca are said to benefit from these patents without any financial investment. The company has also voluntarily increased its purchasing price paid to maca growers in Peru.
Sargento Acquires Portionables
Sargento Foods Inc., Plymouth, Wis. (phone 800-795-7090, www.sargentofoodingredients.com), recently acquired Portionables Inc., Bellingham, Wash., a manufacturer of frozen sauce and other value-added food products.
Portionables specializes in the development, production, and co-packing of IQF portion-control foods. Sargento plans to use Portionables' expertise to further enhance its new product portfolio for the company's food ingredient and foodservice businesses.
--- PAGE BREAK ---
"We believe that high-quality sauces and meal solutions where cheese and other fresh ingredients are integral to the recipe offer significant opportunities to better serve the expanding product needs of our customers," said Lou Gentine, Chairman and CEO of Sargento. "The combination of Portionables individually quick frozen technology and our cheese expertise will help us realize this opportunity."
Portionables products are used in restaurants, cafeterias, and consumers' kitchens throughout North America. The processing method preserves the color and flavor of the ingredients, including fresh milk, cream, butter, and cheese, in the sauces and soups without separation and textural issues. The pasteurized products are available in Alfredo, Buerre Blanc, Demi-Glace, Hollandaise, Cheddar, Enchilada, and Marinara versions.
The IQF Portionables pieces reconstitute quickly in the microwave, on the stovetop, or in the blender and can be blended with other IQF ingredients.
Portionables is a wholly owned subsidiary of Sargento Foods, and will retain its current management under President and CEO Patrick Calliari, who will be responsible for the current sales and management at Portionables.
Cranberries Provide Functionality
Lauded for their health benefits that range from protecting the urinary tract to promoting proper gut health, cranberries also have plenty of functions in food applications. These include adding texture, flavor, and color.
Ocean Spray Ingredient Technology Group, Middleboro, Mass. (phone 800-662-3263, www.oceansprayitg.com), introduced several types of cranberry ingredients to the IFT Food Expo attendees.
The launch of new double-diced sweetened dried cranberries adds to the company's range of SDCs, which includes diced, soft and moist, less sugar high fiber, and glycerated versions. The 2 mm by 4 mm double-diced cranberries offer more points of color per ounce; enhance the visual appeal of baked goods, and offer a more-uniform piece distribution in smaller-scale applications such as cereal bars. Arun Hiranandani, Global Marketing Manager, credits the company's new dicing technology as the way to manufacture more cranberry pieces per ounce than it has been able to do in the past.
Other SDCs include ones with less sugar and high fiber for use in low-calorie and lite applications and diced to allow manufacturers to optimize cranberry piece count in such products as baked goods and granola bars.
A range of SDCs and natural fruit flavors, BerryFusions™ Fruits, can be used in applications such as baked goods, cereal, and trail mixes. And since the fruit pieces are process tolerant, the flavor, color, and shape of the fruit will not be compromised. The ingredient should not lose moisture in dry applications such as cereals. BerryFusions are available in many real fruit flavors, including strawberry, cherry, orange, blueberry, raspberry, mango, and the newly launched apple-cinnamon.
--- PAGE BREAK ---
Dow Advances Business Deals
A newly formed specialty business unit of Dow Chemical Co., Midland, Mich. (phone 800-488-5430, www.dow.com, www.methocelfoodgums.com), recently announced that it is building a new production facility in Bitterfeld, Germany, and is making progress toward the construction of other facilities. Scheduled to open in 2009, Dow Wolff Cellulosics' plant will produce methylhydroxyethylcellulose.
Dow Wolff's plant in Stade, Germany, will begin producing Methocel™ cellulose ethers during the fourth quarter of 2007 and its plant in Midland, Mich., will have a new full-train operational early next year. Methocel Food Gums are derived from cellulose and have emulsifying properties, making them useful during freeze–thaw cycles, aeration, and whipping, as well as helping reduce and/or eliminate saturated fat and trans fatty acids in meat, meat analog, and bakery applications. Specialty blends of the gums are blended with unsaturated liquid oils to develop desired mouthfeel and textural properties.
Dow Chemical formed Dow Wolff earlier this summer. It is responsible for all activities and interests that were previously overseen by Wolff Walsrode AG, which Dow Chemical acquired, and Dow Chemical's Water Soluble Polymers business. These include providing application formulation expertise and other technical services to the food, pharmaceuticals, personal care, and other industries.
Dow Chemical received a Food Expo Innovation Award from the Institute of Food Technologists for its Fortefiber™ Soluble Dietary Fiber. (See Bob Swientek's article on p. 67.)
Blueberries Take Center Stage at Eateries
The U.S. Highbush Blueberry Council, Folsom, Calif. (phone 800-824-6395, www.blueberry.org), which represents producers, handlers, and exporters of highbush blueberries, compiled a list of Chicagoland restaurants that feature entrees and beverages made with blueberries.
Some of the traditional and non-traditional offerings include blueberry cobbler; blueberry ricotta ravioli; bison with carmelized fennel, blueberry gastrique and freeze-dried blueberries; braised brussel sprouts and blueberry-habanero gastrique; blueberry mojito; risotto duck with blueberries; blueberry fromage blanc mousse; and the classic blueberry muffin.
--- PAGE BREAK ---
The council distributed the booklet, Blueberry Restaurant Guide, at its booth.
Seeing how the chefs at these restaurants incorporate blueberries into sweet and savory applications helps to showcase the versatility of this fruit as an ingredient. Because the blueberries are available in fresh, frozen, dried, puree, concentrate, juice, whole fruit, and powdered formats, they can be used in most applications. Using blueberries is a natural way to add color to baked goods, ice cream, toppings, and sauces.
Virginia Dare Offers Fair Trade Vanilla
Virginia Dare, Brooklyn, N.Y. (phone 718-788-1776, www.virginiadare.com), announced that it now offers Fair Trade vanilla. This ingredient is of Indian origin, has a high vanillin content, and is said to have a clean flavor profile.
A certified chain supply process, Fair Trade sets ethical standards and encourages social responsibility to small-scale farmers and producers of many different agricultural products such as coffee, cocoa, tea, bananas, and rice. One of the standards is to help ensure that disadvantaged producers receive a fair price for the goods and services they provide. This fair price is the true costs of sustainable production and a standard of living that meets social and ethical norms.
Other standards that Fair Trade promotes are for safe and healthy working environments and the protection of women and children from exploitation. All of this helps the producers to compete in the global marketplace.
According to Virginia Dare, just about all vanilla is grown by small, independent farmers in underdeveloped countries. Fair Trade standards can help to balance out some of the inequities that these farmers face while trying to compete in the global agriculture trade.
Ingredient House Forms Alliance
Ingredient House, Princeton, N.J. (phone 609-279-0170, www.theingredienthouse.com), recently announced an alliance with Novel Ingredient Services to broaden each company's ingredient offerings to various food-related markets.
Formed in 2006, Ingredient House initially focused on high-intensity and bulk sweeteners for the food and beverage sectors. Novel Ingredient was formed in 2001 and provides fruit extracts, botanicals, and other ingredients for the dietary supplement market by sourcing from manufacturers with GMP facilities.
Ingredient House's Cranberry Iced Tea was a no-sugar-added, antioxidant-fortified beverage that featured ingredients that both companies source.
--- PAGE BREAK ---
MGPI Opens Tech Center
MGP Ingredients Inc., Atchison, Kan. (phone 913-367-1480, www.mgpingredients.com), recently completed construction of its new corporate office building and technical innovation center. The company named the two-building complex the Cray Business Plaza in honor of Cloud L. "Bud" and Sally Cray and other members of the Cray family, including Cloud Cray's father and company founder, the late Cloud L. Cray Sr.
"The buildings not only reflect MGPI's ongoing evolvement, but also stand as testaments to the significant role the family has had and continues to have in our progress," said Tim Newkirk, President and Chief Operating Officer.
The technical innovation center has nearly a dozen laboratories, including protein and starch research labs; separate applications labs for bakery, meat, prepared foods, biopolymers, and distillery products; a culinary kitchen; and sensory testing, instrumentation, and analytical labs.
Happy Birthday Wixon!
To help celebrate its 100th anniversary, Wixon Inc., Saint Francis, Wis. (414-769-3000, www.wixon.com), a spices, seasonings, flavors, and specialty products company, served frosted birthday cake and other treats that featured some of its key ingredients. Most important, the company formulated these products in a way to showcase its capabilities to create "better for you" products.
The cake contained 50% less sodium, achieved by using KCLean Salt™ salt substitute. It also featured Mag-nifique™ SweetLift and Mag-nifique SugarLift to enhance sweetness perception in dessert applications and beverages and Mag-nifique Mouthfeel to create the perception of creaminess in reduced-fat and no-fat products.
And what would a birthday party be without pizza? Wixon's healthier version featured KCLean Salt in the cheese, organic turkey sausage, and crust. It also contained Wixon's proprietary blend of spices and seasonings.
The salt substitute was also incorporated into a low-sodium, organic turkey breakfast sausage and the Mag-nifique ingredients were used in beverages offered at the booth.
The company's founder, Charles Franklin Wixon, prepared spices by night and sold them during the day from a pushcart to sausage makers around Chicago. The company bearing his name grew in 100 years to a plant of several buildings on a location covering more than 300,000 sq ft of manufacturing, R&D facilities, packaging, warehousing, and administrative operations, with more than 200 employees.
Much has changed since Charles Wixon first began selling spices from a cart. After several moves, the company eventually established its headquarters in Saint Francis, Wis. A series of mergers has allowed the company to expand its product offerings beyond spices.
--- PAGE BREAK ---
French Macaroons Feature Almonds
The Almond Board of California, Modesto, Calif. (phone 209-549-8262, www.almondsarein.com) offered French macaroons and Cran-Almond Treasures cookies. Made with ground almonds, egg whites, and icing sugar, the macaroon cookie halves sandwiched pistachio, chocolate, and lemon fillings. They were almost 2 inches in diameter, and the cookie halves had a smooth, rounded edge and a slight domed top. The recipe for these macaroons was also available at the booth. There are many different versions of macaroons available in bakeries around the world, and this treat is becoming more popular in U.S. bakeries, according to the Almond Board.
Another almond-based cookie featured at the booth was developed by the winners of the Almond Board's 2007 Almond Innovations Contests for members of the IFT Student Association. A team from Penn State University won the contest for its Cran-Almond Treasures cookie. Dipped halfway in dark chocolate, the almond flour–based cookie contained almonds and dried cranberries and no trans fatty acids or cholesterol. Representatives from the Almond Board provided information on the functional benefits of almonds and almond ingredients.
Corn Products Acquires SPI
Earlier this year, the foods business of SPI Polyols Inc., New Castle, Del. (phone 877-567-8501, www.cpspecialties.com), became Corn Products Specialty Ingredients as a result of an acquisition by Corn Products International Inc., Westchester, Ill. (phone 708-551-2600, www.cornproducts.com).
The business will continue to manufacture and sell a range of polyols, including sorbitol liquid, crystalline sorbitol, mannitol powder, crystalline maltitol, and maltitol liquid, and other specialty polyol products.
Food Valley Encourages Development
Much like the Silicon Valley is the hub of silicon chip innovators and other high-tech businesses in the United States, Food Valley is home to a large number of food manufacturing and R&D facilities, research organizations, and academic institutions in the Netherlands.
Located in the eastern region of the country, the area employs more than 10,000 people in the agrifood, life sciences, genomics, nutrition, and health fields, making the Netherlands the world's third-largest exporter of agricultural products.
Food Valley, Wageningen, Netherlands (phone +31-0-317-42-7095, www.foodvalley.nl), fosters innovation and entrepreneurship by facilitating communication, collaboration, and alliances among industry, researchers, academia, and inventors. The booth hosted many organizations that develop and manufacture ingredients or provide services to the food industry. These included Ingrepro Micro Ingredients, Friesland Foods, NIZO Food Research, TNO Life Sciences, Wageningen University & Research Center, EBI Food Safety, and Clean Light.
The Netherlands Foreign Investment Agency joined these companies at the booth to offer assistance to companies and individuals interested in starting a business or opening a subsidiary in the Food Valley or another location in the country.
--- PAGE BREAK ---
Ingredient Provides Heat Stability
Leprino Foods Co., Denver, Colo. (phone 303-480-2600, www.leprinofoods.com), showcased its Temp Pro Plus™ 80% whey protein hydrolysate that is heat stable and has a clean flavor profile.
The ingredient is said to be heat stable in retort or aseptic systems at up to 12% protein, whereas traditional whey protein concentrates are stable to only 5% and whey protein isolates to only 7%.
The company developed a novel enzymatic system to hydrolyze protein, strengthening its heat stability effect and minimizing bitter taste. Wild,
Cognis Develop Prototypes
To celebrate the one-year anniversary of their collaboration to jointly develop innovative flavor systems with health benefits, Wild Flavors Inc., Erlanger, Ky. (phone 859-342-3600, www.wildflavors.com), and Cognis Nutrition & Health, La Grange, Ill. (phone 708-579-6188, www.cognis.com), showcased ingredients in different applications that reflected this strategic partnership.
One prototype, Tropical Orange Heart Health Beverage, contained Cognis' Vegapure natural plant sterols and sterol esters for cardiovascular health. The juice blend had a creamy indulgent orange-vanilla flavor.
The companies are working on new applications made with omega-3 fish oils, which Cognis launched under the brand name Omevital™ at the IFT Food Expo. The ingredient is said to be neutral in flavor and aroma, making it useful in different types of foods and beverages.
Caravan Acquires Arkady
Caravan Ingredients, Lenexa, Kan. (phone 800-669-4092, www.caravaningredients.com), earlier this year acquired Arkady and distilled monoglycerides businesses from Archer Daniels Midland Co., Decatur, Ill. (phone 800-637-5843, www.admworld.com).
The sale included product lines such as bakery enhancers, mixes, enrichments, and distilled monoglycerides, in addition to existing customer base, brands, trademarks, and other intellectual property associated with this business.
It's All in Black and White
Briess Malt & Ingredients, Chilton, Wis. (phone 920-849-7711, www.briess.com), showcased two of its newest ingredients that offer black and white solutions to various product development problems that developers face.
--- PAGE BREAK ---
BriesSweet™ White Sorghum Syrup is for use by formulators who need to create browning in gluten-free foods such as cereals, crackers, snack foods, particulates, and baked goods. The syrup, which was first developed for the production of gluten-free beer, is enzymatically produced from the starchy heads of the grain, rather than the cane, of the white sorghum plant. This gluten-free sweetener substitute for malt extract contains the same reducing sugars and amino acids that promote browning. It is said to match the carbohydrate profile of malt extracts and have similar characteristics such as moderate, long-lasting sweetness, humectancy, and medium viscosity.
It is available in two dextrose equivalents: 45DE high maltose and 60DE. The syrup offers many functions beyond helping to develop browning of gluten-free baked goods. These include providing fermentable sugars and nutrients for baked goods; texture control in frozen dairy desserts; and sweetness, body and bulk, extended shelf life, and flavor masking to baked goods, bars, cereal, and confections. The 60DE version is a higher conversion sweetener with increase browning, higher sweetness, lower water activity, and reduced viscosity.
The company also developed a whole-grain flour that functions as a one-to-one replacement for black cocoa, particularly in chocolate sandwich- and wafer-style cookies. With its black color, particle size, and flavor characteristics that are said to be the same as black cocoa, Organic Briess® Black Cocoa Replacer makes it possible to produce organic versions of some foods that have been produced conventionally and without the use of organic black cocoa due to the inability to source this ingredient. It is produced from 100% roasted barley and can also function as an all-natural, whole-grain colorant in many foods to allow food manufacturers achieve organic, whole-grain, and natural label claims.
Ingredient Enhances Cake Mixtures
DSM Food Specialties, Delft, Netherlands (phone +31-15-279-3474, www.dsm-foodspecialties.com), showcased some of its latest developments. An enzyme-based ingredient for the cake industry, CakeZyme™ allows manufactures to use fewer eggs in their formulations. The ingredient, which is a microbial phospholipase, can be added directly into the cake mixture to enhance emulsification, resulting in lower batter density, improved batter viscosity, and a delayed crumb setting. Finished products that contain this ingredient have increased volume, improved crumb structure and softness, and a longer shelf life.
Two ingredients from the company's range of taste potentiators, DSalt and Delite, help to reduce salt content in cheese while maintaining desired sensory properties. These yeast-based ingredients were developed using proprietary technology. Additional functional benefits of Delite are enhancing taste and masking off-notes in many cheese applications.
The development of GB Select® boiled ranges adds to DSM's range of meat-free, yeast extract–based, natural flavors. The GB Select range includes chicken and beef varieties and provides a taste and aroma that is similar to the first pan drippings of the roasting process without the dominant roasted flavor.
--- PAGE BREAK ---
Blue Pacific Goes Green
Blue Pacific Flavors, City of Industry, Calif. (phone 800-248-7499, www.bluepacificflavors.com), in August launched its Catching the Green Wave environmental stewardship campaign. The plan's goal is to achieve carbon-neutrality by 2013 through system-wide changes to offset emissions from the company's administrative and manufacturing operations.
According to Blue Pacific, it has reduced its packaging by more than 60% with the roll-out of foam-molded, reusable boxes in all sample bottle distributions. It also uses backhauling techniques to reduce the amount of energy expended during its shipping activities. It will continue to make other environmentally sound changes throughout its organization.
To highlight its new green initiatives, the company showcased flavor and ingredient innovations, including Tart and Tangy Flavors in ready-to-drink beverage concepts, as well as "green" foods, at the IFT Food Expo. The flavor portfolio features Green Apple, Green Banana, Green Guava, Green Mango, Green Pineapple, Green Strawberry, and Green Plum. The Go Green Guava Drink™ contained the Green Guava Flavor Nat. WONF.
The company formulated its Refreshmint™ Cucumber Mint Green Tea with Green Tea Concentrate 74239, Green Tea Aroma 78275-R, Green Tea Aroma 80046, Natural Green Tea Flavor 75681, Natural Mint Flavor 74068, Synature Beverage Enhancer 72804, and Mouthfeel Solution 73560.
Blue Pacific and Cuadritos, a soymilk producer in Mexico, developed the SoyCrunch™ Okara Cookies, which contain a by-product of whole soymilk extraction, okara. The cookies featured Blue Pacific's heat-stable specialty baking flavors Coconut Flavor 77507, Butter Flavor 79066-LM-R, Vanilla 4120-LXD-OS, and Condensed Milk 77152-LM-OS.
Starches' Functions Highlighted
With the theme "A World of Ingredients, A World of Ideas," Corn Products International, Westchester, Ill. (phone 708-551-2600, www.cornproducts.com), emphasized how the company's international presence has made it a global supplier of ingredients.
Featured at the booth were a variety of ingredients and prototypes, including Globe® Plus Ultra-Lite Maltodextrin, a 10DE ion exchanged maltodextrin with very low bulk density useful in spoon-for-spoon low-calorie sweeteners or in any application that requires a free-flowing, highly soluble, lightweight carrier.
Expandex® modified tapioca starch is used in gluten-free baking applications, creates a taste said to be more like wheat-based products, creates a moist and expanded crumb, extends shelf life, and can reduce the amount of gums needed.
--- PAGE BREAK ---
When used in beverage applications, Snowflake® modified starch stabilizes the flavor oil emulsion and provides a cloudy appearance. It also provides emulsion stability and is soluble in cold water for instant applications.
A dextrose-based, powder-topping blend for cookies and donuts, Polidex® MD/MDA, is designed to reduce oil migration thus extending the shelf life of finished products.
Butter Blend Provides Ease of Use
Land O'Lakes Inc., Arden Hills, Minn. (phone 800-328-1322, www.landolakesingredientsolutions.com), featured its pumpable butter, canola, and soy blend, which provides a buttery flavor and maintains pumpability to refrigerated temperatures of 45°F. The company said that manufacturers that use this ingredient instead of butter do not need as many employees to handle this ingredient and use less storage space, which is usually required for tempering. It also added that using the ingredient could save manufacturers money in the long run, as they will not be subject to price fluctuations of the butter market.
SAFC Increases Product Line
SAFC Supply Solutions, St. Louis, Mo. (phone 800-244-1173, www.safcglobal.com), recently announced that it has made available more than 350 food-grade certified products to its inventory of 1,700 aroma chemicals within its Flavors & Fragrances product line. This follows the completion of a dedicated storage and packaging facility for these products and a successful American Institute of Baking cGMP audit.
The company's Flavors & Fragrances quality management system is designed to be compliant with global food-grade standards, including EC/178/2002, 88/388/EEC, and 21 CFR 110, across its range of products. It also supplies food-grade products in difficult-to-obtain quantities of 25 kg or less.
Reduced-sodium Coffee Served
A coffee beverage and "better-for-you" biscotti showcased two popular ingredients developed by ICL Performance Products LP, St. Louis, Mo. (phone 314-983-7500, www.icl-perfproductslp.com), to address certain functionality challenges that formulators of healthful products face.
The coffee beverage featured Benephos™, a reduced-sodium phosphate ingredient that functions as a preservative synergist. By using the ingredient, formulators can develop shelf-stable, potassium-enriched beverages that are lower in sodium. It stabilizes proteins, color, and minerals in many dairy and other beverage applications.
In addition to its functions in beverages, it can be used in processed-cheese products, ice cream, and frozen desserts. The biscotti contained the calcium-rich and sodium-free leavening agent Levona™, which can be used in baked goods, whole-grain products, pizza crust, and frozen and refrigerated batters and doughs. Experts were on hand to discuss the entire line of phosphates that the company manufactures.
--- PAGE BREAK ---
SAMPLING THE EXPO
Cool Treat with a Hint of Heat
McIlhenny Co., Avery Island, La. (phone 337-373-6105, www.tabascoingredients.com), offered a creamy cool ice cream treat with a kick of heat. Its Tobasco Bread Pudding Ice Cream featured a custard-flavored ice cream with habanero bread pudding pieces. A cinnamon and whiskey sweet sauce topped the dessert.
Flavors of the Middle East Offered
Innova, Oak Brook, Ill. (phone 708-239-2402, www.innovaflavors.com), offered its version of a classic Middle Eastern-style sandwich, chicken shawarma. It consisted of chicken slices topped with a yogurt sauce and served with pita bread. The chicken contained Natural Rotisserie Chicken Flavor 018-9261. The yogurt sauce was a blend of several ingredients, including Natural Flavor 018-9262 Shawarma Spice Type.
Prototypes Showcase Flavors
Several sweet treats and beverage prototypes featured a range of flavors from FONA International, Geneva, Ill. (phone 630-578-8600, www.fona.com). The Pistachio Coconut Calming Chew contained Natural & Artificial Pistachio Coconut Type Flavor 953.0102U. It also had 30 mg of white tea extract/serving and 30 mg of lemon balm/serving. As an alternative to this chew, the Melon Shiso Energizing Chew contained Natural & Artificial Melon Shiso Flavor 953.0101U, 30 mg of green tea extract/serving, and 30 mg of guarana/serving. The Raspberry Liqueur Flavored Jelly in Dark Chocolate featured Natural & Artificial Raspberry Liqueur Type Flavor 953.0087U. The Lychee Pear Flavored Tea showcased the company's Natural Lychee Type Flavor 953.0096U, Natural Pear Type Flavor 953.0040U, and Natural Black Tea Flavor WONF 953.0097U. The Maple Crème Brulee Filled Milk Chocolate contained Natural & Artificial Maple Crème Brulee Type Flavor 953.0103U.
Dairy Prorotypes Showcase Functions
Several prototypes from Dairy Management Inc., Rosemont, Ill. (phone 847-803-2000, www.innovatewithdairy.com), highlighted the functional benefits of dairy ingredients. A Chewy Caramel and Granola Nutrition Bar With Whey Protein contained such ingredients as butter (to add flavor and aid in solubilizing, dispersing, and integrating fat-soluble ingredients), whey protein concentrate (to aid in emulsification, reduce moisture loss, and help create the texture and richness of caramel), and nonfat dry milk (to provide added dairy proteins and sugars to develop target texture and mouthfeel). The deproteinized whey in the Dulce de Leche With Deproteinized Whey helped to develop a rich brown color and caramelized flavors. Milk protein concentrate functioned as a texturizer and maintained the white color of the No-Bake Cheesecake Filling and contributed a mild dairy flavor to the Peach Yogurt Smoothie With Milk Protein Concentrate. Developed as an upscale, hand-held snack, the Smoked Chicken and Brie Strudel contained rich ingredients such as brie cheese, butter, and heavy cream that contributed to the flavor and texture of the product.
--- PAGE BREAK ---
Sweetener Sweetens Beverages
To demonstrate how manufacturers can use the high-intensity sweetener Sunett®, Nutrinova Inc., Dallas, Texas (phone 972-443-8532, www.nutrinova.com), featured the ingredient combined with other non-nutritive and nutritive sweeteners in a selection of low-calorie beverages such as flavored waters, teas, energy drinks, yogurt smoothies, and flavored milk drinks. The company invented acesulfame K and markets it under the brand name Sunett. The ingredient is said to exhibit synergy with other high-intensity sweeteners and sucrose to help lower the overall sweetener cost in product formulations. The company also customizes ingredient blends to create sugar-like products.
Uses of Sunflowers Showcased
Need a cost-effective alternative to using nuts in your product formulation? Representatives from the SunOpta Grains and Foods Group, Minnetonka, Minn. (phone 952-939-3948, www.sunopta.com), showcased the innovative uses of sunflower in samples of sunflower bits, sunflower clusters (with okara and maltodextrin), and "pecan" pies (with sunflower bits as a pecan substitute). Also available were samples of SunPoppers® and SoyPoppers®, which are used in cereal, snack, and baking applications. The SunOpta Ingredients Group, Bedford, Mass. (phone 781-276-5171, www.sunopta.com), offered hummus and edamame dips, yogurt dipping sauces, and whole-wheat crackers, that featured its fiber and bran products.
by Karen Nachay, Assistant Editor, Food Technology ([email protected]).