Let's not mince words: the Institute of Food Technologists' 67th Annual Meeting & Food Expo in Chicago, Ill., July 28–August 1, 2007, was the greatest food show on earth. Why?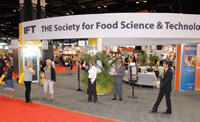 The Scientific Program featured more than 200 sessions and nearly 1,900 speakers on a wide variety of topics.
There were also three general sessions and numerous nontechnical sessions; nine one- and two-day short courses; and three one- and two-day international conferences on nanoscience, food defense, and Chinese health food, with 67 speakers.
The Food Expo was IFT's second largest, with 986 companies from around the world exhibiting their new products, tools, techniques, equipment, and services in 236,800 sq ft of space. The show floor also featured new products and technologies presentations, market research trends presentations, and culinary demonstrations.
And that doesn't count all the committee and business meetings that were held before and during the event.
The 23,257 food professionals from 85 countries who attended learned about innovative and cutting-edge research in food science and technology and viewed the latest developments in ingredients, nutraceuticals, analysis, processing, packaging, and food industry services. The event also featured special sessions addressing the "Health, Wellness, and Foods" theme, a late-breaking session on global ingredient safety, a new programming format, and new additions to the exhibits.
Awards Celebration & Networking Reception
At the Awards Celebration on Sunday evening, Executive Vice President Barbara Byrd Keenan (1) welcomed the attendees (2) to this year's event. Then IFT President Dennis Heldman (3) reviewed IFT's accomplishments during the past year, specifically mentioning changes to IFT's governance structure; the inaugural Strategic Leadership Forum; renewed focus on membership recruitment and retention; IFT's new strategic plan; reorganization of our continuing education programs; and efforts to more effectively utilize the expertise in our Divisions and Sections—all of which are designed to provide expanded opportunities for all members to be involved in the future of IFT. He then reviewed the visits he made to Divisions and Sections across the U.S. and international meetings.
--- PAGE BREAK ---
Saying that "Our award winners have made remarkable breakthroughs in the food science and technology profession, and tonight is our night to say thank you," Heldman presented plaques to this year's 14 Achievement Award winners and 17 newly elected Fellows for their outstanding achievements and contributions to the field of food science and technology (see the October 2007 issue for details). Todd Klaenhammer (4) received IFT's highest award, the Nicholas Appert Award, for preeminence in and contributions to the field of food science and technology, and Michael A. Kempkes, left in (5), from Diversified Technologies Inc. and Roberto Serrano from Genesis Juice Corp. accepted the Food Technology Industrial Achievement award on behalf of their companies.
Heldman then presented a plaque to immediate Past President Margaret Lawson (6), thanking her for her leadership service to IFT over the past three years, and introduced John Floros (7), who will take office as President in September. After receiving a gavel donated by the Student Association and the traditional copy of Roberts' Rules of Order, Floros described his goals for his term as President. He said that IFT's mission is simple—to advance the science of food—and the long-range vision is to ensure a safe and abundant food supply for healthier people everywhere. "To fulfill our mission and realize our vision," he said, "we will focus on four goals: to be the steward of the profession and its community; to be a research champion and an innovation catalyst; to be an influential advocate and trusted spokes-organization; and to be a global citizen and partner."
He then announced that the theme for the 2008 IFT Annual Meeting & Food Expo in New Orleans will be "Driving Growth and Sustainability Through Innovation." He introduced Sheri Schellhaass, who will take office as IFT President in September 2008, and concluded the Awards Celebration by inviting everyone to the Networking Reception immediately following, where a blues band (8) provided entertainment and attendees such as Onuma Okezie (9) enjoyed the food, renewed old acquaintances, and made new ones.
Afterward, IFT dignitaries posed for a photo. From left in (10) are President Heldman, President-Elect Floros, Past President Lawson, President-Elect II Schellhaass, and Executive Vice President Keenan.
Keynote Session
At the Keynote Session on Sunday morning, President Heldman welcomed the attendees to IFT's 67th Annual Meeting & Food Expo.
Kenneth Quinn, President of the World Food Prize Foundation, announced that this year's winner of the World Food Prize, the "Nobel Prize for food," is IFT Past President Philip Nelson of Purdue University (see story on pp. 59–60 of the July issue). Executive Vice President Keenan presented to Nelson (12) a glass sculpture of the world on behalf of IFT, saying, "You have made not only IFT history with this achievement, but you have made history for the food science and technology profession," and invited attendees to visit the IFT Central Booth to sign a commemorative book with a note of congratulations to Nelson. Nelson will officially receive the World Food Prize in Des Moines, Iowa, on October 16–17, 2007.
--- PAGE BREAK ---
President-Elect II Schellhaass announced the winners of IFT's Food Expo Innovation Awards, honoring exhibiting companies for outstanding innovation in products, ingredients, technologies, instrumentation, equipment and services commercially introduced since January 1, 2006 (see article on p. 67).
IFT's 2008 Annual Meeting & Food Expo will take place in New Orleans, La., and Jon Bell, Treasurer of IFT's Louisiana Gulf Coast Section, said that IFT has partnered with Share Our Strength's Operation Frontline®, an educational program that helps families help themselves by teaching them how to prepare healthy and low-cost meals. He invited the audience to participate in this new IFT initiative to improve the lives of underserved New Orleans residents. Details about this volunteer project will be available in the coming months.
Keynote speaker Jason Jennings (13), shared his insights into the ways in which leading organizations of all sizes are keeping the spirit of innovation alive. In his entertaining and inspiring keynote address, Jennings, the author of Think BIG, Act Small and other books, said that having a cause—a nonfinancial reason for doing something that gives meaning to your life—is one of the four "secrets" leading to the success of the world's best business leaders. The others were mastering the art of letting go; letting employees think and act like owners; and being a steward—someone who is nurturing, authentic, mentoring, and selfless.
Also during the Keynote Session, IFT recognized the 50th anniversary of IFT's Japan Section and the 10th anniversary of the Partnership for Food Safety Education, which IFT participates in.
General Sessions
The general session on Monday morning, "Senior Executives Cut the Fat on Industry's Approach to Health, Wellness, and Foods," drew a large audience (14). Shown from left in (15), Marc Belton of General Mills, Lance Friedmann of Kraft, Chor San Heng Khoo of Campbell Soup, and Matthew Roberts of Nestlé S.A. discussed their progress in creating and marketing more-healthful products around the world, pointing out that they face such difficulties as varying global regulations. Cathy Kapica of Ketchum (at far right) moderated the session, which was sponsored by Cognis Nutrition & Health.
Food Technology Contributing Editor A. Elizabeth Sloan moderated the general session on Tuesday morning, "Food Technology Presents: Where Do We Go From Here? The Experts Speak Out!" Barbara Katz of HealthFocus, LuAnn Williams of Innova Market Insights, and Joe Pawlak of Technomic, Inc., discussed market trends regarding the retail and foodservice industries, and Peter Barton Hutt of the Covington & Burling law firm provided insights into where food regulations are headed in the U.S. (see the article on p. 59 and the Perspective column on p. 148).
--- PAGE BREAK ---
Scientific Program
The Scientific Program on Sunday–Wednesday featured more than 200 sessions and nearly 1,900 speakers on a wide variety of topics. They included 97 symposia with 346 speakers, 45 oral research paper sessions with 227 speakers, 44 research poster sessions with 1,215 presentations, 3 New Products & Technologies sessions with 16 speakers, 19 panel discussions with 73 speakers, 6 workshops with 9 speakers, and 2 roundtable discussions with 9 speakers. More than 40 of the sessions—sponsored by Cognis Nutrition & Health—addressed five key elements related to the theme, "Health, Wellness, and Foods": Product Development, Innovation, International & U.S. Approaches, Health-Promoting Ingredients & Foods, and Regulations.
In contrast to previous Annual Meetings in which the technical sessions were scheduled for about 3 hours each, this year's technical sessions ran 90 minutes, said to be the ideal length of time for learning, with a 30-minute break between sessions. All this more than doubled the number of sessions that someone could attend, staying for the whole session, and also allowed more time for networking between sessions. Poster sessions—which inherently allow ample time for networking and interaction—continued to be 3.5 hours long.
Among the many scientific papers were Division Lectures by Thomas Montville (16) for the Food Microbiology Division; Margaret Patterson for the Nonthermal Processing Division, J.Peter Clark for the Food Engineering Division, Fred Brouns for the International Division, and Kazuo Miyashita for the Food Chemistry Division.
Walter Willett (17) spoke to a large audience during the Sunday session, "Is a Trans Fat Ban a Healthy Solution? Viewpoints from Around the World."
Molly Gee (19) spoke during the session on "Healthy Aging and Foods," which was taped as a Webcast (for information, visit www.ift.org/healthyaging).
Poster presentations represented 84% of the total of oral and poster presentations. Among the attendees visiting the poster sessions was Wayne Bidlack, at left in (20).
For the first time, four Student Oral Professional Development Sessions were added to the Scientific Program. The sessions, on Wednesday morning, were designed to give students who had presented poster papers the opportunity to make oral presentations before a group of experts who then gave constructive criticism on how to improve their presentation skills. Yohan Yoon (21) and 28 other students participated, and 15 professionals provided oral and written feedback.
--- PAGE BREAK ---
Special Programs
IFT held its 10th annual "Partnership for Growth" meeting on Sunday. About 120 invited senior food officials from industry, government, and academia attended (see sidebar below).
In the "Teaching Science with Food" workshop on Monday, members of IFT's K-12 Career Guidance Committee—including Ingolf Gruen (24)—showed 20 middle and high school teachers predominantly from the Chicago area how to conduct food science experiments that they could use in their schools. The experiments are part of the IFT/Discovery Education initiative (www.discovery-school.com/foodscience). The teachers then had the opportunity to conduct the experiments (25). The 20 Food Science Ambassadors who observed the session learned how to teach food science experiments in classrooms and thus encourage implementation of food science experiments in grades 9–12.
IFT's Knowledge & Learning Center offered several nontechnical Professional Development Sessions on Tuesday. Designed to help attendees improve their skills and abilities, the programs focused on negotiating with vendors and suppliers, communicating with diplomacy and professionalism, conflict resolution and confrontation management, effective team leadership, and asset protection and retirement planning. Pat Cain (26) gave an attentive audience (27) tips on team leadership.
A roundtable session, "Point Counterpoint: Where Science Meets Funding," on Tuesday paired representatives of agencies funding research with recipients of those funds in a discussion of funding for food science and technology research (see sidebar on p. 32).
A late-breaking session on Global Ingredient Safety was added to the Scientific Program, spurred by recent outbreaks of foodborne illness due to adulterated ingredients (see sidebar on p. 36).
On Tuesday, the Latin American and Caribbean Association of Food Science and Technology (ALACCTA) presented a two-session conference on "Challenges and Impact of Food Safety Assurance in Latin America and the Caribbean." The back-to-back sessions covered "Food Safety Challenges and Foodborne Disease Surveillance" and "Food Safety Implementation: Case Studies."
Food Expo
At Food Expo (28–31), open from 11:00 a.m. until 5:30 p.m. on Sunday, Monday, and Tuesday, 986 companies from around the world exhibited their new products, tools, techniques, equipment, and services in 236,800 sq ft of space—124 of these companies exhibited at Food Expo for the first time. A 2½-hour break between the morning and afternoon technical sessions allowed attendees to visit the exhibits without missing technical presentations they wanted to attend.
--- PAGE BREAK ---
Some of the exhibitors chose to exhibit in special-interest pavilions, including the Healthy Food Ingredients Pavilion, the Food Safety & Quality Pavilion, the Organic Food Ingredients Pavilion, and the Food Ingredients (Fi) International Pavilion. Some Chinese companies formed their own Chinese Pavilion, as well.
The Food Expo floor was also home to the IFT/RCA Culinology Demonstrations, held daily, in which teams of food scientists and chefs demonstrated how they developed food products (see sidebar on pp. 54–55).
At its Taste the Trend Pavilion each afternoon Sunday through Tuesday, market research firm Innova (32–33) showcased hundreds of trend-setting prepared foods from around the world. The pavilion, located on the Food Expo floor, was divided into three zones—packaging, flavors, and consumer insights—each consisting of a series of videos and poster presentations focusing on international trends and emerging technologies. The pavilion also demonstrated more than 200 international products.
At Mintel's Global New Products Pavilion each morning on Sunday through Tuesday, Maria Caranfa (34) discussed "The Next Big Thing in Health," based on her analysis of U.S. restaurant menus. And each afternoon, Lynn Dornblaser and David Jago made three presentations—"Products for Enhanced Memory and Brain Function," "Free-From Foods," and "Emerging Flavor Trends." Attendees at those three sessions had the opportunity to view and sample more than 60 new products from around the world illustrating the latest trends (35).
New to the show floor this year were two New Products & Technologies Forums in which the top six presenters selected from the nearly 100 abstracts submitted for the traditional NPT sessions—had 25 minutes (10 more than in the traditional sessions)—to discuss their latest technologies in greater depth. Three presentations were held on Sunday afternoon and three more on Monday afternoon. In addition, three traditional NPT sessions were presented, and a new NPT Showcase featuring tabletop/poster exhibits (37) was held next to one of the forums.
After Food Expo closed at 5:30 p.m. on Tuesday, 16 exhibiting companies donated 12,386 lb of product to the Greater Chicagoland Food Depository. That brings the total donated from Food Expo exhibitors over the past 10 years to 109,535 + 121,921 lb. The following companies donated products: ACH Food Cos., Biothera, Davisco Foods International, Inc., Fuchs North America, Griffith Laboratories, Kantner Group, Leprino Foods, National Starch Food Innovation, New Star Fresh Foods, Nitta Gelatin NA Inc., Orafti Active Food Ingredients, QA Products, Inc., Richmond Baking, Superior Nut Co., Inc., Tate & Lyle, and Watson, Inc. Freeman Companies and Sullivan Transfer donated their time and labor to collect and transfer the food items donated.
By the end of Food Expo, 568 companies had already contracted for more than 84% of the exhibit space for next year's Food Expo in New Orleans, La., June 28–July 1.
--- PAGE BREAK ---
Town Hall Meeting
IFT held its first Town Hall Meeting on Saturday morning (38). A replacement for the former Council meeting, the event provided IFT members the opportunity to learn more about IFT activities and to dialogue with IFT leaders about the direction of the organization. More than 100 people attended the meeting.
In the first hour, IFT leaders presented highlights of the past year and objectives for the future. President Heldman reviewed five key initiatives—continuing education, membership growth, communications, alliance, and marketing—and the Strategic Leadership Forum, new Strategic Plan, new governance structure, and the new Town Hall meeting. President-Elect II Schellhaass explained that these initiatives are the result of listening to IFT members. Executive Vice President Keenan said that membership recruitment and retention was the number-one priority for 2007–08, followed by communication and globalization.
The second hour consisted of an open discussion moderated by Board member Mark Uebersax. Members suggested ways to integrate student members into the Annual Meeting and how to retain them as IFT members after graduation. IFT Student Association President Taylor Wallace of Ohio State U. (39) said that student participation in the Annual Meeting was up by 200 registrations this year and that 20% of the student members reside outside the U.S. Efforts are underway to increase the number of students who sign on as IFT members after graduation, including a new Student Association governance structure and bylaws and an increase in student districts from six to eight, providing increased student representation at the executive level.
President-Elect Floros (40) emphasized IFT's mission. "If there's one thing you take away from this Town Hall meeting," he said, "it's that IFT's long-range goal is to ensure a safe and abundant food supply contributing to healthier people everywhere."
IFT Business Activities
At its meeting on Friday, led by President Heldman (41), the Board of Directors approved, among other things, the 2007–08 budget; Bruce R. Stillings as Treasurer when Mary Wagner's term expires in 2008; up to $30,000 to help fund a research proposal writing workshop to encourage research at the interface of food science and nutrition; and the Annual Operating Plan for 2007–08, which emphasizes communications, membership, and globalization.
The Board also participated in a discussion about balancing organizational priorities for 2007–08, and agreed that implementing the strategic plan and aligning volunteer resources to the plan was a priority.
The Board also discussed the results of the IFT Membership Market Research Initiative and next steps, including identification of target markets, creation of a value proposition, review of current products/services, and identification/development of potential new products/services.
--- PAGE BREAK ---
On Tuesday, the Board of Directors and members of the Nominations and Elections Committee held an interactive session with interested members, outlining what it takes to become an IFT Board Member and how to go about it (see item on p. 131).
At the Section & Division Officers Workshop on Tuesday, current and in-coming officers and others interested in becoming leaders within IFT Sections or Divisions heard brief reports about IFT programs by President Heldman, President-Elect Floros, and IFT Director of Component Relations Gail Wiseman (42).
Foundation Activities
At its meeting on Monday, the IFT Foundation Board welcomed new board members—D. Scott Lineback and Bob Noyes—and incoming student representative, Taylor Wallace, the current IFT Student Association president, and thanked Boardmembers whose terms are expiring—Barbara C. Raphael, Clint D. Stevenson, and Herbert Weinstein—and IFT Foundation Vice President Tekla Syers, who resigned from the IFT staff following the IFT Annual Meeting to devote her time to nonprofit association consulting.
The Foundation held its first Donor Recognition Reception on Sunday evening, honoring Al and Janet Clausi, Phillip Morris Cos., and New York Section as the most generous donors in 1985–2005; John J. and Irene T. Powers, Phillip Morris Cos., and the Chicago Section as the most generous donors in 2006; and General Mills for the most consecutive years as a donor.
A display at the entrance to Food Expo listed the corporate, individual, and Section IFT Foundation donors, 2006 donors with cumulative gifts of $100 or more, and 2007 donors with cumulative gifts of $100 or more.
The Foundation held a drawing each day among those attendees who filled out a short survey about the Foundation. Ricardo Carvajal, Caroline Schulz, and Margaret Orders each received a $100 American Express gift card.
--- PAGE BREAK ---
Short Courses & Special Conferences
A number of courses and conferences requiring separate registration were also offered.
IFT's Knowledge & Learning Center presented nine one- and two-day continuing-education courses on Friday and Saturday preceding the Annual Meeting. They focused on flavor interactions in foods, food packaging for the non-packaging professional, food science for the non-food scientist, blending culinary arts and food science, ingredient applications for health and wellness, nonthermal processing technologies, preparing for third-party audits, nanobiotechnology, and new-generation oils. The short courses featured 153 more instructors than last year and 471 attendees, more than twice the number the previous year.
Also on Friday and Saturday, the Chinese American Food Society (CAFS) and IFT cosponsored a Global Chinese Health Food Symposium, the first international conference held in the United States on Chinese health food and its associated concepts and technologies. Researchers from around the world who have made important contributions to Chinese health food in such areas as biotechnology, functionality, safety, regulation, and processing technology were on the program. Keynote speaker Chun-Su Yuan (43) addressed a large audience (44).
On Wednesday, nearly 150 professionals involved in food safety and quality attended IFT's 7th Global Food Safety & Quality Conference (see article on page 125), and about 200 professionals from around the world attended IFT's "Nanoscale Science of Food: Opportunities and Challenges" conference, IFT's second such international conference (see article on p. 121).
IFT Annual Meeting registrants also had the opportunity to attend the Society for Nutrition Education's 40th Anniversary Conference on Saturday–Wednesday. The theme was "Exploring Nutritional Bio-Optimism." In a reciprocal arrangement, for a modest fee, IFT registrants could attend the SNE conference and SNE registrants could attend Food Expo.
Fun Run
More than 450 attendees bought tickets to participate in Monday morning's 7th annual Fun Run sponsored by the IFT Student Association and the IFT Foundation. The 5K Run and 1 Mile Walk (45) raised more than $45,000 for the IFT Foundation's Scholarship and Fellowship Fund, with $38,500 coming from corporate and IFT Section and Division support and the rest from member support. Last year, runners and walkers raised more than $37,000.
Among the male runners, Chris Charles came in first with a time of 16 minutes and 36 seconds (16:36), followed by John Norkus (18:19) and Lance Avery (19:28), shown from left in (46). The top male winners by age group were as follows: 20–29, Kyle Long (19:45); 30–39, Cory Bryant (20:32); 40–49, Wes Shadow (20:18); 50–59, Michael Liewen (21:11); and 60 and older, George Patocka (25:35).
--- PAGE BREAK ---
Among the female runners, Sarah Muhlbradt came in first (19:04) for the second year in a row, followed by Catherine Lee (19:55) and Julie Wankowski (20:38), shown from left in (47). The top female winners by age group were as follows: under 20, Mary Cranmer-Byng (31:43); 20–29, Rachel Prososki (20:59); 30–39, Andrea Gaebe (24:48); 40–49, Martha Llaneras (22:35); 50–59, Moira McGrath (27:25); and 60 and older, Pat Kendall (27:43).
The youngest and oldest participants in the race were Mary Cranmer-Byng and George Patocka, respectively.
Teams wore uniforms and costumes this year, and NIZO Food Research won for best team uniform: orange lederhosen with attached lion tails (48). GTC Nutrition won an award for biggest team (28 participants).
Plaques and certificates were awarded to the winners, and all participants received a t-shirt designed by the IFT Student Association. Individuals who did not participate in the run/walk but made a donation to the Foundation received an "I Slept In for the Fun Run" t-shirt.
Bruce Ferree of California Natural Products received a round‑trip airline ticket as the event's top fundraiser. Rachel Prososki of the University of Wisconsin was chair of this year's Fun Run.
Kraft, IFT Chicago Section, David Michael & Co., GTC Nutrition, IFT Foodservice Division, Michael Foods and National Starch were Gold Level sponsors of the event. General Mills was a Silver Level sponsor. And IFT's Food Laws & Regulations Division, Maryland Section Oregon Section, Southern California Section, and Yum! were Bronze Level sponsors. Additional donors were Hershey, the Minnesota Section, and Masterfoods USA. In addition, Kraft, Dominick's, Corn Products International, Cott Beverages USA, Glanbia Nutritionals, Kagome, McDonald's, Mintel, Morton Salt, PepsiCo, TIC Gums, Wal-Mart, and Wrigley Science Institute donated products for the Fun Run goodie bags.
--- PAGE BREAK ---
Other Activities
More than 4,200 visitors from 84 countries outside the United States attended the Annual Meeting, and many of them took advantage of the International Lounge (49) throughout the meeting to visit with friends and acquaintances and learn more about the activities of the International Division as well as various international events.
Delegations from Japan (50) and China attended the Annual Meeting. Shown from left in (51) are Shao Wei, Executive Vice Secretary-General of the Chinese Institute of Food Science & Technology (CIFST), Food Technology Editor-in-Chief Bob Swientek, Meng Suhe, Vice President and Secretary-General of CIFST, IFT Special Projects Leader Amanda Perl, and Rao Ping-fan of Fuzhou University.
On Saturday, the Fellows were honored at the Fellows Reception, where they were introduced and presented with lapel pins designating them as an IFT Fellow.
At the International Division luncheon on Monday, Bob Bates, second from left in (52), received the Division's Outstanding Member Award (also shown are, from left, Division Chair Elena Castell-Perez, Secretary Antonio Martin, and Past-Chair Yao-wen Huang) A certificate of appreciation was also given to Cargill for its support of the Division.
At the Past Presidents Dinner on Sunday, 16 past presidents of IFT (53) dined and socialized with President Heldman, Executive Vice-President Keenan, and former IFT Executive Vice President Dan Weber.
At the Food Packaging Division session on Sunday, Tom Powers, at right in (54), formerly of Multisorb Technologies, received the Riester-Davis Award from Division Chair Bruce Welt, and Enyo Quist of the Michigan State University School of Packaging received the Graduate Fellowship Award.
The Education Division celebrated its 10th anniversary with a 10-year celebration on Sunday evening.
The Sensory Evaluation Division on Monday evening held a networking reception and culinary showcase, with chefs demonstrating the cuisines of two of Chicago's diverse ethnic neighborhoods —Mexican and Indian. The demonstrations were followed by a buffet of Mexican, Indian, and Eastern European dishes.
--- PAGE BREAK ---
Researchers in the area of water activity shared their reminiscences of the history of water relations in food at a reception by Decagon Devices on Sunday evening honoring the 50th anniversary of the peer-reviewed article by W.J. Scott entitled "Water Relations of Food Spoilage Microorganisms." Dan Farkas (55) was among the attendees perusing the article and other historical documents.
IFT Central, the IFT booth on the Expo floor (56), highlighted IFT's varied benefits and services for members. IFT staff members, identified by red shirts (57), were on hand to discuss IFT's services, publications, and activities and answer questions. The booth also featured tables and comfortable seating for attendees who wanted to rest or meet with friends and colleagues.
At the Conversation Café (58) on the show floor, attendees met at tables dedicated to informal discussion of specific topics, such as food allergens, functional foods, food defense, and others.
The Hall of Honor in the convention center lobby featured descriptions of IFT's achievement awards, photos of the 2007 award recipients and newly elected Fellows, a listing of Section and Division Outstanding Members, and lists of past award winners.
The Employment Bureau was busy as usual during the Annual Meeting. Companies and job seekers had the opportunity to schedule onsite interviews before the meeting via the virtual employment bureau that debuted online in April. As a result, 344 job opportunities were posted, 596 job seekers visited the onsite employment bureau, and hiring representatives from 66 companies conducted 751 one-on-one interviews. The online employment bureau is accessible year-round through IFT's Career Center at www.ift.org.
Publications distributed at the Annual Meeting included the IFT Annual Meeting & Food Expo Program and Exhibit Directory and the Book of Abstracts, plus the 40-page Inside IFT newspaper that attendees received as they entered the convention center Sunday through Wednesday.
Student Activities
A wide variety of student activities were sponsored by the IFT Student Association, the officers of which are shown in (59).
Students used the Student Association Booth as a central location at which to learn about student activities at the Annual Meeting and about the Student Association itself.
--- PAGE BREAK ---
Attendees at the Chapter Presidents Workshop (60) on Saturday gained insights about the Student Association and IFT Foundation programs.
After the SpeedNetworking Session on Monday evening, PepsiCo sponsored the Mixer, providing food and product giveaways (61) that focused on Health & Wellness, including beverage glasses bearing those words. The mixer also featured tabletop displays of Student Chapter of the Year competition finalists, a tabletop display on diversity by the IFT Diversity Committee, and the opportunity for students to mingle with other students, IFT members, and invited guests—students from the Chicago High School of agriculture.
At the Welcome Assembly following the Mixer, the Student Association leaders were introduced, and Excellence in Leadership awards were presented to recognize those student members who have given outstanding service to their Student Chapter. The competition was sponsored by Campbell Soup and chaired by Jon Rowe of Brigham Young U. The awards consisted of a plaque and $1,000. From left in (62), Campbell Vice President of R&D George Dowdie congratulated undergraduate winner Rebecca Anne Creasy of the U. of Georgia and graduate winner Caitlin S. Boon of the U. of Massachusetts.
The Student Association also cosponsored several sessions. The symposium "Information for Food Scientists: The Road Map," cosponsored by the International Food Information Service, helped attendees make use of the growing number of information resources available. The session Diversity and Multinational Teams in the Food Industry and Academia on Monday was cosponsored by the International Division. At How to Interview and Negotiate for Your First Job on Tuesday, career coach Vickie Austin told students how to sell themselves when interviewing and how to negotiate the salary and benefits package for their first job. And at the panel discussion How to Successfully Transition into Your First Job on Tuesday, cosponsored by the Marketing & Management Division, three professionals shared their experiences for a successful transition from student to professional life.
Student Competitions
The Student Association sponsored or cosponsored several competitions, and the winners were announced at the Welcome Assembly on Monday evening and are listed below. A number of IFT Divisions also sponsored student paper competitions, and the winners (see sidebar on p. 56) were announced at the annual breakfast meeting of the Phi Tau Sigma Food Science Honorary Society on Wednesday.
• Product Development Competition. Teams from 23 universities participated in this year's competition. The six finalist teams made oral and poster presentations at the Annual Meeting, and a panel of five industry professionals judged the presentations on the basis of marketing, cost analysis, packaging, and nutrition labeling, as well as the taste of the products.
--- PAGE BREAK ---
The Michigan State U. team won this year's competition for its development of Souper Snackers Chicken Noodle Bites, a microwavable snack that delivers the flavor of homemade soup in a whole-grain pasta shell stuffed with lean ground chicken, vegetables, and a thick, flavorful broth. Team members, shown from left in (63) were Eric Birmingham, Aileen Tanojo, John Cassel (team co-leader), Andrew Draganski (team co-leader), Elizabeth Abbey, Meghan Peltz, and Nicole Goldman. Not shown is Ashlee Sakhett.
The U. of Wisconsin, Madison, team came in second for its development of Kudamushi, a bite-sized, fruit-based dessert sushi consisting of a peach-ginger jelly center in jasmine-flavored rice wrapped in plum berry fruit leather. Team members were Jen Baeten, Annaliese Eberle, Katherine Elia, Jordan Gosz, Joshua Hambali, Amy Jacobs, Renee Lietha, Caroline Lynch, and Stephanie Pauk.
The U. of Minnesota team came in third for its development of Tres Jelee, a two-layered, gelatin-based dessert that contains probiotics and soy protein. Team members were Ashley Bents, Jackie Koch, Catherine Lee, Laura Meyer, Corinne Otte, Oriana Raabe, Michael Scheller, Missy Stoll, and Stelios Viazis.
The competition was cosponsored by the IFT Student Association, which awarded a plaque to the 1st-place team, and Masterfoods USA, which provided travel grants of $1,000 for each of the six finalist teams and awarded $4,000, $2,500, and $1,000 to the 1st-, 2nd-, and 3rd-place winners, respectively. Rashmi Tiwari of Rutgers U. was the competition chair.
• Chapter of the Year Competition. This award is given to the Student Association chapter that has the most active participation at local and national levels. The Rutgers U. chapter (66) was named Chapter of the Year, the North Carolina State U. chapter took 2nd place, and the U. of Minnesota chapter took 3rd place.
General Mills presented a plaque and $1,000 to the 1st-place winner and certificates and $500 and $250 to the 2nd- and 3rd-place winners, respectively. The Ohio State U. chapter was named Most Improved Chapter and received $200 and a certificate. Sylvia Gaysinski of the U. of Massachusetts was the competition chair.
--- PAGE BREAK ---
• College Bowl Competition. A highlight of the student activities at the Annual Meeting, the 23rd Annual Intercollegiate Food Science and Technology College Bowl Competition drew a large audience on Monday evening. Finalist teams from universities in each of the six geographical areas of the Student Association competed in a preliminary round on Monday morning. In the final round on Monday evening, the U. of Arkansas team beat the Chapman University team. Shown from left in (67) are the members of the winning U. of Arkansas team, Vishal Jain, Sarah Stribling, Ken Over (team captain), Brittany Adams, Arvind Kannan, and Mike Kaminski.
General Mills, Inc. provided $1,000 travel grants for each finalist team, as well as an award of $1,000 to the winning team and $750 to the runnerup. Shown from left in (68) are the judges, Leola Henry, Roger Clemens, and Pam Vaillancourt. Naomi Sundalius of Louisiana State U. was the competition chair, and Lisa Povolny was the moderator.
• Undergraduate Research Paper Competition. In this competition, Jon Hutchinson of the U. of California, Davis, took 1st place, Michael Sharp of Utah State U. 2nd place, and Wiparwee Sakaorattanakul of the U. of Wisconsin, Madison, 3rd place.
The competition was cosponsored by the Student Association, Phi Tau Sigma, and E.&J. Gallo Winery. Gallo provided a $300 travel grant to each finalist and $500, $350, and $250, to the 1st-, 2nd-, and 3rd-place winners, respectively. Stelios Viazis of the U. of Minnesota was the competition chair.
• Graduate Research Paper Competition. In this competition, Hui Cai of the U. of Wisconsin, Madison, took 1st place, Elizabeth Grasso of Ohio State U. 2nd place, and Priya Kathirvel of the U. of Wisconsin, Madison, 3rd place. Shown in (69) are Shari Baxter of the U. of Maine (competition chair), Cai, Grasso, and Kathirvel. The competition was sponsored by the Student Association and Phi Tau Sigma. The Student Association provided a $500 travel grant and a plaque to each finalist and $1,000, $750, and $500 to the 1st-, 2nd-, and 3rd-place winners, respectively.
Next Year in New Orleans
The 2008 IFT Annual Meeting & Food Expo will be held in New Orleans, La., on Saturday, June 28, through Tuesday, July 1. Plan to attend!
Photos of the 2007 IFT Annual Meeting & Food Expo were taken by Lagniappe Studio.
--- PAGE BREAK ---
Funding Food Science Research
A roundtable session entitled "Point Counterpoint: Where Science Meets Funding" was held on Tuesday, July 31, to increase awareness of the broad breadth of funds available from federal science agencies for food research and to demonstrate the diverse types of competitive food science research initiatives currently being conducted. The session, presented at the IFT Annual Meeting & Food Expo for the second year in a row, was developed by IFT's Government Relations Committee and IFT staff.
Representatives from the National Institutes of Health, National Science Foundation, National Oceanic & Atmospheric Administration, U.S. Dept. of Agriculture, U.S. Dept. of Defense, and U.S. Dept. of Energy had the opportunity to highlight funding available to food scientists and to share the nuances of the grant process with the audience. Six IFT members who had received funding from each agency were also present to discuss the cutting-edge food science research they are conducting. Each agency representative was paired with his or her "counterpoint," the IFT member who had received a grant from that agency.
John Milner, at podium in (11), Chief of the Nutritional Science Research Group, National Cancer Institute, was paired with Rui Hai Liu of Cornell University. Lenore Clesceri of the Chemical, Bioengineering, Environmental, and Transport Systems, NSF, was paired with Michael McCarthy of the University of California-Davis. Michael Liffmann of the National Sea Grant College Program, NOAA, was paired with Tyre Lanier of North Carolina State University. Anna Palmisano of the Competitive Programs Unit, CSREES, USDA, was paired with Jozef Kokini of Rutgers University. Gerald Darsch, Combat Feeding Program, DOD, was paired with Howard Zhang, formerly of Ohio State University and now with USDA's Agricultural Research Service. Valerie Sarisky-Reed of the Office of the Biomass Program, DOE, was paired with Michael Penner of Oregon State University. Gilbert Leveille, Executive Director of the Wrigley Science Institute and IFT Past President, served as moderator.
The panel discussion provided science agencies with an opportunity to interact with IFT members engaged in basic and applied research directly related to their agencies' priorities. Agencies were able to highlight past and present food science grants as examples of the type of research that has received funding. The agency representatives encouraged all food scientists to pursue multidisciplinary proposals, and to consider Small Business Innovation Research/Small Business Technology Transfer (SBIR/STTR) programs.
The open discussion could lead to a broader understanding of how food science relates to and fits with federal grant agency priorities and may also improve the standing of food science, as well as of IFT, among the federal agencies represented at the session.
Sarah F. Davis, Staff Scientist, IFT
--- PAGE BREAK ---
Late-Breaking Session Addresses Global Ingredient Safety
Recent media and consumer attention to outbreaks of foodborne illness due to adulterated ingredients spurred a late-breaking session on Monday on global ingredient safety. A panel of distinguished academic, government, and industry leaders addressed the attendees regarding the impact of recent adulterated imports and what the response by government and industry could or should be.
The panelists included, from left in (18), Robert Gravani, Professor of Food Science at Cornell University, and Frank Busta, Director of the National Center for Food Protection and IFT Past President; Ram Chaudhari, co-founder of Fortitech; Fred Meyer, Managing Director of RQA Asia-Pacific; Mark Nelson, Director of Regulatory Affairs for Nestlé USA; and John Surak, Principal of Surak & Associates.
In introductory remarks, the panelists all maintained that the issue, though driven by recent problems with Chinese ingredients, is not a problem with China alone but stems from working in an increasingly complex global environment. Despite the complexity, global sourcing is a must, said Meyer. Gravani remarked that consumers know no seasonality, making sourcing ingredients from all over the world a necessity.
Meyer also noted that with the opportunity of great growth in certain markets comes great risk, and the challenge is managing that risk. He and others on the panel suggested that more attention should be paid to the supplier relationship, including the differing technical, cultural, and language aspects. Busta noted the vulnerability of the food system to intentional contamination, which is highly unpredictable and asymmetrical.
Many consumers wonder why more inspections won't simply solve the problem. "You can't inspect everything," said Surak, since limited resources mitigate against this. "If everything goes to a lab, nothing ends up on a plate."
What has been learned from the recent outbreaks? To dig deeper into the supply chain, panelists said. It is no longer enough to go back just one source, said Meyer; companies may need to go back to the source's source. What's more, industry cannot be complacent and simply trust their supplier to do the necessary quality assurance. Nelson noted that more evaluation is needed and that recent events remind us of and emphasize the fact that industry must ramp up safety and quality assurance programs to respond. Companies, some on the panel said, are ultimately responsible for the safety of their products.
Chaudhari said there can be too many middle men, and it would help to cut down on the distance between supplier and manufacturer. He also noted the importance of applying audit programs to specific cases.
Busta, meanwhile, emphasized the opportunity for trade association and select supplier programs to enhance supplier credibility and, where necessary, education.
Catherine E. Keich, Associate Internet Editor, IFT
--- PAGE BREAK ---
Senior Food Officials Discuss Decision Making
This year's Partnership for Growth meeting took place on Sunday, July 29. The theme was "Decision Making in Uncharted Territory," a topic in line with IFT's upcoming Expert Report "Decision Making When the Science is Evolving." The session was attended by 120 invited senior officials from industry, government, and academia.
After opening remarks by William Franke, Chair of IFT's Senior Food Officials Committee, and welcoming remarks by IFT President Dennis Heldman, a notable lineup of speakers addressed a range of chemicals of concern, as well as industry and consumer reactions to those concerns.
Richard Stadler, Head of the Quality Management Dept. at the Nestlé Product Technology Centre, led off the day with a talk entitled " Inconspicuous Chemicals that Become Consumer Concerns." He discussed several of the current issues faced by the food industry, including 3-MCPD, furans, and benzene, pointing out that much research is needed with regard to methods of analysis, data storing, mechanisms of action, mitigation, sharing of information, and understanding of constraints. He called for a holistic approach to evaluations of risks associated with individual compounds in foods.
David Lineback, IFT Past President, President of the International Union of Food Science and Technology, and Retired Director of the Joint Institute for Food Safety and Applied Nutrition at the University of Maryland, presented an "Acrylamide Case Study." We are faced with dealing with a chemical that is traditionally industrial in origin, is known to be carcinogenic and genotoxic, and has recently been identified in the food supply but has been there for millennia, he said. Although found in many foods, it happens to be at relatively high levels in the most commonly consumed vegetable, the potato, and the most commonly consumed food, French fries.
Acrylamide is a food issue, he said, because it is connected to a high proportion (about 38%) of the average person's caloric intake. The chemical arises unintentionally upon heating of a food matrix that includes the amino acid asparagine and reducing sugars. It provides a major challenge to the food industry because it is nearly impossible to remove without compromising food quality and safety.
Lineback concluded by describing the CIAA Toolbox, a cooperative research project aimed at developing viable interventions (www.ciaa.be).
John Bode, Principal Attorney at Olsson, Frank, Weeda, Terman, Bode, Matz, PC, spoke about the current legislative scene and its impact on the food industry. Much of his talk focused on the pending Farm Bill and the likelihood that it will not go into effect for at least another Congressional session.
--- PAGE BREAK ---
Richard Lane, Director of Scientific Affairs at Unilever, spoke on the "Industry Reaction to Chemicals of Concern." Concern about the unknown and the fear and dread it brings was the emphasis of his presentation. When determining the public health impact of chemicals of concern, exposure (and many aspects of it) is of crucial importance, he said. Acute vs chronic exposure is of particular interest, and with regard to chronic exposure the unknown pertains to the lower (possibly indeterminate) level. Lane suggested that a potential answer to such issues would be to identify a threshold of toxicological concern (TTC) for all such chemicals and use this level to distinguish safety.
Dave Schmidt, President and CEO of the International Food Information Council (IFIC), and Carl Winter (22), Director of the Food Safety Program Extension at the University of California–Davis, gave the concluding talk, "Consumer Reaction to Chemicals of Concern." They advised the implementation of credible, honest, and open risk communication practices when managing a crisis situation. Winter spoke specifically to the use of risk comparisons and the difficulties that may arise. He cautioned that using such comparisons may incite unwarranted feelings of danger.
The speakers were followed by a breakout session (23) led by Susan Borra, President of the IFIC Foundation. The goal of the session was to identify areas of consensus and discuss opportunities for action on how stakeholders—researchers, government, communicators, the food industry, and IFT—can effectively function in the current environment of chemicals of concern. Questions posed to the participants pertained to research needs and who should establish them; government policies at the local, state, and federal levels; consumer communications and appropriate messaging; and industry's role and IFT's role in dealing with chemicals of concern.
Research needs discussed included mechanisms of action to better understand carcinogenicity, biomarkers, exposure, development of databases, bioavailability, food attribution, nutrition surveillance, and consolidated/ accumulated risk from mixtures of foods. The policy discussion focused on unintended consequences, industry responsibility (e.g., early warning systems may be a good prospect), inspection, and the impact of policies set by other aspects of the food system (e.g., retail). There was general agreement that IFT is the organization to identify, synthesize, and communicate these issues surrounding chemicals of concern.
Cory M. Bryant, Ph.D., Senior Research Scientist, IFT
--- PAGE BREAK ---
ADM Highlights Role of Growers and Food Manufacturers in Food Safety
On Monday, July 30, at the IFT Food Expo, ADM hosted a delegation of about 30 Midwest growers to spotlight the critical relationship of farmers and food manufacturers in ensuring a safe food supply.
"Food safety is of greater concern today than perhaps ever before, and suppliers play a critical role in keeping our food safe," said Mark Metivier, Director of Sales, ADM Specialty Food Ingredients. "ADM knows our suppliers and values our relationship with them. Because of our strong, vertically integrated position, we're able to unite suppliers with food manufacturers to provide consumers with consistently safe and high-quality food ingredients."
The corn and soybean farmers from Illinois and the navy, pinto, and red bean farmers from Minnesota and North Dakota attended a luncheon with executives from ADM and IFT, who presented overviews of the food industry, IFT, and ADM's activities in food quality and safety.
"ADM has always been committed to stringent quality control standards to ensure food safety," stated Larry Ritchie, Director of Product Quality, ADM Office of Compliance and Ethics. "Our Product Quality group works to ensure that our products comply with food safety standards. The group audits the food safety and quality aspects of ADM operations and conducts evaluations of our facilities. They monitor and assist in legal and regulatory developments for food safety, so these practices can be implemented in our operations. They develop training programs and materials to hold ADM employees accountable for meeting product quality goals."
In addition, the growers attended a presentation at the ADM booth and learned more about products developed by ADM using their food crops. For example, a "better-for-you" cheese torte—available for sampling by attendees—was made with navy bean powder and pieces, soybean oil, soy lecithin, and soy protein. The farmers also had an opportunity to walk the trade show floor and talk with other exhibitors.
Roger Sy, an Illinois farmer who grows corn and soybeans and supplies 100% of his crop to ADM, found the event very informative. "I learned how our grains and their components are used in food products and had the opportunity to discuss what food manufacturers may want from growers, such as specialty grains or specific traits," he said, "and to think about what we might be doing in five or ten years."
Bob Swientek, Editor-in-Chief, Food Technology
--- PAGE BREAK ---
Chefs and Food Scientists Team Up
For the fourth year in a row, chefs from the Research Chefs Association teamed up with IFT food scientists and students to present live product development demonstrations on the Food Expo floor.
This year's theme for the IFT/RCA Culinology Demonstrations, sponsored by the Almond Board of California, was "A Taste of Health," and each day, a new team of chefs and scientists presented an innovative food product addressing the nutritional needs of a specific demographic group. They explained their collaborative process from idea to final product and provided the audience with samples.
In Sunday's demonstration, "Children & Obesity," Chef Hugh McEvoy ("Chef J") of East Balt, Inc. and nutritionist Ginny Erwin explained their steps in developing a shelf-stable, nutritionally balanced breakfast/mid-morning snack kit for children. The kit, packaged in a plastic container, contained raisins, almonds, UHT milk, and a nutritious snack bar that when microwaved with the milk, raisins, and almonds make a hot cereal.
McEvoy emphasized that breakfast is most important meal of the day and that the kit would appeal to children, since it is fun, cool, and interactive and it tastes good. The children have the option of eating the product whenever they want. It's all in one container, nutritionally balanced, convenient, and something delicious that kids would want to eat.
Other members of the team were food technologist Jasmine Kuan of Kerry Savory; student Fred Stewart of Dominican College; and coach Birgit Miller of Orange Coast College.
In Monday's demonstration, "Campus Dining" (64–65), chefs Charlie Baggs and Allison Rittman of Charlie Baggs, Inc. discussed their development of a nutritionally balanced lunch option for onsite dining facilities (e.g., campus, corporate, military, etc.). The team developed a shelf-stable, retort-pouched rice product that can be microwaved in seconds.
Baggs said that in converting a chef's gold standard recipe into a commercial product, developers must consider the BASICS—balance, acid, salt, intended flavor and texture, color, and sweetness. As Baggs explained the steps in preparing a gold standard recipe for risotto, Rittman demonstrated the preparation.
Baggs said that developers must consider how the product will be formulated to be able to package it. In the case of a retort-pouched rice product, a gum or cold-swelling starch could be added to provide the viscosity needed to fill the pouch before retorting but not add viscosity in the final product because it would be destroyed in retorting.
--- PAGE BREAK ---
Other members of the team were food technologist Carrie Abrassart of Bunge Oils; student Joyce Wong of Cal Poly Pomona; and coach Robert Dahni.
In Tuesday's demonstration, "Adult Wellness," Chef Kurt Struwe of Southwest Minnesota State University and food technologist Aubrey Coffee of Clemson University focused on development of a dinner product—a reduced-fat, roasted vegetable and polenta lasagne for foodservice or frozen meal applications. The product consisted of a layer of grilled summer vegetables, such as crookneck squash and eggplant, a layer of pesto ricotta, and a layer of creamy polenta, with a topping of pomodoro sauce and toasted almonds.
Coffee described the steps she took in adjusting the quantities to optimize the nutritional value and in substituting ingredients. They used fire-roasted frozen vegetables, chose a gourmet garlic herb blend instead of fresh garlic, part-skim ricotta instead of whole milk ricotta, and condensed milk instead of heavy cream. Since the product was intended to be a frozen product that would be microwaved, packaging was an important consideration, she said. 
Other members of the team were student Justin Kanthak of Iowa State University; and coach Dominik Teyke of Boar's Head Brand.
Janet Carver of National Starch Food Innovation was the chair of this year's demonstrations. Suzanne Vieira of Johnson & Wales University served as advising nutritionist, and Jim Andrews of tango served as advising marketing professional.
Neil H. Mermelstein, Executive Editor, Food Technology
---
Division Competition Winners
The following were the winners of this year's paper competitions sponsored by IFT Divisions:
--- PAGE BREAK ---
Aquatic Food Products Div.: 1st place ($500), Jiaqi Huang, U. of Alaska, Fairbanks; 2nd place ($350), Zachary Reed, Oregon State U.; 3rd place ($350), Rosalee Rasmussen, Oregon State U.
Carbohydrate Div.: 1st place ($500), Devin Rose, Purdue U.; 2nd place ($400), Joshua Jones, U. of Tennessee; 3rd place ($300), Didem Icoz, Rutgers U.
Biotechnology Div. (Poster): 1st place ($300), Young-In Kwon, U. of Massachusetts; 2nd place ($200), Aaron Nagel, Purdue U.; 3rd place ($100), Emmanouil Apostolidis, U. of Massachusetts.
Dairy Foods Div. (Manfred Kroger Oral): 1st place ($750), Anand Subramanian, Ohio State U.; 2nd place ($500), Kasi Sundaresan, Rutgers U.; 3rd place ($250), Philipina Marcelo, Cornell U.
Dairy Foods Div. (John Bruhn Poster): 1st place ($500), Kelsey Ryan, Purdue U.; 2nd place ($250), Sarah Zevchack, North Carolina State U.; 3rd place ($100), Caitlin LaClair, U. of Wisconsin, Madison.
Education Div. (Writing): 1st place ($250), Masooma Zahed; 2nd place ($100), Nicole Bergen; 3rd place ($50), Andrew Draganski.
Food Chemistry Div. (Poster): 1st place tie ($700 each), HyunJung Kim, Ohio State U., and Ilankovan Paraman, U. of Arkansas; 3rd place ($500), Xiaoyu Min, U. of Arkansas.
Food Engineering Div.: Winners ($500 each), Shantanu Kelkar, Michigan State U., and Maria J. Ferrua, U. of California, Davis.
Food Laws & Regulations: Winner ($500), Laura Anne Pillsbury, Purdue U.
Food Microbiology Div. (John C. Ayres Poster): 1st place ($300), Kalpana Kushwaha, Oklahoma State U.; 2nd place ($200), Annegret Manig, Ohio State U.; 3rd place ($100), Alyssa Francl, Pennsylvania State U.
Food Microbiology Div. (Z. John Ordal Oral): 1st place ($300), Amit Pal, U. of Minnesota; 2nd place ($200), Rebecca L. Thompson, Utah State U.; 3rd place ($100), Mawill Rodriguez-Marval, Colorado State U.
Food Packaging Div. (Poster): 1st place ($500), Julie M. Goddard, Cornell U.; 2nd place ($300), Linna Halim, Ohio State U.; 3rd place ($150), Jiaqi Huang, U. of Alaska, Fairbanks.
Fruit & Vegetable Products Div. (Poster): 1st place ($400), Imelda Ryona, Cornell U.; 2nd place ($300), Illeme Bonsi, Cornell U.; 3rd place ($200), Joy Rickman, U. of California, Davis.
--- PAGE BREAK ---
International Div. (George F. Stewart): 1st place ($700), Romina P. Pedreschi, Katholieke U. Leuven, Belgium; 2nd place ($500), Sornchai Sinsuwan, Suranaree U. of Technology, Thailand; 3rd place ($200), Catherine Kealley, Bragg Institute, Australia.
Muscle Foods Div.: 1st place ($900), Priya Kathirvel, U. of Eisconsin, Madison; 2nd place ($600), Mary Anne Roshni Amalaradjou, U. of Connecticut; 3rd place ($300), Carlos Narciso Gaytan, Texas A&M U.
Nonthermal Processing Div.: 1st place ($700), Meenakshi Khurana, Rutgers U.; 2nd place ($500), George Katsaros, National Technical U. of Athens, Greece; 3rd place ($300), Aaron R. Uesugi, Cornell U.
Nutraceuticals & Functional Foods Div.: 1st place ($300), Yu Wang, Rutgers U.; 2nd place ($200), Terrence Madhujith, Memorial U. of Newfoundland, Canada
Nutrition Div. (Mark L. Bieber): 1st place ($700), Judith Boateng, Alabama A&M U.; 2nd place ($500), Joseph Gigliotti, West Virginia U.; 3rd place ($300), Louis Shackelford, Alabama A&M U.
Product Development Div.: 1st place ($500), Cynthia Machado, Purdue U.; 2nd place ($300), Armen Khachatryan, Louisiana State U.; 3rd place ($100), Yen-Ping Tan, Louisiana tate U.
Sensory Evaluation Div. (Rose Marie Pangborn): 1st place ($500), Katherine A. Nolen, Rutgers U.; 2nd place ($300), Stephanie Drake, North Carolina State U.; 3rd place ($200), Jennifer Kamerud, Ohio State U.
by Neil H. Mermelstein, a Professional Member and Fellow of IFT, is Executive Editor, Food Technology ([email protected]).