Nearly 150 professionals involved in food safety and quality attended the Institute of Food Technologists' 7th annual Global Food Safety and Quality Conference on Wednesday, August, 1, 2007, in conjunction with the 2007 IFT Annual Meeting & Food ExpoSM in Chicago, Ill. The conference, sponsored in part by ADM and moderated by IFT Senior Research Scientist Cory Bryant ([email protected]), focused on food defense, a national and international priority for the food industry and governments.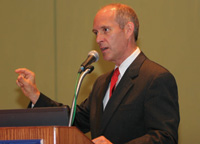 David Acheson (photo above), Assistant Commissioner for Food Protection, Food and Drug Administration, opened the conference by discussing the "Current Status of U.S. Food Defense."
Acheson recommended that a farm-to-table, risk-based approach is necessary for overall food protection. Detection of a food safety or defense incident will likely be at the local level, he said, and the focus for prevention should also be local. He compared food safety to food defense, with the main differences being that in food defense the role of law enforcement and the agents and scenarios are "outside the box."
Even an ineffective attack (in terms of public health) could have large economic and psychological impacts, he noted. Areas of focus include vulnerability assessments, industry guidance, strategic approach to imports, research, emergency preparedness, and response. Acheson stressed "know your supplier," citing the broad international effects caused by melamine contamination of pet food. He also mentioned the role of the media, citing the relative lack of media attention to the recent botulism outbreak compared to the spinach-related outbreak of last fall.
Acheson concluded by cautioning that governments, companies, and individuals must be able to adapt, since a response plan likely won't directly match the situation.
Frank Busta, Director of the National Center for Food Protection and Defense (NCFPD) and Past President of IFT, provided a summary of Center developments, beginning with an overview of the complexity of the United States food system.
--- PAGE BREAK ---
NCFPD, he said, has multiple academic and industry partners, including IFT, and works closely with government agencies at local, national, and international levels. To date, accomplishments have been made in the areas of event modeling, agent behavior, and systems strategies. Leading deliverables include supply-chain benchmarking and best practices assessment; modeling of events, including impact of interventions; and FoodShield, an online system developed for communication, coordination, education, and training for the food/agriculture sector.
The Center also tracks consumer attitudes toward terrorism and food terrorism specifically. Risk-communication strategies, especially for underserved populations, are being developed. NCFPD is also creating in-line sensors for toxins, including botulinum, and is studying the stability of select agents in food processing. Decontamination methods are also under investigation.
NCFPD has nearly completed development of a Food Defense graduate certificate program, as training and education of the next generation of scientists is key to its mission to defend the safety of the food system through research and education.
Susan Harlander, Senior Vice President, Government and Industry Relations, BT Safety, LLC, discussed "Consequence Management System; Food Defense and Safety Vulnerability Assessment."
The Consequence Management System is a user-friendly, PC-based simulation model that uses actual data from real events provided by the U.S. Dept. of Agriculture, the Centers for Disease Control and Prevention, and industry to illustrate the consequences of a contamination event. Modeling requires detailed information about the food, such as distribution, consumption, disease progression, public health response, and event impact.
Harlander discussed uses of the software tool, including projecting economic consequences of outbreaks, estimating surge requirements of the public health infrastructure, and evaluating the effectiveness of interventions. She demonstrated the software system using pre-built scenarios, but many combinations of agent and food can be entered into the software to demonstrate the public health effects and the impact of mitigations.
--- PAGE BREAK ---
David Acheson provided an introduction to assessment tools, with an emphasis on CARVER+Shock, which refines vulnerability assessments for the food sector. These assessments evaluate the public health consequences of product-agent scenarios associated with potential tampering, criminal, or terrorist activity, he said. This was initially done using Operational Risk Management (ORM), which identifies foods, agents, and food/agent scenarios. ORM scenarios were scored on the basis of the probability of incident vs the severity of impact, in order to distinguish between higher- and lower-risk scenarios. ORM was broad and necessarily superficial.
CARVER+Shock is a more detailed, focused look at the manufacturing and processing step. It identifies critical nodes by applying an analysis of Criticality, Accessibility, Recognizability, Vulnerability, Effect, and Recuperability to each node, and unlike ORM, it considers the psychological impact of an event through the "shock" analysis.
Through the Strategic Partnership Program on Agroterrorism (SPPA), CARVER+Shock assessments are done using the expertise of members of the specific industry and the input of many federal agencies. However, the assessments take several days, and only a few agents can be considered. The newly released CARVER+Shock software tool addresses this shortfall by providing a "Turbotax" version of the process.
Jeffrey Danneels, Manager, Risk Assessment Dept., Sandia National Laboratories, described the CARVER+Shock software tool. Sandia worked as a subcontractor to IFT to develop the tool under contract with FDA. CARVER+Shock, he said, was designed to identify "critical nodes" likely for terrorist attacks in order to reduce risk, and the goal of the software version is to reduce the time and effort needed to do so.
The software incorporates economic and pathway analysis with risk assessment and focuses on food processing. It is expected to be used within the food industry to increase awareness of factors influencing security, encourage the conduct of threat assessments, and assist in enhancing security of food production facilities and processes.
With the software, almost 300 process icons can be used, so an individual or team can create a realistic flow diagram for a process. The software asks 200–300 questions, depending on the complexity of the process. They can be printed out, and sessions can be saved at any time so users can gather necessary information. After completion, a score for each node is generated, using one of the five major biological or chemical categories as the sample "agent" for the scenario.
Mark Ostfield (photo on facing page), Senior Advisor, Bioterrorism, Biodefense, & Health Security, U.S. Dept. of State, told how diplomacy is used to advance food defense and thereby advance international relations. Because of the global nature of the food supply, he said, an attack on the food system takes on international dimensions. He noted that in the foreign policy arena, the words chosen are critically important, and he provided three terms that sometimes cause confusion: food defense (resiliency of our system to respond to an attack on the food supply); food safety; and food security (access to food, and the guarantee of safe and nutritious food to sustain life).
--- PAGE BREAK ---
Ostfield discussed the $74-million impact of Escherichia coli O157:H7–contaminated spinach in Canada; the Canadian government advised consumers to not eat U.S. spinach. Hoaxes can have an impact as well, he said, such as the $50-million cost of rumored foot-and-mouth disease in Kansas. Food contamination also may have political implications; for example, the presence of dioxin in Belgian foods resulted in a toppling of that government.
Raising defense issues internationally has been difficult, according to Ostfield, although the international response is more receptive when food and agriculture are mentioned. For some countries, food defense is not as high a priority as food safety. Synergies between the two need to continue to be identified. In a G8 discussion of bioterrorism, he said, three priorities were identified: strengthen surveillance, improve response and mitigation, and protect agriculture and the food supply system. The Asia Pacific Economic Cooperation (APEC), an organization of 21 economies along the Pacific Rim, has taken an active role in addressing food defense. Some APEC members are just developing an export economy and have the opportunity to include food defense as systems are built.
Ostfield left the group with five recommendations: (1) strengthen public–private partnerships; (2) create multisector engagements with those outside the agricultural community (e.g., public health and law enforcement); (3) translate multisector engagement across international borders; (4) improve communication to the public, both domestically and internationally; and (5) share information domestically and internationally, which nations may currently be hesitant to do.
Phillip Pohl, Sandia National Laboratories' principal investigator on the project, provided an interactive demonstration of the Carver+Shock software tool, which all attendees received a copy of for their use. After the users determine who they are guarding against (insider or outsider), he said, the software lets the users develop their process and choose the scenario, then asks questions. There are many user-friendly features to shorten the time to complete the questions, including a "speed answer" function and the ability to apply answers to similar parts of a process.
Once the assessment is completed and scores for the nodes are calculated, the different parts of the operation (represented by the icons) are color coded on the basis of the score. A numerical ranking is also available, for the total score or for an individual attribute (i.e., the letter of the acronym). The software also provides suggested mitigation measures. The software can be downloaded free at www.cfsan.fda.gov/fooddefense.
--- PAGE BREAK ---
Col. John T. Hoffman, Coordinator of the University of Minnesota Center for Post-Harvest Food Protection/Defense, discussed several pertinent federal documents, including Homeland Security Presidential Directives 7 and 9. He noted that, in the National Critical Asset Database, wide variation exists between what different states deem "critical assets." There is currently no metric to help the U.S. government prioritize funding.
The initial emphasis focused on high-consequence events with a fair degree of sophistication, he said, but melamine contamination of wheat gluten fell outside those parameters in that it was very low in sophistication and relatively low in public health impact.
Hoffman also provided data showing that China provides 5% of U.S. imports but has had twice as many FDA-rejected shipments as all other countries combined. However, the increasing amount of trade with China provides an opportunity for increased cooperation to ensure safe food, he concluded.
Kim Green, Senior Scientist, Food Safety and Inspection Service, USDA, described the Strategic Partnership Program for Agroterrorism. SPPA is a joint initiative among the Dept. of Homeland Security, FDA, USDA, Federal Bureau of Investigation, industry, and others to conduct assessments to validate or identify vulnerabilities or threats to the food supply, she said.
A team of industry, federal government, and state and local representatives conduct the assessment over 2–4 days. The team uses CARVER+Shock, discusses best practices, and identifies research gaps; the final assessment is classified. Since the program's inception in 2005, 31 SPPA assessments have been completed; 14 are planned for fiscal year 2008.
Common themes regarding research needs include more information on agents and how they behave in food; improved communication; and development of clear protocols. Vulnerabilities common within the private sector and commonalities of threat indicators include people where they shouldn't be, interest in production process, delays in delivery, and tampering. Mitigation strategies tend to include physical security measures, challenging people who are in unauthorized areas, site-specific vulnerability assessments, employee peer monitoring, raw material inspection, food process design changes, incorporating defense into procurement to include suppliers, and awareness training.
--- PAGE BREAK ---
Dave Wankowski, Manager, Regulatory Affairs, Kraft Foods, closed the program with industry's perspective on food defense challenges. The objective of a food defense plan, he said, is to create a secure environment, respond rapidly, and recover. Ease of access is commonly identified as a "high risk" characteristic. Areas with high accessibility or vulnerability may include places with many visitors, open vessels or conveyors, limited supervision, or a remote location of key product areas.
Countermeasures include limiting physical accessibility, modifying equipment and packaging design, training employees to become observers, and incorporating peer monitoring into the culture of the organization. Changes in facility design, including installation of video cameras and designing window views in barrier areas, increase observation. Safety considerations, efficiency and productivity, communication, training, and cost vs risk (to a brand or category) are all considered when determining resource allocation for food defense initiatives.
Wankowski urged participants to continue to collaborate, use the guidance tools available, integrate suppliers globally, and develop internal expectations based on company needs and risks.
Sarah F. Davis, M.S., R.D. ([email protected]), is Staff Scientist, and Jennifer C. McEntire, Ph.D. ([email protected]), is Research Scientist, Institute of Food Technologists, 1025 Connecticut Ave., N.W., Suite 503, Washington, DC 20036.