High-satiety and appetite-suppressing weight-control products, hand-held take-out foods that facilitate multitasking, and dairy products now flavored with vegetables and flowers were just some of the "hot" new directions discussed during the Tuesday morning General Session entitled, "Food Technology Presents: Where Do We Go from Here? The Experts Speak Out!" during the 2007 IFT Annual Meeting & Food ExpoSM.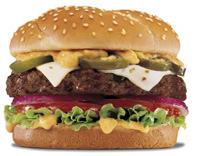 And the topics got more controversial, including Hispanics as the best target for functional foods, a new grassroots trend in Japan to Americanized foods, and the consequences of underfunding the Food and Drug Administration in the midst of a food safety crisis.
Four of the world's leading regulatory and trend gurus put their heads together to help chart a very successful course: consumer health expert Barbara Katz, foodservice trend specialist Joe Pawlak, global trend-tracker and new product analyst, Lu Ann Williams, and, perhaps the world's most respected food and drug attorney, Peter Barton Hutt.
Health & Wellness Perspective
Barbara Katz ([email protected]), President of HealthFocus International (www.healthfocus.com) named the five consumer health and nutrition trends that will have a significant impact on and/or offer new product opportunities in the next few years: seeking balance; functional foods; the paradox of obesity; stress/tiredness; and organic, sustainable, and pure.
When it comes to health, she cautioned that "one trend does not fit all. You have to know your trends and your target." She contrasted three different demographic groups to show how different life stages, lifestyles, and backgrounds are shaping the current—and future—health and nutrition environment.
According to Katz, today's 70 million Gen Yers almost rival the size and spending power of the 78 million Boomers, and they're taking health more seriously than previous generations their age. In 2006, 66% of Gen Y shoppers always or usually ate healthy foods, compared to 56% of the same age group in 1994; 61% in 2006 always or usually choose foods for healthful reasons, compared to 53% in 1994.
Health and nutrition for Gen Yers are often about life balance and stress reduction, sustainability, freshness, and organics. Katz reported that Gen Yers are more organically inclined than other age groups, particularly more so than older Boomers age 50–64. Health-Focus International reports that 37% of Gen Yers use organic foods at least once during the week, compared to 24% of those age 50–64.
Katz described Gen Yers as "ambitious, demanding, and eager to make a mark"—growing up in a time of much uncertainty—and living for today, not waiting for tomorrow. "They are harder on themselves than others are," she said. She reported that, not surprisingly, Gen Yers are more likely to suffer from stress and tiredness than their older counterparts and the most likely to report suffering from depression. Katz said that those 18–29 years old are more often affected by stress, tiredness, and depression than other age groups.
In contrast, health and nutrition for older Boomers age 50–64 is often about steps they can take now to ensure continued vitality, maximize quality of life, and continue to feel they are making a contribution, she said. Their key goals focus on themselves, not others, and include health, finances, travel, etc. Katz believes that older Boomers see themselves at the "next beginning"—not the end—and therefore are proactive for the future. HealthFocus International found that the primary reason for making healthy choices for 32% of older Boomers was to ensure future good health, compared to 25% for the 18–29 group. Ironically, the older shoppers are more future-focused than the younger ones.
--- PAGE BREAK ---
According to HealthFocus International, to maintain their health and quality of life older Boomers are exercising as frequently as those 18–29 years old; 28% of older Boomers exercise strenuously three times/week or more, compared to 26% of Gen Yers.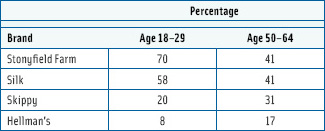 Katz also said that it is possible to revitalize brand life cycles by keeping brands relevant to older consumers who already appreciate them. As shown in Table 1, Stonyfield Farm brand, which resonates strongly with younger adults, is less viable to older consumers although it is still seen by them as quite a healthy brand. In contrast, Skippy and Hellman's gain strength with the older audience.
Katz also discussed health and Hispanic shoppers, who, she pointed out, were more concerned about most health and wellness issues than the average American shopper. Health and nutrition for Hispanics are often about freshness, concern for the family and traditional family meals, and maximizing nutrition.
According to Katz, Hispanics are an excellent target for functional foods and beverages. HealthFocus found that Hispanic shoppers were much more likely than United States shoppers overall—64% vs 44%—to choose foods/beverages because they contain desirable nutritional qualities. Conversely, 34% of Hispanics vs 40% of U.S. shoppers overall select foods because they don't have undesirable nutritional qualities, making Hispanics a less likely target for low-fat and low-calorie foods.
Hispanic shoppers are more likely than the overall population to choose foods and beverages because they are fortified, and they're far more likely—74% vs 43% of all shoppers—to agree that foods fortified with extra nutrition are worth paying a slight premium for.
Looking their best is a prime motivator for Hispanic shoppers, according to Katz—89% of Hispanics compared to 70% of shoppers overall agree or strongly agree that it is important that they look healthy, and 35% of Hispanics vs 22% of shoppers overall—always or usually choose foods/beverages to improve their appearance.
Katz concluded by saying that to maximize your brand potential, it's critical to understand not just the nature of your target consumers but also their motivation in seeking health and wellness.
Foodservice Perspective
Joe Pawlak ([email protected]), Vice President, Technomic Inc., identified six consumer mega-trends that will be strong business builders in the foodservice industry in the next few years.
Minority targeting was the first of two critical demographic trends he discussed. With the Hispanic population projected to grow 29% from 2005 to 2015 and ethnic diversity at an all-time high, Pawlak believes that making minority customers feel comfortable—and catering to their food and flavor preferences—is fast becoming an essential business strategy for foodservice operators. He pointed out that Denny's advertises directly to Latinos and provides their menu in Spanish; Hardees's has added a Jalapeño Thickburger to its menu; and McDonald's focuses promotions, such as its LoMcXimo de la Música concert series, on Hispanics and has tabs i am asian, 365 Black, and MeEncanta on its Web site (www.mcdonalds.com/usa/fun.html).
--- PAGE BREAK ---
As ethnic influences accelerate, flavor will keep its starring role. Among respondents in Technomic's May 2007 FSPP Consumer Survey, 64% said they liked to try unfamiliar foods, 82% said that authentic flavors and 72% new flavors within ethnic cuisines interested them, and 76% said that bold, unique flavors were important to them.
Pawlak reported that Mediterranean will lead the next generation of ethnic cuisines—68% of American Culinary Federation chefs rated Mediterranean cuisine as "hot," compared to 67% for Latin American, 62% Pan-Asian, 60% Brazilian/Argentinean, and 60% Thai.
Diverging incomes was the second demographic-driven trend that Pawlak discussed. With half of households struggling to make ends meet, Gen Yers strapped by lower incomes as they enter the workforce, and families with young children overridden with credit card debt—all less financially well off than the previous generation—satisfying customers' demand for "value" will be critical. For some operators, focusing on providing products at a low price point—such as Taco Bell's "Get full for only 99 cents or $1.29" campaign—will be the most appropriate strategy. For others, however, particularly those on the high end, such as Ruth's Chris Steak House, will feel pressure to justify their higher prices by relying on a combination of food and other components such as fine wines, unique ingredients, and large portions.
Pawlak identified a new emerging restaurant segment, polished casual, that is designed to deliver relatively reasonably priced on-trend meals in a casual upscale environment.
Convenience is the third mega-trend. Pawlak believes that making restaurant foods more convenient and easier to get will become a critical business differentiator for both full-service and limited-service restaurants in the next few years. He pointed out that 51% of consumers order takeout from full-service restaurants because it is convenient. Technomic found that those taking out at a full-service restaurant at least once a month increased to 65% this year compared to 54% in 2004. Those who use full-service take-out once a week or more ("heavy users") nearly doubled (from 12% to 21%). Half of all consumers feel they don't have as much free time as they used to; 41% order more food "to go" more often.
At the same time, Pawlak confirmed that "traditional meal" periods are fading and that often in the quick-serve restaurants the busiest times are just before lunch and dinner. Citing Taco Bell's term, the "Fourth Meal," he pointed out the opportunities associated with the new late-night dining segment. Technomic also found that 42% of consumers were snacking more, another big opportunity for restaurants.
The ability to multi-task while eating (functionability) is another convenience-driven direction. Operators must work to increase the portability and functionability of their offerings, particularly in the fast-food segment. Taco Bell's Crunchwrap Supreme is an excellent example of an item which maximizes portability and the fits the demand for desk-top and dashboard-friendly fare.
Enabling balance is the fourth critical mega-trend. First, operators should strive for a balance of comfort vs adventuresome items on their menus. For example, the Cheesecake Factory offers Fish and Chips, Shrimp Scampi, and Steak Diane. Pawlak also believes that operators will increasingly need to balance healthy items with indulgent items. He suggested that operators focus on diners' healthy "hot buttons"— fresh, trans-free, low fat, organic, natural, functional foods, nutrients/supplements, food safety, and choice.
At the same time, operators are using multiple menus, experiential factors to help consumers trade up to more premium and/or indulgent menu items. He pointed to the opportunities associated with bottled beverages, especially water and energy drinks; success at premiumizing menu items with special ingredients such as McDonald's' Premium Salads or Ruby Tuesday's new premium Triple Prime Burger. Pawlak noted that Starbucks has been able to upgrade the snacking occasion through its Wi-Fi cafes. Sprinkles Cupcakes stores are the epitome of indulgence at $36 per dozen cupcakes.
--- PAGE BREAK ---
Customization is the fifth mega trend, and Pawlak warned that operators will have to provide even more opportunities to give the perception of greater variety and choice, citing that Sonic Drive-In boasts 168,894 drink combinations.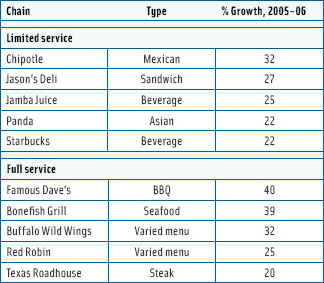 Social consciousness—encompassing animal welfare, sustainable farming, living wage, free trade, charitable contributions, volunteerism, immigration reform, natural/organic, and eco friendly—is the sixth trend Pawlak focused on. Technomic reports that 38% of operators in 2006 were increasing their use of locally grown/raised foods, 37% natural/organic/functional. Pawlak cited Organic to Go as an exciting new concept focusing on organic, fresh, and other key contemporary values. The top five fastest-growing limited-service and full-service restaurant chains in 2006 are listed in Table 2.
Global Perspective
Lu Ann Williams ([email protected]), Senior Analyst, Netherlands-based Innova Market Insights (www.innovadatabase.com), talked about fast-emerging global trends and countertrends, pointing out that there are always two sides to every story and one of them may well spell new opportunities.
Perception vs reality is a fertile countertrend, she said. For example, while coffee shops such as Starbucks, Costa, and Caribou appear to be popping up on every corner, Williams pointed out that coffee consumption has been fairly flat. Moreover, while Starbucks is the most famous, McDonald's coffee was rated No. 1 by a trained Consumer Reports taste panel. Savvy marketers are capitalizing on the perceived popularity of coffee but are using it as a base for other benefits, such as a dieting beverage in Japan and France and an energy drink in a self-heating can in the United Kingdom.
Likewise, Japan—the world's leading functional food nation—has a new taste for American food, according to Williams. Krispy Kreme Doughnuts, Cold Stone Creamery, and super-sized noodles, ice cream, and burgers are fast gaining popularity there. Williams points to a new phrase, "in-your-face-food," which underscores the desire to escape the stress of Japan's traditional health regimens. At the same time, Americans and Europeans are turning to Japanese food like sushi and tofu. In Germany, smoked salmon is now offered with horseradish crème in a nori leaf; in the UK,crackers come in soy sauce flavor.
Nostalgia, retro, and authentic vs ultra-chic is another countertrend. Inspired by Grandma, roasted with old fashioned flavor and reproduced the old style way, co-exist with very trendy items such as Russia's Voss water in a slick cylinder. Carlsberg is re-launching beers with some recipes more than 300 years old, in their original bottle shapes. Some beverage manufacturers claim to go back to basics, such as offering simple tea made from premium ingredients and packaged in high-end bottles.
And what about health vs pleasure? High-antioxidant superfruit juices are making their way into super-healthy alcoholic cocktails.
The environment vs value for money is another accelerating countertrend, Williams said. For example, products such as organic "no catch" cod and Fair Trade foods and beverages—including 446 new global Fair Trade products in 2006, according to Innova—are offset by a countertrend to value. Williams used the new trend to carbon-neutral products and 100% renewable bottles and packaging as an example of costs. UK retailer Boots estimated its carbon-neutral calculation costs at more than $500,000 for just two Tesco just set aside $10 million to label all 70,000 products for their carbon footprints in its stores.
According to Williams, satiety and appetite suppressants will be the next weight-management magic bullets. Around the globe, products with claims including appetite suppression, benefiting from satiety, lasting satisfaction, and sustained energy are mainstreaming onto shelves. She reviewed a number of new weight-loss foods and forms, including sorbets, beverages, soups, powders, and even Irish oatmeal touting naturally sustained energy, sustained energy release, satiety properties, or low-glycemic index claims. Key ingredients entering the satiety arena are Beneo oligofructose (Orafti), Fabuless (DSM), Danone protein blend, Low GI Sugar (BioPacificVentures), and PinnoThin (Lipid Nutrition).
--- PAGE BREAK ---
Super-ingredients will also move center stage, especially those mixing health and pleasure, such as Acticoa, derived from cocoa beans and offering antioxidant, heart-health, brain, immune, and enhanced bioavailability benefits. Flax is another fast-emerging global ingredient, as are plant lignins. Williams also cited life'sDHA (Martek), Lactium (Ingredia), Nutriose (Roquette), and co-enzyme Q10 as coming on strong.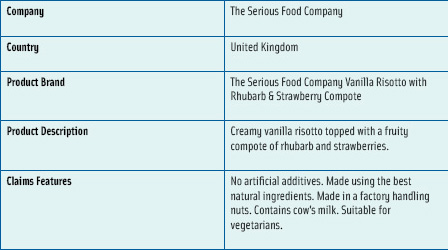 Another important global trend is exotic and extreme. Vegetables, mint, fantasy, herbs, and flowers are key ingredient and flavor trends. For example, lemon and mint are combined in a yogurt in Italy, green tea and pieces of lychee in Spain, and roasted sweet potato and coconut puree in China. Granarolo's Frutta e Verdura (Italy) is the first yogurt to include both fruits and vegetables. Other flavors entering the dairy-product arena include corn, cucumber, spinach, fennel, tomato, and carrot. The Serious Food Co. in the UK offers a vanilla risotto with rhubarb and strawberry compote (Figure 1).
Danone has just gone floral with strawberry and rose flavors and mango and orange blossom in its yogurt. Scented confectionery is another emerging trend in Japan. Kanebo Foods offers a functional candy, lemon and rose flavored, that is rich in collagen, vitamin C, and hyaluronic acid for beautiful skin.
Williams coined moving to your head as another fast-emerging global trend signaling the arrival of foods and beverages that address memory, cognition, skin, and beauty. Products feature choline, the brain vitamin; a "daily beauty fix" with collagen and kacip fatimah; soy phosphatidylserine, gingko biloba, and other powerful antioxidants to help improve short-term memory and mood; mineral complexes for beauty; and DHA, EPA, and vitamins with an impact on the brain. Germany's Redlefsen's Attiv line of wieners and sausages helps to extend vitality.
Regulatory Perspective
Peter Barton Hutt ([email protected]), former Chief Counsel of the Food and Drug Administration and Senior Partner at Covington & Burling, addressed up-and-coming regulatory issues and, most important, pointed out the problems with an under-resourced FDA in the midst of a burgeoning food safety crisis. See this month's Perspective on p. 148 for a retailed look at his comments.
by A. Elizabeth Sloan, Ph.D., a Professional Member of IFT and Food Technology Contributing Editor, is President, Sloan Trends & Solutions, Inc., P.O. Box 46119, Escondido, CA 92046 ([email protected]).