Advanced Food Geometry? I don't know if there really is such a discipline. But I sure felt like I was taking a course in that subject, as I walked the Expo floor this year and witnessed a show that abounded in foods that demonstrated different shapes and forms.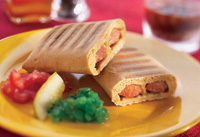 In regular geometry, you study rhombuses, trapezoids, and polygons, not to mention those obtuse angles. But in this particular classroom, I had the opportunity to "dissect"—and digest—cheese sauces in solid forms, hot dogs in the style of a Panini, cereals that looked like blueberry waffles, chicken in the shape of fries, and products that were a cross between beverages and desserts.
A less-familiar concept, such as Murgh makhani (butter chicken), was given a more familiar, easier-to-grasp format, like that of a meatball, and an upscale food, Vanilla Crème Brulee, took on the shape of round "popable" snacks. Items that were normally fried were baked, and those usually baked, like cheesecake, were fried. And inclusions, in a broad range of forms and shapes, were used to provide grill marks on microwavable items, deliver tropical fruit flavors to breads, and impart gold-like glitter to chunks of chocolate. There was no end to the "triangulations" that I saw.
But were these different shapes shaping up to anything? Could they help us form conclusions regarding the future shape of food formulating? Or possibly even reshape the way we traditionally perceive those parameters? Much like determining the square root of pi, the answers to those questions can certainly provide some food for thought.
For starters, these prototypes demonstrate that today's formulators, more than ever, think outside the box, using novel shapes and forms to achieve different ends. Perhaps, these specialized contours may help differentiate a particular product in the marketplace. Or their format may contribute to convenience. Or by their modified appearance they can provide associations of another food. Or by adopting a more familiar format, they can create a version of an international dish that is more translatable—and sellable—to the mainstream. Imagine, for instance, a Moroccan seasoned meat item served like a burger. I'll leave you to decide whether to put catsup on it or not.
--- PAGE BREAK ---
Of course, by focusing on shapes and forms, I took the phrase, "shape of things to come," very literally. But, philosophically speaking, such a focus may also give us a broad platform to rethink what are some of the other trends today that are shaping the future directions of food formulating, especially in the use of ingredients. Before arriving at any conclusions, let's first look at some of the following highlights from the show.
New Twists on Classic Foods
Have a taste for Vanilla Crème Brulee? Now you can indulge your palate by popping a snack that recreates the flavors and texture of this upscale dessert. The prototype snack, Vanilla Crème Brulee Healthy Pops, provides rich, creamy flavors (with a hint of sweetness and vanilla) and an indulgent mouthfeel sensation. The proprietary base, made from corn and sweet potato, is extruded, not fried.
This prototype was one of several from Kerry Ingredients, Beloit, Wis. (phone 608-363-1200, www.kerryamericas.com), that demonstrated different twists on food products. Another example is a novel extruded cereal that looks like mini-blueberry waffles. The whole-grain concept, Blueberry Waffle Bites, is made by hot extrusion, cereal enrobing, and custom bits. A snack prototype, Mediterranean Herb Crisp, has a baked substrate that is said to offer a unique texture from traditional snack bases. The company describes the final product as neither a cracker nor a chip.
And perhaps my favorite, bite-sized chicken in the shape of a fry creates a multi-flavor, multi-texture experience. The prototype, Sante Fe Fiesta Chicken Fries, is made by cold-form extrusion and layered with complex Southwest flavors and a masa tortilla breader system. The breader, which includes tortilla pieces, real masa, and a base blended with colored soy hulls, provides authentic masa flavor, a special texture and crunch, and appealing visual characteristics. The predust carries cheese and spice flavors, balanced with a poultry seasoning that has earthy, roasted, heat and green notes. The chicken bites can be served with a ready-to-use sauce, a creamy blend of mild Mexican cheeses.
The prototypes reflected a variety of different shapes, as well as textures and flavors. The technologies used to make these and other prototypes possible were also highlighted by Kerry, and ranged from extrusion to novel clustering processes that allow for the creation of portion-controlled agglomerates.
--- PAGE BREAK ---
Born in the USA
A variety of foods and beverages demonstrated different tastes from diverse regions of the United States. The prototype applications—ice cream toppings, beverages, healthy cereal bars, and baked snacks—were formulated using flavors or extracts from Virginia Dare, Brooklyn, NY 11232 (phone 718-788-1776, www.virginiadare.com).
The company demonstrated how the "Great Tastes of America" can be incorporated into products for health and wellness, as well as indulgence. For example, vanilla ice cream was served with such toppings as Lemon Trifle, Peach Cobbler, Blueberry Pie, and Pineapple Upside Down Cake. Beverages included a Southern-style Sweet Tea, Cherry Lemonade, Sugar-free Apple-flavored Drink, Soy-based Sweet Potato Pie Smoothie, and a Milk-based Strawberry Cheesecake Smoothie. Other highlighted items were Snickerdoodle Healthy Cereal Bar, Apple-Cranberry Cobbler Healthy Cereal Bar, Pecan Healthy Baked Snack, and Maple Healthy Baked Snack.
Results of consumer research conducted by Virginia Dare to determine awareness and preference of various traditional regional flavors, foods, and beverages from around the country were shared. Types of regional cuisines studied included Barbecue, Traditional American, Cajun/Creole/New Orleans, Southwestern/Tex-Mex/Mexican, Southern/Homestyle, New England/Yankee, New York Style, Caribbean/Floribbean, Pennsylvania Dutch/Amish, Soul Food, Puerto Rican, San Francisco/California Style, Hawaiian/Polynesian, French Canadian, and Native American/American Indian.
According to the company, the study found that consumers are interested in regional foods that can provide a feeling of comfort as well as health or a nutritional boost. Because of this interest in regional American cooking, there may be opportunities for food and beverage processors to develop new products appealing to consumers from this platform.
Preparing for Life's Stages
Although at different life stages, children and Baby Boomers share the need for foods that meet the demands for taste and nutrition. How to overcome challenges when formulating foods for these two markets was demonstrated through a range of prototype foods and beverages developed by Archer Daniels Midland Co., Decatur, Ill. (phone 800-637-5843, www.admworld.com). The products were formulated with a broad range of ingredients from the company, including whole grains, meat alternatives, phytosterols, lipids, and cocoa powder.
--- PAGE BREAK ---
Research has found that many school-age children eat everywhere but at home. Meals are frequently grab-and-go as children rush from one activity to the next. In fact, 84% of children surveyed eat at a fast-food restaurant five or more times a month and 17% report eating in the car at least once a week. For this group, ADM reinvented snack time by using better-for-you ingredients for on-the-go applications, as shown by the following prototypes.
For breakfast, children can start the day off with such products as Cinnamon-Honey-flavored Cereal Snack (with Fibersol-2 soluble dietary fiber), Chocolate Microwavable Muffin Mix (containing SmartBind™ natural wheat protein isolate), and an Apple-flavored Cereal Bar (made with Kansas Diamond® white whole-wheat flour. An after-school snack might consist of Veggie Crackers and Raspberry-flavored Fruit Dip (both made with bean powder). And for dessert, there are fiber-enhanced items such as Strawberry-Vanilla-flavored Drinkable Soy Yogurt and Reduced-sugar Gelatin Dessert (both containing Fibersol-2 soluble dietary fiber). Beverage concepts included Chocolate Soymilk, Fruit Punch-flavored Water, Orange-Mango-flavored Soy Beverage, and Reduced-calorie Chocolate Beverage.
Studies have shown that Baby Boomers are looking for new dining experiences, indulgence, and nutritional balance. For this $2.1 trillion market, ADM highlighted such applications as Chicago-style Hot Dog Panini, a twist on a traditional favorite (containing Kansas Diamond white whole-wheat flour); Cheese Torte (with Fibersol-2 soluble fiber); Chick'n Caesar Wrap, Salmon-flavored Patty, and Thai Ginger Soup (all featuring Midland Harvest® soy-based ingredients); Whole-Wheat Gourmet Cookie (with NovaLipid™ zero and low-trans fat oils); and Whole-Wheat Crepe with Strawberries (made with whole wheat flour and navy bean powder). Beverage concepts for this group included Citrus Twist-flavored Water, Passion Fruit flavored Tea, Peaches and Cream Total Nutrition Drink, Raspberry Low-Fat Soy Smoothie, and Vanilla Organic Soymilk.
Currying Favor
A number of food and beverage prototypes from Wild Flavors, Inc., Erlanger, Ky. (phone 859-342-3600, www.wildflavors.com), reflected what the company considers to be the emerging trends for 2007 and beyond. Among the trends addressed by these applications are the migration of flavors from specific ethnic regions; the adding of bolder, spicier notes to help differentiate a product in the marketplace; the increasing use of chocolate as an ingredient; more crossover flavors; a new wave of sustained energy/recovery products; and the use of non-traditional vegetable formats in formulations.
Here are a few examples of these prototypes, developed to meet customers' requirements for taste and health.
--- PAGE BREAK ---
Murgh makhani or "butter chicken" is an Indian dish made by adding marinated and roasted chicken to a sauce consisting of butter, tomatoes, almonds, and various spices such as cumin, cloves, cinnamon, and pepper. Wild provided a variation on this dish with its prototype Curried Chicken Meatballs with Indian Butter Sauce. The sauce accentuated the meatballs by adding another layer of flavor to create the balanced, rich taste of Indian cuisine. SavorCrave™, a taste modification system which delivers a umami sensation, was incorporated into the dish to enhance taste perception and mouthfeel.
A formulation based on Mayan culture, Mayan Mocha Milk, fuses regional flavor with creamy texture. The drink, which contains Natural Mexican Mocha and Natural Milk Flavors, is an example of the creative ways that chocolate is being used as an ingredient, capitalizing on its indulgence and healthful properties.
Cardamom, a common ingredient in Indian cooking, has a strong, unique taste with an intensely aromatic fragrance. Imagine the possibilities of a beverage formulation pairing the flavor of this herb with that of a fruit. The resulting prototype, Berry-Cardamom Beverage, reflects the crossover trend of combining fruits and herbs in beverage applications to differentiate them in the marketplace as well as creating new flavor tastes that blur the distinctions between sweet and savory.
A low-sodium Moroccan Carrot Soup featured SaltTrim™, an ingredient system that can reportedly add back much of the taste and texture unique to salt. By employing a combination of potassium chloride and SaltTrim, manufacturers can remove up to 50% of the salt in formulations while enhancing salty perception and mouthfeel.
Making Their (Grill) Mark
Meltable films from Watson Inc., West Haven, Conn. (phone 800-388-3481, www.watson-inc.com), provides an easy-to-use way to deliver consistent, controlled flavor, color, and texture to hot, moist food products, including hamburger, poultry, fish, beef, steamed vegetables, and pastas. The soft, pliable sheet of film is edible, water-soluble, and temperature activated.
Containing customized blends of flavors, seasonings, and spices, the film can be applied to the food in the cooking process. The film melts at temperatures between 110°F and 200°F, and the flavor is transferred to the application. Examples of savory flavors for the film include Herb and Garlic and Chili Pepper.
--- PAGE BREAK ---
Meltable films can also be used to improve the appearance of microwaved foods. For example, a chicken breast could be wrapped in a film imprinted with "grill marks." After microwaving, the result looks very similar to a grilled chicken breast. The flavor and aroma are also said to be improved.
The films are compatible for use in microwaves, grilling, and conventional ovens. Flavors can be custom formulated or provided by the customer, and may include sweet, sour, or savory types.
Eggs Over … Alternatives
"The hypothesis is that eggs require more than a simple one-to-one replacement with egg alternatives to acquire similar ingredient functionality," said Shelly McKee, Professor of Poultry Science, Auburn University, during a press conference held by the American Egg Board, Park Ridge, Ill. (phone 847-296-7043, www.aeb.org).
In a presentation, McKee discussed how new research using physical and sensory analysis compared the effectiveness of eggs as an ingredient to that of various egg alternatives in a number of applications. Properties such as aeration, coagulation, emulsification, coating and binding, humectancy, and flavor and color, were carefully studied.
For example, a yellow cake system demonstrated that at 100% replacement, no egg substitute used was able to emulate completely the volume, contour, hardness, springiness, and color that whole eggs provided. Sensory data showed significant differences in surface stickiness, color, and egg flavor. In an angel food cake, egg products significantly outperformed alternatives. Cake made with egg alternatives exhibited a firmer crust, lower volume, and darker color.
The use of egg yolk solids in French vanilla ice cream produced a firmer ice cream at a given drawing temperature, increased whipping rate, less change in percentage overrun, improved appearance while ice cream is melting, and a slightly improved texture. And in pasta/noodles, egg enhances the formation of a protein network during mixing and kneading, improving the cooking quality, while adding to its color and nutritional value. Whole egg could not be totally replaced with any of the egg substitutes studied in the egg noodles without some loss of quality; however, partial replacement of eggs was competitive in regard to the physical and sensory properties evaluated.
The study contended that eggs are essential for desirable volume, texture, and color in food products because of their unique foaming, solubility, emulsification, and coagulation properties. Furthermore, the use of low-cost alternatives may not provide the nutritional profiles lost when eggs are replaced. Their properties make eggs especially suitable for the formulating of new products, including sports products, indulgent products, and breakfast foods.
--- PAGE BREAK ---
Say Cheesecake … with Color
Bite-sized cheesecakes topped with natural colors were served up by D.D. Williamson & Co., Inc., Louisville, Ky. (phone 502-895-2438, www.ddwilliamson.com) and colorMaker to demonstrate the growing portfolio of these ingredients and their effectiveness.
The two companies reviewed the technical attributes of these colors, supplying literature that compares the qualities of anthocyanins, carotenoids, betalains, and other natural colorants, including caramel, chlorophyll, carmine/cochineal, titanium dioxide, and turmeric. They evaluated their sensitivity to light, heat, and pH, as well as their interaction with other ingredients such as ascorbic acid/vitamin C. The companies also examined the current regulatory status of natural colorants.
A broad spectrum of color solutions, including natural colors, custom blends, and caramel colors were highlighted and a certified organic caramel color introduced.
And What's in Your Brownie?
What's the secret ingredient in those brownies? It's a special gum blend, Coyote Brand Stabilizer ST-101, developed by Gum Technology Corp., Tucson, Ariz. (phone 520-888-5500, www.gumtech.com). The company used the ingredient to create gluten-free brownies that are "gooey and delicious," according to Research and Development Chef Sarah Landon.
The blend consists of xanthan and guar gums, which work synergistically with one another to allow formulators to use it at much lower levels than xanthan by itself. It provides the structure that may be missing in gluten-free products, and is easy to work with.
Stabilizing Smoothies
Frozen fruit smoothies featured Gelstar stabilizer technology, developed by FMC BioPolymer, Philadelphia, Pa. (phone 800-526-3649, www.fmcbiopolymer.com).
The system, consisting of microcrystalline cellulose coprocessed with carboxymethyl cellulose, can help manufacturers maintain the desired body, texture, and mouthfeel of frozen desserts that contain high fruit concentrates. When fully activated in the aqueous phase, the stabilizer produces an enhanced three-dimensional network that is stronger and more uniform.
--- PAGE BREAK ---
Preserving Food Safety and Taste
Natural preservation systems from Purac America, Inc., Lincolnshire, Ill. (phone 847-634-6330, www.purac.com), increased food safety and extended shelf stability without compromising the taste of the finished food. Food applications included Mediterranean Hummus featuring Purac® Fresh, a lactic acid specialty blend, and a Tuscan Chicken and Turkey Meatball made with Purasal® Powder S, a sodium lactate powder blended in the seasoning.
The company also provided other solutions, such as adding healthy minerals to foods without impacting sensory properties, and enhancing flavor without increasing sodium levels. Island Veggie Rolls with Plum Sauce used Purasal Powder S to enhance flavor, reduce sodium and monosodium glutamate, and provide microbial and pH control. Mojito- and Mimosa-flavored Drinks were fortified with Puracal QSynergy, a new calcium source optimized to create fresh and fruity flavors without negative side effects such as a gritty mouthfeel.
Sauce in a Solid Form
A new line of cheese-based sauces, Custom Melts™, are solid at refrigerated temperatures, but have the ability to transform to a sauce-like consistency quickly at low temperatures. Made using a patent-pending technology, the product was introduced by Sargento Food Ingredients, Plymouth, Wis. (phone 920-893-0851, www.sargentofoodingredients.com).
"What starts out as a cube ends up a creamy, deliciously, very quick-melting sauce," said Kevin Delahunt, the company's President. He emphasized that the resulting product is a sauce and not a melted cheese. When refrigerated, the product is available in such formats as shred, diced, cubed, or sliced. In general, melt temperature is 110°F to 120°F, but the degree of melt and thickness of sauce will vary by application. Both the food components and the method of heating will impact the characteristics of the sauce.
Consequently, it is important to understand the application and what is expected from the ingredient. In a hot sandwich, for example, the ingredient can be used to provide a sauce-like consistency without being overly messy. In applications where products are stirred, the sauce evenly coats, and has good cling properties. Sargento can help with the customization of formulas to meet these different needs.
The microwavable ingredient may be used as an addition to vegetables, side dishes, or meal kits. Custom Melts are available in a variety of cheese flavors, including Cheddar/American, Pepper Jack, Blue Cheese, Sharp Cheddar, and Monterey Jack. Also, they are offered in culinary flavors—Alfredo, Garlic-Herb, Creamy Tomato Basil, Smoky Cheddar-Bacon, Country Gravy, and Strawberry Cream—with the cheese protein providing important functionality.
--- PAGE BREAK ---
Juiced Up and Ready to Go
New innovations in vegetable and fruit juices and purees provide flavor, convenience, and nutrition benefits. These products, under the trademark Natural Ingredient Solutions™ from Vegetable Juices, Inc., Bedford Park, Ill. (phone 708-924-9500, www.vegetablejuices.com), are available in different forms, including Soft-Frozen Purees, Fire-Roasted Purees, and Non-Thermal Concentrates.
Soft-Frozen Purees are produced by a proprietary freezing technology which gently freezes vegetable and herb purees, preserving their true flavor and color while leaving them easily scoopable at a frozen temperature. These purees are said to thaw four times as fast as hard-frozen products. Garlic, onion, lemongrass, roasted red pepper, and ginger purees make up the line. Potential applications include soups, sauces, marinades, salsas, dips, and other products. Lemongrass Butter Cookies made with a soft-frozen puree was available for sampling.
Fire-Roasted Purees, made from premium raw ingredients and roasted over direct fire, add authentic roasted notes and visual character to the food product. When tomatoes, tomatillos, onions, bell peppers, eggplant, and jalapeños are roasted over a direct fire, it gives them a smoky flavor and aroma. These purees may be used in such products as soups, sauces, salad dressings, and other products. Fire-Roasted Tomato & Onion Marsala Dip highlighted this puree.
Non-Thermal Concentrates retain the flavor, color, and nutritional value of natural concentrates and juices. A proprietary separation technology gives these products a natural clarity while preserving naturally high levels of vitamins, minerals, and antioxidants. A beverage prototype, Vegetable Fruit Sipper, provides one full serving of fruits and vegetables, and contains lettuce, beet, carrot, parsley, spinach, watercress, cantaloupe, pomegranate, and cucumber juices.
Philosophizing on Texturizing
Under the theme, "Texture Changes Everything," National Starch Food Innovation, Bridge-water, N.J. (phone 800-797-4992, www.foodinnovation.com), showcased a new line of texturizers, N-Dulge™, developed for yogurts, puddings, and dips. The line, which currently consists of four products, uses a "co-texturizer" approach which involves a standard, base viscosifier as the texture foundation, followed by the addition of a non-viscosifying starch-based ingredient to provide specific sensory attributes for particular applications.
--- PAGE BREAK ---
The new N-Dulge line includes C1, for full mouthcoating, thick, slow meltaway, and "caramel sauce-like" texture; CA1, for a firm, creamy, even mouthcoating, even meltaway, and a "peanut butter-like texture; C2, for slight mouthcoating , slippery and even meltaway, and a "chocolate sauce-like" texture; and GA1, for a clean spoon cut, slightly firm, "custard-like" creamy texture with rapid meltaway. These products can be combined and used at various levels to deliver textures consumers associate with familiar foods or brand-new or hybrid textures. A dessert, Dulce de Leche Caramelo, was formulated with N-Dulge C1 for a creamy, caramel-like texture.
Also highlighted was Trail Mix Made with Dulce de Leche Glazed Whole-Grain Cereal featuring Hi-maize® whole-grain corn flour in the cereal and Nutriose® soluble fiber in the cereal glaze. The application is said to provide a satisfying crunch and taste while delivering high fiber, whole grains, antioxidants, and less sugar. Chipotle Beef Carnitas Mini-Sandwich, topped with reduced-fat lime-cilantro-jalapeño cream and served on a honey whole-wheat roll demonstrated the functionality of such ingredients as Homecraft® Gold (a combination of wheat flour and corn starch), Novation® 5600 (soluble fiber), and Hi-maize 250 (a resistant starch). The sandwich provided a rich, indulgent texture and an increased level of dietary fiber.
Representatives discussed a proprietary research tool that helps map the relationships between the words consumers use to describe texture, the specific types and brands of food they consume, the emotions they associate when eating foods, and the occasions where consuming foods are most appropriate.
At a Mediterranean Crossroads
While the cuisine of the Mediterranean is regionally diverse, many similarities can be found resulting from the use of common ingredients, a shared climate, and more than 5,000 years of history. This cuisine, which formed the basis for the "Med diet," is characterized by such ingredients as vegetables, grains, fish, fruit, olive oil, wine, pulses (beans, peas, and lentils), and regional spices and flavors.
To demonstrate the Mediterranean cuisine, Griffith Laboratories, Alsip, Ill. (phone 708-371-0900, www.griffithlaboratories.com), showcased the flavors of Morocco, Spain, Italy, Greece, and Lebanon in a number of prototype dishes. These dishes, made with flavors, spices, and marinades from the company, included Chicken Souvlaki (Grecian marinated chicken with peppers and onions, topped with tzatziki sauce on a pita), Kefta Sliders (mini-Moroccan burgers topped with roasted tomato relish), and Villager Salad (fresh tomato, cucumber, red onions, and feta cheese crumbles with Mediterranean-seasoned crunchies).
A brochure, "Mediterranean Culinary Technovations," listed a variety of seasonings available from the company that give a Mediterranean taste to proteins and snacks. For example, flavors of Greece included Souvlaki Protein Topical Seasoning (lemon, garlic, white wine, and honey), or Tzatziki Sauce Seasoning Mix (yogurt, mint, garlic, lemon, and cucumber). From Morocco, there's Kefta Protein Seasoning (onion, garlic, cinnamon, and cilantro) and Harissa Snack Seasoning (hot chilies, garlic, caraway, cumin, coriander, and extra virgin olive oil).
Customizable cuisine and food technology programs, Culinary Technovations are designed to identify emerging food trends and science in the food marketplace, bolster existing culinary applications, and spawn new product innovations.
--- PAGE BREAK ---
Salting the Show
A number of taste potentiators provided salt reduction without compromising the taste and functionality of the formulation. Here are just a few examples:
• A proprietary family of sodium-reduction systems, SaltWise, is said to deliver taste parity to salt in prepared foods, frozen meals, meat and poultry products, soups, sauces, dressings, and snacks. These systems, developed by Cargill, Wayzata, Minn. (phone 952-742-7575, www.cargill.com), can reduce sodium levels by 25 to 50% without compromising salt flavor, and can be easily customized to meet specific needs. The system, which functions and handles like salt, was featured in whole-grain tortilla chips and ranch dip.
• To optimize taste, a partial potassium chloride substitution approach can be used effectively in a variety of food products, according to Morton Salt, Chicago, Ill. (phone 312-807-2677, www.mortonsalt.com). The company highlighted its Morton Lite Salt Mixture, a 50-50 blend of salt and potassium chloride.
• A blend of mineral salts, sub4salt®, can reduce the sodium content of processed foods by up to 50% without losses in taste. Manufactured by Jungbunzlauer, Inc., (phone 617-614-0251, www.jungbunzlauer.com), it has similar salty taste characteristics and no metallic off-notes, and can be used as a one-to-one replacement for salt in a variety of foods.
• The application of yeast-based ingredient technology has resulted in next-generated taste potentiators from Netherlands-based DSM Food Specialties (phone 0031 15 279 3474, www.dsm-foodspecialties.com). These ingredients, marketed under the names Delite and B-Salt, are being tested in bakery and cheese products.
• A lower-sodium sea salt, OF-45LSN, binds more water, providing greater stability and shelf life than ordinary salt. Also offered is OF-57LSB, a less-sodium sea salt which has potassium chloride added to it. Both products are available from Ocean's Flavor Low Sodium Sea Salts, Ashville, N.C. (phone 619-793-5269, www.oceansflavor.com).
• A blend of sodium chloride and potassium chloride contains proprietary natural ingredients that remove the bitter aftertaste that can be associated with such blends. The heat-stable product, KCLean, was developed by Wixon, Inc., (phone 414-769-3000, www.wixon.com), and provides the flavor and texture of salt with about half the sodium.
• A sodium-reduced, magnesium-enhanced sea salt product, Solo, can be used to replace salt on a 1:1 basis in virtually any recipe without sacrificing taste or functionality. Available from Nexcel Food Ingredients, Springfield, Ill. (phone 217-391-0091), it also contains potassium, has 60% less sodium than ordinary salt, and dissolves much faster than salt.
• A new flavor system from Edlong Dairy Flavors, Elk Grove Village, Ill. (phone 847-631-6700, www.edlong.com), is intended to reduce the salt content in savory applications. The product, Sodium Reduction Flavor, was demonstrated in a number of foods reflecting Italian cusine, including soups, sauces, and appetizers.
--- PAGE BREAK ---
Truffling Off to New Flavors
A variety of prototype foods demonstrated innovative ingredient solutions from Kraft Food Ingredients Corp., Memphis, Tenn. (phone 901-381-6500, www.kraftfoodingredients.com). These appetizers, soups, entrees, and desserts were prepared by the company's Senior Executive Chef Michael Morrison and his culinary staff using a broad range of KFIC ingredients to solve specific challenges in product development.
Cheese truffles in a variety of flavors were among the highlighted items on the menu this year. Made with various cheese ingredients and flavors, these include Jalapeño Cheese Truffle Dusted with Smoky Paprika, Bacon Crusted Cheddar Cheese Truffle, Herbed Cheese Truffle, and Toasted Crostinis.
Several ingredient solutions were making their debut. For example, a new proprietary blend of cheeses yields an authentic balanced aged cheddar profile. Pasteurized Premium Cured® Cheddar Blend is said to provide the same flavor impact as a club cheese but at a lower usage level. The cheese blend, highlighted in Southwestern Style Macaroni and Cheese, functions well in sauces, soups, side dishes, and entrees. It retains flavor consistency and texture throughout its shelf life.
Also introduced was Fire-Roasted Flavor, which delivers a fatty, savory brown, smoked taste to any application, including chicken, beef, pork, fish, vegetables, soups, dressings, gravies, pizzas, and appetizers. Part of KFIC's Flavors of Cooking™ line, it is available in powdered form, comes in Fire-Roasted and Fire-Roasted Potato varieties, and has a shelf life of 12 months when stored in a cool, dry place. The authentic-tasting, well-balanced flavor was featured in such prototypes as Fire- Roasted Chicken Cannelloni with Alfredo Cream Sauce, Fire-Roasted Pizza Straws, and Fire-Roasted Potato and Cheddar Soup.
Another new flavor addition is Organic Grill Flavor®, which delivers the charbroiled, savory, and smoky notes associated with cooking over charcoal but in an organic form. An extension to the Flavors of Cooking line, it is available in liquid or spray-dried forms, and can be used when formulating organic products such as meats, entrees, sauces, gravies, broths, dressings, soups, snacks, and side dishes. The flavor was showcased in an Organic Grill Corn Bisque.
And among the dessert prototypes this year was Oreo® Cheesecake Dippers with Raspberry Caramel Sauce. This fried item containing Oreo Pieces and Kraft Cream Cheese was accompanied by a raspberry caramel sauce made with a woodfired flavor to give it a subtle savory note.
--- PAGE BREAK ---
Solutions Help Raise Quality
A number of new ingredient innovations, launched by Cognis Nutrition and Health, LaGrange, Ill. (phone 708-579-6188, www.cognis.com), are designed to improve structure, shelf life, and taste in food products, such as baked goods and desserts.
An aerating emulsifier, Spongolit® 560, improves the volume, crumb texture, and shelf life of cakes made from whipped batters. It also gives cakes the elasticity and strength to absorb moisture and ensure suitability with cream fillings. Able to replace trans fat shortenings, it is suitable for systems where all the ingredients are added and mixed at the same time.
A new whipping agent, Lamequick® CE 7203, is nonhydrogenated, but highly functional. The powdered ingredient contains vegetable fat, aerating emulsifiers, and milk proteins. When whipped with milk or water, it produces light and creamy foams with superior stability. It is well suited for ready-to-eat mousses and provides basic functionality for aerated desserts, cake shortening, cream fillings, and soft-serve ice cream.
A DATEM (Di-Acetyl Tartrate Ester of Monoglyceride) emulsifier Lametop® S 80, is designed for yeast-raised bakery applications, including bread, rolls, and croissants. While DATEMs are a widely accepted and established category of emulsifiers, this new development is especially effective at low use levels. It can help stabilize the dough, improve mixing and fermentation tolerance, and increase the volume of the final product.
A combination of natural spices and herb extracts, Cegemett Fresh inhibits mold, prolongs freshness, and extends shelf life of foods. It kills bacteria by damaging their cell walls, protecting consumers against pathogenic microorganisms.
Loaves of Decadence
Consumers are looking for great-tasting, decadent ways to experience new bread flavors and varieties. How to add indulgent flavors to your bread application was demonstrated by Cargill, Wayzata, Minn. (phone 952-742-7575, www.cargill.com).
The company highlighted two unique breads that featured inclusion systems for delivering customized flavors, textures, and colors. Chocolate Hazelnut Bread is made with Gerkens® cocoa powder and Peter's chocolate for a rich, indulgent flavor experience. Mango Peach Bread included Wilbur™ bakery inclusions.
--- PAGE BREAK ---
Cargill also extended a decadent taste to trans fat free doughnuts. The prototype, formulated with TransEND 390 shortening, has zero grams of trans fat and delivers the taste, texture, and color consumers expect from a doughnut.
Bakery, represented by the breads and doughnuts, was one of several food categories showcased by Cargill. Others included beverage, confection, dairy, and snacks and cereals. A total of 13 prototypes highlighted the categories, showing how ingredient innovations can help develop new products or enhance existing brands. (Earlier, this article discussed how a sodium-reduction system was used in tortilla chips and ranch dip to deliver the flavor of sodium without compromising its functionality.)
In the dairy area, for example, a chocolate-coated ice cream bar was made with a crisp (Fiber Krunch) that provided a long-lasting crunchy texture. The ice cream treat featured dark chocolate (Peter's) and cocoa (Gerkens) for an indulgent chocolate taste; stabilizers to improve the creaminess and ice crystal control of the ice cream; and corn syrup (Satin Sweet) to add sweetness and textural enhancement.
Many of the prototypes showcased were developed to demonstrate their potential health benefits. Some examples included "Dry Mix Styx," a custom powder blend of health-promoting ingredients that can be quickly added to eight ounces of water; an iced latte with a sweetener that provides lasting energy; sugar-free mint patties and sour gummy candy; and an energy smoothie with health benefits. For information about the health potential of these prototypes, see the Nutraceuticals article on p. 95.
New Fibers Add Functionality
A new line of fiber ingredients—launched under the name Promitor by Tate & Lyle, Decatur, Ill. (phone 800-526-5728, www.tateandlyle.com) —offers a number of processing benefits without impacting taste or texture.
A resistant starch, classified as an RS3 (re-crystallized), can add fiber to breakfast cereals, extruded or sheeted snacks, low-moisture cookies, pasta, and other products. The corn-derived ingredient, which may be used to replace flour, has low water-holding properties so crisp textures are maintained and is able to withstand strenuous processes. It may also reduce fat pickup in fried foods.
--- PAGE BREAK ---
A soluble corn fiber may be used to replace traditional full-calorie sweetener systems. It is highly soluble, offers a clean flavor and clear color, and demonstrates stability at low pH and under harsh processing conditions. The ingredient is manufactured as a corn syrup, so it can be identified as either "soluble corn fiber" or "corn syrup" on the label.
The functionality of the two fibers were showcased in such applications as BBQ pork sandwiches, cheese puffs, chocolate pudding, chocolate-chip cookies, and pomegranate-flavored water.
The resistant starch and soluble corn fiber are the first two ingredients in the new line. Tate & Lyle will be developing a range of other soluble and insoluble fiber ingredients under the Promitor brand. Fiber is also a key ingredient in the bakery and dairy Enrich prototypes, the functional ingredients service lauched by the company during the earilier part of the year.
Mixing It Up with Rice
A new low-moisture, parboiled brown rice, BP-106, rehydrates in 10 minutes. The product from Riviana Foods, Inc., Houston, Tex. (phone 713-529-3251, www.rivianaindustrial.com), was developed for use in rice mixes, where instant brown rice and seasoning can be packaged together without clumping.
The product, combining innovation with convenience, is a new addition to a portfolio that includes rice-based inclusions (Crisp Rice), specially processed to hold up under hot syrups or chocolates; instant rices in white, brown, wild, and blended forms; and an extensive line of rice flours.
Seasonings for All Day
A number of seasonings from Fuchs North America, Owings Mills, Md. (phone 800-365-3229, www.fuchsnorthamerica.com), highlighted unique pairings of flavors perfect for different meals throughout the day. For breakfast, a sticky bun incorporates a vanilla cappucino seasoning, giving new meaning to morning comfort, while a lunch appetizer, gazpacho, may be made with a seasoning that combines watermelon and tomato. And for dinner, there's such possibilities as chicken in a mojo marinade that combines lime, herbs, garlic, and onion; or beef pot roast featuring smokehouse tomato and horseradish demi glace.
For snacking occasions, you might try such combinations as pomegranate-BBQ tortilla chips, green tea yogurt party mix, and vanille latte wafers with marshmallows dipped in blood orange-scented chocolate.
--- PAGE BREAK ---
New Concepts Take Shape
A number of factors will shape "the shape of things to come." These include, of course, health considerations (thinner shapes?), functionality, convenience, taste, texture, appearance, and strategic partnerships and their focuses.
Directly following this article, Ingredients coverage of the IFT Food Expo will continue with Karen Nachay's story, "Developments Offer New Functionalities," which will emphasize several new strategic partnerships and how they are impacting product development. And following her article, Linda Ohr will look at the nutraceutical developments highlighted at the show. All three articles taken together should provide some increasing substance to those future shapes.
When trying to determine the shape of things to come, I think we'll also have to consider the circumference of crossover trends as well. Interestingly, the term "crossover" is usually applied to flavors and how they travel from a traditional application to a nontraditional one. Some common examples include coffee, tea, spices, chocolate, fruits and vegetables, and so on. In fact, it is quite timely that next month's Ingredients section will be focusing on crossover flavors and their many applications.
However, it should be emphasized that the term does not have to be limited to flavors. A certain texture associated with a traditional application can cross over to products not usually associated with that texture. Our focus on shapes and forms further underscores the concept of crossovers—chicken can look like fries, hot dogs like Panini, and beverages like desserts.
From that perspective, crossovers are themselves crossing over into new territories, shaping or reshaping the way we traditionally perceive formulating. In the new math, anything is possible.
---
SAMPLING THE EXPO
Minting New Flavors
Wow, this is cool. The taste of mint may be even more refreshing with flavors such as Green Apple, Lemongrass, Coffee, and Creamy Vanilla added to it. Mints made with these flavor combinations were passed out by Gold Coast Ingredients, Inc. (phone 800-352-8673, www.goldcoastinc.com). Mint, anyone?
--- PAGE BREAK ---
Wieners Gone Wild
Put ketchup on that hot dog? Unthinkable, some purists would argue. But attendees had the opportunity to use some really nontraditional condiments on their "old-tyme" franks. Under the theme, "Bringing Old Town Chicago and Future Trends Together," Bell Flavors, Northbrook, Ill. (phone 847-291-8300, www.bellff.com) formulated these atypical toppings from its library of flavor ingredients. Varieties included Sriracha Ketchup, Roasted Poblano Ketchup, Smoky Maple Mustard, Pineapple Wasabi Mustard, Kiwi and Cucumber Relish with Keffir Lime Leaf, Chimichurri Corn Relish, Mango Raspberry Relish, and Roasted Red Bell Pepper with Pomegranate Molasses. What, no celery salt?
Souping Up Soup
A Roasted Tomato Bisque demonstrated how soluble dietary fiber levels can be boosted in soup recipes without increasing the viscosity that can cause formulation problems. This fiber enhancement was achieved by the use of Nutriloid® 7000, a hydrocolloid system developed by TIC Gums, Belcamp, Md. (phone 410-273-7300, www.ticgums.com), to raise fiber levels in soups, sauces, and gravies without added viscosity. It also helps to maintain a consistent stability. The soup also contained Caragum 200, a gum system which functions as a starch and roux replacer in soups, providing a creamy mouthfeel and freeze-thaw stability without masking delicate flavors. And, of course, what would soup be without bread—made with Ticaloid LC-SR6, a blend of inulin and guar gum that works synergistically to enhance fiber levels without negatively changing the bread's texture.
A Scoop of Blueberry Muffin
A soft-serve ice cream that tastes like a blueberry muffin? Why not, as long as you don't trying baking it. Comax Flavors, Melville, N.Y. (phone 631-249-0505, www.comaxflavors.com), developed this prototype using its Compose™ flavor harmonizing process which can be used to balance flavors or mask off notes. The process, launched at the IFT Food Expo, was also highlighted in Vegetarian Asian Stir Fry Chicken, Low-Calorie Raspberry Red Tea, and Cherry-Black Currant Slushy.
Cookie Provides the Right Stuff
Sugar-free cookies demonstrated the textural benefits of Manugel C, an alginate binding system from International Specialty Products, Wayne, N.J. (phone 888-472-5446, www.ispcorp.com). The cookies also contain flour, whole eggs, inulin, and several flavors (vanilla, lemon, and butter). Three cookies are said to provide three grams of fiber. ISP provides a full range of hydrocolloids for gelling, stabilizing, thickening, binding, texture enhancement, and rheology control properties.
Beefing Up Flavor
A new beef-derived ingredient, Beef Fat Powder, was launched by International Dehydrated Foods, Inc., Springfield, Mo. (phone 417-881-7820, www.idf.com). The latest addition to the company's portfolio of ingredients, it may be used to enhance applications that call for a light, beefy flavor profile with desirable mouthfeel. Attendees were able to sample foods made with the minimally processed ingredient.
--- PAGE BREAK ---
Nothing Fishy Here
Products such as cookies, hot dogs, and beverages demonstrated the effectiveness of a new brand of omega-3 fish oil, Eterna, launched by Hormel Foods Specialty Products Division, Austin, Minn. (phone 800-956-0399, www.hormelingredients.com). Through proprietary technology, the company has removed virtually all traces of fishy taste, odor, and impurities. In addition, the new brand is expected to provide the best possible oxidative stability. The purified oils can provide a number of potential health benefits.
Getting a Clearer Picture of Tamarind
This clear beverage had a certain taste—sort of spicy, sort of tangy, with a kind of chocolate-like note. The mystery flavor? Tamarind. The prototype was made with a new flavor distillate, Tamarind Treattarome 9860, from Treatt USA, Lakeland, Fla. (phone 863-668-9500, www.treatt.com). The water-soluble distillate imparts a well-rounded, full flavor, with a spicy front end and a nutty cocoa finish. Potential applications include alcoholic drinks and other beverages, savory sauces, snacks, desserts, and candies. Tamarind, by the way, is a tropical tree that grows in eastern Africa, Asia, and Latin America, and its fruit is used in both savory and sweet dishes.
Think Vanilla is Just for Ice Cream?
In savory items, vanilla can enhance natural sweetness, soften an acidic bite, add a signature flavor profile, and round out an overall flavor profile. To illustrate this, David Michael & Co., Philadelphia, Pa. (phone 215-632-3100, www.dmflavors.com), served up vanilla in some savory ways. Pork Meatballs in Bourbon Bar-B-Que Sauce featured soy sauce, Bourbon, brown sugar, and chipotle flavors, paired with the company's Premier Process® Vanilla Extract. Another dish, Wild Mushroom Vanilla Cream Sauce Served with Chicken contained 2X Vanilla Extract. Note to vanilla ice cream lovers: Don't worry—you can still get your vanilla in ice cream.
by Donald E. Pszczola, Senior Associate Editor, Food Technology ([email protected]).