As is becoming almost routine at IFT Annual Meeting & Food Expos, food packaging took center stage with advances bright and visible, in both the Scientific Program and the exhibits, not to mention the short courses prior to the event.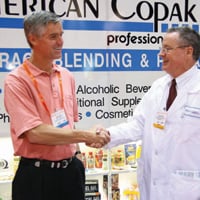 Among the Papers
Among the papers presented in the Scientific Program, a variety might be critically important for food packaging technologists in the future.
• Sustainability. Nancy Nagle of Wal-Mart shared some of her company's thinking relative to support of the quality of life—by establishing goals for efficiencies, including transportation, waste reduction, and packaging by suppliers. Wal-Mart has developed some criteria for packaging: the seven "Rs": remove, reduce, reuse, renew, recycle, revenue, and read. As is well known to all in packaging, Wal-Mart has developed a scorecard for suppliers to apply to their packaging in an effort to reduce packaging by 5% and thus help toward a goal of a sustainable global environment.
Kraft's Jeff Chahley recounted his organization's commitment toward the integration of economic, social, and environmental objectives by addressing issues of energy, waste, water use, mass balance, and environmental footprint.
Possibly the most fascinating presentation was delivered by Toby Hemenway of the Biomimicry Guild. He proposed that nature has solved many of our technical problems and we might seek solutions by searching the natural environment. For example, plant burrs were the inspiration for the now almost ubiquitous Velcro fasteners; nacre buildup on interiors of shellfish could be applied to the creation of barrier package structures; and a natural antimicrobial from brown sea algae has led to a commercial product without adverse secondary effects.
• Soluble Gas Stabilization. Adding carbon dioxide under pressure to foods before being packaged under elevated CO2 extends chilled shelf life of seafoods and poultry, according to a well-documented presentation by Norway's Morten Sivertsvisk ([email protected]). Preconditioning for up to 4 hr reduces the quantity of CO2 headspace required, thus reducing package volume.
Among the Exhibits
A number of organizations invested in exhibiting on the vast floor, with, I expect, favorable responses from the many who appreciate the nature of food packaging innovation and its long-range returns.
--- PAGE BREAK ---
• Wine Packaging. Can anyone conceive of a greater sacrilege than packaging France's greatest treasures in 0.25-, 0.5-, 1-, and 1.5-L Tetra Prisma packages, fabricated from paperboard, aluminum foil, and, perish the thought, plastic? Yet, there on shelves in the exhibit by Tetra Pak (www.tetrapak.com) were wines in their packages, mostly topped with screw-cap closures. Not only were the magnificent nectars not in traditional glass, but also traditional corks were not the closures.
I have taken just a bit of author's privilege by attributing the wines to France when the vintage wines were really from California but under appellations such as French Rabbit™. But, of course, how far down the slippery slope is packaging for French wines from this daring departure in California?
Felicitations to Tetra Pak for being able to persuade the tradition-bound wine industry to take the bold step of offering quality wines in different packaging that is functional and looks good.
Tetra Pak's booth, as well as other Food Expo venues such as Innova's pavilion, showed an array of other Prisma packages for such products as tea and drinkable yogurt.
In yet another daring strategy, Tetra Pak now offers brand owners total systems, including beverage product concepts plus packaging plus all primary, secondary, and distribution packaging. Prebiotic (inulin-containing) dairy formulations appear to be the sole category being offered at this moment, with processing as well as packaging in turnkey operations. Bravo, Tetra Pak!
• Active Packaging. One of the major manufacturers of active packaging systems such as sachet and label-format moisture controllers and oxygen scavengers, Multisorb Technologies (www.multisorb.com) is currently offering FreshPax CR, a new oxygen controller especially engineered for low-oxygen-packaged case-ready fresh red meat.
Among the many different technologies for case-ready fresh red meat, low-O2 packaging is claimed by some to deliver longer chilled shelf life because it reduces oxidation of lipids and consequent development of off-flavors. Practiced for both primary and master packaging of case-ready fresh red meat, reduced-O2 packaging is initiated by mechanical removal of air from the package environment within barrier structures.
--- PAGE BREAK ---
O2-scavenger sachets may remove the residual O2 and O2 entering by permeability or transmission through the package. Multisorb's singular FreshPax CR is engineered to instantly self-activate due to "preloaded" moisture to reduce interior O2 to less than 0.01% in less than 4 hr.
One claim made by the company is that by applying O2-scavenging sachets within packages, brand owners need not employ antioxidants that must be declared on the label.
Multisorb's Fresh Pax S is capable of controlling moisture content within packages to specific relative humidities ranging from 20 to 95%. For example, a level of 85% RH can be controlled to ±5% to reduce loss of water from leafy green vegetables while retarding the propensity of mold to grow on the surfaces.
• Intermediate Bulk Containers. Known for its IBCs for solids and liquids, A.R. Arena (www.arenaproducts.com) has enhanced its Air-Evac™ Starfish™ air-injection pack with Blowfish™, a means to completely emptying the 330-gal-capacity, polyethylene film–lined reusable collapsible rigid plastic container. Starfish is a bottom-emptying system, especially for liquids and more-viscous fluids such as relish, fudge, and pineapple toppings, directed to reducing the residuals remaining in analogous IBCs. It functions by injecting shop air and inflating air chambers in an outer bag to push the contents toward the bottom drain opening. Air volume is increased as the contents decrease to enable the product pump to remove the final contents.
The ReadyFill™ system from International Paper (www.ipaper.com/bulkpackaging) is a ready-to-fill bag-in-box—a corrugated fiberboard case lined with a polyethylene film bag that can hold up to 330 gal. The system is fully erected including base pallet as shipped to the food packager. When full, the IBCs may be stacked as much as three high. Complementing the unit is a printed bar code to facilitate traceability. The bar code may be scanned "empty" or as the unit is being filled and/or emptied.
--- PAGE BREAK ---
Weyerhaeuser (www.weyerhaeuser.com) featured single-use corrugated fiberboard pallets engineered mainly for export and air freight. They weigh less than 15 lb, compared to 50–90 lb for the conventional wood pallets so widely used. Wood pallets for international transit must be fumigated to repel insects. Virgin corrugated pallets, of course, do not require additional insect deterrence. The corrugated fiberboard pallets include polyester film to impart some water and water vapor resistance. With capacities of up to 2,500 lb, the pallets are approved by United Nations transport authorities for international shipment.
• Ultrasonic Spray Coating. With multiple current and potential applications for coating food products, the ultrasonic atomization technology from Sono-Tek (www.sono-tek.com) might be a next generation of dispersion of liquids and solids for thin-film coating on package materials.
The technology delivers low-velocity sprays with controlled drop size. The nozzles operate by converting a high-frequency electrical signal, fed into two electrodes sandwiched between two piezoelectric transducers, resulting in mechanical expansion and contraction of the transducers. Resulting vibrations are transmitted through the nozzle's titanium horn, ultrasonically vibrating at the non-clog nozzle's atomizing tip. Liquid emerging onto the atomizing surface is broken into a spray by the concentrated ultrasonic energy, thus presenting a controlled spray.
The company proposes the application of ultrasonic spraying to hydrogen peroxide sterilization of package material surfaces in very thin, uniformly distributed films to reduce the quantity of sterilant. Cost saving for this expensive unit operation—which could be retrofitted—could be significant.
Another intriguing application is the application of nano coatings on package material surfaces to enhance barrier and physical properties. Uniformly distributed films of clay nanoparticles may be dispersed on plastic package material surfaces in a unique method for introducing nano clays into package structures. Might this technology be applicable for silicon oxide or even polymer coating?
Packaging Around the World
Perhaps the most spectacular exhibit relative to food and beverage packaging was Innova's Taste the Trend pavilion, a display of new products that was crowded with visitors. The company collects packaged food and beverage products from every major and many smaller countries, analyzes them in terms of market influence, and communicates the information to busy managers who may then drill for further data on the product or its package. Packaging folks among us were able to savor the array of structures and designs for the contained products from around the world that are not always visible on North American shelves.
--- PAGE BREAK ---
A sampling of the dozens of product packages hints at the diversity of innovation being used offshore. From Germany was a flat-top paperboard-laminated carton with plastic screw closure for juices. It was developed by SIG Combi, meaning that it was aseptically packaged for ambient-temperature distribution.
Yogurt drinks in convenient portion-size packages seemed to be the rage in Europe, if the exhibit was any reflection. EMMI in Switzerland offered Lassi yogurt drink in an extrusion-blow-molded high-density-polyethylene (HDPE) bottle with a full-panel screw closure and a full-panel printed shrink-film label. The 50- and 100-cc plastic bottles featured aluminized exterior decoration to convey the notion of small metal cans and were available in 4- and 6-packs.
La Vache qui Rie (Laughing Cow) squeezable cheese was packaged in an inverted 175-g HDPE bottle with a very wide-mouth dispensing closure.
Standup flexible pouches for ready-to-heat-and-eat soups were prominent, some for chilled distribution and others for ambient-temperature distribution. Some had reclosable dispenser spouts welded to the corner, and others used zipper reclosures. At least one employed the flat top and bottom design occasionally seen in the United States for fruit beverages.
Clever is a descriptive that might describe Blue Dragon Noodle Wok from the United Kingdom. The injection-molded-polypropylene bowl-shaped package looked like the ubiquitous miso soup bowls prevelant in Japanese hibachi steak houses, with the top and bottom unified by a full-panel printed shrink film. The contents were dry, requiring the addition of hot water to reconstitute the product in the bowl.
St. Dalfour Healthy Cuisine (some sort of grain plus beans) from France was in a flat metal can sealed with a peelable aluminum foil lamination and contained in a paperboard sleeve within which was hidden a fork, salt, and pepper. From the UK was Ainsley Harriott tomato pasta in a polypropylene bowl to which the consumer adds boiling water. Dinnidisi LaZuppa from Italy was interesting in that the aluminum-foil-heat-sealed, microwave-heatable plastic bowl contains enough potato/zucchini/carrot soup for two portions; it is ready in 3 minutes.
Although withdrawn from the U.S. market, self-heating beverage packages are still sold in Spain in 75-mL cups. Products include choco caliente and café caliente.
The Innova Database of new food and beverage products and their packaging, headquartered in the Netherlands, may be accessed through www.innovadatabase.com.
Short Courses
Two pre-Annual Meeting short courses set participation records. In the two-day course "Nonthermal Food Processing," Jung Han, author of the 2007 book, Packaging for Nonthermal Processing of Food (Blackwell Publishing), detailed the indispensable role of packaging in this new set of technologies, including ionizing radiation, pulsed electric field, and ultra-high-pressure processing.
And the course "Food Packaging for Non-Packaging Professionals," organized by Claire Sand, instilled some of our packaging passion in the attendees.
Could it be that, through all its IFT Annual Meeting efforts, the Food Packaging Div. has captured the hearts and minds of more than a few food scientists and technologists?
 by Aaron L. Brody, Contributing Editor, Food Technology ([email protected]).