Functional foods are fast becoming a part of everyday life. Two-thirds of adults made an effort to buy more fortified foods last year—up 17% over 2005 (MSI, 2007a). One-third of young adults age 18–24 regularly drink energy beverages (Experian, 2007). And more than half (57%) of mothers of preteens bought organic foods last year (MSI, 2007b).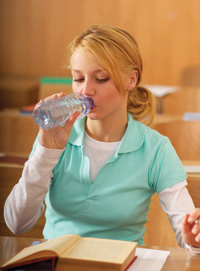 With the majority (69%) of Americans pursuing a preventive lifestyle and 27% taking a treatment approach, not surprisingly, products that offer specific health benefits that make it easier for consumers to address their individual needs are enjoying explosive sales growth.
Campbell's Reduced Sodium soup topped Information Resources Inc.'s "Top 10 Food/Beverage Pacesetters" list of the most successful new brands of 2006–2007, with year-one sales of $101 million (IRI, 2008a). Gatorade A.M, which ranked No. 4, is targeted to those who exercise in the morning. General Mill's Fiber One chewy snack bars, No. 5 on the list, deliver 35% of the daily value of dietary fiber. Dannon DanActive yogurt drink, No. 7, helps boost immunity, and Dannon Activia Light yogurt, No. 9, regulates digestive health while providing fewer calories than a traditionally formulated product.
The remainder of the Top 10 list—Birds Eye Steamfresh frozen vegetables, No. 2, Vault/Vault Zero regular and diet soft drinks, No. 3, Heineken Premium Light Lager beer, No. 6, Sara Lee Hearty & Delicious breads, No. 8, and Jazz Diet Pepsi soft drink, No. 10—also had a healthy component. (See Figure 1 for a detailed breakout of the leading benefits offered by the Pacesetters.)
Perhaps most exiting, it's getting harder to tell healthy products from traditional products—and that's good for growth. Cascadian Farm's Organic Granola now comes in Dark Chocolate Almond. Organic Bistro gourmet frozen meals balance good carbs, fats, and protein. Rachel's "Wickedly Delicious" yogurts boast calcium, vitamins D and A, omega-3 DHA, and a prebiotic and come in exotic flavors like Pink Grapefruit Lychee.
Globally, functional foods sales are projected to grow from $75 billion in 2007 to $109 billion by 2010 (GBA, 2007). Functional beverages, the fastest-growing global segment, will top $34 billion by 2010. U.S. functional food sales reached $29 billion in 2007.
In the United States, "lesser evil" products continue to dominate the healthy market. ACNielsen's LabelTrends reports that for the year ending (Y/E) 7/14/07, dollar sales of products carrying a low-fat claim rose 1% to reach $14 billion, fat-free 2% to $9.5 billion, reduced-fat, 4% to $8 billion, and those absent from a specific type of fat 38% to $8 billion in food, drug, and mass merchandiser channels, excluding Wal-Mart (FDMx). Those with a reduced-calorie claim grew 6% to $11 billion, sugar-free 6% to $5 billion, no sugar added 6% to $3 billion, low-salt/sodium 3% to $11 billion, and no salt/sodium 1% to $4 billion (Lempert, 2007a).
One-third of shoppers (36%) are trying to reduce the risk of developing a health condition, follow a doctor's advice (30%), or manage/treat a specific condition on their own (25% ), according to Food Marketing Institute data (FMI, 2006).
Perhaps surprisingly, those age 18–24 are the most likely to purchase a functional food/drink, primarily fortified bars, energy/sports drinks, candy, and smoothies (Mintel, 2006). Although use of functional foods currently declines with age, older consumers are more likely to use functional products on a regular basis.
The young adult population will grow substantially through 2015—with the number of those age 18–24 up 6% and those age 25–34 up 12%, as will the older-adult market segment—with the number of those age 55–64 up 35%. Thus, functional food marketers need to create distinct products targeted to members of these key groups (Sloan, 2007a).
Lastly, as Americans become more familiar with the benefits of functional food, expect products that offer multiple health benefits to be most successful.
--- PAGE BREAK ---
1. Healthy Household Halo
Despite more Americans cooking/eating at home, 57% of shoppers making a lot of effort to eat healthier, and two-thirds (68%) of households eating together five nights/week or more (FMI, 2006), healthier "family-sized" convenience foods are virtually unavailable.
Only 8% of shoppers say there are many healthy packaged foods (FMI, 2007). With one-third of all dinners using a convenience item, and frozen meal starters posting the largest gains in supermarkets for Y/E 11/3/07, their market potential is enormous (MSI, 2007c; ACielsen, 2008). Fantastic Foods' new low-sodium family-sized, starter Vegetarian Simmer Soups mixes and A.C. LaRocco's Super Food Rx pizzas are among the few.
Raised on the "Basic 4"—and the most likely to cook the evening meal—those age 50+ are sending sales of healthier side dishes and vegetables soaring.
Households with a member on a restricted diet are significantly more likely to impose their behaviors on the rest of the household. Half (53%) of adults are controlling their diet—61% for weight, 36% cholesterol, 22% blood sugar, 18% high blood pressure, and 14% diabetes (Mintel, 2007a).
Products with healthier preparation techniques are fast gaining ground. Hain Celestial Group's Rosetto's all-natural frozen Steam 'n Eat ravioli microwaves in minutes and has no trans/hydrogenated fats. Earth's Best's Kidz natural, antibiotic-free Baked Chicken Nuggets provide 10 g of whole grain/serving.
Babies and young children also drive healthier household eating, and with the number of kids under age 6 projected to grow 10% by 2015, the time for health-promoting toddler/infant foods is now (Sloan, 2007a). Beech-Nut's DHA+ baby foods include DHA for brain and eye development and a probiotic for digestive health. Earth's Best's Organic Infant Formula with Iron also includes DHA and ARA. Happy Baby's new Happy Bellies infant cereal contains probiotics and DHA.
First Juice®, for kids 6–30 months, has less than half the sugar of regular organic juices, is fortified with vitamins A, C, D, and calcium, and comes in a sippy-top bottle. R.W. Knudsen's Sensible Sippers are made with 50% organic juice and 50% water; these tot-friendly drinks come in mini juice boxes (4.3 oz). Volvic's Y Water is a new kids' water—with a clever bottle that can also be used as a toy—offered in Y Immune Water, Bone Water, Brain Water, and Muscle Water varieties.
In recent years, sales of healthful kids' foods have outsold regular kids' products 3:1 (IRI, 2006). Half of moms (49%) are trying to limit caffeine consumption. For sugar, it is 36%, artificial sweeteners 33%, trans fat 32%, high fructose corn syrup 32%, sodium 24%, artificial colors 18%, and calories 17%. Calcium, vitamins C, E, D, and Bs, omega-3s, iron, and folic acid are the nutrients they most want to include for their children (MSI, 2007d).
With 28% of parents admitting that they have an overweight child, one in eight kids having two or more risk factors for heart disease, and protection from diseases later in life now the No. 3 concern of moms, after immunity and growth/development, expect healthy kids foods to become more restrictive yet.
--- PAGE BREAK ---
2. Natural End Benefits
Nine out of 10 (88%) consumers have long felt it important to eat foods that are naturally good sources of nutrients vs taking dietary supplements (67%) or eating fortified foods (56%), according to 2007 Health-Focus data. Recent scientific validation of the health benefits of phytochemicals and superfoods have convinced consumers that key benefits are, in fact, naturally achievable, thus creating a new, unstoppable trend to whole food nutrition.
The majority of shoppers believe there are bioactives in foods that help prevent and treat disease: 75% positively link antioxidants with immunity, 65% connect omega-3s and heart health, and 61% associate green tea with disease risk reduction (HealthFocus, 2007).
Led by the flavonoids and polyphenols, phytochemicals began to cross over to mass market status in 2007, according to Sloan Trends TrendSense™ model (Sloan, 2007b). Others, including anthocyanins and carotenoids, are perfectly positioned for launch into the health-food channel. Expect the next wave of phytochemicals to go beyond deriving health benefits from antioxidants and to focus on other classes of phytochemicals with non-antioxidant mechanisms.
Savvy marketers are delivering natural health benefits via a combination of intrinsic nutrients and phytochemicals. Green Giant created Healthy Weight, Healthy Vision, and Immunity Boost frozen vegetables. Dole's frozen fruits are formulated into Heart Health Mixed Fruit and Immunity Blend Tropical Fruit.
Blending whole fruits/juices is another healthier approach. Campbell's V-8 V-Fusion Banana Strawberry drink combines 10 fruits/vegetables, provides a serving each of fruits and vegetables, and is high in vitamins A, C, and E. Wyman's high antioxidant Wild Blueberry Black Current Juice delivers two servings of fruit per glass.
Marketers are making it easier to get a serving of fruit/vegetables. Stretch Island Fruit Co.'s FruitaBü Organic Fruit Sploooshers deliver organic "smoooshed" fruit via kid-friendly tube packaging. Nestlé's Juicy Juice for kids provides two servings of fruits/vegetables and Green Giant's Giant Bites baked nuggets are filled with veggies.
Blood oranges, goji berries, seabuckthorn, mangosteens, garbanzo beans, and specialty mushrooms are among the new superfoods. Pure Fruit Technologies introduced Goji•Zen and Seabuck•7 Exotic Juice Supplements. Clearwater County Foods' Garden Green's Garbanzo's are naturally high in protein, fiber, iron, manganese, magnesium, and folate. Watch for powerful new health benefits from cooking spices, herbs, and seeds. Fruits, vegetables, and flowers are increasingly being used to provide foods with a variety of flavors, aroma, and a healthy aura.
Enhancing nutrient levels in meats, eggs, and milk naturally via specialized animal feeds is another strong trend. Omega-3 deli meats and milk have debuted in Canada. Lotus Foods' Organic Jade Pearl Rice is infused with a bamboo extract, rich in fiber, minerals, and amino acids.
Lastly, color has become a new code for healthy foods, e.g., red foods are known for lycopene, lutein, and vitamin C. Unilever introduced Knorr Color Soups in Europe with vegetable/fruit soup blends in a variety of colors (Dornblaser, 2008).
3. Balancing the 'Bul-get'
The U.S. weight loss market—projected to grow from $58 billion to $69 billion by 2010—is undergoing a sea change as consumers shift from dieting/weight loss programs to managing weight via smaller portions, specific food restrictions, and light/low-fat and super-satiating foods (Marketdata Enterprises, 2007a). In 2007, dieting was at its lowest level in 16 years (NPD, 2007).
Among the 52% of adults who tried to lose weight last year, only 12% followed a diet (IFIC, 2007a). Sales of low-carb foods in FDMx fell 45% for Y/E 9/9/07 (IRI, 2007a). Kraft has renamed its South Beach Diet line as South Beach Living.
--- PAGE BREAK ---
Reducing portion sizes is second only to exercise as the most common weight-control method: 69% used smaller portions to lose and 51% to manage weight (IFIC, 2007a). Cutting calories was the third-most-frequent weight loss method—used by 60% of consumers. Reducing fat calories was fourth, used by 41%, and cutting carbs was fifth, with 30% taking this approach (IFIC, 2007a).
Satiety is a new weapon in the war on weight (Sloan, 2007c). Global sales of satiety foods reached $7.5 billion in 2005; 29% of new satiety products were launched in the U.S. last year (Innova, 2008). Dannon's Light & Fit Crave Control yogurt and LightFull's Satiety Smoothies are based on protein/fiber blends. Fuze's satiety beverages are aimed at school vending. Slim-Fast launched Slim-Fast Hunger Shot daily dose drink in the UK.
Half (54%) of those trying to lose weight substituted water for sugared drinks/juices (Lempert, 2007b). PepsiCo's new Aquafina Alive Satisfy has 10 calories and 10% DV of fiber to help lightly fill you up. Hint's premium waters come in pear and other flavors. Calorie-burning drinks have found a niche, especially among young adults. Coca-Cola/Nestlé's calorie-burning Enviga green tea drink posted $24 million in FDMx sales in 2007, with sales in convenience stores likely double that (NNB, 2008). Steaz Sparkling Green Tea now comes in a diet version.
Sloan Trend's TrendSense™ model confirms that metabolism and blood sugar control became viable weight-loss mass markets in 2007 (Sloan, 2007b). Although Slim-Fast and NutriSystem tout the Glycemic Index, its interest is limited to the health food channel. Liquid/powdered weight meal replacement drink penetration is 18% (Mintel, 2007a).
With one-third (34%) of those age 12–17 often trying to lose weight, teen weight control is a fast-emerging opportunity (Experian, 2007). Disproportionately high levels of obesity among African American and Hispanic women age 40+ are creating a demand for ethnic-focused weight-control foods.
4. Contemporary Conditions
As 31 million Americans turn age 65 over the next 10 years, and the oldest of the 76 million baby boomers enter their 60s, the demand for condition-specific foods will skyrocket. Half (50%) of those age 55+ already have high cholesterol, half (50%) have high blood pressure, 28% osteoporosis, and 18% diabetes (IRI, 2007a).
Heart disease and cancer remain America's top health concerns: 58% are extremely concerned about heart disease, up 3% over the past two years, and 57% have that level of concern about cancer, up 4% (HealthFocus, 2007). Last year, one-third (32%) of consumers made a strong effort to eat foods with omega-3s, DHA or EPA, 20% did so with cholesterol-reducing products, 18% with olive oil, and 5% with co-enzyme Q10 (MSI, 2007a).
Expect polyphenols and flavanols to see increased use in heart-healthy products, peptides and gamma-aminobutyric acid (GABA) for blood pressure, and plant sterols for cholesterol management. Unilever's pro.activ is the first daily dose cholesterol-lowering mini-drink with plant sterols in the U.S. Corozona's Heart Healthy potato crisps in Pacific Rim Barbecue and other exotic flavors also contain plant sterols. Lakewood Organic Heart Healthy Pomegranate juice line contains omega-3s.
--- PAGE BREAK ---
As boomers age 45+ confront a greater risk of heart attack and stroke, ingredients that increase circulation and prevent dangerous clots—such as cocoa flavanols—will find a welcome market.
Post-menopausal women—who are now nearly one-third of the U.S. female population—and are at greater risk for heart attacks, stroke, bone fractures, obesity, depression/mood issues, insomnia, periodontal disease, and eye problems—are another untapped functional food opportunity. With almost 12 million men having low bone mass and 2 million with osteoporosis, a male bone-health market is fast approaching (NOF, 2007).
Half (47%) of adults are extremely concerned about arthritis, up 6% in the past two years, and 80 million suffer joint pain/arthritis (HealthFocus, 2007). With 32% of seniors having knee pain and 15% neck pain, and one in four boomers experiencing back pain, expect more targeted products for healthy joints (HHS, 2007).
With more than one million new cases per year and 43% of adults very concerned about diabetes, up 5% in the past two years and 9% for those age 50+, the demand for products that help control blood sugar will continue to grow (HealthFocus, 2007). Blood sugar management and insulin resistance have reached mainstream market status; awareness of the Glycemic Index, blood sugar/energy, pre-diabetes, and Syndrome X, have not (Sloan 2007b). Still, one in 10 shoppers checked the label for the Glycemic Index in 2007 (FMI, 2007).
Dental health and periodontal problems are another fast-emerging food opportunity. One in three adults 30+ and half of those 55+ have periodontal issues. Vitamin C and calcium can play important preventive roles (AAP, 2007).
Sarcopenia or muscle wasting, irregularities in fat metabolism, high triglyceride levels, nutrient-dense foods, and calcium, vitamin D, and vitamin B-12 deficiencies will represent new functional opportunities as the population ages. Concern for food/drug interactions will also reach an all-time high.
5. Proactive Lifestyles
With the majority of consumers trying to live a preventive lifestyle, fortified foods and beverages have quickly become a way of life. Vitamin C topped the list of nutrients consumers were seeking out last year; 68% of consumers were making a strong effort to get more of it, followed by 49% who were seeking more calcium, 46% B vitamins, 35% fiber, 33% antioxidants, 33% vitamin E, 32% omega-3s/DHA/fish oil, 28% vitamin A, 26% omega-3s, 25% potassium, 24% iron, and 19% folic acid (MSI, 2007a).
Seniors were twice as likely as any other age group to consume omega-3s, vitamin E, and calcium, and are regular users of vitamin C, B-12, B-complex, antioxidants, and herbal products (Experian, 2007). Antioxidants, vitamins E and C, calcium, and omegas are the top nutrients used by boomers.
Beta-carotene and vitamin E are two nutrients that have recently regained mass market status after being hit by negative scientific publicity (Sloan, 2007b). Phytochemicals, amino acids, and probiotics will likely be among the next wave of fortification ingredients. Gallup reports that last year 12% of consumers made a strong effort to consume more lycopene, 12% lutein/zeaxanthin, 11% amino acids, 11% glucosamine, 9% probiotics/prebiotics, and 1% polyphenols (MSI, 2007a).
--- PAGE BREAK ---
While limiting fat remains a cornerstone of healthy living, consumers have become as concerned about the type of fat as they are about the amount. Just over seven out of 10 consumers tried to limit trans fat, animal fat, and saturated fat in their diet last year (IFIC, 2007a). Unfortunately, awareness of mono- and polyunsaturated fats has fallen during the past year.
Just under half (45%) of shoppers checked the label for sodium, up from 39% the year before, 45% checked calories, and 42% checked sugar content (FMI, 2007). Kahiki Naturals frozen gourmet Asian meals are lower in sodium and contain no trans fats.
Consumers are also recognizing the potential for functional foods in other lifestyle areas such as improving immunity.
With older consumers undergoing vision changes and coping with night vision issues and contact lens use at an all-time high, eye health is fast becoming an important functional food opportunity, ranking No. 4 on the list of consumer health concerns (HealthFocus, 2007). Antioxidants, including vitamins C and E, beta-carotene, zinc, lutein, and zeaxanthin are well-known for their role in ensuring eye health. Sales of Bausch & Lomb's Preservision supplement—based on a National Eye Institute Study of these ingredients—rose 30% in unit sales in drug stores for Y/E 12/10/07 (Anon, 2008a).
Lastly, functional food products that enhance skin, hair, and nails from the inside out are another exciting market (Sloan, 2007c). The U.S. "cosmeceutical" market is expected to grow from $14.9 billion to $17.2 billion by 2010 (Packaged Facts, 2007a). Danone's high-antioxidant Essensis yogurt and Magic Fruits' Beauty Snacks—made from dried fruits naturally high in antioxidants—are two of the latest "inner beauty" market entrants in Europe.
6. Simpler, Greener, and Cleaner
Many consumers are taking a simpler, more-natural approach to the foods they eat, looking for foods with only a few ingredients and as fresh and close to the farm as time and budget will allow. Sales of products carrying a natural claim grew 8% to $19 billion in FDMx sales for Y/E 7/3/07 (Lempert, 2007a).
Organic food and beverage sales grew 13% in 2007 and are expected to continue at double-digit growth through 2010 (IRI, 2007b). More than half (55%) of consumers purchased organic fruits and vegetables last year, and one-third (34%) purchased organic foods/drinks other than produce (MSI, 2007e).
Whole and heritage grains are among the ingredients that best symbolize this new natural direction. All-natural, instant Quaker Simple Harvest multi-grain hot cereal delivers on this increasingly common desire for simpler foods. French Meadow Bakery's "take & bake" frozen dinner rolls include Sprouted Organic Peasant Rolls with Ezekiel Grains. Seeds and garden herbs do much to add an earthy and wholesome touch.
Consumers believe local products are fresher, have fewer pesticides, and, in general, are of higher quality (Hartman, 2008). More than three-quarters of consumers (77%) say they are currently buying products they perceive to be locally made or produced. One quarter (25%) of consumers now cite farmers markets as their preferred location for fresh produce (IRI, 2008b).
Artisan and family farms are another healthier homespun direction. Products in the Heritage Line from Amish Naturals are carefully crafted in Amish kitchens. Straus Family Creameries Barista milk is the first organic milk made just for coffee. Ruth Kase's cheeses challenge you to "taste the difference tradition makes." American Roland sells Hand-Packed Tuna Fillets in olive oil.
Hormones topped the list of ingredients that consumers were least comfortable consuming, with 81% of consumers expressing discomfort, followed by trans fats, mentioned by 79% of consumers. Not surprisingly, organic and natural meats are a strong and growing category.
Concern over environmental contamination and the sustainability of species—especially fish—continues to grow. Wild Planet Inc.'s Wild Planet Minimal Mercury canned tuna, is tested for mercury levels by an independent testing firm. One-quarter of consumers actively look for products that are inherently better for the environment and 29% look for sustainable packaging (IRI, 2008b; Sloan, 2007d).
Fair trade is developing into a global movement. Sales of fairly traded products across Europe, the U.S., Australia/New Zealand, and Japan have experienced double-digit growth since 2003 (Datamonitor, 2008). The U.S. has the largest fair-trade market at $455 million; those in the UK spend the most per capita.
Food scares, ethical issues, and health concerns are helping to fuel the demand for more vegetarian and vegan foods. The processed food vegetarian retail market totaled $1.2 billion in 2006 and is projected to reach $1.6 billion in the next five years (Mintel, 2007b).
--- PAGE BREAK ---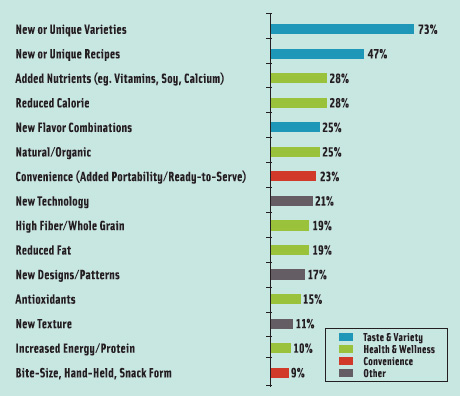 7. Smart Treats
With two-thirds (66%) of consumers trying to eat snacks with more nutrition, 63% looking for lower-calorie favorites, and one-quarter looking for 100-calorie snack packs, providing healthier snack options is a "must have" strategy. Although indulgent snacks still account for two-thirds of snack market sales, healthy snack sales outpaced traditional snacks nearly 3:1 over the last few years (IRI, 2007d).
When it comes to formulating healthy snacks, avoiding trans fat is an important characteristic for 57%, followed by low-fat, which is important to 47%, and whole-grain, important to 46% (IRI, 2007b).
Better-for-you chips posted the highest growth over the past few years, followed by trail mix, rice, popcorn cakes, and yogurt (Mintel, 2008b). Without a doubt, freeze-dried fruits and fruit chips are the hottest trend in the snack business in 2008. Stoneridge Orchards All Organic Dried Fruits are sulfite- and preservative-free. Fruitaceuticals' PomaCrans popable snack is bursting with antioxidants. Fruit chips posted growth of 98% over the previous year and veggie chips were up 32% (IRI, 2007b).
With fresh fruit, nuts, dried fruit, trail mix, and peanut butter/jelly among the most frequently consumed healthy snacks, it's not surprising that savvy marketers are pursuing healthy combinations. Bear Naked's All-Natural Peanut Butter Granola allows you to rediscover the indulgent flavor of childhood in a better-for-you snack. Sencha's Delicate Pear Green Tea Bar marries whole grains, fruit, nuts, seeds, and green tea.
Nuts are also exploding in popularity. Divine Foods Boomi Bars deliver indulgent flavored nuts, seeds, and fruits in Pistachio Pineapple and Apricot Cashew. Odwalla's Chewy Nut Bar is an excellent source of calcium, vitamin E, and folate.
Dark chocolate continues to have unstoppable health appeal and sales. Green & Black's dark 85% organic chocolate bar has 85% cocoa content. Sweetriot chocolate-covered cocoa nibs, is a new, low-calorie antioxidant-rich way to snack. Serious athletes will love BNG's Choklat Crunch Power Crunch bar with 10 g of whey protein surrounded by world-class Belgian chocolate. Fruit for Life's new chocolate-dipped strawberries are deliciously healthy.
Simply Wicked Confections Ginger Bears and Naked Ginger candies are made with real ginger and less sugar. Honest Foods Granola Planks are the first crumble-your-own granola.
Americans are also eating fewer bars than two years ago: 30% said it is because they are not using them for weight loss to the extent they did previously. Among this group, 17% cited high calorie content, and 19% cited sugar content (Mintel, 2007c).
Lastly, parents have four main strategies when it comes to kids' snacks: 63% watch portion sizes, 60% look for snacks with nutrients, 40% use low-fat snacks, and 34% opt for low-calorie (IRI, 2007b). According to HealthFocus 2007 research, the absence of artificial sweeteners has a strong/moderate influence for 62 percent when they are trying a new brand of kids' product. Other factors are contains only natural ingredients, which influences 59%, grown without pesticides 59%, no artificial colors or flavors 58%, lower in sodium 57%, lower in calories 55%, and individual portion-size package 51%.
--- PAGE BREAK ---
8. Sensitivity Training
The number of adults who perceive that they, or their children, suffer from food allergies, intolerances, and sensitivities continues to grow, creating lucrative markets, disproportionate to their true medical base. One in five (20%) of U.S. adults say they have a food "sensitivity;" 28% of parents report their child is afflicted (Mintel, 2007d).
With 70 million Americans suffering from digestive ailments, sensitive tummies represent an enormous functional food opportunity (NIDDK, 2007). Over one-third (37%) of consumers are very/extremely concerned about gastrointestinal (GI) issues, up 6% in the last two years (HealthFocus, 2007).
ACNielsen reports sales of foods carrying a digestive health/probiotics claim reached $712 million in FDMx for Y/E 11/3/07, up 48% over 2006 (Lempert, 2007c). Along with dairy products, baby foods, bars, and cereals are the fast-growing probiotic segments. Only 11% of consumers were aware of the term probiotics in 2007.
Watch for increased fortification of probiotic-containing products. GoodBelly's yogurt touts 11 added nutrients. A horsepower race is also developing in terms of both the number and uniqueness of probiotics strains; Cascade Fresh's Cascaders smoothies have eight live active cultures.
Awareness of dietary fiber's role in digestive health is also high; 86% of consumers link fiber with a healthy digestive system, and 74% associate it with heart disease prevention (IFIC, 2007b). Sales of Proctor & Gamble's Metamucil Fiber Sure jumped 273% in unit sales in drug stores for Y/E 8/12/07 (Anon., 2007).
Similar in nature to fiber, prebiotics have a strong future and are perfectly timed for launch into the health food channel; probiotics became a mainstream market in 2007 (Sloan, 2007b).
Low-acid products represent another important digestive market. Proctor & Gamble's Folgers Simply Smooth stomach-friendly coffee is expected to reach 10% of the $19 billion coffee market (Anon., 2007). Low-acid tomatoes, teas, juices, spaghetti sauces, and soups are other high-potential segments.
There is also market potential for digestive-health products targeted to kids. Nearly one-third of moms have had children sent home from school with GI problems; 40% are regularly awakened by their child's discomfort. Lifeway's ProBugs Organic Whole Milk Kefir is a great grab-and-go preventive treat for kids (Amerfit, 2007).
Our aging population will cause other digestive issues to move into the spotlight, including diverticular disease, gastrointestinal reflux disease, and irritable bowel syndrome.
Gluten-free products are projected to grow from $870 million to $1.7 billion by 2010 (Packaged Facts, 2007b). In 2007, 16% of shoppers checked the label for gluten (FMI, 2007). Hain Celestial Group's new gluten-free line of frozen meals is fortified with the nutrients commonly deficient in gluten-free diets and has a prebiotic to aid digestion. Allergy Friendly Foods LLC's Allergaroo entrees—free of all of the eight major allergens—come in shelf-stable microwaveable pouches in spaghetti, chili mac, and other flavors.
One-quarter (24%) of consumers tried to limit consumption of lactose in 2007, down from 32% in 2006; 28% tried to avoid dairy (IFIC, 2007a). While soy foods remain an important alternative, sales have suffered due to the retraction of a heart health claim by the American Heart Assn. and mixed results on soy's menopausal benefits. Soymilk sales continue strong growth, however. Silk soymilk now is fortified with fiber and also offers a new line of flavored lactose-free coffee creamers. Rice and oat milks and "ice creams" also are coming on strong.
--- PAGE BREAK ---
9. Vitality Treadmill
Energy was the top reason consumers made a dietary change last year (Roper GfK, 2007). More than half of adults (55%) need something to give them an energy boost several times a week, 48% to increase their stamina/physical endurance, 46% to help them wake up, 43% to improve mental alertness, and 40% to keep them awake (MSI, 2007e).
B-vitamins and vitamins overall are the nutrients consumers believe most important to achieve high energy levels. In addition, more than one-third (35%) cite protein, 32% caffeine, 25% iron, 22% carbs, 21% ginseng, 20% sugar, 19% green tea, 14% glucose, 13% amino acids, and 12% ginkgo (MSI, 2007e).
Longer-lasting energy, e.g., Redline Power Rush offers up to seven hours of "pure energy;" low-calorie options and energizing waters such as Emergen-C's Health & Energy Water are among the latest trends. Clean energy drinks, e.g., Skylar-Haley's sparkling Organic ESSN Energy drink, powders, and effervescent tablets and hybrid concepts are other new approaches.
While older adults are the least likely to use energy products, they're as likely to select foods for energy as those age 18–29 (HealthFocus, 2007). With 40% of Boomers—and 34% of seniors—reporting lack of energy/tiredness, vitality beverages are a very big idea.
Sharkies' Kids Sports Chews and Crayons sports drink are among the first sports products made specifically for kids. Steaz's new Decaffeinated Sparkling Green Teas are available in school vending machines. Teens are more than twice as likely to use energy drinks as adults (Mintel, 2007f).
Creating sports nutrition products for those age 50 and older—the fastest-growing group of exercisers—is another strong idea. Those 50+ exercise at almost the same rate as those 18–24 and are the most likely to exercise regularly (Health-Focus, 2007).
Of all new functional food concepts, consumers are most interested in new products that improve mental performance (IFIC, 2007a). Over one-third (35%) strongly believe that foods can be used to improve mental health. Half of those age 50–64 are very concerned about lack of mental sharpness vs 43% of the total population.
Just over one-third of consumers drink energy beverages for a mental boost (Mintel, 2007g). Ginseng, guarana, and taurine are among the key ingredients. Candies, gums, and chocolates are gaining in popularity.
Improving cognitive ability in children and teens is another fast-growing market. Omega-3s, DHA, choline, B vitamins, minerals, and taurine are frequently used ingredients. Baby food accounted for nearly 40% of all DHA-fortified food/beverage introductions in the U.S. (Dornblaser, 2007). Uncommon Loot's Headshot Guarana Energy Bar is targeted to teen gamers.
With half of adults suffering from sleep problems several times a week—and 80% at least once a month—the demand for sleep-inducing foods and beverages is at an all-time high. Dreamerz added Chocolate Pillows chocolates and an Herbal Fruit Flavored Drink Mix containing melatonin and GABA to its sleep-enhancing line.
Stress and calming are other new functional market opportunities. The Republic of Tea includes a new whole-leaf herb tea for relieving stress in its Be Well Red Tea Collection.
--- PAGE BREAK ---
10. New Venues
Without a doubt, the most important factor driving the healthy and functional foods market mainstream has been the increased accessibility of healthy products through additional channels.
With today's grab-and-go lifestyle and rising gas prices, convenience stores have become a powerhouse for sales of some healthy products. For example, c-stores distributed 80% of energy beverages sold in the U.S. last year and 41% of single-serve juices (Mintel, 2007g; Beverage Marketing, 2007).
Moreover, major c-store marketers such as 7-Eleven have instituted new programs specifically designed to increase sales of healthy products. Country Choices Organic Oatmeal on the Run! bar is perfectly positioned for early morning c-store traffic.
Beverages, bars, and on-the-go items such as Go Appetit's new drinkable Cool Soups and Galaxy Granola's Meteorbites snacks, fruit-baked for natural sweetness, are perfectly positioned for c-store and vending use. Lipton Pureleaf Natural Iced Tea, AMP Overdrive Energy Drink, Vault Red Blitz, Java Monster Energy, and Miller Chill Lager Beer were the top 5 new beverage best sellers in c-stores for the 30 weeks ending 12/30/07 (IRI, 2008c).
Restaurants are another fast-emerging venue for healthy and functional drinks. Three-quarters (76%) of adults and three in four teens are trying to eat healthier in restaurants (NRA, 2008b). Healthy alternatives are the No. 1 2008 QSR trend among operators. One-quarter of those age 35–49 are looking for healthier menus in restaurants, and 18% of those age 50-64 are doing so.
Wraps/pitas/tortillas topped the list of menu items that QSR operators reported selling more of in 2007, with 64% reporting increases, followed by entrée salads reported by 59%, chicken sandwiches 59%, fruit sides 47%, and vegetarian items 33% (NRA, 2008). One in five (18%) QSR operators plan to add more healthy items in 2008 (NRA, 2008). French fry sales in QSR are the lowest in 15 years (NRA, 2007b).
Three-quarters (77%) of QSR operators said their patrons ordered more energy drinks in 2007—the No. 1 gainer in the beverage category, followed by 74% more espresso/specialty coffee, and 58% more water (NRA, 2008b).
Vegetarian, vegan, low-carb, low-fat, gluten-free, light, organic, trans fat-free, natural, healthy, and low-calorie are the top 10 health claims on menus (Mintel Menu Insights, 2008). Vegetarian ingredient menu item claims were up 67% from 2005 to 2007.
Jack-in-the Box offers a new light menu and symbol featuring its chicken pita. Taco Bell's Fresco menu keeps calories in mind and features a 170-calorie taco. New York City has passed a law requiring calorie labeling on menus.
Local is a stronger draw than natural or organic on menus; 40% say it is more important to buy local than organic (Technomic, 2007c). Four in 10 (38%) operators have added locally grown/raised items to their menu; 37% have added organic or functional.
A. Elizabeth Sloan, Ph.D., a Professional member of IFT and Contributing Editor of Food Technology, is President, Sloan Trends & Solutions, Inc., P.O. Box 46119, Escondido, CA 92046 ([email protected]).