With R&D formulating exciting new product prototypes, manufacturing churning out finished products, and marketing creating memorable brands, the food laboratory may go unnoticed. But not at the recent IFT Food Expo® in New Orleans, La. The exhibition featured numerous analytical devices, methods, equipment, and services for ensuring food safety and quality. Here are some of the developments.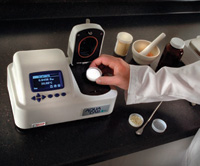 Lab-Scale Equipment
Microthermics (www.microthermics.com) demonstrated its Mini-Production Processors with flow rates of 0.5 to 6 liters/min, depending on model. Units utilize custom heat exchangers, variable-speed product pump, and interchangeable hold tubes. Processes include HTST pasteurization, hot fill, aseptic—high- or low-acid products, UHT, etc. Options include touchscreeen PLC control, plate heat exchangers, in-line homogenization, and ultra-clean filling. Although the equipment is designed for research, the processors produce heating curves (rates) found in production plants. This optimizes scalability and yields true production quality products.
Armfield (www.armfield.co.uk) featured a miniature-scale batch processor for high-viscosity products. The unit is suitable for high-shear mixing, dispersing, homogenizing, emulsifying, de-aerating, vacuum, evaporation, and jet cooking. Applications range from jams, jellies, toffees, and confectionery products to soups and sauces containing particulates. Two models are available with either 10 liter or 20 liter capacity. Model FT141 is capable of processing at 95% vacuum and up to 100°C. Model FT142 extends the performance into UHT processing with temperatures up to 140°C and pressure up to 3 bar.
Food Safety & Quality Analysis
Charm Sciences (www.charm.com) displayed the Epic microplate luminescence system, which rapidly predicts spoilage in shelf-stable and extended shelf life (ESL) beverage products. Instrument detects yeast, molds, Pseudomonas fuorescens, Listeria innocua, Bacillus cereus, Bacillus licheniformis, and other post-process contaminating flora. The Epic system complements the Charm ATP (adenosine triphosphate) hygiene product line, which rapidly predicts the hygiene status of surfaces and rinse waters in seconds.
--- PAGE BREAK ---
NovaLum luminometer from Ecolab (www.ecolab.com) aids ATP-based hygiene monitoring programs in dairy and beverage plants. Handheld device features ergonomic design with direct swab entry and ATP indicator for allergen cross-contamination presence. It is capable of storing 6,000 test results. Device can use all Charm ATP tests.
Mycotoxins, which are found in agricultural crops, are susceptible to colonization by molds and fungi. Waters Corp. (www.waters.com) offers three testing solutions for mycotoxins. AflaTest and DONtest are cost-effective tests for labs with fewer samples to analyze. For labs with a heavy sample load and little time for cleanup, Waters offers its Acquity UltraPerformance Liquid Chromatography (UPLC) and TQ detector. The combination of UPLC and the power of tandem mass spectrometry are well suited for highly selective mycotoxin detection.
Fumonisins are mycotoxins that occur primarily in corn and its derivatives. Romer Labs (www.romerlabs.com) showcased its improved AgraQuant fumonisin ELISA test kit with shorter incubation time and highly specific monoclonal antibodies. Instrument quantifies fumonisin within a range of 0.25 and 5 ppm in grain, distillers dried grain with solubles (DDGS), and other commodities.
PerkinElmer (www.perkinelmer.com) exhibited Labworks foodLIMS—a laboratory information management system for the food industry that simplifies data management and integrates with tracing software to support compliance with regulatory requirements, including the Bioterrorism Act of 2002. The system helps food and beverage marketers to efficiently and automatically track their critical quality parameters associated with product testing.
Kansas State University (http://foodsci.k-state.edu) showcased its Food Science Institute, where researchers from five colleges and 11 departments work together to solve the world's food safety problems. The interdisciplinary approach to food safety research, extension, and education taps various expertises, such as veterinary medicine, human nutrition, meat science, and hotel, restaurant, and institution management.
Compusense (www.compusense.com) displayed its latest software for sensory science and consumer product research. Compusense at-hand is built on web-based technology to deliver cost-effective and actionable consumer testing, anywhere. Special features allow users to design studies using intuitive multiple-choice options, skip features, and more. The secure web-based tool allows worldwide sharing of results and test execution.
--- PAGE BREAK ---
Viscosity Testing
C.W. Brabender (www.cwbrabender.com) showcased its Viscograph-E instrument for measuring the viscosity of starch and products containing starch. Unit works by measuring torque in the sample, which is heated within a rotating bowl and cooled down under controlled conditions. A measuring sensor reaching into the sample is deflected according to the viscosity of the sample in the bowl. This deflection is measured as torque. The company also featured its Visco-Amylo-Graph instrument, which measures the gelatinization properties of starch and flour.
Brookfield Engineering (www.brookfieldengineering.com) displayed its new and improved DV-I Prime Viscometer with enhanced color scheme, shape, and keypad layout. The continuous sensing unit comes with RS-232 PC interface for use with optional Wingather software, a new printer output connection, and direct access to timed-mode viscosity measurements. Devices ordered with temperature sensing option have a temperature offset capability to ±1°C.
Moisture Analysis
Arizona Instrument (www.azic.com) demonstrated its Max 5000XL Moisture/Solids/Ash Analyzer. The bench-top instrument's new temperature controlled balance and high-temperature lift compensation algorithm provide users with very stable and accurate measurements. It also features temperature ramp control that enables qualitative analyses, which were previously only possible using a thermogravimetric analyzer.
AquaLab Series 4TE instrument from Decagon Devices (www.decagon.com) can measure both moisture and water activity. Unit features less than 5 min test time, no sample heating, and is nondestructive. Water activity range is 0.10 to 0.95 while moisture content precision is 0.02%.
CEM (www.cem.com) announced that AOAC International has approved Official Method 2008.6, which utilizes microwave energy for direct moisture analysis and nuclear magnetic resonance spectrometry to determine fat content in raw and processed meat and meat products. Determination of the moisture and fat content is useful for raw material acceptance, pricing, quality assurance, and regulatory compliance.
--- PAGE BREAK ---
Halogen Moisture Analyzer HR83 from Mettler Toledo (www.mt.com) quickly determines the moisture content of food on the production line, such as drying processes. This optimizes production and ensures product quality. Tests can be carried out in three simple steps with a plant-floor operator with minimal training.
Contract Laboratories
Food Safety Net Services (www.food-safetynet.com) announced that it has expanded its chemistry testing capabilities to include full nutritional labeling, all fat- and water-soluble vitamins, preservatives and antioxidants, fatty and organic acid profiles, saturated and trans fat, poly- and monounsaturated fat, and cholesterol. In addition, the contract laboratory provides microbiological analyses, auditing and consulting services, and education and research services.
Environmental Micro Analysis (www.emalab.com) showcased its expertise in pesticide residue analysis, including its ability to perform identical tests and methodologies for food imports as those employed by FDA.
Medallion Labs (www.medallionlabs.com) featured its expertise in shelf life analysis, including establishment of study parameters, determining storage conditions, product testing, and determining ideal as well as practical shelf life.
The National Food Lab (www.thenfl.com) announced collaboration with the Culinary Institute of America to create a unique culinary-driven concept development process. The goal is to deliver premium tested culinary concepts (i.e., restaurant quality) in about one week that can be quickly converted into successful, commercially viable food products.
Food Testing
Hanna Instruments (www.hannainst.com) demonstrated its acidity and pH analysis for milk and cheese production. Automatic titrator and pH meter utilizes a powerful built-in algorithm to analyze the shape of the pH electrode response and determines the reaction completion. With the press of the "start" button, the instrument automatically conducts an end-point titration and displays the results.
--- PAGE BREAK ---
ESHA Research (www.esha.com) showcased it Genesis R&D SQL product formulation & labeling software, which contains a database of more than 32,000 foods and food ingredients, automatic nutrient analysis for up to 164 nutritional components, including MyPyramid and food exchanges, and formulation and ingredient costing.
Syft Technologies (www.syft.com) displayed its volatile organic compound (VOC) analysis equipment, which uses a Selected Ion Flow Tube-Mass Spectrometry (SIFT-MS) technology platform to identify VOCs in real time. Applications include early detection of edible oil oxidation, flavor, aroma, cheese, chewing gum, and other foods. Instrument can analyze whole-air samples and high-moisture samples, including direct headspace, in-mouth, and retro-nasal.
Shimadzu Scientific (www.ssi.shimadzu.com) demonstrated its IRAffinity-1 Fourier Transform Infrared (FTIR) spectrophotometer for detecting and identifying foreign matter in raw materials and packaging.
HunterLab (www.hunterlab.com) displayed its Colorflex color measurement system for powders, pastes, granules, and liquids. Dual-beam xenon flash technology and 45°/0° optical geometry assure accurate measurements. Unit offers 99 setup configurations for customizing display outputs, tolerances, and indices. 
---
Controlling Listeria in Food Retailing
Most cases of
listeria
illnesses emanate from food at the deli counter rather than at the food manufacturer, and yet most of the U.S. federal government's sanitary guidelines are geared toward plants.
--- PAGE BREAK ---
Some 80% of the listeria-related deaths occurred in people who bought meat sliced at a deli counter rather than packaged meat. But the primary regulator for retail establishments, such as delis and restaurants, are inspectors at the state level. Much to the frustration of some retailers, the federal government has given little guidance as to how to combat the dangerous pathogen.
"I can't design a cleaning procedure until someone tells me what the rules are," said O. Peter Snyder, Jr., President of Hospitality Institute of Technology and Management. "If you think these things need to be washed, I'll wash it, but tell me how to wash it."
Snyder said the government has failed to provide retailers with specific standards they must achieve. And so it is up to the whims of the state inspectors, who conduct periodic inspections, and either pass or fail the establishment based on their own interpretations of cleanliness.
Most establishments have at least some presence of listeria, whether it's in the floor drain or on a slicer. It's almost impossible to eradicate entirely, Snyder said. Manufacturing plants are specifically designed to eliminate pathogens, but retail establishments are not, he said. Indeed, a 2006 study by New York's Department of Agriculture found listeria in 58% of the retail establishments they tested.
"I don't know if it's politics, but no one will come up with specific procedures," Snyder said.
USDA officials say they are working on coming up with better data for the industry, but until then, retailers should decide for themselves how often and what methods to use to sanitize their facilities.
One area of concern should be the deli's drainage system. Most retailers don't clean their drains properly, and part of the problem is that workers either don't know they're supposed to, or simply don't want to.
—Caren Chesler
by Bob Swientek is Editor-in-Chief of Food Technology ([email protected]).