Another year, another IFT Food Expo®, starring none other than our favorite—packaging—to contain, protect, and communicate about food contents. Patrolling the floor and meetings were a team of IFT food packaging scouts, among whom was our friend and colleague, Claire Sand of Ameripak and Michigan State University School of Packaging. Complementing her probing were the good folks at IFT and our cohorts at the Innova Market Insights Taste the Trends exhibit, which displayed dozens of packaging innovations from around the planet.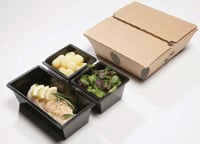 IFT Awards Time
To again underscore the relevance of packaging to the entire food distribution system, a distinguished member of the IFT Food Packaging Division, John Krochta, was selected as 2008 Riester-Davis Award winner and elected an IFT Fellow. Our good friend and occasional contributor to this column, John is former chair of IFT's vibrant Food Packaging Division. A Professor at University of California–Davis, he is world-renowned for his research and achievements in the burgeoning realms of biopolymers and biodegradable materials for food packaging. The Riester-Davis Award acknowledges two founders of the IFT Food Packaging Division, Don Riester and Rees Davis, and honors the awardee for lifetime achievement in food packaging. IFT Fellows are honored for their outstanding and extraordinary qualifications and experience and contributions to food science and technology. Congratulations, John!
And let us also pay tribute to another near-guru on food packaging, Michele Perchonok of NASA, who was also elected an IFT Fellow. Michele heads the program that feeds astronauts—a challenge in the dual disciplines of food science/technology and food packaging. So far, the astronauts have returned home praising the food and beverages and hardly complaining about difficulties with opening or removing safe and good quality food while in space. Congratulations on your honor, Michele!
More Awards for Packaging
An IFT Food Expo Innovation Award has gone to Multisorb Technologies (www.multisorb.com), a company frequently mentioned in this column, for its introduction of an active oxygen barrier enhancement called FreshBlend™. Detailed in the Food Expo Innovation Awards coverage that begins on page 62, FreshBlend is an iron-based oxygen scavenger blended into a plastic master batch for incorporation into food packaging plastic such as films or bottles, which can be converted into mono-layer barrier structures.
--- PAGE BREAK ---
Also showcased at the Expo from Multisorb was FreshPax® S, a new sorbent solution that combines oxygen and moisture management capabilities in one technology. By inhibiting oxidative and moisture-mediated degradation, FreshPax® S extends shelf life and helps maintain food product characteristics such as flavor, aroma, texture, and mouthfeel. The sorbent fixes water activity below the point at which microbiological growth can occur. The oxygen-scavenging component is able to reduce and maintain oxygen levels to less than 1% and relative humidity to levels of 40–50%, thereby preventing the onset of mold growth and other spoilage and preserving flavor, color, and the nutritive value of contained food products.
Observations from the Show Floor
And now on to what else was observed to be interesting in food packaging. One word of caution: Do not interpret presence in this column as an indication that this is the all-inclusive list.
• Microwaveable Meals. CuliDish® is a packaging system engineered for microwave preparation of prepared foods. Note the operative word, "preparation" and not necessarily rethermalization that is so often the target. Representatives of the company that offers CuliDish®, Shieltronics BV (www.culidish.com), The Netherlands, observed that in a combination meal, each dish usually has a different serving temperature. CuliDish® is based on the principle that microwave energy cannot penetrate through aluminum foil that is incorporated into the tubs of meal components intended to be consumed chilled. (During the early days of microwaveable dinner platters, aluminum foil was occasionally employed as a shield to prevent microwave energy from thawing ice cream on sundaes. Do you remember?)
Chilled meal components are individually packaged in formed polypropylene tubs whose shapes and dimensions are engineered for modular interlocking with one another. Metal is absent from the microwaveable plastic (which is sufficiently heat-resistant for this application) surrounding the food to be heated so that the energy may heat the contents from the chilled state. Meanwhile, the food intended to be eaten cold remains cold by virtue of metal shielding. The entire meal—two, three, or four components—is placed in a corrugated paperboard carton to be placed in the microwave cavity.
--- PAGE BREAK ---
• Peelable Can Ends. You may remember last month's column regarding Interpack innovations, citing Canpeel from Kleiner, an easy-open, peel seal for cylindrical metal cans. Impress Metal in France has now introduced its version, EasyPeel lid for rectangular metal cans. EasyPeel is a lamination of aluminum foil and polypropylene that is heat-sealed to a coating on the solid metal fraction of the can end. Such ends may be retorted for low-acid foods.
And Alupak/Alcan have announced PeeliCan, also for rectangular seafood cans using an ultrasonic sealing technology. We are currently witnessing the penetration of easy-open, full-panel scored and riveted aluminum and steel ends for double seaming and thus closing metal cans. Might the introduction of peel-open ends incorporating flexible materials be a harbinger to displace the doubtless more-expensive scored and riveted ends for metal cans? Obviously, the application of peelable ends will require both careful review of the retorting process and regulatory acceptance for low-acid food contents.
• Beverage Packaging. Some of the more astute readers (and certainly all food packaging technologists) might have observed that high density polyethylene bottles are often engineered with hollow handles to ease handling and dispensing. Extrusion blow molding, for which polyethylene is admirably suited, permits this singular design feature. The nature of conventional polyester for bottles—that is very careful reheating of preforms prior to blowing—has to date precluded built-in handles on polyester bottles. (Of course, indentations engineered into the walls assist consumers in lifting and pouring.) About 20 years ago, it was proposed to affix separate handles to large polyester bottles, and now in 2008, the development has been commercialized by McCormick Distilling Co. with a solid polypropylene handle sealed on the side of its 1.75 L vodka bottle. The bottle was supplied by Amcor PET Packaging (www.amcor.com).
Already in the market in Europe for Coca-Cola's Burn energy drink is a 500 ml resealable, two-piece aluminum can from Ball Packaging–Europe (www.ball-Europe.com). The end, originated by Bound2B in The Netherlands, is fabricated from both aluminum for double seaming to the can body and a pivoting circular flat plastic device that is both the original closure and also reseals the pour/drink opening when rotated back into place. This concept is a direct response to the smaller polyester bottles and larger (and expensive) aluminum bottles that are inherently recloseable, whereas mainstream two-piece aluminum cans have not been recloseable. On the other hand, although the publicity releases on the Ball Resealable End have asserted that the quantity of plastic is low and so does not interfere with aluminum (or steel) can recycling (which is a major industry), sustainability purists will undoubtedly disagree. Also on the Coca-Cola Europe packaging scene is Sprite Super Chill featuring a self-cooling aluminum bottle similar in concept to Gizmo described below. The technology was not disclosed, however.
--- PAGE BREAK ---
And here are more of the many developing "add flavor to the product from the package as it is used" packages (recall Bericap for probiotics from last month). Tetra Pak (www.Tetrapak.com) has introduced Sensory Straw in the United Kingdom. This device is a polypropylene straw that has four openings near a closed end to spread the sucked beverage (wine) in four directions around the mouth and so enhance the flavor perception. Stand-up flexible pouch machine maker Volpak offers an add-on to its machines for contoured stand-up pouches into which a polypropylene straw is secured and sealed into the top flange of the package. Gizmo is a pressurized device incorporated into the closure of a plastic bottle that instantly releases and mixes active ingredients at the point of consumption.
In Israel, 100 ml unit portion (or as they now call it, single shot) Yoplait 360 drinkable yogurt is packaged in a wide-mouth bottle—with a bagel hole in the middle of the bottle to add space volume to make the bottle appear larger. Horrors in this era of trying to reduce package material mass, but the structure appears to succeed in attracting shelf attention—which is its primary purpose.
• Specifically Sustainable. In the race to be "greener than the next guy'" in the UK, Sainsbury's and Tetra Pak have launched the first package with a label of certification from Forest Stewardship Council (FSC), an international organization setting standards for responsible forest management. Tetra Pak's Recart paperboard lamination retortable carton is the recipient, comparing itself, of course, to a steel can conventionally employed for chopped tomatoes. Sainsbury's has another related initiative, a recyclable low density polyethylene pouch, Jug-it for fluid milk. The pouch fits into a reusable jug, and when emptied, the LDPE pouch may be returned to the store for recycling. Does this "innovation" remind anyone of the Canadian fluid milk packaging of the last 30 or so years? Perhaps the former dominion was well ahead of the former mother country.
And Sainsbury's cross-country rival Tesco is starting a trial of carbon labeling on private label products. The Carbon Reduction Label from UK's Carbon Trust appears on 20 Tesco packages, including orange juice (gable-top paperboard cartons—220 g/200 ml carton or 360 g/serving from a large carton) and potatoes (200 g for 150 g of freshly prepared product with butter). The makers of Walker's potato chips and Innocent Drinks beverages are also testing carbon labeling. Stay tuned for the next episode in this ongoing drama.
Closure manufacturers Alcoa, Bericap, and Corvaglia all demonstrated shorter or lighter-weight plastic bottle caps to reduce mass and recovery. Alcoa's Xtra-Lok mini is a high-performance, two-piece design for polyester carbonated beverage bottles. Bericap's (www.Bericap.com) SuperShorty also targets carbonated beverages and is applicable for all finishes.
--- PAGE BREAK ---
• Bulk Packaging. Longtime IFT Food Expo exhibitor Arena (www.arena.com) displayed its bulk bag-in-box containers for liquids, this year including Air-Evac®, an air-assisted aseptic discharge technology—with, of course, no direct product contact (www.arena.com).
Focusing on the Future
If, like futurists, I could count in logs, I might recount the top 10 contemporary trends in foods that affect packaging and vice versa. Instead, let's focus a bit without regard to reaching a specific number, just based on IFT 2008 Food Expo observations.
• Natural. Food scientists and technologists (and their packaging buddies) have been immersed in natural, clean label, traceability, shots for drinks/small unit portions (which, obviously, are counter to sustainability), compostable packaging, and bio-materials.
• Greener than thou. As several previously cited examples suggest, references to carbon footprints, sustainability, and also food miles, which lately includes buying the farm (Isn't that an idiom with other dire meanings?), are increasing in frequency. Innocent Drinks (UK) has a promotion, "Buy One, Get One Tree" in Africa or India.
• Forward to the past. Supported by the Slow Food organization (www.SlowFood.org), this movement promotes retro, nostalgia, and "like grandma is imagined to have made it," e.g., Coca-Cola with retits 1899 straight-sided glass bottle.
• Less in more. This trend was also described previously with the new lower-mass bottle closures and in last month's column with reduced-mass plastic bottle making.
• Active. Not only are probiotics active, but also packaging—as with the Multisorb FreshBlend cited earlier. Unfortunately, most such concepts are just that, still in the laboratory, being reported as research results in the meeting rooms and on posters at IFT Annual Meetings.
We might not have identified each food packaging innovation hiding at the IFT 2008 Annual Meeting and Food Expo, but this sampling should spark the imagination of curious minds to drill deeper into our list and to move forward to deliver even safer, higher-quality foods through excellent packaging.
by Aaron L. Brody, Ph.D., Contributing Editor, President and CEO Packaging/Brody Inc., Duluth, Ga. and Adjunct Professor, University of Georgia ([email protected]).