At the IFT Annual Meeting & Food Expo® keynote session, incoming IFT President Sheri Schellhaass and President-Elect Marianne Gillette announced and presented four companies with the 2008 IFT Food Expo Innovation Awards. The recipients are Bunge North America, CEM Corp., Multisorb Technologies, and NC Hyperbaric.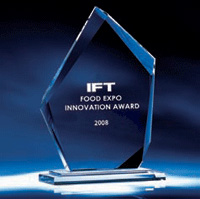 The 2008 IFT Food Expo Innovation Awards program was designed to recognize outstanding innovation in products, ingredients, applications, instruments, equipment, technology, and services. The program was open only to companies exhibiting at the 2008 IFT Food Expo in New Orleans. To be eligible, the product, technology, or service must have been commercially available since January 1, 2007. The entry period ran from early March through early April 2008.
A panel of nine jurors from industry and academia with broad expertise in research & product development, ingredients, processing & packaging technology, and food safety selected the four companies and their innovations from 46 qualified entries. Judging criteria included degree of innovation, technical advancement, benefits to food manufacturers and consumers, and scientific merit.
• Bunge North America (www.bungenorthamerica.com) garnered the 2008 IFT Food Expo Innovation Award for its Nutra Blanche / Nutra-Clear NT Frying System Solution & Donut Fry NT, which utilizes proprietary hydrogenation technology to reduce trans fats by more than 85% in shortening systems for par-fried potatoes and fried donuts. In addition, the technology yields shortening products that are 33% lower in trans and saturated fat levels than traditional shortenings.
The hydrogenation procedure utilizes a conditioned nickel catalyst that selectively prevents the formation of trans fats. It also increases the plasticity of soybean oil, which minimizes clumping of French fries and "oiling out" during storage. The Nutra Blanche shortening system reduces line grease and crumbs in the fryer. Finished French fries retain a golden color and clean mouthfeel (not waxy).
For donut applications, the plasticity of the oil (palm oil and partially hydrogenated soybean and cotton seed oil with TBHQ and citric acid to protect flavor) results in excellent sugar adhesion. This may reduce the "disappearance" of powdered sugar and glaze in fried donuts. The all-vegetable product is Kosher certified.
--- PAGE BREAK ---
• CEM Corp. (www.cem.com) won the award for its Sprint Rapid Protein Analyzer. The compact instrument—designed for use in the lab or at a production line—provides protein determination in two minutes that is more accurate than other methods (e.g., Kjeldahl, Dumas, and infrared) without the use of harsh chemicals or high heat. The device uses a protein-tagging technology that measures only protein—not nitrogen.
The instrument "permits rapid analysis of protein levels by measuring protein directly, not nitrogen levels, avoiding the problem of false protein readings from nitrogen-containing contaminants like melamine," stated a juror.
Applications include meat, dairy, grains, and prepared foods. The instrument has AOAC approval for major dairy applications and AACC approval for grain testing. The instrument manufacturer reports that AOAC studies are underway for meat applications. The cost per test is about $3 based on consumables. The compact instrument is easy to operate—a technician weighs the sample, places it into the system, and pushes the "start" button. The unit's automated technology provides accurate results in 2 min. This allows technicians with basic training to test incoming shipments of raw materials, monitor products in-process, and assure final product quality.
• Multisorb Technologies (www.multisorb.com) was honored for its Active Oxygen Barrier Enhancement—an oxygen-scavenging system that can be incorporated into packaging polymers for molded, sheeted, or film applications. The Freshblend system improves the oxygen barrier properties of the structure, resulting in extended shelf life and greater quality retention. Composed of materials suitable for food contact, the iron-based scavenging system possesses high reactivity to permeating oxygen. It is also compatible with passive nanoparticle additives. The result is significantly simpler or thinner packaging structures with superior barrier properties. "Oxygen-scavenging system impregnated into the packaging film is an enhancement over current oxygen control systems," stated a juror. The "ability to absorb in-situ as well as permeating oxygen would have many applications in food/beverage products," added the juror.
In some applications, the use of FreshBlend allows a monolayer barrier to replace a multilayer structure, making the packaging more economical and easier to recycle. In addition, the scavenging system may permit the use of thinner gauge materials or replace expensive passive barrier materials, minimizing the carbon footprint of the package.
• NC Hyperbaric (www.nchyperbaric.com) captured the 2008 IFT Food Expo Innovation Award for its Wave 6000/420 High Pressure Processing Equipment, which utilizes a working pressure of 87,000 psi to process about 4,500 pounds of product per hour at a cost of $0.032 per pound. The cost includes energy, water, depreciation charge, and maintenance.
Reduced machine cycle times and vessel filling deliver greater product throughput. With vacuum-packed products, for example, the cycle time is about 7.4 min. This includes product loading and unloading, pressurization, 3 min hold time at 87,000 psi, release of pressure, and machine operations/movement. The equipment features a 15-in diam vessel with a capacity of 111 gal. "An innovative nonthermal process to inactivate bacteria," stated a juror. Another juror noted that the "Wave 6000/420 offers a large (may be the largest) capacity to process product at 87,000 psi in one cycle, which greatly improves the efficiency and cost of high pressure processing."
---
2009 Innovation Awards
Information about next year's competition—open only to exhibitors at the 2009 IFT Food Expo in Anaheim, Calif.—will be available on IFT's Web site (
www.ift.org
) early next year.
by Bob Swientek is Editor-in-Chief, Food Technology ([email protected]).