Food is always at the heart of the IFT Annual Meeting & Food Expo® experience, of course. But this year, for more than 80 IFT® members, the food experience had a new dimension thanks to the debut of IFT Cares, an anti-hunger initiative in which members and staff partnered with Second Harvest Food Bank of Greater New Orleans and Acadiana. Volunteers either worked at the local food bank sorting and repacking surplus and donated food or traveled with Second Harvest's mobile pantry to deliver food to families and individuals.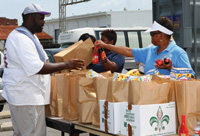 Along with the volunteer time logged—either before the Annual Meeting & Food Expo on Saturday or after the event on Wednesday—IFT Cares had a financial component. Members contributed $7,500 to support the Food Bank, which includes a $1,500 donation from IFT's Southern California Section. In California, the section regularly supports the Orange County Food Bank, and the donation was a logical extension of that charitable focus, explained Gerrie Adams, 2008–09 Chair of the Southern California Section.
Lam Hood, Professor of Food Science Emeritus at The Pennsylvania State University and Emeritus Professional Member of IFT, led the IFT Cares program. The community service project was conceived of last year as IFT prepared to return to New Orleans for the first time since Hurricanes Katrina and Rita ravaged the city and surrounding region in 2005.
Hood says he was pleased with the inaugural IFT Cares venture. "We had good participation," said Hood. "Our volunteers seemed to really value what we were doing, and, perhaps most importantly, the folks we were helping at the pack and sort and mobile pantry seemed to really appreciate the commitment we had made."
Members Share Experiences
A comment by IFT member Lori Keith, a Food Technologist with Rich Products, Buffalo, N.Y., typified the spirit among the volunteers. "When I read about it [the IFT Cares project], I couldn't not do it," said Keith, whose husband, Craig, joined her in distributing food with the mobile pantry on Saturday morning.
"I volunteered because IFT made it very easy to do something that was important to me—to provide some hands-on support to the people of New Orleans and show that people still care about them," said mobile pantry volunteer Julie Ruder, Quality Assurance Manager, Bay Valley Foods, Portland, Ore., and a member of the IFT Board of Directors. "I've been donating money to various causes in New Orleans since Katrina, but this was much more personal.
--- PAGE BREAK ---
"I think what most surprised me was how connected I felt to the work of the food bank and the important role that they play in assisting people in need," Ruder continued.
Professional IFT member Joe Regenstein, Cornell University Professor of Food Science, also appreciated the fact that signing up to volunteer was uncomplicated. "I don't get a chance to do as much volunteer work of this sort as I might like," said Regenstein. "It was made so easy by IFT that I felt I could work it in."
For IFT member Daniel Hutton, Vice President of Operations at Hampton Farms, Severn, N.C., participating in the effort was a natural. "We believe in helping people," said Hutton, who was joined at the mobile pantry by his wife, Glenda, who had just returned from a missionary trip to Haiti. "We like to serve wherever we can," said Hutton. "Having a chance to serve at IFT was a perfect opportunity."
Community service is part of the corporate culture at Hampton Farms, Hutton continued, noting that company President/CEO Dallas Barnes and his family volunteered in Mississippi not long after Hurricane Katrina.
Hood, too, has a track record of reaching out to help those in need. This was his fifth visit to the Gulf Coast area of Louisiana over the past two and one-half years to help with post-hurricane relief efforts.
"I think you have to start with the premise that we all have a responsibility to help others, particularly those less fortunate," he observed. "Hopefully, it will be part of our [IFT's] culture in the years ahead."
Mark Uebersax, just-retired Professor of Food Science and Nutrition at Michigan State University, and chair of IFT's Task Force on Strategic Plan Implementation, shares Hood's perspective.
"I think there's a social responsibility that comes with being a food scientist," he observed. "I think it says something about our organization that we are trying to help people in need."
--- PAGE BREAK ---
Fitting Philanthropy
Volunteer Suzanne Dunn Johanningsmeier, a doctoral student in the Department of Food, Bioprocessing, and Nutrition Sciences at North Carolina State University, has a similar viewpoint, which affected her decision to participate.
"I thought it quite appropriate as a food scientist to get involved in an activity that helps feed people," she said. "After all, the goal of food science to increase the availability of nutritious, safe, and tasteful foods was one of the driving forces in my decision to study food science."
IFT has a long history of donating Food Expo surpluses to local food banks. Exhibitors at the 2008 event contributed 5,790 pounds of food, which, by Second Harvest's calculation, translates to more than 4,523 meals for needy families.
This year's IFT Cares effort is the first such hands-on service program affiliated with the Annual Meeting & Food Expo, however. Organizers hope to build on the initiative and to offer volunteer opportunities with local food banks in coming years. It's an option that participants in this year's service project wholeheartedly endorse.
"There are lots of service things that IFT could do, but the food bank is kind of a natural," Hood observed.
"Since, as a group, we are involved in the manufacture of food, I like the idea of being able to share my time with charitable organizations whose goal is to make sure people have access to food," said Ruder. "Given the focus of our Annual Meeting & Food Expo on newer and better food products, the realization that just having something to eat is still a challenge for some is something we should not lose track of."
"It is a reminder that we have to feed all of the people in America (and elsewhere)," Regenstein concurred … "It is also a chance for us to give back as a profession to the real people we need to serve."
---
Food Technology Readership Honorees Support Second Harvest
A group of 20 Food Technology magazine advertisers opted to participate in a program that benefits America's Second Harvest—The Nation's Food Bank Network.
--- PAGE BREAK ---
These advertisers all achieved outstanding scores for overall ad effectiveness based on a readership study of the magazine's February issue. IFT usually provides a plaque in recognition of outstanding readership. This year, however, advertisers had a choice: They could either receive the plaque as usual or forgo it and, instead, IFT would make a $100 donation in the company's name to Second Harvest. The following is a list of advertisers that chose the donation.
American Egg Board
Cargill Health & Nutrition
Cargill Texturizing Solutions
Cognis Health & Nutrition
Commercial Creamery Company
Corn Products
D.D. Williamson
Danisco Sweeteners Ltd.
GNT USA Inc.
Grain Processing Corporation
Jungbunzlauer
Kansas State University
Kraft Food Ingredients
MGP Ingredients
Morton Salt
Richmond Baking
Rivland
SunOpta Ingredients
TIC Gums Inc.
Virginia Dare Extract Co. Inc.
IFT and Second Harvest thank these advertisers, as well as the Food Technology readers who enabled these companies to choose the monetary donation.
---
ABF Guests Cruise for a Cause
Call it philanthropic partying, cruising for charity, or even socially conscious socializing. When ABF Ingredients staged a Sunday evening jazz and dinner cruise on the Mississippi River during the IFT Annual Meeting & Food Expo, the agenda included more than just the typical net-working, relaxing, and conversing.
The event was planned to aid two worthy causes—Cecily's Fund, which supports children in Zambia who have been orphaned by AIDS, and the New Orleans-based Make It Right Foundation, which is rebuilding homes in portions of the city destroyed by Hurricane Katrina. To date, Make It Right Foundation, which has enjoyed the support of actor Brad Pitt, has built 83 of a targeted 150 environmentally friendly new homes. The cruise drew a crowd of 212 people and raised $12,000 for the two charities.
For ABF Ingredients, the cruise was not an isolated event. Philanthropic initiatives are quickly becoming part of the corporate culture at the company, which has been supporting Cecily's Fund since CEO Stephen Catling visited Zambia for a conference last year and got a close-up look at the plight of the local populace. HIV and AIDS are commonplace in Zambia, which has the world's lowest life expectancy (37.5 yr) and—largely because of the AIDS crisis there—is home to more than 1 million orphans. In addition to Cecily's Fund, group companies within ABF Ingredients (ABITEC, AB Enzymes, Ohly, PGP International, and Protient) support a variety of local charities chosen by staff members.
by Mary Ellen Kuhn is Managing Editor of Food Technology magazine ([email protected]).