Food and beverage manufacturers can produce test quantities of new products by using their existing production equipment, but this can result in interruptions of the processing schedule for their other products. Another approach is to utilize pilot-plant equipment and scale up the results to production scale. A number of companies offer miniaturized/lab-scale equipment that also can be accurately scaled up to production scale. Among the best known of them are Armfield Ltd. of Ringwood, England (www.armfield.co.uk), with a U.S. subsidiary in Jackson, N.J. ([email protected]); MicroThermics Inc., of Raleigh, N.C. (www.microthermics.com); and OMVE Netherlands B.V. (www.omve.com).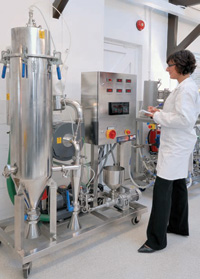 Armfield
I asked Armfield's Managing Director Chris Addis ([email protected]) how the company approaches the design of miniaturized/lab-scale equipment and the types of equipment the company offers. Here are my questions and his replies:
How do you approach developing a new piece of miniaturized/lab-scale food processing equipment? There are certain criteria to meet regardless of the end product: replicate the industrial process as nearly as possible; set "scale-up" as a prerequisite; make the major parameters variable to ensure flexibility; make recording data easy and repeatable; and ensure safe operation, remembering that quite often high pressures and high temperatures are operating together in an environment more relaxed than the safety-aware production floor.
Is it different from the approach taken in developing production-scale equipment? A very different approach to development is necessary when considering miniature equipment. The broad differences are those associated with the needs of the user and the operating environment. Some processes can only be made smaller to a degree before they become impractical or no longer function as they should. Often, proprietary components are not available at the scale needed. More versatility and greater accuracy in data logging are essential.
How do you choose which piece of equipment to develop? We choose what to develop through market research. If enough customers ask for a specific type of equipment, this prompts us to meet that need. Similarly, watching trends and/or new technologies may give us a "heads up" where there will be a need shortly.
How do you scale down from production-scale equipment? Scaling down from production size is in principle easy. The processes are usually well known, tried, and tested. Sometimes it is possible simply to make a replication at a small size. But quite often it is better to start from first principles and almost reinvent the wheel.
How do you validate the effectiveness of the miniature equipment? Validating the miniature equipment necessitates replicating the product produced in the plant, ensuring that when the process is complete there is no significant difference between a sample taken from production and one made in the miniature/lab-scale equipment. This means replicating all the characteristics of the product—color, texture, taste, composition, and shelf life—and being able to repeat the results time and again.
Does your equipment produce edible food? Yes. The whole point of our equipment is that it replicates the industrial process and the product characteristics, including the need to sample the product.
--- PAGE BREAK ---
What types of equipment do you offer? We offer equipment for heat treatment, including HTST/UHT, plate, tubular, steam-injection, scraped-surface, and microwave processes; homogenization; aseptic filling; carbonation; mixing and multipurpose processing; spray drying; cheese making; evaporation; vegetable oil processing; reverse osmosis; and ultrafiltration.
Among the miniature/lab-scale equipment we provide are the FT25 Scraped-Surface Heat Exchanger, which can be configured as an ice cream freezer, a margarine crystallizer, or a combined margarine/ice-cream processor and can achieve temperatures up to 150°C for aseptic products; the FT74X HTST/UHT processor for liquid foods, which can be configured with either a tubular or plate heat exchanger and process up to 20 L/hr; the FT94X HTST/UHT Mini Pilot System capable of processing up to 200 L/hr; the FT74DI Direct Steam Injection HTST/UHT processor; the FT80 Tall Form Spray Dryer/Spray Chiller; the FT83 Sterile Filling System, which when linked with the FT74X or the FT94X forms a complete sterile production line for filling containers and producing sterile samples; and the second-generation FT102x Carbonator/Filler, which allows production of small quantities of beverages with repeatable characteristics and precise and repeatable carbonation scenarios.
What is your most recently introduced piece of equipment/system? The FT141/142 Multifunction Laboratory Mixers, introduced at IFT's Food Expo® in New Orleans last June. The versatile miniature-scale batch processing vessels are suitable for high-shear mixing, dispersing, homogenizing, emulsifying, deaerating, vacuum, evaporation, and jet cooking. They are designed to process high-viscosity products such as jams, jellies, toffees, and other confectionery items, as well as soups and sauces containing particulates. The FT141 is capable of processing at 95% vacuum and up to 100°C temperature. The FT142 extends the performance into UHT processing at up to 140°C and 3 bar of pressure. Each model can be had with either a 10- or 20-L capacity.
Do you offer testing services in addition to sales of the equipment? We have two trial laboratories, one in the UK and the other in Jackson, N.J., where potential customers can experience the range of equipment first hand and test their own formulations prior to considering equipment purchase.
MicroThermics
MicroThermics manufactures customized small-scale, continuous-flow thermal processing systems for such products as milk, juices, concentrates, teas, salad dressings, sauces, puddings, and more. The equipment includes HTST, UHT, hot-fill, and continuous cooking systems, homogenizers, micro-scale plate-in-frame heat exchangers, steam generators, water chillers, clean-in-place systems, in-line deaeration, homogenization, ultra-clean filling, and automatic filling.
The equipment can be used for formulation and scale-up; fouling studies; characterizing the performance of new ingredients; quality assurance of ingredient blends and flavors; preparation of test samples for in-house studies; engineering studies; fundamental research and kinetic studies; and other purposes.
The company's newest entry is the Mini-Production® UHT/HTST Processor, which provides precision control and ease of use, with flow rates of 0.5–6 L/min. It uses custom heat exchangers, a variable-speed product pump, and interchangeable hold tubes, providing the flexibility to bypass selected components as needed. Options include touchscreen PLC control, plate heat exchangers, in-line homogenization, ultra-clean filling, data acquisition, circular chart recorders, and more.
--- PAGE BREAK ---
MicroThermics offers four types of services at its facility: miniature plant trials, overnight plant trials, microwave plant trials, and scale-down services.
OMVE
OMVE Netherlands, a member of the Food Valley organization, specializes in developing and manufacturing miniature and pilot-scale liquid processing equipment. Among the equipment offered is a complete aseptic integrated process line consisting of open product vessels with agitator or closed double-jacketed multi-purpose process vessels; heat-treatment systems (tube-in-tube, plate, and scraped-surface heat exchangers, steam injection, continuous-flow microwave); in-line homogenizer and deaerator; and buffering or fermentation section with its own clean-in-place or sterilize-in-place system.
---
Universities Offer Development Facilities
The following are among the latest universities offering their facilities for process and product development by companies.
• Rutgers University opened its Food Innovation Center (www.foodinnovation.rutgers.edu) in Bridgeton, N.J., in October 2008 and expects to make it available to clients this month. According to its director, Lou Cooperhouse ([email protected]), the new 23,000-sq-ft facility will greatly expand the university's capabilities and enable the design, development, marketing, analysis, commercialization, and ongoing manufacture of food products by its clients.
The USDA- and FDA-inspected facility, he said, will enable the production of a variety of value-added agricultural and food products. It features a microbiology lab, chemistry lab, test kitchen, sensory analysis and focus group capabilities, four processing and packaging areas; blast chilling and freezing capabilities; and refrigerated, frozen, and ambient storage. The facility also includes various miniature processing equipment.
• The University of California, Davis recently selected a design-and-build team for a teaching and research Winery, Brewery and Food Science Lab facility, expected to be completed by fall 2010. According to John M. Krochta ([email protected]), Professor in the Dept. of Food Science & Technology, the facility will contain a food processing lab and a milk processing lab and will be built to food- and dairy-food-grade standards. He said that because of cost and space limitations, they are seriously looking at purchasing miniature-scale equipment. The facility will be available to companies to help them develop new products and processes.
Miniature-scale equipment, Krochta said, is a viable option for university teaching and research labs. Such equipment is of particular interest because it is lower in cost than traditional pilot-scale equipment; requires less raw material, energy, and water; produces smaller amounts of product; has high mobility and flexibility, features comprehensive instrumentation and data-logging capability; is cleanable in place; and has the ability to produce edible products.
by Neil H. Mermelstein,
a Fellow of IFT, is Editor Emeritus of Food Technology
[email protected]