The concept of anchoring food product development with consumers has evolved over the years. Reviewing classic marketing, marketing research, and sensory research books published over the past 35 years suggests that the mindset in the 1970s was to sell products to people and to find ways to influence their purchase decisions. We really do not see much change in this "push" approach to the consumer until the late 1980s and the advent of processes like Griffin & Hauser's "The House of Quality" (1988) and the creation of the term VOC—voice of the consumer.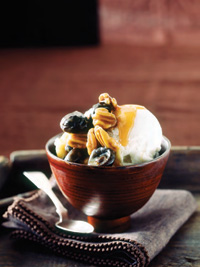 This drive to embrace consumers and both their needs and wants was being driven home to us by the end of the 1990s and is characterized by the now classic book by Pine and Gilmore (1999) titled The Experience Economy. Today, when we compare Philip Kotler's Marketing Management index for the 13th edition (2009) to his 3rd edition (1976), it is clear that we have come around to looking at the consumer a bit differently over time.
But why does this matter to the creation of compelling foods and, in particular, dairy foods and dairy textures? In a world (developed nations, for the purpose of this article) in which adequate supply of goods and materials is really not the concern, but rather demand is the key factor, having good-tasting food is expected. Running classic drivers of "liking" research using design of experiments might be intellectually fun. However, knowing what drives liking today is just the beginning.
To succeed in the commercial food business today, people have to want to buy your offer and buy your offer again and again.
And why is that important? Today, if people do not find something about your product that they cherish and desire, there are a lot more of those products they could purchase available at a range of prices. Finding factors to compel your product to be purchased over another is essential. And many companies need not only to generate purchases but to have those purchases occur within a price-point range that allows for profitable returns. 
Consumer Links Are Critical
As a result, clearly understanding how to link the factors of a product to the functional, behavioral, and emotional needs and wants of the consumer can help any manufacturer. In the book Sensory and Consumer Research in Food Product Design and Development by Moskowitz et al. (IFT Press, 2006), a model is presented that suggests that manufacturers that are knowledge-centric have the potential for the most efficient processes and success with their new product development initiatives. These are the manufacturers who are active with updating the consumer inputs into their product design and are aggressive with the use of "language mapping" to link VOC to product design. In Figure 1, Integrating the Experience (Moskowitz et al., 2006), what we see is that there are many factors that must link together for understanding of a person's experience with that product. Many times in the past and in certain classic approaches to the consumer, we have tended to forget that they see the whole product and, therefore, that combining approaches that link listening, visualizing, observing, and connecting with an individual or group is essential for the creation of truly compelling products.
Cutting Through the Conversation
Being able to construct knowable responses to a product offer and to anticipate or hypothesize what those responses might be (yum, yuck) allows a product developer to better manage the relationship they must have with their other business partners (marketing, manufacturing, sales, etc.). When we focus on dairy foods, many of their overall properties, including texture, are the essential factors of "craveability" or heightened desirability.
--- PAGE BREAK ---
Exploring the idea of cheese with this perspective in mind (see Figure 2), we encounter many factors that engage all of our senses, plus our emotions. If we look at these words—gooey, pungent, wine, party, drippy, warm in mouth, smooth on tongue, and warm, me—we see a picture that links, one into the other, the idea of a gooey cheese, with a pungent flavor, that is warm in the mouth. The smoothness (and warmth on tongue) goes on to make the person warm and, perhaps, comfortable. The drippiness of the cheese creates play value along with the experience of this food at a party with friends and the enjoyment of wine, which boosts pleasure as the feelings, aromas, and tastes combine to create truly personal experiences, according to Moskowitz et al. (2002).
Embracing the Consumer Voice
In the past, food scientists would say that the complete description of cheese as previously outlined might be important for marketers, but not for them. They need only create the products that create the situation. But what if you modify the cheese in such a way that it does not drip? What if that beautiful melt you see in Figure 2 is too short or too long or solidifies too quickly? Well, it is still salable. And it might not be significantly different in a preference test conducted in a white booth in your sensory department, but it might be the worst cheese for that special party, and it might just be a reason that a host or hostess feels you have ruined their party. How often do we consider that the consequences of the product changes and the impact specifically for cheese texture could ruin an event? But it could, and it has, and maybe it won't in the future if we remember that this all links to the consumer experience.
So the dilemma today for food scientists is to figure out how to understand the entire experience so that they can find ways to create delightful products that compel repeat purchases along with helping direct the marketers to communicate the benefits in ways that are both understandable and unique enough to generate the "Look. Look again." effect. (The preceding phrase was developed and is used by The Aldrich Museum of Richfield, Conn.)
Putting Products in Context
Linking to the consumer is driven by the three Cs—context, culture, and communication. Context refers to the context in which the consumer will use your product and compare it to other items. Culture describes consumer culture and the events going on in consumers' lives.
And communication alludes to creating—how to create ways in which the consumer can understand your product so that they are interested in trying it and, once it is purchased, understand the role that product can play in their lives.
Over the past 10 years, most product researchers have found that understanding how a product works in a consumer's life is critical. But this was not always the case. Exploring textbooks for sensory and market research and food science from the 1970s suggests that there was a much more segmented approach to thinking about consumers and food research. Sensory labs did not necessarily worry much about different segments of people—since it was believed that all of those factors could be controlled. Market researchers felt that simply by getting a large enough sample in a variety of locations and having people use the product in their homes, they would get the "right" answers. While many individuals still subscribe to these classic approaches, some of us feel that the high failure rate of new product introductions in the marketplace has some relationship with this rather static approach to consumer understanding around context.
--- PAGE BREAK ---
• Context. Today we are seeing many more advocates of combinations of testing strategies, which include both in-context (i.e., homes, site of use, simulated situations, phenomenology) approaches with more standard design-of-research, quantitative testing. These combined approaches allow consumer and sensory researchers to build a much more solid case for understanding why they get the results they do so that product design and developers can be more sure of their judgments.
• Culture. When we begin to step away from the lab settings, what becomes clear is that the culture is another factor that filters the consumer understanding of our products. Products are not immune to changes in the economy or "green" movements. Governments can have enormous impact on when the average person gets concerned about an ingredient or dietary practice (think sodium content and trans fats). What is required for effective product research is not to simply read about fads, trends, and events, but to consider how and why these factors might matter to the product design. That is where true linkage between the consumer and product research comes in. And this needs to be done all the way through the development process, not just with the market researcher assigned to trend tracking.
• Communication. Communication is two way and is shaped a lot by both context and culture. Products can quickly be reframed as poor and unhealthy, just by simple comparisons to other products. Let's use crackers and potato chips as an example. As food scientists, we can look at a bag of most major brands of potato chips and see that they have a few simple ingredients and have been reformulated over the years to have good fats and reasonable salt levels. As for basic crackers we grew up with, by their design, they generally require many more ingredients and contain no better ingredients than chips. But we all know which one is a "good" snack and which one is vilified. While there are other properties associated with both chips and crackers that drive the healthier/unhealthy debate, what is clear is that as new products come to market and as current products are redesigned, it is essential that we communicate both through the product experience and the market message what the product is about so people can trust the message.
The comic illustration featured as Figure 3 reminds us that we need to honor what people tell us when we ask them for their opinion and that twisting their wants to meet our own needs is not necessarily the best way to have an authentic, two-way dialog.
"Consumption is a subjective state with consumer behavior rooted more in the consumption experience than a snapshot decision based on feature and benefit analysis," according to a Journal of Consumer Research article by Morris Holbrook and Elizabeth Hirschman (1982). In the article, which is titled "The Experiential Aspects of Consumption: Consumer Fantasies, Feelings and Fun," the authors conclude it is more valid to look beyond the product to how it impacts consumers' lives.
Understanding Dairy Deliciousness
In our image of ice cream, we meet one of America's most craveable foods. And the primary reason for that craveability is the dairy texture, but it also is how connected this product is to our memories. Most of us have childhood remembrances of ice cream. For author Jacqueline Beckley, who grew up in Southern California, it was a special trip from the San Fernando Valley to Beverly Hills to an ice cream shop called Will Wright's (quite a distance in the blue Plymouth sedan).
--- PAGE BREAK ---
"I can remember all of the stripe colors (red and white), the ice cream parlor marble and wire tables and chairs, the single scoop of thick, slow-melting ice cream that was delicately placed in scalloped glass serving cups," Beckley recalls. "You could get this dark, rich chocolate sauce like none other, which came out of a heated metal cup and was poured slowly over the ice cream. The combination of the warm and the cold was so thrilling to my young mouth.
"And it was a special place with the special shoes and the nice dress with the bow and my Dad," Beckley continues. "The best ice cream was vanilla, and there was one more thing—a little round macaroon cookie in a small paper sleeve that you could eat with the ice cream or take home."
How different is this than the California Pinkberry store experience of today? Probably not much, really. But look at how detailed and intertwined the story and the experience are. Did the product developers and the marketers get it right when they recently created "slow-churned" low-fat ice cream? With this concept, they are taking us back to times past (or not so past) and using the specific elements of the dairy texture to communicate simple decadence.
Value diagramming is a tool many people use today to develop design specifications to create the links between product attributes they can control and the consumer experience they seek to capture. Figure 4 is an example of a value diagram for the Will Wright's story outlined here. See how easy it is to understand how the ice cream texture must link to drive the happiness of the experience.
The following list addresses what is required today for the creation of compelling dairy (or other) food product briefs by the lead food designers and developers.
• Visuals. How will the product be viewed and imaged by the consumer? What is that snapshot of your product that they will hold in their minds?
• Aural. What is the sound or the musical score that plays in the background of your product? What sounds does the product itself have?
• Linguistics. What is the language of your product? How does it get described?
• Narrative. What is your product's storyline? What is its history and its future?
• "Nots." What will your product not have? What will it not embody? And why?
• Genre. Drama, reality, fantasy, and more. What is the genre of your product? Will it be nostalgia or is it an uptempo theme?
• Archetype. Is your product a mother figure, a warrior … ? Or what part of the human myth will it drive toward?
And for truth, sustainability, and added business value, if you can create that factor that no one else has, we call it the PDS™ factor (product design space factor) or the "it" factor, which is your unique, ownable attribute that allows you to distinguish, trademark, or patent elements of your product design (think about DiGiorno self-rising pizza crust when it first came out or Reddiwip in a dispensing unit that makes highly distinctive sputtering sounds, or the highly valued product design of Johnsonville Brats).
Using the critical thinking we have described along with the more advanced and emerging consumer-connecting approaches can lead to more successful associations between the consumer and their products in the future.
Jacqueline Beckley, B.S., R.D., M.B.A., a Professional Member of IFT, is President and Chief Innovator of The Understanding & Insight Group, 3 Rosewood Lane, Suite 103, Denville, N.J. 07834 ([email protected]). Hollis Ashman, B.S., M.B.A., a Member of IFT, is Chief Strategist of The Understanding & Insight Group, 5281 Cascade Dr., Powell, Ohio 43065 ([email protected]).