What's for breakfast? The answer to that question might depend upon the decade you live in. Once upon a time, in an age of big breakfasts, it might have been three eggs, several strips of bacon, hash browns, and toast, all served in the comfort of your home. When I was younger, I remember eating a lot of hot cereals, fruit, and toast with jam. (That must have been an intermediate stage in the evolution.) Then there were the power breakfasts, especially popular in the 1990s. I'm not really sure what was eaten behind those closed doors, but I suspect the food itself probably had nothing to do with power. And, of course, more recently, convenience products such as cereal bars, juices, and nutrition drinks have been in the spotlight for their potential health benefits.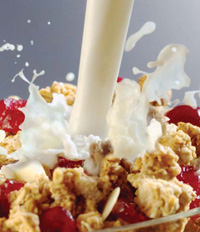 But what about today? What exactly would be considered a typical breakfast? The answer to that question is somewhat problematic, as the breakfast category, as well as our perception of breakfast, may be changing again, reinventing itself to meet the new day.
I mean just look around. From a fast food perspective, the Egg McMuffin, fi rst introduced in 1972, is just one of many breakfast options available today. In November, McDonald's launched its newest breakfast choice, McSkillet Burrito, consisting of scrambled eggs, sausage, and skillet potatoes with cheese, red and green bell peppers, onions, and salsa roja. According to the company, data shows a 42% increase in breakfast sales for the past five years.
The "Golden Arches" isn't the only one serving up breakfast anymore. Over the past year, Wendy's has expanded its breakfast menu. Taco Bell tested eight new breakfast items, including Southwest Sausage Burrito and a Sausage & Bacon Grilled Stuft Burrito. Burger King started testing BK Hold'Ems, a line of hand-held breakfast wraps. And establishments such as Starbucks, Dunkin' Donuts, and Panera Bread Co., have all gotten into the act as well, adding hot new breakfast items.
Hotels also are busy trying to build a better breakfast. Hilton, for example, recently unveiled its new "Hilton Breakfast," a color-coded buffet and menu that labels more than 80 items according to five different categories: "low cholesterol," "low fat," "high fiber," "low calorie," and "indulgence." The Hyatt Regency offers a "Signature Breakfast," which includes French press coffee, smoothies served in 2-oz shot glasses, and dishes such as poached egg casserole and chipotle-infused corned beef hash.
Formulators of processed foods can get some interesting ideas from the breakfast concepts being launched in the foodservice and fast-food sectors. Many of these innovations seem to translate very well to home kitchens. The time it takes to wait in line for your food and find a spot in a crowded room can be easily used in microwaving a convenience food similar in taste, texture, and appearance.
--- PAGE BREAK ---
And food manufacturers are indeed developing interesting concepts, as demonstrated by the Kellogg Co., which launched a number of breakfast products in 2007. Here are a few examples. Cocoa Krispies ChocoNilla cereal fuses chocolate and vanilla flavors. Eggo Stuffed French Toaster Sticks come in two toppings—Maple Syrup and Strawberry—while Eggo Buttery Maple Syrup Minis combine two flavors in a mini Eggo waffl e. Pop-Tarts are available in two new flavors—Hot Chocolate, which offers the flavors of hot chocolate and marshmallows in every toasted bite, and Strawberry Cheese Danish, which incorporates the flavors of strawberries and cream cheese. Morningstar Farms Breakfast Starters Classic Scramble is a mixture of crumbled veggie sausage, red potatoes, diced peppers, and chopped onions, with consumers just adding eggs to complete the breakfast. New Smart Start Cinnamon Raisin cereal contains crunchy, cinnamon toasted oat bran flakes, with raisins. (Smart Start is claimed by the company to be the first nationally available cold cereal to contain ingredients that may help lower both blood pressure and cholesterol.) Special K Protein Meal and Snack Bars can help consumers meet their weight-management goals.
There is, of course, good reason why the breakfast category may be evolving. After all, today's formulators are looking, in particular, for ways to make foods healthier, such as reducing sodium or limiting fat; create products in a format that emphasizes convenience and have potential appeal to children and on-the-go consumers; and incorporate non-traditional flavors that can reenergize the perception of the products while reflecting a broader range of cuisines. All these different approaches can be applied to breakfast foods, helping to shape this category in directions that will better meet the needs of consumers.
If Shakespeare had been a food formulator today, he might have said something like, "There are more breakfast foods in heaven and earth, Horatio, than are dreamt of in your philosophy." At the time Hamlet uttered those immortal words, an incredulous Horatio probably was breakfasting on a cereal bar or a health beverage.
And the Great Bard—I mean Food Formulator— would certainly be correct, as we will soon see in this article. Breakfast puddings, fruit-flavored bacon, cereals made of amaranth, whole-grain cinnamon buns, savory breakfast breads, omelet in a pita form, and many other concepts demonstrate the growing potential for a wide array of breakfast foods that can offer both convenience and nutrition to the consumer.
This Ingredients section will look at a number of ways that breakfast foods may be re-emerging—or shall we say reawakening—as a category, moving beyond items such as cereal bars, juices, and health beverages that have dominated this category in recent years. It will focus, in particular, on a number of exciting ingredient developments, such as whole grains, fruits, savory flavors, healthier oils, and proteins, and how these ingredients can help breakfast foods rise (and shine) to the occasion.
--- PAGE BREAK ---
A New Dawn for Grains of Antiquity
Ancient Grains—a new line of flours, multigrain blends, and seed inclusions—can provide breakfast foods with a number of benefits associated with whole grains. The product line from ConAgra Mills, a food ingredients brand of ConAgra Foods, Omaha, Neb. (phone 800-851-9618, www.conagramills.com), is said to offer a consistent, reliable, high-quality supply of these specialty grains that in recent times have been underutilized in Western nations because of sourcing difficulties and other challenges.
At the 2007 International Baking Industry Expo (IBIE), where the line was introduced, I interviewed Mike Veal, the company's Vice President of Marketing, and Marti DeMoss, Integrated Marketing Communications Manager. We discussed the potential these ingredients have in optimizing the appeal, functionality, sensory properties, and nutritional profile of breakfast foods, creating new concepts in this emerging category.
The gluten-free flours (considered 100% whole grain) are milled from amaranth, millet, quinoa, sorghum, and teff. Amaranth, native to the Americas and valued by the Aztec civilization, is a very small, light-colored grain with an appealing peppery flavor that works well in ready-to-eat cereals and baked goods. Millet, a staple in India and common in Africa where it was domesticated more than 4,000 years ago, is a small, pale, yellow-round grain that has a mild flavor, is ideal for blending with the flours of other grains, and may be used in flatbreads. Quinoa, indigenous to South America where the Incas praised it as the "mother of all grains," is small, light-colored, and round with a nutty earthy flavor that complements breakfast cereals and artisan-style breads. Sorghum, originating in Africa, is a medium-sized round grain with a mild, lightly sweet taste that melds well with other flavors and can be used in flaked cereals and baked goods. Teff, a foundation of the Ethiopian diet, is a tiny, ivory-colored grain whose lightly sweet, molasses-like flavor makes it especially suitable for waffles and pancake mixes, breads, and baked goods.
Multigrain flours are available in two whole-grain versions: 5-grain (amaranth, millet, quinoa, sorghum, and teff) and 9-grain (amaranth, millet, quinoa, sorghum, teff, rye, oats, Ultragrain wheat, and Sustagrain barley).
In addition, flour made with six whole grains (amaranth, millet, quinoa, sorghum, teff, and Ultragrain wheat) or with nine whole grains may be blended with Kyrol refined wheat flour, creating a product containing 55% multigrain and 45% premium enriched wheat.
An eight-whole-grain and seed mixture is made with crushed wheat, chopped rye, millet, Sustagrain barley flakes, cornmeal, chopped oats, flax, and sunflower seeds. This coarse whole-grain blend can be added to dough or topically to provide texture and eye-catching appearance.
--- PAGE BREAK ---
Several prototypes were highlighted using ingredients from the Ancient Grains line. For example, artisan-style breads contained 5-grain whole grain flour and 8-whole grain and seed mixture. Other applications available for sampling included pita chips, pan breads, and flatbread pizza. These applications demonstrate how different flavors, textures, and visual appearances can be created using a particular flour or flour blend, explained Veal. He noted that the selection of the flour depends on the desired application and customer need.
"When working with flours made from whole-grain blends, one might expect that their texture could be heavy," added DeMoss. "But this is not the case, as these products demonstrate. Our new Ancient Flours are very versatile, creating softer textures when needed as well as providing desirable organoleptic properties that might not be expected from whole grains."
This line of ingredients with its emphasis on antiquity is one approach that can be taken to promote whole grains and their role in future product development, especially in breakfast foods. This article will next look at other whole-grain developments that may be shaping the breakfast category.
Whole Grains Rise and Shine
Here's an easy riddle. What breakfast food can be served hot or cold, is a good source of whole grains, eaten from a bowl, and comes in a variety of flavors or inclusions? You might quickly answer cereal or oatmeal. And usually you would be correct, but not in this case. Now, try Whole-Grain Breakfast Pudding, a prototype developed by David Michael & Co., Philadelphia, Pa. (phone 215-632-3100, www.dmflavors.com), and demonstrated at its 2007 Innovation Roadshow.
An alternative to cereals, this convenient, portable product uses a blend of seven grains—whole-grain wheat, rye, oats, triticale, barley, rice, oat bran, and flaxseed. One serving provides 2 g of fiber and 10 g of whole grains, making for a healthy, satiating way to start the morning. The product, which can be served in shelf-stable, ready-to-eat packaging or in dry format to be reconstituted, is available in such flavors as Natural Banana Flavor Pecan Spice Type and Natural Cappucino Maple Flavor WONF.
This formulation is only one of several new breakfast concepts that highlight the use of whole grains. Many of these were introduced at IBIE. Take, for example, a cake doughnut made with whole grains, introduced by General Mills Bakeries & Foodservice, Minneapolis, Minn. (phone 763-293-1273, www.generalmillsfoodservices.com). Or an Organic 7-Grain Bread from Kerry Ingredients, Beloit, Wis. (phone 608-363-1200, www.kerryamericas.com), made with whole grains and a yogurt powder that smooths out grainy flavor.
--- PAGE BREAK ---
Cargill, Wayzata, Minn. (phone 952-742-7575, www.cargill.com), introduced a prototype, Maple Brown Sugar Breakfast Cookie, which provides 8 g of whole grains and is an excellent source of fiber. The cookie features two ingredients from Horizon Milling, a Cargill Foods affiliate: GrainWise™ wheat aleurone—a natural, concentrated source of the essential vitamins and minerals found in whole grains—and WheatSelect® white spring whole wheat flour which is 100% whole wheat, but gives products more of the lighter color, softer texture, and milder flavor of white flour that appeals to many consumers.
Other breakfast concepts from Cargill included Seven-Grain Bread, made with enriched unbleached wheat flour and granola (wheat, oats, triticale, barley, amaranth seed, rye, and corn meal) that delivers 13 g of whole grains per slice, and Whole-Grain Brownie, made with WheatSelect™ white spring whole wheat, cocoa powder, shortening, canola oil, eggs, and other ingredients that combine an indulgent taste with 7 g of whole grains per serving.
I don't know about you, but when I think of a sweet gooey breakfast item, a cinnamon bun quickly comes to mind. Watson, Inc., West Haven, Conn. (phone 203-932-3000, www.watson-inc.com), demonstrated how potential health benefi ts can be added to such an indulgent treat by developing a prototype whole-grain version. Whole-Grain Cinnamon Bun and its filling are formulated with mixes to provide 8 g of whole grains per 1-oz serving. The bun is also fortified with a premix of vitamins and minerals, including vitamin A, calcium, iron, vitamin C, riboflavin, and several others.
Earlier, this article discussed a number of breakfast concepts formulated with ConAgra's new line of Ancient Grains that promoted the value of whole grains. At IBIE, the company also showcased Belgian Waffles and Blueberry Muffins made with Ultragrain 100% whole-wheat flour. This ingredient delivers the nutritional benefits of whole grains with a taste, texture, and appearance similar to traditional refined white flour products. The company added to this line by developing 30% and 55% blends of enriched white flour with Ultragrain wholewheat flour, creating additional opportunities in formulating.
National Starch Food Innovation, Bridgewater, N.J. (phone 800-797-4992, www.foodinnovation.com), recently introduced a whole-grain flour that may be used in the formulation of breakfast foods. Hi-maize® whole-grain corn flour, made from a specialty hybrid high-amylose corn, is said to provide a dietary fiber content of 33% per 100 g, nearly triple the level delivered by wholegrain wheat flour and whole-grain oats. The ingredient offers a number of functionality benefits as well. It can add crunch and long bowl shelf life to cereals, enhance the crust texture of hard rolls and artisan breads, and add desirable eating qualities to whole-grain cookies.
As a way of adding whole-grain benefits to such breakfast foods as cereals, nutrition and cereal bars, and healthy crunch toppings, Cereal Ingredients, Inc., Leavenworth, Kan. (phone 913-727-3434, www.cerealingredients.com), created Nutri-Bites® whole-grain balls. Produced through twin-screw extrusion, these ingredients are made from a variety of multigrain flours, are spherical in shape, and are available in three popular sizes. Size, wholegrain composition, color, texture and density, and fortification can be customized according to needs.
--- PAGE BREAK ---
Meat a New Day
The 2007 December Ingredients section looked at a variety of ingredient developments for meat applications. Some of these developments are especially applicable in breakfast foods where they can have an important influence on this evolving category. Take, for example, liquid smoke. We saw how it was used in a number of creative ways in microwavable bacon. Mastertaste, Inc., Teterboro, N.J. (phone 201-373-1111, www.mastertaste.com), demonstrated the benefits of its newly launched line of Artisan smoke products, which offer combinations of smoke flavor with apple or maple flavors to recreate the bacon-eating experience. Furthermore, topically applied smoke products can impart distinctive color to the bacon, ranging from blackening it to providing a reddish hue. And Red Arrow Products Co. LLC, Manitowic, Wis. (phone 920-769-1100, www.redarrowusa.com), spiced breakfast up a bit by serving up prototypes such as Sweet Applewood Smoked Microwavable Bacon with Natural Chipotle Flavor, Hickory Smoked Microwavable Bacon with Natural Jalapeno Flavor, and Maple Smoked Microwavable Bacon with Natural Maple Type Flavor. For other developments that can apply to breakfast foods, please see that article.
How about a new alternative breakfast food? Savory Focaccia Breakfast Bread, a prototype from Kerry Ingredients, Beloit, Wis. (phone 608-363-1200, ww.kerryamericas.com), can help put a morning spin on a popular dinner item. A hand-held food, this artisan focaccia is dotted with soy-based sausage analog pieces, drizzled with olive oil, and topped with a seasoning that contains oregano and sage spices. According to the company, this frozen bread product has a light, crispy texture and a savory flavor, and serves as a convenient option for breakfast on the go.
Or how about an organic, low-sodium sausage? This prototype, developed by Wixon, Inc., St. Francis, Wis. (phone 414-769-3000, www.wixon.com), uses a salt substitute from the company. The product, Sea Salt KCLean Salt, is a proprietary blend of spices and seasonings that reportedly delivers the properties of regular salt with half the sodium.
For those wanting kosher, here's a product recently introduced into the marketplace. Hebrew National® Breakfast Sausages, a branded product of ConAgra Foods, Inc., consists of 100% pure kosher beef and offers an alternative in a market dominated by pork. These fully cooked, refrigerated sausages come in three varieties—original, maple, and 25% reduced fat. They can be served alone, with eggs or other dishes, or as an ingredient in burritos, omelets, and other breakfast items.
A number of other products have been recently launched into the marketplace. Sara Lee Corp. introduced its Jimmy Dean D-Lights, frozen breakfast sandwiches that stack egg whites and cheese with turkey sausage, Canadian bacon, or Black Forest ham. Bar-S Foods Co. introduced several varieties of fully cooked sausage links for heat and serve, including smoked, maple, sage, ham-flavored, and turkey.
--- PAGE BREAK ---
Oily to Rise
Breakfast foods are presenting new opportunities for such developments as trans-fat free shortenings, omega-3 fatty acids, high-stability oils, and other lipid-based ingredients. Earlier, this article discussed the potential of whole grains in breakfast foods, and some formulators are developing concepts that combine the benefits of healthier fats and oils with whole-grain ingredients. For example, Kerry Ingredients developed omega-3 flax crackers, which may be suitable as a better-for-you breakfast snack.
A blend of milled flaxseed and fish oil, MeadowPure™ Omega 3 Ultra, may be incorporated into juices, oatmeal, pancake mixes, tortillas, breads, muffins, and other foods suitable for breakfast. The ingredient, which provides the benefits of three omega-3 fatty acids (ALA, DHA, and EPA), was introduced by Pizzey's Milling, now renamed Pizzey's Nutritionals after its acquisition by Glanbia, an Ireland-based dairy ingredients company. According to the company, the very high antioxidant content of the flaxseed allows it to act as a natural stabilizer for the fish oil, which would otherwise be vulnerable to oxidative breakdown. With a shelf life of up to a year, this ingredient does not compromise the taste or smell of the food that it has been added into. For more information, contact the company at 847-244-7133, www.meadowpure.com).
According to Nova Scotiabased Ocean Nutrition Canada Ltd. (phone 888-980-8889, www.ocean-nutrition.com), its MEG-3® brand omega-3 EPA/DHA food ingredients are penetrating the marketplace in Canada. Some examples which may have potential in the breakfast category include a shelf-stable orange juice, a drinkable yogurt, and a powdered beverage mix.
A new line of shortenings from Loders Croklaan, Channahon, Ill. (phone 800-621-4710, www.croklaan.com), provides a trans-fat-free option for lamination products such as croissants, danishes, and other breakfast pastries. The shortening, SanTrans™ Roll-Rite, was developed to maintain the integrity of each layer of lamination in the dough, providing a more uniform product that is both smooth and consistent. It rolls out easily without breaking into pieces when cold, but is firm enough that it won't seep into the dough when it becomes too warm.
Cookie and doughnut concepts from Cargill highlight the use of healthier fats. A gluten-free peanut butter cookie indulges consumers with the taste and texture of a traditional cookie but contains zero grams of trans fat. The cookie also features the company's TransAdvantage® shortening, a low-trans alternative to traditional shortening. A doughnut solution delivering zero grams of trans fat per serving without sacrificing taste was developed using a number of specialty oils and shortenings, including TransAdvantage shortening systems and flakes, Clear Valley® shortening systems, Odyssey™ high-stability oils, and others.
Cargill recently expanded its Clear Valley line of high-oleic canola oil products to include an all-purpose shortening, doughnut shortening, and icing shortening. The company previously sold those shortenings under the TransEND 390 brand name. In March 2007, The Pennsylvania State University Center for Food Innovation conducted a sensory evaluation study on behalf of a northeastern U.S. grocery store chain comparing consumer acceptance of doughnuts fried in Clear Valley (trans-fat-free per serving) doughnut shortening to doughnuts fried in shortening containing trans fats. "The CFI study's panelists noted no significant differences between the doughnut samples in terms of appearance, taste, texture, overall liking, color, and sweetness," said Peter L. Bordi, CFI Director. "Furthermore, a majority of the panelists indicated an overall preference for the doughnuts made with Clear Valley shortening."
--- PAGE BREAK ---
Egging Breakfasts Forward
As breakfasts evolve as a category, eggs continue to play an important role as an ingredient. A number of recent introductions into the marketplace support this. Hungry Jack® Pancake and Waffle Mix, Jimmy Dean Skillets and Breakfast Bowls,Kangaroo Cheese Omelet Pita, Bob Evans Breakfast Bake, Boca Breakfast Wraps, and Bob Evans Snackwich® English Muffin are just a few examples of convenience products that make use of egg as a central ingredient.
Versatility is one reason why the egg not only holds its own in the breakfast category, but provides an impetus for future product development. Just take a quick look at the 2008 calendar from the American Egg Board, Park Ridge, Ill. (phone 847-296-7043, www.aeb.org), to get a few new ideas about creative breakfast concepts. These include Scrambled Egg and Chicken Wrap, Peppy Pizza Omelet, Pineapple Egg Blintz, Breakfast Panini, and Benedict Strata. And I thought fried eggs served on toast was innovative.
Egg products come in a variety of forms—another important factor when formulating breakfast foods. For example, frozen egg products may be an option for some formulators. The functional properties of frozen egg products are minimally affected by freezing. Depending on the egg product, thawed frozen egg products can provide rich flavor, color, and texture as well as functionality properties.
Egg products incorporated into prepared and packaged foods can increase high-quality protein content while contributing virtually no trans fatty acids. Furthermore, studies are looking at the role that eggs can play in weight management. According to The Eggsaminer (Summer 2007), a quarterly newsletter for food manufacturers from AEB, a new randomized control study presented at Experimental Biology 2007 in Washington, D.C. reported that eating eggs for breakfast as part of a reduced-calorie diet helped overweight women lose more weight and feel more energetic than those who ate a bagel breakfast. The study, conducted at Louisiana State University's Pennington Biomedical Research Center, confi rms previous findings, published in the Journal of the American College of Nutrition.
Other studies exploring the importance of eggs in breakfast foods are also being initiated as well. For example, Tufts University, Medford, Mass., is investigating the effects of an egg breakfast on school performance and cognition in children. The Pennington Biomedical Research Center is testing the effect of eggs for breakfast on maintaining a reduced body weight after weight loss.
Eggs can offer a variety of nutritional benefits in breakfast foods. Eggs contain all nine essential amino acids, as well as other amino acids. In total, 100 g of pure liquid whole egg product contains 12 g of high-quality, complete protein. Protein concentration increases when the egg product is dried, and it is especially concentrated in dried egg white. By using eggs in breakfast foods, formulators have the opportunity to promote their high protein content and the value that the protein brings to the diet.
Earlier, this article discussed the use of omega-3s in breakfast foods. One way of adding this component to foods is by using omega-3-enriched egg products. It is possible to enrich foods with omega-3 via bio-delivery. This is accomplished by feeding hens food products that contain omega-3s in order to enrich their tissues. Some food manufacturers are using egg products from such hens to formulate omega-3 fortified foods and there is potential for breakfast foods.
--- PAGE BREAK ---
New Whey to Breakfast
Well, we've already covered in this article meat and eggs—both sources of protein. But there are other sources as well, including dairy, soy, and grain. Let's look at a few examples of how these proteins can be used as ingredients in breakfast foods.
Cheese can lend its appealing flavor, texture, and functionality to the breakfast category. Dairy Management Inc., Rosemont, Ill. (phone 847-803-2000, www.innovatewithdairy.com), developed a number of innovative concepts. For example, Queso Breakfast Tamales are made with lively Mexican cheeses combined with spicy meats to make this a breakfast treat. Possible combinations might include Chili, Pepper Jack, and Queso Fresco; and Breakfast Sausage and Three-Cheese Blend (Queso Fresco, Cotija, and Sharp Cheddar). Or Stuffed Corn Muffins are filled with a savory cheese for a hearty morning treat. Possible fillings include Bacon & Farmer's Cheese, Chili & Cheddar, and Spicy Pepper Jack.
Whey proteins can provide important ingredient functionality in breakfast bars and drinks, including stability, clarity, flavor, and extension of shelf life. Emerging research shows whey protein is a high-quality protein that may also promote satiety, reduce high blood pressure, and positively infl uence muscle protein synthesis.
A new line of natural wheat proteins from Archer Daniels Midland, Decatur, Ill. (phone 800-637-5843, www.admworld.com), can enhance the delicate taste and fine texture of a number of breakfast foods, including nutrition bars, cereal coatings, whole-grain bakery products, and microwavable mixes. The product line—SmartBind™—provides a variety of benefits—it can increase protein, enhance structure, reduce sugar and fat, and provide an alternative to other proteins. At IBIE, the ingredients were showcased in a savory croissant, a chocolate muffin mix, and mocha-flavored frosting.
Oat and soy fibers from SunOpta Ingredients Group, Bedford, Mass. (phone 800-353-6782, www.sunopta.com), may be used in a number of innovative breakfast concepts, such as French toast sticks, high-fiber muffin tops, and yogurt smoothies. New Organic Soy Fiber P-710 may be formulated into sausage patties.
Crowing About Fruit
Recently, The Kellogg Co., Battle-creek, Mich., introduced Rice Krispies with Real Strawberries, a new cereal that combines the traditional product with real dehydrated strawberries cut into child-friendly pieces. New products such as this reinforce the opportunities that fruits have in cereals and other products. Moreover, the health benefits of ingredients such as fruits can be particularly emphasized in light of Kellogg's new internal standard, Global Nutrient Criteria. Using this standard, Kellogg will not promote foods to children under the age of 12 unless a single serving of that product meets certain health criteria.
--- PAGE BREAK ---
According to the U.S. Highbush Blueberry Council, Folsom, Calif. (phone 800-824-6395, www.blueberry.org), blueberries are an excellent way of adding sweetness, flavor, color, texture, and nutritional value in a variety of breakfast foods. For example, dried blueberries are popular in both dry and instant hot cereal products. Dried whole blueberries (natural or sweetened) are featured in granola-type cereals while freeze-dried blueberries are generally used in flaked cereals. Blueberries are becoming a staple ingredient in breakfast bars because of their antioxidant and anthocyanin content. Individually quick frozen blueberries are suitable as additions to waffles and pancakes.
A variety of cranberry options for use in breakfast foods are offered by Ocean Spray-Ingredient Technology Group, Middleboro, Mass. (phone 508-946-7606, www.oceanspray.com). Recently, the company launched its 2-mm by 4-mm double-diced sweetened dried cranberry. The ingredient enhances the visual appeal of such baked goods as muffins and cookies, while offering a more-uniform piece distribution in cereal bars.
The double-diced sweetened dried cranberry complements a wide range of cranberry solutions, including diced, soft and moist, less sugar and more fiber, and glycerated. The company's Berry Fusions™ Fruits, fruit pieces that combine sweetened dried cranberries with natural fruit flavors, can help deliver taste, texture, and color to cereals, baked goods, and other breakfast foods.
A new line of all-natural flavors from Mastertaste, Inc., Teterboro, N.J. (phone 201-373-1111, www.mastertaste.com), contains actual fruit parts high in antioxidants and nutrients. This range, called NutraFlavors™, is available in a variety of forms, making these flavors suitable for use in cereals, breakfast bars, smoothies, and other products. Current flavors include cranberry and grape, with other flavors in development.
A Fresh Start?
Over the years, breakfasts have evolved from very large, sit-down affairs to the more recent breakfast bars and nutrition drinks on the go. But I don't think the evolution has stopped there. Rather, just as every morning marks the beginning of a new day, so perhaps it would be a good approach to view the breakfast category with a fresh set of eyes.
Such an approach might mean borrowing elements from a traditional breakfast, including the sense of nostalgia, comfort, and even romanticism that surrounded such events, and combining them with more recent developments. Or it might mean translating traditional dishes into different formats, and in the process making them even more convenient. Or it might mean using exotic flavors or nontraditional combinations of ingredients to reinvigorate a particular breakfast item. The different breakfast concepts discussed in this article suggest that all these options are indeed possible.
Furthermore, the breakfast concepts described in this article as well as the ingredient developments used to make them a reality demonstrate that a wide range of exciting breakfast items are possible. If nothing else, they do tell us that there are more things in heaven and earth than breakfast bars and nutrition drinks. And once you start going down that path, almost anything is possible. New terms might even be coined. We've already come across innovative concepts such as "breakfast pudding," or "breakfast focaccia bread," but how about a "breakfast salad" that combines greens with eggs? Or since we've heard the term "artisan" associated with products ranging from breads to smoke flavors, perhaps "artisan breakfasts" can be created, evoking images of craftsmanship and high quality applied to a specific individual's tastes and needs to that first meal of the day.
--- PAGE BREAK ---
Well, those are just a few possibilities. When you wake up tomorrow morning, remember that it is a new day. Wipe the sleep from your eyes, stretch, and then start imagining. "What's for breakfast?" can indeed take on a whole new meaning to the fully conscious mind.
Next month's Ingredients section will look at different ways that formulators are bringing color to their food and beverage products.
---
Studying Cereal's Heart Benefits
Men who consume a higher amount of whole-grain breakfast cereals may have a reduced risk of heart failure, according to a report in the October 22, 2007 issue of
Archives of Internal Medicine
.
Researchers from the Brigham and Women's Hospital and Harvard Medical School analyzed the association between breakfast cereal intake and new cases of heart failure among 21,376 men (average age 53.7). Cereal intake was estimated by using a food frequency questionnaire and incident heart failure was assessed by annual follow-up questionnaires for an average of 19.6 years.
"Our data demonstrate that a higher intake of whole-grain breakfast cereals is associated with a lower risk of heart failure," the researchers concluded. "This association may be due to the beneficial effects of whole grains on heart failure risk factors such as hypertension, heart attack, diabetes mellitus, and obesity."
In a related story, Kerry Ingredients, Beloit, Wis. (phone 608-363-1200, www.kerryamericas.com), recently conducted a Healthy Cereal Study (October 2007) which found that 48% of the participants cited "keeping my heart healthy" as the most important benefit derived from eating healthy cereal. Weight management, cholesterol management, energy level, and digestive health maintenance round out the top five most frequently mentioned benefits.
The Kerry study also found that taste is the most important factor when consuming a cereal. This consideration is largely consistent across all levels of education, while nutrition, ingredients, and health advantage are considerations that tend to grow in importance at higher education levels.
---
by Donald E. Pszczola,
Senior Associate Editor 
[email protected]