Many consumers take for granted the crunchiness of a potato chip or the creaminess of yogurt. But not the people at National Starch Food Innovation (phone 908-685-5000, www.foodinnovation.com). Their dedication, passion, and expertise in food texture have culminated in the creation of a Texture Center for Excellence at the company's Bridgewater, N.J., headquarters.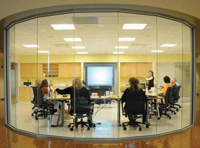 "The Texture Center has been developed to provide an inspiring workplace for our teams to work with and for our customers," said Joe Light, Sr. Director of the Customer Solutions and Product Innovation Group, at a grand opening ceremony in June. "The facility is home to our sensory, culinology, consumer insight, and automated texture measurement capabilities."
According to Light, the key benefits of the multi-million dollar facility include:
• An enhanced ability for consumer insight and to incorporate those learnings into the development process;
• A stronger link of consumer and customer texture language to our development process;
• An enhanced rapid prototype development process, where culinary and food science capabilities are fused into the culinology team;
• An ability to rapidly measure texture with a new automated system that will enable faster ingredient design and faster/better food formulation.
The Texture Center features a customer welcome center, descriptive analysis room, sensory testing booths and preparation kitchen, consumer focus group room with observation area, culinology kitchen and product demonstration area, and a laboratory housing automated texture characterization equipment.
As part of its sensory capabilities, the Texture Center translates consumer insights/experiences into a precise technical language that can be understood and manipulated by food formulators and ingredient developers to create textures with excellent consumer acceptance. The company refers to its texture language or lexicon as "texicon."
Consumer insights are a key part of the product development process. National Starch utilizes a range of techniques to gather consumer attitudes and behavior, including focus groups, MIND (Mind through Image-based Narrative Discovery), product category appraisals, consumer surveys, and collaboration with market research firms. In addition to enhancing product development, this information helps the company's customers understand what marketing and label claims resonate the most with consumers.
--- PAGE BREAK ---
Consumer insights and descriptive analysis combined with a highly developed texture language enable National Starch to create texture maps of products (e.g., solids, semi-solids, and liquids) that provide valuable insight on key texture attributes such as crispy, smooth, crunchy, gritty, mouth-coating, meltaway, chalkiness, slipperiness, etc.
Scheduled to be fully operational by early next year, the automated experimental laboratory will house a variety of texture characterization equipment. The customized machinery and instruments will include powder/liquid dispensing, high- and low-shear mixing/ cooking, high-viscosity shear processing, viscosity measurement, swelling volume testing, and gel strength measurement. The ability to program tasks and automatically collect data will speed sample throughput and result in faster ingredient and finished product design.
The culinology team combines applications development (e.g., technology, stability testing) with culinary creation (e.g., food trends, preparation techniques) to develop prototypes. In addition, the team offers training seminars and workshops on culinary trends, ingredients, and recipes. The training can take place at the Center or at the customer's facility.
In addition to being an integral part of the work and activities at the Center, texture is also a function of the design and aesthetics of the facility. Different types of textures represented by an array of different materials—from rough stone and hard steel to smooth glass and multilayered bamboo to cork and soft linen—are designed to evoke a sensory experience. "The facility has a modern, open feeling, which encourages freer thinking and interaction. The style is meant to be more natural and organic with earthy and vegetation-like colors and tones," said Light.
Culinary Demonstrations
As part of the grand opening ceremony, wd-50's Wylie Dufresne, Chef/Owner, and Alex Stupak, Pastry Chef, demonstrated how they use starches in their New York City restaurant to create avant garde cuisine with unique and unusual textural properties. "We have a lot of fun with texture," said Dufresne. "We take the familiar and present it in an unfamiliar form."
One of these products is Eggs Benedict, which consists of hollandaise deep-fried in English muffin breading and topped with egg yolk and Canadian bacon. Dufresne uses gellan gum and Ultra-Sperse M cold-water swelling starch to form the hollandaise product. He also described the preparation of a puffed snack product using a combination of tapioca and waxy maize starch.
--- PAGE BREAK ---
At the event, Stupak demonstrated a soy milk soup utilizing lecithin, xanthan gum, and modified tapioca starch. These ingredients alter the texture of the soy milk and achieve a creamy mouthfeel without the fat, said Stupak. The starch stabilizes the foam, which negates the need to re-blend the product throughout the day.
Stupak also demonstrated the use of N-Zorbit tapioca maltodextrin in a caramel/ toffee product. Upon mixing in a food processor, the starch and caramel turn into a powder. It turns back into a caramel product in the consumer's mouth, said Stupak.
Stupak's final culinary demonstration was a tempura product with Nutriose soluble fiber, which was used as a wheat texturant to replace 50% of the flour.
A champagne reception following the grand opening event sampled many of the canapes described and demonstrated by Dufresne and Stupak. The menu—created by National Starch's Janet Carver, Culinology Team Leader, Agnes Jones, Principal Culinologist, and Bethany Wissell, Development Chef, in conjunction with chefs Dufresne and Stupak—included Coconut & Curry Fried Gnocchi— creamy soft & chewy coconut gnocchi filled with a sweet hot Madras curry, Garbanzo Fries with Feta Cream & Kalamata Olive Powder—pureed garbanzo beans flavored with annatto & roasted garlic and cut into "fries" and deep-fried, Yuzu Puffs with Hamachi Tartare— light & crunchy starch "puffs" flavored with Yuzu powder and topped with a rich yellowtail tartare, Eggs Benedict—velvety smooth hollandaise deep-fried in an English muffin breading topped with egg yolk and Canadian bacon, Almond Polenta topped with a Wild Mushroom Ragu—Marcona almonds blended with an oil-absorbing starch to create a smooth "polenta" topped with an umami-laced wild mushroom ragu, Soymilk Soup with Sweet Potato Cream & Sassafras Foam—a non-dairy soy-based soup with creamy sweet potato and topped with an aromatic sassafras foam, Cocoa Tempura Bits with Chocolate Ganache— crunchy cocoa bites served with a chocolate sauce, and Caramel Powder with Smoked Cashew and Sea Salt—a caramel treat with creamy & salty cashews.
by Bob Swientek,
Editor in Chief
[email protected]