In early 2007, many dogs and cats in the United States were harmed or killed by ingestion of pet food adulterated with melamine and related compounds not authorized for use in pet food, animal feed, or human food. This resulted in recalls of more than 150 brands of pet foods and ultimately increased emphasis on the safety of imported foods.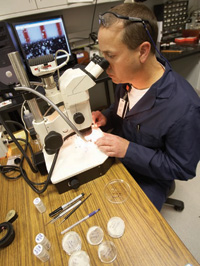 The most prevalent reason for adulteration of food and beverages is economic gain—substituting less-expensive ingredients for the primary ingredients. However, at times, adulteration has resulted in harm to humans and animals. The potential for intentional contamination of the food supply led to passage of the Bioterrorism Act of 2002, plans to protect the food supply from both intentional and unintentional contamination, and research to develop more-rapid methods for detection of adulterants.
The Melamine Incident
FDA investigated the pet food incident and found that two ingredients imported from China and used in manufacturing the pet food were fraudulently labeled as wheat gluten and rice protein concentrate but actually contained melamine and its analogs. The compounds were supplied by two Chinese companies to increase the apparent protein content in those products—protein content is traditionally determined by measuring the nitrogen content, and substituting a less-expensive nitrogen-containing compound such as melamine can save the suppliers money.
FDA stopped all shipments of vegetable protein products from China. No product can enter the U.S. until the importer proves to FDA, through results from an independent laboratory, that the product is free of melamine and related compounds.
In September 2007, the Food and Drug Administration Amendments Act of 2007 was signed into law (www.fda.gov/oc/initiatives/HR3580.pdf). A portion of the act relates to pet food safety. It requires FDA to, among other things, establish an early warning and surveillance system to help identify adulteration of the pet food supply and outbreaks of illness associated with pet food.
In December 2007, FDA and its counterpart in the People's Republic of China, AQSIQ, signed a memorandum of agreement to enhance the safety of food and feed imported into the U.S. from China. Chinese exporters must register with AQSIQ and agree to annual inspections to ensure that their goods meet U.S. standards. AQSIQ will notify FDA of those that fail inspection and why, and FDA will maintain an online list of registered companies.
Melamine Analysis
As soon as the problem with melamine was determined, FDA's Office of Regulatory Affairs issued two methods, developed by FDA's Pacific Regional Laboratory–Northwest PRLNW and FDA's Forensic Chemistry Center, for detection of melamine and related compounds in protein materials.
--- PAGE BREAK ---
In April 2007, FDA updated its high-performance liquid chromatography–ultraviolet method for measurement of melamine in wheat gluten and moist pet food (www.fda.gov/cvm/melamine04022007.htm). The technique involves grinding wheat gluten or blending moist pet food chunks and gravy, followed by extraction in water or hydrochloric acid, sonication, filtration, and measurement by HPLC–UV.
In May 2007, FDA issued an interim method for detecting the presence of melamine and related compounds in various matrices using gas chromatography/mass spectrometry (www.fda.gov/cvm/GCMSMelamine.htm). Samples are extracted using a mixture of acetonitrile/water/diethylamine, and the analytes are subsequently converted to trimethylsilyl derivatives for analysis.
In October 2007, PerkinElmer Life and Analytical Sciences, Waltham, Mass. (www.perkinelmer.com), introduced a GC/MS analyzer for the determination of melamine adulteration in protein-based foods. The Melamine Analyzer includes a Clarus® 600 T GC/MS with autosampler and TurboMass™ GC/MS software, all consumables needed for analysis, and an application CD. More information is available at www.perkinelmer.com/melamine.
• SERS. Mengshi Lin ([email protected]), Assistant Professor, Food Systems & Bioengineering, University of Missouri, Columbia, reported at the 2008 IFT Annual Meeting & Food ExpoSM on development of a method for detecting melamine and its analogs cyanuric acid and melamine cyanurate in grain-based foods using surface-enhanced Raman spectroscopy (SERS) coupled with gold nanosubstrates. Lin and his associate Lili He were able to detect trace amounts of melamine in gluten, chicken feed, and processed food and verified the results with HPLC protocols.
Lab Consortium Considered
AOAC International (www.aoac.org) is in the early stages of discussions with FDA regarding creating a consortium of testing laboratories to be certified to provide food testing for FDA. In February 2008, AOAC brought together representatives from dietary supplement, food and beverage, infant formula, test kit, contract laboratory, and instrument companies to discuss their analytical areas of interest and concern with Stephen Sundlof, Director of FDA's Center for Food Safety and Applied Nutrition and other FDA representatives.
Sundlof said that CFSAN does not have authority to accept the results of third-party laboratories and must rely on foreign governments to only export products from those companies that meet criteria compliant with standard operating procedures. Legislation to authorize FDA to accredit independent third parties to evaluate compliance with FDA requirements would allow FDA to allocate inspection resources more effectively.
Speaking at the 2008 IFT Annual Meeting & Food Expo, the President-Elect of AOAC International, Darryl Sullivan ([email protected]), Director of Scientific Affairs for Analytical Chemistry, Covance Laboratories, Madison, Wis., outlined the concept of the laboratory consortium.
--- PAGE BREAK ---
Presentations Address Adulteration
Other presentations at the 2008 IFT Annual Meeting & Food ExpoSM also addressed adulteration.
James R. Coughlin ([email protected]), President, Coughlin & Associates, Laguna Niguel, Calif., discussed the potential role of food toxicologists in predicting which toxic chemicals might be prime candidates for either deliberate or unintentional contamination of the food supply. The identification of food/ingredient vulnerabilities and the subsequent risk analysis and assessment could greatly assist in preventing contamination and help importers and regulators to target those imported foods and ingredients that pose the greatest risk to human health.
Also along these lines, Joseph A. Scimeca ([email protected]), Director of Global Regulatory Affairs, Cargill, Minneapolis, Minn., described toxicological approaches, techniques, and considerations involved in determining whether the level of a chemical contaminant and its degree of toxicity pose a significant risk to health.
Lawrence E. Platt ([email protected]), President, RQA Inc., Darien, Ill., described a methodology for following the progress of a contamination incident from the time a sample is identified to the completion of the analysis. The proprietary Web-based reporting system offers the food industry a reliable, real-time, interactive program for working with product contaminants.
Robert E. Brackett ([email protected]), Senior Vice President and Chief Science and Regulatory Officer, Grocery Manufacturers Assn., Washington, D.C., said that food companies are ultimately responsible for assuring that a system is in place that allows them to determine with reasonable certainty that the foods or ingredients they import are as safe as those that are sourced domestically. Some companies, he said, rely strictly on their own representatives to audit and inspect exporters to be sure that they are meeting company standards. Other companies employ trusted auditing or testing firms to act on their behalf to assure product quality and safety. Although both systems can work, he said, there is a need for a more-standardized process.
Jeffrey C. Moore ([email protected]), Senior Scientific Associate, U.S. Pharmacopeia, Rockville, Md., said that recent contamination issues, such as melamine in wheat gluten, have highlighted the need to improve the specificity of existing analytical procedures. Since the initial publication of specifications for food ingredients more than 40 years ago, new substances have entered the global food supply and new developments in manufacturing technologies, chemistry, and toxicology have required the continued elaboration of the specifications necessary to establish the quality and safety of ingredients.
--- PAGE BREAK ---
What Should Food Companies Do?
Obviously, the final responsibility for the safety of a food product lies with the company that produces it, and companies can test for adulterants/ contaminants using in-house or outside testing laboratories. Many testing laboratories offer their services, among them NSF International, Ann Arbor, Mich. (www.nsf.org); Silliker Laboratories, Homewood, Ill. (www.silliker.com); and Covance Laboratories, Madison, Wis. (www.covance.com), to name a few. Here's what they offer and what they said about what food companies should do to prevent distributing adulterated products.
• NSF offers testing for melamine and other toxins in raw materials, ingredients, and finished products, including those destined for export from China. NSF tests for melamine in processed foods, animal feeds, wheat gluten, rice protein concentrate, amino acids, and corn gluten using FDA analytical methods, namely, GC/MS and HPLC. NSF can test for many other contaminants, including heavy metals, pesticides, microbiologicals, and diethylene glycol in a wide range of product types.
According to Kerri LeVanseler ([email protected]), Technical Manager, Chemistry Laboratory, a manufacturer might incorporate screens for contamination into its raw material lot receiving procedures as a key element in its good manufacturing practice program. Testing prior to the utilization of a material helps to ensure that the final consumer product meets all quality requirements, she said.
This applies not only to the manufacturer of the finished product but also to companies that are involved in other points in the distribution system. For example, a company selling a product made by a contract manufacturer and sold under its own private label—as was the case with some of the pet food involved in the melamine incident—may want to conduct its own testing as well to help ensure the quality of the finished product.
• Silliker. According to Bill Ikins ([email protected]), Corporate Chemistry Director, Silliker uses FDA's GC/MS method to analyze for melamine, but it also has a liquid chromatography/MS method. The company offers a wide variety of methods for detection of other adulterants/contaminants in foods.
Ikins said that if a company is receiving a product from China, the company should consider a set of possible contaminants that it should screen for. These should include heavy metals, because of air pollution resulting from China's use of leaded gasoline; antibiotics in farm-raised seafood; and pesticides. Pesticides, he said, are a real issue, since there are a large number of very small farms in China. As a result, pesticides are applied in a wide variety of ways, creating many potential problems.
• Covance. Like other testing laboratories, Covance offers a full spectrum of analytical tests, including HPLC and GC/MS for melamine.
According to Wayne C. Ellefson ([email protected]), Senior Client Manager, manufacturers in the U.S. have extensive quality control systems in place, and we have therefore come to trust our domestic suppliers to a great degree. We can't automatically assume that suppliers/manufacturers in other parts of the world have the same degree of quality control. He recommends that companies try to audit all of their suppliers' production facilities and check for inconsistencies among them. Also, they should consider using an agent or consultant who is experienced in that industry in that country.
---
Protecting Against Adulteration
Section 302 of the Bioterrorism Act of 2002 directed the Secretary of Health and Human Services to, among other things, increase the number of inspections of food offered for import, with the greatest priority given to inspections to detect intentional adulteration.
In November 2007, FDA proposed a Food Protection Plan (www.fda.gov/oc/initiatives/advance/food/plan.html) to protect the nation's food supply from both unintentional contamination and deliberate attack. The plan proposes increases in FDA authority. Deadline for comments on the proposed plan is July 31, 2008 (http://edocket.access.gpo.gov/2008/pdf/E8-6833.pdf).
by Neil H. Mermelstein,
a Fellow of IFT,
is Editor Emeritus of Food Technology
[email protected]