The positive news is that a recent Centers for Disease Control study found that obesity rates remained essentially unchanged among boys and girls ages 2–19 from 1999–2006, indicating that the childhood obesity epidemic has possibly leveled off this decade after surging for about 20 years (Ogden et al., 2008). But not all news is good. The study also reported that 32% of children still fit the government's definition of being overweight, 16% are obese, and 11% are extremely obese.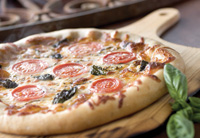 In addition to obesity and weight management, today's parents face other issues related to their children's health. Immunity, cognition, energy levels, healthy growth, and muscle building are also concerns.
"Proteins are essential, not only for growth and muscle building, but also satiety," says Ram Chaudhari, Senior Executive Vice President and Chief Scientific Officer, Fortitech Inc., Schenectady, N.Y. (phone 800-950-5156, www.fortitech.com). "Dietary fiber and antioxidants such as vitamins C and E for immunity protection, B-complex vitamins for energy, and omega-3 fatty acids for cognition: These are some of the major aspects we see as well as the ingredients being added to food and beverages that address these areas."
Weight Management and Satiety
Dietary fiber and protein play a role in satiety, preventing children from looking for more finger food and munching," says Chaudhari. Soy foods have high-quality protein to help keep weight off. In a review of studies looking at the relationship between soy foods and weight loss, Cope et al. (2008) concluded that soy foods are as good as other protein sources for promoting weight loss.
In December 2007, Solae LLC, St. Louis, Mo. (phone 800-325-7108, www.solae.com), commissioned a survey involving 1,000 consumers who ate breakfast at least 3 times per week. It showed 92% of parents "agreeing strongly/somewhat" that "will stick with" was an important attribute of breakfast food they chose for their children.
"The relevance of soy protein, in particular, to these needs, is its ability to deliver sustained energy and satiety benefits as a high-quality, plant-based protein," says Jean Heggie, director of marketing, Solae. "Consumers seeking the benefits of protein in the morning want to see those benefits in a lowfat, natural, and convenient form. Soy protein fits well in foods and beverages designed to deliver on those attributes."
--- PAGE BREAK ---
In addition to soy, a growing body of scientific research shows a connection between dairy food consumption and improved body weight and/or composition. Dairy Management Inc.™, Rosemont, Ill. (phone 800-248-8829, www.innovatewithdairy.com), reports that evidence indicates that the mix of nutrients found in dairy foods, especially calcium and protein, may be responsible for helping the body break down and burn fat.
Dietary fiber is believed to contribute to satiety, possibly due to its lower glycemic index. High-fiber and low-glycemic foods decrease energy intake and help to moderate fluctuations in blood sugar levels and suppress hunger longer.
One low-glycemic fiber, Litesse® polydextrose from Danisco USA Inc., Elmsford, N.Y. (phone 913-764-8100, www.danisco.com, www.litesse.com), can help in the manufacture of foods that are less calorically dense and have a lower glycemic response. According to the company, recent studies show that reduced-calorie foods made with Litesse impart an increased feeling of fullness. For example, King et al. (2005) showed that consumption of 200 g of yogurt formulated with 25 g of polydextrose for 10 days helped appetite control in a study with eight female and seven male volunteers.
Cognition
"Omega-3 fatty acids, phosphatidylserine, and choline are used in products for brain health," says Chaudhari. "B-complex vitamins, especially niacinamide, B-5, B-6, and B-12, have implications for brain health as well as energy."
Infant formulas and baby foods contain omega-3 fatty acids, such as docosahexaenoic acid (DHA). Nurture Inc., Brooklyn, N.Y. (www.happybabyfood.com), offers HappyBaby™ fresh-frozen organic baby meals that contain DHA to support brain and eye development. For older kids, General Mills Inc., Minneapolis, Minn. (phone 800-967-5248, www.yoplait.com), offers Yoplait Kids™ yogurt and yogurt drinks with 16 mg of DHA/ serving for brain development.
Omega-3 fatty acids, such as DHA, are especially important for infants and toddlers for proper brain development and function. Information from Martek Biosciences, Columbia, Md. (phone 410-740-0081, www.martekbio.com), states that certain studies have shown that infants who received optimal levels of DHA during gestation exhibited improved psychomotor development and improved mental processing scores at 4 years. As children age, omega-3s are believed to help reduce the symptoms of dyslexia and other learning and behavioral disorders.
--- PAGE BREAK ---
Phosphatidylserine (PS) is a natural phospholipid found in the membrane of the brain cells. Israel-based Lipogen Ltd. (phone +011-972-5445-22355, www.lipogen.co.il) recently designed a PS milk powder and an advanced delivery system for its PS for safe and effective use in infant formula and baby foods. Israel-based Enzymotec (phone +972-4-654-5112, www.enzymotec.com) offers InPUFA™, a phospholipid that mimics the mother's milk phospholipid structure and function to increase DHA's brain intake.
Bone Health
Dairy foods not only offer calcium and vitamin D, but other bone-building nutrients such as magnesium, phosphorus, potassium, and protein. Three servings of low-fat or fat-free milk, yogurt, or reduced-fat cheese each day in a healthy diet ensures adequate intake of essential nutrients that can help reduce the risk of osteoporosis.
Other ingredients such as vitamin K and prebiotic fiber may also play roles in children's bone health. Van Summeren et al. (2008) showed that a better vitamin K status was associated with better mineral content and a more pronounced increase in bone mass in healthy children. Researchers followed 307 healthy children with an average age of 11.2 years over a 2-year period and measured skeletal bone mineral content.
Vitamin K activates osteocalcin, a protein responsible for binding calcium to the matrix of bone, which makes bone stronger and less susceptible to fracture, explains Rodger Jonas, National Business Development Manager, PL Thomas & Co. Inc., Morristown, N.J. (phone 973-984-0900, www.plthomas.com).
"We have entered into a new area of nutrition where many ingredients are directionally correct, but need 'helper or director nutrition ingredients' to make them go where we need them, and to maximize the efficiency of their use," explains Jonas. "Menaquinone-7 (MK-7) is one director ingredient that, when maintained at a proper and very low use level, improves bone health. The company provides MenaQ7, a natural vitamin K-2 derived from natto, which is particularly rich in a highly bioavailable form of vitamin K-2 called MK-7. "MK-7 should be used at 45 mcg per day," says Jonas. "We do see activity when MK-7 intake levels are as low as 10 mcg per day."
A natural calcified mineral source, Aquamin™ (GTC Nutrition, Golden, Colo., phone 303-216-2489, www.gtcnutrition.com), is a plant-based product that provides bioactive calcium, magnesium, and trace minerals for bone health. With its unique mineral matrix, it increases bone mineral content and enhances the integrity of bone.
GTC Nutrition also offers a short-chain fructooligosaccharide, NutraFlora®, which increases calcium absorption. The prebiotic helps create an environment in the digestive tract that enhances the body's natural processes for mineral absorption. According to the company, recent studies revealed that about 3 g of NutraFlora/ day significantly and immediately improved calcium and magnesium absorption in human subjects.
--- PAGE BREAK ---
GTC Nutrition also offers a short-chain fructooligosaccharide, NutraFlora®, which increases calcium absorption. The prebiotic helps create an environment in the digestive tract that enhances the body's natural processes for mineral absorption. According to the company, recent studies revealed that about 3 g of NutraFlora/ day significantly and immediately improved calcium and magnesium absorption in human subjects.
Immunity
Vitamins C and E are popular ingredients used in products to boost immunity for children. Prebiotic fibers are growing in usage as well. For example, Barbara's Bakery, Petaluma, Calif. (phone 707-765-2273, www.barbarasbakery.com), relaunched its line of kid-friendly Organic Wild Puffs, now with NutraFlora, to aid in digestion, promote calcium absorption, and reduce the amount of harmful digestive tract bacteria to support a strong immune system. The short-chain fructooligosaccharide is derived from beet or cane sugar.
Other prebiotics, Orafti® inulin and oligofructose, maximize immunity by promoting growth of bifidobacteria.
"Bifidobacteria may play a protective role in early infancy by suppressing putrefactive and pathogenic bacteria, inhibiting new colonizations and the overgrowth of colonies already present," explains Joe O'Neill, Executive Vice President of Sales and Marketing, Beneo-Orafti, Morris Plains, N.J. (phone 973-867-2140, www.Beneo-orafti.com). He describes one double-blind study involving more than 100 infants 4–24 months in age. "There was a notable difference in a number of general gastrointestinal-related symptoms, and a decrease in concurrent fevers as an indicator of the severity of diarrhea episodes, and an apparent decrease in the need to seek medical attention during such episodes," says O'Neill. "Notably, there was also a reduced rate of absence at daycare due to illness, as well as a reduced use of antibiotics. The implication is that Orafti prebiotics contributed to improved intestinal immunity."
Fruits and Vegetables
The overall health benefits of fruits and vegetables are undisputed, but ensuring that children eat the recommended 2–4 servings of fruit/day and 3–5 servings of vegetables/day is a challenge. "Moms are ready to introduce more fruits and vegetables into both their and their families' diets," according to the 2008 Produce for Better Health Foundation's Generation X Moms Survey.
Nearly all moms surveyed said that fresh fruits and vegetables are very healthy, followed by frozen fruits or vegetables and 100% fruit or vegetable juice. Compared to the prior year's survey, more moms stated that they considered canned fruits and vegetables healthy foods. There was also a significant jump in the number of moms who now have dried and frozen fruit in their homes.
Products aiming to boost fruit and vegetable consumption include V8 V-Fusion® juice from Campbell Soup Co., Camden, N.J. (phone 856-342-4800, www.v8juice.com), which provides a full serving of vegetables plus a full serving of fruit in every 8-oz glass. Undercover Vegetable Company, Maple City, Mich. (phone 231-228-7114, www.undercoverveg.com), offers Yotta Bars, which provide 1 full serving of vegetables and fruit per bar. They contain dehydrated vegetables such as peas, asparagus, broccoli, sweet potatoes, celery, green pepper, corn, and spinach.
--- PAGE BREAK ---
Adding vegetables to kid-friendly products like pizzas and handheld applications can be made easier with ingredients like Controlled Moisture Vegetables® (Gilroy Foods, Gilroy, Calif., phone 800-921-7502, www.gilroyfoods.com). "Kids get more vegetable nutrition while eating less—with Controlled Moisture Vegetables, it takes one-third less vegetables to make a nutritional serving than if made with traditional IQF vegetables," says Amy Marr, vice president of marketing. "This is because our unique process removes 30–50% of the water in vegetables, resulting in vibrant vegetables that are full of flavor."
Whole Grains
Increasing children's whole grain consumption is important due to the many health benefits of whole grains. "According to the 2005 Dietary Guidelines for Americans, dietary intake of calcium, potassium, fiber, magnesium, and vitamin E may be low and of concern in children and adolescents," says Elizabeth Arndt, Manager of Research and Development, ConAgra Food Ingredients, Omaha, Neb. (phone 800-851-9618, www.conagrafoodingredients.com).
"Most Americans, including children, are eating enough total grains," says Arndt, "but not enough whole grains." To address this, ConAgra established the SuperKids Sampling Program, a means of connecting manufacturers of whole-grain products for K-12 foodservice to the menu decision makers at more than 3,000 of the largest U.S. school districts. The program provides samples directly to the district's nutrition directors, collects feedback, and then reports the evaluation results and purchase intent back to the manufacturers, explains Mike Veal, Vice President of Marketing, ConAgra Mills, Omaha, Neb. (www.conagramills.com).
"We started the program soon after our Ultragrain® flour was launched and studies were published indicating how kids consumed a variety of familiar menu items made with our whole-grain flour at the same or higher level as when the same menu items were served with refined flour," says Veal. "The same studies showed a significant decline in the consumption of these menu items when traditional whole wheat replaced refined flour."
Ultragrain flour is already adding whole-grain nutrition to a number of kid-friendly products such as Kids Cuisine® Dip & Dunk pizza strips and Pepperidge Farm's Whole Grain Goldfish Crackers. It's also served in schools in pretzels from J&J Snacks, and Max pizzas and El eXtremo burritos from ConAgra Foodservice. The whole-grain flour combines the taste, texture, appearance, and performance of refined flour and all of the nutrients of 100% whole wheat.
by Linda Milo Ohr,
Contributing Editor,
Denver, Colo.
[email protected]