With appropriate nods to our good friends at Packaging Machinery Manufacturers' Association (PMMI) and their wonderful Pack Expos, the ultimate triennial event for food packaging professionals is Interpack in Dusseldorf, Germany, held this year in April. Bringing together nearly 3,000 exhibitors from around the world, this seven-day affair was the focus of new products, materials, and machinery for all things packaging.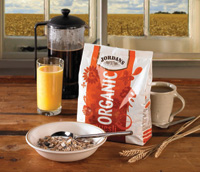 In decades past, we were barely able to rush through and capture the essence of the spectacle and report to our friends and readers. This time, we left it to our colleagues at Packaging and Technology Integrated Solutions (www.PTI-solutions.com) to prepare a comprehensive report being published by Packaging Strategies (www.packstrat.com).
The main theme of exhibitors had to be sustainability and the related materials trends of lightweighting, downgaging, and energy reduction—all without significantly affecting functionality. But performance was not overlooked to appeal to consumer perceptions and to enhance the product and brand experience, including accommodations for elderly and handicapped consumers. Modified atmosphere and vacuum packaging to extend shelf life were prominent. Packaging was recognized for its critical role in the shopping and product selection experience. Display- and shelf-ready packaging concepts were featured throughout the exhibition. Just a few of the more fascinating concepts are compressed into this brief to tease you into drilling more deeply into the amazing array of that which will protect and market foods and beverages in the coming years.
Can and Bottle Substitutes
Aisacan from Asiapack (www.aisapack.com), Vouvry, Switzerland, is based on Finland's Huhtamaki's Cyclero concept of in-line convolute-wound plastic film wrapped around a mandrel and longitudinally sealed followed by heat sealing a compression-molded end to one open end. The bottle is filled and closed by welding a compression-molded, screw-cap finish, including the closure itself to the other end. Aisacan is basically a flexible body with two semi-rigid ends engineered to compete with injection-blow-molded polyester still beverage bottles. Current packages are for wine, hot filling of high-acid beverages, and waters.
The Aisacan Inspiration will enter the wine market this year. The "sustainability" aspect is a claim of 50% lower "carbon footprint" than competing PET bottles. In another incarnation, Stanelco BioPlastics has fabricated the Aisacan with a biodegradable starch-based material for even lower environmental impact.
• SoftCan Maker from Optima (phone 011 49 791 506 1464, www.optima-group.de), Steinbeisweg, Germany, manufactures "traditional-style cans" from roll-stock plastic material. This new technology makes the can body and top and bottom from roll stock. Typical speeds are 60 cans/ min. The technology can also produce modified atmosphere packages that provide shelf-life solutions for sensitive products like coffee, nuts, and snacks.
• QwikPak is a soft—or ultra-semi-rigid—container. Available in sizes from 50– 500 mL and a range of custom shapes, it can also be converted into a barrier structure using EVOH or PVDC and can be configured to accommodate hot-fill and ultra-clean fill operations. The container runs on the Unifill TF400 thermoformer, which can operate as a stand-alone unit or be integrated into a filling line. Various capping technologies can provide reclosure and controlled dispensing options. The new container is produced by Unifill (phone 011 39 0535 49041, www.unifill.it), Modena, Italy.
• PermaSafe thin-walled composite paperboard containers from Weidenheimer Packaging Group GmbH (phone 49 62 05 2 03 0, www.weidenheimer.de), Hockenheim, Germany, are said to be suitable for both pasteurized and sterilized foods and are up to 90% lighter than equivalent-content glass bottles and jars. They are capable of microwave reheating or immersion in water for reheating. Canisters, produced using in-mold labeling technologies, may be round, square, rectangular, oval, or triangular. The top closure appears to be peel-off aluminum foil adhered to a semi-rigid top.
Plastic Bottle Fabrication
• Flexline, a system for producing ultralight polyester water bottles at high speeds, is new from Sidel (www.sidel.com), Norcross, Ga. Sidel applies Flex technology that combines plastic flexibility with shape memory to enable the bottles to withstand distribution stresses. Sidel's line enables the water bottler to blow mold, fill, cap, and label bottles weighing less than 10 g—well below the previous 16 g reference. In the new system, electric energy is reduced by 32% and air by 40%.
• Low-energy polyester bottle molding from GTRPET Machines (phone 203-661-1229, www.gtrpet.com), Cos Cob, Conn., is a low-energy version of the company's SMF blow molding equipment line that uses a new process and components to cut energy usage. The system is available with the GTRPET SMF line of reheat stretch blow molding machines, one-stage injection stretch machines, and preform injection machines. The new process from GTRPET SMF offers a system to reduce air pressure from 40 bar to 2.5 bar by offering a unique heating and automation method. GTRPET SMF can use the equipment to blow mold PET and polypropylene containers.
• Injection molded packaging from KWH Plast (phone 011-49 4101 40 29 22, www.kwhplast.com), Baumschulenweg, Germany, has high barrier properties, but with the standard injection molding properties such as in-mold labeling options. To achieve barrier protection, KWH Plast applies an EVOH barrier film using a proprietary process similar to in-mold labeling. An additional benefit is enhanced appearance at shelf via pre-printing the EVOH film prior to application.
• Illig Bottleformer BF 70 is a novel new thermoform/fill/seal bottle manufacturing system for in-house bottle molding by small dairies. The thermoforming process involves a deep draw process, but in order to build in various neck designs, it is necessary to have moving tool parts to enable demolding of the bottle. The system is available from Illig Robert-Bosch (phone 011-49 071 31 505282, www.illig.de), Heilbronn, Germany.
Devices for Rigid Packages
• Canpeel is a new version of easy-open metal can ends from Kleiner Packaging (phone 41 56 6 18 47 00, www.okleiner.ch), Wohlen, Switzerland. The easy-open feature is achieved by peelable multilayer aluminum foil adhered to the base rigid metal can end in the form of a closed end. Edges of the opening are rolled to prevent cutting while opening or dispensing contents. The maker claims the ends to be retortable with counterpressure. The peelable closure is also offered in one-way valve configuration for use on cans of coffee beans and roasted and ground coffee.
• Life Top Cap, an aluminum foil blister designed to protect sensitive ingredients such as probiotics, is the result of a collaborative agreement between Bericap, (phone 49 61 39 2 90 20, www.bericap.com), Buddenheim, Germany, a major manufacturer of caps and closures for bottles and jars, and BioGaia. Among the contents of the blister proposed or tested are vitamins, nutritive minerals, colorants, and lyophilized Lactobacilli and Bifidobacterium to function as probiotics. The consumer opens the primary package and the blister and pours the powder into the liquid contents, mixes, and drinks.
• Clean Valve no-spill dispensing technology is a technology transfer from the medical segment to beverage pouches. The Clean Valve from IPN (phone 770-631-2626, www.ipnusa.com), Peachtree City, Ga., will only dispense when the consumer applies an ever-so-slight, but effective, suction. Once the suction is released, the positive action closes the flow immediately.
Sustainable Packaging
• PolarDuo trays from Huhtamaki (phone 49 71 23 7 20 80, www.huhtamaki.com), Espoo, Finland, are capable of freezing and dual-ovenable heating, and the coated paperboard is positioned as a sustainable replacement for plastic. The coating imparts sufficient barrier properties to permit application for modified atmosphere internal environments. Paperboard cups coated on two sides with "biopolymer" are also being offered for yogurt, substituting for all polypropylene- or polyethylene-coated paperboard.
• Natralock from MWV (phone 804-327-5200, www.meadwestvaco.com), Glen Allen, Va. (formerly MeadWestvaco), is a packaging substitute for plastic clamshells. Natralock uses 6% less plastic than conventional security blisters fabricated from amorphous or recycled polyester. It combines tear-resistant, plastic-coated paperboard with a smaller plastic blister that can be more readily opened with household scissors. The system claims 30% faster sealing using current conventional in-line thermoforming equipment.
Biodegradable Film Laminations
• NatureFlex biodegradable, compostable films from Innovia Films Ltd. (phone 44 16 9 73 4 22 81, [email protected]), Cumbria, UK, have been applied to pouches for packaging organic muesli and granola cereals by Jordans in the United Kingdom. The films are converted from NatureFlex film laminated to Novamont's Mater-Bi film by Alcan. NatureFlex is a cellulose-based film not unlike cellophane, also used commercially by itself for packaging chocolates. Mater-Bi from Novamont (phone 39 03 21 69 96 11, www.novamont.com), Novara, Italy, is a starch-polycaprolactone.
• Sustainex from Mondi AG (phone 43 1 7 90 13 0, www.mondigroup.com), Vienna, Austria, is a blown film derived from biopolymers based on vegetable oils for form/fill/ seal applications. Apparently, these materials are applied as extrusion coatings or adhesive laminants on carrier substrates such as paper. Mondi claims excellent grease, gas, and moisture resistance for these materials, which would substitute for traditional polyethylene coatings.
Next Steps
Food packaging space is three dimensionally expanding—and maintaining links to all the tools offered and available is a fundamental task of professionals who must remain attuned to the resonances that will impact them passively or actively. Interpack and its multi-faceted components represent a primary source, and it is imperative that the lessons presented be communicated and comprehended.
by Aaron L. Brody, Ph.D.,
Contributing Editor,
President and CEO,
Packaging/Brody, Inc., Duluth, Ga.
[email protected]