Skyrocketing energy costs are hitting our pocketbooks, and a growing awareness of environmental issues is affecting our lifestyles. As a result, members of both the public and business communities are examining ways to reduce costs and promote their environmental consciousness by using renewable or sustainable sources of energy rather than nonrenewable sources like fossil fuels. As people reduce the number of miles they drive and switch from plastic to paper, or better yet, reusable cloth bags, they are also looking toward business to make sound changes. And many businesses are responding by installing technologies to help reduce energy usage and costs, redesigning packaging to use less material, or engineering innovative processing methods.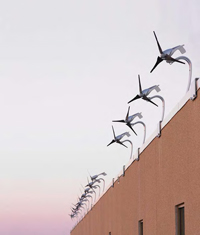 "It is no longer enough to create a quality product," said John Z. Blazevich, CEO of Contessa Premium Foods, Los Angeles, Calif., which opened the doors to a fully energy-efficient, eco-friendly frozen food plant earlier this year. "How you produce it is now the most important thing. Consumers are concerned about global warming and many blame big business for its role in it."
Companies are learning that this not only makes good sense for the environment, it makes good business sense, too. Information Resources Inc. recently conducted a survey that asked 22,000 U.S. consumers about their purchasing habits of products marketed as sustainable or green in four categories: eco-friendly products, eco-friendly packaging, organic, and fair treatment of employees and suppliers. The results revealed that about 30% of consumers look for eco-friendly products and packaging when choosing between brands. Consumers age 55 and older were much more likely to take these four categories into consideration when making a purchase. (See sidebar, "Green Products Gain Market Share," on page 43 for more information about the purchasing habits of consumers.)
"It's a new reality that manufacturers and retailers will need to address with new products and unique assortments to tap into emerging growth potential," said Andrew Salzman, Chief Marketing Officer, IRI. "Safeguarding the environment in whatever small way is becoming a consumer priority. And all successful consumer packaged goods industry mainstays live by one basic fact of life: The consumer's priorities are the industry's priorities."
Developing and implementing environmentally friendly initiatives and sourcing sustainable ingredients and raw materials are not always easy, as the process often requires a large investment, both financially and in the commitment from the company, its employees, and, quite often, the community. This article will provide information about what some food companies—both large and small—have done to improve the sustainable and eco-friendly nature of their processing and packaging operations.
Green Plants Save Energy
The food industry requires energy and water for processing, storage, and transport of food and beverage products, and the cost can be quite burdensome. Food processors, realizing the need to reduce their energy costs, as well as to lower greenhouse gas emissions, are harnessing the power of the wind and sun—sources of renewable energy—as well as recycling and reusing water from processing streams, installing energy-efficient equipment, and designing buildings with improved ventilation systems and more natural light. And even food by-products and organic food waste become sources of energy as part of companies' solid waste management and recycling efforts. For example, H.J. Heinz Co., Pittsburgh, Pa., in May announced plans to reduce greenhouse gas emissions through a series of initiatives, among them converting potato peels from its Ontario, Ore., facility into biofuel that will be sold to a local natural gas pipeline grid. And Miller Brewing Co., Milwaukee, Wis., operates a brewery in Irwindale, Calif., where brewery waste water is recycled to generate bio-gas used to power electrical generators (Miller, 2008).
--- PAGE BREAK ---
Frito-Lay, Plano, Texas, a division of PepsiCo, let the sun shine in earlier this year when it flipped the switch on a field of solar concentrators at its Modesto, Calif., SunChips manufacturing facility. Here, 54,000 sq ft of concave mirrors absorb sunlight while 192 solar collectors generate steam used to heat the cooking oil for the chips, thereby helping the company reduce its use of natural gas and the cost associated with it. The California Energy Commission provided a grant and the National Renewable Energy Laboratory, part of the U.S. Dept. of Energy, reviewed the design. Last year, the company installed a photovoltaic solar electric power system on the roof of its Arizona Service Center in Phoenix. The system produces no emissions and generates about 350,000 kWh of electricity to meet the daytime energy requirements for the facility, which is Frito-Lay's largest U.S. distribution center.
Other companies such as Decas Cranberry Products Inc., Carver, Mass., are investigating the use of wind as a way to generate energy. First used to grind grain and pump water, today's modern windmills—called wind turbines—are viewed as sustainable instruments in energy production. Decas in May began operating a wind turbine that should produce 3,279,000 kWh—or about half of the energy that the company uses per year. Ice cream manufacturer Mackie's, Aberdeenshire, Scotland, uses three wind turbines at its facility to meet about half of its total energy use of 3,000,000 kWh/year. A wind turbine icon and the phrase "made with 100% renewable energy" appear on the cartons of ice cream as a way, according to the company, to show its commitment to functioning as a carbon-neutral facility.
Certifying Green Buildings
Utilizing sustainable ways to generate energy recently earned Kettle Foods, Salem, Ore., a gold level certification for Leadership in Energy and Environmental Design (LEED) from the U.S. Green Building Council (USGBC) for its new potato chip factory in Beloit, Wis. USGBC is a nonprofit organization with more than 15,000 members from across the building industry dedicated to sustainable construction. According to Jim Green, Kettle Foods spokesman, the company's goal was to be the first U.S. food manufacturing facility to earn the LEED gold certification, and it worked with engineers and architects who had experience with green building practices.
The company's 73,000-sq-ft building, which USGBC called "the greenest food manufacturing plant in the United States," contains energy-efficient equipment to reduce the use of natural gas and electricity and has the capacity to filter and reuse 1.65 million gallons of water used in the potato washers. The 18 wind turbines generate enough energy to produce 56,000 bags of potato chips per year and offset 100% of the building's electricity use. The company sourced more than 35% of building materials from within 500 miles of the facility's site. Even improving and protecting the indoor air quality was addressed by using zero-volatile organic compounds paints and increasing the ventilation for fresh air.
"The plant is green from the carpet, counters, and paint to the rooftop wind turbines and sophisticated water reclamation system that recycles potato wash water into gray water used to flush toilets," Green said.
--- PAGE BREAK ---
USGBC also awarded LEED certification to Contessa for its "Green Cuisine Plant," the first LEED-certified frozen food facility in the world. The plant features a solar power system to generate electricity and a loading dock that prevents the loss of refrigerated air. But the biggest challenge the company faced was in trying to design an energy-efficient 4,000,000-cu-ft frozen food plant (almost entirely temperature-controlled). At that size, it is similar to running 200,000 refrigerators at the same time in the same place, said Blazevich, so it took plenty of creative thinking to design a plant that uses the least amount of energy possible. To accomplish this, the company installed a heat-redirection system that captures waste heat in the form of gas from refrigeration compressors and redirects the gas to a heat exchanger where it is condensed to a liquid that then heats water in a circulation system.
Plans are underway to maintain and improve the energy-efficient features of the plant. "We have an ongoing mission to fine tune the systems and features of our new Green Cuisine plant so that we can reduce water and energy consumption and even further reduce our greenhouse gas emissions," said Blazevich.
Although it cost the company an extra $6 million to improve the energy efficiency of the building, Blazevich said that it was the right thing to do for the sustainability of the planet.
"Two years ago, I converted my home to use geothermal energy, so I thought to myself, why not transfer this into the plant? I saw this as a great opportunity to address my business's output of greenhouse gases. If we don't do something about them, in 30 years we won't be living in the same place we have been."
Blazevich's efforts have not gone unrecognized. In addition to receiving the LEED certification, the company has fielded questions from and provided advice to companies seeking more information about energy-efficient building design. "From university engineers and major food manufacturers to major retailers, we have been approached to share our innovative patented technologies and processes," said Blazevich. "Food manufactures of all sizes will soon be expected to show that their back-end operations are as clean and responsible as the face they show the public."
Packing an Environmental Punch
Individuals trying to live a green lifestyle often urge companies to review the types of materials used to package products, develop ways to reduce packaging material, or adopt new material altogether. For example, after working closely with the Environmental Defense Fund (EDF) to address solid waste issues and develop ways to reduce and recycle, McDonald's discontinued the use of polystyrene foam "clamshell" boxes and switched to paper-based packaging for its sandwiches. EDF and McDonald's formed a task force in 1989, and EDF reported that in 1999, McDonald's eliminated 150,000 tons of packaging by redesigning or reducing the amount of material used to make a variety of items, including sandwich packaging, cups, napkins, and straws.
--- PAGE BREAK ---
For the most part, processed food products need to be packaged in some type of package, be it paper, paperboard, plastic, or a combination of these. Even fresh produce, which is displayed unpackaged at the retail level, is transported from the point of origin to stores in crates, bags, and other containers. Packaging helps to keep food fresh, protect it from adulteration, and minimize damage and breakage due to shipping and handling. It also communicates important information about the product, how to prepare it, and what the nutrient content is.
Even though food manufacturers cannot eliminate packaging, they can redesign packages to reduce the amount of material used or to incorporate newly developed materials such as biodegradable plastic in their products' packaging. This is particularly important in the European Union where many countries are considering tougher legislation to encourage the use of less packaging material (Dodds, 2007). Reducing the weight of the package can also have a positive affect by reducing the amount of energy required to transport the products.
Other companies such as Nestlé and Tetra Pak support and encourage recycling efforts or use recyclable materials to produce their packages and products. In a number of countries around the world, Tetra Pak, Lausanne, Switzerland, has established plants to recycle its aseptic carton packages and campaigns to encourage recycling. Additionally, some packaging manufacturers are becoming more aware of depleting natural resources and opting to use materials from renewable sources.
According to Tetra Pak, about 75% of its raw material use in 2006 was for paperboard, which is used in the company's aseptic carton packaging material. To help ensure that the raw materials are sustainably sourced, the company collaborates with environmental organizations and nonprofit groups such as World Wildlife Fund, Forest Stewardship Council, ProForest, Global Forest and Trade Network, and High Conservation Value Resource Network. Forest Stewardship Council (FSC) certifies forests and forest management around the world according to 10 principles and 57 criteria that address such issues as indigenous rights, labor rights, and environmental impact (FSC, 1996). The importance of the latter is to help maintain the integrity of the entire forest ecosystem: trees and other plant life, water, and soil.
"We have a corporate policy that more trees are planted than harvested in the process of making our packaging, and we conduct independent audits of our paper manufacturers to ensure this," said Laurens Van de Vijver, Vice President, Marketing and Product Placement, Tetra Pak U.S. & Canada.
These efforts, along with an initiative that encourages recycling, have allowed the company to position its packages as tools that, as Van de Vijver explained, help food and beverage companies meet their own sustainability goals and meet their own energy- and cost-savings goals. Also, since the packaging is lighter than plastic, glass, or steel, is non-breakable, and can be stacked closely during transport and storage, less fuel is required to transport the packages. All of this is increasingly important because rising costs of energy are quickly cutting into companies' bottom line.
"Industries across sectors are feeling the economic strain of rising fossil fuel and gas prices," said Van de Vijver. "This means that the availability of plastic packaging—made from petroleum—is less stable than the availability of feed-stocks such as paper, which can be renewed through responsible harvesting and reforestation programs. Given this, it is important to look at beverage packaging options that minimize fossil fuel inputs by using fewer materials made from nonrenewable resources."
--- PAGE BREAK ---
Bigger May Not Be Better
Choosing raw materials that are sourced or produced in ways that minimally affect the environment is a step that companies can take to become green. Designing packages to use more environmentally friendly material or use less material overall is another step. Unilever has made changes to product packaging, including Knorr vegetable mix and Knorr Recipe Secrets soup pouch (eliminated outer carton), Lipton soup (reduced the width of the outer box), and Bertolli frozen meal pouches (reduced the height of the package). According to the company, the changes have helped Unilever reduce the amount of corrugated material and other packaging matter as well as the number of pallets and trucks used to transport the products.
Two of the world's beverage industry giants recently announced environmental initiatives that include design changes to bottles.
PepsiCo Inc., Purchase, N.Y., reduced the plastic content of its new 500-mL bottles for noncarbonated beverages by 20%. Introduced in May, the bottle is used for Lipton Iced Tea, Tropicana juice drinks, Aquafina FlavorSplash, and Aquafina Alive products. Additionally, the company reduced by 10% the label size and by 5% the shrink wrap film used to wrap multipacks.
Taking on an effort like this is not as simple as one might think. According to Robert Lewis, Vice President of Worldwide Beverage Packaging and Equipment Development, PepsiCo, a team of employees from across the company took one year to complete the project, which included developing a bottle that was lighter and able to provide the same shelf life while withstanding the manufacturing and distribution process as well as the heavier bottle. The team submitted more than 30 bottle designs for consumer testing to determine the most aesthetically pleasing ones.
Coca-Cola Co., Atlanta, Ga., too, has redesigned some of its bottles for its carbonated and noncarbonated beverages. It introduced in 2007 a newly designed 20-oz polyethylene terephthalate (PET) contour bottle for its Coca-Cola brands. The bottle has 5% less PET than the previous bottle. The company also reduced the plastic used in its Dasani bottles by 30%.
Earlier this year, the company announced a long-term plan to recycle or reuse 100% of the aluminum beverage cans it sells in the U.S. This followed an announcement last year that the company plans to invest more than $60 million to build the world's largest plastic bottle-to-bottle recycling plant to help meet its goal of recycling or reusing 100% of the company's PET plastic bottles in the U.S. The plant will be located in Spartanburg, S.C. When it is fully operational in 2009, it is expected that the plant will produce about 100 million lb of food-grade recycled PET plastic for reuse each year. Coca-Cola has invested in other recycling facilities in Austria, Switzerland, Mexico, and the Philippines.
One Word: Bioplastics
Environmentalists heavily criticize the use of plastic grocery bags and, more recently, plastic water bottles, so much so that natural and organic foods retailer Whole Foods Market—in conjunction with this year's Earth Day celebration on April 22—eliminated the use of plastic grocery bags in its 270 stores in the U.S., Canada, and the UK. Over the years, environmentalists and scientists studying environmental issues have said that plastic bags and bottles, particularly those that are petroleum-based, take up space in landfills and pollute the landscape. But developments in biodegradable ingredients now make it possible for more manufacturers to produce plastic bags, bottles, and packages made from bioplastics.
--- PAGE BREAK ---
NatureWorks LLC, Minnetonka, Minn., a joint venture between Cargill Inc., and Teijin Ltd., produces the NatureWorks PLA (polyactide) line of polymers that are derived from the starch of standard field corn. The polymers are said to biodegrade when packages that are made from them are composted. Moisture and heat in the compost pile break the PLA polymer chains to smaller chains, and then ultimately to lactic acid. Microorganisms in the compost consume the lactic acid for nourishment.
Other biodegradable corn starch-based ingredients, these from Plantic Technologies Ltd., Melbourne, Australia, are used in plastic trays for some Marks & Spencer and Cadbury confectionery products. Last year, the company and DuPont Packaging and Industrial Polymers, Wilmington, Del., announced that they will collaborate to develop and sell renewably sourced polymers based on Plantic's technology.
While some bioplastics are made from crops like corn, wheat, and sugar cane, there are others that are made from petrochemical sources.
Bioplastics are both blessed and cursed, though. While producing the polymers uses less fuel and generates fewer greenhouse gases than petroleum-based polymers, they are still farmed industrially, which means that fuel is needed to operate the farming equipment and chemicals are used to fertilize the crops. Most bioplastics will degrade under the right conditions in composts to produce benign lactic acid, but will degrade very little, if at all, in tightly packed landfills in the absence of oxygen. If they do break down slightly in the landfill, they produce methane, a greenhouse gas. One additional drawback is the fact that bioplastics cannot be recycled with traditional plastics because of contamination issues.
Sustaining the Green Movement
So what does the future hold for eco-friendly practices, sustainably produced products, and the like? If companies continue to see value in these, i.e., consumers continue to purchase products that are promoted as eco-friendly or sustainable, they will produce more of these products as well as invest in corporate sustainable/environmental practices. Americans and Europeans lead the world as purchasers of eco-friendly products. Entering new markets may extend the reach of these products as well as educate consumers and those who work for government agencies and food companies on developing government policies and company initiatives that address environmental issues. Or will consumers who are dealing with the high costs for fuel, food, and other products decide that paying a premium for eco-friendly products is not worth it and retreat from purchasing these products?
Any single solution offered by the companies mentioned in this article will not immediately solve the problems faced by our environment; try as they might, the companies can only do so much, and there are still challenges that they must overcome. Remember, it's not easy being green. But perhaps these are the changes that need to take place to compel more people and companies to save precious resources and protect our environment.
---
Fair Trade Helps More Than the Environment
Check the packages of many different food products and you will see phrases such as "sustainably produced" and "fair trade" listed. These apply to a variety of products, including coffee, chocolate, tea, certain fruits, seafood, and wine. Both terms fall under the umbrella of sustainable agriculture, which refers to farming that does not irreversibly damage the land while at the same time improves or enhances the lives of farmers and members of their communities. Generally speaking, the farming methods employed minimize soil erosion and balance the amount of water used in irrigation with the amount that would be replenished naturally, all while reducing the amount of nonrenewable sources used to accomplish this. The 1990 Farm Bill describes sustainable agriculture as "an integrated system of plant and animal production practices having a site-specific application that will, over the long term, satisfy human food and fiber needs; enhance environmental quality and the natural resource base upon which the agricultural economy depends; make the most-efficient use of nonrenewable resources and on-farm resources and integrate, where appropriate, natural biological cycles and controls; sustain the economic viability of farm operations; and enhance the quality of life for farmers and society as a whole" (FACTA, 1990).
--- PAGE BREAK ---
The goal of fair trade is to address global poverty by paying a fair price to farmers in Central and South America, Africa, and Asia for growing and harvesting such crops as coffee and cocoa. Food companies often work directly with farmers, suppliers, and exporters. According to the International Fair Trade Association (IFTA), a network of fair trade organizations from around the world, a fair price "covers not only the costs of production but enables production which is socially just and environmentally sound." Paying farmers/ producers a fair price is one of 10 standards that IFTA says fair trade organizations must follow. The others cited by the organization include creating economic opportunities for producers; improving transparency and accountability; helping producers to build their independence; promoting fair trade; promoting gender equity; ensuring safe and healthy working conditions; following child labor laws and regulations; respecting and protecting the environment; and maintaining trade relations. IFTA issues a certification mark to registered organizations that follow these fair trade standards.
A second organization, Fairtrade Labelling Organizations International (FLO), issues a certification mark for products that meet fair trade standards, as well as sets standards for 20 labeling initiatives such as Max Havelaar and TransFair USA used in 21 countries to label fair trade products.
Companies such as Starbucks, Cargill, Sara Lee, Hain Celestial Group, and many more that buy and sell coffee, cocoa, and other commodities participate in sustainable agriculture programs. Ingredients like vanilla can be certified as fair trade, and within the past several years, flavor manufacturers Virginia Dare and David Michael & Co. began offering it. At this year's IFT Annual Meeting and Food Expo in New Orleans, La., David Michael showcased its fair trade vanilla, which is certified by TransFair USA, in a Double Bourbon and Cola beverage made with vanilla ice cream.
Datamonitor predicts growth of 15.7% in the global sales of fair trade products for 2007–12. FLO reported that in the largest markets—the UK and the United States—sales of fair trade products grew by 72% and 46%, respectively, in 2007. The fastest-growing markets—Sweden and Norway—had sales increases of 166% and 110%, respectively.
---
Green Products Gain Market Share
Both manufacturers and consumers are embracing the green movement, according to data from market research company Mintel.
The percentage of consumers who purchased products made with recycled packaging and/or manufactured in an energy-efficient, environmentally friendly way jumped from 12% in August 2006 to 36% in December 2007 (Mintel, 2008b).
--- PAGE BREAK ---
"We're seeing the green movement rapidly transition from niche to mainstream," said Colleen Ryan, Senior Analyst, Mintel, in a statement. "Major companies have jumped on board, promotional messages have changed, and the American public is increasingly looking at green products as a normal part of everyday life."
Mintel also reported that 328 products boasting an eco-friendly claim were launched in 2007. Compare that to only five of these product introductions in 2002 Mintel, 2008a).
Mintel noted that while some of the food products labeled as eco-friendly were organic and natural, others focused on different environmental issues such as Green Energy Credits logos on packaging or support for health associations.
European consumers, too, are purchasing more products positioned as eco-friendly, including those that feature reduced packaging, are made with biodegradable packaging, and are labeled certified organic and/or fair trade. About 27% of European consumers bought these products in 2006, and in Europe, more than 60% of new product launches in 2007 were of these environmentally friendly products (Dodds, 2007).
---
It's Not Easy Being Green
Today's consumers are confronted with a barrage of advertising from companies touting their green products, celebrities exclaiming how they are reducing their carbon footprint, or officials telling us how we can reduce global warming by switching to compact fluorescent light bulbs. As more manufacturers promote their environmentally friendly products and sustainable business initiatives, some consumers are becoming confused and downright skeptical of what these companies are doing.
The Federal Trade Commission this year has held three public hearings and workshops in a series that will review its environmental marketing guidelines called the Green Guides. The guides, last updated in 1998, address eco-friendly marketing claims such as biodegradability, recyclability, and others and "help marketers avoid making environmental claims that are unfair or deceptive under Section 5 of the FTC Act, 15 U.S.C. 45" (CFR, 2007). The guides do not address new claims such as renewable energy certificates, carbon offsets, green packaging, green building claims, and sustainability. Since companies are using more and more eco-friendly marketing claims, especially these newer ones, on their products, FTC decided to move up the review process from 2009 to the beginning of this year.
"Consumers today have the option to purchase products and use them in ways that were unforeseen 15 years ago, when we first developed our guides, and consumer perceptions of old green claims may have evolved significantly over time," said Deborah Platt Majoras, FTC Chairman, at the hearing in January 2008. "Our robust review of these guides will allow us to explore emerging consumer protection issues and provide better direction to green marketers."
FTC will use the information gathered from these meetings to decide what modifications to the Green Guides are needed, particularly those that will benefit consumers and businesses, as well as deciding what steps should be taken to define the new green marketing claims.
"When such claims are used to sell products, consumer perception and substantiation issues may arise," reported FTC. "Also, in recent years, there has been an increase in the use of environmental seals and third-party certification programs purporting to verify the positive environmental impact of product packaging. Consumers may have varying interpretation of such seals and programs."
by Karen Nachay, a Member of IFT, is Assistant Editor of Food Technology magazine ([email protected]).