Ever expect an important delivery? You wait excitedly for that package to come that will bring something of value to you. Well, hopefully, this month, the postman will not only ring twice but several times, as we'll be looking at different opportunities for ingredient delivery systems.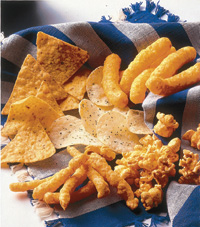 Delivery systems, depending upon your definition, can cover a broad range. Microencapsulation technologies probably come to mind first, including such examples as cyclodextrins. More recently, nanotechnology has been in the spotlight, as researchers examine its functionality, its potential applications, and its perception by consumers. Also, systems that have primarily found use in pharmaceutical applications are now finding their way into food products, especially as a means to protect the active component in the digestive tract. Other delivery systems might include spray-dried powders, flavor oils, emulsions, dried herbs, particulates, nutrient premixes, and many others, including those related to packaging.
And if you want to expand the definition even further, sometimes food products are themselves considered delivery systems. Chewing gum would be one good example of this. Cereals as a dry snack might be another. In any case, delivery systems are essential in bringing flavors, colors, aromas, textural properties, and health benefits to the finished food product. These systems can help stabilize ingredients, mask odor or taste, control color, provide effective nutrient release, extend shelf life, protect core substances from damaging effects of the environment, and minimize undesirable interactions with other ingredients.
The importance of delivery systems can be seen in yogurt, for example. If you recall, the March 2007 Ingredients section discussed different ways that yogurt could be upscaled or made more appealing to a broader range of demographics. One of the products appearing in the marketplace was yogurt fortified with fish oil. This, of course, would not be possible without a delivery system that can protect the oil from oxidation and the stress of food processing. For example, Ocean Nutrition Canada Ltd., Dartmouth, Nova Scotia (phone 902-480-3200, www.ocean-nutrition.com), developed Powder-loc™, a process that microencapsulates the oil in a gelatin matrix with double shell protection for inclusion in foods. And OmegaPure, a division of Omega Protein Inc., Houston, Tex. (phone 713-940-6108, www.omegaprotein.com), recently completed a new, state-of-the-art Technology and Innovation Center, where it develops delivery systems for fish oils and new prototypes using the encapsulated ingredient.
Yogurt is just one example of how delivery systems can help create new opportunities for both traditional and nontraditional formulations. Imagine a chocolate enriched with a probiotic that maintains survival and viability in harsh conditions. Or calcium-fortified cheese powders that do not have a chalky taste. Or honey in a solid, disk-shaped form. Or chewing gums that retain their flavor longer. Or nutraceutical products that demonstrate a more precise release of active components as well as provide a smoother mouthfeel. All of these exciting possibilities will be discussed in this article.
--- PAGE BREAK ---
More than ever, emerging trends are helping to shape opportunities for delivery systems. For example, as culinary flavors appear from all parts of the world, systems will be employed to deliver them in effective and cost-efficient ways. This might mean dried versions of herbs that previously were unfamiliar to the mainstream or were seasonal. Or special flavor combinations, such as sweet and spicy, which can be delivered in applications ranging from ice cream and sorbet to chips and other snacks. And as food manufacturers look to decrease salt levels in processed foods, delivery systems can make alternatives possible through flavor enhancement, taste masking, and combinations of flavors. Furthermore, business and marketing developments, such as strategic alliances between global food companies, can also shape new products that call for innovative delivery systems.
With that, let's now look at some of the different ways that these systems can be used and how they, in turn, can help shape some of the directions that future formulations can take, especially in the area of flavor and health.
Process Adds Calcium to Cheese Without Chalkiness
New calcium-fortified cheese powders from Land O'Lakes Inc., Arden Hills, Minn. (phone 800-328-1322, www.landolakesingredientsolutions.com), are made by a special spray-drying process that delivers a cheese flavor and significant levels of calcium without adding a chalky mouthfeel in the finished product. Food developers may use these powders in wet and dry ingredient systems, including sauces, dips, chips, and crackers.
According to Vicki Brewer, Senior Scientist at Land O'Lakes Research and Development, the challenge was two-fold: Masking the typically chalky mouthfeel associated with calcium and developing a process that would allow the company to successfully incorporate the nutrient into the production process. "The mesh-like structure of calcium is such that it allows us to interweave it into the overall cheese powder formula during the spray-drying process," said Brewer. "The result is a uniform powder with a fully-blended flavor."
Brewer noted that the calcium does not give off a chalky mouthfeel because of the way in which it is incorporated. By comparison, the calcium used in calcium-fortified orange juice often visibly settles to the bottom of your glass, she added.
Most cheese powders, depending on the cheese used in the base, can offer 500–700 mg of calcium/100-g portion. Brewer claims that the new calcium-fortified cheese powders can provide seven times more calcium per portion. An application such as cheese puffs or tortilla chips made with a traditional cheese powder can provide 0–4% of the daily value for calcium. Using the new cheese powder can enable a food manufacturer to increase the calcium content so that a "good source of calcium" label claim can be made. The calcium-fortified cheese powders are available in such flavors as Mild and Sharp Cheddar, Parmesan, Romano, Blue, and American.
--- PAGE BREAK ---
Active Components—on Demand
A delivery system releasing active components at the desired place and time may be used to protect functional ingredients in the intestinal tract. Developed by TNO Food & Nutrition Research, The Netherlands (phone +31-30-694-4470, www.tno.nl), the BioSwitch technique encloses active components in a matrix of bifurcated protein, starch, or cellulose polymers. Ingredients are then released in response to external stimuli such as a change in the pH or contact with tissue or bacteria-specific enzymes.
Initially, the concept was applied as a tool in active packaging. In this application, small particles consisting of a matrix of modified polysaccharides that contain an antimicrobial compound are coated onto the surface of the food package. In the case of microbial contamination, bacteria will start to secrete enzymes that break down the polysaccharide matrix, releasing the antimicrobial compound that kills the bacteria.
The release-on-demand delivery technology recently earned TNO recognition from Scientific American, which each year honors 50 individuals, teams, companies, and other organizations for their technological initiative. Recognizing the trend and increasing demand for novel formulations of active components, TNO built a technology platform of new microencapsulation, formulation, and coating methods for different applications. In the food industry especially, these systems will be instrumental in increasing the efficacy of bioactives, improving the stability or shelf life, and masking the taste impact of ingredients.
Chocolate: Light, Dark, or Probiotic?
A chocolate enriched with probiotic microorganisms can be produced using a process developed by Belgium-based Barry Callebaut NV in cooperation with a producer of probiotics, the Lallemand Group. The chocolate combines two specific probiotic bacteria strains, microencapsulated with a patented technology, Probiocap™, that ensures their survival and viability.
"Ensuring the sufficient distribution of the probiotic microorganisms in chocolate on an industrial scale is no easy task," noted Hans Vriens, Barry Callebaut's Chief Innovation Officer. "High temperatures and pressures can have a negative influence on cell counts of the integrated probiotic strains." Furthermore, the orally ingested microorganisms have to be able to withstand the hard environment of the human digestive tract.
Modifications in the chocolate-making process make possible a homogenous blend of probiotics in the chocolate, within a restricted temperature range. In vitro simulations of the human stomach and small intestine have shown that the probiotics in the chocolate matrix suffered virtually no negative effects from stomach acids and had significantly higher survival rates than those in milk-based carriers. Daily consumption of 13.5 g of probiotic chocolate is sufficient to ensure the balance of the intestinal flora.
--- PAGE BREAK ---
The patented Probiocap technology used in the process involves applying a protective shield around the probiotic bacteria, ensuring their survival in the digestive tract and their optimal activity in the gut. It also enhances the viability and resistance of probiotics to heat, compression, and high gastric acidity. And the process used has no effect on the taste, texture, and mouthfeel of the chocolate so lovers of indulgent chocolate have nothing to worry about.
More information on probiotic chocolate and its production process will be provided by Barry Callebaut USA, Chicago, Ill. (phone 312-496-7300, www.barry-callebaut.com), at the 2008 IFT Annual Meeting & Food Expo.
New Flavor Opportunities for Delivery Systems
Recently, a presentation given by San Diego-based Senomyx Inc. at the Bio 2008 World Congress addressed the use of taste receptor technologies to discover and develop novel flavor ingredients in foods and beverages. The company has applied these technologies to a number of areas, ranging from the enhancement of saltiness, savory, and sweetness to the blocking of bitterness to the development of cooling agents.
What is particularly interesting here are the alliances that Senomyx has formed with several major players in the food industry, including Nestlé, Ajinomoto, Campbell Soup Co., and Firmenich, to name a few. Out of these relationships, it's quite possible that we will see innovative delivery systems being created to bring these special flavors and enhancers to the product application.
Let's look, for example, at the collaborative research, development, commercialization, and license agreement between Senomyx and Firmenich. Such a relationship combines the utilization of cool receptor technology with expertise in the delivery of flavor and food ingredient solutions.
Senomyx's Cool Flavor Program is an outgrowth of the company's efforts in numerous areas of taste research. The company has developed a proprietary high-throughput screening assay using the receptor associated with cool and menthol taste sensations. The assay can be used to screen extensive compound libraries for samples that impart a cool taste effect. The assay has been validated through the identification of several compounds that provided a cool taste and appeared significantly more potent than menthol and other common cooling agents.
"We are looking forward to gaining access to novel cooling flavors discovered by Senomyx," said Patrick Firmenich, Chief Executive Officer of Firmenich. "Many currently available cooling agents have deficiencies that restrict their utility, including weak cooling characteristics, bitter off-tastes, and limited solubility. Senomyx's cutting-edge technologies provide a unique methodology for seeking new cooling flavor ingredients that do not have these drawbacks."
Firmenich emphasized that "the combined use of our proprietary delivery systems should further enhance the benefits of the new cooling compounds in certain applications. Our exclusive partnership is designed to allow Firmenich to have a competitive advantage in providing innovative cooling flavor systems to customers and may expand our product offerings and market coverage."
--- PAGE BREAK ---
Sticky Fingers … Not
The July 2006 Ingredients section included honey in a solid form as an emerging ingredient. This quarter-size solid honey disk, introduced by the National Honey Board, Longmont, Colo. (phone 303-776-2337, www.honey.com), dissolves quickly in hot water and solves such problems as sticky fingers or sticky equipment.
With a portion of its water content removed, this form of honey makes for a simple but interesting delivery system. And there have also been some recent developments, which call for further update, especially relevant in an article on delivery systems.
Since its Applied Science program proposed the concept and developed the product in 2006, the National Honey Board has looked forward to seeing solid honey in the marketplace. On January 15, 2008, Island Abbey Foods Ltd. introduced the Honey Drop™, the first 100% pure solid honey product. The individual serving of dried honey without any additives or binding agents makes it a convenient sweetener for hot beverages.
The new honey product comes in two flavors—pure honey and pure honey and lemon—and is packed for both retail and foodservice sales. It has a shelf life of one year and contains no artificial coloring, flavoring, or preservatives.
Marriages Made in Candyland
With the recent acquisition of the Wm. Wrigley Jr. Co. by Mars Inc., the confectionery landscape will certainly be changing. According to Euromonitor, in 2006, the combined sales of the two companies accounted for more than 14% of the global confectionery market. Furthermore, the companies' different product mixes, marketing, and distribution channels can create some very interesting opportunities throughout the world.
From a food technologist perspective (and of particular interest to this month's article), the transaction might also further influence the development of innovative delivery systems used in a variety of confectionery products, especially chewing gums and chocolate.
As was discussed in the November 2007 Ingredients section, Wrigley introduced a number of chewing gum products made with processes that involved the delivery of flavors and other components. The company also recently established the Wrigley Science Institute to study whether chewing gum may help consumers as a tool (or delivery system) in weight management, stress relief, and increased alertness and concentration. Previously, the company opened a new research center, which houses such departments as research and development, packaging, engineering, regulatory, and quality control.
Over the years, Mars has also had a very strong research focus, with activities conducted at three facilities, as well as a research center in an "origin" country. Many of these efforts have focused on the health benefits of chocolate. Symbioscience is a Mars business unit dedicated to pioneering new products to improve health and is researching the therapeutic effects of flavanol compounds on heart health, cognitive health, and the treatment of diabetes and certain forms of cancer. Innovative delivery systems may have a potential role here, as well.
--- PAGE BREAK ---
In addition to this transaction, other developments are suggesting that the time may be especially right for delivery systems in the confectionery sector. As already noted, ingredient companies are working on systems to effectively deliver probiotics in chocolate. Other companies are focusing on systems that can deliver nutraceuticals into gummy-type candies. For example, Santa Cruz Nutritionals, Santa Cruz, Calif. (phone 831-457-3200, www.santacruznutritionals.com), is a manufacturer of enhanced confectionery delivery systems, developing such products as vitamin-fortified gummy snacks, fruit gels, and jelly beans; confections with calcium; and sports gels. Proprietary flavors, formulas, and shapes can be used to create new confectionery products.
And a sugarless version of the Evoglass flavor encapsulation system from Symrise Flavors, Teterboro, N.J. (phone 201-288-3200, www.symrise.com), provides an ingredient solution aimed especially at the sugar-free confectionery market. The ingredient, made from a non-sugar, noncariogenic carbohydrate, has an extruded glassy matrix, with the flavor embedded in it. It is suitable for use in a variety of candy formats, as well as over-the-counter healthcare products, meal-replacement bars, and toppings for bakery and dairy goods. In the final product, the system will appear as little colored specks on the surface, suggesting not only an attractive visual appeal but serving as a potential signal that healthy components have been added.
Recently, Symrise introduced a new series of flavor-masking solutions under the SymLife Mask® name. These solutions have been effective in overcoming bitter, burning, astringent, chalky, salty, and metallic tastes as well as a variety of other off-flavors and off-notes. According to Donna Rosa, Director, Business Development at Symrise, one of the ways that the company accomplishes this involves encapsulation technology to give flavor burst, duration, and stability.
According to a new report from Global Business Insights, the fastest-growing category within the U.S. confectionery market is chewing gum, with an annual compound growth rate of 5.2%. "Gum manufacturers have a huge opportunity here for growth through innovation," said Udi Alroy, Vice President of Global Marketing and Sales at Israel-based LycoRed (phone 972-8942-0930, www.lycored.com), a company that recently launched a line of slow-release ingredients that can help chewing gum and chewy candies retain their taste longer.
LycoRed offers three sweeteners—SucraCote® sucralose, AsparCote® aspartame, and AcesuCote® acesulfame K—each in a slow-release delivery system providing flavor enhancement through longer flavor retention. The company also provides microencapsulated CapsuDar® malic acid for slow release of sour flavors. "Prolonged flavor release added to an already sugar-free gum creates a winning combination for the weight-conscious consumer," noted Alroy, alluding to a recent study by the Wrigley Science Institute, which found that chewing gum may play a role in weight control.
--- PAGE BREAK ---
Innovations in Nutrient Delivery
Three nutrient delivery technologies from Balchem Encapsulates, New Hampton, N.Y. (phone 845-326-5642, www.balchem.com), are said to create a new, fast-track product development engine for products in tablet, capsule, and powder forms. These VitaDose™ technologies can provide formulators with innovative platforms that can help them develop products more quickly with cost savings.
The technologies are available in the following versions. VitaRelease™, The Lipid Network™, is a new concept in controlled release based on the company's lipid network tablet technology. This technology provides precise, customized, sustained-release profiles for high-dose as well as low-dose actives. Monolithic tablets can behave like bi-layer tablets, with classic fast-slow release rates. VitaShure™, The Lipid Particle™, is an approach that combines taste masking, stability enhancement, and sustained release. This technology provides precise, customized release with excellent taste-masking capability in high-dose powders (up to 95%). VitaSmooth™, The Smooth Dissolve Matrix™, uses an ultra-smooth-disintegration technology to create a pleasant, smooth-melting mouthfeel in a tablet that can be up to 40% smaller than conventional tablets. The company has an expanding portfolio of products employing these technologies available for license.
Going Nano
An innovative system, NutraLease, uses nanoencapsulation technology to deliver nutraceuticals and other ingredients into food and beverage applications. Based on nano-sized, self-assembled structured lipids, it permits development of clear beverages formulated with previously insoluble ingredients.
In 2007, the delivery system was presented with an IFT Food Expo Innovation Award. According to its distributor, P.L. Thomas, Morristown, N.J. (phone 973-984-0900, www.plthomas.com), its transparent encapsulating structure enables its use in clear beverages. Furthermore, it makes possible the addition of bioactives in a stable form.
Developed by Israel-based Mishor Adumin, NutraLease enhances the solubilization capacity of different compounds in either water-based or oil-based environments. It also improves the bioavailability of some healthy compounds that are otherwise not functional in the human body. Utilizing food-grade components in manufacture, it provides thermodynamic stability in a wide pH range.
By encapsulating the compound, the system provides protection against oxidation, enzymatic reaction, and hydrolysis, and allows the effective delivery of ingredients that are low in solubility or not soluble. Addition of the nano-sized concentrates into a beverage or other liquid system is done spontaneously by very simple agitation.
--- PAGE BREAK ---
A range of encapsulated concentrates are currently available for beverage and dairy applications. These include vitamins E, D, A, and K, as well as isoflavones, CoQ10, carotenoids, and essential oils.
Nanotechnology has recently been in the spotlight and several interesting articles have reported on it. For example, the Institute of Food Technologists has issued a Scientific Status Summary on potential applications of nanotechnology in the food industry, published in Food Technology (November 2006). An article, "Analyzing Nanotechnology," which appeared in the January 2007 issue of Food Technology, provided a business perspective to the use of nanotechnology in the food industry.
Also, the IFT International Food Nanoscience Conference will be held on June 27-28 in New Orleans. More information about this event will be discussed in the sidebar below.
Delivering Freshness (and Health)
Chefs are playing an increasing role in food formulation, as well as initiating trends that eventually influence some of the directions that processed foods are taking today. It should not be too surprising then that ingredients once known for their culinary uses are finding their way into product development.
As this happens, it becomes very important that these ingredients retain their freshness, and so different technologies are used to make this kind of delivery possible. Spray drying would, of course, be one example. Interestingly, a newsletter, Natural Notes (Winter 2008) from Van Drunen Farms, Momence, Ill. (phone 815-472-3100, www.vandrunenfarms.com), demonstrated some of these different ways.
Take, for example, the culinary ingredient, arugula. This peppery green is a member of the mustard family, which may account for its spicy flavor. Available as an individually quick frozen ingredient, this new addition to Van Drunen's growing portfolio can be used to season pizza, add a peppery bite to bruschetta, and complement white beans in soups. The IQF process retains the color, essential vitamins, and lively flavor of the green, while allowing for year-round use and easy handling.
Or how about a drum-dried strawberry, which maintains the berry's color, flavor, and nutritional value? In an easily dispersible form, the ingredient may be incorporated into a variety of food products, including yogurt, smoothies, whipped toppings, breakfast bars, confectionery fillings, sweet sauces, and beverages.
The newsletter also describes a system for delivering probiotics into culinary-inspired products. ProCoat is a patent-pending technology that allows for application of live probiotics in low-moisture, low-water activity products. Common bacteria strains for the system include Bifidobacterium bifidum, B. longum, Lactobacillus acidophilus, L. bulgaricus, and others.
--- PAGE BREAK ---
Emerging Opportunities
As this article was about to go to press, Bell Flavors & Fragrances, Northbrook, Ill. (phone 847-291-8300, www.bellff.com), held a Flavorology event showcasing new, innovative flavor technologies and trendsetting flavor profiles. According to the company, "flavorology" is the education and communication of these new technologies and flavor profiles to key customers so that they can be successful in delivering market-leading products.
The key word here, of course, is delivering, and while these products did not focus particularly on the delivery systems, it is easy to see the importance that these systems play in each of the eight trends highlighted. For example, take salt solutions and masking flavors for bitter, metallic, or soy notes. "What we have found is that there is not a 1:1 salt replacement solution, so we have developed many different salt-reducing alternatives for all food and beverage applications," said Gary Czosek, Senior Savory Flavorist. "Using these alternatives, the average level of salt reduction for products is somewhere around 30% and in some areas as high as 40% without significant taste difference." These salt-replacing systems were highlighted in such applications as short ribs and bread at the event.
Fusing sweet and savory flavors is another popular trend that was addressed. Highlighted was a traditional vanilla ice cream in two flavor versions: one enhanced with basil and papaya, and the other with lime and lemongrass. Also shown was a sorbet combining yuzu and ginger. The Moroccan seasoning Ras el hanout was used as a seasoning for potato chips and pine nuts flavored with apricot.
Other applications featured fresh-cut, chef-selection herbs (chicken broth and sour cream made with cilantro, basil, chive, watercress, and rosemary flavors); tomorrow's superfruit flavors (gummies made with pomegranate, mangosteen, and açai); trendsetting African, Southeast Asian, and Middle Eastern flavor profiles (Pepperdew from South Africa, Purple Corn from Peru, Pomegranate Horchata from Mexico, Thai Tea from Southeast Asia, and Chimichurri Mary Mix from Argentina); diacetyl solutions (popcorn and margarine); and flavors for kids (hard candy in green apple, mango lime, and watermelon ice flavors, as well as chocolate fondant in hibiscus mango flavor and orange cinnamon flavor).
Such an event provides a nice closing snapshot of emerging flavor trends and the opportunities that delivery systems can provide, whether they are in different formats such as powders and liquids, microencapsulated, or systems based on nanotechnology.
Well, I see the first package has arrived. Quick, open it. It might be a color delivered by a nanoencapsulated system. Or a new flavor secret previously known only to chefs. Or an ice cream made with an inclusion that delivers texture. Whatever it is, it will definitely come first class.
Next month's Ingredients section will provide its annual look at emerging ingredient developments that can help formulators solve functionality challenges while thinking outside the box.
--- PAGE BREAK ---
Conference Addresses Nanoscience and Its Advances
The latest advances in the emerging arena of nanoscale science and technology of food will be explored at the IFT International Food Nanoscience Conference, to be held June 27–28 in New Orleans. This third annual event will continue to build an understanding of nanoscience, a promising area that can help shape the future perception of delivery systems and how they can impact food product development.
A technical presentation by Kees de Kruif from Netherlands-based NIZO will discuss nanotubes and their potential value in dairy and chocolate applications. According to de Kruif, partial hydrolysis of the milk protein alpha-lactalbumin by a protease results in building blocks, which self-assemble into nanometer-sized tubular structures at appropriate conditions. These milk protein nanotubes could offer the food industry a novel ingredient for encapsulation as well as other uses such as gelling. Possessing a cavity, these structures can serve as a vehicle for delivering encapsulated molecules or compounds. They may also be used to increase viscosity, create new textures, and form gels. This presentation looks at the properties of these special ingredients and how they present functionality opportunities in dairy and chocolate products.
A second presentation addressing food ingredient applications will be given by Derick Rousseau, Associate Professor from Ryerson University in Toronto, Canada. He will be looking at nanoscale methods for controlled release of bioactive compounds.
The keynote address by Altaf H. Carim, U.S. Dept. of Energy, will provide an overview on the prospects and tools for nanoscience, its applications, characterization, and user facilities. A luncheon address by Robert J. Nicolosi, University of Massachusetts, Lowell, will focus on the application of nanoemulsion technology for the delivery of nutraceuticals, pharmaceuticals, and cosmeceuticals.
The conference will also explore regulatory issues and societal concerns regarding the use of nanoscience.
---
by Donald E. Pszczola,

Senior Associate Editor 
[email protected]