From the familiar restaurant greeting "May I take your order?" to the after-dinner mint, a restaurant revolves around meeting the needs of the customer. It's all about what the customer wants, right? Many groups - from the media and restaurateurs to chefs and academic researchers - believe they have a solid grasp on what they want concerning food. Some observers say that consumer expectations and demands have helped shape the food industry, while others insist that consumer needs have been shaped by outside forces.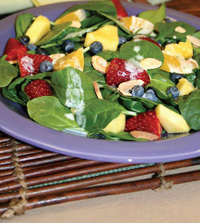 What does today's consumer really want? Well, glancing at contemporary menus vs those of the past, there are some interesting new developments. Healthier menus are making their way into the hands of customers and onto the tables of restaurants everywhere. Consumers have expressed interest in quality over quantity, and dietary concerns rank highly in many consumer buying trend reports (International Dairy, Deli, Bakery Assn., 2008; Keystone Report, 2006). According to the International Dairy, Deli, Bakery Association's What's in Store 2008 report, consumers have become more aware of how proper nutrition affects their health.
In an effort to better understand and influence consumer attitudes and behavior on away-from-home foods, the Food and Drug Administration funded the Keystone Forum in 2004. The overall intent was to address obesity, a growing public health crisis. The participants in the forum included representatives from industry, government agencies, civic sector organizations, and academia (Keystone Report, 2006). The result of the dialogue is the "Keystone Forum on Away-from-Home Foods: Opportunities for Preventing Weight Gain and Obesity," which provides recommendations on ways to positively affect the obesity epidemic. The report has generalized the prevailing trends in modern consumers and aids in the development of strategies for educators to better connect with them.
With the growing demand of meals eaten away-from-home coupled with the obesity epidemic, restaurateurs are searching for their best fit. Americans spend nearly 49% of their food dollars on away-from-home meals and snacks (USDA, 2007); however, adults and children are trying to eat healthier in restaurants (National Restaurant Assn., 2007). Restaurants offer healthier menu items mainly because they believe that customers have become more health-savvy and realize the importance of better menu choices that sell (Glanz et al., 2007).
But restaurants face a hurdle in creating healthy menu options as they respond to a shift in their customers' mindset toward healthier lifestyles. This paradigm shift challenges the traditional way of thinking, namely "if the food is healthy, the customer will think it does not taste good." Chefs are tackling the health trend in varying ways, such as decreasing portion size, modifying ingredients with emphasis on lower calorie items, and displaying nutrition facts on the menu. However, a main concern is whether these changes will help restaurants gain or lose business. Thus far, the reaction of customers has been positive as an increasing number of restaurants have begun implementing these ideas. In 2007, a National Restaurant Assn. study queried over 1,000 chefs as to what they believed the top trends would be in the upcoming year. Two of the top four responses related to portion size; bite-size desserts ranked first and small plates/tapas/mezzes placed fourth (National Restaurant Assn., 2007).
Chefs' Opinion of Portion Sizes
While chefs are quick to respond to customers' expectations, they are taught the finer points of food presentation in culinary school, which in the industry translates into food cost and portion size. Clemson University and The Pennsylvania State University conducted a joint study with 300 chefs to investigate how portion sizes are determined in restaurants. The study collected information from chefs, who are responsible for preparing food away-from-home, to determine the factors that influence portion size, identify who is responsible for determining portion sizes, and to examine chefs' opinions regarding the relationship between portion size, nutrition information, food intake, and weight management (Condrasky et al., 2007).
--- PAGE BREAK ---


Seventy-six percent of surveyed chefs noted that they are serving "regular" size portions. The reality is that when compared to the portions indicated in the USDA's Dietary Guidelines for Americans, their portioning is inconsistent (USDA, 2005). Ninety percent of chefs report serving portions larger than the U.S. Dept. of Agriculture recommendations for pasta, and 83% serve individual portions of steak larger than the 5.5 oz that the government recommends should be consumed each day. When chefs were asked what they considered to be factors influencing portion size, 70% noted presentation, 65% cost, 52% customer expectations, and 16% calories. An examination of the relationship between age and portion size found that chefs age 51 and older report serving significantly smaller portion of all foods and used significantly smaller dinner plates, while younger chefs served more pasta and used larger plates.
Overall, chefs indicated that presentation of foods, food cost, and customer expectations had a strong influence on portion sizes in their restaurants. Competition with other restaurants was demonstrated as having some influence on restaurant portion sizes (Figure 1).
Competition between local restaurants offering similar items was found to be a significant factor affecting the portion size of steak and pasta as well as the plate size. Data indicate that respondents choosing competition as an important factor of portion determination served larger portions of pasta and steak and used larger plates. Conversely, those who identified calorie content as being an important factor served smaller pasta and steak portions and used smaller plates. Effective strategies will be useful for chefs to provide and encourage appropriate portion sizes in away-from-home foods. Making small reductions in food portions is one possible strategy chefs can use. Chefs generally agree that the amount of food served influences how much people eat. While chefs thought that a 25% decrease in portion size would be noticeable to customers, the consensus was that a reasonable 10-15% decrease would be practical (Figure 2).
Food Intake and Weight Management
The majority of respondents agree that the amount of food served in a restaurant influences how much people eat and large portions are an obstacle for people trying to control their weight. Opinions were mixed regarding whether the amount eaten is the customer's responsibility. As customers become more aware of the relationship between portion size and how much they eat at a given meal, they may want more portion choices and therefore more control over their meals. The key concern is whether chefs are in step with what the customer wants in terms of portion sizes. This question is difficult to answer. But it appears chefs are responding to consumers through the increasing options presented on menus.
Consumers have expressed that they want health without sacrifice. Case studies investigated by the Keystone Report 2006 revealed that successful companies have employed healthy tactics such as substituting lower calorie ingredients without compromising taste, employing cooking techniques that resulted in fewer calories but yielded strong flavor, and relying on words or phrases that imply health attributes to improve preparation, packaging, and promotion. For example, terms such as "fresh," "flavorful," or "in-season" have been suggested to be more appealing than "healthy." Fruits and vegetables have been viewed as a simple tool to give customers more choices or to add a twist to ordinary items. Additionally, making slight changes to traditional dishes may attract new customers. Tasty and healthy options can be pivotal to satisfied customers.
An opportune avenue to positively reach numerous consumers is through commercial and social marketing campaigns. Recommendations have been made to enhance nutrition knowledge with an emphasis on away-from-home foods that are less energy dense and lower in calories. One technique that chefs can and are using to reduce energy density is "The Volumetrics Eating Plan," developed by Barbara Rolls, Professor and Director of The Laboratory for the Study of Human Digestive Behavior, The Pennsylvania State University.
--- PAGE BREAK ---
Volumetrics
The Volumetrics Eating Plan is based on the latest research on how to control hunger while managing calories (Rolls, 2005). Rolls' lab tests how different properties of foods - energy density, fat content, and/or portion size - affect how much people eat, hunger, and what affects the enjoyment of foods being eaten. Research has led to an improved understanding of which foods help control hunger and enhance satiety without adding extra calories. The studies indicate that by increasing the water content (adding fruits and vegetables) or lowering the fat content (but not so much that it affects palatability), fewer calories are consumed. People tend to eat a consistent amount of a dish and are not usually aware of the calorie content, so lowering the density of calories has been shown to reduce calorie intake and to help with weight management (Rolls, 2003).
Strategies to lower the energy density of recipes are explained in The Volumetrics Eating Plan. The plan encourages consumption of a nutrient-dense diet that meets the requirements of the USDA Dietary Guidelines. If chefs were to apply this approach to their menus, the result would be flavorful foods that leave the customer feeling full and satisfied.
As menu development is an ever-evolving topic for restaurants and chefs, they are blending their experiences with current trends to create delicious, healthy dishes and determining the best way to market the cuisine to their customers. Chefs are using more fresh ingredients and employing cooking techniques such as poaching, sautéing, or roasting rather than deep-fat frying. Healthier cooking terms are showing up more frequently on menus. Seemingly together, chefs and restaurant-goers are discovering that one does not have to sacrifice taste for health.
Healthy Menus in Action
Not too long ago, chefs would be hesitant to create a healthy menu, fearing people would not eat at their restaurant and the business would fail. This way of thinking does not concur with the current trend of eating healthy. Restaurants are marketing healthier menu options, from heart icons signifying healthy menu choices to an entire section designated for the lower fat and calorie offering.
In spring 2008, Health magazine ranked the top 10 healthiest restaurant chains in America (Minkin, 2008). Judging criteria included healthy food preparation, the availability of organic or hormone-free foods, whole grains on the menu, limited or no trans fats in all dishes, low-sodium options, healthy beverages, portion control, and ease of access to nutrition information. Uno Chicago Grill garnered the top spot, followed by Souplantation & Sweet Tomatoes, Mimi's CafC), P.F. Chang's China Bistro, Bob Evans Restaurants, Ruby Tuesday, Romano's Macaroni Grill, Chevy's Fresh Mex, Olive Garden, and Denny's.
These restaurants still offer their normal fare, but they have done some slight tweaking and are now catering to the consumer demand for healthy menu choices. For example, Uno Chicago Grill offers whole-grain pasta and brown rice, flatbread pizza with half the calories of deep-dish ones, and the addition of a salad with your pizza for half price. P.F. Chang's China Bistro also made the list for offering whole-grain rice with a meal, all-natural chicken, and nutritional information on the entire entree, which is unique for a restaurant. Bob Evans Restaurants uses the healthy tactics of offering low-carb, low-fat entrees like salmon stir-fry, as well as alternatives for children such as grilled rather than fried chicken fingers. The chain also offers healthy side dishes such as steamed broccoli and fruit. Olive Garden uses marketing icons (i.e., olive branch) on menus to signify low-fat items like Venetian Apricot Chicken and also offers whole-wheat linguine as an option for pasta dishes. Ruby Tuesday offers organic greens, hormone-free chicken, trans-fat-free frying oil, and healthful dishes including broiled tilapia and veggie or turkey burgers. Romano's Macaroni Grill provides consumers with a "Sensible Fare" menu, which consists of choices such as grilled salmon, asparagus, and broccoli while also offering whole-wheat penne and a child's menu of grilled chicken with steamed broccoli and pasta. Denny's presents a "Fit-Fare" option, with dishes like grilled chicken salad and tilapia with rice and vegetables.
--- PAGE BREAK ---
While T.G.I. Friday's did not make Health magazine's list, it has started the "Right Portion, Right Price" campaign, which offers a selection of smaller-serving entrees for calorie-conscious diners. However, while the entrees may be smaller, they may not be the healthiest of choices with only a few low-fat and low-carb options available among the list. T.G.I. Friday's is also offering more whole-grain alternatives, fruits, vegetables, and low-fat dishes.
It's not just the chain restaurants that are serving healthier fare. Many chefs and independents are also altering their menus. Take, for example, Executive Chef Jacques Wilson with the Sardine Factory restaurant in Monterrey, Calif. He came to the conclusion that the size of the 10-oz filet mignon could be reduced while maintaining popularity. So he began to offer a grilled USDA prime petite filet mignon, served with wild mushroom ragoût, garlic mashed potatoes, fresh asparagus, sautéed spinach, and baby carrots. The 5-oz filet was an instant hit as many different people were ordering this cut. The additional 6 oz of vegetables and 3 oz of starch helped to complete the meal.
Another issue that many restaurants face when decreasing portion size is how it looks on the original plate/vessel. The simple solution is to select a vessel proportional to the meal as served. This is exactly what the Sardine Factory did; Chef Wilson decreased the plate size, allowing for enhanced plate presentation. This technique has been employed for other dishes on the menu with much success. For example, a pasta dish went from 10 oz to 8 oz. It is served in a smaller plate. Chef Wilson is part of a group of innovators in the field looking for ways to create healthier menu items without sacrificing quality.
How are consumers reacting to these newfound healthy choices on menus? Produced by Technomic, the February 2007 issue of American Express MarketBrief found that two out of five consumers feel restaurants offer "too few" healthy side items, appetizers, and desserts, but the majoity of consumers are satisfied with the number of healthy menu items in the center-of-the-plate categories. However, three out of 10 still believe there are too few healthy salads, entrees, and sandwiches. MarketBrief also found that consumers believe that some restaurant segments have a greater responsibility to provide healthy menu options than others.
For instance, over two-thirds of consumers believe it is important for sandwich shops and bar and grills to offer healthy menu items, while 60% believe it is important for fast-food outlets to offer healthy menu items. Slightly more than half expect snack/coffee shops to offer healthy menu items (Technomic, 2007).
Nutrition Know-how
In order for a restaurant to thrive, it needs to keep up with, and if possible stay ahead of, consumer trends. Chefs are turning toward educators, nutritionists, and other outside sources for answers to their questions as they try to obtain a better grasp of their customers' needs. The queries range from the general to the very specific. For example, "What is healthy eating?" This question may seem simple, but for chefs, the answer is very complex and layered. Not only do chefs need to understand the definition of "healthy," they must tackle the challenge of how to market healthy foods to their customers.
Words like "healthy" are not in depth enough for many chefs; they want to know more. For instance, in the past five years the food industry has been bombarded with questions and concerns pertaining to fats, or more specifically, trans fats. With some cities going as far as to ban the uses of trans fats in restaurants, chefs have been forced to not only understand what they are but also how to avoid using them. Other concerns that loom in the minds of chefs are the discussion over good and bad fats, HDLs and LDLs, the superiority of olive oil as a fat, and the debate of butter vs margarine. These are questions nutritionists and educators have dreamt about because to them it translates to chefs becoming concerned about health and how to incorporate these ideas in their menus.
--- PAGE BREAK ---
In response to these growing queries, educators and nutritionists are creating courses to educate chefs, not only on healthy trends and nutrition, but also on how to utilize and market the lessons they learn. One purpose of these nutrition courses is for chefs to better grasp health trends and how to best implement them in their place of business and home. The American Culinary Federation (ACF) is an organization that demonstrates a commitment to helping chefs hone culinary nutrition skills. It is positioned to provide continuing education to thousands of chefs in America.
One way ACF is providing current information to chefs is through an eight-hour refresher course called "News and Nutrition for Chefs" The course - designed by Nick Spinelli, C.E.C., Executive Chef Global Research & Development, Kraft Foods, Inc.; Carol Kizer, C.C.E., R.D., F.M.P., Retired Chair, Columbus State Community College, Columbus, Ohio; Aimee Karaitis, Certification Manager, ACF; and Marge Condrasky - places emphasis on health and wellness, updated scientific knowledge concerning nutrition, nutritional trends, and cooking for a healthy lifestyle. The chefs practice menu development in accordance with current nutritional guidelines. They also review functional ingredients, menu planning, and marketing. Chefs engage in exploration of current trends in nutrition with an emphasis on new information, including nutrition and exercise, reducing the risks for certain types of disease and obesity, and applying basic nutritional guidelines to building recipes and menus for a variety of lifestyles and age groups. There is also discussion of the role of the culinarian in preparing healthy food that tastes good and satisfies a person's appetite, as well as the effective marketing of healthful menu options.
Chefs participating in the News and Nutrition for Chefs course have shared ways to reduce total calories in menus and retooled menus to provide food with lower caloric density. Some of the chefs are opening up to menu development suggestions to reduce calories. These include bundling items to add fruits and vegetables, dividing a meal evenly among main item, fruit, vegetables, and whole grain, and use of small amounts of fish, lean meat, poultry, nuts, legumes, and eggs, resulting in a "center of plate" entrée that is largely plant-based. Specifically, chefs are designing menus that emphasize healthy lipids, appropriate portion and cooking techniques, reduced sodium ingredients (e.g., frozen vegetables, low-sodium condiments), and ingredients available to chefs that add fiber, reduce fat, and provide texture in sauces and baked goods.
"The course was exciting," said Glen Walden, C.E.C., C.C.E., Dean of Culinary Arts and Hospitality Management at Stratford University, Falls Church, Va. "I learned how to pay attention to nutrient density by reworking recipes to reduce fat and sugar while increasing the vegetable and whole-grain portions to keep the plate full, but with less calories and better nutrition."
Research and Healthy Eating
The Keystone Forum conducted an informal survey to gather information from chefs and restaurant owners about their experiences in helping customers to manage their weight and health, particularly via product reformulation and innovation. The purpose of this unscientific, preliminary survey was to better understand the current thinking in the food industry on these topics. Forum participants saw promise in the preliminary results and therefore recommend that a scientific survey be conducted. The resulting 2007-08 study of ACF and Research Chefs Assn. members is being carried out by Barbara Rolls, Marge Condrasky, and Julie Flood with Penn State University.
America is on its way to losing weight by eating healthier. Today's away-from-home food consumers are not the diners of the past - those content with whatever is served as long as it is flavorful or economical. Modern diners are demanding a more active role in what they are eating, and they should be. The direct link between the foods we eat and our health is finally being acknowledged by the modern consumer, and restaurants are beginning to take big strides to attract this new customer. The result is chefs designing healthier menus. Menu items lower in energy density, which include water-rich foods (fruits and vegetables) and broth-based soups with reduced-fat content, are not only acceptable but are being encouraged. Restaurants are sensitive to these emerging trends and are altering their menus accordingly.
Where America's menus will go next, nobody knows. However, as the food industry and consumer trends bring more evidence to the table, there arises a strong case for building healthy menus.
Marge Condrasky, R.D., C.C.E., Ph.D., ([email protected]) is Associate Professor, Drew Warmin ([email protected]) is a graduate student in Food, Nutrition, and Culinary, and Beth Wall-Bassett, Ph.D., ([email protected]) and Marie Hegler ([email protected]) are graduates of the Dept. of Food Science and Human Nutrition, Clemson University, 216 Poole Ag. Center, Clemson, SC 29634.