Rising fuel and food prices and a looming economic recession in the United States are prompting consumers to eat at home more often and reduce their eating occasions at restaurants, especially casual-dining establishments. Today, families eat their main meal at restaurants only 1.2 times per week, down from 1.3 in 2007, and 1.5 in 2006 (FMI, 2008). While that does not bode well for foodservice, it does represent an opportunity for at-home foods. Consumers still want the quality, variety, and convenience that restaurants offer—they just want it for less money. The median price for a restaurant meal costs $12 per person. In contrast, an at-home meal costs only $5 (FMI, 2008).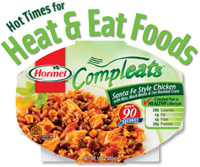 But consumers remain challenged when planning meals, especially dinner. On weekdays, 28% of Americans do not know what they will eat two hours before dinnertime. This number jumps to 35% on weekends (FMI, 2008). The most time-challenged meal planners on weekdays are Generation Y—46%, single men—43%, and single mothers—38%.
All of this spells good news for heat & eat foods that go from the freezer, refrigerator, or pantry to the microwave oven and then to the dinner table in a few minutes. A key attribute of heat & eat foods is the packaging, which acts as a cooking utensil, serving dish, and, in some cases, a dinner plate. This multi-functionality eliminates "dirty" pots, pans, and dishes and reduces cleanup time.
Heat & eat or ready-to-eat foods run the gamut from entrees and meal components to side dishes and snacks. They come frozen or chilled or are shelf-stable. Most products can be prepared and heated in the microwave oven; some are ovenable or dual ovenable.
The global market for microwavable foods is forecast to reach $75 billion by 2010 (Global Industry Analysts, 2008). Fueling this growth is changing lifestyles and expansion of time-starved consumers looking for a quick and easy meal solution. In 2008, the U.S. and Europe represent about 50% of the market for microwavable foods. Frozen is the largest food category, accounting for about 80%. In the U.S., the current market for chilled microwavable foods is estimated at $2.2 billion. The United Kingdom is the largest market for microwavable foods in Europe. Shelf-stable microwavable products in the U.K. are expected to reach $307 million by 2010.
90-Second Meal Solutions
Shelf-stable heat & eat foods have several advantages over their frozen and chilled counterparts. They can be transported without worry of spoilage and stored virtually anywhere—home, workplace, school, hotel room, health club, etc. Since the products are at ambient or room temperature, they usually require less microwave heating time than frozen or refrigerated products.
--- PAGE BREAK ---
Hormel Foods Corp., Austin, Minn., is building a new meal production facility in Dubuque, Iowa. "Consumer demand for shelf-stable microwavable meals is exploding. This investment will allow us to increase our production capacity and continue our leadership position through innovation and new products," said Jeffrey M. Ettinger, CEO, Hormel. The 327,000-sq-ft facility is expected to be operational by November 2009.
Hormel markets shelf-stable microwavable entrees under its Compleats brand. They come in 21 varieties, including beef, chicken, turkey, meatloaf, and lasagna. The 10-oz products carry a suggested retail price of $2.39. In addition, the brand has four varieties—Beef Steak & Peppers, Homestyle Beef, Santa Fe Style Chicken, and Sesame Chicken—for more health-conscious consumers. These products meet U.S. Dept. of Agriculture guidelines for a "healthy lifestyle," are under 320 calories/10-oz serving, 10 g of fat, and less than 3 g of saturated fat, contain 0 g trans fat and 600 mg or less of sodium, and provide 2 or more g of fiber and up to 22 g of protein. The 10-oz products carry a suggested retail price of $2.69. All Compleats entrees can be heated in a microwave oven in 90 sec.
While entrees and dinners dominate the heat & eat category, side dishes and meal components are capitalizing more and more on the microwavable trend. Mars North America, Hackettstown, N.J., recently launched Uncle Ben's Cajun Style Ready Rice in a stand-up pouch. The product can be heated for 90 sec in the opened or vented pouch, which features "Cool Touch" technology.
The pouch is constructed of a multi-material laminate designed for high-seal integrity, oxygen barrier, and crisp graphic presentation, said Mike Wilson, Vice President of Research & Development, Mars Food US. "A lot of consumer research went into the design of the Uncle Ben's Ready Rice Cool Touch pouch, and the technology we designed is simple," Wilson explained. "There is an enlarged heat-seal area near the top of the pouch where consumers naturally hold the pouch when removing it from the microwave. Since the film in the seal area is a poor heat conductor, the Cool Touch area provides a barrier between the hot product inside the pouch and the consumers' fingers."
When consumers remove the hot product from the microwave, they typically know that the pouch will be cooler along the seal edge, Wilson noted. "However, the standard seal area was small and difficult to grip firmly with your fingers. By creating a larger Cool Touch area on both sides near the top of the pouch, and highlighting the Cool Touch area with graphics, we give the consumer an area that is easy to grip and is insulated from the hot product inside the pouch. The Cool Touch area also provides an easy area to grip when tearing off the top," said Wilson.
With its new Ragu Fresh and Simple Pouch, Unilever claims to have developed the next evolution of pasta sauce. The all-natural products can be heated in a microwave oven in 90 sec. They come in four varieties—Garden Veggie, Traditional Tomato Basil, and Tomato, Onion, & Garlic. Graphic icons of a scissor, microwave oven, and pouch pouring into a bowl along with the words, "Clip It", "Pop It", and "Pour It" convey ease of preparation.
Spice Hunter, San Luis Obispo, Calif., recently reformulated its Risotto with Wild Mushroom in a 2-oz cup. The new recipe is all-natural and low in fat. Consumers can prepare the product in a microwave oven for about 90 sec or add boiling water to the cup.
--- PAGE BREAK ---
Frozen and Chilling Developments
Mintel (2007) predicts slow growth in frozen meals in food, drug, and mass merchandisers (excluding Wal-Mart) in the United States over the next 5 years, inching from $5.2 billion in 2007 to $5.4 billion in 2012. Competition from frozen snacks, refrigerated meals, and the proliferation of quick-service restaurants are stalling sales of frozen meals. But there are some bright spots and opportunities. Multi-serve meals are growing and products that reduce cooking/preparation time are garnering additional market share. Consumers are seeking more premium frozen meal offerings, more natural varieties, and more nutritious options for an expanding population of kids. In addition, authentic ethnic products may appeal to Hispanics and Asians, which are the lowest users of frozen meals.
Commissioned by Kahiki Foods, Columbus, Ohio, a recent consumer insight study conducted by Mintel suggests that consumers want more Italian, Mexican, and Chinese frozen cuisine. While consumption of ethnic food overall is on the rise, nearly 50% of consumers do not eat ethnic foods beyond Italian, Mexican, and Chinese. Ethnic foods such as Indian, Greek, and Thai are rarely purchased. Nearly 45% of respondents chose Chinese cuisine when asked what types of frozen foods they would like to see more of.
This demand is being spurred by demographic diversity in the U.S., with Hispanic and Asian populations at the top, according to Mintel research. "Consumers are willing to pay more for products with better ingredients, more sophisticated flavors, or more authentic ethnic dishes. This is especially true of smaller, more affluent adult-only households," stated the research.
Sales of frozen snacks in the U.S. are expected to reach $2.6 billion by 2012—an 18% increase over 2007 sales in current terms and a 4% increase in constant terms (Mintel, 2007). Among adults who eat frozen snacks, 85% report doing other things like using the computer or watching TV/movies while eating. Nearly 80% of parents say their kids do other things while eating frozen snacks. Children and teenagers are avid users of frozen snacks. They can prepare them in the microwave without adult intervention. More than 70% of consumers with a child age 6 or older agrees with the statement, "The kid/kids in my household fix frozen snacks on their own."
Fueled by consumer demand for convenience, sales of frozen food packaging are expected to increase 4.1% annually to $6.4 billion in 2011 (Freedonia, 2008). Gains will be driven by greater demand for convenience-type foods that are prepared in microwave ovens. Meat, poultry, and seafood and frozen specialties applications, which accounted for 60% of demand in 2006, will post above-average growth. Pouches and flexible packaging are the fastest-growing packaging category (5.1% annually), stealing market share from cartons, which still account for the majority of packaging. Cartons and other types of rigid packaging are expected to grow 3.5%/yr.
Flexible packaging is helping a Spanish manufacturer of deli meats to bring convenience to at-home tapas preparation. Espuña, Olot, Spain, selected a vacuum skin packaging concept called Simple Steps from Cryovac/Sealed Air Corp., Duncan, S.C., for its line of "Tapas al Minuto" or Minute Snacks. Espuña uses a novel high-pressure process to "pasteurize" the tapas inside the vacuum skin packaging. This process extends the shelf life while retaining the products' organoleptic properties.
For consumers, the tapas products can be microwaved (i.e., steam heated) inside the self-venting film for 1 min; the closed package keeps the food hot for up to 25 minutes. The package contains 80 g of precooked tapas in five different varieties: Choricitos and Spicy Choricitos (small pork sausages), Pinchitos (skewered pieces of meats), Combined Pinchitos, Rolled Snacks (bacon wraps), and a Tapas Assortment. To make the packaging reminiscent of traditional tapas, the skin packaging is inserted in a corrugated box with printing and graphics designed to look like chalk on a blackboard announcing the tapas of the day in Spanish bars. The Minute Snacks have become very popular for entertaining friends and family guests. The chilled products are marketed in Spain, France, and the U.K.
--- PAGE BREAK ---
Packaging Innovations
Many new microwavable frozen food products are taking advantage of steam generated inside the package, resulting in uniform and rapid moist heating (Brody, 2008). Typically, the microwave energy converts the product moisture to steam in a closed environment to permeate the product. This steam thaws the ice and converts it to hot water to further heat the product.
One example of this trend is Healthy Choice Café Steamer entrees from ConAgra Foods, Omaha, Neb. The new product line utilizes a packaging system that circulates steam throughout the meal during cooking. The system consists of a polypropylene bowl, which contains the sauce, and a polypropylene steamer basket, which nests above the sauce and contains the meat, vegetables, and pasta or rice. Steam from the sauce heats the meal components in the steamer basket. Following microwave cooking, the ingredients can be combined in the sauce bowl, which also doubles as a serving bowl.
Other frozen products capitalizing on steam heating in the microwave include Birdseye Steamfresh Singles, Rosetto's Steam'n Eat Ravioli, Taylor Fresh Steam Cuisine Entrees, and Phillips Steamer Creations Frozen Seafood.
Curwood, Oshkosh, Wis., offers four steam-and-serve packaging technologies for cooking fresh, frozen, or shelf-stable foods. The four self-venting systems include stand-up pouch, forming/non-forming film system, steam-in bag, and skin pack.
The stand-up pouch features a patented controlled-peel system, cool-zone handgrips, high-profile retail presence, and the ability to serve right from the package. The forming/non-forming film controls steam release through stress venting and can be printed with opening instructions. The vertical form/fill/seal bag incorporates an easy-opening feature and can be printed with high-impact graphics. It is self-venting. The skin-pack steam dome features skin-tight film that enhances product appearance and shelf life, expands for controlled-steam cooking, and peels away for serving directly from the tray.
Bob Swientek is Editor-in-Chief of Food Technology magazine and Director of Publications ([email protected]).