Shaken, not stirred. How many times have we heard James Bond utter that line regarding the making of his favorite alcoholic beverage? Today, however, those same instructions could easily apply to yogurt, which could be served shaken, as in a smoothie, or stirred, as in a cup. Unlike martinis, yogurt can also be consumed frozen on a stick, served in a waffle cone, pushed up in a tube, popped in your mouth, or drizzled on your salad. And, more than ever, yogurt products that contain live, active cultures are being promoted for their health benefits. Sorry 007, you should try yogurt sometime.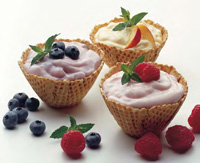 Yogurt is fermented by bacterial cultures that transform the milk's sugar, lactose, into lactic acid. This process gives yogurt its tart flavor and special pudding-like texture, a quality reflected in its original Turkish name, Yoghurmak, which means "to thicken." Yogurt is not a new food. Many centuries—or even millennia—ago, this product originated in parts of central and western Asia. The earliest yogurt products may have been the result of unintended fermentation. And in certain parts of the world, such as India, yogurt was used as an ingredient in a variety of dishes, some of which are only emerging today in our mainstream.
Of course, what is particularly fascinating is how far this product has evolved, not only finding its way into the Western marketplace, but becoming such a staple in so many countries. Why this success? Why has yogurt endured throughout the ages, positioning itself as a viable product for the future? The answer to that question is not a difficult one. Yogurt is generally regarded as one of the first probiotic food products. Probiotics are living microorganisms, which—upon ingestion in sufficient numbers—exert health benefits beyond basic nutrition. In particular, yogurt has the potential to help prevent digestive problems and ward off preconditions for other diseases.
In Europe, especially, there have been many interesting product launches touting yogurt as a vehicle for probiotic and other health benefits. For example, consumers in Germany can buy organic peach and apricot yogurt with added muesli. In Italy, BB-12 Active Yogurt Cremoso comes in "cereal" flavor and contains bifidobacterium for regularity. In northern countries, fish oil with omega-3s has played an important role in yogurt. And yogurt "probiotic shots" are especially well-known throughout Europe.
While the United States may be a nation of cheeseheads, that doesn't mean that yogurt hasn't found its share of consumers interested in its health benefits. In fact, sales of dairy foods with probiotics are increasing at about 20% annually, with most of the probiotics Americans consume coming from the growing category of fermented dairy products, such as yogurt and yogurt drinks. In particular, a liquid yogurt form, "probiotic shots," is expected to grow dramatically over the next fi ve years. Moreover, the U.S. market for frozen desserts is expected to grow signifi cantly by 2012, with frozen yogurt experiencing the strongest growth, notes the U.S. Market for Ice Cream and Related Frozen Desserts (Packaged Facts, 2007).
--- PAGE BREAK ---
Today, a visit to the store will find a wide variety of yogurt products on the shelves. Some of the more notable examples have included Dannon's Activia yogurt, introduced in January 2006, followed by General Mills' Yo-Plus, under the Yoplait yogurt brand in 2007. Yoplait Kids™ yogurt from General Mills is available as a portable drink and spoonable cup and has a version that contains omega-3 fatty acids. And in January 2008, Yoplait introduced Fiber One™, a 4-oz cup of creamy nonfat yogurt that contain 5 g of fiber and comes in Strawberry, Vanilla, Peach, and Key Lime flavors.
Breyers Yogurt Co. introduced a line of nonfat yogurt products, YoCrunch Light, which incorporate brand name crunchy mixins. The new line has one-third fewer calories than the original version and debuts in three flavors. Cookies n' Cream features nonfat vanilla yogurt with Oreo® cookie-piece toppings. The two other fl avors, Strawberry and Peach, combine nonfat yogurt with granola toppings. The new line will be available in May/June 2008 at leading grocery, health food, and specialty stores nationwide. Using branded ingredients can help differentiate the product in the marketplace, make it more appealing to children, and build awareness for yogurt and its potential health benefits.
Other yogurt manufacturers have also been busy. Lightfull™ Satiety Smoothies from Lightfull Foods are made with yogurt and whey protein isolate and are offered in such flavors as Strawberries & Cream, Peaches & Cream, Chocolate Fudge, and Café Latte. Stoneyfi eld Farms renamed its high-calcium yogurt (formerly called 2-a-Day) YoCalcium because it offers twice the amount of calcium of other leading yogurts. Optimal Control by Campina is a new product from overseas that supports satiety with yogurt and vegetable extracts. Promise Activ™ Supershots™ from Unilever Bestfoods are enhanced with plant sterols to help lower cholesterol. And we can expect to see more.
Proactive on Probiotics
The recent formation of a probiotics council may have an infl uence on the future evolution of yogurt and other probiotic foods in the mainstream marketplace. The group was established by the National Yogurt Association (NYA), McLean, Va., a national nonprofi t trade organization representing the manufacturers and marketers of live and active culture yogurt products, as well as suppliers to the yogurt industry.
The new Probiotics Council, consisting of NYA staff and representatives from its member companies, is a working group that will participate in technical meetings and conferences; meet on a regular basis to discuss the latest scientific developments regarding probiotic cultures, their biological and physiological interactions within the human intestinal tract, and their resulting health benefits; and establish links with other probiotic industry organizations. Increased participation in these areas will be critical to anticipating and proactively engaging in any legislative or regulatory actions, as well as any industry standardization or certifi cation initiatives regarding foods that contain probiotic cultures.
"Our increased participation in the field of probiotic foods will bolster the cultured dairy industry's current role as the originator and leader of the probiotic food movement," said Leslie G. Sarasin, President of NYA. Because yogurt is such a major probiotic food, any new advances or developments that result as part of the council's efforts may have a significant impact on this category, perhaps even leading to future product innovations.
--- PAGE BREAK ---
Over the years, ice cream has seen many innovations designed to broaden its appeal in the marketplace. Some examples have included an array of flavors, creative colors, innovative toppings and inclusions, new textures, a reduction in fat or calories, reformulated cones, ingredients that help decrease meltability and make the eating of the ice cream a less-messy experience on a hot summer day, and the continuing exploration of different forms. Although yogurt is primarily touted for its probiotic benefits, it must adopt similar strategies. As in the case of ice cream, innovation has to play an important part in the future formulation of yogurt if the product is to successfully penetrate different market demographics, ranging from children to the mature adult. And although many advertisements seem to focus, in particular, on women on the go who are looking for healthy indulgent products, let's not forget males of all ages and backgrounds as potential markets.
The potential of yogurt should not be measured solely by its health benefi ts, as not all yogurt applications contain live, active cultures. Remember the yogurt-coated pretzel? Or yogurt-coated candy? Perhaps the most recent example of this is the candy product Dots from Tootsie Roll Industries, which offers a version with flavors of yogurt and fruits. Yogurt is also a popular ingredient in many international cuisines, and as these dishes enter the mainstream, we'll likely see more of yogurt in dressings, sauces, spreads, and other products. And although these products are not probiotic, they can help promote yogurt's flavor and texture and keep yogurt in the spotlight so a broader range of consumers might be willing to try a probiotic food in the future.
Formulators today are developing new concepts and strategies aimed at making yogurt more appealing to different demographics. This article will look at some of these different ways that yogurt is being reformulated or reshaped so that it can take a stronger position in tomorrow's marketplace.
Straining for the Best Probiotic
While evidence continues to accumulate for probiotics' contribution to a healthy digestive tract, the science of probiotics is still developing, said Gail Barnes, Vice President, Industry Innovation Consulting, for Dairy Management Inc., Rosemont, Ill. (phone 847-803-2000, www.innovatewithdairy.com). Potentially, there are thousands of varieties of probiotic bacteria. Researchers continue to investigate the special characteristics of different probiotic strains and their potential contribution to digestive health.
"Genomics research, such as that supported by dairy farmers through DMI, is an exciting development in this area," Barnes emphasized. "Ultimately, comparing probiotic bacteria strains on the basis of genetic content may help answer industry questions about how to pick the right probiotic strains for specific purposes and products."
Yogurt and yogurt beverages are ideal vehicles for probiotics. With the public's continued interest in health, wellness, and functional foods, the prospects for these products are very promising. To demonstrate their potential, DMI has developed a number of yogurt prototypes. For example, at the 2007 IFT Food Expo, it showcased a Peach Yogurt Smoothie made with milk protein concentrate and low-fat milk. The milk protein concentrate contributes a mild dairy fl avor to the creamy application, which is suitable as a meal-replacement product.
According to Barnes, the stage is set for 2008 to be a breakout year for dairy-based digestive beverages. "In the U.S., we're a nation of dashboard diners—and that means single-handed consumption," she noted. "We've seen the success of Activia in a spoonable yogurt form. In 2008, start looking for even more daily 'supershots'—3.2-oz versions of digestive health products that deliver portability, convenience, and single-handed consumption in a size that also limits calories."
--- PAGE BREAK ---
Taking a Bead on Yogurt?
Recently, an ice cream manufacturer, the MolliCoolz Co., collaborated with Cargill, Minneapolis, Minn. (phone 952-742-6000, www.cargill.com), to create ice cream beads that do not melt or fuse together during standardized distribution and storage. These beads are small, individual pellets of ice cream in a variety of flavors and colors. Consumers can pour these beads directly into their mouth without spoons or mess. During cryogenic freezing, the product is frozen at a very low temperature, far below its actual freezing point, which allows the beads to be free-flowing at normal ice cream temperatures. The pellets are made with Cargill's Daritech texturizing system, which is designed to deliver a variety of functionalities, including mouthfeel, flavor release, textural stability, improved shelf life, viscosity control, and freeze/thaw stability.
The technology used in the system is aimed at pelletizing ice creams and sherbets, but frozen yogurt may be another option worth exploring. Although I'm not sure about the processing's effect on the viability of probiotic cultures, yogurt manufacturers can still learn from this development, which takes a traditional frozen dessert and reinvents it. The result is a novelty product that can deliver a special sensory experience, while making it easy to eat at parks, stadiums, malls, and so on. Pelletized frozen desserts have actually been around for a few years, but this development may help move them more into the mainstream, while perhaps functioning as an infl uential force on the traditional perception of yogurts and the forms in which they are available.
The popularity of products such as smoothies and yogurt cones may help stimulate future innovation in the frozen yogurt area. Take, for example, Blueberry Guanabana Flavored Low-Fat Frozen Yogurt, a prototype formulation from Cargill that combines probiotic cultures to promote health and wellness, creamy texture, and full-fat taste, as well as a blend of exciting fruit flavors.
The formulation features Daritech™ functional stabilizer systems that replace fat and dairy solids without compromising texture, as well as control ice crystal formation. The ingredients used in the formulation can be tailored to meet the customer-specifi c needs, helping to produce a premium product with probiotic label claims. This product does not meet the California standard of identity for frozen yogurt, so regulations in regional markets should be checked for formulation suitability.
Yogurts Through Thick or Thin
Both large yogurt brands and smaller, regional companies offer smoothies that feature new or different types of fl avors, and often a lower-calorie or lower-fat profi le. To accommodate the needs of drinkable yogurt manufacturers and producers of other types of smoothies, TIC Gums Inc., Belcamp, Md. (phone 410-273-7300, www.ticgums.com), developed a new product for its line of yogurt stabilizers.
TIC Pretested® Dairyblend YG Drink SP is a synergistic blend of hydrocolloids designed for single-step processing. The new system helps impart the creamy, smooth mouthfeel and texture associated with high-quality drinkable yogurts and allows for superior flavor release. The system is fl exible in other ways, as well. The viscosity of the finished product, for instance, can be adjusted to formulate an array of viscosities, ranging from thicker, heavier-bodied smoothies to the original thin-bodied drinkable yogurts. While viscosity can be adjusted, the desired texture and flavor-carrying characteristics of the system are not affected by any different levels of the stabilizer in the thickening of the formulation.
--- PAGE BREAK ---
Yogurt Dundee, Mate?
The February 2008 Ingredients article explored the innovative directions that color is taking. One example highlighted was a frozen yogurt prototype from Blue Pacific Flavors, City of Industry, Calif. (phone 626-934-0099, www.bluepacificflavors.com), that combined green tea with a green coloring. As I noted in that article, if you have a "green" ingredient you wish to feature, what better way to do it than by showcasing it in a green-colored application—whether that application is traditionally green-colored or not? Frozen yogurt would be a suitable vehicle for going green, using such fl avors as Green Apple, Green Banana, Green Strawberry, Green Guava, Green Mango, Green Pineapple, and Green Plum.
Recently, Blue Pacifi c Flavors formed a strategic collaboration with New Zealand-based Hort Research (phone 0064 9 815 4200, www.hortresearch.co.nz), a fruit science company that has developed a number of exciting fruit products, including berry-sized kiwi, red-fleshed apples, and a range of new blueberry, peach, and pear cultivars. Such an agreement could lead to new innovations in yogurt products. Imagine, for example, using these colorful fruit developments as inclusions, toppings, or flavors in a yogurt application. Furthermore, Hort Research has an extensive fruit compound database, a valuable resource for creating innovative fruit-derived products that can deliver authentic flavors and aromas and are ripe to meet emerging markets for functional foods such as yogurt.
Out of this "Down Under" relationship can come several novel fruit innovations that can apply to yogurt, suggesting how this product can be upscaled using exotic ingredients and flavors. Let's look at a few other ways in which a touch of the exotic can be added to yogurt.
For example, at 2007 FIE, Wild Flavors Inc., Erlanger, Ky. (phone 859-342-3000, www.wildflavors.com), highlighted a Lulo fruit flavor from South America that may be used in yogurt. The slightly acidic flavor has been likened to a cross between lemon and pineapple. Robertet Flavors, Piscataway, N.J. (phone 732-981-8300, www.RobertetUSA.com), recently launched a range of papaya flavors for use in yogurt. Papaya's refreshing tropical flavor easily complements other fruit profiles, particularly citrus, berry, and other tropical flavors. The natural, liquid, water-soluble flavors include Papaya, Papaya Pineapple, Papaya Peach Mango, and Papaya Passionfruit. Bolthouse Farms Inc., Bakersfi eld, Calif. (phone 661-366-7280, www.bolthouse.com), now makes available frozen açai juice that can be blended into yogurt. Grown in the rainforests of Brazil, the açai berry has antioxidant potential.
Yogurt could be a suitable vehicle for delivering exotic flavor combinations, as well. Imagine an exotic fruit flavor combined with a traditional one, such as strawberry or blueberry. The resulting yogurt product could present a refreshing taste that is recognizable, but at the same time a little different. Earlier, this article looked at Cargill's blueberry-guanabana yogurt prototype. In the marketplace, Rachel's U.S., Broomfi eld, Colo., recently introduced two new flavors to its line of low-fat yogurt: Pink Grapefruit Lychee and Marionberry Guava. And, of course, the flavor combinations are not limited to fruit either. Imagine the use of fruit and vegetable blends. Vegetables such as corn, cucumber, spinach, fennel, tomato, and carrot can find their way into the dairy product.
How about a savory yogurt with tomato as a major ingredient? A savory yogurt prototype, Chipotle & Sun-Dried Tomato Yogurt, may be consumed as a snack or used as a warm yogurt sauce for kibbe (meatballs), chicken, vegetables, or even dumplings. The formulation, developed by Vegetable Juices Inc., Bedford Park, Ill. (phone 888-776-9752, www.vegetablejuices.com), consists of yogurt (81.63%), tomato paste (6.96%), sun-dried tomato particulate (4.35%), sun-dried tomato paste (3.14%), garlic juice (1.71%), Morita chipotle puree (1.71%), salt (0.64%), and Z-Trim fi ber (0.10%).
--- PAGE BREAK ---
Exotic or fl oral aromas may come from your yogurt product, as well. In the February 2008 Ingredients article, one of the emerging trends described by McCormick Flavors involved the use of rose petals paired with other ingredients. Interestingly, Danone has just gone fl oral with strawberry and rose flavors (as well as mango and orange blossom) in its yogurt. Or how about the aroma of mint? An Italian yogurt company recently combined lemon and mint in its product. Almost sounds like you can now brush your teeth with yogurt.
Sweetening up Yogurt Prospects
New research shows that sweetener blends containing acesulfame K (Sunett®) can be used in strawberry-flavored yogurt to totally or partially replace sugar and, therefore, reduce calorie levels while maintaining flavor. The trials were conducted for Nutrinova Inc., Dallas, Texas (phone 800-786-3883, www.nutrinova.com), manufacturer of Sunett, by an independent research body, Lintech RSSL.
A specially trained panel of 10 tasters assessed a commercially available low-fat plain yogurt with a 15% strawberry fruit preparation. The yogurts were divided into three groups and sweetened with (1) sweetener and sweetener blends but no added sugar; (2) a blend of sweetener(s) and carbohydrates; or (3) sweeteners with sugar.
The panel was asked to rate various aspects of sweetness and taste, such as initial sweetness onset, sweetness build, and whether they could detect the taste of artificial sweeteners. Also evaluated were aftertaste, bitterness, yogurt thickness, and strawberry flavor.
With regard to the "no-sugar" option, tasters found that a 50:50 blend of acesulfame K and sucralose yielded a sugar-like taste in most aspects. This combination also offers manufacturing benefits, such as excellent stability, resistance to pasteurization, and prolonged shelf life. A 30:70 blend of acesulfame K and aspartame also yielded a very similar taste profile to sugar, but aspartame can have a negative impact on stability. A three-way blend of acesulfame K, aspartame, and sucralose resulted in the best taste profile for "no sugar added" yogurt, similar to that of sugar, while the reduced level of aspartame promoted stability. Small amounts of carbohydrates offered further improvements to acesulfame K/aspartame or acesulfame K/sucralose blends with regard to thickness, mouth-coating, and sweet aftertaste.
The partial-sugar-replacement tests revealed a significant sweetening cost reduction for a sucrose/acesulfame K/aspartame blend compared with the full-sugar option while offering a sugar-like taste.
According to Nutrinova, Sunett is finding increasing applications in new yogurt product launches globally. The high-intensity sweetener offers manufacturers the opportunity to develop low-calorie formulations while delivering sugar-like, synergistic sweetness and meeting consumers' expectations in terms of taste.
--- PAGE BREAK ---
New Yogurt Made with Whole Grains
A whole-grain yogurt prototype, developed by Creative Research Management, Stockton, Calif. (phone 209-938-0900, www.crmcorp.net), adds a new dimension to this product category. Ricera® Rice Yogurt is a cultured rice product that offers an alternative to dairy and soy yogurts.
The formulation is made with a processed organic whole brown rice ingredient, RiceLife®, which delivers the nutrients of whole grain without its typical texture and taste. The ingredient has been enhanced with additional organic brown rice components to double its protein content and provides a desirable, smooth texture and taste.
The rice yogurt is fortified to be an excellent source of calcium, vitamin A, and vitamin D. Organic inulin boosts the fiber content and functions as a prebiotic. Six culture organisms provide the typical yogurt "tang" that complements the natural flavors of fruit and vanilla bases blended with the rice ingredient to create the smooth-textured finished product. Each 6-oz serving has fewer than 200 calories, contains only 1 g of fat (naturally occurring rice bran oil), and provides 24 g of whole grains and 3 g of fiber.
Creating New Yogurt Textures
Traditionally, starch has been included in yogurt to reduce cost, stabilize viscosity, and improve process tolerance during production. However, with proper use and application of starches, combined with establishing a benchmark in terms of what textures are favored, yogurt manufacturers can achieve a sensory profile that precisely matches the preference of consumers, noted Marshall Fong, National Starch Food Innovation, Bridgewater, N.J. (phone 800-797-4992, www.foodinnovation.com).
"Particularly in the case of 'premium' yogurt products, where consumers anticipate a sophisticated, pleasing sensory experience, textural attributes directly infl uence consumer expectations," said Fong. "Unlike flavor, however, consumers have a more diffi cult time in describing the attributes that form the basis of their preferred sensory experience." National Starch's texture team conducted studies determine the preferences consumers, translating their comments to form a benchmark with respect to three major sensory components—firmness, mouth-coating, and meltaway.
Taking such an approach gives the ingredient company starting point from which to identify potential gaps in the texture profile of yogurt products and a foundation from which to support yogurt manufacturers their efforts to commercialize products that prove successful with consumers. National Starch offers its customers a turn-key solution that includes the use of Novation® functional native starches, co-texturizing starches, or other texture ingredients, that together deliver an optimum balance of flavor and texture. At the 2007 IFT Food Expo, the company showcased a new line of texturizers, N-Dulge, developed for yogurts. The line, which currently consists of four products, uses a co-texturizer approach involving a standard, base viscosifier as the texture foundation, followed by the addition of a non-viscosifying starch-based ingredient to provide specific sensory attributes for particular applications. A range of texture properties based on levels of fi rmness, mouth-coating, and meltaway can be created.
--- PAGE BREAK ---
Yogurts for Kids and Adults
Several yogurt prototypes demonstrate the latest ingredient innovations from Tate & Lyle, Decatur, Ill. (phone 800-526-5728, www.tateandlyle.com). For example, Yogurt Enrich™, part of a digestive health and immunity platform, is an ingredient system that allows for the formulation of low-fat (1.5%) or fat-free, reduced-sugar yogurts. A source of prebiotic fiber, it is formulated to work well with benefi cial probiotic cultures. Prototypes provide excellent levels of selected vitamins and minerals associated with digestive health and immunity. Highly functional food starch provides a smooth, creamy texture and maximizes stability while calcium salts give sheen to the fi nal product. The presence of sucralose (Splenda®) delivers the desired reduction in calories and sugars.
Yogurt Tube Enrich™, specially created for the children's health platform, provides yogurt in a novel, fun form. This prototype includes fiber, calcium, proteins, vitamins, and optional omega-3 fatty acids and choline. Drinkable Yogurt Enrich™, part of the weight management platform, helps consumers feel satisfi ed longer. The ingredient solution is a source of protein and fi ber that are thought to provide satiety and can contain a wide range of vitamins to support metabolism. The product is low-fat and high in calcium, which is often associated with bone strength and colon health.
Tate and Lyle also developed yogurt prototypes with its Promitor™ dietary fi bers, which include a resistant starch and a soluble corn fi ber. These ingredients offer manufacturers signifi cant processing benefi ts and may be used to add fi ber with no impact on taste or texture. The soluble corn fi ber functions similarly to traditional sweeteners—it is highly soluble, offers a clean fl avor and clear color, and demonstrates stability. An 80-calorie, fat-free yogurt prototype features the soluble corn fi ber.
Brain-Boosting Yogurt?
Yogurt products enhanced with omega-3 polyunsaturated fatty acids are being launched into the marketplace. Omega-3s, especially DHA, are promoted for their brain-boosting properties. DHA ensures that the cells in the brain (as well as in the retina, heart, and other parts of the nervous system) develop and function properly.
One of the most recent examples, Smart! from Breyers Yogurt, is made with a vegetarian source of DHA omega-3. This ingredient, manufactured under the name life's DHA™ by Martek Biosciences Corp., Columbia, Md. (phone 410-740-0081, www.martek.com), is produced from microalgae grown in fermentation tanks. Breyers' new line of creamy, fruit-on-the-bottom yogurts, comes in such flavors as Strawberry, Blueberry, Mixed Berry, Peach, Black Cherry, Red Raspberry, Pineapple, and Strawberry-Banana. The fl avor profi les are said to not be affected by the ingredient.
Danone Canada Inc. recently expanded its yogurt line to include a drinkable yogurt, Danone Drinkable. This is the third yogurt product that the company has launched that contains MEG-3®, an omega-3 EPA/DHA food and dietary supplement ingredient from Nova Scotia-based Ocean Nutrition Canada Ltd. (phone 902-480-3200, www.ocean-nutrition.com). The ingredient, derived from pure fi sh oil, is produced by a microencapsulation technology, Powder-loc™, which provides superior process tolerance and ease of formulation without altering the taste or smell of the food product. Each 93-mL bottle of Danone Drinkable contains 20 mg of the ingredient and is available in four fl avors—Banana, Strawberry, Raspberry, and Strawberry-Banana. The product is sold in major grocery stores throughout Canada.
--- PAGE BREAK ---
And more yogurt products enriched with omega-3s may be on the way. In 2007, Neptune Technologies & Bioresources Inc. formed a strategic partnership with Yoplait, a worldwide leader in the dairy industry. The companies signed an agreement to research and develop new functional dairy products for worldwide commercialization. According to the agreement, the company will develop fl avorsome dairy products that contain Neptune Krill Oil™ and will be clinically tested for their effect on prevalent chronic conditions. Yoplait's intention is to launch the approved products in strategically chosen countries followed by a worldwide rollout.
At the 2007 IFT Food Expo, Mintel International, a global supplier of consumer, media, and market research, conducted tasting sessions with 150 new products, with more than 1,000 food and beverage experts voting for their favorites. Food for improved brain function was among the key trends addressed. In this category, Yoplait Kids low-fat yogurts with omega-3 DHA won fi rst place. "We have seen rapid growth in products that highlight their ability to improve brain function in the past year or so," said a consultant for Mintel. In addition to products focusing on children, there is clearly a market yet to be exploited for older adults and working executives who need short-term energy boosts for the brain.
Sipping and Chewing on Yogurt
How about a yogurt on a stick? This formulation, made with a spicy chai fl avor, was recently developed by Kerry Ingredients, Beloit, Wis. (phone 608-363-1200, www.kerryamericas.com), to demonstrate the different formats that yogurt can take in the marketplace. Let's look at a few other innovative examples from Kerry.
A mixed berry smoothie prototype, Berry Blast Yogurt Smoothie with Real Fruit, contains real yogurt and juice to help aid digestion and boost the immune system. This indulgent blend of yogurt, juice, probiotic cultures, and plant sterols demonstrates several technologies that could prove key in the future manufacture of yogurt products.
For example, DuraFresh™ from Kerry-BioScience, Hoffman Estates, Ill. (phone 847-645-7340), is a line of ingredients produced by a fermentation process that naturally enhances product freshness while inhibiting growth of spoilage bacteria, yeasts, and molds. Recently, the company added to this line DuraFresh 5015—a reformulated ingredient based on skim milk that has a higher concentration of organic acids and is more effective than previous versions. Because less is needed in the formulation, it offers additional cost advantages.
Kerry's encapsulation process enables rapid inclusion of phytosterols, delivering a product with a high loading of free sterols without impacting taste or texture. Research has shown that the addition of plant sterols may help lower cholesterol.
Other ingredient systems in the formulation include Fargo™ lactic cultures, which deliver functionality and fl avor in cultured dairy applications; Sherex™, a line of ingredients formulated for specific functions related to texture; and natural fl avors from Mastertaste.
--- PAGE BREAK ---
Kerry also demonstrated that some formulations can take advantage of the fl avor and creamy characteristics of yogurt. Although these products do not have probiotic benefi ts, they can provide an indulgent treat that keeps yogurt in the spotlight, makes yogurt products appealing to a broader range of consumers, and may even help stimulate an interest in someday trying a probiotic food. One example of such a formulation is Raspberry Fruit Smoothie Chews, a soft-textured, bite-sized treat that combines an authentic fruit fl avor experience with yogurt. Ingredients in the formulation include Accel yogurt powder (with real yogurt), which provides smoothie taste characteristics; Hyfoama whipping protein that supplies aeration; Admul emulsifi er for preventing stickiness when chewing; and Crystals freeze-dried real fruit juice. The formulation is also available in a pineapple fl avor that provides a creamy, tropical taste.
New Pectin Solution for Yogurt
A range of pectin-based hydrocolloids from CP Kelco, Atlanta, Ga. (phone 678-247-7300, www.cpkelco.com), may be used to replace some of the milk solids in yogurt while still maintaining its desired texture. Genu® pectins are positioned by the company as a new solution for yogurt manufacturers in response to escalating dairy ingredient costs in Europe.
Dairy proteins are critical to the body and texture consumers favor in yogurt products. Yogurt producers have long used skimmed milk powder or whey protein concentrate at a typical range of 10–14% nonfat milk solids in the fi nal product to achieve the appropriate viscosity and to reduce syneresis. According to CP Kelco, its pectin-based product range showcased at 2007 FIE can provide many of the dairy protein functionalities in yogurt applications, including desirable body and viscosity, improved creaminess, and reduced syneresis.
Research has shown that up to about 1% of milk protein in a yogurt formulation may be replaced by the inclusion of the pectins, delivering signifi cant cost savings without signifi cant changes in the standard yogurt production process.
Stabilizing Drinkable Yogurts
An ingredient consisting of microcrystalline cellulose co-processed with high-methoxyl pectin provides stability and viscosity control in drinkable yogurts and other acidifi ed protein beverages. The stabilizer, Avicel® BV 2815 from FMC BioPolymer, Philadelphia, Pa. (phone 215-299-6234, www.fmcbiopolymer.com), achieves immediate and long-term suspension of solids in both low- and high-viscosity beverages, prevents phase separation, and enhances mouthfeel and body of the fi nished product.
The stabilizing ingredient can be activated with low shear in the protein phase, the make-up water, or in the low-pH phase including juice and juice concentrates. While the ingredient is not a one-to-one replacement for pectin, it may be used to replace all or a portion of pectin to achieve complete stability, depending on customer application.
Shaking Things Up
Polydextrose (Litesse®) from Danisco USA Inc., New Century, Kansas (phone 913-764-8100, www.danisco.com), is now approved by FDA for use in reduced-calorie, prebiotic, fiber-enriched, reduced-sugar yogurt products and yogurt beverages. According to 21 CFR 131.200, 203, and 206, it may be used as a stabilizer in accordance with the yogurt standards of identity.
--- PAGE BREAK ---
Polydextrose can be added to yogurt before or after fermentation, or as part of the fruit preparation of fruit yogurt, where it can replace the bulk of sugar. Available in both liquid and powder forms, it remains stable during the processing and shelf life of dairy products. The specialty carbohydrate is low-calorie (1 kcal/g), sugar-free, prebiotic, and high in fi ber. It can be used with high-intensity sweeteners to replace sugar and reduce calories, as well as to improve the mouthfeel and texture of low-fat, reduced-sugar yogurt.
As a prebiotic, Litesse offers digestive health benefi ts. Research fi ndings indicate that it is not digested by human enzymes and passes intact to the colon, where it selectively stimulates the growth of bifi dobacteria and lactobacilli and promotes the generation of benefi cial short-chain fatty acids while also reducing colonic pH. Polydextrose has also been shown to have a satiating effect, and foods made with it can reduce subsequent caloric intake.
Several yogurt drink prototypes developed by Denmark-based Danisco can also help provide formulators with new ideas to shake up that market segment. For example, Veggi Fruitti combines a yogurt base with several fruit and vegetable juices (carrot, celery, cucumber, green bell pepper, apple, grapefruit, strawberry, cherry, and lemon). This yogurt drink is sweetened only with these juices—with no added sugar—and delivers two servings of fruits/vegetables. The formulation is made with several ingredients from the company, including a yogurt culture (Yo-Mix™ DPL 651) that provides low-to-medium viscosity and a mild yogurt fl avor; a protein stabilizer (Grindsted® Pectin AMD 782) for controlled, fl owable texture; and polydextrose (Litesse® Two) for digestive benefi ts.
Or how about a probiotic yogurt shot, Cream Colada? This creamy yogurt drink provides a balanced combination of pineapple and coconut. It is made with Grindsted Pectin AMD 383 for protein stabilization with controlled texture, enriched creaminess, and masked yogurt acidity; a probiotic (Howaru™ Bifi do Premium) for immune and digestive health benefi ts; and yogurt cultures (Yo-Mix™ DPL 651) that help achieve short fermentation time, mild and creamy fl avor, and smooth and creamy texture.
And two Yo-Shake concepts, Rhubarb Refresher and Blueberry Pleasure, are yogurt drinks designed to be shaken by hand for 15–30 seconds, before being consumed. This results in the products having a foamy, creamy, full-bodied texture.
Enzyme Yields Low-Lactose Yogurt
A low-lactose yogurt may be developed using a lactase enzyme, Maxilact, from Netherlands-based DSM Food Specialties (phone 3115 279 2355, www.dsm-dairy.com). Derived from the dairy yeast strain, Kluyveromyces lactis, the enzyme effi ciently converts lactose into glucose and galactose, yielding a low-lactose milk product.
No longer consumed exclusively by those with lactose intolerance or sensitivity, low-lactose products, such as a yogurt version, can help support healthy digestion and provide a sweet taste. Highlighted at the 2007 Food Ingredients Europe, the enzyme can be used to create products that meet this broadening demand in the marketplace. This pure lactase enzyme is free from unwanted side activities associated with off-fl avor formation. This ensures clean taste, even at the end of its shelf life. The enzyme is also kosher- and Halal-certified.
--- PAGE BREAK ---
A Gutsier Probiotic?
Earlier, this article discussed how the science of probiotics is still developing. Yogurt formulators still face a variety of problems with traditional probiotics. Cells may not survive high heat and pressure, they may die quickly on the shelf, they may not survive stomach acids to populate the gut, or they may be sensitive to bile and other enzymes in the gut.
An oral probiotic, BC30, features strains of Bacillus coagulens, which are said to be signifi cantly superior to those in other probiotic ingredients. The probiotic, developed by Ganeden Biotech, will be distributed by P.L. Thomas, Morristown, N.J. (phone 973-984-0900, www.plthomas.com).
The patented probiotic ingredient maintains viable cells after surviving harsh manufacturing processes, such as high-pressure, high-heat, and cold conditions. It is shielded by a natural organic layer that protects the probiotic cells, not only during manufacturing processes, but also from acids in the stomach. This protection allows the cells to remain viable through the intestine, multiply, and produce results. The ingredient has a long shelf life, is used at low levels, and does not need to be refrigerated. It has a self-affirmed GRAS status and is kosher-certified.
Web Site May Increase Awareness of Yogurt
A consumer Web site, launched by GTC Nutrition, Golden, Colo. (phone 303-216-2489, www.gtcnutrition.com), features information on the use of prebiotic fi ber, NutraFlora short-chain fructooligosaccharides, in Horizon Organic® yogurts and smoothies. The Web site, www.nutraflora.com, provides health-conscious consumers with bone-health facts, tips for building and maintaining bone health, and recipes using NutraFlora-enriched products.
According to the Web site, products such as yogurt that are rich in calcium and contain prebiotics can be especially valuable in children's diets. These products can help boost calcium levels and the amount of calcium absorbed by the body. Such a resource could increase awareness of yogurt and its functionality and health benefits.
Branding Initiative for Yogurt
A branding initiative, the Beneo™ program emphasizes the probiotic benefi ts of chicory-derived ingredients, inulin and oligofructose, produced by Orafti Active Food Ingredients, Morris Plains, N.J. (phone 610-889-9828, www.orafti.com). The program is designed to communicate these benefi ts through the use of a logo denoting the presence of these prebiotic ingredients at suffi cient levels in the formulation.
More than 250 products worldwide carry the logo. Some of these new products include yogurts—for example, Sans Souci in Brazil, Kalise in Spain, and Mlekarna Celeia in Slovenia. Such a program can assist yogurt manufacturers in achieving marketing success by offering new, appealing products with validated structure/function claims. Recently, Orafti, along with Palatinit and Remy, became part of the new Beneo functional food group to promote the health benefi ts of their ingredients.
Take a Shot—With Yogurt
From "shots" to tubes to chews, yogurt products come in a variety of formats today. The prototypes discussed in this article refl ect the innovative directions that this product is taking. And, of course, making this possible are a variety of ingredients—new strains of probiotics, sweetener combinations, fi ber developments, stabilizer systems, functional texturizers, fl avor blends, and components for fortifi cation, to name just a few.
These different innovations may be especially important in the American marketplace, where consumers are looking for more taste, for more indulgence, for more convenience, and for more healthy answers. Or as Dairy Management Inc.'s Barnes put it, "We think that a yogurt product that delivers on multiple fronts—taste, nutrition, digestive health, and satiety—is a very exciting product proposition."
--- PAGE BREAK ---
As yogurt is more actively promoted, it is especially important to pick ingredients that provide optimum performance and withstand the production processes of yogurt manufacturers. Processing conditions such as pH, shear, and temperature can affect the viability of probiotic ingredients in the formulation, as well as ultimately the taste and sensory properties of fi nished products. New varieties of probiotic bacteria may help solve some of these functionality problems.
The time seems right for yogurt and yogurt products, which are not only ideal vehicles for probiotics, but for innovation as well. The developments we have looked at may help shape the future formulating of yogurt and give us some idea of what lies yonder for yoghurmak, whether we shake it, stir it, or use it as an ingredient in exotic sauces.
Next month's Ingredients section will look at the different ways that condiments such as salsa, hot sauces, soy sauce, mustard, catsup, and relishes can help spice up food product development.
---
How Many Bugs
Are in a Frozen Yogurt?
Nonfat frozen yogurts from YoCream International Inc., Portland, Ore., recently received the National Yogurt Assn.'s Live and Active Culture Seal. The seal requires frozen yogurt to contain 10 million colony-forming units (CFUs) of active cultures per gram at the time of manufacture.
According to the yogurt manufacturer, its product line meets and exceeds the requirements, with culture counts in the hundreds of millions, including the use of two additional benefi cial live active cultures. "Consumers are becoming more sensitive to whether they are receiving a true cultured product and rightly so," stated John Hanna, YoCream's CEO and Chairman of the Board. "We'd like all manufacturers of what claims to be frozen yogurt to meet the standards set forth by the NYA."
The company produces all of its products in its dairy and manufacturing plant and does not utilize co-packers. "We assure high live active culture counts in our frozen yogurt by means of a careful inoculating and incubating process," continued Hanna. "This method allows us to create true frozen yogurts that also qualify for the Live and Active Cultures Seal."
YoCream offers more than 35 nonfat frozen yogurt varieties, including YoCream Original Tart™ in natural and green tea varieties. According to the company, the seal of approval from the National Yogurt Association will help promote the benefi ts of frozen yogurt in the marketplace.
In September 2007, YoCream became the exclusive manufacturer for Red Mango Inc.'s proprietary natural yogurt formula, recently introduced into the U.S. Founded in 2002, Red Mango, a California-based corporation, is South Korea's largest and most popular retailer of authentic frozen yogurt, currently operating more than 130 retail stores in major cities throughout South Korea. The company has opened its fi rst two U.S. retail stores in Los Angeles and Las Vegas, and has plans to open stores at 10 additional locations. Red Mango's frozen yogurts have received the Live and Active Culture Seal of Approval.
by Donald E. Pszczola,
Senior Associate Editor 
[email protected]