Nearly one in five U.S. adults (46 million people) has arthritis, and an estimated 67 million people will be affected by 2030, according to the Arthritis Foundation, Atlanta, Ga. (phone 800-283-7800, www.arthritis.org). The most common type of arthritis, osteoarthritis, affects 27 million Americans. This degenerative joint disease is characterized by the breakdown of the joint's cartilage, causing pain, inflammation, and loss of movement in the joint.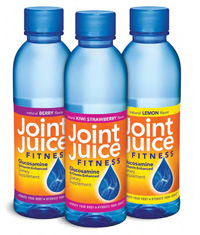 One in five consumers age 30–39 is concerned with preventing joint disease, and over 30% of Baby Boomers are managing joint pain, according to Cargill Corn Milling North America, Wayzata, Minn. (phone 888-734-3627, www.regenasure.com). With such a growing concern, joint health supplements and functional foods are becoming more prevalent.
Glucosamine
Glucosamine, a molecule naturally produced in the human body, is a key building block of joint cartilage and joint fluid. "Natural aging as well as an active lifestyle or participation in impact sports can wear down the cartilage in our joints. Supplemental glucosamine provides the building blocks our body needs for cartilage production," explains Brent Rogers, Technical Services Manager, Cargill Corn Milling North America. "Specifically, glucosamine stimulates the synthesis of proteoglycans, resulting in tissue that holds water to give cartilage thickness and its cushioning effect." He adds that human clinical studies on glucosamine have shown benefits for taking 1,500 mg daily, including reducing cartilage degeneration as well as pain, inflammation, and loss of joint movement.
Approximately 45% of adults suffering from joint problems are likely to use glucosamine-fortified foods or beverages, including sport drinks, functional waters, or ready-to-drink teas, according to the Cargill proprietary analysis. The company offers Regenasure® glucosamine, a vegetarian glucosamine that has GRAS status in the United States for specific food and beverage applications.
The product line includes an HCl glucosamine as well as a sulfate version and granulated products. Elations®, from Elations Co., Cincinnati, Ohio (phone 866-355-8471, www.elations.com), an innovative juice drink, as well as Fitness Water from Joint Juice Inc., SanFrancisco, Calif. (phone 888-642-9941, www.jointjuicefitness.com), and Vita Splash Joint Support from Sturm Foods, Manawa, Wis. (phone 800-347-8876, www.sturmfoods.com), contain Regenasure, according to Mike Fleagle, Product Manager, Cargill Corn Milling/Regenasure.
Other glucosamine ingredients are available. China-based Hygieia Health Co. (phone +49-2132-6929-281, www.hygieiaglobal.com) offers GlucosaGreen, a vegetarian glucosamine line that includes three different salts. Cyanotech Corp., Kailua-Kona, Hawaii (phone 800-453-1187, www.cyanotech.com), offers JointAstin™, a formula containing BioAstin Natural Astaxanthin with 100% vegetable-source glucosamine. And GreenGrown™ glucosamine from Ethical Naturals Inc., San Anselmo, Calif. (phone 866-459-4454, www.ethicalnaturals.com), is produced through a proprietary corn fermentation process and is available in both HCl and sulfate.
--- PAGE BREAK ---
Chondroitin
Another popular joint health supplement, chondroitin sulfate, is found in and around the cells of cartilage and helps cartilage retain water. Clegg et al. (2006) showed that the combination of glucosamine plus chondroitin sulfate appeared to help people with moderate-to-severe pain from knee osteoarthritis, but not those with mild pain.
The study is known as the Glucosamine/Chondroitin Arthritis Intervention Trial (GAIT). They gave 1,600 subjects with documented knee osteoarthritis one of five treatments daily for 24 weeks: glucosamine alone (1,500 mg); chondroitin sulfate (1,200 mg); glucosamine and chondroitin sulfate combined (same doses); a placebo; or Celecoxib (200 mg), an FDA-approved drug for osteoarthritis pain. For a subset of subjects with moderate-to-severe pain, the glucosamine combined with chondroitin sulfate provided statistically significant pain relief compared to the placebo. CSbBio-Active™ from Bioiberica, Barcelona, Spain (phone +34-93-490-49-08, www.csbioactive.com), was the brand of chondroitin used in the study.
MSM
Methylsulfonylmethane (MSM) is a sulfur compound believed to help relieve pain and stiffness. In a review of human clinical trials evaluating the effects of nutritional compounds on osteoarthritis, Ameye and Chee (2006) found that MSM provided moderate evidence of efficacy for knee osteoarthritis.
In addition, researchers at the University of California in San Diego showed the protective action of MSM on articular cartilage and how it can reduce inflammation in osteoarthritis(Bergstrom Nutrition, 2007). They looked at the effect of OptiMSM®, which is offered by Bergstrom Nutrition, Vancouver, Wash. (phone 360-693-1883, www.bergstromnutrition.com), on healthy and osteoarthritic articular cartilage from post mortem human knees.
Proteins
Proteins, such as collagen and gelatin, renew cartilage and ease joint mobility. Other novel proteins, such as keratin and milk proteins, serve to reduce inflammation.
• Collagen. Cartilage is a matrix composed mainly of collagens and proteoglycan aggregates.
Gelita AG, Germany (phone 712-943-5516, www.gelita.com), produces Fortigel®, a type of collagen hydrolysate shown to protect the knees of active sports participants (Gelita, 2008).
Cargill Inc., Wayzata, Minn. (phone 877-650-7080, www.cargill.com), offers Arthred™ collagen, a unique, low-molecular-weight purified collagen hydrolysate product. According to the company, supplementation with 10 g of the collagen resulted in a significant increase of the collagen-specific amino acids, like OH-proline, OH-lysine, as well as glycine and proline in blood serum.
UC-II® from InterHealth Nutraceuticals, Benicia, Calif. (phone 800-783-4636, www.interhealthusa.com), consists of undenatured type II collagen derived from chicken sternum cartilage. It works with the immune system to promote healthy joints. In a pilot clinical study of 5 older women suffering from significant joint pain, Bagchi et al. (2002) showed that 10 mg of UC-II/day for 42 days resulted in pain reduction and improvement in joint flexibility, along with reduced morning stiffness. It is believed that UC-II can deactivate killer T-cell attack of joint cartilage in humans.
--- PAGE BREAK ---
BioCell Collagen II from BioCell Technology LLC, Newport Beach, Calif. 714-632-1231, www.biocelltechnology.com), is a naturally occurring matrix of orally absorbable hydrolyzed collagen type II, hyaluronic acid, and chondroitin sulfate. The company recently introduced BioCell Collagen II Taste-Free®, with the added benefit of improved solubility and palatability.
AIDP Inc., City of Industry, Calif. (phone 626-964-6910, www.aidp.com), offers Kolla2®, which is a joint health supplement made from chicken sternum that contains collagens, chondroitin, hyaluronic acid, and keratin.
• Keratin. This is the polymer-forming protein of which wool, hair, and skin are made. It is believed to improve parts of the body that require polymers to work, such as joints. Derived from pure New Zealand wool, Cynatine FLX from Keratec Ltd., New Zealand (phone +64-3-325-9100, www.keratec.co.nz), is a digestible keratin extract. The company says that the ingredient helps prevent joint breakdown, builds joint resilience, has an anti-inflammatory effect, and may activate two important joint antioxidant defense enzymes. In 2006, Keratec launched a liquid version, Cynatine FLX LQ™.
• Milk Proteins. Humanetics Corp., Eden Prairie, Minn. (phone 952-937-7660, www.humaneticscorp.com), produces MicroLactin, which is comprised of micronutrients found naturally in cow's milk. A small, low-molecular-weight fraction of milk, it carries unique properties associated with the human inflammatory response system. Zenk et al. (2002) showed that taking 2,000 mg of the reconstituted hyperimmune milk product twice a day was effective in relieving the symptoms of osteoarthritis, including joint pain, joint stiffness, and immobility, in patients age 19 and older with physician-diagnosed osteoarthritis.
Bio Serae, France (phone +33-(0)-4-6876-7620, www.bioserae.com), offers Osteol™, a new ingredient derived from bioactive milk proteins said to boost cartilage preservation. According to the company, it has been shown to improve chondrocyte production and to increase anti-inflammatory effects.
Botanical and Plant Extracts
Cherries and extracts from botanicals like pine bark and devil's claw exhibit anti-inflammatory properties.
• Cherries. Anthocyanins in cherries appear to help reduce inflammation and aid in the prevention, management, or treatment of arthritis and gout. These inflammatory disorders are often associated with elevated levels of uric acid in the blood, according to the Cherry Marketing Institute, Lansing, Mich. (www.choosecherries.com). Jacob et al. (2003) found that healthy women age 20–40 who took two servings of cherries (280 g) after an overnight fast had a reduction in uric acid levels. Bezerra et al. (2004) and Remans et al. (2005) showed that cherries are effective in reducing levels of nitric oxide, a compound associated with osteoarthritis and rheumatoid arthritis.
--- PAGE BREAK ---
• Phellodendron tree extract. A patent-pending plant extract developed from the phellodendron tree (Phellodendron amurense), Nexrutine®, from Next Pharmaceuticals Inc., Salinas, Calif. (phone 831-621-8712, www.nextpharmaceuticals.com), has shown the ability to aid in natural pain management due to exercise and overexertion. It may help to prevent certain enzymes from causing inflammation without interfering with key enzymes that are necessary for keeping the stomach lining healthy. In November 2007, the company announced the results of a clinical study: Out of 401 participants, 369 (92%) reported Nexrutine provided pain relief and 373 (93%) reported improvement in their overall condition (Next Pharmaceuticals, 2007).
• Pine bark extract. Horphag Research Ltd., Geneva, Switzerland (phone +41-(0)-22-710-2626, www.horphag.com), offers a pine bark extract, Pycnogenol®, which possesses antioxidant and anti-inflammatory properties. Farid et al. (2007) showed the efficacy of the flavonoid-rich supplement on the symptoms of knee osteoarthritis.
• Devil's claw. Burgundy Extracts, France (phone +33-(0)-385-23-9383, www.burgundy-extracts.com), offers IridoForce™, which contains glucoiridoids from devil's claw. According to the company, it inhibits the activity of cyclo-oxygenase (COX-2). COX-2 is an enzyme that is linked to the inflammatory process and stimulation of hyaluronic acid in human cartilage cells.
• EGCG. A green tea extract, epigallocatechin-3-gallate (EGCG) may provide therapeutic benefits to people with rheumatoid arthritis because of the way it inhibits molecules contributing to inflammation and joint damage (University of Michigan, 2007).
• Olive polyphenols. Made from the juice of organically grown olives, Hidrox™ from DSM Nutritional Products Inc., Parsippany, N.J. (phone 800-526-0189, www.dsm.com), possesses a high concentration of polyphenols with strong antioxidant and anti-inflammatory activities. Bitler et al. (2007) showed that consumption of 400 mg of Hidrox/day for 8 weeks resulted in decreased pain and improvement in activities of daily living for people suffering from osteoarthritis and rheumatoid arthritis. In the spring of 2008, DSM plans to launch a natural alternative ingredient, i-flex™, to soothe and improve comfort and joint mobility.
by Linda Milo Ohr,
Contributing Editor, Denver, Colo. 
[email protected]
References
Ameye, L.G. and Chee, W.S.S. 2006. Osteoarthritis and nutrition. From nutraceuticals to functional foods: a systematic review of the scientific evidence. Arthritis Res. Ther. 8:R127.
Bagchi, D., Misner, B., Bagchi, M., Kothari, S.C., Downs, B.W., Fafard, R.D., Pruess, H.G. 2002. Eff ects of orally administered undenatured type II collagen against arthritic inflammatory diseases: A mechanistic exploration. Int. J. Clin. Pharm. 22: 101-110.
Bergstrom Nutrition. 2007. University study shows "protective action" of OptiMSM® on articular cartilage. Press release. Dec. 7.
Bezerra, M.M., Brain, S.D., Greenacre, S., Jeronimo, S.M., de Melo, L.B., Keeble, J., and da Rocha, F.A. 2004. Reactive nitrogen species scavenging, rather than nitric oxide inhibition, protects from articular cartilage damage in rat zymosan-induced arthritis. Brit. J. Pharm.141: 172-182.
Bitler, C.M., Matt, K., Irving, M., Hook, G., Yusen, J., Eagar, F., Kirschner, K., Walker, B., and Crea, R. 2007. Olive extract supplement decreases pain and improves daily activities in adults with osteoarthritis and decreases plasma homocysteine in those with rheumatoid arthritis. Nutr. Res. 27(8): 470-477.
Clegg, D.O., Reda, D.J., Harris, C.L., Klein, M.A., O'Dell, J.R., Hooper, M.M., Bradley, J.D., Bingham, III, C.O., Weisman, M.H., Jackson, C.G., Lane, N.E., Cush, J.J., Moreland, L.W., Schumacher, Jr., H.R., Oddis, C.V., Wolfe, F., Molitor, J.A., Yocum, D.E., Schnitzer, T.J., Furst, D.E., Sawitzke, A.D., Shi, H., Brandt, K.D., Moskowitz, R.W., and Williams, H.J. 2006. Glucosamine, chondroitin sulfate, and the two in combination for painful knee osteoarthritis. New England J. Med. 354: 795-808.
Farid, R., Mirfeizi, Z., Mirheidari, M., Rezaieyazdi, Z., Mansouri, H., Esmaelli, H., Zibadi, S., Rohdewald, P., and Watson, R.R. 2007. Pycnogenol supplementation reduces pain and stiffness and improves physical function in adults with knee osteoarthritis. Nutr. Res. 27: 692-697.
Gelita. 2008. Gelita FortigelB. protects the knees of active sportspeople. Press release. Feb. 1.
Jacob, R.A., Spinozzi, G.M., Simon, V.A., Kelly, D.S., Prior, R.L., Hess-Pierce, B., and Kader, A.A. 2003. Consumption of cherries lowers plasma urate in healthy women, J. Nutr. 133: 1826-1829.
Next Pharmaceuticals. 2007. Next Pharmaceuticals Discloses Results of NexrutineB. Clinical Study. Press release. Nov. 29.
Remans, P.H., van Oosterhout, M., Smeets, T.J., Sanders, M., Frederiks, W.H., Reedquist, K.A., Tak, P.P., Breedveld, F.C., and van Laar, J.M. 2005. Intracellular free radical production in synovial T lymphocytes from patients with rheumatoid arthritis. Arthritis Rheum. 52: 2003-2009.
University of Michigan Health System. 2007. Green tea compound may be a therapy for people with rheumatoid arthritis, University of Michigan study finds. Press release. April 30.
Zenk, J.L., Helmer, T.R., and Kuskowski, M.A. 2002. The effects of milk protein concentrate on the symptoms of osteoarthritis in adults: An exploratory, randomized, double-blind, Placebocontrolled trial. Cur. Thera. Res. 63: 430-442.