When thinking about today's beverages, which ones quickly come to mind? That is an interesting question to sip on because I strongly suspect that the answer would be a very different one from 20 or 30 years ago. After all, health considerations, school mandates, economic realities, the fusion of different beverage categories, and new flavor trends may all have influenced the mainstream some. And the current currents are still changing.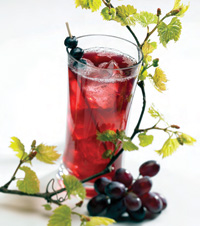 So, let's consider for a moment some of the beverages of this new generation. Well, bottled waters would certainly be one—their market growth influenced by such factors as concerns over obesity and demand for premium products. Energy drinks (and perhaps their second cousin, relaxation drinks) would be another product expected to see continued growth. Tea drinks, widely consumed by many cultures, are touted for their potential health benefits, making them an increasingly popular beverage alternative. And premium coffees, juice blends, flavored alcoholic beverages, and low-calorie carbonated drinks made with innovative sweeteners (we'll be talking about those ingredients next month) are a few other examples found in the marketplace, their development shaped by a variety of health and functionality trends.
To be sure, economic woes could have a stifling effect on any of these categories. The newspapers have been filled with a lot of gloom and doom lately, and it is quite natural to speculate on what effect continued economic problems could have on the purchasing of some of these beverages, as well as the kind of responses that beverage formulators might make in such a climate. On the other hand, despite shrinking pocket books, Americans are reluctant to give up certain pleasures. According to Mintel, new research reveals that the market for alcohol consumed at home is expected to reach $77.8 billion in 2008, a 32% increase from 2003. Mintel expects sales of alcohol for both in-home and out-of-home consumption to rise steadily in coming years. Interestingly, another market that does not seem to be affected by the current financial situation is chocolate, which Americans continue to indulge in.
So, for the time being at least, there still seem to be many exciting opportunities up ahead for flavors. And you don't have to sip (or slurp) too long to see that. For example, McDonald's will be rolling out its premium line of coffees, frappes, smoothies, and other bottled drinks, all of which promise the use of creative flavors. Over this past year, the Coca-Cola Co. introduced several new beverages, including a creamy coffee and energy blend, Full Throttle Coffee, in vanilla and caramel flavors. From Starbucks comes a java and citrus combination, Gazebo Blend Ground Coffee. And a California-based manufacturer of vitamin drink mixes, Alacer Corp., recently introduced Emergen-C Health & Energy Water in raspberry, lemon-lime, tangerine, and dragon fruit flavors.
A line of nutrient-enhanced sodas, airforce Nutrisoda from Ardea Beverage Co., Minneapolis, Minn., provides an interesting snapshot of some of the innovative directions that beverage flavors are taking. The eight beverage products contain different combinations of vitamins, minerals, herbs, and other nutrients, along with the natural flavors. Products include Immune (tangerine and lime), Radiant (pomegranate and blackberry), Flex (black cherry and apple), Slender (pink grapefruit and guava), Focus (mango and peach), Calm (wild berry and citron), Energize (mandarin and mint), and Renew (watermelon and blueberry).
--- PAGE BREAK ---
And when talking about flavor makeovers, let's not forget alcoholic drinks. Seattle-based Pyramid Breweries Inc. markets Apricot Ale, which combines the aroma and flavor of fresh apricots with the smooth character of wheat beer. Berry Weiss from Jacob Leinenkugel Brewing Co., Chippewa Falls, Wis., is another example of a fruit beer found in the marketplace. Tequila lovers may also be in for a surprise as flavored tequila products, using such flavors as citrus and mint, are becoming popular and may represent the next wave in the mainstream.
Flavor Radar, a flavor methodology from FONA International Inc., Geneva, Ill. (phone 630-578-8600, www.fona.com), has identified several other beverages in the marketplace that incorporate creative flavor combinations. These include Naked Juice Bare Breeze's Peach Mangosteen Bliss (made with peaches, mangosteen, apples, lemon, and white grapes); Frutzzo Yumberry & Cherry Juice; Old Orchard Fruit Sense Cardio functional water flavored with pomegranate, blueberry, and mangosteen; Bombilla & Gourd Super Fruits drink in Yumberry Lime, Pomegranate Lemonade, Açai Blueberry, and Orange Mango varieties; and Stash Premium Açai Berry Herbal Loose Tea with natural feijoa flavor (nicknamed pineapple guava).
These are just a few examples that demonstrate the kinds of flavors that we can expect to see in next-generation beverages. Flavor chemists are busy developing new flavors based on exotic fruits from around the world. Some of the flavors of these exotic fruits, while they may be hot from a marketing perspective, are not always palatable. Consequently, flavor chemists have to develop a flavor profile that offers a pleasant-tasting version of that fruit for use in beverages. Some of these less familiar flavor profiles can also be combined with traditional or mainstream flavors to create a more sophisticated or upscale image of that beverage. Spices may be used as well to create interesting flavor combinations, helping to spice up that beverage formulation.
Technology will play it role, assisting flavor chemists in their creation of increasingly complex flavors. For example, recently, Blue Pacific Flavors Inc., City of Industry, Calif. (phone 626-934-0099, www.bluepacificflavors.com), and HortResearch, Auckland, New Zealand (phone 64-9-9257000, www.hortresearch.co.nz), formed a licensing agreement to launch hortRealfruit™ branded flavor technology to produce new authentic fruit flavors. Blue Pacific will have exclusive ongoing access to HortResearch's entire database of volatiles and aromas produced by fruits from around the world. Any one of these fruits, of course, could be the next beverage flavor of the new generation.
And speaking about the new generation, those of us who are old enough may remember a certain lyric from the '60s: "We're the young generation, and we have something to say." That may very well be true. According to Flavor News (Vol. 26, Spring 2008), a report published by FONA International Inc., kids and teens experience more cultures and ethnic preferences than ever before, increasing their exposure to and preference for greater variety. They are also more high tech, having grown up on sophisticated games, communication vehicles, and a greater variety of entertainment options. This creates a generally higher threshold of stimulation, where more interesting or intense experiences are expected. The report went on to note that because kids' tastes and expectations are far more sophisticated and adventurous than in decades past, it takes more than "super sour" flavors to get their attention. Rather, they are becoming more interested in ethnic or exotic flavor profiles, as well as premium flavors and flavor blends.
--- PAGE BREAK ---
Children are not the only segment influenced by a variety of factors. The older folks, shaped by their lifetime of experiences, may have different tastes than their parents had. This is why it's so important to keep ongoing track of what kinds of flavors people in different demographic groups prefer in their foods and drinks. Agilex Flavors & Fragrances, Rancho Santa Margarita, Calif. (phone 949-635-1084, www.agilexfandf.com), did that when it recently launched its new Flavor Focus Collections, which target specific demographic groups based on ethnicity, gender, and age. Such an approach not only can help customers identify the flavors that different demographic groups want in a specific beverage, but may prove useful in capturing whole new segments of the market that previously had not been reached by that particular beverage.
Let's now look at some of the directions that beverage flavors are taking, and the potential role that they play in shaping our next-generation beverages.
Global Tastes of Tea
Working directly with tea growers, International Flavors & Fragrances (IFF), New York, N.Y. (phone 212-765-5500, www.iff.com), recently developed a portfolio of exotic tea flavors that capture the delicacy, nuance, and sophistication of the aromatic originals. These varietals can be combined with a range of tea types (white, green, oolong, black, and floral) for use in beverages as well as food formulations.
"The flavors in this portfolio capture not only the classic attributes that differentiate one varietal from another, but also the subtle, elusive nuances," explained Marie Wright, the company's Global Manager of Flavor Creation. "The hearty toasted molasses notes of Darjeeling, the delicate apricot and brown spice character of White Peony tea, and the fresh-cut–grass aroma of Long Jin are crafted and recreated for a full, authentic experience."
IFF will offer its full range of tea types and varietals by the end of 2008. All flavors are screened in Asia and the United States by expert tea-tasting panels. Flavors in the portfolio include White Peony and Silver Needle (with white tea type); Long Jin, Gyokuro, Sencha, and Yulu (with green tea type); Nantou, Tie Guan Yin, and Twelve Trees (with oolong tea type); Keemun, Darjeeling, and Assam (with black tea type); and Osmanthus Oolong, Jasmine Green, and Chrysanthemum (with floral tea type).
At a media event held on June 5, 2008, the company demonstrated its flavors in a variety of food and beverage formulations. The beverage prototypes included White Tea Water, Chrysanthemum Champagne, Sparkling Jasmine Berry, Iced Darjeeling Tea with Sicilian Lemon, and White Peony Tea Latte.
IFF creative centers in North America, Latin America, Europe, and Asia participate in creating different flavors, modifying the profiles to appeal to consumers in each area. For example, an Asian consumer might want a tea flavor that is more floral, while a U.S. consumer might prefer more of the actual tea profile. The company uses its understanding of flavor chemistry to create the tea flavor that is most applicable.
--- PAGE BREAK ---
The new line of tea flavors is expected to accommodate global tea trends. Tea is widely consumed by many cultures, with approximately 2½ metric tons produced worldwide each year. Here, in the United States, more than 127 million Americans drink tea every day, and its demand is expected to grow. The U.S. Tea Association projects that ready-to-drink tea will post annual dollar increases in the 12–15% range; foodservice sales will grow 3–5% a year; and sales of specialty teas will show a long-term increase of 8–10% annually.
Tea is also being used as an ingredient in non-beverage items such as marinades, glazes, salad dressings, pastries, and candy bars. In 2009, we will take a closer look at how beverage flavors are increasingly being used in a wide range of non-beverage applications.
Blue-Skying with Cloud Berries
If you were a manufacturer of beverage flavors today, what kinds of flavor solutions would you provide your customers? To find out, I interviewed Tom Schufreider, Director of Global Sales & Marketing, Sethness-Greenleaf Inc., Chicago, Ill. (phone 773-889-1400, www.sethnessgreenleaf.com).
Because of the current tight supply of lemon juice and lemon-derived ingredients in the marketplace, customers are looking for flavors that can extend their supply of lemon juice concentrate, noted Schufreider. In response to this economic reality, Sethness-Greenleaf introduced a natural lemon juice flavor replacer WONF. The liquid product, Lemon Juice Replacer Flavor WONF #8500, is a proprietary blend of citrus juice concentrate and citrus-based flavoring oils and materials. Similar in appearance and viscosity to lemon juice concentrate, it can replace 33–50% of the lemon juice concentrate in beverages and other products without sacrificing taste or functionality, helping formulators reduce ingredient costs.
Red raspberry concentrate is also very expensive now, and customers are looking for flavor systems that can help reduce the amount of juice concentrate in a product. In its portfolio, the company has flavors that can function as extenders while reducing the overall price of the beverage product.
In the current economic climate, there is an increasing emphasis on revitalizing existing products. "Our beverage customers are looking to create new products that consumers will consider value added, but are less expensive than what the company currently offers," explained Schufreider. He cited reduced-calorie juice-based beverages as one example of this trend.
Beverage developers can take advantage of different flavor combinations, especially those that link a familiar flavor with an emerging one. "This is not a new idea," said Schufreider. "Remember pineapple mango a few years ago?" Today, a wider range of exotic flavors from around the world are pairing with more traditional ones. For example, imagine a black cherry–cloud berry combination. Cloud berry, by the way, is a yellowish berry with a creamy, mild taste. Indigenous to Scandinavia and Alaska, it is very limited in supply. Sethness- Greenleaf was able to get a supply, and its flavor chemists worked on replicating its flavor. This flavor, by itself or paired with a more traditional one, can help upscale or specialize beverages, such as waters, still drinks, energy drinks, and noncaloric sweetened products. Yumberry from China is another example of an emerging flavor that can breathe new life into an existing beverage.
--- PAGE BREAK ---
"American consumers have no benchmark, no idea what these flavors taste like," observed Schufreider. Interestingly, because these flavors are largely unknown, this can mean a greater freedom for the formulator in trying to develop a unique taste experience for the consumer.
Frequently a beverage flavor manufacturer will get requests for flavors of foods that have health connotations. From a marketing perspective, beverage makers want to capitalize on such a flavor. However, this can present certain challenges for the flavor chemist. Take the goji berry, for instance. "Have you ever tasted goji berry extract?" asked Schufreider. "It is extremely bitter. So we have to use our creativity to come up with a version that is palatable to the consumer. Recently we came up with a Goji-Type Flavor that may be used to create a refreshing drink." He also added that the company's flavor chemists are working on developing a blueberry-goji flavor.
According to Schufreider, creating flavors for waters and soft drinks that adults will find appealing has been gaining momentum. This might mean incorporating boutique or floral flavors, or European or continental flavors. Some examples might include elderflower, Anjou pear, or apricot. In the alcohol category, flavored tequilas are an emerging trend. Citrus and mint are flavors that work especially well with this drink.
Finding flavor solutions for beverages is not a new practice for Sethness-Greenleaf. In 1919, when Prohibition began, the company developed the flavor extract for the beverage Green River, and ever since then, many of their customers refer to them as "the Green River people." The privately held flavor manufacturer has been in business in Chicago for about 140 years and works primarily in the making of flavor systems for sweet applications, especially beverages of all types, as well as confections, baked goods, dairy products, table syrups, and fruit preparations. The company has a facility in Warsaw, Poland, and three satellite facilities in Central America and the Caribbean, giving them a wide palette of flavor profiles. Or as Schufreider puts it, "with our contacts in Eastern Europe and Central America, we have a finger on the pulse of things coming from those areas."
Creating More Authentic Beverage Flavors
"This summer berry is one of nature's most refreshing tastes… with great thirst-quenching properties." So stated an article in the New York Times, dated June 14, 1914, which praised the taste of the raspberry, with its fresh, ripe, seedy, and juicy character. Bill Graham, Vice President of Sales, Frutarom USA Inc. (phone 201-861-9400), cited this article when the company introduced its latest flavor addition.
Natural Raspberry Flavor WONF #918257 captures the sweet and subtle tartness of the fresh-picked berry, noted Graham, and is ideal for use in beverages, including coffee, tea, flavored water, soft drinks, and cordial varieties. The flavor may be used as a stand-alone or in combination with other fruit flavors as well as chocolate and vanilla tastes. It has a starting usage of 0.2% in beverages and 0.2–0.3% in dairy.
Earlier in the year, the company provided improved versions of its pear and strawberry offerings. The newly developed Natural Pear Flavor WONF FN3714 is sweet and aromatic with pulpy notes, while improved Natural Organic Strawberry Flavor F918096 is described as aromatic with "jammy" notes. Both flavors are said to offer more satisfying perceptions of fresh fruit and may be used in beverages at 0.2% or in sorbets, yogurts, and fruit fillings at 0.25%.
In response to floral trends, Frutarom recently created a chrysanthemum extract that is particularly applicable in herbal teas. The extract can add a new twist in hot and cold tea-type drinks and can be easily blended with other herbal ingredients. In its flavor-mapping research, the company found that chrysanthemum extract has a distinctive taste profile with predominantly vegetable, floral, and herbal sensations, as well as woody, savory, and earthy impressions.
--- PAGE BREAK ---
The new chrysanthemum beverage extract is dark brown in appearance and its usage ranges from 0.2% to 1.0%. Derived from the yellow chrysanthemum flower through a proprietary process, the natural flavor extract can help provide consumers with a novel and sophisticated taste sensation.
Tango (or Shuffle) to a New Twist
A new fusion flavor from GSB Flavor Creators, Kennesaw, Ga. (phone 770-424-1886, www.gsbflavorcreators.com), combines the tastes of tomato and mango. The blend, Natural Tommango WONF #7941, provides a sweet and tangy flavor for use in smoothies and other beverages.
The blending of sweet and savory flavors is becoming an increasingly popular trend. Fruits and vegetables, in particular, are being paired to create novel products. Such combinations have found application in sauces, marinades, and dips, but may increasingly provide beverages with a special flavor twist.
This flavor fusion is said to work well because the subtle notes of tomato complement the ripe, sweet ones of the mango. The manufacturer recommends a usage level of 0.4% in the finished beverage. Its use in a prototype beverage has prompted further interest in the flavor.
GSB has also been busy pairing prickly pears. (Say that 10 times really fast.) The company's new line of prickly pear flavor combinations—Prickly Pear Peanut, Thistly Pear Tequilla, Perplexing Prickly Melon, and Spiny Sesame Pear are suitable for use in beverages, confections, savory products, and other applications. Developed under the theme, Prickly Pear Shuffle, the flavors were part of a campaign to combine unusual but complementary tastes. The prickly pear cactus with large and small spines is found in Western and Southwestern U.S. and Mexico. Its figs, known as Indian figs, are used to make refreshing drinks as well as candies and jellies.
According to the company, it specializes in creating custom flavor systems designed to "transform" customers' base formulations. These flavor combinations can help upscale or reinvigorate existing products, as well as create novel products. Recently, the company launched its "Flavors Around the Country" campaign to highlight native and popular flavors within regions of the U.S.
Translating Flavors Abroad
A new line of authentic flavor profiles from Bell Flavors, Northbrook, Ill. (phone 847-291-8300, www.bellff.com), represent various regions of the world, including Africa, Southeast Asia, South America, and the Middle East. These trend-setting flavor profiles, specific to their origin and popular in these regions, are translated by the company's food chemists for use in a variety of novel and refreshing beverage concepts in the United States.
Natural Pepperdew Type Flavor, which has a peppery flavor with a sweet note, may be used in the creation of a prototype carbonated beverage. Based on the flavor of the South African Pepperdew (a sweet piquante pepper that resembles a cherry tomato), it has a recommended usage level of 0.125%.
--- PAGE BREAK ---
Another novel flavor, purple corn from Peru, is similar in taste and aroma to sweet corn, and may find application in exciting new beverage concepts. It was produced using different Natural & Artificial Sweet Corn Type Flavors.
Peach and mango flavors were combined to create a prototype tropical drink, Tropical Temptation. The formulation, which was featured at the 2008 IFT Food Expo®, contained Natural Peach Flavor WONF (0.5%) and Natural Mango Flavor WONF (0.1%).
Natural Chimichurri Type Flavor Powder (0.22%) was incorporated into a Chimichurri Mary Mix from Argentina (a tomato juice combining such spices as parsley, oregano, garlic, onion, salt, and pepper). The formulation also contained Natural Oregano Flavor WONF (0.05%) and Natural Red Pepper Flavor WONF (0.05%).
Other beverage prototypes using exotic flavor profiles included Thai Tea from Southeast Asia (natural & artificial tea flavor, natural yerba mate extract, and natural cardamom extract), and Pomegranate Horchata from Mexico (natural & artificial pomegranate flavor, natural vanilla flavor WONF, artificial rice flavor, artificial rice flower flavor, artificial milk flavor, and natural cinnamon flavor).
Squashing Competition?
Juice concentrates, developed by Vegetable Juices Inc., Bedford Park, Ill. (phone 708-924-9500, www.vegetablejuices.com), using new nonthermal processing, provide beverages with superior flavor and top notes, visual impact, and high nutritional value.
A portfolio of nonthermal concentrates is available, including pumpkin, cucumber, seven-vegetable blend, cantaloupe, watermelon, beet, tomato, carrot, butternut squash, sweet potato, garlic, onion, and ginger. Some of the juices can contribute flavor while others play a supporting role in the formulation.
According to Barry Horne, the company's Vice President of Sales and Marketing, the proprietary separation technology enables the creation of juice concentrates out of nontraditional juice ingredients, such as cucumbers or cantaloupe. It also allows for some very interesting blends to result. Imagine, for example, blends such as Orange Passion and Strawberry Mango that also contain pumpkin, beet, sweet potato, carrot, and butternut squash juice.
The juice blends supply two full servings of fruits and vegetables, including antioxidants A and C and beta carotene, in a single 8-oz serving. The nonthermal process preserves naturally high levels of vitamins, minerals, and antioxidants in the juices.
Niche beverages are playing an increasing role in beverage innovation, noted Horne. Beverages made with these concentrates can carve out new niches, offering special flavor profiles and blends, potential health and wellness benefits, and product differentiation that will attract consumer attention.
--- PAGE BREAK ---
Punch Provides Unexpected Punch
A number of beverage concepts developed by Wild Flavors Inc., Erlanger, Ky. (phone 859-342-3600, www.wildflavors.com), suggests some of the innovative directions that beverage flavors are taking.
One of these was Bayou Punch (see photo on page 61), which has a mild fruit juice taste with a somewhat unexpected heat finish. The formulation contains Natural Berbere Punch Flavor WONF, based on the flavor profile of berbere—a spice mixture key in Ethiopian cuisine with ingredients that may include chile peppers, ginger, clove, coriander, and other spices. The beverage also contains black carrot color and is sweetened with organic cane sugar.
Two of the other prototypes demonstrate how flavors can provide novel tastes to beverages made with ingredients that have potential health benefits ranging from skin care to the reduction of joint inflammation. Pummelo Grapefruit Beauty Beverage is a 25% juice beverage containing an ingredient blend promoted for its potential skincare benefits, Natural Pummelo Grapefruit Flavor WONF, and a beta-carotene color. Dragon Starfruit Joint Health Beverage, made with ingredients designed to reduce pain and swelling associated with joint inflammation, contains Natural Dragon Star Fruit Flavor WONF and Natural Red Color Cherry Type.
Over the past year, Wild acquired American Purpac Technologies, Beloit, Wis., giving it expertise in aseptic processing and packaging. Such a development can have an important impact for the company in the area of beverages.
Finding the 'Zone' for Flavors
A new flavor technology from Cargill, Minneapolis, Minn. (phone 952-742-6000, www.cargill.com), enhances flavor stability and safety for powdered beverage applications. The technology, Freshzone™, gives beverage manufacturers convenient dried powders that deliver a consistent, fresh taste experience while ensuring the shelf life of the flavor components.
"A thermodynamically stable encapsulation, the technology holds volatile flavor components at the molecular level," said David Kroll, Marketing Manager of Cargill Flavor Systems. "Fresh flavor remains protected in the powder, which consistently delivers the flavor components to consumers as they drink the product."
Also, capturing the ingredients in the complex makes the powdered flavor safer and easier for beverage manufacturers to handle. Some liquid flavor components are flammable at sub-zero temperatures. When encapsulated with the technology, the same flavor components are durable up to 200°F.
Addressing today's trends, Cargill has also developed a number of prototype beverage concepts. For example, Peach-Cinnamon-Flavored White Tea demonstrates an emerging ready-to-drink tea flavor trend, the combining of fruit flavors and spices. The low-calorie beverage, sweetened with erythritol and protein-fortified, contains Natural Cinnamon Flavor, Natural Peach Flavor, and a natural masking agent. It has an appealing clear appearance and provides the desired shelf life.
--- PAGE BREAK ---
Ginger-Apricot-Flavored Smoothie with Probiotics provides taste and heat sensations not typically found in juice beverages. This beverage also demonstrates the popularity of fruit flavors that have a fresh, natural quality. Ingredients in the formulation include white grape juice (from concentrate) orange juice (from concentrate), banana puree, apricot juice (from concentrate) and flavors, Natural Ginger, Natural Gingerroot, and Natural Apricot. The addition of probiotics promotes good health through the balance in the intestinal microflora.
Other innovative formulations include Heart Healthy Juice beverage made with a Natural Raspberry Flavor and a Chipotle Chocolate-Flavored Milk that has a bold, spicy flavor combined with a rich chocolate taste.
Diving Into Flavored Waters
"Superfruit" is a marketing term used to describe fruits that have antioxidant potential and often novel tastes. Trends in beverage sales over the past five years indicate a growing number of new-product launches containing these "superfruits" or their flavors.
A new line of flavors based on the taste characteristics of four of these superfruits—pomelo, nectarine, yumberry, and jostaberry—were recently developed by flavor chemists from Virginia Dare, Brooklyn, N.Y. (phone 718-788-1776, www.virginiadare.com). These natural flavors may be incorporated into such beverage applications as fruit drinks, flavored tea, and vitamin water.
At the 2008 IFT Food Expo, Virginia Dare launched these flavors in flavored, nutrient-enhanced water prototypes. In that application, each of these flavors provided certain taste characteristics. For example, Jostaberry Type is said to have blackcurrent and blackberry characteristics with some tart, green notes, while the Yumberry Type is characterized by fruity, floral notes with some astringency. Nectarine Type provides a ripe, juicy character with some peach and plum notes, while Pomelo has a grapefruit character with a fruity tartness. Data sheets are available describing their usage levels as well as the Brix and pH of the finished beverage.
Virginia Dare's flavor chemists are creating many other superfruit flavors for beverages and other applications. Some of these are the more widely recognized ones such as pomegranate, açai, goji, blueberry, cranberry, and lychee. Others, however, are more unfamiliar, including white sapote, gac, yuzu, cili fruit, longan, and cupuaçu.
The company also offers a variety of tea extracts and concentrates, which may work with superfruit flavors to create refreshing drinks.
Reducing Ag Residues in Citrus Oils
A portfolio of citrus essential oils, launched under the name CitrusT by Treatt USA, Lakeland, Fla. (phone 863-668-9500, www.treatt.com), are said to have lower levels of fungicides, herbicides, and pesticides. The range of oils, consisting of single-fold, multiple-fold, and terpeneless options, is processed using proprietary technologies to reduce the amount of agricultural residues while retaining the flavor of the original oil.
--- PAGE BREAK ---
The residue content within the oils is said to be less than 0.5 ppm for any individual agricultural residue and less than 2 ppm for total agricultural residues, in accordance with GC/MS selective ion monitoring. Furthermore, unlike conventional folded or concentrated citrus oils, the agricultural residue levels in these products do not increase according to the fold or concentration of the oil. A 20-fold CitrusT oil therefore has no greater levels of agricultural residues than a single-fold CitrusT oil.
These oils complement the company's existing portfolio, including the natural Citreatt™ terpeneless specialty citrus oils that are produced by solvent extraction and retain the volatile flavor components usually lost during traditional distillation processes.
The company's flavor distillates were highlighted in a number of clear water beverages at the 2008 IFT Food Expo. These prototypes included Organic Earl Grey Tea, Sour Cherry Green Tea, Marionberry, Lemonade, Mandarin, and Margarita.
Flavors Flex a Nutritional Muscle
A range of innovative natural flavors can give beverage manufacturers the ability to contribute nutritional value to their formulation. NutraFlavors™ from Kerry Ingredients & Flavours, Beloit, Wis. (phone 608-363-1200, www.kerryamericas.com) contain juice, extracts, and nutrients from the named fruit.
With nutrients integrated into the flavor system, the natural WONF flavors are available in dry and liquid forms. According to the company, at a usage of 2 g, they can provide up to 2.7% juice with 100 mg of both omega-3 and omega-6 fatty acids. The flavors are suitable for use in a variety of beverages such as instant drinks, smoothie beverages, tea products, meal replacements, sports drinks, and other functional beverages.
Prototype beverage concepts were developed that highlighted these flavors. SuperFruit Protein Fitness H2O, made with Grape NutraFlavor and a blend of açai and blueberry flavors, is a protein-fortified, lower-calorie fitness water that can provide an alternative to carbonated drinks. Berry Blend Energy Smoothie incorporates Cranberry NutraFlavor, delivering indulgent, better-for you refreshment.
Flavors Create New Beer Concepts
New flavor concepts for beer and beer-based beverages are developed and marketed by France-based Aromatech Group (phone 33 0 4 93 60 84 44; www.aromatech.fr). The BeMix range consists of 22 flavors formulated especially for beer applications.
--- PAGE BREAK ---
The flavors, which offer an alternative to traditional beers, cover a large palette of tastes and are classified into three families. One targets men, with notes coming from such spirits as tequila, whisky cream, Curacao, and vodka. A second meets codes of premix-type beverages, mixing a beer and a spirit (rum or vodka); proposed notes for this group include brown (vanilla or chocolate), exotic (coconut or green tea lemon), and fruity (apple or tutti-frutti). The third, made with 15% juice content, is designed for consumers who are looking for fruitier and less-bitter tastes; proposed flavors include peach, raspberry, cherry, and lychee.
According to the company, the innovative flavors were developed to work with the existing qualities of beer. BeMix has been tasted and validated in real conditions by consumer panels from 13 different countries.
The Next Pomegranate?
Two new flavors, yumberry and mangosteen, are based on fruits of the tropics. Launched by Ottens Flavors, Philadelphia, Pa. (phone 215-365-7800, www.ottensflavors.com), they may be used to create a number of refreshing beverages that reflect emerging flavors from around the world.
"Yumberry and mangosteen are among the newest trends in flavors," said Richard Robinson, the company's Chief Executive Officer. "These exciting fruits should gain the same level of popularity as the pomegranate because of their exceptional taste and healthful attributes."
The natural fruit yumberry (also referred to as red bayberry or Chinese bayberry) is cultivated in the subtropic region of Southeast China, and tastes both sweet and very tart. Its flavor is particularly suitable for use in flavored waters and juices.
The natural fruit mangosteen, a native of Malaysia, has a special, multi-layered sweetness that is slightly acidic. Its flavor profile works well in various beverages.
Flavors Can Extend Alcohol and Sweeteners
Flavor options, developed by Wixon Inc., St. Francis, Wis. (phone 414-769-3000, www.wixon.com), provide functionality solutions in beverages ranging from alcoholic drinks to lower-calorie products.
A variety of alcohol extenders are designed to increase the perception of alcohol in beverages. According to Mariano Gascon, the company's Vice President of Research & Development, "these flavors work synergistically with the alcohol present in the drink to enhance the consumer experience." The flavors, available in natural or natural and artificial forms, have usage levels of 0.05–0.1% in the finished product.
Gascon also described flavors that provide sweetness enhancement in beverages. Magnifique Sugar Lift enhances the perception of sweetness while simulating the characteristic sweet profile of high fructose corn syrup. Magnifique Sweet Lift has a similar sweetness profile to sugar without any lingering aftertaste, and may be used to enhance the sweet perception of sucrose or regular table sugar. Both flavors are natural with usage levels of 0.05–0.2%.
Taking Fruit Flavors to a New Level
A new line of authentic, high-impact fruit flavors from Robertet, Piscataway, N.J. (phone 732-981-8300, www.robertetflavors.com), is said to offer a multidimensional experience in beverages, such as juices, carbonated drinks, enhanced waters, energy drinks, teas, and alcoholic products.
--- PAGE BREAK ---
The company's Extreme Orchard Flavors are based on the development of new building blocks that lift natural fruit flavors to a new level, offering profiles that emphasize strong, fresh-pressed juice notes with the light, aromatic topnotes added back. Flavors in the line include Red Delicious Apple, Ripe Apple, Granny Smith Apple, Plum, Sugar Plum, Ripe Peach, Canned Peach, Fuzzy Peach, Pear, and Watermelon.
The water-soluble flavors (Natural, WONF, and Natural & Artificial) are available in liquid and spray-dried forms. Because of the distinctive flavor profiles they offer, these products can help differentiate a beverage in the marketplace, infusing a new intensity into both traditional and exotic drinks.
Lemon Oil Extenders Make Reality Less Sour
Economic reality can sometimes be a sour one. A case in point is the recent lemon oil shortages and related price increases. This can have a particularly major impact on beverage manufacturers.
"Prices for lemon oil have been escalating steadily since 2005, "said Raymond J. Hughes, President of A.M. Todd Ingredients & Flavors, Kalamazoo, Mich. (phone 269-216-2613; www.amtodd.com). "This year's major jump in lemon oil prices is in large part due to poor weather conditions in some major growing regions, including California, Spain, Italy, Turkey, and Argentina. In many cases, yields were significantly reduced."
In response to these problems, several flavor companies are developing lemon oil extenders. Sethness-Greenleaf Inc. introduced its new Lemon Juice Flavor Replacer WONF (see page 67). A.M. Todd Co., Kalamazoo, Mich. (phone 269-343-2603, www.amtodd.com), offers its line of lemon oil extenders. These natural, citrus-based systems can extend the flavor character of lemon oil up to 50% and in certain applications could be a total replacement. These extenders present a potential savings of 20–40% and are available now. Givaudan, Cincinnati, Ohio (phone 513-948-8000, www.givaudan.com), has also developed a new range of lemon oil replacers, the result of its analytical research to understand the component makeup of citrus flavors and how these components function within the flavor profile. The extenders are said to duplicate the flavor profile of lemon oil and provide the same functionality.
Flavor Psychology
Like color, flavor can have a psychological impact, creating a connection between the beverage product and the consumer. Take plain bottled water, for example. Add the flavor of an exotic fruit to it and you can bring to the application a hint of tropical refreshment. A simple product like water can be upscaled by the flavor, and if it is fortified, it can help mask the taste of vitamins and minerals in the water. Tate & Lyle, Decatur, Ill. (phone 217-423-4411, www.tateandlyle.com), demonstrated this at the 2008 IFT Food Expo. Simply pouring the contents of a "stick pack" into 8 oz of water and giving it a quick shake can provide consumers with a flavored drink that is a good source of fiber. The dry mix combines such flavors as Goji Berry and Schizandra Passion Fruit with Promitor soluble corn fiber and Splenda sucralose.
--- PAGE BREAK ---
Because of the psychological associations they can create, flavors have to be carefully chosen. One flavor can work very well in an energy drink, while another would be much more suitable for a relaxation drink. As we have already seen, matching the best flavor with a particular tea variety is a very important consideration. A white tea may require a certain flavor to complement its delicate quality, while a black tea may require a heartier flavor. If you're promoting the health benefits of a green tea, you might want to choose a flavor that complements potential health attributes. An herbal tea might require an aromatic, possibly spicier flavor. The capturing of these nuances, however subtle, in that tea beverage can have an effect on the consumer, and determine the success of the product in the marketplace.
A vanilla or caramel flavor in coffee can bring to mind certain images. Folger's Vanilla Biscotti captures the fragrance of the cookie and might even get you to munch on the real food while you drink the beverage. Or Caramel Drizzle, also from Folgers, might conjure up images of a caramel-drizzled latte from a premium coffee house. Flavors ranging from almond to citrus are being used today in coffee, brewing different kinds of associations.
Beverages that promote skin care are becoming increasingly popular. This "beauty from within approach" can benefit from certain flavors, especially fragrant ones. A root beer flavor probably wouldn't work well in these applications.
Speaking of root beer, here's an application that may work. Recently, Cadbury Schweppes Americas Beverages, Plano, Tex., launched A&W Float, a creamy blend of A&W root beer and ice cream flavors that is said to evoke the root beer float experience. A second product introduced, Sunkist Float, combines Sunkist orange soda and ice cream flavors for an orange Creamsicle experience.
When a mother tries to get her child to eat vegetables, she uses psychology. When beverage manufacturers use psychology, you can bet that they are doing that through their use of flavors.
Next month's Ingredients section looks at emerging sweeteners and sweetener blends and the impact they will have on product formulation.
---
Beverages Get Makeover at 'Roadshow'

A variety of innovative beverage concepts were showcased at the sixth annual Innovative Roadshow®, held on October 2, 2008, by David Michael & Co., Philadelphia, Pa. (phone 215-632-3100,
www.dmflavors.com
). Under this year's theme, "Extreme Brand Makeover," these concepts helped demonstrate fresh ways to revitalize existing brands to drive growth in the current economic climate.
For example, spa drinks delivering a cosmetic function were available in three varieties. Aronia Vanilla with Honey, a 10% juice drink made with skim milk, provides antioxidants from the aronia berry and vitamins A, C, E, and B-3, B-5, B-6, and B-12 (as well as calcium from the milk). It is sweetened with honey, the juice, and evaporated cane sugar. Aloe Guava Pink Champagne, half juice and half skim milk, contains beauty-enhancing aloe and B-vitamins, with sweetness coming from the juice and evaporated cane sugar. Strawberry Green Tea Nectar, a 100% juice beverage naturally sweetened by puree, contains L-theanine, an amino acid that reduces stress and improves quality of sleep and concentration, and B-vitamins.
--- PAGE BREAK ---
While most ready-to-drink smoothies are based on milk, yogurt, soy, or kefir, the use of buttermilk instead can give these beverages a special makeover. Breakfast Buttermilk Smoothies are naturally lower in fat and calories than those made with whole milk, and they are high in potassium, calcium, and B-vitamins. Buttermilk is also better tolerated by individuals who are lactose intolerant. Featured flavors of the smoothies include Pancake with Strawberry, Pancake with Blueberry, and Crumb Cake.
Moo Makers are flavored, fortified sugar cubes that can be added to milk to provide flavor and color. Per serving, the cubes can deliver 100% of the recommended daily value for vitamin C, 10% B-vitamins and niacin; and 0.5 grams of fiber. One serving is made up of four cubes, allowing children the opportunity to control the strength of the flavor, as well as mix and match. Featured flavors include Peach, Mango, and Orange Berry.
Coffee Creamer Truffles can be added to a cup of coffee to provide sweetener, creamer, and flavor in one easy shot. Two truffles equal one serving, allowing the consumer to customize the level of sweetness, flavor, and creamer desired. Shelf-stable truffles include Irish Cream (in a chocolate coating) and Raspberries & Cream (in a white chocolate coating).
David Michael's "roadshow" is designed to showcase the company's best ideas in flavor development and to help spark new ideas and a spirit of partnership. Highlights of the industrial event include a session that tracks new and emerging trends from around the world. This session, "Roadmap to the Roadshow," identified what these trends are, and how they influenced product development.
At the core of the event, is the Innovation Showcase, an exhibition where the company's worldwide technical staff displayed the results of their creativity and research. The exhibition provides an opportunity to expand on ideas, conduct new research, or work outside their areas of expertise.
The final session, a panel discussion, addressed how organizations can continue to grow long-term, successful brands through innovative product enhancements and marketing methods. Product developers provided their philosophies on innovating mature brands with the audience giving their thoughts on the best practices to reignite product life cycles.
by Donald E. Pszczola,
Senior Associate Editor
[email protected]