The sports nutrition market is experiencing some interesting changes. At this year's IFT Food Expo®, a representative from Innova Market Insights, Duiven, Netherlands (phone +31-26-319-0650, www.innova-food.com), noted that there is a shift from the professional market to the consumer market for sports nutrition and performance products. The market researcher also observed that products are increasingly targeting "weekend warriors."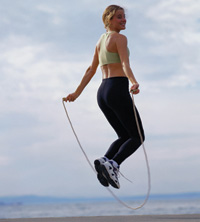 Another interesting development in this arena is the emergence of products with customized benefits. For example, Detour® Activity Bars from Forward Foods LLC, Minden, Nev. (phone 800-203- 3877, www.detourbar.com), are tailor-made for participants in specific athletic activities and contain ingredients said to enhance physical activity. The line includes Detour Yoga, Detour Runner, Detour Biker, and Detour Core Strength Bars.
Sports dietitians and sports chefs are also playing a greater role, notes Dave Ellis, President, Sports Alliance, Colorado Springs, Colo. (phone 719-502-1276, www.fuelingtactics.com).
"As an applied sports dietitian who has worked in the field of athletics for over 27 years, I have seen stats on supplement use shrinking in favor of functional foods," says Ellis. "At the same time, we have seen the role of sports dietitians growing as part of delivering that more-sophisticated functional food to athletes in their training-table environments."
Both serious athletes and weekend warriors are looking at functional foods and beverages to help promote muscle synthesis, recovery, and energy levels. Here is a look at some of the ingredients that can be used to promote the preceding.
Muscle Synthesis
Protein is essential for athletes to build and repair muscle that is broken down during exercise. Lately, research has focused on soy and whey protein in athletes' diets. For example, Kalman et al. (2007) looked at the effects of soy- and milk-based proteins on circulating androgens and exercise-induced body composition changes. For 12 weeks, 20 subjects took 50 g of one of four protein sources (soy concentrate; soy isolate; soy isolate and whey blend; or whey blend only)/ day while they participated in a resistance-training program. Protein supplementation resulted in a significant increase in lean body mass independent of the protein source.
According to Kara McDonald, Director of Ingredient Marketing and Communications, Dairy Management Inc., Rosemont, Ill. (phone 800-248-8829, www.innovatewithdairy.com), whey protein has historically been associated with muscle-building benefits.
"In a June 2008 study with IDEA Health and Fitness Association members, 238 personal trainers and fitness-related health professionals surveyed consider whey protein to better deliver the benefits of 'burning more fat while retaining muscle,' 'increasing lean muscle,' and 'enhancing physical performance' over other protein sources consumed after exercise," McDonald reports. The branched-chain amino acids (BCAAs) present in whey (leucine, isoleucine, and valine) stimulate muscle protein synthesis, while the high biological value means whey protein is easily digestible, absorbed, and used by the body.
--- PAGE BREAK ---
In a recent study using eight resistance-trained athletes, the Exercise Metabolism Research Group with the Department of Kinesiology at McMaster University, which is part of the National Research Council in Canada, found that subjects who ingested a carbohydrate–protein drink containing 10 g of whey protein with 21 g of fructose following resistance exercise saw a rise in muscle protein synthesis that was greater when an isocaloric amount of carbohydrate only was provided (21 g of fructose with 10 g of maltodextrin).
Matthew Pikosky, Director of Research Transfer, National Dairy Council, Rosemont, Ill. (phone 847-627-3298, www.nationaldairycouncil.org), indicates that the study reinforces the extensive amount of science supporting the relationship between whey protein and increased muscle protein synthesis.
"The unique aspect of that particular study was the amount of whey protein shown to have this effect—10 g in combination with 21 g of carbohydrate," says Pikosky. "This is one of the first studies to document this effect in an amount that can be readily consumed in an isotonic sports recovery beverage."
Recovery
"In the minds of athletes, recovery pretty much means beating muscle soreness," says Ellis. "Recovery from the muscle soreness point of view involves minimizing the damage in the first place while speeding the efficiency of remodeling that damaged tissue."
He adds that there are still questions to be answered on when athletes should use fast-digesting vs slow-digesting sources of protein (amino acids and low molecular weight peptides vs larger peptides that might coagulate and be more timed-released in nature). "The composition of those amino acids is also under study with regard to which ones are the strongest at slow catabolic activity vs signaling anabolic activity," says Ellis. "A couple of the heroes of this process right now are protein sources that are rich in leucine and arginine, which are capable of up-regulating both the anti-catabolic and anabolic signaling that helps a damaged muscle fix itself faster."
He says that other areas of focus are protein sources that have a natural insulin-stimulating effect (insulinogenic), like aspartate, proline, glycine, lysine, and BCAAs. "So we see things like soy protein being a rich source of insulinogenic amino acids, as is whey protein," he adds.
Emerging research is demonstrating the potential benefit of consuming carbohydrate–protein beverages during and/ or after endurance exercise to improve recovery by reducing markers of muscle damage and soreness as well as improving subsequent muscle function, adds Pikosky. He cites a recent study in which cyclists were provided with either a carbohydrate+whey protein beverage (CW); a carbohydrate-only beverage matched for total calories (C+C); one matched for carbohydrate content (C); or a placebo (P) during exercise (Valentine, 2008). Cyclists rode longer when they consumed CW and C+C compared to P. In addition, markers of muscle damage were significantly lower in the CW compared with all other treatments. Cyclists who consumed the CW beverage during exercise also had improved muscle function approximately 24 hr after their cycling bout.
--- PAGE BREAK ---
Whey protein was used in the creation of the UW Recovery Drink. K.J. Burrington, Dairy Ingredient Applications Coordinator, Wisconsin Center for Dairy Research at the University of Wisconsin–Madison, explains that whey protein was used in combination with carbohydrates to provide a muscle-recovery benefit after workouts.
"It was designed to deliver a 3-1 ratio of carbohydrates to protein, a target chosen by Jeremy Isensee, the nutritionist for the UW Badger football team," says Burrington, who worked with Isensee on the composition and on the carbohydrate selection. The drink contains 9 g of whey protein/ 8 oz and is used by members of a number of UW sports teams.
Other recovery ingredients include a casein hydrolysate and coenzyme Q10 (CoQ10). A casein hydrolysate, PeptoPro® from DSM Food Specialties, Delft, Netherlands (phone +31-15-279-2685, www.peptopro.com), has been shown to decrease recovery time after exercise or other physical activity. Due to its small size (chains of di- and tri-peptides), it can be fully and rapidly absorbed by the body without adversely affecting the digestive system. According to the company, a study using 14 g of PeptoPro in a carbohydrate drink showed improved recovery from exercise, resulting in improved performance in subsequent exercise.
Another study showed that after drinking a sports drink containing the casein hydrolysate, athletes' muscle pain was significantly lower compared to a placebo. Information on the company's Web site explains that protein is not only used as building blocks for muscle growth, it also stimulates the production of insulin. Insulin is important for recovery after exercise because it stimulates the formation of muscle protein and the uptake of sugars, such as glucose, from the blood into muscle cells. In the muscle cell, insulin stimulates the formation of glycogen, the glucose store of muscles, which is an important source of energy during exercise. Thus, protein, via insulin, helps to replenish muscles' store of energy.
Kon et al. (2008) examined the effect of CoQ10 on muscular injury and oxidative stress during exercise training. They randomly assigned 18 male students, all elite Japanese kendo athletes, to receive either 300 mg of CoQ10/day for 20 days or a placebo. All subjects practiced kendo 5.5 hr/day for 6 days during the experimental period. At days three and five, the researchers reported that both groups experienced increases in serum creatine kinase activity and the concentration of myoglobin, but these increases were significantly lower in the group receiving the CoQ10 supplements. Elevated levels of the creatine kinase are indicative of muscle damage and injury. Moreover, levels of lipid peroxide, a marker of oxidative stress, were also lower in the CoQ10 group.
--- PAGE BREAK ---
Energy
Two of the Detour Activity Bars contain ingredients that promote energy. Detour Biker contains 200 mg of rhodiola "to help improve muscle stamina and recovery." Detour Core Strength contains 1 g of ribose. Ribose is a compound used by the body to regulate the synthesis of adenosine triphosphate (ATP), the primary energy molecule of the cell. Research has shown that ribose administration increases muscle energy synthesis by three- to four-fold, depending on the type of muscle fibers, according to information from Bioenergy Life Science Inc., Ham Lake, Minn. (phone 877-474-2673, www.bioenergy.com). At this year's IFT Food Expo, Bioenergy spotlighted Olympic weightlifter Melanie Roach's daily consumption of ribose.
"My events don't allow much recovery time, and before I started using ribose, my second lift was always weaker," says Roach. "Ribose allows my second lift to be as strong as the first."
Other ingredients associated with energy include L-carnitine, taurine, and B-vitamins. Body Dynamics Incorporated Marketing, Carmel, Ind. (phone 800-428-2352, www.bdimarketing.com), offers products that contain L-taurine and vitamins B-6 and B-12. The company's 2-oz Mini Thin Rush liquid energy shots contain caffeine and L-taurine, which, according to the company, is "an important amino acid involved in a large number of metabolic processes in the visual pathways, the brain, and nervous system, and cardiac function." It also contains vitamins B-6 and B-12, which provide natural boosts of energy.
L-carnitine is essential to transport long-chain fatty acids across the mitochondrial membrane for subsequent fat breakdown and energy production. Its benefits for athletes and physically active people include optimization of performance, delayed onset of fatigue, and improved recovery process.
According to information from Lonza Inc., Allendale, N.J. (phone 201-316-9200, www.lonza.com, www.carnipure.com), L-carnitine supplementation increased the peak treadmill running speed in marathon runners and increased VO2max in cyclists and long-distance walkers. VO2max is a measure of a person's ability to perform high-intensity exercise for longer than 4–5 min. The company also states that research indicates that L-carnitine supplementation decreases lactic acid accumulation and spares glycogen and, therefore, plays a role in delaying fatigue. In addition, daily L-carnitine consumption prior to high-intensity exercise significantly reduced muscle pain and decreased muscle damage in untrained subjects.
References cited in this article are available from the author.
by Linda Milo Ohr,
Contributing Editor,
Denver, Colo.
[email protected]