Gluten-free, wheat-free, caffeine-free, fat-free, sugar-free, lactose-free, dairy-free, salt-free, GMO-free, hormone-free, antibiotic-free, preservative-free, cage-free, and free-range. Whether for medical, health, cultural, ethical, or personal reasons, consumers are increasingly avoiding certain foods and food ingredients and are scrutinizing labels for friendly as well unfriendly terms when making their food choices.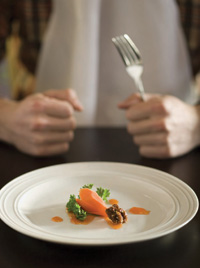 Many shoppers are staying away from "dietary negatives" such as sugar, fat, carbohydrates, and salt in order to eat healthier (HealthFocus International, 2007). They're cutting back or cutting out "bad" foods and ingredients, stimulating the market for low/no/free products. Some consumers are seeking to avoid highly processed foods with artificial ingredients.
HealthFocus reports that consumers are extremely/very concerned about growth hormones in meat/poultry/dairy (54%), preservatives (52%), foods produced with biotechnology and GMOs (49%), antibiotics in meat and poultry (48%), sodium (45%), artificial sweeteners (43%), and food colorings (42%).
Nearly two-thirds (65%) of consumers in the United States check nutritional information on labels more than they did two years ago, according to a 2008 survey by The Nielsen Co. These consumers check labels for fat (51%), calories (48%), trans fat (43%), sugar (44%), salt/sodium (37%), carbohydrates (35%), fiber (31%), protein (31%), additives (24%), preservatives (24%), coloring (12%), gluten (9%), and glycemic index (9%).
Globally, the number of new products bearing a "no additives/no preservatives" label claim more than tripled from 2003 (2,037 products) to 2007 (6,903) and 2008 is on track to continue this upward trend (Innova, 2008a). The UK leads the way (25%), followed by the U.S. (22%), France (6%), Australia (6%), and Germany (6%).
More than nine out of 10 U.S. consumers (92%) say they don't understand at least some of the ingredients on a packaged food item and 78% claim that they do not understand at least some of the nutritional information, reveals a 2008 survey commissioned by Deloitte. About 86% of the survey respondents want country of origin labeling, while 42% want more information about the food they eat. The top three concerns consumers have about the food they eat are: healthiness of ingredients (61%); possible use of ingredients that are detrimental to health (49%); and safety of the ingredients (49%).
Responding to consumer demand for greater clarity on food nutrition and components in food, a new free consumer Website—www.labelwatch.com—enables visitors to compare the additives, ingredients, and nutrition facts of more than 25,000 brand-name food and beverage products. An ingredient glossary includes information from the National Institutes of Health, Food Standards Agency UK, U.S. Food and Drug Administration, and CODEX Alimentarius.
Once the domain of small health food stores and small food companies, the "free-from" product category is growing as mainstream supermarkets allot more shelf space and larger food companies launch more free-from products (Innova, 2008b). These products cater to consumers with food allergies and intolerances and other shoppers who perceive these products as more healthful.
--- PAGE BREAK ---
In U.S. food, drug, and mass merchandiser stories (excluding Wal-Mart), dollar sales of nearly all "free" product categories for the year-ending 9/06/08 grew from a low of 0.1% (no salt or sodium) to a high of 59.3% (oil free) compared to one year ago (Figure 1). The only exception was "caffeine-free," which declined 2.3%.
Many established as well as upstart food companies are riding the popularity of free-from products. Enjoy Life Foods, Schiller Park, Ill., offers a broad range of products that are gluten-free and free of the eight most common allergens. All of its products are vegetarian and a majority is vegan. In September 2008, Enjoy Life Foods was named for the second consecutive year to Inc. 500 list of the fastest growing privately held businesses in the U.S. with a three-year revenue growth of 805%. Ranked no. 317, the company was one of only 13 firms in the food and beverage category.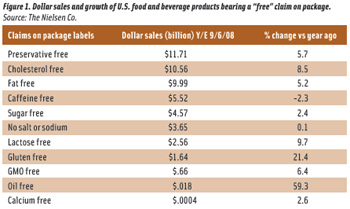 Food allergens
According to the FDA, more than 160 foods can cause allergic reactions and eight foods—milk, eggs, fish, crustacean shellfish, tree nuts, peanuts, wheat, and soybeans—account for 90% of these reactions (Mermelstein, 2008). Since January 2006, all food and beverage products sold in the U.S. must include the presence of these allergens (or their protein derivatives) on their labels.
In September 2008, the FDA held a public hearing on food allergen advisory labeling. Advisory labeling refers to a label statement that alerts consumers to the potential presence of food allergens in the finished products, such as "manufactured in a facility that also processes soybeans." Through its own consumer research and review of other research, the FDA has found that advisory labeling is not presented uniformly on packaging and is unclear to consumers. Some foods that contain advisory labeling have been found to contain detectable residues of food allergens.
Currently, the FDA is seeking written public comments on the use of advisory labeling. Its long-term strategy is to assist manufacturers in developing advisory labeling that is truthful and not misleading, conveys a clear and uniform message, and adequately informs food-allergic consumers and their caregivers.
About 12 million Americans (6% of children and 1–2% of adults) suffer from food allergies, says the Food Allergy & Anaphylaxis Network (FAAN). Furthermore, about 28% of Americans may suffer from food intolerance.
What's the difference between food allergy and food intolerance? A food allergy is an adverse reaction that involves the immune system and production of antibodies to fight the "foreign" invader; food intolerance is an adverse reaction that does not involve the immune system. For example, some individuals are lactose intolerant. While ingestion of lactose by these individuals may cause gastrointestinal distress, it does not trigger an immune system response.
Allergies—including food allergies—appear to be on the rise in the U.S. and other developed countries. Part of this increase may be explained in better diagnoses. However, some researchers believe our increasingly "hygienic" lifestyles may be the cause. Modern living exposes consumers to fewer diseases and modern medicine defeats many diseases. Thus, it is believed that our immune systems are not as active today as they were in the past. Since they are not fighting as many bacteria, viruses, and parasites, our immune systems may not be able to differentiate between a real threat and a normally harmless substance, such as a peanut or grass pollen.
--- PAGE BREAK ---
Recent research suggests that fewer children are outgrowing their food allergies to milk and eggs (Skripak et al., 2007; Savage et al., 2007). In the past, about 75% of children with a milk allergy would overcome their affliction by age 3. Today, only about 20% outgrow their milk allergy by age 4 and 42% by age 8. A similar trend extends to egg allergies with only 4% of children defeating this allergy by age 4 and 37% by age 10.
With food allergies on the rise and persisting longer into adulthood, many food retailers and foodservice providers are catering to this growing market. In observation of National Food Safety Education month and the theme "Take Action to Prevent an Allergic Reaction," Stop & Shop—a Quincy, Mass.-based grocery chain with more than 350 stores in six northeastern U.S. states—has removed its bulk bins of peanuts and tree nuts and has expanded its offerings of gluten-free products within a new gluten-free store section.
In cooperation with the National Restaurant Assoc., FAAN has produced a free 58-page booklet titled "Welcoming Guests with Food Allergies." Designed for foodservice operators, the guide is designed to help educate staff on safely preparing and serving food to customers with food allergies. For a copy, visit http://foodallergy.org/welcomingguests.html.
A newly launched Website—www.specialgourmets.com—is a community-driven guide designed to make eating out and traveling easier for people with food allergies and Celiac disease. Users can search globally for suitable restaurants, hotels, and shops, rate and review the places listed, add new establishments where they have had positive experiences, and edit/update the information. The online guide is available in English, Spanish, and Portuguese.
Celiac disease and gluten-free
About 1% of persons of Indo-European descent are afflicted with Celiac disease, which is a digestive disorder that damages the small intestine and interferes with absorption of nutrients from food. People who have Celiac disease cannot tolerate gluten, a protein found in wheat, rye, and barley. The only treatment for the disease is a gluten-free diet. It is estimated that more than 90% of those with Celiac disease are undiagnosed.
In 2006, the U.S. market for gluten-free foods and beverages was about $700 million and is projected to grow 15–25% annually (Mintel, 2007a).
Both large and small food companies are launching gluten-free products in categories ranging from bakery and beverages and cereals to sauces, desserts, and baby food. Recently, General Mills, Minneapolis, Minn., reformulated its Rice Chex cereal to be gluten-free, which differentiates the brand in the cereal aisle.
The cereal maker switched from barley malt syrup to molasses and instituted steps to prevent cross contamination during production with gluten-containing grains.
Last summer, Edward & Sons Trading Co., Carpinteria, Calif., rolled out Gluten Free Ice Cream Cones. Ingredients include potato starch, corn starch, demerara sugar, water, palm oil, cocoa powder, xanthan gum, and baking soda. The company also markets Exotic Rice Toast, a gluten-free snack.
Also this past summer, Stoneyfield Farm, Londonderry, N.H., announced that many of its yogurt cups and drinkable yogurts have been certified gluten free by the Gluten Free Certification Organization. In August 2008, Whole Bakers, Chicago, Ill., a gluten-free specialty baked goods company, announced a partnership with PacMoore, Hammond, Ind., a contract packager, to produce gluten-free products in a new gluten-free bakery built by PacMoore.
Earlier this year, Kettle Cuisine, Chelsea, Mass., introduced five all-natural gluten free soups. The frozen soups come in 10-oz microwavable bowls. They were inspired by company founder Jerry Shafir's experience with his daughter's need for a gluten-free diet.
--- PAGE BREAK ---
Glutenfreeda Foods, Burlington, Wash., markets bake-at-home Real Cookies. The wheat- and gluten-free products come preformed in resealable cups. They are available in six flavors and are found in the freezer section of grocery stores across the U.S.
Last month, Scott Mandell, CEO, Enjoy Life Foods, presented comments at a public meeting (Request for Public Comments for Use in Preparing for 2009 Reauthorization of the Child Nutrition Programs) held by the Food and Nutrition Service of the USDA. Mandell urged that federally assisted meal programs— National School Lunch Program, School Breakfast Program, and the Child and Adult Care Food Program—accommodate children with Celiac disease, food allergies, and other special dietary needs. According to a survey of 2,229 parents of children with Celiac disease, only 111 were able to get a gluten-free lunch at school. The others had to pack a lunch or go without.
In 2007, the FDA issued a proposed regulation on the definition and labeling of gluten-free foods. The proposal called for gluten levels of less than 20 ppm. The FDA is expected to issue a gluten-free definition and regulation sometime this fall.
Lactose intolerance
About 30–50 million Americans are lactose intolerant (Mintel, 2007a). Some ethnic groups are more lactose intolerant than others. Up to 90% of Asian-Americans, 80% of Native Americans, 65% of African-Americans, and 50% of Hispanics are lactose interolant. The dramatic increase in the Hispanic population in the U.S. represents a market opportunity.
Lactose-free milk is about 5% of total milk sales in the U.S. and is outpacing category growth (Mintel, 2007a). Lactose intolerance, milk allergy, and health concerns are helping to drive the market for soymilks and other dairy-free products. As part of the USDA's school lunch and breakfast programs, parents or legal guardians may request that their children receive soymilk instead of cow's milk.
Some consumers have expressed concern over the use of a hormone—recombinant bovine somatropin or rBST—to increase milk production in cows. In response, some dairies and retailers have switched to all hormone-free milk. For example, Wal-Mart and Safeway now sell only store-brand milk produced from cows not treated with artificial growth hormones.
Since dairy products are used as ingredients in many foods, lactose-intolerant consumers may have a hard time finding suitable food choices. One company that has seized upon this opportunity is Amy's Kitchen, Santa Rosa, Calif. The marketer of natural and organic convenience foods offers more than 80 products that are either lactose-free or dairy-free. Examples include Macaroni & Soy Cheese, Soy Cheese Pizza, and Tofu Vegetable Lasagna.
Vegetarians & vegans
About 3.2% of U.S. adults (7.3 million people) follow a vegetarian-based diet, according to a 2008 study published by Vegetarian Times. About 1 million of those vegetarians are vegans, who consume no animal or animal-based products. In addition, nearly 23 million U.S. consumers say they largely follow a vegetarian-style diet. Some observers have referred to this group as flexitarians.
According to the study, 59% of vegetarians are female and 41% are male. Vegetarians tend to skew younger—42% are age 18–34, 41% are age 35–54, and 17% are over age 55. The no. 1 reason consumers eat a vegetarian diet is animal welfare (55%), followed by overall health (53%), environmental concerns (47%), natural approaches to wellness (39%), food safety concerns (31%), and weight maintenance (24%).
In 2006, the value of the of the U.S. retail market for processed vegetarian food was nearly $1.2 billion (Mintel, 2007b). Since 2001, the market has grown 27% (after inflation). The market is forecast to grow to $1.6 billion by 2011—an increase of 21% in constant prices.
Milk substitute products represent the bulk of processed vegetarian foods, accounting for about 55% of the market, says Mintel. Other major categories include meat alternatives, cheese substitutes and tofu, and entrees and side dishes. Turtle Island Foods, Hood River, Ore., markets vegetarian hot dogs, sausages, deli slices, and burgers under the Tofurky brand. All products are made with organic tofu.
--- PAGE BREAK ---
Foods for diabetics
Diabetes is a disease that affects the body's ability to regulate glucose or blood sugar. Type 1 or Type 2 diabetes afflicts nearly 24 million Americans (Mintel, 2008). About 57 million are pre-diabetic, a condition which often leads to Type 2 diabetes. Several population groups—older people, blacks, Hispanics, Asians, and men—are predisposed to developing diabetes. Risk factors for diabetes include age (older than 45 years), overweight or obesity, family history of the disease, high blood pressure, high cholesterol, and sedentary lifestyle. Pediatric diabetes is on the increase.
About 80% of individuals with Type 2 diabetes are overweight or obese. Less than half of individuals with diabetes or pre-diabetes count or limit their intake of carbohydrates. When eating out, about 40% of these same individuals do not limit their food intake.
Nearly 40% of shoppers are extremely/very concerned about diabetes while 13% are personally affected by the disease (HealthFocus, 2007). These "diabetes health" shoppers are interested in the glycemic index with 40% saying that they want to learn more about it, compared with 21% of other shoppers.
According to HealthFocus, over the past two years, about half of diabetes health shoppers have decreased their consumption of sugar, compared to 37% of other shoppers. During this same time period, nearly 20% of diabetes health shoppers increased their use of artificial sweeteners, compared with 11% of other shoppers. When reading labels, diabetes health shoppers pay close attention to the terms lower in sugar (58%), sugar-free (53%), and low carbohydrate (47%).
For the most part, food companies have not directly marketed products to diabetics. But there are exceptions. Old Orchard Brands, Sparta, Mich., highlights in large type the amount of sugar (in grams), carbs (in grams), and calories on the front label of its Healthy Balance juice drinks. In addition, the company also notes its support of the Juvenile Diabetes Research Foundation (JDRF) on the front label.
Abbott Labs, Abbott Park, Ill., markets a variety of food and beverage products under the Glucerna brand to help consumers manage their diabetes. The product line includes ready-to-eat cereals, shakes, and snack and meal bars. All product packaging bears an icon declaring "For People With Diabetes." On the front of cereal packaging, an information box showcases the carb choice number and the amounts of calories and fiber and includes the statement "Clinically Shown To Help Manage Blood Sugar Levels".
by Bob Swientek is Editor-in-Chief of Food Technology ([email protected]).