Psst, word on the street is that you want to learn more about inclusions. Get the inside scoop on them, that sort of thing. Well, I know what some people say about these ingredients. They're not really big players like some of the other guys in the gang. You just add them to the finished product, and that's it.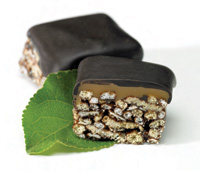 But here's the real story. Inclusions can help deliver the goods—flavor, texture, aroma, color, and nutrition to your food product. When they get done with their job, they can make the product stand out in the marketplace, attracting the attention of the consumer and differentiating it from its competitors. And they can even help shape new directions for food formulating.
Take, for example, TrueNorth, a new line of nut snacks recently introduced by Pepsico's Frito-Lay. These snacks are available in three distinct varieties, with each type offering consumers a different snacking experience. Nut Clusters pack roasted peanuts, toasted almonds, or a pecan-almond-peanut combination in a crunchy, sweet, cluster form. Nut Crisps, made from roasted peanuts, toasted almonds, or pistachios, are baked together to create a crispy, cracker-like texture. Nut Crunches, available in honey wheat peanut and toasted sesame peanut varieties, are oven baked for extra flavor and crunch, with an outer crunchy coating applied.
Other products making creative use of inclusions are making their appearance known, as well. Reese's Select Clusters from the Hershey Co. combine peanut butter and milk chocolate with smooth caramel, peanuts, and pecans. Among the new Dove® bars from Mars Snackfood U.S. is Blueberry Almond Milk Chocolate, which pairs the sweetness of blueberries with roasted almonds and milk chocolate.
New types of inclusions are also showing potential, as this month's article will demonstrate. Imagine an inclusion that acts as an alternative to a dipping sauce. Or a chunk of chocolate that floats in a liquid. And then we have this little number from Colombia. It's called Uchuva, a "superberry" that provides not only a distinctive taste but a high level of fiber and other important nutrients.
All different kinds of applications can benefit from inclusions. Confections are getting juiced up. Bars and cereals are being retexturized with crisps derived from different sources, including whey, soy, and even pea. Culinary dishes are making use of seeds ranging from sunflower to black sesame to hemp. And snacks are clustered with all different kinds of things—some traditional and some not so familiar.
Yeah, things are really mushrooming right now for inclusions. And I mean that literally. Much like different kinds of lettuce made headway over the past decade, mushrooms of different varieties may have an inclusive impact on the way we formulate our foods. Wild cultivated mushrooms in a range of types are becoming more accessible, with each one adding a distinct flavor or texture. Try using some of these in your pastas, soups, and sauces, or on your pizza. Even nontraditional applications, such as strudel, can take advantage of these mushrooms.
--- PAGE BREAK ---
As you can see, inclusions are not just decorations added to a finished product. Their role is much more important, as they can help reformulate tomorrow's foods and even help to redefine what they are. Consider their performance in convenience or portable foods (see photo on this page), which were a major focus in the Ingredients Post-Show issue. Inclusions can help make handheld foods tastier and less sloppy to eat. They can add a sense of indulgence to foods that are lower in fat or sugar. They can make better-for-you foods more appealing to children (and adults) and allow them to get servings of nutrients they might otherwise be missing. And they can help create new taste and sensory experiences.
Ingredients suitable as inclusions cover a broad range. They can include nuts, fruits, vegetables, spices, seeds, whole grains, cheese sauces, chocolate, and cookie and candy pieces. And, of course, there are many other exciting fl avors and ingredient combinations to choose from.
Still want to know more, huh? Well, you'll just have to read this month's Ingredients section. You can see for yourself how these innovative inclusions function in food products and better understand them straight from the insiders.
Understanding Uchuva
When writing about ingredients today, sometimes it seems you need a lexicon to keep up with new terms. Or at least an international cookbook describing the newest cuisines. I think that might be the case with our next inclusion, Colombian Uchuva, recently added by Decas Cranberry Products, (phone 508-866-8506, www.decascranberry.com), to its dried fruit portfolio.
Also known as Goldenberry or Cape Gooseberry, the sweetened dried fruit reportedly has the highest level of dietery fiber per 100 grams compared to other more familiar dried products, including prunes, apricots, figs, and raisins. "With the strong consumer interest and demand for exotic fruits and the need for more fiber in our diets, Columbian Uchuva is ripe for the ingredient market," said Nick Decas, the company's Vice President of Sales. "Uchuva has a unique, sweet-tangy flavor that works on its own or mixed with other dried fruit and nuts."
While Colombian Uchuva has had a long history of use in South America, it's relatively new to the U.S. market and will most commonly be found as an inclusion in trail mixes and nutrition bars. In its native countries, it has been linked to a variety of health benefits and is commonly eaten raw or used in jams and sauces.
Finding Your Inner Sauciness
Traditionally, breaded formulations such as appetizers or snacks are accompanied by dipping sauces for an enhanced flavor experience. But how about a portable item that includes the sauce in it? Bite into it and you get the breading, substrate, and sauce all in one convenient product.
--- PAGE BREAK ---
A new dry precoating system, Seal N Saucy™, makes possible a product that features a flavorful, saucy layer between the outer breading and the inner substrate, which can consist of chicken, pork, beef, shrimp, fish, or cheese. Developed by Advanced Food Systems Inc., Somerset, N.J. (phone 732-873-6776, www.afsnj.com), the ingredient can be customized to deliver a variety of flavor profi les such as Buffalo, Pepperjack, BBQ, Honey Mustard, and Marinara.
According to the company, the substrate can be marinated if desired and then coated with the dry mix, fully cooked, and frozen. The saucy layer is created when the fi nished product is fried by a consumer or foodservice operator. The end product delivers a special taste experience without the need for a dipping sauce and uses a simple, convenient, labor-saving system.
Attributes of the Almond
According to Mintel Global New Products Database, new almond products continued to increase in 2007, accounting for 22% of all new nut introductions worldwide. And the number of new almond-containing products in North America nearly doubled from 2003 to 2007.
Moreover, a survey of 212 foodservice and consumer packaged food professionals, conducted in 2007 by Sterling-Rice Group, found that taste (81%), visual appeal (65%), texture (59%), and consumer demand (57%) are extremely important attributes that drive the inclusion of almonds in new products or menu items. The survey revealed that almonds are liked because of their versatility, health benefits, and consumer demand. As an ingredient, they add crunch and value to the items in which they are incorporated and were cited as a versatile, easy-to-work-with ingredient that contributes better-for- you attributes to the formulation.
Nearly 50% of the survey respondents said they are using more almonds in new product development than they were five years ago. The use of almonds in foods is expected to continue growing, as most respondents say they are likely to incorporate almonds in new products and menu items they are responsible for. The use of almond-containing new products launched in North America grew 30% from 2006 to 2007. The top category for new almond-containing products in the U.S. in 2007 was snacks, while in Canada it was confectionery.
Almonds may be used as an inclusion in cereals (Almond Cranberry Crunch Granola), snacks (Ginger Glazed Almonds with Dried Fruits), frozen desserts (Mocha Almond Chip Ice Cream), confections (Almond Caramel with Fleur de Sel), and baked goods (French Macaroons). At the 2008 IFT Food Expo, the Almond Board of California, Modesto, Calif. (phone 209-549-8262, www.almondsarein.com), highlighted the versatility of the almond as an inclusion in a variety of products. These included Curry Chocolate Almond Bars, Almond-Cherry Energy Bars, and Mediterranean Almond Dip. These prototypes helped to demonstrate or "bring to life" the way almonds can add value to both sweet and savory applications for many diverse types of eating.
A new study presented by the Institute of Food Research in Norwich, England, showed that almond skins contain prebiotic compounds that may be incorporated into functional foods to support a healthy gut. The results of the research indicate that almond skins could be further used to produce high-value compounds for food industries.
--- PAGE BREAK ---
Mac 'n Mushroom?
A new line of sautéed, ready-to-use mushrooms from Phillips Gourmet, Inc., Kennett Square, Pa. (phone 610-925-0520, www.phillipsgourmet.com), can be used as inclusions in a number of products, including sandwiches, pizza, pasta, sauces, spreads, dips, and fillings. Available in a number of cuts and varieties, they are seasoned with a blend of garlic, salt, and pepper and sautéed without the use of hydrogenated oils.
According to the company, a proprietary process allows the mushrooms to go through a freeze/thaw cycle without destroying their cell structure. This helps to maintain a flavor and texture very close to fresh mushrooms. Since these mushrooms are packed in a quick-thaw frozen pouch and are ready to use, no prep labor is required.
A number of recipes provided by The Mushroom Council, San Jose, Calif. (www.mushroominfo.com), demonstrate the versatility of mushrooms and their umami properties. For example, macaroni and cheese can be given a novel twist by including mushrooms. Or how about a mushroom-veggie frittata, or a super-veggie pasta fi lled with mushrooms, broccoli, and red pepper?
The potential for mushrooms in food products may also be growing. Golden Gourmet Mushrooms Inc., Los Angeles, Calif. (phone 323-337-9047) and Hokto Kinoko Corp.—Japan's largest grower of specialty mushrooms—are currently constructing a state-of-the-art facility for growing wild cultivated mushrooms in four varieties: Maitake, King Trumpet, Brown Beech, and White Beech. The facility, located outside San Diego and scheduled to open in the fall, will produce six million pounds of specialty mushrooms each year and is said to be the largest of its kind outside Asia. Each variety of mushroom has its own special texture and taste.
With the holidays approaching, mushrooms can fi nd their way into a variety of dishes. Strudel, a popular European dish typically thought of as a dessert, is a hearty main side dish when prepared with cultivated wild mushrooms. Other possibilities might include Wild Mushroom Holiday Stuffing and Mushroom Salad.
On the Crisp Side
As an inclusion, "crisps" can offer formulators special fl avor and texture options when creating new products, such as snacks, cereals, and nutrition bars. For example, Grande WPCrisp® from Grande Custom Ingredients Group, Lomira, Wis. (phone 920-269-7188, www.grandecig.com), is a patented line of textured whey protein crisps. They can be customized in size, shape, color, fl avor and protein levels from 25–70% and are especially suitable for healthy and nutritional products.
Crisps can also be derived from other sources, as well. NutriSoy protein crisps at different levels of protein (60%, 80%, and 85%) are available from ADM, Decatur, Ill. (phone 217-451-5200, www.admworld.com). While the 60% and 80% versions are made from soy, the 85% product is made from soy and wheat and offers one of the highest protein contents on the market. The selection of crisps provides customers several options for incorporating a range of protein levels into products. The crisps can be used in such applications as nutrition bars, granola bars, cereals, confectionery items, and as inclusions for baked goods and ice cream toppings.
--- PAGE BREAK ---
The newest "crisp," this one based on Nutralys® pea protein, was recently launched by Roquette America Inc. (phone 800-553-7035, www.roquette.com). The composition of pea crisps can be altered depending on the nutritional requirements. Pea crisps containing 32–65% protein can provide a healthy alternative to formulators because they are allergen free. High-protein (65%) pea crisps with less than 1% sugar and about 14% carbohydrates are well suited for breakfast and granola bars. The versatility of pea crisps allows formulators to use them in many different protein-rich snack options. They can be extruded with or without flavors. If unflavored, the crisps can be coated with chocolate, yogurt, spicy, or savory flavors. Flavored or unflavored pea crisps are well suited in trail mixes and inclusions.
'The Bell Pepper of Mexican Cuisine'
Fire-roasted poblano peppers, individually quick frozen by Van Drunen Farms, Momence, Ill. (phone 815-472-3100, www.vandrunenfarms.com), can be used as an inclusion to add a mild spiciness to sauces, salsas, moles, salads, stews, frozen entrees, and other products.
Originating from Puebla, Mexica, the poblano pepper is known as "the bell pepper of the Mexican cuisine." It is heart-shaped with a mild heat and tough skin, which is usually roasted and peeled to deepen the flavor and soften the fl esh.
The peppers are cleaned and fl ash-roasted over a live fl ame and then individually quick frozen. The finished product provides consistent color, flavor, and size and 15 calories per half cup. The company offers the ingredient in several dice sizes, and customization is available.
Cluster Around, All
Consider the following formulation criteria. You're looking to develop a snack that has a crunchy texture. It should deliver indulgence, but with a lower perceived sweetness intensity. Flavor profile should be balanced and appealing. And, it should be a combination of familiar ingredients, which together can create a new or distinctive product in the marketplace.
What kind of prototype do you come up with up?
How about a Pistachio and Dark Chocolate Cluster? This "cluster" of different inclusions was developed by Cargill, Wayzata, Minn. (phone 952-742-7575, www.cargill.com), using technology at its new Snacks and Cereal Product Innovation Center in Minneapolis. The formulation, which provides 170 calories per serving, includes corn syrup; pistachios; corn flakes (whole-grain corn flour and corn flour); crisps (modified food starch and chicory fiber); barley fl akes; pumpkin seeds; bittersweet chocolate (chocolate liquor, sugar, cocoa butter, soy lecithin, and vanilla); soy flour; canola oil; wheat bran; dark brown sugar; salt; and natural flavors.
--- PAGE BREAK ---
The prototype demonstrates the functionality of a variety of ingredients available from Cargill. Let's take this cluster apart for a closer look at some of the benefits that these ingredients offer.
Fiber Krunch™ crisp is a high-fiber, extruded crisp incorporating crunchy texture into food products. Consisting of 35% dietary fiber, the ingredient is said to provide a crispy texture that stays crispy longer. Its neutral color and taste makes it versatile for easy fi ber fortification. It may be used in a variety of applications ranging from ice cream coatings to nutrition bars.
A bittersweet chocolate with 72% cocoa solids, Peter's™ Cambra™ is blended with European-style low-roast liquor and aged to produce a mellow, balanced flavor. The bittersweet chocolate is also made with natural vanilla fl avor and non-alkalized chocolate liquor. Natural U88 cocoa extract delivers a distinct, dark, luscious taste rich in roasted chocolate notes.
A number of grain-based ingredients can play an important role in the cluster. MaizeWise® whole-grain corn products can be used as a direct replacement for existing ingredients or as a blend in pursuit of a whole grain claim. The corn products are specially processed for enhanced storage stability and come in a range of flavors from neutral to toasted corn flour. Prosante textured soy flour can also add crunch to the formulation. GrainWise® wheat aleurone delivers a concentrated, natural source of fiber, vitamins, and minerals found in whole grains with a neutral effect on taste, texture, and color.
Clear Valley® high-oleic canola oil protects shelf life, allowing the natural flavor of the pistachios and dark chocolate to come through. ClearSweet® corn syrup helps to bind the product, an important attribute when talking about clusters.
We'll be talking about nuts as inclusions elsewhere in this article (for example, see sidebar on pages 54-55), but it should be noted here that pistachios were an interesting choice for this cluster. Its combination with chocolate may help differentiate the product in the marketplace, creating a somewhat different version from other products using nuts and chocolate.
Chunks of Chocolate that Float?
New aerated chocolate product from Barry Callebaut USA Inc., Chicago, Ill. (phone 312-496-7300, www.barry-callebaut.com), has a lighter, almost fluffier texture compared to regular chocolate chunks, melts smoothly in the mouth, and has the same taste as chocolate.
Loaded with tiny, visible air bubbles, the ingredient has one third the weight of standard chocolate and can fl oat in liquid, creating an enhanced visual appearance. It may be used as an inclusion in cereals, as well as baking and dairy applications where standard chocolate is typically used.
--- PAGE BREAK ---
Manufacturers can use the aerated chocolate chunks to increase the total number of chocolate pieces in the product, while maintaining the total chocolate mass. Along with the lighter weight, it provides one-third fewer calories. The handling and processing of the inclusions are said to be the same as for traditional chocolate.
In addition to these aerated inclusions recently launched in North America, the company offers a full range of innovative products that can add extra flavor, crunch, and texture to bakery and confectionery applications. These inclusions include caramelized cocoa nibs and coffee-flavored crystals.
The company's "rebalanced" chocolate range with improved nutritional profile may also offer advantages for use as inclusions. These chocolates are said to have a better balance of nutritious ingredients, containing more dietary fibers, less fat, and less or no sugar. They may be used in the formulation without altering taste, texture, mouthfeel, and the overall sense of indulgence that consumers demand. "Since we started the rebalanced chocolate program several months ago, we already have more than 80 projects with customers who have asked us to improve the nutritional profile of their application," said Hans Vriens, the company's Chief Innovation Officer. "Compared to other new product launches, this is one of the fastest-growing programs we have, reflecting apparent consumer acceptance."
Seeds Intercede
Sunflower seeds are not only suitable as a snack, but as a nutritious ingredient. As an inclusion in a variety of products, they can add a crunchy texture, provide a nutty flavor, and be used as an alternative to nuts. According to the National Sunfl ower Assn., Bismarck, N.D. (phone 701-328- 5100, www.sunflwernsa.com), these seeds may be used in breads and muffins, as a coating for fish or chicken, as a sprinkle in stuffing mixes, and as replacement for croutons in salads.
For example, sunflower ingredients from SunOpta Grains and Foods Group, Hope, Minn. (phone 800-297-5997, www.sunopta.com), may be used as inclusions or toppings. SunClusters combine sunflower kernels, sunfl ower bits, and okara puffs into a sweet crunchy cluster. This ingredient was developed for use in cereals, granolas, snack bars, trail mixes, and as toppings on salads, yogurts, and parfaits. Sunflower Bits can be used in place of nuts such as chopped pecans, almonds, walnuts, and peanuts. The bits can be used in applications where the potential allergens of some nuts are of concern.
Hemp seed from Manitoba Harvest Hemp Foods & Oils, Winnipeg, Manitoba, Canada (phone 204-953-0233, www.manitobaharvest.com), may also be used as a nutritious ingredient in such applications as breads, cereals, cookies, nutrition bars, muffi ns, and grain dishes. Examples of companies that use hemp seeds in packaged foods include French Meadow Bakery (breads) and Nature's Path (waffles, cereals, and granola bars). Hemp seed recipes are available from Manitoba Harvest, including a Chocolate Cream Pie which uses the ingredient in the crust. Hemp seed has an overall protein content of 34.6% and is a rich source of omega-3 and omega-6 essential fatty acids.
--- PAGE BREAK ---
Quite an Egg-full
In our post-show coverage of the 2008 IFT Food Expo (see August 2008 issue), we looked at a number of prototypes that suggested different ways that flavor and health will figure into the development of next-generation on-the-go food products. We saw a wide range of different inclusions in these portable products, as well, demonstrating how far the concept of convenience foods has evolved.
One ingredient that can influence the development of next-generation convenience foods is the egg. According to The Eggsaminer (Spring 2008), a quarterly newsletter for food manufacturers from the American Egg Board, Park Ridge, Ill. (phone 847-296-7043, www.aeb.org), many frozen convenience foods sold in supermarkets rely on egg products for nutrition, quality, and freeze-thaw integrity. For example, category forerunners—Hot Pockets® and Lean Pockets®—have always relied on egg products to keep the components of these frozen foods together. Egg products also assist with freeze-thaw stability and act as a sealant, preventing viscous contents from bursting through the exterior dough.
The most recent addition to the Hot Pockets product line is Twisted Stix, which makes the traditional pocket even more portable as it takes the form of a filled, handheld stick for convenient on-the-go snacking.
The newsletter also included a variety of other egg product innovations. Piggies in Biscuits from CCF Brands, Rogers, Ark., combine two breakfast classics in one handheld, ready-to-go meal. Suitable for breakfast, lunch, or snacking, the item comes in three home-style flavors—maple, cheddar, and cheddar-jalapeno. Dried whole egg is used in this item to provide volume to the crumb and better freeze-thaw stability. Archer Farms® Decadent Mousse Cup from Target Corp., Minneapolis, Minn., available frozen in boxes of four single-serve parfait cups, is a line of new chef-created desserts that come in three varieties—Black Sesame Seed, Cappuccino Chocolate, and Raspberry Lemon. Egg yolk contributes to the richness, while whites provide aeration and stabilization. And from Kraft Foods Inc. comes South Beach Living™ Chicken Salad Cranberry Walnut Kit, which includes a packet of light mayonnaise, made with egg yolk and whole egg products.
Making Room for Dessert
A number of dessert prototypes, featured by Kraft Food Ingredients Corp., Memphis, Tenn. (phone 901-381-6500, www.kraftfoodingredients.com) at the 2008 IFT Food Expo, demonstrated creative uses of inclusions from the company's broad portfolio of ingredients. These dessert solutions can include Kraft® caramel, Kraft marshmallow, Honey Maid Graham Products, Oreo® cookies and other baked goods, Back to Nature® Classic Granola, and Nabisco® crackers and meals.
Let's see how these inclusions can be used in desserts inspired by New Orleans cuisine:
For starters, two Oreo cookie products—basecake and medium crunch cookie pieces—helped add texture and distinctive flair to bread pudding. And Caramelized Pecan Flavor, Kraft® Soft Cream Cheez Blend, Nabisco Graham Cracker Crumbs, and Kraft Caramel Sauce all worked together to create the sinfully delicious Southern Pecan Praline and Caramel Cheesecake. (And please let's not overlook the pecan as a popular nut inclusion.)
--- PAGE BREAK ---
Nutter Butter and Banana Caramel Mousse combined Crushed Nilla® Wafers, Caramel Sauce, and Nutter Butter® In-Fusion flavors. For a smokier treat, try Applewood Roasted Caramel Pie with Graham and Granola Streusel. This last number incorporated Caramel Sauce, Woodfi red Applewood Type Grill Flavor, Nabisco Graham Cracker Crumbs, and Back to Nature Classic Granola.
Juicing Up Confections
A new confectionery demo kit from Denmark-based Danisco (phone 45 3266 2000, www.danisco.com), highlights juice inclusions combining exotic types (acai, goji, pomegranate, and yumberry) with more familiar ones (blueberry, cranberry, and raspberry). These confectionery products with "super juices" can be positioned as "better for you" when compared to their traditional counterparts.
The kit, Set the Juices Loose!, features four candy formats, including jelly and gummies, chewy candies, cream hard candies, and chewy beans. The confections utilize three flavor systems—apricot/orange; raspberry/yumberry; and pomegranate/raspberry/blueberry. Also included in the formulation is Litesse® Ultra™, a polydextrose that adds soluble fiber and may be used as a sugar replacer for glucose syrups; lactitol, a reduced-calorie sweetener and a prebiotic ingredient; and xylitol, a reduced-calorie sweetener with special dental benefits.
Stepping Up to the Bar
Under its new reorganization, Kerry Ingredients & Flavours, Beloit, Wis. (phone 608-363-1200, www.kerry.com), provides its customers with integrated solutions to meet their special challenges. Many of these ingredient solutions make innovative use of inclusions for bar applications.
For example 180 Bar (shown in photo on page 50) is an excellent source of fiber and contains such inclusions as plant sterol flakes, beta-glucan crisps, 80% soy protein crisps, toasted oats, extruded cookie pieces, and caramel. With a chocolate-flavored coating, the bar maintains a chewy/crunchy texture over time and is suitable for breakfast, snacking, or on-the-go eating. Also formulated was a 180 Cluster, a poppable snack made with beta-glucan crisps, toasted oats, and soy-based Solnuts.
The Cloud 9 Bar prototype features a lightly whipped texture combined with enhanced nutritional components such as calcium, whey protein, and fiber. According to the company, it is made with a new technology that infuses key nutritional ingredient components into a bar that has rich, flavorful, chocolate-caramel taste attributes. The prototype demonstrates new opportunities for infusing nutrition into the chocolate treat category.
In addition to these bar applications, Kerry developed a number of other prototypes made with inclusions. See August 2008 issue for post-show ingredients coverage on such applications as Loaded Campfire Potato Bites, Chipotle Corn & Queso Bites, and Mojo Tamales. (A photo of the tamale appears on page 53.) Other prototypes worth highlighting include Mediterranean Orzo and Meatballs, which featured cheese inclusions in the meatball, and Ham, Salami, and Roasted Vegetable Panini with Zesti Smoke technology giving vegetables a fire-roasted flavor.
--- PAGE BREAK ---
Hazelnuts: An Indulgent Inclusion
Because of their indulgent taste and healthy benefits, hazelnuts have been used as an inclusion in bakery and snack products. In some restaurants, the popularity of hazelnut-flavored coffee may have actually stimulated the use of hazelnuts as an inclusion, with formulators looking to create food products that would pair well with the beverage. Hazelnut Coffee Cake, anyone? Or how about a Hazelnut Cinnamon Roll?
Today, not too surprisingly, hazelnuts continue to appear in these kinds of applications. For example, in January 2008, Au Bon Pain introduced two new hazelnut items to its menu: Hazelnut Fudge Cookie and Hazelnut Crème Pastry.
Furthermore, recipes from Hazelnut Council Inc., Jersey City, N.J. (phone 201-633-8686, www.hazelnutcouncil.org), demonstrate the wide versatility of this nut as an inclusion. Examples might include Hazelnut Stuffed Roasted Tomatoes, Cranberry Pear Salad with Curried Hazelnuts, Mediterranean Roasted Vegetables with Hazelnut Topping, Hazelnut Pad Thai, Coconut Infused Sweet Potatoes with Crunchy Hazelnut Streusel, and Hazelnut Halibut.
A brochure, "Healthy Snacking with Hazelnuts," further describes how hazelnuts are compatible with a wide range of cuisines from around the world. Want a Brazilian flavor? Try hazelnuts with banana, chile, coconut, coriander, lime, pineapple, garlic, lemon, onion, papaya, yam, mango, or allspice. Or how about a Thai fl avor? Then use hazelnuts with basil, chile, cilantro, coconut, coriander, cumin, curry, garlic, lemongrass, lime, pepper, tamarind, turmeric, and mango. What about North African? Hazelnuts go with coriander, cumin, fenugreek, garlic, lemon, mint, tamarind, saffron, cinnamon, coriander, cumin, ginger, onion, clove, thyme, and oranges. Other cuisines described include Caribbean, Southeast Asian, Spanish, and Turkish.
Hazelnuts are valued for their indulgent flavor and upscale appeal, but they are also one of the most nutritious nuts—being a rich source of dietary fiber, vitamin E, magnesium, and hearth-healthy B vitamins. They can add a distinctive flavor and special texture to a variety of food applications.
The Rationale for Nuttiness
Several inclusions discussed in this article were of the nut variety. As we have seen here, nuts (and legumes) provide a number of functionality benefits, such as fl avors unique to that type of nut, crunchy textures, and distinctive appearance, to name a few.
Ongoing studies continue to look at the potential health benefits of nuts, as well. Their use as an ingredient can contribute some important nutritional benefits. And emerging cuisines from around the world are making use of nuts for their special attributes, helping to spotlight their value as inclusions. In addition to their versatility, nuts are very compatible with other inclusions, such as chocolate, fruits, vegetables, and whole grains.
Hopefully, nuts—along with the other inclusions covered in this article—have shown in ample ways that they are more than just a decorative ingredient. The inside story tells us that inclusions not only can help differentiate a product in the marketplace, but can play a role in creating new ones, whether they are handheld foods, better-for-you indulgent products, or fusions of different cuisines.
--- PAGE BREAK ---
Next month's Ingredients section will look at the different directions that flavors for beverages are taking. Ranging from citrus and floral to minty and sour, these flavors present some exciting opportunities. So drink up!
---
Peanuts Come Out of Their Shell
When thinking about peanuts as an inclusion, the fi rst product that probably comes to mind is the Snickers Bar from Mars. That icon is certainly a good place to start when considering the broad range of applications for the peanut. As an ingredient, it may be included in sauces, ice creams, confections, ethnic dishes, baked goods, snacks, salads, and many other products.
A variety of factors are also helping to drive emerging opportunities for the use of the peanut in formulating. Some of these factors were discussed at a media event, "Choosing Nutrient- Dense Foods to Comply with the U.S. Dietary Guidelines," hosted by the Peanut Institute, Albany, Ga. (phone 229-888-0216, www.peanut-institute.org), a non-profi t organization dedicated to establishing sound science as the basis for food, nutrition, and health discussions about peanuts. Held at the Culinary Institute of America in Napa Valley, Calif., May 10-12, 2008, this annual conference brought peanut processors, university researchers, nutritionists, chefs, and food writers together for an exciting roundtable.
Although peanuts are technically legumes, why quibble about botanical classifications. Most consumers perceive peanuts as nuts, they share many of the health benefi ts of nuts, and they are generally included in studies on nut consumption and their effect on health. Having said that, peanuts are the most commonly eaten nut in the United States (more than 600 million pounds are consumed each year), and when peanut butter is factored in, they constitute more than two-thirds of the nut consumption in the U.S. Peanuts are especially popular in confections. Half of the top 10 selling candy bars in the U.S. are said to contain peanuts or peanut butter. This popularity makes the peanut a very attractive ingredient in food formulation and a driving force for their use in both traditional and emerging products in the marketplace.
The versatility of the peanut is a second driving force. At the media event, Chef Tucker Bunch demonstrated the use of the peanut in a variety of forms, including butter, oils, flour, purees, sauces, and boiled. Applications that made use of the peanut as an inclusion included Boiled Peanut and Whole Grain Pilaf Salad with Grilled Vegetables, Ginger-Peanut Ice Cream, Antioxidant Trail Mix Clusters, Colombian Pork and Peanut Stew, and Apple Tart with Peanut Streusel. Attendees at the media event were also treated to a dinner that consisted of Artichoke, Goat Cheese, Mizuna & Peanut Salad, Roasted Seabass with Creamy Peanut Polenta, and Peanut Chocolate Torte with Mocha Parfait.
As these dishes demonstrate, emerging international cuisines are creating new opportunities for the peanut, pairing it with flavors and other ingredients not so familiar to the mainstream consumer. These cuisines can use peanuts as inclusions for flavor, texture, and appearance, and as they migrate into the mainstream—perhaps even fusing with other cuisines—they can help spotlight the value of the peanut. Also, not too surprisingly, southern U.S. markets make creative uses of peanuts as inclusions, especially boiled types, and some of these regional dishes may find their way into the mainstream, as well. Some examples might include Southern Peanut Butter Pie, Georgia Grouper with Peanuts, and Spicy Boiled Peanuts.
The nutritional components of peanuts have become a major driving force as well, with studies looking at the potential of the peanut in reducing the risk of heart disease, cancer, type 2 diabetes, and hypertension. It also has a satiety effect which, along with its healthy fats, can be important in weight control and weight loss.
--- PAGE BREAK ---
According to the Peanut Institute, the incorporation of peanut products into formulations can contribute to healthier eating patterns. Peanuts and peanut butter are rich sources of plant protein and poly- and monounsaturated fats. And a study at the U.S. Dept. of Agriculture has shown that trans fat levels are of no concern when it comes to peanut products, specifically peanut butter. Some peanut butter manufacturers use a minute amount of partially hydrogenated oil as a stabilizer to prevent separation, but analysis shows that trans fat levels are nondetectable in peanut butter.
Peanuts can also add fiber and other important components to the diet. These include folate, niacin, pantothenic acid, amino acids such as arginine, magnesium, phosphorus, potassium, zinc, thiamin, vitamin E, choline, calcium, iron, copper, manganese, selenium, riboflavin, and vitamin B-6.
New research is also looking at the phytochemical aspects of peanuts. Resveratrol, familiar because of its presence in red wine and grape skins, is found in peanuts and peanut butter. This chemical has been shown to provide protective benefits against cardiovascular and neurodegenerative diseases, inflammation, and cancer, as well as being referred to as a "life-extending" compound because of its action at the cellular level. The amount of resveratrol in peanuts and peanut butter ranges, depending on the type of peanut and how it has been processed. The roots, stems, leaves, and shells also contain resveratrol in varying amounts. The skins of peanuts are high in potent antioxidants including resveratrol.
As more studies are done on resveratrol and other chemicals, they may also have an impact on the way we view by-products. Peanut seeds are protected by a woody pod and surrounded by a thin testa or skin. These components are considered to be waste products of seed processing. However, the high-phenolic load of these parts makes them sources of compounds with nutraceutical properties.
According to Timothy H. Sanders, Research Leader, USDA ARS, Market Quality and Handling Research Unit, and Professor of Food Science at North Carolina State University, the results of a USDA study quantified the bioactivity of peanut skins and shells. (These results were presented at a poster session at the 2008 IFT Annual Meeting.) Chromatograms of skin extracts identified a variety of compounds with known bioactivity such as catechins, gluconic acid, and coutaric acid. In addition, resveratrol was found in the shell. "The presence of these bioactive compounds indicates that the underutilized portions of peanuts have potential as functional ingredients," said Sanders. "Skins and shells are easily processed, available at low prices, and could be included in flavoring mixes to mask their natural flavor."
In a symposium, "Peanuts: Mother Nature's functional powerhouse," presented at the 2008 IFT Annual Meeting, Sanders described innovations in processing of peanuts to enhance these functional components. The session highlighted the role of various functional components in peanuts, providing an overview of the health effects of bioactive constituents in present-day peanut cultivars. Because many of the elements found in peanuts are considered health and wellness ingredients used in functional foods, this opens up new opportunities for peanuts as a whole food and as an ingredient.
--- PAGE BREAK ---
At the media event and at IFT Food Expo, several peanut suppliers were on hand to discuss innovations in their products and how these ingredients can help spur new opportunities for their use in product formulation. For example, Golden Peanut Co., Alpharetta, Ga. (phone 770-752-8190, www.goldenpeanut.com), launched two new Organic Peanut Flours and Organic Roasted Aromatic Peanut Oil. The peanut flours included 28% fat Medium Roast and 12% fat Dark Roast. Both can be used in confections, nutritional bars, seasoning blends, reduced-fat peanut butters, and sauces. The organic oil can be used as a base for peanut flavor systems or as a salad or cooking oil.
Peanut butter coatings in a variety of profiles are available from Clasen Quality Coatings, Middleton, Wis. (phone 608-831-6750, www.clasen.us). The newest addition is CQ-Organics, a line of organic confectionery coatings that include peanut butter formulations.
The use of peanuts and peanut butter as an inclusion in a variety of foods is one convenient way to get nutrients into the diet. Interestingly, peanut-based ingredients can also help encourage servings from other food groups that may be lacking. For example, peanuts can help complement fruit and vegetable dishes. Imagine peanut butter incorporated into the hollow center of an apple. Or used as a topping for celery or served in a spinach casserole. (And, of course, if I'm not mistaken, Elvis loved peanut butter and banana sandwiches.) Peanut products can also work with whole grains—as a filling for bakery products or as an inclusion in Asian-inspired tortillas.
As I look at my empty Snickers wrapper, other inspirations can easily come to mind. Ravioli can be filled with meat, cheese, and even lobster. Why not peanut butter as an alternative filling with a spicy peanut sauce as a topping? Imagine a comfort food such as macaroni and cheese with peanuts as an inclusion—call it a peanut mac. Or how about a hummus made with peanuts instead of garbanzo beans and then used as a spreading for your sandwich wrap?
To borrow a Snickers word, it's simply Peanutopolis.
Did you know?
Peanuts grow in an interesting manner. They start out as an above-ground flower but eventually make their way underground where the peanut matures. There are three main types of peanuts grown in the U.S. Virginias are often called cocktail nuts and are considered large-kerneled. Runners are medium-sized kernels while Spanish peanuts are small-sized kernels. A fourth type, Valencia peanuts, are grown less frequently in the U.S. and are characterized by three or four small kernels in a long shell. Peanuts are primarily grown in only eight states: Alabama, Florida, Georgia, North Carolina, Oklahoma, South Carolina, Texas, and Virginia.
by Donald E. Pszczola,
Senior Associate Editor
[email protected]