Cognitive health is a growing concern for consumers of all ages. Parents are continually learning about the importance of omega-3 fatty acids for their babies, toddlers, and adolescents. Teenagers and adults need to stay mentally sharp and focused for school and work. And baby boomers and seniors face conditions such as Alzheimer's and cognitive decline as they age.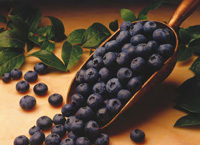 This increased interest in brain health is evident in the growing number of brain-related products and brain-healthy ingredients that are available in the market. For example, Minute Maid® Enhanced Pomegranate Blueberry Juice Blend from Coca-Cola Co., Atlanta, Ga. (www.thecoca-colacompany.com, www.minutemaid.com), contains omega-3/DHA—50 mg/8 oz. It also contains choline and vitamin B-12, which "play a role in brain and nervous system signaling;" vitamin E to "help shield the omega-3s in the brain from free radicals;" and vitamin C, which is "highly concentrated in brain nerve endings."
In addition to these ingredients, other brain boosters include fruits, botanicals, walnuts, and more. Here is information on some of these "foods for thought."
Omega-3 Fatty Acids
A proven ingredient for brain health for all ages, omega-3 fatty acids such as docosahexaenoic acid (DHA), arachidonic acid, and eicosapentaenoic acid aid in development as well as benefit certain mental conditions. Most recently, Ryan and Nelson (2008) indicated that higher DHA levels are associated with improved listening comprehension and vocabulary skills in preschool children. They gave 400 mg/day of DHA (n = 85) or matching placebo (n = 90) to 4-year-old children for 4 mo. A preplanned regression analysis yielded a statistically significant positive association between a higher DHA level in the blood and higher scores on the Peabody Picture Vocabulary Test, a cognitive test designed to measure listening comprehension and vocabulary skills.
Omega-3 fatty acids have also been linked to improving various clinical and behavioral conditions involving mental function, including depression, bipolar disorder, schizophrenia, aggression, attention deficit hyperactivity disorder, Alzheimer's, and Parkinson's disease. Ma et al. (2007) showed that DHA decreased an important risk factor for late-onset Alzheimer's disease. Using a mouse model, a diabetic rat model, and cultured human cells, the study found that DHA increased the production of LR11, a protein vital to clearing the brain of the enzymes that make amyloid beta plaques often associated with Alzheimer's disease.
Currently, a National Institutes of Health-funded study is studying the effects of DHA in slowing the progression of Alzheimer's disease. Patients with mild-to-moderate Alzheimer's disease will be treated for 18 mo, taking either 2 g/day of DHA or a placebo. The results are anticipated by December 2009. The DHA is produced by Martek Biosciences Corp., Columbia, Mo. (phone 410-740-0081, www.martek.com).
--- PAGE BREAK ---
Blueberries
High in antioxidants, blueberries are gaining recognition as brain-healthy foods. U.S. Dept. of Agriculture Agricultural Research Service scientists studied the effect of a blueberry extract on mice that carried a genetic mutation for promoting increased amounts of amyloid beta plaque in the brain (Bliss, 2007). They found increased activity of a family of enzymes, called kinases, in the brains of amyloid-plaqued mice that were fed blueberry extract. Two of the kinases found are important in mediating cognitive function.
Other research has shown that Alaskan wild-bog blueberries contain compounds that can reduce inflammation in the central nervous system that is associated with the progression of neurodegeneration (Society for Neuroscience, 2007). Another study at the Center for Aging and Brain Repair at the University of South Florida College of Medicine, Tampa, Fla., showed that supplementing the diet of old rats with blueberries for 8 weeks resulted in maintenance and rejuvenation of brain circuitry.
Grapes
Wang et al. (2008) found that grape-seed-derived polyphenolics, MegaNatural®-AZ from Polyphenolics, Madera, Calif. (phone 559-661-5556, www.polyphenolics.com), significantly reduced Alzheimer's disease-type cognitive deterioration. They gave mice with Alzheimer's disease either water containing grape seed extract or plain water for 5 mo and found that the mice treated with grape seed extract had significantly reduced Alzheimer's disease-type cognitive deterioration compared to the mice in the control group. This was due to the prevention of amyloid beta plaque forming in the brain.
Another study suggested that Concord grape juice in the diet may provide benefits for older adults with early memory decline (Welch, 2008). Subjects drank a total of 15–21 oz of either Concord grape juice or a placebo for 12 weeks. Those who drank the grape juice showed significant improvement in list learning, and trends suggested improved short-term retention and spatial memory.
Walnuts
Walnuts, already associated with a reduced risk of coronary heart disease, contain alpha-linolenic acid, an essential omega-3 fatty acid, and other polyphenols. Researchers at the USDA Human Nutrition Research Center at Tufts University, Boston, Mass., showed that diets containing 2%, 6%, or 9% walnuts were found to reverse several parameters of brain aging, as well as age-related motor and cognitive deficits in old mice (Society for Neuroscience, 2007).
Researchers from Baldwin-Wallace College, Berea, Ohio, showed that walnut extracts may play a role in developing novel treatments for Alzheimer's disease. The enzyme acetylcholinesterase has been shown to induce amyloid beta plaque formation. Using chemical techniques in the absence of living cells, the researchers showed that walnut extract and two of its major components, gallic and ellagic acids, not only inhibit the site of acetylcholinesterase associated with amyloid beta protein aggregation, but also inhibit the site of acetylcholinesterase responsible for the breakdown of acetylcholine.
--- PAGE BREAK ---
Botanicals and Botanical Blends
Ginseng is one of the most widely used medicinal herbs in the world. According to the National Center for Complementary and Alternative Medicine, Bethesda, Md. (www.nccam.nih.gov), traditional and modern uses of ginseng include increasing a sense of well-being and stamina, as well as improving both mental and physical performance.
In February 2008, Naturex, South Hackensack, N.J. (phone 201-440-5000, www.naturex.com), announced that it would be participating in "New Technologies for Ginseng Agriculture and Product Development," a program oriented to validating several health claims on North American ginseng. Research will focus on various medical and health areas, including metabolic syndrome, stress, physical endurance, cardiovascular diseases, immuno-modulation, reproductive health, and neuroprotective and psychiatric disorders.
A novel dietary supplement, Think Gum™, from Think Gum LLC, Los Angeles, Calif. (www.thinkgum.com), includes a blend of botanicals touted to enhance mental performance. The chewing gum contains peppermint, rosemary, ginkgo biloba, vinpocetine from periwinkle plants, and the Indian herb bacopa. The company's Web site cites studies backing each herb's mental benefit, like improving mental clarity and protecting brain cells.
A wild green-oat extract, Neuravena®, from Frutarom USA Inc., North Bergen, N.J. (phone 201-861-9500, www.frutarom.com), has been shown to enhance stress-coping abilities as well as learning performance. The extract's phytonutrients are thought to affect the activity of cerebral enzymes closely related to mental health and cognitive function.
Phospholipids
Phospholipids are building blocks in the brain and are often linked to improving memory and mental health. Phosphatidylcholine is a major source of choline, which is used to produce the neurotransmitter acetylcholine, a chemical messenger molecule that seems to be involved in neuron networks.
A Food and Drug Administration-approved qualified health claim for dietary supplements states that soy-derived phosphatidylserine (PS), another phospholipid, may reduce the risk of cognitive dysfunction in the elderly. Earlier this year, a commercial form of PS, Sharp-PS™, from Enzymotec, Israel (phone +972-4-654-5112, www.enzymotec.com), received "No Questions" from FDA for its GRAS notification. The company also offers Sharp-PS™ Silver, a blend of PS and DHA for improving mental and cognitive ability, and Sharp- PS™ Gold, a PS and DHA conjugate for better memory and mental performance.
--- PAGE BREAK ---
L-carnitine
L-carnitine is essential for transporting long-chain fatty acids across the mitochondrial membrane for subsequent fat breakdown and energy production. Known to benefit exercise and weight management, L-carnitine has also been shown to aid in mental function in the elderly.
Malaguarnera et al. (2007) reported that L-carnitine lessened fatigue and boosted mental function. They gave 66 males and females age 100 years and older either 2 g of L-carnitine or a placebo once daily. After 6 mo, researchers concluded that oral administration of L-carnitine facilitated an increased capacity for physical and cognitive activity by reducing fatigue and improving cognitive functions.
The acetyl derivative of L-carnitine, acetyl L-carnitine (ALC), is found throughout the central nervous system. According to information from Lonza Inc., Allendale, N.J. (phone 201-316-9200, www.lonza.com, www.carnipure.com), ALC plays a broad role in central nervous system metabolism as a source of acetyl groups both for the synthesis of acetylcholine and for energy-producing reactions.
Citicoline
Citicoline is a naturally occurring, water-soluble molecule that is used by the brain to make phospholipids. Information from Kyowa Hakko, New York (phone 212-319-5353, www.kyowa-usa.com), explains that one way citicoline supports brain health is by increasing the activity of the mitochondria in neurons to produce energy, particularly high-energy ATP. Silveri et al. (2007) recently confirmed the ability of Cognizin® citicoline to improve brain energy by increasing levels of specific markers for ATP and increasing activity in the frontal-lobe region of the brain. The frontal lobe directs complex thought, decision-making, and attention. Age-related declines in cognitive abilities are also related to deteriorating frontal-lobe function.
References cited in this article are available from the author.
by Linda Milo Ohr,
Contributing Editor,Denver, Colo. 
[email protected]