For busy kids and adults up to their elbows in activities, handheld food can be a fun, convenient way to satisfy hunger pangs. So it's hardly surprising that this developing foods market is substantial in size and has grown steadily in recent years.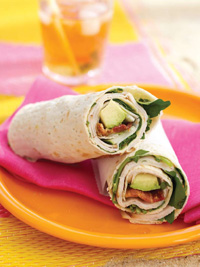 Getting a handle on handheld foods is not a simple matter, however. Not only does the category of handheld/on-the-go foods include items distributed and retailed in a variety of ways—frozen, refrigerated, and shelf-stable—but it incorporates an almost-endless assortment of product types positioned for consumption occasions that extend from early morning to late night.
Tracking sales in all of the product categories included within the broad framework of handheld/on-the-go foods would be a monumental endeavor, but Information Resources Inc. breaks out three key categories within the segment—handheld frozen breakfast products, handheld frozen non-breakfast entrees, and handheld refrigerated non-breakfast entrees. In 2007, sales in the three categories totaled nearly $1.8 billion, as tracked by IRI in food, drug, and mass merchandise retailers excluding Wal-Mart (FDMx). (See Figure 1 for a 5-year history of sales in these three key market subsets.)
For the calendar year to date (YTD) as of 07/13/08, sales of handheld frozen non-breakfast entrees were up 7.8%, while handheld frozen breakfast product sales were down 0.1%, and sales of handheld refrigerated non-breakfast entrees were off by nearly 4.9%, according to IRI FDMx data. Market research company Mintel quantified one segment of the market in a research report on frozen snacks. According to the report, Mintel put 2007 U.S. sales of frozen snacks (including frozen appetizers, frozen handheld entrees, and frozen pretzels) in FDMx at nearly $2.3 billion (Mintel, 2007).
Product development activity in this arena is strong. For the first seven months of 2008, Mintel Global New Products tracked 146 U.S. product introductions that make an "on the go" claim.
And, perhaps most interestingly—and what this article will examine most closely—the market is evolving and expanding into what a new "Handheld Foods Culinary Trend Mapping Report" from the San Francisco, Calif.-based Center for Culinary Development (CCD) describes as "new flavor and form horizons" (CCD, 2008).
Handheld and Healthful
Addressing consumer demand for more-healthful products is a major driver of the handheld foods market—one that has been reflected in a spate of recent production introductions.
Focus group research conducted earlier this year in Chicago, Ill., and New York, N.Y., for flavor company Virginia Dare, Brooklyn, N.Y., found participants expressing strong interest in good-for-you on-the-go products, reports Kevin Kimbell, Strategic Consultant for TKG Consulting, San Francisco, Calif.
"There is a definite desire for more-healthful food that can be eaten on the go, but it has to taste great," says Kimbell, who moderated the focus groups.
--- PAGE BREAK ---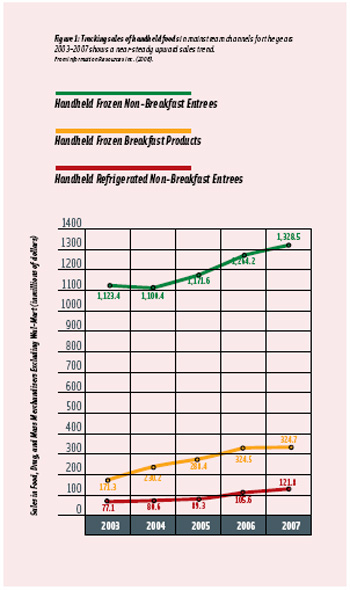 Consumer interest in more-convenient breakfast items coupled with the frozen breakfast category's performance earlier this decade prompted Van's International Foods to develop a line of Van's Breakfast Paninis, says Jay Orris, Director of Marketing for the Boulder, Colo.-based company, a subsidiary of Healthy Foods Holdings. Members of the holding company team conducted extensive consumer research prior to acquiring Van's about two years ago, Orris explains. The breakfast paninis, which began shipping to retailers this summer, are targeted to shoppers seeking all-natural products made without artificial sweeteners, colors, and flavors.
The "clean label" concept—i.e., a label without a long list of ingredients perceived as unhealthful—is increasingly important to clients, including those who are producing handheld products, says Elizabeth Arndt, R&D Manager, ConAgra Mills, Omaha, Neb.
While the emphasis with on-the-go products has, to date, "been more around flavor, color, and variety, with the right formulation, there are opportunities to have nutritional messages, as well," Arndt continues.
"A burrito might eventually be filled with quinoa or millet," says Kara Nielsen, author of the CCD report and a "trendologist" with the organization. "I'm thinking you'll probably see more whole wheat crusts as well as healthier fillings."
"There's a lot more interest in amaranth, quinoa, millet, sorghum, and teff," agrees Arndt. "Our customers are looking at ways to increase the amount of whole grain as well as the variety of grains."
New handheld Kashi Pocket Bread Sandwiches, which made their debut at retail this summer, are formulated with a blend of seven whole grains and sesame plus flax seed and provide 21 g of whole grains. In addition, they are "high in protein and fiber, and have 400 mg of ALA omega-3 fatty acids, not commonly found in the frozen aisle," points out Peter Brennan, Brand Manager at Kashi Company, La Jolla, Calif.
Moving to the shelf-stable category, nuts—long a popular choice among those on the go—have enjoyed a healthy halo in recent years. Executives at Mellace Family Brands, Carlsbad, Calif., recently set out to create an even-more-healthful offering, however. The result was Snacktrition, a line of fortified nuts and a dried fruit and nut mix enhanced with fiber (inulin) and calcium (calcium citrate malate). Snacktrition was introduced in 3- and 9-oz pack sizes, with a 1-oz packet used for promotion and sampling. Retailers quickly identified the potential to maximize an on-the-go product positioning.
"We're getting a lot of input from retailers saying, 'Give us your top three items in an on-the-go pack,'" explains Vice President of Marketing Tony Bagato. As a result, the company is preparing to launch a Snacktrition multi-pack that will feature either 12 or 24 1-oz packets, making it even easier for consumers to use it as a lunch-box item, notes Bagato.
Even the venerable granola bar—certainly among the quintessential shelf-stable handheld foods—is enjoying added health attributes in its newest iteration—the just-introduced LiveActive Chewy Granola Bar with probiotic cultures and added fiber from Kraft Foods, Glenview, Ill.
--- PAGE BREAK ---
Adding a Dash of Ethnicity
A review of recent handheld rollouts shows that, along with the emphasis on health benefits, more and more have an ethnic flavor—with additional offerings in this vein expected in the near future. Consider, for example, the empanada—a traditional Latin American pastry turnover with savory or sweet fillings. "There are many powerful reasons to revisit empanadas," the CCD report states, "not the least of which is the growing Latino population" (CCD, 2008).
"You're starting to see companies adopt the stuffed, handheld sandwich concept of the empanada without being overtly ethnic about the application," observes Tom Vierhile, Director, Datamonitor's ProductScan Online, Naples, N.Y.
The new Bundinos Frozen Bite-Sized Stuffed Bread from Bellisio Foods, Duluth, Minn., is an example of such an application. The bite-size snack comes in varieties that reflect at least two ethnic influences—offerings include both Chipotle Chicken and Supreme Pizza.
The CCD report also points to Indian cuisine as an excellent source of inspiration for new handheld foods. Indian street food or "chaat" is "portable, varied, full-flavored, and features plenty of vegetables," the report notes. It cites the "dosa," a South Indian pancake made from lentils and rice, as a handheld up-and-comer that is surfacing on a growing number of college campuses.
Many ethnic foods deliver health appeal along with a dash of the exotic. Marketers at Kahiki Foods, Columbus, Ohio, were pleased to learn that the company's microwaveable Kahiki EasyCrisp Egg Rolls introduced this spring have a Points total of only 1 or 2 (depending on the variety) in the Weight Watchers diet regimen, notes Tim Tsao, Vice President of Sales and Marketing.
Sales of conventional frozen egg rolls, which require 20 minutes of oven baking, have been declining for the past several years, but Tsao saw an opportunity for a more-convenient product in microwaveable packaging. "It allows people to take this egg roll on the go," he says.
For an easily portable snack option with a taste of ethnicity, Sabra Dipping Co., Queens, N.Y., recently added Sabra Mediterranean Salsa to Go With Pretzel Crisps. The new, 3.5-oz snack consists of premium salsa packaged with pretzel crisps. It's a successor to Sabra's earlier rollout of a hummus/pretzel crisp combo.
What's Old Is New Again
Although the category of handheld/on-the-go foods is all about addressing the demands of modern life, the concept dates back centuries. Consider what the CCD report describes as "premedieval" meat pies, "one of the earliest forms of food-to-go."
--- PAGE BREAK ---
Bite-size burgers or "Slyders" were introduced in the 1920s by the White Castle restaurant chain, and "sliders" can be found on the menus of casual dining chains such as Claim Jumper, Ruby Tuesday, and Cheesecake Factory, according to the CCD report.
Sliders are appealing in several ways, Nielsen explains. There's the nostalgia angle as well as the portion-control aspect—both coupled with the fact that miniaturization makes them seem kind of fun and fanciful. "We definitely see that moving toward the mainstream," she says.
Then there's the 2008 addition to the venerable Kellogg's Frosted Flakes cold cereal line. New from Kellogg North America, Battle Creek, Mich., Frosted Flakes Grab 'N Go Cereal Packs are "e-z open" single-serve pouches of cereal packed in an 8-count box.
Beyond the Pop Tart
While FDMx sales of handheld frozen breakfast items were essentially flat for YTD 07/13/08, as well as for the 2007 calendar year, according to IRI data, new product creativity in this area is soaring.
"It looks like the breakfast day part may be the hot segment right now for on-the-go [products]," says Vierhile, who tracked recent handheld/on-the-go product rollouts (Datamonitor, 2008). "It seems to me that they [marketers] are coming up with ideas that take traditional breakfast products and make them less sloppy to eat so they can be eaten on the run.
"Pancake Pods—billed as "100% forkfree" and "the world's most portable pancakes"—convert a traditional, but sometimes sticky, breakfast choice into a grab-and-go option. The new offering from J.R. Simplot Company, Boise, Id., features two fruit-filled 3-in pancakes heat-sealed together and packaged in a windowed laminate wrapper.
Kraft Bagel-fuls microwaveable frozen bagel sticks filled with cream cheese introduced earlier this year take the need for assembly out of bagel preparation.
And Emerald Breakfast on the Go! Trail Mix from Diamond Foods, Stockton, Calif., features six 2.25-oz pouches of trail mix clearly positioned for morning consumption.
Understanding the Psychology of On-the-Go
For families whose kids participate in many after-school activities, dinner on-the-go may be a necessity, but moms often feel guilty about not feeding their children more-healthful dinners, says Kristen Robeson, Director of Qualitative Services, J. Reckner Associates, a Montgomeryville, Pa.-based marketing and sensory research company. Focus groups conducted with moms made that clear, says Robeson.
"The moms enroll their kids in all these sports and activities to enrich their lives, and, as a result, they just don't have time to feed them," Robeson observes.
--- PAGE BREAK ---
What that reality translates into is an opportunity for more-healthful on-the-go meal options targeted to kids, says Robeson. She also points out that one of the interesting things the company's research showed is that many moms aren't demanding a full meal for such on-the-go dinner occasions—a nutritious and filling snack-type product is perfectly acceptable.
TKG Consulting's Kimbell says that the Virginia Dare focus groups showed that consumers turn to on-the-go foods for some surprising reasons. There's stress reduction for one thing. That's surprising in the sense that eating on-the-go is often associated with a harried lifestyle.
"The surprise was that, for the majority of people we saw in focus groups, the fact that food is available that they can eat on-the-go does tend to relieve stress," notes Kimbell.
He adds that on-the-go food is often viewed as a reward—sort of a "little oasis in the day." Thus, "If somebody could find a way to take some of the Starbucks experience and build it into handheld foods, it would be really interesting," he observes.
Going Forward with On-the-Go Products
What's ahead for handheld/on-the-go foods? Mintel predicts that sales of frozen snacks in FDMx will reach $2.6 billion by 2012—an 18% increase over 2007 sales in current dollars (Mintel, 2007). And U.S. consumer lifestyle trends support continued market growth.
"We definitely think it's here to stay," says CCD's Nielsen. "People are just getting busier and busier."
Interest in the healthful segment of the market will be supported by the aging of the baby boomers—who are expected to continue to demand products that are both convenient and health-enhancing. Mintel forecasts opportunities for lower-sodium products and offerings formulated with whole grains.
If the economy flounders, it may take a toll on value-added (read: more expensive) convenience products, Vierhile speculates. With tighter purse strings, consumers may be willing to sacrifice a bit of convenience for cost-savings. More-economical multi-packs of portable products can help address that issue, says Kimbell.
Kimbell offers a few recommendations to enhance the marketplace viability of handheld products—no matter what the economic climate. Ensure that on-the-go food is easy to open, he recommends. Consider packaging options that make a product relatively spill-proof. And keep the focus on products that can be consumed inconspicuously since they may well be eaten while the consumer is using public transportation.
In other words, product developers are well advised to keep handheld products truly handy!
--- PAGE BREAK ---
Packaging Lends a Hand
Packaging technology is a key consideration in the development of handheld/on-the-go foods. Many handheld foods are microwaveable, and the advent of microwave susceptor technology represents a major milestone in the history of convenience foods, says packaging consultant Aaron Brody, President and CEO of Packaging/Brody Inc., Duluth, Ga.
Susceptors are devices fabricated of metallized polyester laminated to paperboard and capable of increasing the temperature to levels above the boiling point of water in response to microwave energy sufficient to brown and crisp food surfaces with which they are in contact. Thus, susceptor packaging, which became prominent in the late 1980s and early 1990s, is effective for microwave preparation of bakery goods such as pizza crusts, bread, and pastry—all relatively low-moisture products.
Nestlé's Hot Pockets frozen microwavable stuffed sandwiches, a pioneering handheld product concept, represent one of the few successful applications of microwave susceptor technology, Brody contends. One of the more-recent applications of susceptor technology can be found in Kraft Foods' refrigerated Oscar Mayer Deli Creations microwaveable deli-style sandwiches.
Deli Creations consist of a refrigerated kit that contains cured meat in one package, bread in another, dressing in another, plus a paperboard lamination susceptor boat. "The consumer unwraps the meat, places it in the bread, and places both in the susceptor boat, which is then placed in a microwave oven. The microwave energy refreshes and reheats the bread, crisps the surface, and heats the meat," says Brody. The sandwich is then ready for the consumer to top with dressing and enjoy.
Brody also points to Campbell's Soup at Hand, a line of "sippable soups" packaged in easy-to-hold microwaveable cups, as an excellent example of packaging engineered to deliver convenience and portability. The Soup at Hand can, which contains low-acid soups and thus requires post-fill retorting, is deep-draw thermoformed from a multilayer barrier, heat-resistant polypropylene/ethylene vinyl alcohol/polypropylene plastic. The container's undulating shape is designed to more uniformly disperse energy during microwave heating. An expanded polystyrene label shrunk to the can's body acts as both a thermal insulator and a vehicle for communicating the soup's brand message. An injection-molded, long-skirt, polyethylene overcap is snapped over the top closure to function as a steam retention device and to allow the consumer to drink from the can.
by Mary Ellen Kuhn is Managing Editor of Food Technology ([email protected]).