Each year, the Institute of Food Technologists honors outstanding individuals, teams, and organizations for contributions to the profession of food science and technology by presenting achievement awards and electing Fellows. At its 2008 Annual Meeting & Food Expo
®
in June, IFT presented achievement awards to 12 individuals and one company and recognized 23 newly elected Fellows. Following are brief biographies of this year's honorees.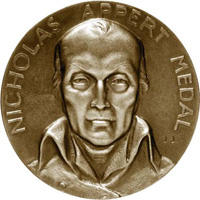 2008 IFT Achievement Awards
Gilbert A. Leveille, Executive Director, Wrigley Science Institute, received the 2008 Nicholas Appert Award, which recognizes an individual for preeminence in and contributions to the field of food science and technology. Throughout his 47-year career in academia and industry, Leveille has been a leader in researching health, nutrition, and weight management issues, specifically lipid and carbohydrate metabolism and obesity. He has also developed ingredients and more-nutritious food products to help consumers improve their health.
Additionally, he has built a case for using sound science as a basis for public health policy by serving on more than 20 government-related committees and 10 National Academy committees. He is the only person to have served as President of both IFT and the American Society for Nutrition. The award is a $5,000 honorarium from IFT and a bronze medal from the Chicago Section of IFT.
Casimir C. Akoh, Distinguished Research Professor, University of Georgia, is the recipient of the 2008 Research and Development Award for significant research and development contributions to the understanding of food science, food technology, or nutrition.
He is also the recipient of the 2008 Stephen S. Chang Award for Lipid or Flavor Science for significant contributions to lipid or flavor science.
A scholar in fat substitutes, such as olestra, and structured lipid research, Akoh researched the enzymatic modifications of lipids, production of structured lipids, and synthesis of fat substitutes. He has designed and produced lipids for mainstream applications, trans-free fats, and specialty lipids for specific applications.
Akoh's research on flavor and fragrances has shown that short-chain flavor esters can be produced in high yields with lipases as biocatalysts under defined conditions.
The award is a $3,000 honorarium and a plaque from IFT (R&D) and a $3,000 honorarium and a Steuben crystal sculpture from the Stephen S. Chang Endowment Trust Fund supported by the Taiwan Food Industries (SSC).
Stephanie Doores, Associate Professor, Penn State University, received the 2008 William V. Cruess Award for excellence in teaching food science and technology.
--- PAGE BREAK ---
A seasoned university professor who specializes in food microbiology, Doores also teaches food science courses to high school teachers and grade and high school students in initiatives such as the Summer Programs for High School Vocational Agriculture Teachers, Minority Student Intern Programs, Pennsylvania Governor's School in Agriculture Sciences, and Pennsylvania FFA Product Development Competition.
She has mentored young students as a Star Teacher in the College of Engineering's Ms. Wiz program, which fosters appreciation of the sciences by hosting hands-on laboratory experiments.
The award is a $3,000 honorarium from IFT and a bronze medal from the Northern California Section of IFT.
Robert B. Gravani, Professor, Cornell University, is the 2008 recipient of the Carl R. Fellers Award for service to the field of food science and technology and for bringing honor to the profession.
At Cornell, he has developed a strong and sustained program that addresses food safety issues in production agriculture, food processing, food retailing, food service, regulatory agencies, and for consumers. He shares this information with those in academia, government agencies, and the media.
Gravani developed the National Good Agricultural Practices Program at the university. He has conducted education and training programs for all sectors of the food industry and created audiovisual and printed materials for these constituents.
The award is a $3,000 honorarium from Phi Tau Sigma Honorary Society and a plaque from IFT.
Bruce Hamaker, Professor and Director of the Whistler Center for Carbohydrate Research, Purdue University, is the recipient of the 2008 Bor S. Luh International Award for outstanding efforts to promote the international exchange of ideas in the field of food technology.
From volunteering in the Peace Corps to collaborations with institutes in Africa and universities in Asia, much of Hamaker's life-long research has focused on assisting people around the world. He has addressed the needs of the poor in Africa by creating nutritionally enhanced sorghum and working to assist entrepreneurial food processors. He co-coordinates a multi-disciplinary collaborative research program in West Africa to improve sorghum and millet grains and enhance markets through the establishment of sorghum processing enterprises.
The award is a $3,000 honorarium and a plaque from the Bor S. Luh Endowment Fund of the IFT Foundation.
--- PAGE BREAK ---
Donald Kramer, Professor, University of Alaska, Fairbanks, received the 2008 Elizabeth Fleming Stier Award for pursuit of humanitarian ideals and dedication resulting in contributions to the well-being of the food industry, academia, students, or the general public.
Kramer has conducted outreach work in seafood science for industry, regulators, and the public for more than 27 years. His humanitarian efforts include teaching and assisting Alaskans living in rural villages. This often involves traveling to remote communities via small planes, sleeping on the floors of public buildings, and teaching in a cross-cultural environment. His efforts have improved the quality of life of hundreds of Alaskans.
The award is a $3,000 honorarium from the New York Section of IFT and a plaque from IFT.
F. Xavier Malcata, Professor, College of Biotechnology, Portuguese Catholic University, received the 2008 Samuel Cate Prescott Award for outstanding ability in food science research. The recipient of this award must be less than 36 years of age or have received his or her highest degree within the previous 10 years.
Malcata, who earned his Ph.D. degree in 1998 and his Aggregate Professorship degree in 2004, has pioneered new approaches in food science and technology and adapted science and technology to novel applications in several food manufacturing areas.
His work includes (among other topics) developing nutraceutical ingredients, designing and optimizing reactors to process edible oils, and characterizing plant proteases in milk clotting.
The award is a $3,000 honorarium and a plaque from IFT.
Neil H. Mermelstein, Editor Emeritus of Food Technology, received the 2008 Calvert L. Willey Distinguished Service Award for meritorious and imaginative service to IFT. Throughout his 37-year career at IFT, his efforts and leadership ensured that Food Technology maintained its high standards of integrity and quality. Going beyond his editorial duties, he worked with various IFT committees, volunteered his services to other IFT departments, and represented IFT at meetings of other professional organizations.
Additionally, he focused attention on the history of IFT and of food science and technology and was committed to archiving important historical information about IFT. He was named an IFT Fellow in 2007 for his leadership in communication.
The award is a $3,000 honorarium and a plaque from IFT.
--- PAGE BREAK ---
Dennis Miller, Professor of Food Science and Nutrition, Cornell University, received the 2008 Babcock-Hart Award for contributions to food technology that improve public health through the nutritional enhancement of foods.
During the past 30 years, Miller's research has focused on understanding and improving iron bioavailability from foods and food fortificants. He has developed methods for measuring iron bioavailability and has applied these methods to assess iron bioavailability in a range of foods, both fortified and unfortified. In recent years, he has collaborated with HarvestPlus, a global research alliance dedicated to reducing micronutrient malnutrition in poor countries using plant breeding to "biofortify" staple food crops.
The award is a $3,000 honorarium from the International Life Sciences Institute North America and a plaque from IFT.
Thomas J. Montville, Professor II (distinguished), Rutgers, The State University of New Jersey, received the 2008 Bernard L. Oser Food Ingredient Safety Award for contributions to the scientific knowledge of food ingredient safety and leadership in establishing principles for food ingredient safety evaluation and regulation.
Montville's research has established the safety and efficacy of antimicrobial peptides such as nisin, thus advancing their applications to assure the microbial safety of foods. He has advanced applications of nisin and pediocin through research that supports their use in real food systems. One hallmark of this is the targeting of molecular mechanisms underlying bacteriocin efficacy and minimization of nisin resistance development so that bacteriocins can be used to enhance food safety.
The award is a $3,000 honorarium and a plaque from the Bernard L. Oser Endowment Fund of the IFT Foundation.
Shelly J. Schmidt, Professor of Food Chemistry, University of Illinois at Urbana-Champaign, received the 2008 Marcel Loncin Research Prize, which provides research funding to a scientist or engineer conducting basic chemistry, physics, or engineering research applied to food processing and the improvement of food quality.
Schmidt's research involves the applications of best moisture management practices to food processes and products to optimize physical, chemical, and microbiological stability and quality. She is developing multi-technique and multi-level approaches to solving applied food safety and food quality problems.
With the funding provided by the prize, Schmidt will study the relationship between the glassy-to-rubbery transition in amorphous food materials using water vapor sorption-based experiments and compare the resultant findings to the glass transition temperature obtained via differential scanning calorimetry.
--- PAGE BREAK ---
The prize is $50,000 paid in two annual installments and a plaque from the Marcel Loncin Endowment Fund of the IFT Foundation.
Ken Swartzel, William Neal Reynolds Distinguished Professor, North Carolina State University, received the 2008 Myron Solberg Award for leadership in the establishment, development, and continuation of industry, government, and academia cooperative organizations.
Swartzel founded the National Science Foundation Center for Aseptic Processing and Packaging Studies in 1987, two Industry Master Research Agreements, and the Kellogg/NASULGC Food Systems Leadership Institute.
Currently, he is working with eight other universities in the formation of another NSF center called the Center for Biomass Processing Research.
More than 80 companies, foundations, government agencies and/or universities have worked together on one or more of the projects or programs led by Swartzel.
The award is a $3,000 honorarium and a plaque from the Myron Solberg Endowment Fund of the IFT Foundation.
2008 IFT Fellows
Fellow is a unique professional distinction conferred on individuals with outstanding and extraordinary qualifications and experience for their contributions to the food science and technology field. The nominee must have been an IFT Member for 15 years and a Professional Member at the time of nomination. The 15-year member requirement may be waived by the Fellows Jury for those nominees who have spent all or a portion of their careers outside the United States.
IFT has conferred the Fellow designation on a select number of Professional Members every year since 1970. A complete list of Fellows can be found on the IFT Web site at www.ift.org.
Kathryn Boor, Professor and Dept. of Food Science Chair, Cornell University, was recognized for her research in food safety and for administering an internationally recognized dairy foods extension program.
Her research focuses on determining the factors that affect the presence and persistence of spoilage and pathogenic organisms in food products intended for human consumption.
Additionally, she is well-regarded within the industry for her applied research work on source tracking and transmission of spoilage microorganism and foodborne pathogens.
Boor's dairy foods extension program delivers research-driven, science-based educational programs for the dairy industry, primarily focusing on post-harvest handling and processing of dairy products.
Sam K. C. Chang, Professor, Dept. of Cereal and Food Sciences, North Dakota State University, was honored for contributing to the chemistry, processing, and quality improvement of food legumes and for developing food science programs at the university.
--- PAGE BREAK ---
Chang established an internationally renowned research program in edible bean and soybean food research that investigates the biochemical basis of soybean quality for soymilk, tofu, and fermented natto production. Additionally, he developed rapid methods for determining the quality characteristics that soybeans must have for soymilk and tofu processing.
Chang was instrumental in student recruiting efforts, fundraising for scholarships, and revising the curriculum to gain successful re-approval of the program by IFT.
John P. Cherry, Director (retired), U.S. Department of Agriculture's Agricultural Research Service, Eastern Regional Research Center, was honored for his research accomplishments and for his success in managing and directing research programs and transferring technologies through partnerships with government, academia, and the private sector.
He retired in 2007 from ARS, where, under his leadership for 34 years, numerous advances by him and the scientists under his direction resulted in the development and use of many technologies for improved production of both food and nonfood value-added products, as well as for the enhancement of food safety. These activities have led to and are resulting in technology transfers with pronounced economic impact for industry and consumers.
Jairus David, Director of Global Quality Operations, Global Supply Chain, Mead Johnson Nutritionals (A Bristol-Myers Squibb Company), was recognized for his leadership in the areas of product design quality, risk analysis, aseptic processing and packaging of lowacid foods, and food safety.
David has worked to advance methods and policies related to quality and food safety for consumer products, especially baby foods. He led a team to develop a honey food safety policy for ready-to-eat infant cereals and bakery products for prevention of the potential incidence of infant botulism. As a result of his work, all honey and honey-containing food products now carry a warning label, "Do not feed honey to infants under one year of age."
Mario de Figueiredo, Consultant, was honored for advancing the scientific community through technical innovation and industrial accomplishments.
Committed to the belief that the foundation of a superior quality assurance program lies in sound technical research, de Figueiredo developed a number of patented processes for improving product quality. His work and publications in the area of food safety led to a better understanding of the need for pathogen reduction in foods.
Additionally, he has contributed his expertise to the refrigerated and frozen foods sector in areas including plant design, new products, and processes to improve shelf life.
--- PAGE BREAK ---
John Finley, Professor and Dept. of Food Science Head, Louisiana State University, was recognized for his work in food ingredient and product development.
Throughout his career in industry, Finley has been instrumental in coordinating research efforts in the areas of carbohydrates, rheology, polymers, fats and oils, enzymology, proteins, and flavor development as well as directing programs that conducted exploratory research in new food ingredients and analytical methods.
He developed commercial applications for ingredients used in functional food products and lowcalorie and low-fat applications. He is currently leading efforts to establish a coordinated program in functional foods with Louisiana State University, Southern University, and Pennington Biomedical Research Center.
Marianne Gillette, Vice President of Technical Competencies and Platforms, McCormick & Co., was honored for her leadership and product development efforts.
She transformed McCormick's industrial marketing function from a sales-service focus to a forward-thinking, new products focus that linked food and flavor trends into current and future food science and technologies.
Examples of ways in which Gillette increased product development innovation include her leadership in developing the McCormick CreateIT® Center, which is responsible for focused ideation; her leadership of a team to develop novel menu items for restaurants; and her role as co-inventor of sensory tools for quality control (SQS method) and for assessing heat in red pepper (ASTM and ASTA methods).
Vijay K. Juneja, Supervisory Microbiologist and Lead Scientist, U.S. Dept. of Agriculture, was recognized for pioneering research in the area of processing effects on the microbiological safety of foods.
He has made significant contributions to multiple areas within the broad discipline of food safety microbiology, including being recognized for the ability to develop, implement, supervise, and integrate basic and applied research programs that respond rapidly to changing research needs, particularly as related to the microbiological safety of ready-to-eat foods and predictive microbiology. His research has provided insights into the mechanisms underlying the increased resistance of emerging pathogens, and has reinforced the need to thoroughly cook food.
Donald Kramer, Professor, University of Alaska, Fairbanks, was honored for leadership in advancing seafood technology around the world to audiences in need of technological training that will help them to develop safe and high-quality products and be more competitive in business.
Please see the "Achievement Award Winners" section for information about Donald Kramer.
--- PAGE BREAK ---
John Krochta, Professor, University of California, Davis, was honored for his research on food processing, food packaging, and edible films, and for his contributions to the teaching of food science and engineering and mentoring of graduate students.
His work includes fundamental and applied research on the utilization of the whey byproduct of cheese manufacturing. In particular, he has researched edible films and coatings to improve food quality and safety; whey protein-based coatings to improve barrier properties of paper and plastic; and lactose-based polymers. Krochta has coordinated curricula development for the university's food science and food engineering programs. Students have recognized him for his teaching efforts, and the Dept. of Food Science and Technology has commended him for teaching-related service.
Kiyoko Ruth Kubomura, President, Kubomura Foods Advisory Consultants, was honored for bringing about Western and Asian culinary and ingredient technology information transfer.
Kubomura, a pioneer in international food product development, a culinary professional, and a role model for Japanese women, has been a leader in developing and introducing Asian-Western fusion cuisine with food corporations and foodservice companies around the world.
For more than 20 years, she has used her technical and culinary skills to provide market research and to formulate products for many major food companies as well as to reformulate favorite U.S. restaurant recipes to match Asian taste profiles.
Duane Larick, Senior Associate Dean of the Graduate School, North Carolina State University, was honored for being a productive researcher in the area of flavor chemistry as well as an advocate for education.
His research includes determining the influence of processing conditions on the flavor of food products and examining the flavor and off-flavor of a variety of animal products. This research has contributed significantly to the advancement of various methods of flavor analysis.
Additionally, Larick is active in management of the university's Graduate School and has served on or chaired many education and career guidance-related committees at North Carolina State University.
Richard Linton, Professor, Purdue University, was recognized for his leadership in bringing together representatives of academia, the food industry, and government agencies to advance food safety issues.
An internationally recognized expert in food safety research, Linton leads a multidisciplinary effort that involves food scientists and engineers in the development of novel microbial detection and control technologies. He collaborates with the food industry and government agencies to help solve food safety problems.
Linton's extension and outreach programs focus on delivery of knowledge to reduce the risk of foodborne illness. He has developed interactive training modules focusing on safe food handling on the farm, during processing, and for retail food establishments.
--- PAGE BREAK ---
Antonio Martin, Professor, Memorial University of Newfoundland, was honored for his multidisciplinary and innovative research in bioconversion processes for enhancing food production.
For more than 30 years, Martin has directed his research toward low-energy requirements, environmentally friendly projects, and the transfer of scientific knowledge, mostly to developing countries.
One of his pioneering ideas was to explore the potential of peat resources as a source of nutrients. He thus became a world authority on peat science and technology and is one of the few experts in the world on bioconversion of peat and rational utilization of this resource.
Bonnie Sun Pan, Distinguished Professor and Dean, National Taiwan Ocean University, was recognized as an outstanding educator, administrator, and seafood science researcher.
She has spearheaded changes to advance the science- and technology-oriented curricula at the university and has upgraded existing research and teaching programs and initiated new ones. Her efforts have made the College of Fishery Science a model for fishery science education in Taiwan and across the Asian Pacific region.
Focusing on the preparation, analysis, and biological evaluation of the health-promoting components of seafood, Pan has developed a method to evaluate bioactivities of food ingredients, using fish as a surrogate model. This innovation integrates aquaculture and functional food research and development.
Michele Perchonok, Advanced Food Technology Project and Shuttle Food System Manager, NASA, was recognized for her contributions to the space food program and for being an effective liaison to universities.
Perchonok's visionary food-related research program for NASA includes projects that will contribute to a manned mission to Mars. She coordinates projects in the program with scientists and officials at universities and government agencies, including the Dept. of Defense.
As an IFT Distinguished Lecturer, she shares her perspectives on the topic, "The Challenges of Developing a Food System for a Mars Mission." She also shares her expertise as a mentor of interns at the Johnson Space Center.
Vishweshwaraiah Prakash, Director and Coordinator of United Nations University, Central Food Technological Research Institute, was honored for his research on proteins and nutrition.
Conducting research in the area of biophysical chemistry of macromolecules, Prakash has pioneered work on the homology of seed proteins and their use through enzymatic processes for nutritional increment of convenience foods. His most recent work on novel nutritional and nutraceutical innovations has paved the way for much of his national and international recognition.
He has established the Advanced School of Protein Chemistry and Technology at CFTRI and heads major projects on enzymes and proteins relevant to food industries and value addition through byproduct utilization.
--- PAGE BREAK ---
John Rupnow, Professor, University of Nebraska, was honored for being an innovative food science educator and recruiter of students. Rupnow views his classroom as a laboratory on teaching methodology and incorporates new teaching approaches in his courses. He developed a distance Introductory Food Science class that has a yearly enrollment of 1,500 students. He was the recipient of the 2003 IFT William V. Cruess Award for teaching excellence.
As a charter member of IFT's Career Guidance Committee, Rupnow helped to develop programs and print and video resources to make high school teachers and students aware of the field of food science and technology and the career choices it affords.
Steven Schwartz, Carl E. Haas Endowed Professor of Food Science & Technology, Ohio State University, was recognized for research on antioxidants and food components related to chronic disease, oxidative stress, bioavailability, and cancer prevention and control.
His laboratory focuses on the application of food chemistry toward understanding the chemopreventative properties of bioactive components in the diet, particularly the carotenoid compounds. Schwartz reported about the effects of food processing and food formulation on enhancing carotenoid bioavailability and has expanded this research to the study of other phytochemicals in foods. His laboratory has employed several analytical techniques toward understanding the metabolism of bioactives from functional foods and their role in chronic disease prevention.
Rakesh Singh, Professor and Head of the Dept. of Food Science & Technology, University of Georgia, was honored for research in food engineering, leadership in strengthening the university's food science program, and student mentoring.
He has conducted research on combining heat-transfer and fluid-flow models to predict temperature profiles and quality changes of food components flowing through tubular or scraped-surface heat exchangers. The food industry has used the results in designing and optimizing continuous-flow systems.
Throughout his academic career, Singh has worked to promote student recruitment, graduate fellowships, and scholarship funding via endowments.
Lester Wilson, University Professor, Iowa State University, was honored for his dedication as a researcher and educator.
For almost 40 years, Wilson has conducted research on the influence of processing and food chemistry (particularly flavor) on food quality and consumer acceptance. He is an expert on soymilk and tofu processing, quality, and safety.
Wilson was selected as a NASA Faculty Fellow the summers of 2003–06 to evaluate soybean processing equipment, soybean cultivars, and the influence of radiation on soybeans that would be used to produce soy-based foods for manned missions to Mars and the moon. In 2007, he was co-director of a NATO Food Safety and Security Advanced Research Workshop in Romania.
--- PAGE BREAK ---
Carl Winter, Extension Food Toxicologist, University of California, Davis, was honored for his contributions to food safety and innovative educational methods.
An expert on pesticides and food safety, Winter was one of the first scientists to publish work linking agricultural production methods with the presence of naturally occurring toxins in food. He also has developed state-of-the-art methods for dietary chemical risk assessment.
Winter has combined his food safety expertise with his musical talents to create a series of humorous parodies of popular songs that help explain critical food safety issues. He has given nearly 200 performances, and his music has been the subject of dozens of news articles and reports.
James Swi-Bea Wu, Professor and former Director, Graduate Institute of Food Science and Technology, National Taiwan University, was recognized for his contributions to food science research as well as teaching and promoting the discipline. Wu, a well-known food scientist in Asia, has also influenced the industry around the world. He helped establish or upgrade several food plants in Central America. His involvement with the International Federation of Fruit Juice Producers has allowed him to contribute to the establishment of international processing standards and policies for the juice industry.
The Graduate Institute he led is an internationally renowned center for research, especially in the area of Asian health foods.
---
P
raxair Inc.
, Danbury, Conn., is the recipient of the 2008 Food Technology Industrial Achievement Award for its controlled atmosphere stunning technology. The award honors the developers of an outstanding food process or product that represents a significant advancement in the application of food science and technology to food production.
Praxair's controlled atmosphere system provides turkey processors with an easy-to-use system that increases yield, improves employee working conditions, and enhances animal welfare. In contrast to the current process in which the live turkeys are handled manually, this proprietary system stuns turkeys while they are still in cages on the transport trailer using a multi-stage gas mixture–based cycle. The turkeys are then removed from their cages for shackling and conveying for further processing. The system can be incorporated with minimum capital expenditure in a plant's existing infrastructure and minimum disruption to current production processes.
The award is a plaque from IFT.
---
Call for Awards & Fellow nominations
IFT is seeking nominations for the 2009 Achievement Awards and the 2009 IFT Fellows.
Achievement Awards recognize excellence in a variety of areas, including teaching, public health, lipid or flavor science, food ingredient safety, industrial developments, and others. Deadline for receipt of nominations for the Achievements Awards is Dec. 1, 2008.
IFT Fellow is a unique professional distinction conferred on individuals for contributions in food science and technology, leadership in the profession, and service to IFT. Deadline for receipt of nominations for the IFT Fellows is Feb. 1, 2009.
For instructions and nomination forms, click on "Awards" at www.ift.org or contact Heidi Voorhees at 312-604-0235 or [email protected].
by Karen Nachay is Assistant Editor, Food Technology ([email protected]).