This year's IFT Food Expo® brought about the best from health and wellness ingredient suppliers. Many were showcasing new research, new awards, new ingredients, and new retail products that utilized their ingredients.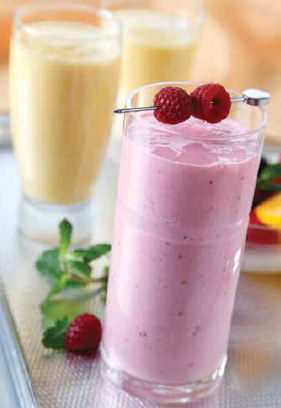 And much of what was shown on the expo floor was in line with some of the top 10 new product trends cited by Innova Market Insights, Duiven, the Netherlands (phone +31-26-319-0650, www.innovadatabase.com). The trends Innova cataloged included the following, among others.
• Claims that are true. Ingredient companies will have to invest in even more scientific substantiation to support their product claims.
• Balancing act. The wellness trend has continued to thrive. The addition of healthy ingredients is occurring more than the subtraction of ingredients like fat and sugar.
• Up close and personal. Product fortification still holds favor for specific demographics: infants, pregnant women, middle aged adults, and seniors. Key areas of interest include blood pressure reduction, joint health, low glycemic index solutions, and Alzheimer's disease.
The following overview shows how ingredient suppliers are meeting these trends and more.
Weight Management and Satiety
The American Egg Board, Park Ridge, Ill. (phone 847-296-7043, www.aeb.org), sponsored an exhibitor spotlight focusing on weight and protein. Nikhil Dhurandhar, Associate Professor, Pennington Biomedical Research Center, described his research in which a group of 160 overweight and obese adults spent eight weeks on a low-calorie diet. Half of the subjects consumed a breakfast of eggs for five days a week, while the other half started their day by eating a bagel breakfast. The subjects who ate the eggs lost significantly more weight and reduced their waist circumference more than those who did not. Donald Layman, Professor Emeritus, University of Illinois, described his research exploring the beneficial effects of protein consumption. He reported that amino acids, which are the building blocks of proteins, play a role not only in building new proteins, but in improving the body's metabolic function.
Dairy Management Inc., Rosemont, Ill. phone 847-627-3252, www.innovatewithdairy.com), offered a whey protein-enhanced bar that, is part of a higher protein diet, can help curb hunger. Whey protein isolate boosted the protein content in the yogurt-dipped peach snack bar. A Razz-a-Tan frozen fitness smoothie provided carbohydrates to refuel muscles and whey protein to help muscle repair and recovery after a workout. Whey protein may help increase satiety by stimulating several gastrointestinal hormones that are thought to regulate appetite control in the brain.
Cognis Nutrition & Health, La Grange, Ill. (phone 708-579-6150, www.cognis.com), created the Cognis Café NEWtrition Menu, which showcased Lean Mean Mocha Blast  and Key Lime Trimmer, two beverages featuring Tonalin® conjugated linoleic acid (CLA). This ingredient helps reduce body fat both by decreasing the amount of fat stored and increasing the rate of fat metabolism. Research has shown that CLA is especially effective in reducing body fat around the waist and thighs. Naturex, South Hackensack, N.J. (phone 201-440-5000, www.naturex.com), featured a decaffeinated green coffee bean extract, Svetol®, which inhibits glucose-6-phosphatase and increases fat release from adipose tissue.
--- PAGE BREAK ---
Caravan Ingredients, Lenexa, Kan. (phone 800-660-4092, www.caravaningredients.com), featured new ingredients that target satiety and weight. Nutrivan™ WM 1050 is a blend of barley beta glucan, fiber, whey protein concentrate, green tea extract, and Slendesta potato extract designed to help with satiety and weight management by controlling hunger and providing a feeling of fullness. Nutrivan EB 1020 is a supplement designed to give an energy boost with iron, vitamin B-12, folic acid, magnesium, coenzyme Q10 (CoQ10), and biotin.
AHD International, Atlanta, Ga. (phone 404-233-4022, www.ahdintl.com), showcased its condensed dietary fiber formula LuraLean®, which is available for use in frozen foods, meat products, soups, baked goods, and high- and low-viscosity beverages. The dietary fiber formula is designed to effectively help support weight loss. More than 14 safety studies and 60 clinical trials using LuraLean confirm its effectiveness in promoting weight loss, maintaining healthy cholesterol levels, and supporting regularity.
Dietary Fiber and Grains
National Starch Food Innovation, Bridgewater, N.J. (phone 908-685-5000, www.foodinnovation.com), focused on why not all fibers are the same. The company showcased Hi-maize® resistant starch, which is said to have proven benefits in weight management, glycemic management, and digestive health. Preliminary results from a recent University of Surrey clinical study found that consumption of Hi-maize resistant starch significantly increased insulin sensitivity in individuals with insulin resistance and metabolic syndrome. Black Cherry Vanilla Muffins made with Hi-maize whole-grain flour and Hi-maize 260 resistance starch delivered 9 g of whole grains and 3 g of fiber/serving. The company also highlighted Nutriose® soluble fiber for its digestive tolerance. A raspberry-pomegranate–flavored high-fiber (2.5 g of fiber/serving) beverage was made with Nutriose.
SunOpta Ingredients Group, Chelmsford, Mass. (phone 781-276-5141, www.sunopta.com/ingredients), showcased a variety of fiber ingredients in several prototypes. Heart-healthy whole-wheat crackers featured Barley Balance betaglucan concentrate. Cocoa nutrition bars contained MultiFiber™ 110, espresso chocolate chip muffins contained MultiFiber 1210, and high-fiber chocolate chip cookies were fortified with Canadian Harvest® oat fiber.
ADM/Matsutani America LLC, Itasca, Ill. (phone 217-451-3378, www.fibersol2.com), showcased the latest Fibersol®-2 fiber-fortified new products. The company also offered samples of blueberry muffins and
fiber-fortified chocolate-coated ice cream bars. The digestion-resistant maltodextrin was present in both the ice cream and chocolate coating. Fibersol-2 is a slow-fermentation soluble fiber, which has been shown in clinical studies to help support digestive health.
Univar USA, Redmond, Wash. (phone 425-889-3400, www.univarusa.com), an ingredient distributor, featured California Dreaming Bar, an apple-cinnamon, chewy snack bar that had the nutritional benefits of added calcium and soluble fiber, with only 15% calories from fat. The bars featured Fortefiber™ HB by Dow Food and Nutrition, Simplesse® by CP Kelco, and a sweet crunch with Kerry Accel® 400 and Crisp Rice 500.
Cargill Wayzata, Minn. (phone 952-742-5928, www.cargill.com), gave a fiber-rich makeover to an old-fashioned treat—Cinnamon Raisin Oatmeal Bars—with Oliggo-Fiber® inulin. Xtend® sucromalt offered a sweetness solution and helped meet the needs of consumers who desire a balanced energy source.
Grain Millers, Eden Prairie, Minn. (phone 800-443-8972, www.grainmillers.com), showcased its line of conventional and certified organic oats, wheat, barley, and rye in the form of flakes, whole flours, brans, fibers, meals, whole grains, cut grains, and mixes.
--- PAGE BREAK ---
Digestive Health and Immunity
Ganeden Biotech Inc., Mayfield Heights, Ohio (phone 440-229-5200, www.ganedenlabs.com), makers of the patented probiotic strain GanedenBC30® (Bacillus coagulans GBI-30, 6086), showcased the results of its collaboration with Liquid Health Labs to sell a new probiotic-enhanced beverage using PowerCap® technology. The drink, Fresh Healthy Stuff, includes 12 oz ultra purified water in the bottle and a powdered formulation loaded with GanedenBC30, antioxidants from fruit concentrates, vitamins, and prebiotic fiber stored inside the bottle cap. With a simple press of a button, the powder is released into the water, creating a probiotic-enhanced flavored drink that supports healthy digestive and immune functions.
Biothera, the Immune Health Co., Eagan, Minn. (phone 651-675-0300, www.biothera.com), announced that it received the 2009 Frost & Sullivan Excellence in Research Award for the development of Wellmune WGP®, a natural food, beverage, and supplement ingredient that is clinically proven to enhance key immune cells. Years of research demonstrate that immune system enhancement with Wellmune, which is derived from proprietary yeast, has had a positive effect on overall health.
Watson Inc., West Haven, Conn. (phone 203-932-3000, www.watsoninc.com), introduced a vitamin- and botanical-fortified ready-to-drink iced tea called Immun-A-Tea. It was formulated using Watson's premix WT-4443D and delivered zinc, vitamin C, echinacea, rose hips, L-lysine, and ginger. All the vitamins were provided in single blend, which is added to water at the rate of 300 mg/serving. Watson also showcased a vitamin-fortified energy water called Hydroforce. It was formulated using Watson's premix WT-10158A and delivered vitamin C, niacin, pantothenic acid, pyridoxine, vitamin B-12, and natural vitamin E.
Fortitech Inc., Schenectady, N.Y. (phone 518-372-5155, www.fortitech.com), demonstrated its premixes in an immunity-boosting ice cream fortified with vitamins A, E, C, B-1, B-12, B-2, and B-6, as well as biotin, folic acid, selenium, zinc, CoQ10, and lycopene. These nutrients provided protection against the factors that can diminish the immune system defenses.
Embria Health Sciences LLC, Ankeny, Iowa (phone 877-362-7421, www.embriahealth.com), featured EpiCor®, a dried fermentation product derived from a proprietary process consisting of Saccharomyces cerevisiae and the beneficial metabolites produced during the manufacturing process. It is designed to modulate and balance the human immune system. Most recently, it received a new GRAS designation at the inclusion rate of up to 3 g/serving in all food categories.
GTC Nutrition, Golden, Colo. (phone 800-522-4682, www.gtcnutrition.com), offered Purimune™ high purity galacto-oligosaccharides (GOS) in a passion fruit/green tea icy beverage to encourage the growth of beneficial bacteria to support immune health. The ingredient is derived from lactose and contains a minimum of 90% GOS. NutraFlora® prebiotic fiber and BioAgave™ inulin fiber provided a good source of fiber in a mango peach icy beverage to support digestive health.
Biorigin Ingredients Ltd., Brazil (phone +55-1482-699-221, www.biorigin.com.br), showcased its line of dry, autolysed, and mineralized inactive yeasts produced from a specially selected strain of Saccharomyces cerevisiae. Goldcell is used in a wide range of applications and can act as a nutritional source of amino acids, vitamins, and more. Goldcell Beta Glucan is a natural source of beta-glucans from yeast. Studies have shown that it works well to boost the immune system and protect the body against pathogenic agents.
--- PAGE BREAK ---
Brain and Eye Health
To help attendees stay sharp, Fortitech offered a Brain Tonic fortified with nutrients such as vitamins A, C, and E, acetyl L-carnitine, choline, CoQ10, gamma-aminobutyric acid, gingko biloba, and  phosphatidylcholine.
DSM Nutritional Products Inc., Parsippany, N.J. (phone 800-526-0189, www.unlimitednutrition-na.dsm.com), presented the latest information on antioxidants for eye health. Recent scientific research has revealed that FloraGLO® lutein and Optisharp® zeaxanthin go wellbeyond their widely known eye protection benefits for mature adults to provide enhanced eye health advantages for consumers across generations. In-depth studies show that both ingredients help reduce the blinding effects of glare and improve recovery from glare. Clinical trials also indicate that FloraGLO and Optisharp help improve contrast acuity, allowing individuals to see images more clearly even under low light conditions. Furthermore, the antioxidants have been shown to improve the eye's ability to filter blue light, the most damaging part of light, which is abundant under a blue sky, reflecting off water surfaces, or in front of a computer screen.
Cocoa All Grown Up
Mars Botanical, Gaithersburg, Md. (phone 301-444-7900, www.marsbotanical.com), unveiled a new cocoa extract containing flavanols, which are said to help maintain healthy circulation. Produced by the Cocoapro™ process, which preserves the phytonutrient content of cocoa, Cirku™ guarantees a concentrated source of cocoa flavonols. Flavanols are linked to healthy circulation, giving the body oxygen and nutrients where it needs them, when it needs them. Mars introduced the cocoa extract ingredient and CirkuHealth™, a dietary supplement beverage powder mix using the Cirku ingredients. In addition to a substantial body of research on the health potential of flavanols, trend experts suggests flavanols and the larger class of compounds, flavonoids, are a fastemerging mass market, offering a prime opportunity for mainstream health-conscious shoppers.
Joint Health and Bone Health
PL Thomas & Co. Inc., Morristown, N.J. (phone 973-984-0900, www.plthomas.com), revealed study findings that even modest supplementation with menaquinone- 7 in children increases activation of steocalcin, the bone-building protein, supporting healthy bone growth and development. MenaQ7 provides natural vitamin K-2 as an extract of natto, a fermented soy food from Japan.
TandemRain Innovations, Vancouver, Wash. (phone 360-597-1600, www.tandemrain.com), discussed a recently completed clinical trial that showed ActivMSM™ methylsulfonylmethane (MSM), is rapidly absorbed, thereby modifying sulfur metabolism. It also appeared that the body retained it for extended periods of time. The findings of this study align with clinical trials showing a significant joint health-enhancing effect with low doses of MSM.
Gelita, Sergeant Bluff, Iowa (phone 712-943-5516, www.gelita.com), showcased Fortigel®, its new ingredient with Bioactive Collagen Peptides® that specifically stimulates cartilage metabolism and enhances the synthesis of cartilage tissue.
ICL Performance Products LP, St. Louis, Mo. (phone 800-244-6169, www.icl-perfproductslp.com), featured a new product, Cal-Sistent™, which helps formulators to fortify beverages and dairy and confectionery foods with calcium without altering key characteristics. ICL featured the ingredient in a calcium-rich chocolate bar. With a calcium content of 38%, Cal-Sistent delivers calcium-to-phosphorus ratios equivalent to those found in human bones. Its small particle size is ideal for products with a well-established taste or mouthfeel.
InterHealth Nutraceuticals Inc., Benicia, Calif. (phone 707-751-2880, www.interhealthusa.com), featured UC-II®, a patented type 2 collagen product that addresses the cause of joint discomfort. It helps the body repair and rebuild joint cartilage, increasing joint mobility and flexibility, and promoting fast-acting, long-term joint health. The collagen triggers the deactivation of the inflammatory process in the joints and helps the body rebuild joint cartilage.
--- PAGE BREAK ---
Heart Health
Cargill focused on heart health with three unique prototypes. Cherry Walnut Clusters with CoroWise™ plant sterol esters combined ripe cherry and sweet, creamy vanilla flavors, offering a satisfying treat with heart-health benefits. Ginger Green Tea with Barliv™ barley betafiber and Zerose™ erythritol addressed two predominant health issues: heart health and calorie intake. Tropical Juice with CoroWise plant sterol was a naturally flavored 100% juice that delivered the characteristic tastes of pineapple and banana.
The Almond Board of California, Modesto, Calif. (phone 209-549-8262, www.almondsarein.com), announced that almonds became the leading nut introduced in new products worldwide in 2008. Almonds maintained a 29% share of new nut product introductions and continued to be the most diversified nut, with high introductions across all geographic regions and categories. On the menu at the booth was a California almond crab salad, California Almond Sunrise, and Almond Kulfi. The California Almond Sunrise was an all-almond breakfast food made exclusively from California almonds (think roasted steel-cut oats, without the oats). The Almond Kulfi was a traditional Asian Indian frozen "ice cream-style" dessert made new with slivers of California almonds and saffron threads.
ADM, Decatur, Ill. (phone 800-637-5843, www.adm.com), featured an Oats & Crisps Bar with NutriSoy® soy crisps, CardioAid™ plant sterols, and Novatol™ vitamin E. The bars were a good souce of protein and fiber and provided 400 mg of phytosterols, along with 100% DV of vitamin E.
Beauty Foods
Fortitech showcased a nutricosmetic licorice that contains collagen, vitamin E, aloe vera, CoQ10, inulin, and lycopene. The nutrients combine to work from the inside out to create this age-defying, cherry- flavored licorice.
Cognis Nutrition & Health invited attendees to quench their thirst and reduce trade show stress with "NEWtritional" beverages featuring ingredients to enhance beauty and health. A beverage bar was stocked with drinks that include Cognis' recently launched Plantalin™ natural plant extracts. Crystal Clear Beauty Quencher was a clear water beverage with Xangold® natural lutein esters, Covitol® natural vitamin E, and Plantalin™ lemon balm. Studies show that lutein can help restore UV-induced depletion of antioxidant resources.
Vitamin E, another antioxidant booster, regenerates vitamin C andcan increase skin protection when combined with carotenoids. Cool as a Cucumber was a special cucumber water beverage with Covitol  natural vitamin E, and Plantalin lemon balm and passionflower for stress reduction and overall skin vitality. Sangria Sensation featured Omevital® omega-3 fatty acids added to the fruity wine to help enhance overall wellness.
Nutritional Fats
The Wright Group, Crowley, La. (phone 337-783-3096, www.thewrightgroup.net), featured is docosahexaenoic acid (DHA) omega-3 in Lemon Poppy Seed Muffins and School Lunch Brownies. The muffin provided 75 mg of omega-3/serving with a DHA:eicosapentaenoic acid (EPA) powder ratio of 4:1. The brownies provided 50 mg of DHA/EPA per serving. SuperCoat Omega-3s™  are available in various DHA:EPA ratios. The microencapsulation provides improved nutrient durability against light and oxygen and enhanced taste and odor masking.
Bunge North America, St. Louis, Mo. (phone 800-828-0800, www.bungenorthamerica.com), showcased Delta Dry, a powdered, vegetablebased healthy oil. The lipid core is metabolized by the body more rapidly than traditional vegetable oils and inhibits the body's ability to absorb cholesterol. The core is surrounded by a layer of whey or soy protein followed by an outer layer of carbohydrate, starch, or gum arabic.
Lipogen Ltd., Israel (phone +972-544-522-355, lipogen.co.il), featured its brain support ingredient, Lipogen PS™ phosphatidylserine that has been shown to benefit cognition, memory, and learning. The company also presented a new ingredient, Soy Lecithin PAS™, which improves the ability to control and blunt the effect of the endocrine and psychological response to continuous mental and emotional stress.
Martek Biosciences Corp., Columbia, Md. (phone 410-740-0081, www.martek.com), highlighted the increasing awareness of DHA's benefits, especially for brain health. Minute Maid Enhanced Pomegranate Blueberry beverage contains 50 mg of DHA per 8-oz serving to help nourish the brain. Both CVS and Walgreens now offer a multivitamin with DHA. Among studies soon to be published is one on DHA's effects on Baby Boomers and a National Institutes of Health study examining DHA and Alzheimer's. Martek's life'sDHA™ is algae-based and supports brain, eye, and heart health throughout all stages of life.
Denomega Nutritional Oils, Boulder, Colo. (phone 303-581- 000, www.denomega.com), featured chocolate muffins fortified with Omega 360™. The company offers a co-branding opportunity to use the balanced omega-3 ingredient, which has an equal ratio (1:1) of EPA and DHA. The ingredient also contains ALA, DPA, and other essential and natural fatty acids that combined provide all of the positive health benefits of omega-3.
Linda Milo Ohr,
Contributing Editor,
Denver, Colo.
[email protected]