More than 160 professionals attended the Institute of Food Technologists' Global Food Safety and Quality Conference, which spotlighted traceability in food systems—a priority for the food industry and governments in the United States and other industrialized nations. Held on Wednesday, June 10, 2009, following the 2009 IFT Annual Meeting & Food Expo® in Anaheim, Calif., the conference was sponsored in part by GS1 US, Operations Technologies, Sensitech Inc., SIRA Technologies, YottaMark, Waters Corp., and Trace Register LLC.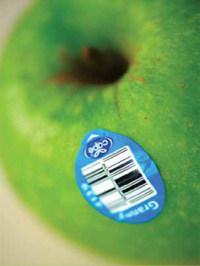 Understanding FDA Traceback
Sherri McGarry, Acting Emergency Coordinator in the Office of Food Defense, Communications, and Emergency Response of the Food and Drug Administration's (FDA) Center for Food Safety and Applied Nutrition, kicked off the conference with an overview of farm-to-fork traceability.
An FDA traceback (Figure 1) is a key component of an outbreak investigation, McGarry explained. It examines records from point of service through distribution channels back to the product's origin in an attempt to narrow the investigation's scope. The Bioterrorism Act of 2002 requires most food industry members to keep records "one step forward and one step back" from their point in the supply chain. The success of a traceback depends on records available for shipments and for items within a shipment. Thus, efficient recordkeeping is vital to accomplish a complete traceback.
During an investigation, FDA attempts to find convergences and commonalities that identify the source of an outbreak, and any potential routes of contamination to prevent future illnesses, McGarry said. Commonality is not always evident until the records review process is in a more advanced stage. Many challenges may complicate a traceback, such as a large number of sporadic cases, poor consumer recollection of consumption, multiple product varieties or ingredients, perishable products, competitive resources (human resources, economic, etc.), time constraints, or the lack of a unique identifier and/or interoperable systems.
In the case of a traceback that crosses borders, FDA requires user registration for imports and prior notice on shipments of imported food. However, these tools do not always provide enough information for an international traceback. Differences in foreign countries' regulations can also make traceability difficult. Additionally, information discrepancies (e.g., intended use, labeling), lack of scientific understanding, or trade restrictions may also impede a traceback. For these reasons, FDA reaches out to foreign governments involved and requests their cooperation to acquire the necessary information for a traceback.
Currently, many efforts are underway to improve traceability in the U.S. and abroad. U.S. initiatives include the Produce Traceability Initiative, The National Animal Identification System, establishment of FDA's new foreign offices, country-of-origin labeling, and pending federal legislation. International efforts involve the International Organization for Standardization (ISO) definitions, World Health Organization (WHO) programs, and the European Union's TRACE project, which seeks harmonization through uniform standards that track through different technologies.
--- PAGE BREAK ---
Implementation Challenges
Gale Prince, former Director of Corporate Regulatory Affairs, Kroger Co., discussed the challenges to implement product traceability. Prince believes that the number of recalls, their scope, and thus their cost has increased. According to Prince, this is due to various issues including consumers' increased vulnerability due to population shifts in age and the sometimes lengthy amount of time that may pass from when an illness is first reported to when the disease is identified. Also, intricate distribution channels, availability of more diverse ingredients, and advances in technology and epidemiology have contributed to a greater number of reported recalls.
Gale Prince, former Director of Corporate Regulatory Affairs, Kroger Co., discussed the challenges to implement product traceability. Prince believes that the number of recalls, their scope, and thus their cost has increased. According to Prince, this is due to various issues including consumers' increased vulnerability due to population shifts in age and the sometimes lengthy amount of time that may pass from when an illness is first reported to when the disease is identified. Also, intricate distribution channels, availability of more diverse ingredients, and advances in technology and epidemiology have contributed to a greater number of reported recalls.
Consumers are more concerned and more vocal about the safety of their food since melamine-contaminated pet food triggered questions about how food ingredients are handled, Prince noted. Online social networking spaces have provided tools for consumers to be vocal more quickly about food issues. Public reaction to recalls implies brand damage that could be permanent, as survey data has shown that 15% of consumers don't buy a brand again after a recall. Brand protection needs an improved traceability system that meets consumer expectations.
Brand protection and consequently a company's bottom line rely on knowledge of pertinent Bioterrorism Act requirements and the company's compliance. Requirements may include maintenance of records one step forward and back, and their availability within 24 hr for FDA use. Information that is available to FDA is different from proprietary information. Prince suggested that companies view these records as they would commercial vs internal documents.
He also noted the need for interoperable systems and unique lot code identifiers. Traceability information is maintained in silos that do not necessarily link together. Thus, lot code information does not easily transfer through the distribution chain and is difficult to interpret. For improved traceability, records must include identifiers for the company, product, plant, line, production date, and time. Codes must be comparable and readable in a universal format, not just used for internal traceability. Mock recalls are helpful before an actual recall to test traceability effectiveness. Lot code information needs to be transferable and must show any changes, Prince concluded.
Developing Standards
Stephen Arens, Senior Director with GS1 US—a nonprofit organization that offers industry standards, discussed the need for standards in traceability systems. He pointed out that standards were developed in other industries, such as the mobile phone industry, by collaborative efforts of various sectors, which enabled them to do business more effectively.
GS1 standards are open and in the public domain, so numerous solution providers often base their technologies on them. GS1 offers two standards, a Global Trade Identification Number (GTIN) and a Global Location Number (GLN). The 12-digit GTIN is most popular, and contains standardized UPC components. The organization also offers standards for radio frequency identification (RFID), which may be used more commonly in the future. Barcodes currently used on cases can also be carried to the RFID tag. Any changes in traceability data are communicated immediately to trading partners through a Global Data Synchronization Network (GDSN). Trading partners decide the level of information they require and the relevant traceability technology they want and then they decide upon a master database.
Some members of the produce industry are beginning to use the GS1 DataBar on product as part of the Produce Traceability Initiative, which requires a 14-digit GTIN. The point-of-sale barcode provides specific grower/packer/shipper identification and specific product identification on a smaller label that's able to hold more data than other barcodes. Benefits include traceability, country-of-origin information, and category management of fresh produce.
GS1 offers other options that currently have limited acceptability, such as the Data Matrix, which is a 2D barcode that may be printed as a square or rectangular symbol made up of individual dots or squares. GS1 standards can be included as part of companies' existing software management, such as SAP or ORACLE, to help to support interoperability of warehouse management systems. Many companies in the food industry are leveraging GS1 tools to implement their own traceability initiatives.
--- PAGE BREAK ---
Panel Discussions
Jennifer McEntire, Research Scientist and Manager, Science & Technology Projects, IFT, moderated a regulatory-focused panel consisting of Sherri McGarry, Stephen Arens, Mélissa Lalonde, Program Director of Agri-Tracabilité Québec (ATQ), and Cindy Jiang, Director of McDonald's Worldwide Quality, Food Safety, and Nutrition.
Lalonde discussed Québec's animal identification system, which covers almost 8 million animals (mainly cattle), 24,000 producers, and 27,500 premises. Visual and RFID tags are used with unique identifiers that follow ISO standards. This information must be entered into ATQ's multispecies database due to earlier BSE scares. The participation rate outside of Québec is about 30% in Western Canada. Last year, in a mock exercise, only one hour was needed to map the region, trace animals, and close trade. Barcodes are currently being evaluated for meat traceability in Canada for foreign trading partners. ATQ is currently focusing on swine, poultry, and table egg traceability. In 2010, the organization will target produce, goats, horses, and meat.
The audience submitted many probing questions to the panelists that brought out new information. Paper records are permitted by FDA due to the cost of electronic records and the ease of habits/systems currently in place. The FDA is working with the produce industry to strengthen the Produce Traceability Initiative and adopt an interoperable system in the future. The establishment of standards needs to be a common goal and approach for all industries, regardless of their location. In the case of a recall across borders, the FDA focuses on the domestic company conducting the recall, not on companies where the product was shipped to or from. Jiang noted that verification processes of supplier records exist to prevent traceability issues with other countries, such as China. Consumers' needs are global, thus, the aspiration should be towards global traceability harmonization, rather than different traceability standards in developing countries (vs developed).
An industry panel, also moderated by Jennifer McEntire, consisted of Gale Prince, Jim Dar, Director of Technical and Manufacturing Services at Allen Flavors, Inc. (a major flavor supplier to AriZona Beverage Co.), Will Daniels, Vice President of Quality, Food Safety, and Organic Integrity at Earthbound Farm/Natural Selection Foods, and Brenda Lloyd, Director of Equipment Distribution and Store Model Management for Unified Foodservice Purchasing Co-op, LLC—the exclusive supply chain management organization for Yum! Brands, Inc.
Dar discussed the various tools Allen Flavors uses to ensure product quality throughout their production chain, which includes ingredients, packaging, warehousing, distribution, and point of service. For product tracking, the company utilizes product and packaging specification, production date, quality checks, and formula usage documentation. Also, batching processes, filling procedures, and labeling requirements have helped its traceability initiative.
Daniels discussed the 2006 spinach outbreak, which implicated product from Earthbound Farm. He indicated that the implicated product was traced back effectively. However, investigations of numerous brands after the implicated product was found led many to think that the issue wasn't resolved as quickly as it actually was. In 2006, Earthbound Farm already had a recall plan and team, incident management plan and team, as well as mock recalls in place. The goal for a reconciled recall is 2 hr or less, although it is typically completed quicker. The company also has a warehouse management system in place for both raw and finished product, and this system is verified with paper documents to ensure accuracy. According to Daniels, the Produce Traceability Initiative is one tool available for traceability, but it doesn't address item-level or multi-ingredient product traceability.
--- PAGE BREAK ---
Lloyd discussed traceability implementation for YUM Brands as an operational approach. When YUM first began exploring enhanced traceability in August 2005, the main challenge encountered was the complete separation that most foodservice facilities have from their retail side—so capability, training, and communication were critical, Lloyd explained. The execution of the foodservice chain's traceability plan is driven by distribution, and recalls are handled on a pallet basis.
YUM Brands uses GS1 standards, specifically the 128 symbology. Data standards are extended to all pallets, and to case level in three critical areas: (1) application ID, (2) production date, and (3) lot numbers. Also, specifications were drafted at the case level. By July 2008, 95% of cases were standardized with the GS1 barcode. Standardized case barcoding is now a requirement for the more than 500 suppliers that do business with YUM.
The company has worked to implement processes and standards down the supply chain to its distributors and hopes to have distributor compliance (scan, receipt at receiving/after delivery) completed by the end of 2009. Concurrently, the foodservice operator has worked to implement similar processes and standards to its off-the-shelf product. In addition, the company is exploring equipment for data capture, supply chain visibility, and in-store and primary packaging solutions, and expects to have this part of its traceability plan finished by 2010. YUM Brands is expanding beyond the three critical areas to all consumables, and evaluating RFID for the future.
The panel addressed many questions from the audience. Panel members suggested that traceability should be part of audits, and it is often part of quality control audit programs and recall plans. However, a main challenge is items that cannot be audited, such as bulk ingredients.
Traceability should be required from suppliers. It was also suggested that suppliers consider requiring all buyers to adopt their traceability plan as a way to protect brand management throughout the supply chain. General business practices such as "know your supplier, and build a relationship" were emphasized often. Early engagement of suppliers was mentioned as key. When procuring product, the buyer should discuss food safety, not just price. Improved product safety will enhance consumer trust. The panel would like to see the adoption of a universal standard or specification for a lot size, which does not exist. Currently, companies determine what a lot is for them, and typically it is one day's production, although sanitation-to-sanitation is FDA's definition of a lot.
For more details on the Global Food Safety & Quality conference and to view the available visual presentations, please visit http://members.ift.org/IFT/Research/ConferencePapers/globalfoodsafety2009.htm.
---
Sarah Davis Ohlhorst, M.S., R.D., ([email protected]) is Staff Scientist and Carla D. Mejia, Ph.D., ([email protected]) is Research Scientist, Institute of Food Technologists, 1025 Connecticut Ave., N.W., Suite 503, Washington, DC 20036.