WheyVolution. That was the theme name for the 5th International Whey Conference, held in Paris this past September. The event—organized by the European Whey Products Assn., along with the American Dairy Products Institute—brought together more than 50 speakers to provide insights on the use of whey products as functional and nutritional ingredients.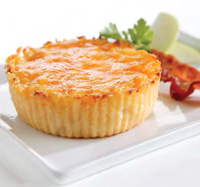 And as you probably can guess from the catchy name, the event focused, in particular, on the different directions that these whey derivatives are taking in food formulating. A wide array of studies over recent years have looked at many of their potential benefits ranging from fat reduction in deep-fried foods to novel coatings for freeze-dried fruit pieces. Their ever-broadening applications again demonstrate how far whey has come since those days when it was primarily viewed as a by-product with limited use.
The name WheyVolution could probably serve as a mantra not only for whey proteins, but dairy ingredients in general. Formulators today are taking advantage of their functional and nutritional benefits in a number of ways, including their ability to work with other ingredients. For example, Multigrain Crunch, one of the many versions of the Snickers Marathon Energy Bar, contains Quadratein, a blend of soy protein isolate, peanut flour, whey protein isolate, and calcium caseinate.
From a health perspective, dairy ingredients can promote a satiety effect—an important factor in weight management and one that may be increasingly considered when looking for potential solutions to address the current obesity problem. This satiety effect, especially relevant today, is one of a long list of health benefits associated with dairy. As a source of calcium, protein, and other valuable components, dairy ingredients can enhance the nutritional profile of the finished product. Furthermore, some of these components have the potential to manage blood pressure levels, which can have an impact on overall health.
From a functionality perspective, dairy ingredients can help enhance the flavor and texture of the food product. Hispanic cheeses, for example, are finding their way into the mainstream, bringing new flavor and functionality opportunities. Buttermilk is also gaining some time in the spotlight. Sour cream has come a long way from its traditional association with potato pancakes. And let's not forget about yogurt, which can function as an ingredient in a variety of formats.
The result is that applications for these dairy ingredients are broadening. Inspired by the dairy muses, formulators are developing a number of creative prototypes. Imagine, for example, a buttermilk-based cultured smoothie. Or hash browns reformulated with cheese. Or a soup made with dairy peptides that can lower blood pressure. Or snack bars made with novel whey crisps.
These and many other prototypes will be discussed in this article, illustrating the potential benefits of dairy ingredients and the impact that they can have in future formulating. Business developments, ranging from the formation of new technical centers to strategic alliances, should help further spur the creative uses for dairy ingredients (see sidebar on page 48).
--- PAGE BREAK ---
Inspiring New Directions
At the 2008 IFT Food Expo®, one of the prototypes highlighted by Dairy Management Inc., Rosemont, Ill. (847-803-2000; www.innovatewithdairy.com), was Cheesy Hash Browns, a savory individual casserole that could make for a tasty, convenient breakfast option. This formulation, in fact, served as a personal muse, giving me the idea for this month's article. As a result of sampling this item, which reminded me of a breakfast-style potatoes au gratin, I thought it would be interesting to explore how formulators can take advantage of dairy ingredients in ever-expanding applications.
In the above prototype, aged cheddar cheese helped reformulate a traditional breakfast side dish, hash browns—adding flavor, body and texture, and nutrients such as protein and calcium. Sour cream also provided a flavorful, creamy taste with a rich body texture, while butter imparted a mild dairy flavor that blends well with other ingredients. Spicier cheeses such as Pepper Jack could also be considered, as well as other ingredients including bacon, chorizo, egg, and salsa. The resulting product can be frozen and then microwaved by consumers.
As seen by this prototype, cheese can be used to create a variety of new products in the marketplace. Some other examples of prototypes using cheese developed by DMI include Mini Wellingtons, silver-dollar-sized burgers topped with rich Blue cheese, zesty Pepper Jack, or mellow Baby Swiss, and enrobed in pastry dough; Mini Meatballs stuffed with Swiss cheese or Feta, as well as other ingredients ranging from mushrooms to lemon; Mini Cheesecakes for a savory appetizer; Cheesy Bisques served with flavored biscotti; and Cheese & Fruit Turnovers that can combine such flavors as apple and Cheddar, pear and Havarti, cherry and Mascarpone, and Camembert with bacon and cranberry.
With a wide variety of functions and flavors, Hispanic cheeses can also add new appeal to entrees, snacks, sauces, appetizers, side dishes, and salads, presenting new market opportunities for cheese processors and food manufacturers. A new free resource guide from DMI provides a comprehensive primer on more than 60 types of Hispanic cheeses from Latin American countries. The 44-page Hispanic Cheese Reference Guide includes translations, origins, flavors, mouthfeel, melting points, and detailed production tips.
"Hispanic cheeses can often be confusing because identical varieties may have different names in different countries," said Dean Sommer, Cheese and Food Technologist for the Wisconsin Center for Dairy Research at the University of Wisconsin-Madison. "For example, cottage-type cheese made with fresh skim milk is called Queso de Puna in Puerto Rico, but in El Salvador and Venezuela it's called Queso Fresco. The Hispanic Cheese Reference Guide will help clarify such details so food manufacturers and cheese processors can explore the new world of Hispanic cheeses and tap into potential markets."
Imagine, for example, Queso Breakfast Tamales, a prototype developed by DMI. Lively Mexican cheeses combine with spicy meats to make these tamales an appealing breakfast treat or snack. Possible ingredient combinations might include breakfast sausage and a three-cheese blend (Queso Fresco, Cotija, and Sharp Cheddar), or pairings of cheeses with chili peppers.
The Hispanic population is the fastest-growing segment in the United States today, with the U.S. Census Bureau projecting that this group will reach 55.2 million by the year 2020. Consequently, it is no surprise that Hispanic-influenced cheeses have been growing in popularity, showing up more frequently on grocery shelves and restaurant menus. For all these reasons, these cheeses hold increasing potential for playing a role in creating new dishes or reformulating traditional ones.
--- PAGE BREAK ---
Cheese, of course, is not the only dairy ingredient that can play an important part in future formulating. In addition to developing the Cheesy Hash Browns, Kimberlee Burrington, Dairy Ingredient Applications Program Coordinator for the Wisconsin Center for Dairy Research at the University of Wisconsin-Madison, has created a number of prototypes that highlight the functionality and nutritional value of whey and milk proteins.
Some of these prototypes included a peach-flavored drink infused with whey protein and fiber, designed to help promote satiety; a whey protein-enriched, blackberry-flavored, ready-to-drink isotonic beverage that can aid in muscle recovery after exercise; a mango-flavored green tea with whey protein; and a children's chocolate pudding snack enhanced with milk protein (MPC 70) that builds body and texture, contributes a pleasing mouthfeel and mild dairy flavor, and adds dairy protein and calcium.
According to Burlington, "These prototypes made with dairy ingredients were formulated specifically for better consumer acceptance. Products such as ice creams, frozen novelties, yogurts, and ready-to drink beverages can all help to meet consumer demands for tasty, reduced-fat and fat-free options."
Whey proteins are especially offering new opportunities for beverage manufacturers. Because of its high solubility, whey protein has the ability to remain clear at the low pH range of 2.8 to 3.5 found in high-acid beverages such as isotonic drinks. This clarity and solubility makes possible the packing of protein into a variety of beverages. In addition, whey protein provides a clean, neutral taste that is well-suited to fruit flavors in beverages.
The use of dairy ingredients in a broadening range of applications may be further fueled by FDA's recent approval of new health claims linking calcium and vitamin D with bone health and a reduced risk of osteoporosis. The claims can be used on packages of reduced-fat, low-fat, and fat-free milk and qualifying yogurt varieties, as well as other food products that qualify as excellent sources (20% or more of recommended Daily Value) of calcium or calcium and vitamin D per standard serving.
News of other dairy developments may soon be on the way as well. The California Polytechnic State University's Dairy Products Technology Center will host the 11th annual Dairy Ingredients Symposium on March 10-11, 2009, in San Francisco. The event, organized in cooperation with Dairy Management Inc., will provide food and beverage formulators and dairy ingredient manufacturers with information on the latest developments in dairy ingredients. Experts from academia, government, and industry will provide presentations on current and evolving dairy ingredients science; hot issues affecting today's food marketplace; and practical implications that recent industry advances have on sales and marketing strategies, manufacturing technology, and business development for producers and end-users of value-added dairy ingredients.
Addressing Formulation Challenges
A number of new ingredient solutions from Land O'Lakes Inc., Arden Hills, Minn. (phone 800-328-1322, www.landolakesingredientsolutions.com), may play a role in broadening the applications of dairy ingredients.
For example, to meet today's growing needs for foods with no trans fats, the company has reformulated its line of Cheddease® Cheese Powders to eliminate partially hydrogenated oils (PHOs). In trans-fat-free Cheddease products, high-oleic canola oil is used to replace PHOs. High-oleic canola oil has a clean taste and mouthfeel that is compatible with the organoleptic qualities of dairy ingredients. The oil also provides excellent shelf stability and is perceived as a healthier alternative by consumers. It contains 7% saturated fat, lowest among common vegetable oils. Other trans-fat-free dairy ingredients offered by the company include varietal dried cheeses such as Parmesan and Romano; butter, sour cream, and other dairy powders; and seasonal blends.
--- PAGE BREAK ---
Through a new patented approach, Land O'Lakes has introduced calcium-fortified cheese powders, enabling food developers to add cheese flavor and significant levels of calcium to wet and dry ingredient systems without the chalky mouthfeel often associated with calcium fortification. Depending on the application and the level of added calcium, these calcium-fortified cheese powders may make it possible for food manufacturers to make label claims such as "a good source of calcium." These calcium-fortified ingredients can be added to sauces, dips, chips and crackers, and a variety of other products, creating new opportunities in the marketplace.
Researchers at Land O'Lakes also worked on improving a new process cheese formulation that exhibited some Maillard browning when it was melted in the finished product application. Although the browning had no effect on the taste or safety of this ingredient, most consumers prefer to have cheese maintain its white color when melted in Queso sauce. "This problem was not easy to solve because the formula contains many different ingredients and multiple processing steps," said Michael Scheller, the company's Senior Technologist. "The effects of these ingredients and the processing steps could interact with each other, making it difficult to address the problem using conventional one-factor-at-a-time experiments." He and Senior Scientist Mostafa Galal eventually solved the problem by creating a general factorial design using two factors: emulsifier ratio and emulsifier type. Through this process, they found out which ratio and type of emulsifier would result in the desired improvement in appearance without affecting the other attributes.
Dairy Prototypes Reflect Makeover
Although the word itself can sometimes be misleading to consumers, buttermilk actually has less fat than whole milk (with the fat being removed to make butter). It is also high in potassium, vitamin B-12, calcium, and riboflavin, as well as being a good source of phosphorus. Furthermore, people with digestive problems, such as lactose intolerance, are often advised to drink buttermilk rather than regular milk, since it is more quickly digested. And it has more lactic acid than skim milk.
David Michael & Co., Philadelphia, Pa. (phone 215-632-3100, www.dmflavors.com), created a prototype buttermilk-based cultured smoothie that is suitable for breakfast. With the addition of buttermilk, the smoothie is lower in fat than its counterparts and high in calcium. The company formulated the prototype with flavors of traditionally indulgent breakfast foods, including strawberry and blueberry pancakes and coffee cake. Because this smoothie has such a rich texture, it makes for a satiating alternative to fattening and less-convenient indulgent breakfast options.
According to M.J. Wechter, Applications Technologist, who developed this prototype, there are multiple options for expanding upon the idea of Breakfast Buttermilk Smoothies. Added fortification is one example. The addition of grains and fiber could make this smoothie even more of a fulfilling meal replacement. And the use of fruit preparations and inclusions can make it more appealing, especially to children. Smaller servings of the smoothie could replace juice drinks in breakfast and lunch meal kits.
This smoothie was one of several dairy concepts highlighted at David Michael's sixth annual Innovative Roadshow®. Under the event's theme, "Extreme Brand Makeover," these concepts were developed to demonstrate fresh ways to revitalize existing brands to drive growth in the current marketplace. Other dairy concepts reflecting this makeover included Truffle Coffee Creamers and Moo-Makers fortified, flavored cubes for milk.
Inspired by the indulgent chocolate confection, creamer truffles melt easily in coffee, and in the process, deliver flavor, creamer, and sweetener to the cup. Flavor options for this innovative delivery system include White Chocolate Raspberry Cream and Chocolate Irish Cream.
Moo-Makers can help children add sweetness, flavor, color, and nutrients (such as vitamin C, B-vitamins, and fiber) to a glass of milk. With up to four cubes per serving, children can customize the strength of the flavor, or even mix and match to create their own flavors and colors. Prototypes available include Purple Peach, Green Mango, and Blue Orange Berry.
--- PAGE BREAK ---
Slurping Healthfully
Not your ordinary smoothie bar, an exhibit at SupplySide West 2008 provided Glanbia Nutritionals Inc., Monroe, Wis. (phone 608- 329-2800, www.glanbianutritionals.com), the opportunity to demonstrate the functionality and health benefits of dairy-derived ingredients, especially protein blends, in beverages. The bar, appropriately dubbed "Slurp," featured prototype smoothies and shakes made with a variety of solutions from the company.
Boost Me Up! Berry Smoothie, for example, featured Bioferrin® lactoferrin, a natural milk protein that helps stimulate immune system enhancement. Produced from sweet dairy whey using proprietary fractionation/ separation and processing technologies, lactoferrin has immune-enhancing and anti-viral properties, allowing it to function as an antimicrobial agent while improving intestinal cell growth. It also has iron binding and transport properties. This smoothie formulation also contains TruCal®, a balanced combination of milk calcium and other essential minerals that promote optimal bone health while delivering a clean flavor, smooth texture, and solubility in an acidic pH range.
Bodacious Protein Berry Smoothie highlighted Solmiko MPC 80, a good source of native caseins and whey proteins with clean flavor profile, excellent solubility and heat stability, and low bacterial counts. Produced from fresh ultra-filtered skim milk, the Solmiko family of spray-dried proteins is available as milk protein concentrates and milk protein isolates. They can be easily incorporated into applications where functionality and flavor are critical, including protein-rich beverages.
LiveLean Cappuccino Shake was formulated with a whey-derived ingredient, Prolibra®, which functions as a weight management solution. According to the company, it is clinically proven to promote fat loss, retain lean muscle mass, and lower glycemic index.
Appetizer Demonstrates New Cheese Solution
A protoytype application, Crispy Parmesan Polenta, demonstrates the functionality of a new dairy flavor from Kraft Food Ingredients Corp., Memphis, Tenn. (phone 901-381- 6500; www.kraftfoodingredients.com). The flavor, Creamery Exceed® Plus, is said to offer a cost-effective option that will improve the impact of cheese and dairy flavors in new or existing formulations.
Based on the company's proprietary Exceed technology, the clean, mild flavor heightens the creamy, buttery notes in cheese and other dairy applications. Its well-rounded flavor profile complements and balances the flavor of cheese in a variety of applications, such as the polenta application that was highlighted at the 2008 IFT Food Expo. This formulation, which can serve as an innovative appetitizer, featured Creamery Exceed Plus PN 02120, Fancy Shred Parmesan PN 61855, and Grated Parmesan Cheese PN 61561.
"Adding our patented flavor to a dairy application will offset undesirable notes that can occur in cost-reduced dairy formulations," said Tom Rieman, KRIC Senior Business Manager of Cheese Solutions. Available in powder form, it functions well in sauces, fillings, seasonings, and other products, and can be used in all manufacturing processes such as freezing, coating, batter/ breading, retorting, and baking.
Kraft chose Crispy Parmesan Polenta to highlight its new flavor because appetizers are flourishing on restaurant menus as American consumers show favor for smaller portions and hand-held applications with fillings that frequently include cheese.
--- PAGE BREAK ---
Chicken Soup for Lowering Blood Pressure?
A dairy-peptide-containing ingredient for managing blood pressure earned Netherlands-based DSM (phone +31 15 279 3474; www.dsm-foodspecialties.com) the 2008 HIE's gold award for the most innovative new health ingredient. Called TensGuard™, it works by relaxing and expanding blood vessels, which in turn helps to keep blood pressure within a healthy range.
According to the company, Isoleucine-Proline-Proline is the active peptide in the ingredient that is responsible for the blood-pressure- lowering effect. Because of its clean taste and highly concentrated form, the ingredient opens the market not only for new dietary supplements, but also for a variety of food applications, including yogurts, dairy drinks, fruit juices, functional waters, and bars.
In fact, one of the prototype formulations the company reportedly developed was a chicken soup made with the ingredient, in combination with savory ingredients designed to reduce salt.
Tough Times Call For Whey?
In this economy, "smart" manufacturers are looking for new ways to cut costs without affecting the quality of their product. One possible solution is the use of functional whey proteins to replace a portion of the more expensive ingredients such as cream or cream cheese in their products.
A line of versatile dairy proteins, Grande Bravo from Grande Custom Ingredients Group, Lomira, Wis. (phone 920-269-7188; www.grandecig.com), can help manufacturers reduce costs in a variety of formulations, including cheese sauces, soups, gravies, dressings, dips, meat products, frozen desserts, puddings, and bakery products. In addition, it can offer products important quality improvement benefits, such as water binding, viscosity, enhanced creaminess and texture, decreased purge, and extended shelf life.
In an ice cream, for example, the ingredient can replace up to 25% of the milk solids while improving texture, smoothness, and creaminess. And because it improves the body and enhances the creamy texture and flavor, overrun can be increased so manufacturers realize additional cost savings. Other benefits include the ability to bind moisture without the use of heat and to extend shelf life by slowing the formation of ice crystals. It is ideal in a range of products, including all types of ice cream, novelties, frozen custard, and frozen desserts.
The ingredient can be used to replace cheese and non-fat dry milk in cheese sauces and fillings. In meatball applications, it can bind and hold water in the formula, improving yield. It can replace non-fat dry milk in yogurt and pudding formulations, improving flavor. A combination of the ingredient and water can replace heavy whipping cream, cream cheese, half and half, and Parmesan cheese in sauces, such as Alfredo, while maintaining the flavor, mouthfeel, and quality of the original product.
"Many of our clients are very focused today on ingredient costs," said Steve Dott, Director of Sales for Grande Custom. "They're also looking more than ever to high-quality products to differentiate themselves. Whey protein can be added to formulations while maintaining the products' flavor, texture, and quality."
The company also offers a patented ingredient line of whey protein crisps. These crisps are suitable for healthy and nutritional products and can be customized in size, shape, color, flavor, and protein levels from 25–70%.
--- PAGE BREAK ---
Delivering Dairy Solutions
Natural specialty cheese flavor ingredients from Cargill Inc., Minneapolis, Minn. (phone 952-742-6000, www.cargill.com), deliver the complex, authentic aged notes of Gouda, Swiss, Cheddar, Parmesan, Romano, and Blue cheeses. The ingredients, which contain cheese, have applications in sauces, dressings, snacks, and other products.
Developed using combinations of natural biological processes, they are said to convey the authentic aged flavor notes that are ordinarily provided by ripened cheeses in days instead of weeks. The flavor ingredients, which demonstrate the company's understanding and ability to control the biochemistry and microbiology of cheese ripening, are simpler to user, easier to source, and more cost-effective than specialty cheeses.
The new line of specialty cheese flavor ingredients complement Cargill's extensive line of solutions for dairy applications. For example, the company has developed Daritech™, a range of stabilizers for reduced-fat ice creams that utilize traditional equipment and still deliver a creamy texture.
"Another trend in frozen desserts is a broadening of flavors and products," said Joe Kelaszewski, Dairy Applications Food Scientist for Cargill Texturizing Solutions. "While the top 10 flavors have been consistent for a number of years, new flavors available include key lime pie with pie crust pieces, caramelized pear and toasted pecan, tres leches, and a number of cappuccino varieties. Ice creams are often sold as complex desserts with bakery and confectionery components. Novelty examples are sandwiches using brownies or cookies instead of traditional wafers."
Whey Raises the Bar
The incorporation of whey proteins in snack bars can not only help create a better-for-you option, but also provide important functionality benefits. The ingredient may be used to extend shelf life; improve extrudability; enhance texture, especially when in the form of crisps; and impart a neutral, bland flavor profile that can work very well with other flavors.
A variety of snack bar formulations demonstrating the effectiveness of whey proteins has been developed by Hilmar Ingredients, Hilmar, Calif. (phone 209-667-6076, www.hilmaringredients.com). For example, snack bars are traditionally sweet in nature, but Jalapeno Cheddar Crisp Bar shows that they can also be savory or spicy. The protein contribution comes from crisps made with whey protein and soy. Whey crisps, a novel way to boost protein content, provide an alternative or a complement to traditional plant-based crisps and granola.
Or how about a Lemon Meringue Bar that serves as a weight management tool? An increasingly popular weigh management approach is the "satiety diet," which involves choosing lower-calorie foods that induce satiety or the feeling of fullness. Whey proteins, in particular, appear to increase the feeling of satiety more than other proteins, as well as boosting overall nutritional value. This formulation is made with Hilmar™ 9400 whey protein isolate, which exhibits excellent clarity, clean flavor, and acid and heat stability, in addition to containing more than 90% protein. The bar also contains Hilmar 8370 whey protein hydrolysate, which has the ability to modify the texture of bars, making them softer and more pliable. It can be used alone or as a partial replacement for casein, caseinates, hydrolyzed gelatin, and soy protein isolate.
--- PAGE BREAK ---
Other prototypes available from the company include a yogurt-coated whey protein bar; a baked chocolate chip bar fortified with a blend of whey proteins and carbohydrates to provide long-lasting energy; and more traditional bars made with whey crisps.
And in the event you might want something to wash down these bars, Hilmar developed a prototype whey green tea. A "pixie stick" iced tea formulation, easily shaken into cold water, combines green tea with Hilmar 9410, a highly dispersible whey protein isolate. The instantized ingredient offers spoon-stirrable solubility, clean flavor, acid and heat stability, and protein nutrition.
Differentiating with Dairy
A number of prototypes from Kerry Ingredients & Flavours, Beloit, Wis. (phone 608-363-1200, www.kerry.com), highlight some of the future directions dairy ingredients can take, helping to reshape some of our traditional perceptions of dairy and its applications.
Take, for example, Chipotle Corn & Queso Bites, a snacking appetizer that incorporates a spicy, smoky, chipotle-infused blend of creamy queso cheese, corn, black beans, and black peppers wrapped in a tortilla coating. The creamy cheese sauce filling and specially textured coating could help to differentiate the product in the marketplace, while demonstrating how dairy ingredients can work well with other flavors and seasonings.
Cheesecake Lollipops, a bite-sized indulgent snack, uses bake-stable Neufchatel cheese filling as an alternative for baked cheesecake. It also contains sweetened condensed milk powder for added creaminess and indulgent mouthfeel. The prototype is dipped in rich chocolate and dusted with decorative sprinkles.
Queso Chorizo Gluten Free Cracker takes the classic cheese cracker down a spicier road. The prototype, made with dairy flavors and cheese powders, is topped with a chorizo-flavored seasoning. This results in a snack product with a careful blend of creaminess and spiciness.
And for dessert, try a Cool Yogurt Dip containing active cultures to help maintain a healthy digestive system. The dip, made with yogurt powder, can be combined with fruit for a nutritious and creamy dessert.
Yogurt Helps Lead the Way
In the March 2008 Ingredients section, "What's Yonder for Yogurt," I covered several ingredient innovations that could help influence the directions of future yogurt products in the marketplace. In that article, I also noted that yogurt could be used as an ingredient in a number of applications, including chews, snack coatings, dressings, sauces, and so on.
The use of yogurt as a condiment was described further in the April 2008 Ingredient section. As this article noted, yogurt is also a popular ingredient in many international cuisines, and as these dishes enter the mainstream, we'll likely see more of yogurt as a condiment. In a sauce, for example, yogurt can provide a tanginess that enhances the flavor of meat, poultry, and seafood dishes. Yogurt may serve as an alternative to sour cream and cream cheese in dairy dip bases. And it can make for a flavorful base in salad dressings.
And this trend still continues. Recently, a French company, EPI Ingredients, launched a new yogurt ingredient called Yoggets. These granules of yogurt powder (described as little balls of yogurt that are solid) may be used to add flavor and texture in such products as chocolate bars, cereals, and salads.
Yogurt is just one of several dairy ingredients finding expanding use because of its health and functionality attributes. Several of the prototypes described in this article will hopefully stimulate further thought on the different ways that dairy ingredients can be incorporated in traditional and emerging applications.
And, in the spirit of the season, hopefully formulators will have a very dairy new year.
Next month's Ingredients section will look at how beverage flavors can find creative uses in foods.
--- PAGE BREAK ---
Making Dairy Innovations Happen
Prototypes highlighted in this article are demonstrating the expanding uses for dairy ingredients. Helping to influence the effective use of these ingredients and their traditional and emerging applications are important business developments, ranging from the formation of new research and development centers to strategic alliances.
Here are a few examples:
• New Zealand-based dairy company Fonterra Co-operative Group recently opened its new corporate headquarters for North America in Chicago, near O'Hare International Airport. The state-of-the-art facility houses an Application and Sensory Technical Development Centre, which will allow the company to work directly with its North American customers as well as more effectively commercialize scientific innovations from New Zealand and Australia.
"The technical center's location will allow more innovations to be tailored specifically to the needs of Fonterra's customers operating within the U.S. and Canadian markets," said Martin Bates, President and Chief Operating Officer for Fonterra USA Inc., Rosemont, Ill. (phone 847-928-1822, www.fonterra.com). Featuring advanced processing equipment, a sample analysis laboratory, and an ingredients supply site, the center enables customers to formulate retail and foodservice products, such as cheeses, yogurt, pediatric formulas, beverages, and bars, using the company's functional dairy proteins and specialty ingredients.
Recently, Fonterra USA launched several products for the North American market. These include PowerProteins™, a range of milk powder concentrates for improving the flavor, texture, and functionality of nutrition bars; whey-based ingredients for clear beverages; and specialty milk protein concentrates for improving the yield and texture of cheese and yogurt. The company is also focusing its research efforts on the development of the next generation of probiotics designed specially for pediatric and infant nutrition.
Fonterra USA is a wholly owned subsidiary of the New Zealand-based dairy cooperative. In addition to its dairy commodity, specialty ingredients, and branded consumer goods businesses, it is also a partner in DairiConcepts, working with the largest dairy cooperatives in the U.S.
• Dairy ingredients company Protient Inc., St. Paul, Minn. (phone 651-638-2600, www.protient.com), recently opened its new functional ingredient technology center in Egan, Minn. The 8,300-sq-ft facility, located just south of the Minneapolis/St. Paul airport, houses several laboratories (applications, chemical, and sensory); a processing room; and sample storage and preparation areas.
The new center will provide key application support for Protient, which specializes in dairy proteins for the food, dairy, health, and sport nutrition markets. One of the new products tested at the facility was a whey-derived ingredient that functions as a new buttermilk powder alternative, providing better emulsification properties. The company has also expanded its whey protein isolate capacity to meet customer demand.
• Symrise Flavors, North America, Teterboro, N.J. (phone 800-422-1559, www.symrise.com), has entered into a strategic business alliance with First Choice Ingredients, Germantown, Wis. The partnership is designed to secure a supply of dairy raw materials necessary for expanding Symrise's portfolio of natural dairy flavors.
In particular, First Choice Ingredients now serves as Symrise's direct sourcing base of key raw materials for the production of enzyme-modified dairy flavors. These flavors are strategic to important product segments such as snacks, savory, dairy, and prepared foods.
• Milk Specialties Global Food Solutions, Eden Prairie, Minn. (phone 952-942-7310), specializes in the production, marketing, and sales of high-added-value protein ingredients and other specialty products for the food industry. This business unit was recently formed by Milk Specialties Global, based in Carpentersville, Ill.
"The addition of the Food Solutions business unit is part of the company's continuing growth strategy to be a major player in the specialty proteins and nutritional ingredients sectors," said Trevor Tompkins, CEO of Milk Specialties Global. The unit operates a milk and whey protein isolate plant in Mountain Lake, Minnesota. In addition to using state-of-the-art technology, the company is working on several new product concepts.
• Erie Foods International Inc., Erie, Ill. (phone 309-659-2233; www.eriefoods.com), a manufacturer of specialty processed ingredients for the food industry, and United Dairymen of Arizona, a U.S. dairy cooperative, have formed EU Blending Company, based in Casa Grande, Ariz. The facility was established to simplify and expedite the manufacturing process for dry packaged ingredients in both domestic and international markets.
---
Members Only: Read more about Dairy online at www.ift.org. Type the keyword in our search box at the upper left side of our home page.
Donald E. Pszczola,
Senior Associate Editor
[email protected]