The refrain of a 1940s song about baseball goes like this: "Who's better than his brother, Joe? Dominic DiMaggio."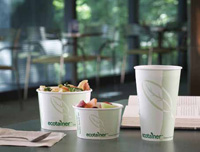 This year, 60 years later, we have—for the first time in IFT history—two (twin) brothers elected IFT Fellows—Joe and John Marcy. Who is older? Who is better? The larger question, of course, is, will IFT be able to distinguish between the two distinguished Fellows? Of course, the packaging pros among us will readily identify Joe from Virginia Tech, who will also receive the IFT Food Packaging Div.'s Riester-Davis Award for lifetime achievement in food packaging.
And, with IFT Fellow and Riester-Davis awardee Barbara Blakistone, Joe will co-preside over another daring, cutting-edge program from the IFT Food Packaging Div.—food packaging poster sessions that allow for open discussion among all members. But more of that shortly.
In addition to Joe Marcy's dual honors, another legendary food packaging professional has achieved the lofty title of IFT Fellow. Speak the name "Tee" in the food packaging world, and no one asks "who?" Theron Downes has been "Tee" to all who were present at the founding of the IFT Food Packaging Div.—and long before that momentous day in 1977. One might ponder, "Tee, what took you so long?" (He became a Riester-Davis awardee about two decades go.) That is the question posed by all of the many IFT Fellows who endorsed him for this elevation.
Joe will be honored by IFT for his long teaching career and research into hermetic package sealing, Tee for his long teaching career at Michigan State University and his research into the migration of plastic package materials into contained foods. Not coincidentally, both were major contributors to the development of the Crosscheck aseptic packaging system for high-acid fluid foods as they quantified the application of organic acids as microbicides for microorganisms in juices.
Packaging Panel Discussion
In a session that explores both the history and the future of food packaging, participants will be able to listen to food packaging professionals Steve Moody of Natick Soldier Research, Development, and Engineering Center and Michele Perchonok of NASA (also an IFT Fellow and the 2009 Aaron Brody Distinguished Lecturer in Food Packaging at Michigan State University School of Packaging) discussing, respectively, feeding troops in combat and feeding astronauts traveling to Mars. The Panel Discussion will take place from 1:30–3 p.m. on Monday, June 8.
Which is the more challenging task—the many different climates in which the military is deployed or the 3–5–year shelf life (with no refrigeration) demanded of foods headed to and returning from the "Red Planet"? How little oxygen must remain in the barrier packages with no off-gassing, seal integrity, and the ability to withstand changes in gravity and pressure? In case you believe that shelf life of a new product for American supermarket distribution is a concern, envision life aboard the Orion space vehicle (Food Technology, November 2007).
In the same venue, officially designated Session B10, the IFT Food Packaging Div. will present Joe Marcy with the Riester-Davis Award, and Joe will respond with his reflections on food packaging, surrounded by poster presenters and their outputs. During a reception-mixer, all will have the singular opportunity to view and discuss poster and other food packaging topics with the numerous pros sharing Ballroom A in the Anaheim Convention Center.
--- PAGE BREAK ---
Food Packaging Posters
For those searching for germane inputs among the vast array of poster sessions, the Food Packaging Div. is extracting a large sampling to be displayed from 3–5:30 p.m. Monday in Oral-Poster Hybrid Session 137.
• Poster 137-01, "Synthesis of Soy Protein Isolate (SPI)-Montmorillonite (MMT) Nanocomposites for Biodegradable Films Using Melt Extrusion," will be presented by Prabhat Kumar of North Carolina State University. The discussion will focus on a research project by Kumar and colleagues in which 70–85% SPI by weight, 15% glycerol, and 0–15 % MMT were extruded through twin-screw extruders and dried before casting into film samples. Higher screw speed and barrel temperatures resulted in better dispersion of the nanoparticles, a necessary result.
• Poster 137-02, "Shelf Life Extension, "Shelf Life Extension of Oxygen-Sensitive Food Models by Using Ascorbic-Acid-Incorporated Whey Protein Isolate (WPI) Film," will feature Theeranun Janjarasskul and John Krochta of the University of California, Davis, (another IFT Fellow and Riester-Davis Awardee). Although admixing ascorbic acid into WPI film enhances oxygen barrier, its effect on the shelf life of package contents had not been demonstrated until their research. The oxygen scavenging functionality of ascorbic acid was higher with higher water activity and pH, as well as metal catalyst in model systems of omega-6–containing baby food, mayonnaise, and peanut butter.
• Poster 137-07, "Antibacterial, "Antibacterial Activity of Nanosilver Film," will feature research by Shin-Jie Lin of Fu Jen Catholic University and colleagues. In this project, nanosilver in a polyvinylpyrrolidone matrix was immobilized on low-density polyethylene film to measure its antimicrobial effects on E. coli, including 0157:H7, S. cerivisiae, and B. subtilus in contact. and in contact. Vegetative cells were reduced but spores (B. subtilus) were not affected.
• Poster 137-08 is titled is titled "Microperforated PLA: A New Environmentally Friendly Technology to Improve Blueberry Shelf Life." It features research by Hayati Samsudin et al. of Michigan State University. The group of researchers includes Riester-Davis awardee Bruce Harte. In this study, fresh blueberries were packaged in microperforated polyester and polylactic acid (PLA) trays to evaluate the potential to maintain equilibrium modified atmosphere conditions under refrigeration. Zero, three, and six micro-perforations were applied, with results indicating that PLA could be used.
• Poster 137-09, "Efficacy of, "Efficacy of Chitosan Films in Inhibition of Listeria monocytogenes in Vacuum Packaged Hot Dogs" features research by Scott Hartley and Kay Cooksey of Clemson University. Chitosan films were shown to reduce L. monocytogenes on hot dogs by nearly three logs when in direct contact.
• Poster 137-13, "Shelf Life and, "Shelf Life and Sensory Quality of Ready-to-Eat Fresh-Cut Asparagus in Modified Atmosphere Packaging (MAP)," features work by Patnarin Benyathiar, Janice Harte, and Bruce Harte of Michigan State University. Asparagus spears were packaged carefully under MAP and maintained at chilled temperatures to achieve a 21-day shelf life based on sensory results.
• Poster 137-22, "Mapping of Radio, "Mapping of Radio Frequency Identification (RFID) Tag Readability in Relation to Food Content in a Refrigerated Marine Container" will feature presenters Magalie Laniel and Jean-Pierre Edmond of the University of Florida. Issues relative to the basic characteristics of RF (radio frequency) signals to respond through different food product holdings have concerned those attempting to employ RFID for universal data gathering. In their research, a 915 mHz RFID reader was employed to monitor the temperature from 42 tags on three different loads: canned vegetables, fresh meat, and frozen bread. Canned vegetables provided a 97.6% accuracy, fresh meat 61.9%, and frozen bread 57.1%. Radio frequencies at 915 mHz are significantly absorbed by high water and ice contents, but are reflected by metal surfaces.
Selection of the preceding from the 25 posters scheduled for display during this highly interactive lecture, discussion, and reception is intended to entice all into an authentic learning experience.
Much more than can possibly be contained on these pages will be offered—with the added dimension that professionals, novices, and students will be voice to ear with one another in the room.
--- PAGE BREAK ---
Nanoscale Packaging Symposium
A Food Packaging Div. Symposium titled "Nanoscale Food Science, Engineering, and Technology" (not part of the pre-show nanotechnology conference) is scheduled for 8:15–9:45 a.m. on Sunday, June 7, and features three significant papers.
Paper 018-01 by Graciela W. Padua of the University of Illinois is titled "Nanocomposite Materials for Food Packaging Applications." Nanocomposites formed of biopolymers and nanoclays may offer sustainability, thermal, and barrier properties at competitive costs. Hydrophobic biopolymers, such as certain vegetable proteins, are considered suitable matrices to form high-barrier nanocomposites with nanoclays that are exfoliated to create tortuous paths for gases, according to Padua's paper.
Paper 018-03 is titled "Improving Food Safety, Biosecurity, and Product Traceability Using Nano-Biosensors." The author, Madhukar Varshney of Cornell University, points out that nanobiosensors can reduce detection time of pathogens from days to several hours or even minutes. For example, by virtue of their size and material, the optical properties of quantum dots overcome low-intensity, photobleaching, and single-color-detection problems associated with traditional fluorescent labels. Magnetic nanoparticles have shown advantages in terms of higher capture efficiency and reduced immuno-reaction time. The self assembly of biomolecules or "nanopatterning" is playing a role in increasing the density of chip arrays, offering several advantages in the multiplex detection, lowering overall cost, and improving efficiency in biomolecular interactions and detection. Nanobiosensors can be an element of food packaging to serve as an "electronic nose" to alarm against any contamination of food during storage or by mishandling. The combination of nanodevices with microfluidics also opens a new arena of applications having potential.
Paper 018-02, "Better Nutrients and Therapeutics Delivery in Food Through Nanotechnology," prepared by Kumar Mallikarjunan of Virginia Polytechnic Institute and State University will round out the list of the symposium's featured presentations.
Electron Beam Technology
The past several years have brought unprecedented advances in applications for low-voltage electron beams, a topic that will be addressed in a Panel Discussion, Session 238, from 1:15 pm.–2:45 p.m. Tuesday, June 9. Applications under development include the following:
1) aseptic packaging—low voltage electron beam sterilization of package materials for aseptic beverage filling is gaining acceptance as a chemical-free, non-thermal alternative to traditional approaches; 2) active packaging—new research is identifying opportunities for novel electron beam chemistries to create active surfaces in food packaging; 3) food contact coatings—the U.S. Food and Drug Administration's recent Food Contact Notice 772 has opened the door to electron beam curable contacts suitable for food contact, offering an energy-efficient alternative to traditional solvent-based coating technologies; and 4) critical surface sterilization—electron beam sterilization of critical surfaces of filling equipment can reduce the risk of contamination and allow for longer filling cycles without full sterilize-in-place/clean-in-place.
--- PAGE BREAK ---
Paper 238-01, titled "Survey of Emerging Applications for Low Voltage Electron Beam Technology," will be presented by Wilfredo Ocasio of National Food Labs.
George Sadler of PROVE IT, LLC will discuss "Embedding Functionalities in e-Beam Curable Resins to Produce Active Packaging" in Paper 238-02. Hundreds of commercially available e-beam curable resins contain a variety of chemical functionalities that impart unique properties to cured polymers. Virtually any degree of polarity and extent of crosslinking are possible.
The broad versatility of chemical functionalities allow for tailor coupling between active compounds and energy-curable polymers. Inexpensive, high-activity, surface activation results from curing embedded non-thermal energy curable thin films on packaging surfaces. The advantages include: application speeds up to 100 m/min, activity-sparing, near-ambient cure temperatures, simultaneous application of multiple activities, and activation cost per package similar in cost to graphic printing.
In Paper 238-03, Mikhail Laskin of Ideon LLC will present on the topic, "Electron Beam Curable Inks and Coatings for Food Packaging." Printing inks and coatings are important components of package structures. Selection of the right ink chemistry and mechanism of drying or curing are critical to the safety and quality of the packaged food. Electron beam curing offers substantial benefits in providing enhanced physical properties and full regulatory compliance of the packaging material.
Paper 238-04 is "Emerging Applications for Low-Voltage Electron Beam Technology" by Anne Testoni of Advanced Electron Beams. Low-voltage electron beam systems are now available in compact, modular form to enable a wide variety of in-process-line industrial applications. Applications that have been implemented and continue to be developed for these electron beam systems include: curing of high-density and/or high-opacity thin films without photoinitiators; cross-linking or chain scission of thermoplastic films; pre-fill disinfestation and sterilization of food and beverage packaging; sterilization of pharmaceutical container surfaces; and the active treatment of air streams for pollution abatement and bioburden remediation.
In case your appetite for food packaging has not been satiated from Sunday's innovation, Monday's intensity, and Tuesday's verbal challenges, 54 more posters, 203-01 through 203-54, are on exhibition on Tuesday. Some of them expand on the Monday presentations with topics that include: glucose oxidase on electrospun fibers; the shelf life of celery; effects of antimicrobial films on fresh blueberry shelf life; zinc oxide antimicrobials; modified atmosphere packaging of fresh cut asparagus; essential oil antimicrobials; nano-silver as antimicrobial; chlorine dioxide antimicrobial; flavor dispensing from package structures; and more, much more on chitosan.
Wrapping It Up
Food Packaging again has percolated to the peak of IFT aspirations to reflect research reality in a critical discipline. With some 200 identifiable papers and presentations, the world continues to look to IFT and its vigorous Food Packaging Div. as the definitive source for important and objective information on innovation—this time offered in a singular format designed to maximize face-to-face attention and interaction among those on the bench and those about to apply the concepts. Which is the single most significant will not be known for years or until the final results are in the marketplace fulfilling one of our fundamental tenets: When consumers are not conscious of food packaging advances we have done our job well!
--- PAGE BREAK ---
Exhibits
The following are brief descriptions of some of the packaging-related exhibits at this year's Food Expo.
• System for digital food decoration, Merlin FG, is designed for non-impact variable imaging and decoration of food products using edible food-grade colorants. The system can be configured with imaging hardware, control electronics, and fluid maintenance as an inline unit that is fully integrated with the customer's existing food manufacturing line. It may also be ordered as one or more standalone production system/s complete with conveyor. Fujifilm Dimatix also offers a proprietary implementation of Piezoelectric drop-on-demand (Piezo DOD) inkjet printing technology that allows every jet on a printhead to operate concurrently and at a high throughput rate—without trading off drop placement accuracy—thereby enabling precision jetting at production speed. The company's patented printhead products are capable of jetting a broad range of inks and other fluids at sustained high frequencies. Fujifilm Dimatix Inc., www.dimatix.com, Booth 2749
• Fiber-based corrugated packaging and supply chain solutions are available for multiple industrial segments, including food and beverage. The company's product assortment includes boxes, cartons, paperboard containers, and shipping containers. International Paper, www.ipaper.com, Booth 1119
• Intermediate bulk container, FibreTran, is available in 55-gal, 1,000-L, and 275-gal sizes. It is water-resistant, printable, and 100% recyclable, as well as strong and durable. Longview Fibre Paper & Packaging, www.longviewfibre.com, Booth 262
• All-steel bin for lease has an efficient, 1,400-L/370-gal/50 cu ft capacity. It is suitable for juice concentrates, purees, and processing fruit. The company's large fleet of more than 1.3 million metal boxes available around the globe makes it possible to fill in one country and ship to any other country in the world. Goodpack USA Inc., www.goodpack.com, Booth 1160
• Advanced active packaging solutions enable manufacturers of natural and organic foods to meet "clean label" requirements. With the company's suite of packaging technologies, food manufacturers may streamline the ingredient profile of products while maintaining shelf life, preventing spoilage, and preserving color, taste, aroma, mouthfeel, and flavor. Proactive oxygen scavenging aggressively removes oxygen from the packaged headspace, maintaining a range of food qualities that would otherwise require additives. Moisture is regulated within specified limits to ensure that products become neither dry and hard nor too moist—without the need for inclusion of artificial additives such as surfactants, emulsifiers, glycerin, or polyols. Multisorb Technologies Inc., www.multisorb.com, Booth 812
• New state-of-the-art packaging facility for beverages, sauces, and marinades is now available and features scraped-surface kettles and processors, matched 6,000-gal blend tanks, and nitrogen-injected modified atmosphere packaging technology. Overall, American Copak Corp. plants feature more than 50 production lines in separate areas. All sizes of die-cut packets, bottling, canning, multi-packet, and bag-in-box cartoning is offered for dry and liquid products. American Copak Corp., www.americancopak.com, Booth 1747
• Plastic bag-in-box intermediate bulk container, Arena 330 Shipper, is all plastic, collapsible, and reusable with a capacity of 330-gal, 1,250 L. The unit is suitable for use for shipment and storage of non-hazardous liquids. The company also offers a wide range of liquid liners, including its patented Air Evac hands-free discharge system. A.R. Arena Products, www.arenaproducts.com, Booth 301
Aaron L. Brody, Ph.D.,
Contributing Editor
President and CEO, Packaging/Brody Inc., Duluth, Ga.,
and Adjunct Professor, University of Georgia
[email protected]