One of the tag lines associated with this year's Annual Meeting & Food Expo® is "The Best of Food Thinking 2009." Never has there been a time when this is more relevant.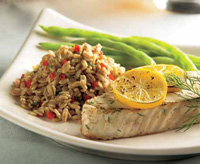 Consumers are more aware of what goes into the foods and beverages they purchase. They also seek more information about the health benefits of foods, and they are more interested in the origins of their foods and the ingredients used to formulate them.
They have more health concerns, financial concerns, and sustainability concerns. All of which, ideally, will lead food industry professionals to be more innovative and resourceful as they work to address these concerns.
The Food Expo floor at the Anaheim Convention Center will offer attendees the opportunity to expand their knowledge and resources. With more than 700 exhibitors and 500 ingredient companies, the potential for great ideas, trend information, networking, and profitable relationships are all within attendees' reach on the show floor.
As always, food ingredient companies will be targeting some of today's top health and wellness issues: weight management, joint and bone health, immunity, digestive health, cardiovascular health, eye health, and beauty foods. On the show floor, attendees will find fiber, proteins, fatty acids, and a potato extract, all of which address the issue of controlling weight and delivering satiety.
Probiotics, oligosaccharides, and other prebiotics will be featured for digestive health and immunity. From cocoa polyphenols and almonds to sterols and coenzyme Q10, heart health is another area that will not be overlooked. The prototypes that will showcase these ingredients are examples of forward thinking, as well. Probiotic ice cream, nutricosmetic licorice, heart-healthy chocolate chip muffins, and satiety smoothies are among the not-to-be-missed innovations that will be on display.
Take some time to walk through the Specialty & Trend Pavilions at the Food Expo. The Healthy Food Ingredients Pavilion offers the very latest in ways to meet the demands of health-conscious consumers. It will bring together the latest and greatest nutraceutical, functional, and organic products. The Organic Food Ingredients Pavilion will showcase certified-organic products.
Always a popular attraction, the Innova Market Insights' Taste the Trend Pavilion will be the place to discover the trends driving the food and beverage market today and in the future. It will feature more than 25 presentations on hot topics, with a special focus on health and wellness, upcoming ingredients, and health claims. The presentations will be complemented by a display that features more than 200 new food and beverage innovations from around the world.
Another Expo feature not to be missed is the Exhibitor Spotlight Presentations. New this year, these 45-minute presentations from specific companies take place right on the Expo floor in Hall D. Featured companies will include Gelita, Pharmachem, Corn Products Intl., Monsanto, American Egg Board, Novozymes, and Purac America.
--- PAGE BREAK ---
Members of the IFT Student Association (IFTSA) are on board with the health and wellness theme, as well. New this year is the Disney–IFTSA Product Development Competition, which has challenged student members to concoct new and nutritious snack products for kids. Six teams have been chosen as finalists in this competition and will compete for top honors during the course of the show.
On the following pages, previews of scientific sessions and exhibitor offerings give a glimpse of what to expect in Anaheim. Food industry professionals, as well as food academics, have prepared some excellent symposiums and booth offerings that will educate, stimulate, and help inform your research and development endeavors.
Whey-derived ingredient supports healthy skin
A natural ingredient derived from whey protein, Praventin, is recommended for use in ingestible beauty products and is based on human studies demonstrating the promotion of healthy skin. Other featured ingredients will include Vivinal GOS 90, a prebiotic ingredient with 90% galacto-oligosaccharides; Protion LE80GF, a hydrolyzed whey protein to support muscle strength; Glutamine Peption, a hydrolyzed wheat protein; and Refit HPA, a total milk protein. Friesland Campina Domo, www.domo.nl, Booth 1419
Ingredient offers beauty from within
GRAS-affirmed Sensara™ helps combat the internal and external causes of aging by providing multi-functional, restorative, and skin-fortifying nutrition, as well as increasing resistance to the skin-damaging effects of stress. The state-of-the-art formula contains two multi-patented ayurvedic extracts from NutraGenesis: the superfruit "beauty food," Indian gooseberry (amla fruit), and the "mood food," ashwagandha. This proprietary combination boosts resistance to premature aging by preventing free radical damage to the dermal extracellular matrix and rejuvenates skin cells by increasing circulation of oxygen and vital nutrients through a reduction in stress hormones that can have negative effects on the skin. When incorporated into food and beverage products, Sensara's multifunctional formulation delivers advanced skin health rejuvenation from within.
The company will also feature Wellberry™ and ImmuNutrin™. Wellberry is a superfruit ingredient featuring scientifically validated high-antioxidant value, proven health benefits, and substantiated structure/function and functional food claims. It combines proprietary forms of two of nature's most power-packed antioxidants for improved cellular protection: a patented extract of Indian gooseberry and Pure-WayC®, a new patent-pending gold standard of vitamin C. ImmuNutrin is a patent-pending immuceutical specifically formulated from seven immune-boosting medicinal mushrooms and botanicals to support healthy immune function. Combined together, the formula helps the body defend itself against invading pathogens. NutraGenesis, www.nutragenesis.com, Booth 653
Grape seed oil provides beauty benefits
Cold processed grape seed oil contains 68–76% omega-6 fatty acids and 0.5–<1% omega-3 fatty acids. The fatty acids help moisturize while the antioxidants and vitamin E in the oil help protect and heal the skin. Only antioxidants that are soluble in the oil can readily enter into the membrane to help improve both texture and tone. Studies have shown that grape seed oil can also reduce the risk of heart disease by lowering LDL cholesterol and raising HDL cholesterol.
--- PAGE BREAK ---
The company also offers other ingredients such as natural grape colors, ActiVin® grape seed extract for immunity and heart health, and grape seed flour. San Joaquin Valley Concentrate, Booth 2150
Eye health extract has added benefits
LuMarin™ is a natural extract from marigold flowers that contains lutein or lutein ester and its structural isomer, zeaxanthin or zeaxanthin ester. Lutein is an antioxidant that quenches or reduces harmful free radicals in various parts of the body exposed to light, especially eyes and skin. It has been linked to preventing or slowing vision loss associated with age-related macular degeneration and it is also favorable to skin health, cardiovascular health, and women's health.
Other ingredient offerings focus on digestive health, joint health, heart health, and cancer. In-Fibre™ inulin is sourced from organic Jerusalem artichoke with health benefits relating to weight management and digestive health. Hyamax® is the standardized natural hyaluronic acid available in different salt forms for joint health. Liveflax™ is a standardized flax lignan produced naturally from flaxseed hulls without the use of chemicals or additives. Nutra-Red® is an all-natural extract of red, ripe, GMO-free tomatoes with antioxidant properties. Fenchem Enterprises Ltd., www.fenchem.com, Booth 307
Grains and fiber for health
Manufacturers and consumers can use Sustagrain not only to boost the fiber, but also to enhance the flavor, texture, appearance, and nutritional composition of everything from bars, muffins, and reads, to breakfast cereals, rice side dishes, pasta, meat preparations, and beverages. Sustagrain is an identity-preserved barley with 30% total dietary fiber. About 40% of this fiber is cholesterol-lowering soluble fiber (beta-glucan), giving it roughly three to seven times the fiber of other whole grains, with less than half the starch of other cereals.
Ultragrain® is an award-winning, all-natural, 100% whole wheat flour that delivers the nutritional benefits of whole grains with a taste, texture, and appearance similar to traditional refined white flour products. Ultragrain flours are currently available in hard and soft wheat varieties. Ultragrain is milled with a patented technique that retains the whole grain nutrients—fiber, B vitamins, minerals, and phytonutrients—while delivering the smoother texture and lighter color of refined flours, without visible bran specks.
The Ancient Grains line—milled from amaranth, millet, quinoa, sorghum, and teff—consists of specialty whole grain flours, blends, and grain/seed mixtures that boast an impressive nutritional profile—protein, fiber, vitamins, minerals, and antioxidants—along with appealing flavors and texture that meet processors' artisan and mainstream needs for health and variety. Conagra Mills, www.conagramills.com, Booth 2337
Fiber featured in crackers and bread
Heart Healthy Whole Wheat Crackers and Heart Healthy Bread will feature Barley Balance™ Beta-Glucan Concentrate. Barley Balance contains a minimum of 25% beta-glucan and more than 35% total dietary fiber. Products containing Barley Balance qualify for the FDA barley beta-glucan heart health claim.
--- PAGE BREAK ---
High Fiber Cocoa Bars and Espresso Chocolate Chip Muffins will feature MultiFiber™. This ingredient is a highly functional blend of fibers, which provides a nutritionally balanced source of insoluble and soluble fibers. Fiber Enriched Chocolate Chip Cookies will showcase Canadian Harvest® oat fibers.
SunOpta has extended its fiber line with four new Canadian Harvest oat fibers: Oat Fiber 211, a fiber for whole grain products; Oat Fiber 240, great for lighter-colored baked goods; Oat Fiber 320, which is used for fiber fortification of crunchy crackers; and Oat Fiber 680, which may be used in crunchy snack applications for breakage reduction. SunOpta Ingredients Group, www.sunopta.com/ingredients, Booth 1327
Sterols, omega-3s add a healthy edge
Cognis offers naturally sourced ingredients that can help create cutting-edge products and position business for long-term growth.
The company's Newtrition™ banner for health-enhancing ingredients helps give products a healthy competitive edge in the marketplace. Newtrition provides the opportunity to meet the increasing demands for innovative, effective, and safe functional foods.
Heart Choice® natural plant sterols and sterol esters are safe, natural, effective, non-prescription alternatives for cholesterol management and overall heart health. They have been clinically proven to lower cholesterol up to 15%. Omevital™ omega-3 fish oils are marine-sourced, ultra-refined, high-purity products that are available in oils, powders, or finished capsules.
Other ingredients include Tonalin® CLA conjugated linoleic acid naturally sourced from safflower oil for fighting body fat; Xangold® natural lutein esters for long-term eye health and skin health benefits; Covitol® natural source vitamin E; and Betatene® natural mixed carotenoids, a blend of five key dietary carotenoids. Cognis Nutrition & Health, www.cognis.com, Booth 2136
Stable probiotic survives processing
A strain of Bacillus coagulans,GanedenBC30 , is a spore-forming facultative anaerobe that produces the favored L (+) lactic acid. The spore-forming property allows it to resist destruction by acid and bile during digestion, permitting it to germinate in the gut.
GanedenBC30 has received self-affirmed GRAS status and has been used in several studies evaluating its beneficial effects on symptoms associated with lactose intolerance, irritable bowel syndrome, and arthritis. The probiotic has been proven to survive such specific processing conditions as boiling water for steeping tea, high-temperature short-time processing of fluid milk, extrusion at 185°F, and agglomeration at 167°F. Thus, it can be added to various foods such as baked goods, confections, cereals, dry soup and drink blends, snack bars, and ice cream. Ganeden Biotech Inc., www.ganedenlabs.com, Booth 2156 and Session 062-04
Fiber supports intestinal health
See the latest fiber-fortified products to hit the market that feature Fibersol®-2, a slow- fermentation,soluble dietary fiber that has been shown in clinical studies to help support intestinal health. While visiting the company's booth, be sure to ask about its new low-calorie solution to increase the fiber content and nutritional value of virtually any food and beverage product without affecting the taste or texture. Fibersol®-2, a digestion-resistant maltodextrin, was invented by Japan's Matsutani Chemical Industry Co. Ltd. and has been exclusively produced by ADM since 1999. Because it is tasteless, it improves body/texture and offers masking properties while also providing the benefits of a good fiber with superior digestive tolerance. ADM/Matsutani America LLC, www.fibersol2.com, Booth 2731
--- PAGE BREAK ---
New ingredient for healthy joints
Fortigel® specifically stimulates cartilage cells and enhances the synthesis of cartilage tissue. In this way, it is a new and powerful agent for counteracting the progressive loss of joint cartilage by actually fighting the cause rather than only targeting the symptoms of the problem. This revolutionary effect has been confirmed in numerous international preclinical and clinical studies conducted by independent and renowned research institutes, such as the Collagen Research Institute, Kiel, Germany; Harvard University; and Tufts University.
Gelita will provide a number of prototypes and application concepts for tasting to demonstrate how easily Fortigel can be formulated in a wide range of products, from liquid or solid dietary supplements to enriched foods.
Learn more in a special presentation on June 7, 1 p.m., in the Hall A Internet Café (Booth 583). Gelita AG, www.fortigel.com, www.gelita.com, Booth 2719
Undenatured collagen for food and beverages
InterHealth will be introducing UC-II® for food and beverage applications. It is an undenatured type II collagen backed by comprehensive research data demonstrating that it safely and effectively promotes joint health. Clinical research shows that just 40 mg is more effective than 1,500 mg of glucosamine + 1,200 mg of chondroitin in increasing joint comfort and mobility. Debasis Bagchi, InterHealth's Senior Vice President of Research and Development, will be a moderator at Session 042, "Natural Therapeutic Intervention in Arthritis and Inflammatory Diseases." UC-II studies will be presented that reinforce the collagen's benefits for joint health.
In addition, the company will also focus on Super CitriMax® and ChromeMate®. Super CitriMax® is a natural fruit extract that has been clinically shown to help control appetite and support a healthy weight. ChromeMate® works by modifying blood glucose levels and promoting cardiovascular health. Both products are GRAS-affirmed. Bagchi will also moderate two additional sessions: Session 193, "Nutraceutical and Functional Foods Regulations in the World," and Session 224, "Obesity: Epidemiology, Pathophysiology and Prevention." In this session, he will be presenting research on hydroxycitric acid and chromium (III). InterHealth Nutraceuticals, www.interhealthusa.com, Booth 2379
Calcium fortification with consistent taste
A new calcium ingredient, Cal-Sistent™, helps formulators to fortify beverages, dairy, and confectionery foods with calcium without altering the key characteristics of consumers' favorite foods and beverages. "Food manufacturers have several options—calcium fortification, vitamin fortification, sodium reduction—but must ensure the taste and mouthfeel consumers love does not change," says Nadeen Myers, ICL Performance Products MTS representative/ food phosphate specialist. "Cal- Sistent 's particle size is ideal for products with a well-established taste or mouthfeel. We've developed a unique manufacturing process that ensures a consistent, small particle size that isn't easily detectable and does not affect the flavor."
With a calcium content of 38%, it delivers calcium-to phosphorus ratios equivalent to those found in human bones. ICL Performance Products LP, www.icl-perfproductslp. com, Booth 2623
Mineral line targets bone health
An advanced mineral line for bone health is specifically designed for beverage fortification and is suitable for different beverage categories. Each product provides the exact solubility required for each type of beverage and does not affect its color or taste.
--- PAGE BREAK ---
Gadocal+ is a formulation of calcium citrate for clear, acidic beverages such as blueberry juice or cranberry juice. Gadocal Gold is a unique formulation of calcium citrate for clear, mildly acidic beverages such as apple juice, tomato juice, and mineral water. Gadolin Calcium is a unique combination that provides a synergistic effect between fructans and calcium, resulting in higher calcium absorption. Gadocal Extreme is a remarkably soluble patented calcium source designed especially to provide the best solution for fortification of syrups and concentrates.
The jewels in the crown are new patent-pending, citrate-based mineral compounds branded as Gadocal K and Gadomag K for soy milk and milk drinks as part of expanding its portfolio to multiple nutrient solutions. Gadot's acquisition of the U.S.-based Pharmline in 2007 has enabled Gadot to offer additional proprietary combination products and premixes to the U.S. market. Gadot Biochemical Industries., www.gadotbio.com, Booth 1144
Mintel adds enhanced ingredient search capability
Research firm Mintel International is currently enhancing the ingredient field of its Global New Products Database (GNPD), with the goal of making ingredient searches highly accurate and easier to perform. Users will be able to search global food launches for individual fatty acids or fatty acids as a group to see which regions of the world are furthest ahead; see the vitamin and mineral combinations that dominate particluar industries; identify which herbal extracts appear most in personal care, then analyze how the products' marketing claims communicate herbal benefits; find all products containing probiotic bacteria, even if the packaging doesn't mention it; and understand which additives are being removed from foods, and which are not. Mintel International, www.mintel.com/gnpd, Booth 1674
Custom premixes deliver varied benefits
Custom nutrient premixes for the food, beverage, and pharmaceutical industries will be featured in a tonic targeting enhanced cognitive function, a nutricosmetic licorice for skin care, and an ice cream sample for boosting immunity. Fortitech premixes integrate functional ingredients from a comprehensive selection of vitamins, minerals, amino acids, nucleotides, and nutraceuticals— enabling manufacturers to develop products that target specific demographics or health conditions and that assure specific label profiles. The premixes are used in a variety of applications and do not affect taste, stability, or texture of the finished product. Fortitech Inc., www.fortitech.com, Booth 2223
Nutrient blends offer customized solutions
DSM Nutritional Products is meeting the growing demand for high-quality, traceable nutritional ingredients with Quali™-Blends, nutrient blends that offer food, beverage, and dietary supplement manufacturers an exciting new array of customized premix solutions. The blends provide customers with the exact ingredients they need in homogenous, customized blends, enabling the reduction of warehousing, processing, and quality control costs. The blends encompass vitamins, carotenoids, and an extensive range of nutritional ingredients, minerals, nucleotides, and novel nutraceuticals, which are formulated into customized dry and liquid premixes. DSM Nutritional Products Inc., www.unlimitednutrition-na.dsm.com, Booth 1737
EPA, DHA enhance foods worldwide
MEG-3® Omega-3 EPA and DHA ingredients from fish oil have been included in more than 40 billion servings of food and supplement products worldwide. For example, Victus Inc. has launched a liquid supplement called Enterx Kidz for 1–13-year-olds with special dietary needs; it provides 32 mg of DHA/8 fl oz serving, as well as additional calories, protein, and vitamins. Danone has launched a new fresh cheese yogurt formulated with 20 mg of DHA in each pot. Ocean Nutrition Canada is a supplier of omega-3 EPA and DHA ingredients from fish oil. Ocean Nutrition Canada, www.ocean-nutrition. com, www.meg-3.com, Booth 1209
--- PAGE BREAK ---
Soybean oil solutions
Visit the United Soybean Board (USB) booth to speak with technical experts about formulating with soybean oil and soy protein ingredients. And be sure to stop by in the mornings for baked goods made with enhanced-trait soybean oils that contain 0 g of trans fat/serving. USB will also have its highly anticipated happy hour reception, sponsored by Qualisoy, from 3:00–5:00 p.m. daily at the IFT Food Expo. Also attend the USB-sponsored educational session on June 7 at 8:15 a.m. to learn about the latest soy research. United Soybean Board, www.soyconnection.com, Booth 1653
Chia's nutritional profile is rich
Consumed as early as 300 B.C., chia seeds were eaten as a grain, drunk as a beverage when mixed with water, ground into flour, included in medicines, and pressed for omega-3 oil. The seed offers a complete nutritional profile of omega-3, dietary fiber, protein, antioxidants, and vitamins and minerals. The Chia Co. distributes in partnership with AHD International, offering the convenience of North American storage and delivery systems combined with complete supply-chain transparency back to the pristine farm on which it was grown. AHD International/The Chia Co., www.ahdintl.com, Booth 2166
CLA benefits in the spotlight
On July 24, 2008, Lipid Nutrition announced that its Clarinol™ CLA had received GRAS approval. With GRAS approval for Clarinol, food companies now have the opportunity to add this ingredient to their products and make marketable claims about reducing body fat and increasing lean muscle, based on a body of clinical science that spans more than 20 years.
According to recently published clinical trial findings, CLA supplementation for 3 mo contributed to reduced fat mass in specific locations on the body, such as the abdomen and thighs. To showcase this unique functional ingredient, Lipid Nutrition will offer a tasty beverage fortified with Clarinol CLA in the "Functional Food Construction Zone" located at its booth. The Functional Food Construction Zone highlights how Lipid Nutrition can assist food companies in the many facets (such as applications, marketing, logistics, and scientific issues) of constructing functional foods with strong consumer appeal.
Additionally, the company will showcase Marinol™ fish powders and fish oil, which provide a "flavor friendly" omega-3 ingredient with high concentrations of EPA and DHA for cognitive and heart health benefits. The company will offer a delicious cookie fortified with Marinol™ at its booth.
Lastly, PinnoThin™ appetite suppressant will be showcased. The company will highlight the benefits of this ingredient in helping to reduce caloric intake and making a person feel fuller for longer periods of time. Lipid Nutrition, www.lipidnutrition.com, Booth 110
Fiber, protein team for weight management
Gluten-free cereal crisps contain high amounts of soluble fiber and protein, helping to meet consumer demand for healthier snacks and functional foods. The extruded crisps are available in a puffed rice shape that can easily be included in a variety of healthy food products. The crisps contain 30% soluble fiber obtained from Nutriose® and 30% protein obtained from Nutralys®.
Nutriose is a soluble fiber derived from either wheat or corn; is natural, non-GMO, and gluten-free; and very well tolerated in the digestive tract. Clinical studies have shown that it serves as a prebiotic, boosting the concentration of "good" bacteria, while decreasing the concentration of "bad" bacteria in the gut. Furthermore, a recent study shows consumption of Nutriose contributes to increased satiety, which is helpful for weight management.
--- PAGE BREAK ---
Nutralys is a protein extracted from yellow peas, with no known major allergens. It is natural, non-GMO, gluten-free, and offers a balanced amino acid profile. Roquette Cereal Crisps are a perfect alternative for many traditional products such as carbohydrate-laden breakfast cereals, nutrition and granola bars, and various snack options, including trail mixes. The Cereal Crisps have a neutral taste and can be easily seasoned for a savory or sweet finished product. Session 062-02, Roquette America Inc., www.roquette.com, Booth 319.
Eggs deliver satiety benefits
Eggs have an impressive macronutrient composition to contribute to their satiety impact. Eggs provide some of the highest-quality protein of any food, as well as being one of the few nondairy sources of vitamin D. Nutrient-dense ingredients such as eggs can promote a feeling of satiety to help consumers control their eating habits and are easy to fit into formulated foods. In fact, researchers discovered that compared to a bagel-based breakfast of equal weight, the egg breakfast induced greater satiety and significantly reduced the participants' food intake for the rest of the day.
For more on the story of egg proteins and a review of independent scientific studies, attend "The Power of Protein—Macronutrient Composition of Breakfast and Weight Loss" Exhibitor Spotlight session on the IFT Food Expo floor on June 8 at noon. It will feature Don Layman, Professor Emeritus, University of Illinois at Urbana-Champaign, and Nikhil Durandhar, Associate Professor, Pennington Biomedical Research Center. They will speak about the importance of high-quality protein in overall health and the effect of a breakfast of high-quality protein vs a complex carbohydrate breakfast. Discussion will include how the macronutrient composition of meals can affect weight loss, weight management, and body composition.
Also available from American Egg Board are complimentary subscriptions to the quarterly newsletter, EGGSaminer, a product development resource, and EGGSolutions, a monthly electronic newsletter for product formulators that identifies appropriate egg products for various food categories and highlights the many functions, advantages, processing, storage, and handling aspects. American Egg Board, www.aeb.org, Booth 2901
---
Science On … Beauty Foods
Session 019, "Food Science, Nutrition, and Skin: Lessons for the Food Producer and Consumer on Aging, Beauty, and Healthy Skin," on June 7, 8:15–9:45 a.m., will stimulate food professionals to brainstorm on new products and opportunities that will target the emerging anti-aging strategies, wellness trends, and modern consumer needs. The abundant use of vitamins and antioxidants by the cosmetic industry and their effects on skin care and on dermal health has been seriously underestimated, if not ignored, in the food science community.
This symposium will educate and decode the role of vitamins, essential fatty acids, and other nutraceuticals on skin health and their impact on the current needs of the consumer skin care industry. It will focus on conditions such as acne, dermatitis, dry skin, and alopecia, and will provide comprehensive information on the relationship of nutrition and skin, as well as the current strategies in dermatological research.
Consumer marketing trends have brought anti-aging and consumer products to the billion-dollar profit ranges that only drugs used to previously occupy. All of these products are tightly connected with the health and wellness of modern consumers.
---
• An enriched egg, developed together with the ophthalmology department of the Academic Hospital Maastricht, can contribute to the prevention of macular degeneration. Newtricious BV is a Dutch life-sciences company active in the development of nutritional ingredients with a scientifically proven, positive effect on health. Newtricious, together with several leading institutes and universities, developed bioactive peptides for use as ingredients to combat some factors of the metabolic syndrome. Newtricious B.V., www.newtricious.nl, Booth 1519
--- PAGE BREAK ---
• Naturally sourced from marigolds, lutein is one of two carotenoids existing in the human retina. Known for its contribution to eye health, clinical data has indicated lutein is beneficial to ocular health, including age-related macular degeneration and cataracts. ZMC-USA, www.zmc-usa.com, Booth 1813 
---
Science On … Eye Health
Session 142, "Lutein and Zeaxanthin in Visual Performance: New Opportunities for the Food and Beverage Industry," on June 8, 1:30–3 p.m., will help participants gain an understanding of the role of lutein and zeaxanthin in the healthy eye and an understanding of the new science around lutein and zeaxanthin in visual performance.
Of the 600 or so carotenoid pigments found in nature, approximately 20 are absorbed in the blood and by various tissues of the human body. It is known that the eye selectively accumulates two of these carotenoids, lutein and zeaxanthin, and that these carotenoids play a special role in human vision. The accumulation of lutein and zeaxanthin in the eye is highly variable among individuals. Variation in macular pigmentation is seen across the entire lifespan, starting as early as infancy.
Although many nondietary factors contribute to this wide variation, dietary intake clearly drives a large proportion of the variance. This is because the pigments cannot be synthesized by the body directly and must be obtained through dietary intake of carotenoid-rich foods or supplements.
This session will focus on the opportunity to improve visual performance in non-diseased states. The symposium will begin with an overview of the structure and function of the eye and its components, including the progression of sight across the lifespan and variability in macular pigmentation. The protective benefits of carotenoids, lutein, and zeaxanthin in the retina in age-related diseases have been well explored. This will be followed by an introduction of the components of visual performance in healthy eyes. Lutein and zeaxanthin in the macula can act as an optical filter to reduce glare discomfort, reduce glare disability and photostress, improve visibility and image resolution by absorbing scattered blue light, and improve spatial vision by enhancing contrast. In addition, these carotenoids protect the retinal tissue from the damaging effects of blue light and enhance neural gap junction communication for faster visual processing.
---
• Barley beta-glucan and plant sterols offer heart-health benefits. Preliminary studies suggest that Cargill's Barlív™ barley beta-glucan, as part of a heart healthy diet, may promote reduction of serum cholesterol levels. CoroWise™ plant sterols are derived from all-natural plant sources and are formulated for use in food, beverages, and dietary supplements for their cholesterol-lowering properties. The company also offers Oliggo-Fiber® inulin, a line of oligosaccharide products belonging to the group of non-digestible carbohydrates called fructans. Cargill, www.cargillhealthandnutrition.com, Booth 1529
• A heart healthy ingredient, Ubiquinol 5% water soluble SDP, is Kaneka's patented and GRAS preconverted form of coenzymeQ10 that constitutes CoQ10's active antioxidant form. It is available for fortification of a wide variety of food and beverage applications. Food products available for sampling will include an Ubiquinol-fortified beverage and an Ubiquinol-fortified confection. Kaneka Nutrients L.P. is a wholly-owned subsidiary of Kaneka Corp., headquartered in Osaka, Japan. Since 1977, Kaneka has commercially manufactured the only natural CoQ10, fermented from yeast, making the product bio-identical to the CoQ10 produced naturally in the body. Strongly supported by science, KanekaQ10™ is the primary brand of CoQ10 used in National Institutes of Health studies. Kaneka Nutrients L.P., www.kanekaqh.com, Booth 337
• Custom plant sterol ingredients include water-soluble plant sterols for beverages. Pharmachem is participating in IFT's Exhibitor Spotlight Presentations with a session on June 7, at 2 p.m. Those who attend will learn about the Pharmachem family of companies. The presentation is geared to those involved with purchasing, toll processing, contract manufacturing, process development, formulation, and others interested in consolidating their manufacturing and ingredient sourcing. Pharmachem is a service-oriented organization providing customer-specific ingredient, product, and process solutions with expertise in flavor, wellness, and ingredient delivery. Ingredient solutions and product samples will be available immediately following the presentation. Pharmachem, www.pharmachem.com, Booth 1484
--- PAGE BREAK ---
• A 70% oat beta-glucan soluble fiber, B-CAN™ oat beta-glucan is derived from the oat endosperm cell wall. It is a natural polymer comprised of individual glucose molecules that are linked together by a series of ß-(1,3) and ß-(1,4) linkages. It comprises a class of non-digestible polysaccharides called beta-D-glucans. Garuda International, www.garudaint.com, Booth 1769
• A high flavanol cocoa extract, CirKu™, is the best-understood and most-studied cocoa extract in the world in relation to its potential health benefits and circulation health. CirKu will be available in Mars' new dietary supplement called CirKuHealth™ later this year. The company's patented and proprietary process of extraction called Cocoapro® helps retain a consistent level of the biologically active flavanols normally destroyed during the processing of cocoa. Mars Botanical, www.marsbotanical.com, Booth 554
• Nine clinical studies conducted over the past 13 years have shown that almonds can lower cholesterol as part of a diet low in saturated fat. These clinical trials were an integral part of the data submitted to the U.S. Food and Drug Administration for the first authorized qualified health claim: "Scientific evidence suggests but does not prove that eating 1.5 ounces per day of most nuts, such as almonds, as part of a diet low in saturated fat and cholesterol may reduce the risk of heart disease." Almond Board of California, www.almondsarein.com, Booth 377
• Nutrition research and scientific studies are available on the International Nut & Dried Fruit Foundation's Web site (INC). This section offers an updated list of reference articles published in scientific magazines concerning the healthy effects of nuts and dried fruits. The INC Database provides updated information on nutritional research, scientific news, regulations, and statistical and market outlook on tree nuts, peanuts, dates, raisins, prunes, dried apricots, and dried figs. INC is the international source for information on nuts and dried fruits in topic areas including health; nutrition; production, trade and consumption statistics; food safety; government standards; and government regulations regarding trade barriers and trade quality standards. Materials distributed at the IFT Food Expo will include nutrition brochures, booklets, and magazines on nuts and dried fruits; the Go Nuts Go Healthy brochure; the Health in Every Handful brochure; April 2009 issue of The Cracker magazine; the 2008 Annual Report of Activities; and INC Beijing-China Congress information. International Nut & Dried Fruit Foundation, www.nutfruit.org, Booth 552
• A novel gluco polysaccharide, Wellmune WGP® , is a natural ingredient clinically proven to enhance key immune responses and promote health, wellness, and vitality. Designed for functional foods and beverages and dietary supplements, it is a recipient of the 2007 Innovation Award from the Institute of Food Technologists. Biothera will be offering lemonade and bran muffins containing Wellmune WGP. It is a product of Biothera, a biotechnology company dedicated to improving immune health. Biothera, The Immune Health Company, www.biothera.com, Booth 544
• Flavorful icy beverages will showcase a variety of functional ingredients. Two new ingredients include Purimune™ high purity GOS (galactooligosaccharides) for immune system strength and Nu-Mega® omega-3 DHA for cognitive and heart health. GTC Nutrition, a business unit of Corn Products International Inc., provides a portfolio of ingredient solutions that support bone, cognitive, digestive, glycemic, heart, and immune health, and improves product functionality. Other ingredient solutions include NutraFlora® short-chain fructooligosaccharides (scFOS®), a prebiotic fiber that supports bone and digestive health; Aquamin®, a natural calcified mineral source for bone health; BioAgave™ inulin fiber for maintaining digestive health; and OatVantage™ oat bran concentrate for heart and glycemic health. GTC Nutrition, www.gtcnutrition.com, Booth 2323
• An all-natural, high-metabolite immunogen, EpiCor®, helps support and balance the human immune system. This dried fermentate product is derived from a proprietary process that produces beneficial metabolites containing vitamins, minerals, amino acids, and antioxidants. Clinical studies show that it demonstrates significant anti-inflammatory activity, and a recently published human clinical study shows that EpiCor significantly decreases the incidence and duration of cold and flu symptoms. Embria Health Sciences, www.embriahealth.com, Booth 703
• A dairy-derived prebiotic, Vivinal® GOS, has extensive scientific support for its digestive health benefits. Another interesting function is its ability to assist in calcium absorption in the body. Vivinal GOS also has strong scientific support for immunity enhancement. It is heat- and acid-stable, making it very suitable for use in acidic and fruit based drinks. Friesland Foods Domo USA Inc. is part of Royal FrieslandCampina. Domo specializes in dairy-derived ingredients and bio-active components, both proteinand carbohydrate-based. Friesland Foods Domo USA Inc., Booth 1419
--- PAGE BREAK ---
Science On … Joint Health
Session 042, "Natural Therapeutic Intervention in Arthritis and Inflammatory Disease," on June 7, 1:30–3 p.m. will cover recent applications of functional foods and nutraceuticals in the treatment of osteoarthritis and inflammatory disease. In an aging society, there has been an increasing need to improve the quality of life and find alternatives to drugs. This has led to an upsurge of research and knowledge in natural substances that address conditions common to aging, such as arthritis. It is estimated that some form of arthritis affects one in every eight Americans. Therefore, treating arthritis, as well as other inflammatory diseases, through natural means is vital to any integrative physician. Presentations will focus on undenatured type II collagen's role in arthritis and the beneficial roles of natural antioxidants in inflammatory diseases.
---
• Targeting joint health, TandemRain Innovations™, the exclusive marketer of Sports Rejuvenation™ products featuring ActivMSM™, launched Vuel™ and Extreme Vuel™, making their debut as the latest flavor-packed energy drinks to combine hydrating electrolytes and joint health-supporting methylsulfonylmethane (MSM). The beverages are fortified with MSM, iron, and glucosamine to address specific aspects of wellness such as joint function, mobility, and energy. Glucosamine has been widely used to augment the repair of joint cartilage in active individuals, and has been shown to be especially beneficial in aiding the prevention of joint deterioration and loss of movement. ActivMSM has been shown to promote the expression of genetic factors that support healthy metabolism related to inflammation and cartilage degradation, and a favorable response to factors that promote joint and cartilage integrity. TandemRain Innovation, www.tandemrain.com, Booth 2411
• A high-protein, water-soluble, pale white powder, HydrO-5®, is a new eggshell membrane powder processed from a unique naturally occurring source that is rich in five highly sought-after nutritional and functional nutrients: hyaluronic acid—a powerful glycosaminogly with the ability to bind 1,000 times its own weight in water; elastin—an important load-bearing tissue that allows many tissues in the body to resume their shape after stretching or contracting; chondroitin and glucosamine—important structural components of cartilage, providing much of its resistance to compression and widely used for treatment of osteoarthritis; and hydrolyzed collagen, which provides tensile and elasticity and is made up of a complete, balanced amino acid profile. Vyse Gelatin Co., www.vyse.com, Booth 155
• Tricalcium phosphate (TCP) is used primarily as a calcium food supplement for humans and pets. The company has added a small micron TCP to its product line with additional phosphates this year. It is currently expanding by adding a 135,000-sq-ft location in Herrin, Ill. The company now has two plant and office locations. One is in Sesser, Ill., and the other in Herrin. NEI Natural Enrichment Industries, www.neitcp.com, Booth 1558
• Enhanced calcium lactate, Calcium lactate PLUS, meets the demand for a highly soluble calcium source. It has a calcium content 35% higher than in regular calcium lactate and dissolves in a few seconds (also at higher pH) in comparison to the regular lactate. Dr. Paul Lohmann GmbH KG, www.lohmann-inc.com, Booth 2279
• Mineral salts include calcium, magnesium, and potassium derived from citric or gluconic acid. The ingredients offer high bioavailability and specific benefits such as immunity, heart health, muscle health, and bone health, as well as acid-base balance. The company also offers erythritol, an all-natural and low-calorie bulk sweetener, and sub4salt®, a salt substitute that can help reduce sodium content in food products by up to 50%, without compromising on taste. Jungbunzlauer, www.jungbunzlauer.com, Booth 536
• Microencapsulated sensitive ingredients are offered in a broad range thanks to a collaboration with leading ingredient suppliers and using GAT Food Essentials' natural, easy-to-use, and stable technology solution—wowCAPS® technology. This year, GAT extended its already-comprehensive product list by adding Lipid Nutrition's newest weight management ingredients. Now, GAT not only provides its customers with a complete range of omega-3 active ingredients(from fish, algae, flax, and organic flax oil), but also nutritional oils, antioxidants, minerals, and vitamins. GAT Food Essentials, www.gat-foodessentials.com, Booth 1102
• Berry blends are targeted for specific functional applications. Whether you are looking for satiety, energy, bone health, heart health, or health in beauty, the company has developed multiple unique products for your needs. GanedenBC30™probiotic (Bacillus coagulans GBI-30, 6086) provides highly viable cells that survive food processing and gastric acidity. Kaneka Q10™ self-affirmed GRAS coenzyme Q10 is a powerful, fat-soluble, vitamin-like substance that is vital to the production of energy and is a potent antioxidant with numerous health benefits. P.L. Thomas Inc., www.plthomas.com, Booth 727
--- PAGE BREAK ---
• Custom blends are available for dietary foods and supplements, infant formula, sports nutrition, meal replacement, beverages, and bakery. Specialty ingredients include vitamin oil blends, beta-carotene, and spray dried products. Watson Inc., www.watson-inc.com, Booth 110
• A high DHA omega-3 fortified brownie positioned for the children's nutrition market will be featured at the booth. Chocolate treats fortified with immune-enhancing probiotic strains from Puleva Biotech will be featured as well. The Wright Group is focused on formulating fortification systems that help super brands develop the health products that have been embraced by markets around the globe. The Wright Group, www.thewrightgroup.net, Booth 637
• Stearidonic acid–enriched soybean oil is developed as a sustainable source of omega-3 that significantly increases EPA levels in red blood cells and can be added to a broad range of foods. The Vistive® family of products provides additional tools for trans fat replacement. Vistive low linolenic soybean oil and Vistive high oleic/low saturate/low linolenic soybean oils are developed for fry and spray coating applications. Vistive high stearate soybean oil provides solid fat functionality to foods. Monsanto Company, www.monsanto.com, Booth 1678
• DHA is a major structural fat in the brain and eyes and supports neurological and visual health. Martek offers life'sDHA™, a vegetarian-sourced DHA. Martek, www.martek.com, Booth 2653
• Orange juice fortified with OmegaPure®; breakfast cookies fortified with OmegaPure, OmegaBits, and Pizzey's Ultragrad; and bagels and cream cheese with OmegaBits in the bagel and OmegaPure® oil in the cream cheese will be on hand for sampling. Other prototypes will include 1% chocolate milk, muffins, whole-grain slider buns, fruit spreads, cinnamon raisin bread, peanut butter, and salad dressings. OmegaPure products are naturally rich in the long chain omega-3 fatty acids, EPA and DHA. Custom Ingredients' OmegaBits are flavor bits made from fresh vegetable, fruit, spice, and herb concentrates, enhanced with OmegaPure®menhaden fish oil. Omega Protein, www.omegapure.com, Booth 645
• Phosphatidylserine (PS) for functional dairy milk and yogurt drinks will be introduced. The latest improved formula of Lipogen PS is also offered to producers of functional PS milk powder, as it can be easily applied in dairy premixes, blending, or other milk processing. PS is naturally found in human breast milk and is essential for brain development and normal nerve functioning. Lipogen successfully developed its PS line for milk applications to utilize standard dairy production equipment and procedures. Lipogen Ltd., Booth 412
---
Science On … Obesity
Obesity is a global health problem. According to the World Health Organization, about 315 million people worldwide are obese. Session 224, "Obesity: Epidemiology, Pathophysiology, and Prevention," held on June 9, 10:30 a.m.–12:00 p.m., will focus on the epidemiology of obesity as well as new research in obesity prevention.
There will be discussion on obesity prevention through caloric restriction and the use of nutraceutical products. Hydroxycitric acid, a natural extract isolated from the dried fruit rind of Garcinia cambogia, and the micronutrient niacin-bound chromium (III) (NBC) influence specific aspects of adipocyte biology, which may explain their previously reported effects in combating obesity and promoting weight loss. Studies have also shown that the addition of NBC to a regimen of calorie restriction and exercise increased fat loss and lessened muscle loss significantly.
---
• A proprietary natural weight management ingredient, Slendesta® potato extract is a safe and natural satiety ingredient. Its active component, proteinase inhibitor II (PI2), has been researched in clinical studies using more than 500 participants. Slendesta helps dieters feel satisfied sooner and longer, supporting them to manage their hunger, reduce calorie intake through smaller portions, and assist control of between-meal snacking. When taken as directed, Slendesta has resulted in statistically significant weight loss and reductions in waist and hip measurements. Kemin Health, www.kemin.com, Booth 2313
• Resistant starch and soluble fiber will be featured at the National Starch Food Innovation booth. Calling natural resistant starch "a weight loss powerhouse," recent articles on Prevention magazine's Web site and at MSN.com cite 2008 research showing that natural resistant starch helps curb hunger and stabilize blood sugar—even the day after consumption. Hi-Maize® natural resistant starch from high-amylose corn has been shown in more than 70 published human clinical studies to support weight management, energy management, glycemic management, and digestive health. Nutriose soluble fiber delivers great taste, fiber fortification, and prebiotic activity in beverages, dairy products, bakery, soups, and sauces. It offers outstanding digestive tolerance and prebiotic effect, plus at only 2 kcal/g, it keeps total calories low and is excellent for sugar reduction. National Starch Food Innovation, www.foodinnovation.com, Booths 1237, 553
• A natural soluble dietary fiber, Cavamax® W6 cyclodextrin significantly lowers the glycemic index of starch-containing food, and recent studies show that it increases excretion of dietary fat. Wacker products also include cyclodextrin encapsulations or "complexes" of flavors, antioxidants, nutrients, and custom-tailored formulations. The company is introducing Cavamax CoQ10®, a clinically proven, highly bioavailable coenzyme Q10 powder that disperses easily in aqueous systems, allowing for use in beverages and other nutritional products. Wacker Fine Chemicals, www.wacker.com, Booth 1429
Linda Milo Ohr,
Contributing Editor,
Denver, Colo.
[email protected]