Immune health is a concern for consumers of all ages, from the very young to the elderly. According to a report published by Global Business Insights, products marketed as helping to provide immunity are driving new product development in the immune health and vitality sector, and now account for 44% of product launches, says Ram Chaudhari, Sr.Executive Vice President, Chief Scientific Officer, Fortitech Inc., Schenectady, N.Y. (phone 518-372-5155, www.fortitech.com). Interestingly, according the report, the present economic slowdown and its likely impact on consumer expenditures is not expected to have a massive impact on the marketing of immune health and vitality products, although growth may slow in functional and fortified foods in general, says Chaudhari.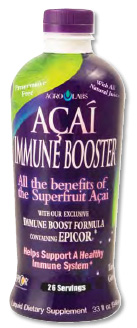 Market shelves are now filled with innovative products, such as Similac Advance Early Shield infant formula from Abbott Nutrition, Columbus, Ohio (phone 800-227-5767, www.abbottnutrition.com), and Minute Maid® Enhanced Pomegranate Lemonade from Coca-Cola Co., Atlanta, Ga. (www.minutemaid.com). Products such as these take advantage of immunity-enhancing ingredients like probiotics, antioxidants, prebiotics, and yeast-based ingredients. While some stimulate the immune system, others balance the system, or provide another layer of defense.
Probiotics and Immunity
Consumers are increasingly aware of probiotics, particularly for immunity and digestive health benefits. Some studies have shown that some probiotics enhance levels of certain immunoreactive cells (macrophages, lymphocytes) or affect regulation of immune factors (cytokines, immunoglobulins). For example, Baron (2009) showed that a patented strain of Bacillus coagulans, GanedenBC30™ from Ganeden Biotech Inc., Mayfield Heights, Ohio (phone 440-229-5229, www.ganedenlabs.com), enhanced T-cell response to certain viral respiratory tract infections. Ten healthy men and women consumed 1 capsule (2 billion CFU of GanedenBC30) with water once a day for 30 days. At baseline and day 30, blood levels of cytokines were measured in vitro after T-cell exposure to adenovirus and influenza A. The use of the probiotic significantly increased T-cell production of TNF-alpha in response to adenovirus and influenza A exposure.
In addition to supplements marketed under the Sustenex® and Digestive Advantage brands, the self-affirmed GRAS strain has recently been added to several new products this year, from iced tea to sweeteners. In July, Red Mango, Dallas, Texas (phone 214-302-5910, www.redmangousa.com), a retailer of authentic nonfat frozen yogurt, introduced made-to-order iced teas with GanedenBC30. The company is also including the probiotic in yogurt. In August at the annual conference of the American Association of Diabetes Educators, Heartland Sweeteners LLC, Carmel, Ind. (phone 317-566-9750, www.nevella.com), unveiled Nevella® with Probiotics, a novel sucralose-based sweetener with GanedenBC30.
Leyer et al. (2009) showed that HOWARU® Protect from Danisco USA Inc., Madison, Wis. (phone 800-255-6837, www.danisco.com, www.howaru.com), reduced the incidence and severity of cold and flu symptoms in children. They gave 326 children, ages 3–5, supplements twice a day for six months. One group received a single strain of Lactobacillus acidophilus NCFM®, another received a combination of Lactobacillus acidophilus NCFM and Bifidobacterium lactis Bi-07, and the third group received a placebo. When compared to the placebo group, the groups that received the single and combination probiotic supplements reduced their fever incidence by 53% and 72.7%, respectively. The duration and severity of cold and flu symptoms were also significantly reduced in the children receiving the probiotics.
--- PAGE BREAK ---
Tubelius et al. (2005) showed that Lactobacillus reuteri from BioGaia, Sweden (phone +46-0-8 555-293-00, www.biogaia.com), increased workplace healthiness in a study of 181 healthy adult workers. In the 80-day study, workers were divided into either test or placebo groups. The test group received dried 108 CFU/ml of L. reuteri ATCC55730 per day, dispensed in a drinking straw together with at least 100 ml of liquid. The researchers found that the number of workers absent was lower in the group that consumed L. reuteri than in the group that consumed the placebo. Additional studies have shown that L. reuteri decreased the risk of community-acquired bacterial and fungal infections in young children, including infants in daycare and high-risk preterm infants nursed in intensive care units, and that L. reuteri reduced the risk of allergic symptoms in infants 0–24 mo old.
Yeast-derived Ingredients and Immunity
Noted for its immune-enhancing benefits, Wellmune WGP® from Biothera, The Immune Health Co., Eagan, Minn. (phone 651-675-0300, www.wellmune.com), is a gluco polysaccharide isolated from the cell walls of a proprietary strain of yeast (Saccharomyces cerevisiae). The yeast-derived beta-glucan naturally activates and directs innate immune cells to more quickly identify and kill foreign challenges, enhancing immune function without stimulating the immune system. It activates white blood cells (neutrophils) to more quickly find and kill foreign challenges. Four clinical studies, featuring four different populations (firefighters, marathoners, healthy subjects, and individuals with high lifestyle stress), have demonstrated Wellmune's ability to protect against stress-related health challenges. In each study, participants taking Wellmune reported substantial improvements in vigor, mental clarity, and overall health, as well as reductions in upper respiratory infection symptoms.
Most recently, Feldman et al. (2009) showed that Wellmune reduced the incidence of fever and eliminated the need for study subjects to miss work or school due to cold-like symptoms. A group of 40 healthy adults (ages 18–65) participated in the 12-week study during the cold/flu season. Those in the experimental group received 500 mg/day of Wellmune. The duration and severity of symptoms were alleviated in these subjects. They also reported no missed work or school due to colds, compared with 1.38 days missed for those in the control group.
Canada-based A. Lassonde Inc. (phone 866-552-7643, www.alassonde.com), recently introduced OASIS Health Break Immuniforce, which features the patented gluco polysaccharide. The blend of blackcurrants and elderberries contains enough Wellmune WGP to activate the immune system of a child or an average-sized adult.
Açai Immune Booster from AgroLabs Inc., Hillside, N.J.(phone 972-471-2140, www.agrolabs.com), features another yeast-based ingredient, EpiCor® from Embria Health Sciences LLC, Ankeny, Iowa (phone 515-964-9004, www.embriahealth.com). The S. cerevisiae fermentate is manufactured using a proprietary technology, which produces metabolites, vitamins, minerals, and antioxidants that deliver nutritional benefits and supports increased bioavailability. Designed to modulate and balance the human immune system, EpiCor has been shown to possess anti-inflammatory activity and activate crucial defense cells (natural killer, T-, and B-cells).
Moyad et al. (2008) demonstrated that when taken daily, EpiCor significantly reduced the incidence and duration of cold and flu-like symptoms when compared to a placebo in subjects vaccinated for seasonal influenza. In the 12-week study, 116 healthy participants with up-to-date vaccination histories received daily supplementation with 500 mg of EpiCor or a placebo. The subjects given EpiCor experienced a statistically significant reduction in the incidence and duration of colds or flu.
In May 2009, EpiCor received a new GRAS designation at the inclusion rate of up to 3 g/ serving in all food categories, including bars, breads, broths, dried cereals, flavored drinks, frozen yogurt, fruit juices, hard candy, milk drinks, snack dips, soups, sports beverages, and spreads.
--- PAGE BREAK ---
Prebiotics and Immunity
Regarding prebiotics, it is generally believed that their ability to selectively stimulate the growth and activity of bifidobacteria ("bifidogenic effect") and lactobacilli in the colon is the basis for their impact on well-being and (gut) health (Sensus America LLC, 2008). In the large intestine, prebiotics are fermented by the healthier bacteria that are naturally present in the body's colonic microflora. These bifidobacteria and lactobacilli are selectively stimulated at the expense of potentially harmful bacteria, resulting in healthier colon flora. Commercial prebiotics include inulin, oligofructose, galactooligosaccharides, and arabinogalactan.
The bifidogenic effect of inulin, when taken in relatively small amounts, is now well established in various studies, not only in adult subjects but also in other age groups (Sensus, 2008). Apart from the bifidogenic change in the composition of the colon microbiota, there is emerging evidence—mainly from animal and in vitro studies, but also some human studies—for the potential of inulin to influence colonic function. There are indications to support the hypothesis that inulin-type fructans may reduce the production of potentially toxic metabolites by suppressing specific enzyme activities in the colon. In addition, they may increase the concentration of compounds that could be beneficial for the host.
Sensus America LLC, Lawrenceville, N.J. (phone 646-452-6140, www.sensus.us), offers Frutafit® inulin and Frutalose® oligofructose. Frutafit comprises a range of powdered inulin products while Frutalose is the brand name for partially hydrolysed inulin, oligofructose.
Added to the immune ingredient market last year, Purimune™ from GTC Nutrition, Golden, Colo. (phone 303-216-2489, www.gtcnutrition.com), is a high purity (90%) prebiotic galactooligosaccharide. The non-digestible carbohydrate supports immune health by nourishing and stimulating the growth of beneficial microflora and helps to prevent the growth and attachment of pathogenic bacteria in the colon. The company also offers NutraFlora®, a prebiotic fiber that contains a minimum of 95% short-chain fructooligosaccharides (scFOS®) derived from sucrose.
Derived from the bark and wood of larch trees, ResistAid™ from Lonza Inc., Allendale, N.J. (phone 201-316-9200, www.lonza.com), consists of the soluble polysaccharide arabinogalactan and bioactive flavonoids, such as taxifolin and quercetin, which possess antioxidant activity. The mechanisms of larch arabinogalactan's benefits include direct effects on components of the immune system, specifically, natural killer cells, cytokines, and macrophages. For example, according to the company, intraperitoneal administration of larch arabinogalactan to mice during a 2-week period stimulated natural killer cell activity while larch arabinogalactan administered to healthy human subjects was found to significantly increase human circulating peripheral blood monocytes.
Vitamins, Minerals, and Immunity
A recently introduced drink, Immunity Enhanced Beverage from Innovative Beverage Products LLC, Las Vegas, Nev. (phone 800-530-8916, www.innovativebeverages.com), showcases various vitamins and antioxidants used to promote immunity. The ready-to-drink liquid supplement is intended to strengthen the body's immune defense, while also reducing the symptoms of the common cold and flu. The 4-oz shot features green tea extract, polyphenols, grape seed extract, grape skin extract, mushroom extract, vitamins C, B-6, and B-12, niacin, folate, zinc, and sodium.
At this year's IFT Food Expo®, Fortitech Inc. featured an immunity-boosting ice cream fortified with vitamins A, E, C, B-1, B-12, B-2, and B-6, as well as biotin, folic acid, selenium, zinc, coenzyme Q10, and lycopene.
"We need to prevent inflammatory conditions via nutritional intervention," says Chaudhari. "Indirectly, this will improve the overall immune function as well as the digestive process and allow an individual to rest or sleep, thereby enabling better absorption of nutrients such as vitamins A, C, and E, green tea, isoflavones, polyphenolcontaining functional food ingredients, and certain minerals such as zinc, selenium, iron, and botanical extracts such as echinacea," according to Chaudhari.
--- PAGE BREAK ---
News to Digest
Digestive health and immunity are often linked together. "Consumers are increasingly aware that digestive health can have a direct impact on immunity as well as overall wellness, their energy levels, and even the appearance and condition of their skin," observes Chaudhari. In Fortitech's technical paper, "Good for Your Guts Foods," Chaudhari explains that there is an intimate connection between a person's immune system and their gut (Fortitech, 2008). "Cells of the immune system are constantly patrolling the gut environment to protect the body from unwanted bacterial and viral invaders. It is increasingly appreciated that there are many beneficial bacteria living in the colon that are important to a healthy immune system and may be important in the fight against cancer or other ailments. New information also suggests that certain bacteria may have a positive effect beyond the gut by affecting the microecology of the oral cavity, stomach, and vaginal tract."
Some of the same ingredients that are reported to benefit immunity also promote digestive health, particularly in the areas of irritable bowel syndrome, gastroenteritis, gastroesophageal reflux, diverticular disease, and colorectal cancer.
Probiotics and Digestive Health
Hun (2009) showed that GanedenBC30 from Ganeden Biotech Inc., may be a safe and effective option for the relief of abdominal pain and bloating for patients with irritable bowel syndrome. In the study, 44 subjects received either a placebo or B. coagulans once a day for 8 weeks. Improvements from baseline abdominal pain and bloating scores in the subjects who took B.  coagulans were statistically significant for all 7 weekly comparisons.
High Culture™ Frozen Yogurt offered by YoCream International Inc., Portland, Ore. (phone 503-256-3754, www.yocream.com), contains L. acidophilus NCFM (trade name HOWARU Dophilus from Danisco USA Inc.) at a level of 1 billion bacteria/serving to strengthen the body's natural digestive system. Based on more than 75 publications, L. acidophilus NCFM's health attributes include improving gastrointestinal health and well-being, aiding digestion and well-being, reducing gastrointestinal discomfort, and reducing lactose-intolerance symptoms.
Prebiotics and Digestive Health
Danisco, Elmsford, N.Y. (phone 913-764-8100, www.litesse.com), formulated its prebiotic offerings, Litesse® and Lactitol with HOWARU Dophilus in a strawberry yogurt-filled confection and vanilla wafer. The combination creates a synbiotic effect with digestive health benefits. Litesse polydextrose is a highly branched polymer of glucose. Its arrangement of glycosidic linkages makes it resistant to hydrolysis by human digestive enzymes. The positive effects of Litesse as a sustained prebiotic are apparent at doses as low as 4 g/day in humans. Findings have indicated that it is fermented slowly and consistently throughout the colon, selectively stimulating the growth of bifidobacteria and lactobacilli, enhancing immune response, especially in combination with lactitol, promoting the generation of short chain fatty acids that have documented colonic health benefits, and possibly reduce colon cancer risk.
As prebiotics, inulin and oligofructose are used as a source of nutrients by the colonic microflora via fermentation, selectively stimulating the good bacteria, promoting intestinal function and reducing digestive problems. Several commercial forms are available.
--- PAGE BREAK ---
• Orafit® Synergy1 from BENEO-Orafti Inc., Morris Plains, N.J. (phone 973-867-2140, www.beneo-orafti.com), is a unique composition of oligofructose and inulin, extracts from chicory root, which has been specifically formulated to improve digestive health. BENEO-Orafti's inulin and oligofructose promote regular bowel movement, improve intestinal transit, improve intestinal health, and promote a healthy digestive system. A fruit juice by Coca-Cola–owned company Fresh & Co. in Serbia contains BENEO-Orafti's inulin and oligofructose, along with the BENEO™ label on the packaging. The juice, called neXt Bodytime PreBiotic, has this prebiotic claim on-pack: "to help support your body's digestive well-being."
• BioAgave™ inulin fiber from GTC Nutrition is derived from the Blue Weber agave plant. It contains 90% inulin to support digestive health.
• Oliggo-Fiber® inulin from Cargill Inc., Minneapolis, Minn. (phone 800-227-4455, www.cargill.com), is an effective prebiotic at a daily consumption of 5 g/day. Research also indicates that inulin may enhance dietary calcium absorption, particularly among preteens and postmenopausal women.
A digestion-resistant maltodextrin, Fibersol®-2 from ADM/Matsutani LLC, Itasca, Ill. (phone 217-451-4377, www.fibersol2.com), is produced by a proprietary method of controlled enzymatic hydrolysis of cornstarch. It has numerous starch linkages that remain undigested by enzymes of the human digestive tract. Recognized as GRAS, the digestion-resistant maltodextrin is a low-viscosity soluble dietary fiber that clinical research has indicated helps support or maintain intestinal regularity.
A resistant starch, Hi-maize® from National Starch Food Innovation, Bridgewater, N.J. (phone 800-743-6343, www.foodinnovation.com), has been shown to promote digestive health via prebiotic activities. Le Leu et al. (2005) confirmed that the high-amylose, corn-derived resistant starch reduced large intestinal pH, increased the growth of lactobacilli and bifidobacteria and increased short-chain fatty acids, including butyrate (all biomarkers for a healthy colon). Toden et al. (2006) indicated that natural resistant starch prevents colonic DNA damage induced by a high-protein diet. The study showed increased protein (cooked red meat and/or casein) in the diet increased colonic DNA damage. The addition of Hi-maize to the diet, however, prevented the damage to and thinning of the protective mucous layer.
Vitamins, Minerals, and Digestive Health
Digestive enzymes, which include proteases, lipases, and amylases are often taken as supplements to help digest foods. Amino acids, such as glutamine, glutamate, arginine, glycine, and histidine may be important in promoting gut health, says Fortitech's Chaudhari.
"Chronic inflammatory bowel disease is often characterized by alternating periods of inflammatory flare up, followed by periods of remission," he notes. "Some randomized clinical intervention studies have shown that omega-3 fatty acid supplementation can be beneficial in the maintenance of remission in this disease. In addition, the anti-inflammatory properties of vitamin D support a role for this vitamin in inflammation-based disorders in the GI tract."
References cited in this article are available from the author.