The dynamic movement of peoples across borders has affected how people eat and what they eat. America is referred to as a "melting pot," with people having emigrated here from virtually every place on earth over the last couple of centuries. They brought with them new recipes, new food preparation methods, new ingredients, and new flavors, all of which played to the immigrants' own cultural identity. Over time, many of these "exotic" or "unusual" foods and ingredients became widely popular, sharing space on grocery store shelves, like salsa and ketchup, for instance.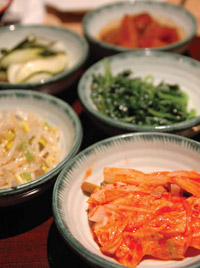 This phenomenon is not exclusive to the United States; around the world, immigration, colonization, and invasions have helped to spread culinary traditions. Cuisine in Brazil is heavily influenced by Europeans from Portugal, Spain, Germany, and Poland. The Chinese and French have influenced Vietnamese cuisine. And Thai cuisine was influenced by the Japanese, Portuguese, French, and Dutch.
Once a novelty, especially in many areas of the United States, ethnic foods—both authentic and Americanized versions—are now found in restaurants and grocery stores across the country in both small towns and large urban areas. There is even a burgeoning Internet market for ethnic foods and ingredients. Sales of ethnic food products in the U.S. hit $2.2 billion in 2009 in food, drug, and mass retailers excluding Wal-Mart (FDMx) and are expected to increase 20% from 2010 to 2014 (Mintel, 2009). Major U.S. food companies are stakeholders in other companies that produce ethnic foods. Under a joint venture with Strauss Group, PepsiCo operates Sabra Dipping Co., manufacturer of a variety of hummus spreads.
There's no doubt that Americans have an appetite for ethnic fare, and product developers would be well advised to take note of this popularity by examining the trends in the ethnic cuisine market and developing ethnic-inspired products using authentic flavors and ingredients to drive consumer interest.
Cooking Up a Buzz About Ethnic Cuisine
While immigration has contributed to the popularity of ethnic cuisine, it is not the only factor. Increased amounts of travel play a role, as does the popularity of cooking shows, cookbooks and cooking magazines, and travel shows such as "No Reservations" and "Bizarre Foods," which highlight foods from locations around the U.S. and the world.
Chefs also play a role in generating buzz about ethnic cuisine. With their access to a variety of ingredients from around the world and their ability to visit and eat at many different ethnic restaurants, chefs can take this experience and knowledge and create recipes that reflect traditional ethnic dishes and flavors.
--- PAGE BREAK ---
Incidentally, when the ingredients and dishes appear on menus of upscale, ethnic, or independent restaurants, it represents stage one in a five-stage process of measuring the emergence of trends, says Kara Nielsen, Trendologist with the Center for Culinary Development (CCD), San Francisco, Calif. Developed by the organization, the proprietary process of Trend Mapping® follows ingredients and cuisines as they move through five distinct stages on their way to becoming part of a wider trend. The second stage is when the ethnic ingredients and entrées get coverage in mainstream cooking magazines like Food & Wine and Bon Appétit or on cooking shows that appear on The Food Network, or are sold in retail stores that cater to clientele like culinary professionals and serious home cooks. The third stage is when chefs at chain restaurants use the ingredients and include the entrées on menus as well as when retail stores that target recreational home cooks begin selling the ingredients. As women's magazines and consumer magazines like Better Homes and Gardens include stories about the ethnic cuisines and print recipes, the potential trend moves into the fourth stage. Finally, the trend is said to move into stage five when quick-service restaurants include the cuisine on menus and mainstream grocery stores carry the ingredients and products.
The process of an ethnic cuisine becoming a full-fledged trend with ingredients and entrées being incorporated into a processed food sold at grocery stores is often slow, and there is no guarantee of success. Product developers face a number of challenges that can affect the success of an ethnic-inspired product such as cost of ingredients, ingredient sourcing issues, functionality of ingredients, processing conditions, the fact that the ethnic recipe may not translate well to a shelf-stable or frozen food product, sensory acceptance of ingredients and the finished products, and the emerging palates of consumers.
"It can take years and years before it's ever going to turn into a product on the store shelves," says Nielsen. "Not every ethnic dish is going to make it. It has to be something—an ingredient or flavor profile of the dish—that relates to a mainstream audience.
She cites the example of Pad Thai, a noodle dish made with peanuts, shrimp, tofu, and a squirt of lime. The flavor profile is a bit on the sweet side, and even though it contains fish sauce, the taste of it is often not noticeable. These ingredients, with the exception of the fish sauce, are recognizable to Americans. Product developers and culinary professionals working for food manufacturers and quick-service restaurants need to take familiar elements of an ethnic dish and highlight those or combine them with ingredients that are unfamiliar as a way to introduce ethnic ingredients and entrées to consumers, notes Nielsen. The result is a product or menu offering that is just different enough so as not to alienate the average consumer. The use of chipotle in spreads for sandwiches as the fast-casual restaurant chain Panera Bread has done is an example. The restaurant features a chipotle mayonnaise on its Cuban Chicken Panini and Frontega Chicken® Panini and an ancho-chipotle spread on its Chipotle Chicken Sandwich.
Kevan Vetter, Executive Chef for McCormick & Co., Sparks, Md., gives credit to the fast-casual restaurants, quick-service restaurants, and even casual restaurants that are expanding menus to include ethnic offerings. It is often as simple as incorporating one ingredient as Panera Bread did in the examples cited above or, as Vetter mentions, McDonald's did by adding edamame in its Asian Salad.
"These restaurants are definitely more adventurous in what they are putting on menus, and consumers are responding to that," says Vetter.
Up-and-coming Cuisines
Some ethnic cuisines contain ingredients or have signature recipes prepared using methods that are quite familiar to American consumers, making it possible for these cuisines to become the next "hot" trends in both the culinary and processed foods arenas. Peruvian food is one such emerging cuisine as it incorporates different kinds of seafood and fish, potatoes, and corn—all familiar to Americans—with influences of cuisines from Spain, Italy, Africa, China, and Japan (CCD, 2009). Meat and poultry is often skewered or prepared rotisserie-style. Again, there is a familiarity with these preparation methods. In formulating a product or quick-service restaurant menu offering with a Peruvian flair, product developers can use seasonings commonly used in Peruvian cooking like aji and rocotos (hot chili peppers) and huacatay (a native herb) to create a marinade for fish and meat or a seasoning blend for potatoes.
--- PAGE BREAK ---
"There are a lot of cuisines available but there has to be some sort of driving factor that is going to push them out into the consciousness," says Nielsen. With Japanese cuisine, another cuisine poised for "trend translation," there are a few core dishes and flavor profiles like sushi and teriyaki that are familiar to and accepted by Americans. "Those become the portal or entryway into exploring some of the other foods and flavors that may be a little different," adds Nielsen.
These foods, flavor profiles, and ingredients from Japanese and other emerging ethnic cuisines move through the five stages at different times and at different speeds. With Japanese cuisine, for example, edamame—green soybeans harvested right before they mature—is at stage five. Consumers can purchase edamame at grocery stores like Dominick's, Jewel–Osco, Meijer, and Trader Joe's as well as dine on them at restaurants like Flat Top Grill.
The growing popularity of Peruvian cuisine is quite noticeable around the food industry. For example, Bon Appétit magazine named Peru's capital city, Lima, as the "next great global foodie destination," citing the city's access to an abundance of seafood, a temperate climate suitable to growing different kinds of vegetables, and culinary traditions that fuse indigenous ingredients and cuisines with those from regions around the world (Duane, 2009). Wixon in June 2010 introduced several ethnic-inspired products that feature key ingredients used in ethnic cuisines, one of which is Peruvian cuisine. Wixon's dry seasoning blend includes aji amarillo pepper, and the company reports that the seasoning blend can be used in meatloaf, meatballs, and burgers. And David Michael & Co. featured the flavor of the lucuma fruit in a molded lucuma ice cream novelty with chocolate and a cookie base at its 2009 Innovation Roadshow. The fruit, which is native to Peru, has a yellow-orange pulp and a mild flavor with sweet brown and ginger notes. In Peru, it is a popular ingredient to flavor ice cream.
"Ethnic flavors enable more diversity in a brand, whether it is to offer a greater and more adventurous variety, or to appeal to an ethnic group's need for authentically flavored products," says Erin Kate O'Donnell, Marketing Manager for David Michael & Co., Philadelphia, Pa.
The emergence of Moroccan and Korean foods, flavors, and ingredients on menus and in the processed food industry is not surprising to trend analysts. Like Peruvian cuisine, the crossover potential of Moroccan cuisine is due to Americans' familiarity with many foods and ingredients like pasta, olives, citrus, and cinnamon, as well as cooking techniques like stewing, roasting, and grilling (CCD, 2009). And Korean cuisine, a "gutsier, full-flavored version of Japanese," incorporates some flavors from Chinese and Japanese cuisines familiar to Americans such as soy sauce, garlic, and ginger into dishes made with gochujang, a fermented red chili paste, and doenjang, a fermented soybean paste.
New Southern cuisine is another emerging ethnic cuisine on the CCD list. This cuisine emphasizes heritage and artisanal foods and ingredients like heritage grits and country ham, which can be traced to specific locations in the Southern region of the U.S. (CCD, 2009).
Bringing Regional Cuisine to the Mainstream
While time will tell how popular foods from these cuisines will be, there are some cuisines that are so popular, so entrenched in the American culinary way of life that we may not think of them as ethnic anymore. These include Mexican, Italian, and Chinese.
--- PAGE BREAK ---
Respondents to a consumer survey ranked Italian, Mexican, and Chinese cuisines as the top favorite cuisines (Mintel, 2009). Sales of Mexican/Hispanic foods in 2009 reached 62% of FDMx sales at $1.4 billion, making it the largest segment of the ethnic foods market, and sales are expected to hit $1.6 billion by 2014 (Mintel, 2009). Sales of Asian foods are also increasing, driven in part by the growing popularity of Korean, Thai, Japanese, and Vietnamese cuisines. The Asian foods category represents 28% of FDMx sales of the ethnic foods market. In 2009, FDMx sales reached $600 million, and by 2014, they are expected to reach $800 million (Mintel, 2009). Among Mintel survey respondents, 43% said they had prepared Chinese food at home in the past month, and seven out of 10 respondents reported preparing Italian food at home in that timeframe (Mintel, 2009).
Many of the Italian and Mexican offerings available have been Americanized, with certain elements of those cuisines having been brought into mainstream America. (Think spaghetti and meatballs and chips and salsa.) Since these are Americans' takes on Italian and Mexican, they become limited and not very authentic, says Nielsen. As a result, chefs, foodies, and even some consumers are realizing that there is a lot more to these and other locations and countries, and, therefore, they are diving down deeper into regional cuisines to understand flavor nuances and similarities/differences of these cuisines.
"There really isn't such a thing as a national cuisine," says Nielsen. "A national border is a political border around a place that doesn't take into consideration where little pockets of people have been cooking for centuries, hundreds of years, or decades in a certain way. Real cuisine comes from a much smaller geographical location. So when you think of Italy, there's Tuscan and Piedemont, Roman, Neopolitan, cuisine from Sardinia, and the cuisine from Sicily, and even in Sicily, there are probably variations from one side of the island to the other."
Seventy percent of professional chefs ranked regional ethnic cuisine as a "hot trend" (NRA, 2009). This interest in regional cuisine is a way for chefs and product developers to expand their options by giving them new inspirations to help differentiate their ethnic cuisine offerings even further. Rick Bayless of Frontera Grill, Topolobampo, and XOCO restaurants in Chicago creates salsas, sauces, and entrées for his restaurants based on the ingredients and dishes from the different regions of Mexico such as Oaxaca, Yucatan, Michoacan, and Veracruz. In his work assisting clients with their product development needs, Sean Craig, Senior Executive Chef of Spicetec Flavors & Seasonings, definitely sees both consumers and product developers dialing in to certain regions, particularly those in Mexico and South America.
Retail products like Indian simmer sauces are developed to reflect the indigenous ingredients of certain regions of India, which is a country of diverse regional cuisines, ingredients, and cooking methods. The Maya Kaimal™ line of Indian simmer sauces are based upon the company's founder Maya Kaimal's family recipes from the tropical South India region. The varieties include Tikka Masala, a creamy tomato-based curry seasoned with ginger, cilantro, dried fenugreek, and sweet spices; Tamarind Curry, which blends tamarind, coconut milk, and curry leaves with ginger, garlic, green chili, and other ingredients; Coconut Curry, made with ginger and coconut milk; Classic Korma, a curry made with warm spices and yogurt; and Vindaloo, a curry that includes caramelized onions and tamarind. An interesting note is that just about all of the ingredients in these sauces are ingredients familiar to the average American consumer: onion, ginger, garlic, yogurt, cilantro, tomato puree, coconut milk, and paprika. What makes products like these simmer sauces exciting is the combination of these familiar ingredients (with a few unfamiliar ones like tamarind and fenugreek) to create flavors that are just different enough to differentiate these ethnic simmer sauces from gravies and cream sauces.
Targeting the American Palate
In recent years, ingredient suppliers have acknowledged the growing popularity of ethnic foods and flavors, regional cooking and recipes, and authenticity, and have begun to develop more specific ingredients for product developers and chefs.
"To develop exotic flavors that appeal to the American palate, our flavor chemists look at combinations—familiar flavors that pair well with the less familiar," comments O'Donnell. "An older example of this is kiwi. When kiwi was still a rather new flavor to the American market, it was often paired with strawberry. This is because kiwi flavor has some strawberry notes."
--- PAGE BREAK ---
Speaking of flavor pairings, the annual McCormick Flavor Forecast highlights flavor combinations that represent some of the emerging trends in culinary and product development, and many of these pair a familiar ingredient with an unfamiliar, oftentimes an ethnic, ingredient: cherry and cayenne, watermelon and Thai basil, chives and fish sauce, cocoa and chile, poppy seed and rose, and maple and wasabi. There's a trick to making these sound appealing to consumers: Explain what the flavor is and how it tastes in terms to which people can relate. For example, Vetter describes the maple-wasabi combination as a "contemporary honey mustard" with a hot-and-sweet flavor.
Even something as simple as changing the name of a product can make a difference to consumers. Less adventurous consumers may not purchase a food product that has Korean BBQ in the name because they may not understand what Korean BBQ is, but they are more likely to purchase one that highlights ingredients or flavor profiles like sesame-ginger chicken, says Nielsen. In the case of a McCormick seasoning blend called Cinnamon Chipotle, the company renamed it Sweet & Spicy Rub because sales did not meet expectations, but after the name change, sales "went through the roof," states Vetter.
Typically, product developers will compare the "gold standard" of an ethnic recipe to the R&D bench top sample to determine if the sample is acceptable, how close they are, and what tweaks to the formulation should be made, says Craig.
Ingredient suppliers are also showcasing their ingredients in ethnic-inspired prototypes. At the 2010 IFT Annual Meeting and Food Expo, Griffith Laboratories highlighted an ingredient for reduced-sodium applications in Chicken Tikka and Jeera Rice Pilaf, and California Walnut Board offered French Style Chocolate-Walnut Macarons, Muhamarra Dip Served on a Pita Chip, and Spanish-Style Walnut Romesco Sauce over Tortellini.
Foodservice often drives the growing popularity of ethnic foods because it offers consumers an accessible way to try them (Datamonitor, 2005). Whether eating at fine dining, chain, or quick-service restaurants, consumers are exposed to an array of ethnic foods, be those entire dishes or ingredients that are included in an element of the dish, like a sauce. That said, the increasing exposure encourages many consumers to prepare their own ethnic food, whether from scratch or by using processed foods like the simmer sauces mentioned earlier in this article or meal kits, two types of processed food products on which product developers can capitalize (Datamonitor, 2005). In fact, 84% of respondents to a consumer survey have prepared at least one ethnic meal at home in the past month (Mintel, 2009).
From January 2005 to June 2009, 5,206 new Asian food products and 1,987 new Hispanic food products were launched in the U.S. (Mintel, 2009). During this period, sauce and seasoning launches were a little more than a third of new Asian product launches and about one quarter of new Hispanic product launches; snacks were 22% of new Asian products; and meals/meal centers were about 25% of new Hispanic products (Mintel, 2009). Some ingredient suppliers like Kikkoman Sales USA have developed sauce lines for foodservice and food manufacturers. Kikkoman's sauces include ones for use in Chinese, Japanese, Thai, and Korean finished products as well as curry sauces for use in Indian finished products like curries or to add the flavors of Indian cooking to a variety of applications. Here is an interesting use of an ethnic sauce: At the 2010 National Restaurant Association Show, Agriculture & Agri-Food Canada featured a Tequi-Lime Sauce, a combination of Asian grill flavors, chilis from Mexico, lime, and tequila, on potato- or cheese-filled pierogies.
--- PAGE BREAK ---
As consumers become more educated about food, and as their palates become more sophisticated through exposure to foods, flavors, and ingredients from other regions around the country and the world, they start demanding more authentic and more flavorful food. "There are many people who are foodies, and whether they know how to cook or not, people are much more educated on food and they appreciate and understand it," remarks Vetter.
Food is not going to be bland, tasteless, boring, and unadventurous, says Nielsen. "Just as consumers expect to have a choice when they go out to dinner, they now go to the freezer section in the store and expect to have a bigger choice too." That makes the job of product developers challenging, but exciting as well.
---
On the Horizon
What other cuisines and flavors have crossover potential or are gaining popularity among product developers and consumers? Indian is hot because of its use of warm spices like cinnamon, turmeric, coriander, and cumin that add flavor and impact to foods, says Kevan Vetter, Executive Chef for McCormick & Co., Sparks, Md. Cinnamon, nutmeg, clove, and cardamom are used in baking applications so Americans are accustomed to the flavors. While Indian food is less accepted and familiar to Americans than Mexican and Chinese cuisines, it is the fastest-growing segment of the ethnic food product market, with FDMx sales having increased 34.5% from 2006 to 2008 (Mintel, 2009). Americans are seeking out spicy foods, and many of the Indian food products are sauces or heat-and-eat.
Australian cuisine is one that Kara Nielsen, Trendologist with the Center for Culinary Development (CCD), San Francisco, Calif., is monitoring to determine if any of the foods and flavors have staying power. While there are few restaurants offering Australian fare here in the United States, organizations that represent various commodities and ingredients produced in the country have launched public relations campaigns, she adds. British immigrants in the 1800s influenced the cuisine, but in recent decades, waves of Asian immigrants have given the cuisine, which includes meats, seafood, and native herbs, a decidedly Pacific Rim flavor. David Michael & Co. highlighted the flavors of wattleseed and riberry—a seed and a plant, respectively, from the Australian Outback— in prototypes at its 2007 Innovation Roadshow. At the 2009 event, the company featured a rosella (wild hibiscus) flavor in a carbonated beverage and a pectin candy and an Australian blood lime flavor in a carbonated beverage and a hard candy. In Australia, rosella, which has a fruity flavor, is used in jams and confits, and lime, which has a sweet and tangy flavor, is used in cocktails, sauces, desserts, and savory dishes, according to the company.
Some of the experts interviewed for this article mentioned Spanish, Greek, Vietnamese, and Thai as other cuisines of interest. When considering the amount of products available at mass retailers, Thai has the largest reach. The Thai Kitchen line of products and ingredients, which are available at grocery store chains across the U.S., include chili sauces, fish sauce, seasoned rice dishes, simmer sauces, instant rice noodle soups and rice noodle meal kits in a variety of flavors, and canned soups in Coconut Ginger and Hot & Sour varieties.
David Michael has featured several Thai flavorings in such prototypes as Vanilla Thai Red Curry Coconut Milk Flavored Ice Cream, Thai Yellow Coconut Curry Flavored Roux, Thai Twist Salad Dressing and Madras-Gascar Soup, and Thai Basil Dressing in Asian Slaw and Kaffir Lime Leaf Mousse at its past Innovation Roadshows.
The flavors of two Southeast Asian fruits are generating interest among flavor chemists and product developers (FONA, 2009). Rambutan is an aromatic fruit often included in yogurts and chilled desserts in Asia and in beverages and desserts in fine dining restaurants in the U.S. Jackfruit, said to have a flavor similar to pineapple, was used as a flavoring in a vitamin water and energy beverage in the U.S.
by Karen Nachay, a member of IFT, Associate Editor of Food Technology magazine ([email protected]).