It's been four years since Al Gore's groundbreaking global warming documentary, An Inconvenient Truth, debuted and re-energized the environmental movement for the 21st century. But in the last several years, being green hasn't stopped at climate change. With the release of food-focused books and films including The Omivore's Dilemma and Food, Inc., the proliferation of local farmers markets, and the ubiquity of organic foods in mainstream retail, sustainable eating has become top-of-mind for millions of consumers. Today it's increasingly difficult to escape the buzz around sustainable products in the news, advertising, politics, and on supermarket shelves.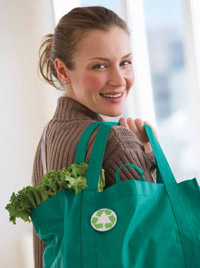 So in an environment with so much white (or in this case, green) noise, what do consumers really think about sustainability? How much has changed since the green movement began gaining momentum? And what impact has the recession really had on the way consumers buy sustainable food and drink?
Shades of Green
When it comes to self-reported green purchasing behavior, change has been seismic since 2006. In August 2006, Mintel asked Americans how frequently they purchased green products. Based on consumers' responses, Mintel classified just 12% as "True Greens" (those who regularly purchase green products). Mintel dubbed the overwhelming majority (68%) "Light Greens" (those who sometimes purchase green products), while the 20% who never bought sustainable goods were "Never Greens."
Fast forward to December  2007, and those shades of green looked very different. By 2007, True Greens had doubled to include 27% of Americans, just as Never Greens had been cut in half at just 10% of the population. The occasional green shoppers, Light Greens, dropped to 54%, but a new segment—"Super Greens" who always or almost always purchased sustainable products—emerged at 9% of the population.
Given the growing momentum for green living since 2007, Mintel might have expected True Greens and Super Greens to ultimately eclipse Light Greens and Never Greens. But shades of greenness have plateaued since late 2007. In fact, the percentages of Americans aligned with each green segment remained virtually unchanged in 2008, 2009, and even in 2010. As of June 2010, the majority of Americans (57%) buy green products only some of the time. Just over one-third of the population purchase sustainable goods always, almost always, or regularly, while less than 10% never buy these products.
So what does the static nature of green consumers mean for the food industry? The good news is that green shopping behavior—or at least the self-reported version of it—appears virtually recession-proof. Mintel's shades of greenness were remarkably similar in the boom times of late 2007, recessionary climate of October 2008 and January 2010, and, most recently, in June 2010. That consistency translates to a relatively healthy marketplace for sustainable products. According to Mintel's forecasts, sales of natural and organic foods and beverages in food, drug, and mass retailers (excluding Wal-mart) and natural channels are expected to grow 4.8% in 2010 and 6.1% in 2011 at inflation-adjusted prices.
--- PAGE BREAK ---
The bad news is that the watershed moment for sustainability appears to be behind us, and current attitudes and spending patterns are largely fixed, regardless of lifestyle or economic changes. That should make it more difficult for the food industry to fundamentally change green behavior in the coming years.
Not All Sustainable Claims Are Created Equal
It is tempting to make generalizations about Americans' approach to buying sustainable food and drink—that consumers either embrace these products across the board or shun them altogether. But the reality of green living is infinitely more complex. Some sustainable claims carry far more weight in general with consumers, while others have varying degrees of potency based on the category where they appear.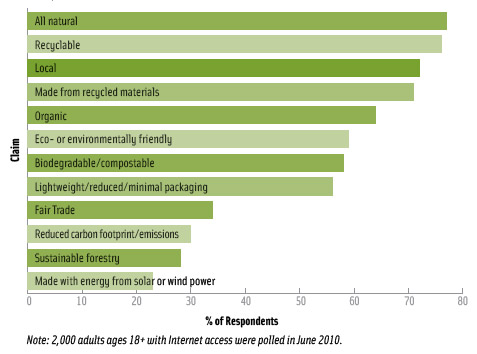 Interestingly, the claims that attract the most interest from consumers span the product and packaging worlds equally. For instance, more than three-quarters of Americans (77%) say they regularly or sometimes purchase food and drink that is all natural. Nearly the same number (76%) report buying products made with recyclable packaging (Figure 1).
The popularity of these claims is likely tied to their accessibility and price. Consider that from January–June 2010, more than 14% of new U.S. food and beverage introductions carried all natural claims, up from 11% in 2006, according to Mintel's Global New Product Database (GNPD). Today's consumers won't struggle to locate recyclable or all natural products in mainstream retail, meaning adoption into regular shopping routines is seamless. And benefits like recyclable packaging are often passed along to the consumer with no price premium. In July 2010, marketers of category-leading brands including Dole, Lipton, Pringles, and Quaker were among those offering their standard products in recyclable packaging.
But other claims don't necessarily have the universal appeal of all natural and recyclable. Fair Trade is an area where only 34% of Americans report buying products at least some of the time, but there is a clear category skew at play. Coffee and tea are the most widely available Fair Trade products, so it's not surprising that 52% of U.S. Fair Trade consumers report purchasing in these two categories.
However, after coffee and tea, the Fair Trade floor begins to drop. Only 36% of Fair Trade consumers buy certified chocolate, and even fewer buy Fair Trade salty snacks (23%) or juice/juice drinks (19%). For the U.S. food industry, this may signal opportunity for expansion. Since 2008, GNPD shows that roughly half of all new Fair Trade introductions have been coffee or tea, creating ample white space for innovation in other categories. And progressive companies such as Jones Soda, Honest Tea, and Sunsweet Growers have already proven that it is possible to achieve Fair Trade certification for mainstream products in areas other than coffee and tea.
--- PAGE BREAK ---
Packaging-focused claims can face the same challenges as sourcing claims like Fair Trade. Consider the universe of biodegradable and compostable packaging, which looks promising at a glance. Nearly 60% of Americans say they sometimes or regularly purchase food and drink packaging that is biodegradable or compostable. And the recent introduction of a fully compostable bag from the Sun Chips brand suggests that traction is building for these claims. According to Mintel's research, 43% of consumers say they are likely to buy the Sun Chips product because of its strong eco-friendly positioning.
Unfortunately, consumers still appear to be confused when it comes to buying biodegradable and compostable packages. Despite the fact that the tea category has launched more biodegradable and compostable packaging since 2008 than any other category, only 22% of consumers who report buying this packaging say they find it in the coffee and tea aisle. Although the momentum for biodegradability and compostability appears legitimate, it is clear that more education is necessary before consumers truly understand these concepts.
Quality and Safety Count Too
Just as the universe of sustainable claims is complex, so too are the reasons that people buy green food and drink. When it comes to product-focused claims such as organic, local, and Fair Trade, 43% of consumers who buy these products say they are motivated by concern for environmental and human welfare. But altruism is not always the primary driver of green purchasing. Forty-five percent of Americans say they buy food and drink with product-focused sustainability claims because they perceive them to be of higher quality than other products. And nearly as many (42%) say they buy these products because they are concerned about food safety.
For the food industry, the message is clear—don't underestimate the quality and safety halo that sustainable products carry. These benefits are just as important as eco-friendliness to many consumers, and they should be protected accordingly. If manufacturers build quality and safety into their brand promise and deliver them consistently, the effect on consumers can be powerful.
Breaking Through the Clutter
There is no doubt that sustainable food and drink has become more accessible, affordable, and popular than ever before. However, there are still millions of Americans who rarely or never buy products with green attributes. Remember that 7% of consumers are Never Greens, and the majority (57%) are Light Greens. For many of these shoppers, the barrier to buying sustainable products is awareness. In the case of reduced carbon footprint/emissions, Fair Trade, and sustainable forestry, more than 30% of consumers have never even heard of these claims (Figure 2).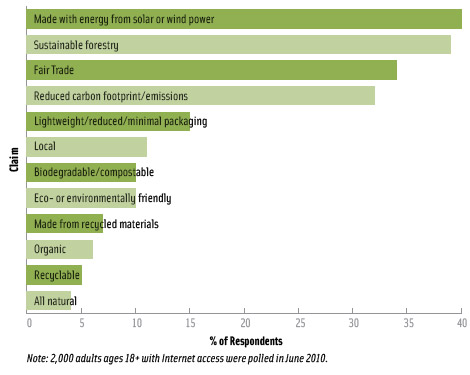 Those awareness issues seem to be compounded at the shelf. When Mintel asked consumers why they didn't buy food and drink with sustainable claims, the primary reason was that they didn't notice claims on the products that they buy. More than 40% of non-green purchasers cited this as an explanation for not buying sustainable food and drink. While that statistic may seem daunting, it could be surmountable with the right messaging strategy. Simple, bold, on-pack language that communicates with consumers at a glance may be the best way to magnetize distracted consumers.
--- PAGE BREAK ---
Making Sustainability Affordable
Even if consumers become more engaged with green claims, food manufacturers must still be cognizant of a weighty concern—cost. The expense of sustainable products is the No. 2 reason, after lack of claim awareness, why consumers don't purchase green food and drink. Research from Mintel's February 2010 Green Living report underscores this cost barrier. According to that data, 44% of consumers reported they would like to buy more green products but they are too expensive. An especially high percentage of young consumers (54% of those ages 18–24 and 49% of those ages 34–35) said that was the case. Although cost may not be the primary deterrent to green shopping, there is no doubt that it factors into purchase decision-making for many Americans.
Generally speaking, consumers are very receptive to sustainable products if prices are on par with non-green alternatives. But Mintel's research has shown that consumers are far less likely to buy green when a price premium is involved.
Take the case of Domino Premium Pure Cane granulated sugar, for example. Recently Domino redesigned the packaging for this product to highlight its CarbonFree® status from carbonfund. org—an organization that certifies products with carbon-neutral footprints. There is no taste or quality benefit to this certification; it simply signifies that Domino has minimized its carbon footprint. That seems to be a benefit to consumers, but not one for which they'll pay a price premium. Fifty-three percent of consumers said they were likely to buy the Domino CarbonFree® sugar if it was the same price or less than the sugar they normally buy. However, only 8% said they were likely to purchase it if it was more expensive than regular sugar.
The same pattern seems to hold true for green packaging. Consider 100-calorie packs as an example. While these products offer convenience and portion-control benefits, they also deliver extra packaging, which creates more waste than multi-serve formats.
In late 2008, Entenmann's addressed that issue by updating its Little Bites 100-calorie packs for baked goods including muffins and brownie squares. Although the snacks are still offered in individual packets, Entenmann's packages them in a smaller outer box that creates less waste. Just over four in ten Americans said they would be likely to buy this packaging if it was the same price or less than a normal-sized box. But as with the carbon-neutral sugar, a very small number of consumers (only 12%) said they would spend more for the eco-friendly benefits.
The lesson for the food industry is that price matters. Most consumers are receptive to sustainable benefits—but only if those benefits are passed along by the manufacturer at no cost. Despite growing interest in green food and drink, most Americans are simply not willing to pay a premium for eco-friendliness.
Convenience Remains Paramount
Just as cost can be an obstacle to green shopping, deviation from tradition or routine can also impede sustainable purchasing. The easiest products for consumers to embrace are those that can be seamlessly integrated into their lifestyles. Remember that recyclable and all natural claims were the most popular among consumers. That popularity makes sense in the context of convenience. Neither claim requires consumers to adjust their behavior to enjoy its benefits; those benefits are effectively built into the products. By contrast, any product that requires a meaningful change—particularly one that is more time- or labor-intensive—will likely be met with more resistance.
--- PAGE BREAK ---
Milk packaging illustrates this reality. Recently, dairy producers in the UK have begun offering milk in flexible pouch packaging to decrease waste. Waitrose, a leading UK retailer, debuted this alternative packaging in 2007. Although the pouch's benefit is tremendous (75% less packaging than a traditional milk jug), it does create an entirely new consumption experience. Instead of pouring milk directly from the package, consumers must cut the plastic pouch and transfer its contents to a separate reusable jug. This process creates several extra steps and can be messy if not properly executed.
For American consumers, the convenience drawbacks seem to outweigh the sustainability benefits for this product. Only 22% of consumers said they would be likely to buy the pouch milk even if it was the same price or less than regular milk. In this case, price is a secondary consideration to convenience.The takeaway for food manufacturers is that the most readily adoptable green products require little to nothing of consumers. The onus must be on the industry to deliver benefits and bring them to life.
Interestingly enough, that tenet appears to be at least partially true for the UK market as well. In April, Waitrose dropped the flexible pouch format from its line of milks, citing poor demand that ultimately led to inventory waste. But some of Waitrose's competitors, including UK retailer Sainsbury's, have embraced the pouch system. In fact, Sainsbury's now sells 10% of its semi-skimmed milk in flexible plastic. This tale of two retailers with very different outcomes suggests that education, merchandising, and other on-the-shelf considerations cannot be underestimated when it comes to encouraging major shifts in consumer behavior.
So What Really Matters?
The sustainability universe is riddled with complexity and, in some cases, contradiction. The reality is that some consumers may exclusively buy local produce, but not be concerned with extra packaging in their prepared meals or snacks. Or carbon footprinting may be top-of-mind for a subset of Americans, but Fair Trade is simply not a priority.
Despite that complexity, there are some conclusions that can be drawn about the platforms that resonate with shoppers. Sustainable food and drink that features simple messaging with clear benefits and that can be enjoyed with minimal effort is the gold standard. If brands can reinforce quality and safety and offer solutions that are comparably priced to non-green alternatives, then Americans are far more likely to consider them.

And when it comes to offering specific benefits, it appears that green packaging might hold the most universal appeal. Half of consumers said that sustainable packaging motivates them to buy specific products, making it the No. 1 consideration for green shopping, ahead of factors like company reputation and sustainable ingredients (Figure 3). Often the simplest, most visible benefits are the most appealing to consumers, and that seems to be the case with green packaging.
But if there is a final lesson to be learned about sustainability, it is that consumers' attitudes toward it are always changing. The world of green—and the consumers in it—are constantly evolving, so the industry must evolve, too.
by Krista Faron,  Director of Innovation and Insights, Mintel International, 351 W. Hubbard St., Suite 801, Chicago, Ill., 60654 ([email protected]).
Note: Unless otherwise indicated, all consumer data cited in this article come from a custom Mintel research study fielded online in June 2010 with 2,000 U.S. adults ages 18+ with Internet access.