As we approach the start of 2011, many people will try to make changes in lifestyles, weight loss being one of them. Weight management and obesity, however, have become such a concern that losing weight is no longer just a New Year's resolution to make, but a necessity.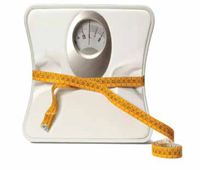 Weight management ingredients focus on fat burning and promoting satiety, ideally helping the consumer to eat less. What follows is a closer look at some of these ingredients.
Fiber
Fiber, in its various forms, promotes weight loss and management through its effects on satiety, calorie reduction, and lipid oxidation.
Resistant starch is gaining popularity with people who want to lose weight. Two new cookbooks by popular health magazines spotlight resistant starch as a key ingredient in weight management: The Carb Lovers Diet from Health Magazine (www.carblovers.com) and The Skinny Carbs Diet from Prevention Magazine (www.skinnycarbsdietbook.com).
Both books extensively reference the strong scientific substantiation of the benefits of natural resistant starch.
Hi-maize® resistant starch from National Starch Food Innovation, Bridgewater, N.J. (phone 800-743-6343, www.foodinnovation.com), is derived from high-amylose corn, resists digestion in the small intestine, and behaves as a dietary fiber in the large intestine. During the past 20 years, more than 90 human clinical trials and more than 120 animal studies have been published on the health effects of natural resistant starch isolated from high-amylose corn. There are five mechanisms that contribute to Hi-maize's weight management benefits: reduced caloric density of foods, satiety, lipid oxidation, increasing insulin sensitivity in both healthy and diabetic people, and increasing energy expenditure.
Parnell and Reimer (2009) showed that Orafti®P95 oligofructose from Beneo Inc., Morris Plains, N.J. (phone 973-867-2140, www.beneo.com), decreased body weight in overweight adults. The study included 48 overweight or obese healthy adults. After 12 weeks, the subjects who took the oligofructose had a significant body weight reduction of 1.03 kg, whereas those in the control group gained 0.45 kg of weight. The researchers said that the weight loss could be due to the lower energy intake observed in subjects in the experimental group. They also reported on the effects of oligofructose intake on postprandial blood glucose and insulin responses before and after the intervention period, indicating an improvement of glucose regulation.
The polydextrose Litesse® from Danisco USA Inc., Elmsford, N.Y. (phone 913-764-8100, www.litesse.com), is a 1 kcal/g carbohydrate that is sugar-free, prebiotic, high in fiber, and low-glycemic. Information from Danisco states that human clinical studies have shown that the satiating effect of Litesse can actually inhibit subsequent food intake, with total caloric reductions between 5% and 25%. In addition, consumers did not overcompensate at their next meal by eating more calories.
--- PAGE BREAK ---
Mathern et al. (2009) showed that 8 g of fenugreek fiber significantly increased satiety and reduced energy intake at lunch, suggesting it may have short-term beneficial effects in obese subjects. FenuLife® from Frutarom USA Inc., North Bergen, N.J. (phone 201-861-9500, www.frutarom.com), is a naturally sourced galactomannan ingredient manufactured from deodorized fenugreek and contains more than 75% soluble fiber.
Proteins
Research has shown that a high-protein, reduced-calorie diet may aid in weight loss by promoting satiety, aiding fat loss, and maintaining lean muscle. Protein sources include egg, soy, and whey.
Ratliff et al. (2010) demonstrated that eating protein-rich eggs for breakfast reduced hunger and decreased calorie consumption at lunch and throughout the day. On one test day, the subjects (21 men) ate an egg-based, protein-rich breakfast including three scrambled eggs and one-and-a-half pieces of white toast. On another test day, they ate a bagel-based, carbohydrate-rich breakfast including one plain bagel, ½ tbsp low-fat cream cheese and 6 oz of low-fat yogurt. The two breakfasts contained identical calories, but the subjects who ate the egg-based breakfast consumed roughly 112 fewer calories at a buffet lunch three hours later compared with those who had the bagel breakfast. The subjects also consumed approximately 400 fewer calories in the 24-hour period following the egg breakfast. In addition, blood tests showed that ghrelin, the hormone that stimulates hunger when elevated, was significantly higher after the bagel breakfast.
A scientific paper published by Solae LLC, St. Louis, Mo. (phone 800-325-7108, www.solae.com), discussed soy protein's benefit in aiding weight loss and increasing satiety while offering the additional advantage of improving cardiovascular risk factors (Solae, 2009). Animal studies have shown that soy protein suppresses appetite, in part, by stimulating the release of cholecystokinin (CCK), which regulates satiety and gastric emptying. There is also clear evidence that high-protein diets, especially those containing high-quality protein such as that provided by soy help to preserve fat-free mass during weight loss. This, in turn, improves the metabolic profile of dieters, including decreases in triglycerides and insulin levels and an increase in LDL particle size.
Whey protein is one of the best sources of branched chain amino acids, including leucine, which has been shown to stimulate muscle protein synthesis. "Whey protein is a natural, high-quality dairy protein derived from milk and a complete protein that contains all the amino acids the body requires for muscle protein synthesis," said Matthew Pikosky, Vice President of Scientific Affairs, Dairy Research Institute. "It also has a high biological value, which means that the protein is easily absorbed and used by the body."
Several studies have shown that consuming whey protein as part of a high-protein diet combined with regular resistance exercise can help build more lean muscle than resistance training alone or resistance training combined with carbohydrate-only consumption (Tang et al., 2007; Burke et al., 2001.) In addition, research also shows whey protein provides a satiety benefit that may help individuals with weight management goals (Smeets et al., 2008; Beasley et al., 2009).
In September 2010, Glanbia Nutritionals Inc., Fitchburg, Wis. (phone 800-336-2183, www.glanbianutritionals.com), announced that it was granted a U.S. patent for Prolibra®, a whey-derived ingredient including proprietary whey peptides. The ingredient is clinically proven to significantly decrease fat mass while maintaining lean body mass in combination with a hypocaloric diet. Prolibra also helps reduce post-prandial glycemic response.
--- PAGE BREAK ---
Lipids 
A patent-protected emulsion, Fabuless™, from DSM Nutritional Products, Parsippany, N.J. (phone 800-526-0189, www.dsmnutritionalproducts.com), combines oat and palm oils. It promotes "appetite satisfied" signaling to the brain, which can enhance satiety and reduce hunger pangs. Additional benefits of the ingredient include reduced body fat mass and waist circumference, as well as a reduction of weight regain after dieting. Recently, Fabuless was shown to prolong food passage time from mouth to large intestine by 45 minutes, a statistically significant increase, demonstrating its potential to stimulate natural appetite control mechanisms (Haenni et al., 2009).
A Korean pine nut oil extract, PinnoThin®, from Lipid Nutrition, Channahon, Ill. (phone 815-730-5244, www.lipidnutrition.com), received GRAS approval in October 2010. The GRAS petition determined that PinnoThin can safely be used in baked goods and baking mixes, beverages and beverage bases, breakfast cereals, dairy product analogs, fats and oils, grain products and pasta, fluid milk and milk products, nuts and nut products, processed fruit and fruit juices, processed vegetables and vegetable juices, snack foods, soft candy, and soup and soup mixes. It stimulates the release of CCK and may help to increase the release of GLP1 (glucagon-like peptide), which not only helps the body digest fats, but also sends a message of feeling "full" to the brain.
Tonalin® conjugated linoleic acid (CLA) from Cognis Nutrition & Health, La Grange, Ill. (phone 888-866-2546, www.tonalin.com, www.cognis.com), is naturally sourced from safflower oil, and it is clinically proven to safely reduce body fat and optimize body composition. The ingredient in 2003 received FDA's approval for use in supplements and in 2008 achieved FDA notified GRAS status to extend its applications in multiple food applications. Tonalin helps consumers reduce body fat up to 10%, prevents fat regain, and improves the ratio of lean body mass to body fat. A meta-analysis analyzing 18 eligible CLA studies concluded that participants given 3.2 g of CLA/day had significant but modest reduction of fat mass of nearly 1 lb/month compared to participants who took a placebo (Whigham et al., 2007).
Carbohydrates
Trehalose is a saccharide that has recently been shown to inhibit fat cell hypertrophy (Hayashibara, 2010). Hayashibara International, Leatherhead, UK (phone +44(0)1372-700-756, www.hayashibaraintl.com), presented findings at the 31st Conference of the Japan Society for the Study of Obesity in October 2010. Mice were fed a high-fat diet and given a range of saccharides for comparison. The results showed that trehalose effectively inhibited the hypertrophy of fat cells, which usually occurs in high-fat diets, and inhibited the progress of insulin resistance, normally triggered by high-fat diets. Hayashibara supplies TREHA™ trehalose.
Palatinose™ from Beneo Inc., Morris Plains, N.J. (phone 973-867-2140, www.beneo.com), has the ability to promote fat oxidation in the body when consumed in combination with a healthy diet and exercise program. Studies have shown that this low-glycemic carbohydrate not only provides a sustained supply of energy inthe form of glucose, but at the same time promotes a higher rate of fat burning, even at average activity levels. According to the company, various studies have established that Palatinose increases the proportion of energy derived from fat in overall energy consumption, both for athletes and those leading less physically active lives.
Botanicals
InterHealth Nutraceuticals Inc., Benicia, Calif. (phone 800-783-4636, www.interhealthusa.com), in October 2010 introduced its patent-pending LOWAT® to the U.S. market. The ingredient is derived from the ayurvedic plants Piper betle and Dolichos biflorus. At the 51st American College of Nutrition Meeting, Archana Chatterjee, a researcher with Creighton University School of Medicine, presented clinical research findings on this weight management ingredient (InterHealth,2010). The 50-person study compared the weight loss effects of consuming 900 mg of LOWAT or a placebo during an eight-week study period. "We found that LOWAT significantly reduced body weight more than twice as effectively as placebo," said Chatterjee. The researchers also measured two hormones: the fat-burning hormone, adiponectin, and the hunger-inducing hormone, ghrelin. Adiponectin levels were significantly increased by 15% and ghrelin levels were significantly decreased by 17% in the subjects taking the ingredient.
--- PAGE BREAK ---
A brown seaweed extract, ID-alG™, from Bio Serae Laboratories, France (phone +33(0)46876-7620, www.bioserae.com), is believed to inhibit two digestive enzymes, lipase and amylase. In a recent clinical study, 60 overweight women were randomized to receive either a daily dose of 400 mg of ID-alG or placebo for 2 months (Bio Serae, 2010). The subjects who took the ingredient had a 2.8 kg average weight loss and about 3 kg fat mass reduction. In addition, by decreasing fat and carbohydrate assimilation, ID-alG helped to control caloric intake and to reduce fat storage.
PL Thomas & Co., Morristown, N.J. (phone 973-984-0900, www.plthomas.com), offers Satiereal®, which is derived from the flowers of saffron crocus, Crocus sativus L. It is made from a special crocus cultivation rich in active saffron constituents, so it is cost effective as a weight-loss formula. Satiereal 's clinically proven formula improves levels of the neurotransmitter serotonin. Serotonin increases the satiety state while decreasing appetite.
PL Thomas also offers Xanthigen™, a synergistic composition of pomegranate seed oil standardized for punicic acid and brown seaweed extract standardized for fucoxanthin. It helps the liver to shed stored fats, improving metabolic function and energy expenditure. Abidov et al. (2010) demonstrated its weight management benefits in a 16-week study of 151 obese, non-diabetic volunteers of whom 75% had nonalcoholic fatty liver disease (NAFLD, n=113), while the remainder had normal liver function (NLF, n=38). The subjects took 600 mg of Xanthigen and were restricted to 1,800 kcal daily. With Xanthigen, the NAFLD group reported statistically significant reduction of waist circumference, liver enzymes, and serum triglycerides, while both groups reported statistically significant reduction of body weight, body and liver fat content, and C-reactive protein. Weight loss and reduction in body and liver fat content occurred earlier in participants with normal liver function than in participants with NAFLD, possibly demonstrating the trauma and subsequent recovery of liver function.
Weight Management Blends
Caravan Ingredients, Lenexa, Ks. (phone 800-660-4092, www.caravaningredients.com), offers a weight management premix that promotes satiety through various ingredients. Nutrivan™ WM 1050 is a premix designed to help manage weight by controlling hunger and providing a feeling of fullness. It features oat beta glucan, fiber, whey protein concentrate, green tea extract, and Slendesta® potato extract. Kemin Industries Inc., Des Moines, Iowa (phone 515-559-5100, www.kemin.com), manufactures the potato extract, which is standardized to its active component, PI2. PI2 promotes the release of CCK, the natural signaling peptide that induces satiety.
An ingredient premix from Pharmachem Laboratories Inc., Kearny, N.J. (phone 800-526-0609, www.pharmachem.com), Three Phases of Weight Control, addresses the many ways consumers gain weight, whether from overeating, consuming too many carbohydrates, or eating too much sugar. The premix gives the manufacturer the option of using the entire premix of ingredients, or using them separately.
• Phase 1 Hunger Controller™ is a range of flavored beverage powders containing Olibra™, an emulsion of palm and oat oils clinically shown to promote appetite control and satiety.
• Phase 2 Carb Controller™ is a proprietary extract of the white bean clinically shown to reduce the digestion of starches. It has been shown in human clinical trials to delay the digestion and absorption of carbohydrates.
--- PAGE BREAK ---
• Phase 3 Sugar Controller™ is a powdered formula of ingredients shown to be effective in supporting healthy blood sugar levels. It combines both the glucose absorption benefits of L-arabinose and the insulin-control capability of chromium.
Linda Milo Ohr,
Contributing Editor, Denver, Colo. 
[email protected]
References
Abidov, M., Ramazanov, Z., Seifulla, R., and Grachev, S. 2010. The effects of Xanthigen™ in the weight management of obese premenopausal women with non-alcoholic fatty liver disease and normal liver fat. Diabetes Obes. Metab. 12: 72-81.
Beasley, J.M., Ange, B.A., Anderson, C.A.M., Miller III, E.R., Erlinger, T.P., Holbrook, J.T., Sacks, F.M., and Appel, L.J. 2009. Associations between macronutrient intake and self-reported appetite and fasting levels of appetite hormones: results from the optimal macronutrient intake trial to prevent heart disease. Am. J. Epidemiol. 169(7): 893-900.
Bio Serae. 2010. Clinical study confirms weight management properties of brown seaweed extract ID-alG™. Bio Serae, press release, June 28.
Burke, D.G., Chilibeck, P.D., Davidson, K.S., Candow, D.G., Farthing, J., and Smith-Palmer, T. 2001. The effect of whey protein supplementation with and without creatine monohydrate combined with resistance training on lean tissue mass and muscle strength. Int. J. Sport Nutr. Exerc. Metab. 11: 349-364.
Haenni, A., Sundberg, B., Yazdanpandah, N., Viberg, A., and Olsson, J. 2009. Orocecal transit time in healthy men. Scandinavian J. Gastroenterology. 44: 1186-1190.
Hayashibara. 2010. Trehalose confirmed to inhibit fat cell hypertrophy. Hayashibara International, press release, Sept. 29.
InterHealth. 2010. InterHealth's new weight loss ingredient clinical study results presented at the 51st American College of Nutrition Meeting. InterHealth Nutraceuticals Inc., press release, Oct. 11.
Mathern, J.R., Raatz, S.K., Thomas, W. and Slavin, J.L. 2009. Effect of fenugreek fiber on satiety, blood glucose and insulin response and energy intake in obese subjects. Phytotherapy Res. 23: 1543-1548.
Parnell, J.A. and Reimer, R.A. 2009. Weight loss during oligofructose supplementation is associated with decreased ghrelin and increased PYY in overweight and obese adults. Am. J. Clin. Nutr. 89: 1751-1759.
Ratliff, J., Leite, J.O., de Ogburn, R., Puglisi, M.J.,VanHeest, J., and Fernandez, M.L. 2010. Consuming eggs for breakfast influences plasma glucose and ghrelin, while reducing energy intake during the next 24 hours in adult men. Nutr. Res. 30: 96-103.
Smeets, A.J., Soenen, S., Luscombe-Marsh, N.D., Ueland, Ø., and Westerterp-Plantenga, M.S. 2008. Energy expenditure, satiety, and plasma ghrelin, glucagon-like peptide 1, and peptide tyrosine-tyrosine concentrations following a single high-protein lunch. J. Nutr. 138: 698-702.
Solae. 2009. Soy protein and weight management. Solae LLC, Solae™ Science Series.
Tang, J.E., Manolakos, J.J., Kujbida, G.W., Lysecki, P.J., Moore, D.R., and Phillips, S.M. 2007. Minimal whey protein with carbohydrate stimulates muscle protein synthesis following resistance exercise in trained young men. Appl. Physiol. Nutr. Metab. 32: 1132-1138.
Whigham, L.D., Watras, A.C., and Schoeller, D.A. 2007. Efficacy of conjugated linoleic acid for reducing fat mass: a meta-analysis in humans. Am. J. Clin. Nutr. 85: 1203-1211.