Chocolate is hot. People continually list chocolate as one of their favorite flavors for confectionery, bakery, and other products. For centuries, people have prized the commodity cocoa not only for its versatility as a food product but also as a tool for commerce. More than 2,000 years ago, the Mayans and Aztecs crushed cocoa beans to form an unsweetened liquid consumed during ceremonies; the Aztecs also used the cocoa beans as a form of currency. We have the Europeans to thank for sweetening liquid cocoa and serving it hot and then developing processes to create solid eating chocolate.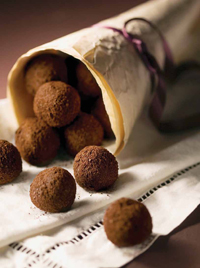 As chocolate confections manufacturers gain inspiration from developments in other food and beverage industry segments as a way to increase sales and differentiate their products, the humble chocolate bar introduced in the 1800s has evolved into a dizzying array of chocolate options—from bars available in a range of cacao percentages and confections stuffed with buttery caramel or creamy peanut butter to chocolates molded into various shapes and bonbons and truffles formulated with bacon, cheese, balsamic vinegar, chili peppers, or even bread crumbs. Some chocolate suppliers like Belcolade are going as far as analyzing the flavor profiles of different types of chocolate at the molecular level and then comparing the profiles to those of other foods and beverages to pair the chocolate with the foods or beverages that share similar flavor profiles. The information is meant to inspire industrial and artisan bakers, chocolatiers, pastry chefs, and restaurant chefs in their product development activities. In fact, flavor adventure and indulgence are two themes driving new confection development (CDC and Packaged Facts, 2010). But it is not just about flavor. Texture is important, too, as manufacturers cover all types of food—fruits, nuts, and even pomegranate seeds and edamame—in chocolate. No surprise then that the National Confectioners Association (NCA) at its 2010 Sweets & Snacks Expo noted "chocolate-covered everything" as a popular confectionery product trend.
This article will examine the overall chocolate confections market and some of the trends driving sales to show how product developers are thinking outside the box of chocolates, allowing consumers to indulge in something new and exciting or to enjoy a twist on some of the best-selling chocolate confections.
Chocolate Sales Uptick
Chocolate confections sales through food, drug, and mass retailers excluding Wal-Mart (FDMx) were up 5.9% in the four-week period ending Sept. 5, 2010, up 5.8% in the 12-week period ending Sept. 5, 2010, and up 4.3% in the 52-week period ending Sept. 5, 2010, according to NCA. Of the 2,843 new confectionery products released in 2009, 1,760 were chocolate (NCA, 2010). While this number was slightly less than the 1,873 new chocolate product introductions in 2008, the overall numbers have been increasing since 2005 when 1,195 new chocolate products were introduced.
In 2009, U.S. retail chocolate confections sales set a new record when they reached $17.3 billion, an increase of 2.8% from 2008 (Packaged Facts, 2010). Manufacturer price increases and the increase in the number of premium, i.e. gourmet, products and products making health claims account for the sales growth outpacing quantity of products sold. Despite a recession retarding growth in almost every area of the economy and growing unemployment numbers, U.S. consumers continue to purchase chocolate. Even though the price of some chocolate products has increased, there are still affordable options that allow consumers to indulge their cravings at all price points as several mainstream manufacturers create "artisan-like" lines or formulate chocolate products that contain different flavors and ingredients, states Kara Nielsen, Trendologist, Center for Culinary Development.
--- PAGE BREAK ---
NCA surveyed 40 industry experts, including manufacturers, market researchers, chocolatiers, nutritionists, and confectionery makers for its Trend Report (NCA, 2009a). The experts noted some up-and-coming trends with the potential to drive sales and interest in the chocolate confections market. Consumers are becoming more interested in combining chocolate and other ingredients such as spices, salts, herbs, and floral flavors, especially ones that have ethnic characteristics, according to 43% of experts. Ethnic food offerings are quite popular in segments like frozen foods, meal kits, and sauces and at fast-casual and fine dining restaurants. Now consumers can enjoy the spices, seasonings, and flavors characteristic of some ethnic cuisines in chocolate confections. Other combinations that are increasing in popularity are sweet-and-savory pairings like chocolate and bacon and chocolate and cheese. The willingness of American consumers to try these types of chocolate products shows that "we are actually witnessing the maturation of the American palate," says Jenn Ellek, Director of Trade Communication and Marketing, NCA.
Nearly three-quarters (73%) of the experts surveyed predicted that the use of chocolate, cocoa, and chocolate flavor as an ingredient in main courses and appetizers will increase. Chocolate as an ingredient in cooking, particularly in savory applications, is featured in Mexican cuisine, mole being one of the most common applications. Americans are learning of chocolate's use as an ingredient in applications beyond bakery and sweets. Chocolate, including powder, solid, and nibs, adds flavor, texture, or color to savory sauces like BBQ sauce, spice blends like ones for chili or stew, and rubs, all of which are available at gourmet stores and specialty online retailers. Chocolate manufacturers are always looking for ways to expand their market share, especially in challenging economic times, and positioning chocolate as a cooking ingredient in addition to a baking ingredient is a way to do this, adds Ellek.
Whether chocolate is used in sweet or in savory applications, it is increasingly popular, as indicated by Innova Market Insights' poster display, "Chocolate Choices Expand," showcased at the Institute of Food Technologists 2010 Annual Meeting and Food Expo. The combined total of chocolate-flavored product launches globally in 2009 was 20,135, up from 13,493 in 2008. The product introductions cross most categories and include cookies, puddings, syrups, ice cream novelties, sauces, and beverages. Milk chocolate-specified product launches increased from 3,511 in 2008 to 5,805 in 2009 and dark chocolate-specified product launches increased from 1,863 in 2008 to 3,598 in 2009. The increase in dark chocolate-flavored product launches is most likely due to dark chocolate's premium image and its reported health benefits, notes Innova Market Insights.
A Premium Choice
Within the chocolate confections product industry are various categories, some more likely than others to drive sales. One such category is premium chocolate, and it includes themes like exotic flavors and unusual ingredient inclusions (Packaged Facts, 2010). Others identified by Packaged Facts include artisan/craft chocolates, raw cacao products, vegan chocolate, wine-themed chocolate products, upscale chocolate candy bars, exotic delivery methods, variations to the traditional bar shape and size, extreme milk chocolate, and alternative distribution channels. Manufacturers of premium chocolates often incorporate several of these trends into the development of a product.
NCA categorizes premium chocolate as follows: everyday gourmet, superpremium, and ultra-premium. Everyday gourmet chocolate sells at up to $8/lb, and it includes candy brands like Mars Chocolate North America's Dove® and Hershey Co.'s Hershey's Bliss, is often made using European-style chocolate-making processes to produce a smoother chocolate, and is packaged in upscale packaging, i.e., a foil-wrapped bar packed in a box or pieces individually wrapped in colorful foil. Superpremium chocolate sells for between $8–$12/lb, and ultra-premium chocolate sells for more than $12/lb.
--- PAGE BREAK ---
Manufacturers of superpremium and ultra-premium chocolate confections operate differently from the major chocolate confections manufacturers in that they do not try to sell as much chocolate as the major manufacturers. Instead, they have carved out their own niche; they make small quantities of chocolate using higher-quality ingredients and often sell it online or at specialty food retailers to consumers who pay the more expensive price because they understand the quality that goes into making the products, according to Nielsen. Scharffen Berger, for example, makes chocolate bars from bean to bar in small batches, controlling every step of the process. Although some brands are showing up in mass retailers like Costco and Wal-Mart, many are still sold on a small scale in boutiques and specialty stores.
"Just like fine wines, certain coffees, and artisan cheeses, these artisan chocolates appeal to a connoisseur consumer who is more educated about the quality markers," explains Nielsen. These include stating the source of the beans, offering a range of cacao percentages, formulating the chocolate with different flavors and ingredients, calling out ingredients, i.e., Ceylon cinnamon vs cinnamon or tellicherry peppercorn vs pepper, and presenting the chocolates in fancier, higher-end packaging. Many consumers who appreciate the formulation and the skill and labor required in producing the chocolates often purchase local, sustainable, or organic foods (CDC and Packaged Facts, 2010). Chocolate confections produced on a micro-batch scale appeal to consumers wanting authenticity and also play on nostalgia for products available before the mass industrialization of confections (CDC and Packaged Facts, 2010).
"Our customer is someone with culinary curiosity who appreciates high-quality chocolate and is willing to experience new things," says Michael Antonorsi, Master Chef and co-founder, Chuao Chocolatier, a premium chocolate confections maker known for formulating products with unexpected flavor combinations. "Sometimes that means spices, and other times that means the comforting flavors of honeycomb or bread."
Since superpremium and ultra-premium chocolate candy are generally sold in outlets that are not necessarily monitored via SymphonyIRI Group Inc., this makes tracking the sales of these products difficult, explains Ellek. Nevertheless, the data NCA obtains from SymphonyIRI and other research show that there is growth in the premium chocolate candy category.
One of the drivers of premium chocolate sales is that some consumers have become more sophisticated regarding their chocolate choices and are more willing to experiment by trying chocolate confections formulated with different flavors and ingredients. "Premium artisan chocolate makers are more open to using an ever-changing palette of flavors," says Curtis Vreeland, a chocolate market analyst with Packaged Facts. "Some of these flavors are borrowed from the beverage industry (superfruits and functional ingredients). Some styles take a page from the specialty coffee industry (experimenting with product origins and roasting ranges). Some are taken from the restaurant and pastry trades (savory and ethnic flavors). The result of all this creativity is that below the chocolate surface, there is a host of specialized niches to service a wide spectrum of consumer tastes and budgets."
Nielsen points out that the popularity of these types of premium chocolates among some consumers stems from the wider trend of people looking for bigger, bolder flavors, new layers of flavors, and new combinations of different flavors and ingredients in all of their food and beverage product choices. "Plain things do not catch their attention anymore," she adds.
--- PAGE BREAK ---
Companies like Chuao Chocolatier, Vosges Haut-Chocolat, and others offer plenty to grab the attention of consumers seeking a new, exciting chocolate experience. Chuao Chocolatier manufactures chocolate confections from cacao sourced in Venezuela, and its portfolio of chocolate bars, bonbons, and truffles exemplifies how premium chocolate manufacturers are formulating with different ingredients to create products with one-of-a-kind flavor and texture. Its Coffee & Anise bar features the flavor of coffee combined with star anise in dark chocolate; Firecracker is a dark chocolate bar with chipotle chili, salt, and popping candy; Spicy Maya includes pasilla chili, cayenne pepper, cinnamon, and dark chocolate; and Panko is a dark chocolate bar with toasted panko breadcrumbs and sea salt. Bonbon confections include milk chocolate-covered caramel infused with rosemary; dark chocolate-covered buttercream made with goat cheese, Pear Williams brandy, and crushed black pepper; roasted panko bread crumbs and olive oil ganache with sea salt covered in dark chocolate; dark chocolate ginger ganache infused with green tea; and others. Vosges' 2010 Holiday Truffle Collection includes Mascarpone and Ceylon Cinnamon Snap, Plum Pudding, Peppermint Candy Cane, and Eggnog and Jamaican Rum. And its Mo's Milk Chocolate Bacon Bar combines applewood smoked bacon and alder wood smoked salt with milk chocolate for a savory–sweet experience. Bissinger's Handcrafted Chocolatier offers a dark chocolate truffle made with porcini mushroom and another blended with Courvoisier XO cognac.
Adding Twists to Mainstream Favorites
The rising popularity of premium chocolates has not gone unnoticed by the large chocolate manufacturers. Some have introduced their own "artisan" lines of chocolate. Others have acquired premium chocolate confections producers, and a business transaction like this often means greater product distribution and an infusion of cash to much smaller companies. Artisan Confections Co., a wholly owned subsidiary of Hershey Co., markets premium chocolate brands Scharffen Berger, which practices "bean-to-bar" artisan chocolate making, and Dagoba Organic Chocolate, which makes chocolate bars—both plain and formulated with various flavors and ingredients—from organic ingredients. Other companies like Ghirardelli Chocolate Co. and Lindt focus on textures and packaging. Both manufacturers incorporate creamy or "oozing" centers into various shapes of chocolate—Ghirardelli offers squares, and Lindt offers balls filled with caramel or flavored crèmes. The products are individually wrapped in foiled packaging, making them a little more special than a chocolate bar.
In addition to these approaches, the major chocolate manufacturers continue to use classic flavors like peanut butter, caramel, butterscotch, and mint and textures like nuts and crisped rice in their benchmark products as well as in line extensions. Candy lovers are familiar with the sweet-and-savory combination of chocolate-covered pretzels, and in May 2010, Mars released its twist on this with M&M's® Pretzel Chocolate Candies, a salted pretzel center covered with M&M's brand milk chocolate and coated in a colorful candy shell. When developing new flavors and line extensions, companies like Mars examine industry trends and research and consumer preferences.
"According to industry research, peanut butter candy is growing at nearly twice the rate of the overall candy industry," reports Lauren Nodzak, spokesperson, Mars Chocolate North America. So the company developed Snickers Peanut Butter Squared, which combines peanut butter with the ingredients found in a Snickers bar: peanuts, caramel, nougat, and milk chocolate. The bar debuted at the NCA 2010 Sweets & Snacks Expo and is available for retail sale starting December 2010.
Caramel lovers can get their fix with the Mars Milky Way Simply Caramel chocolate bar, sans the nougat found in a Milky Way bar. Sometimes adding a twist to classic ingredients like caramel and toffee is enough to differentiate a chocolate candy product and leads to combinations like honey-caramel, ginger-caramel, orange-caramel, and others. Caramel and another popular brown flavor, coffee, are featured in the company's TWIX® Java Chocolate Cookie Bars. The company in April 2011 will release its limited-edition TWIX Coconut Cookie Bars, which blend the flavor of coconut into caramel. Mars has six of the top 15 chocolate brands, so the company concentrates much of its effort on building these brands with new products formulated with a new flavor (coconut in TWIX Cookie Bars) or a new texture (pretzels in M&M's Pretzel Chocolate Candies). Since consumers trust the brands, they are more willing to try new flavor variations or limited editions, states Nodzak. This is important, as the confectionery category in general is a brand-strong category, emphasizes Ellek.
--- PAGE BREAK ---
While chocolate lovers with an adventurous palate can indulge in chocolate confections formulated with an array of interesting ingredients, those wanting the comfort of the classics can find something to satisfy their cravings.
"There are exotic choices for some people, but when it comes down to it, your mainstream American loves the classics," Nielsen says. "You don't have to make an exotic curry-flavored chocolate product, for instance, because that still is not going to appeal to everybody." And she adds that manufacturers want their products to stand out from others, but they still need to be cognizant about what developments fit with the brand, whether it is whimsical and playful or more sophisticated. The trick is finding ways of adding flavor and texture with ingredients—be they milk chocolate with caramel or dark chocolate with spicy chili pepper—that relate to the consumers for each brand.
The overall chocolate confections market is healthy, even through challenging economic conditions. Consumers love chocolate, and they continue to purchase it. In addition to milk chocolate bars sold in mass supermarkets, there are line extensions and limited editions of some of the most popular chocolate bars available at these outlets as well as chocolate confections featuring exotic ingredients that consumers can purchase online and at specialty stores. The product developers of these confections show that by thinking outside the box of chocolates, they can keep up with changing trends and consumer preferences for one of the most popular confectionery categories.
---
To Your Health
Chocolate tastes great and is a versatile ingredient in so many different food and beverage products. Now, many marketers and researchers are positioning chocolate as a food with potential health benefits as well. Healthier confectionery products will be the next "big" trend, according to 88% of the experts surveyed by the National Confectioners Association (NCA, 2009b).
Mars Botanical, a scientific division of Mars Inc., conducts research and product development on flavanols found in cocoa, tea, wine, and certain fruits and vegetables. It uses its proprietary process called Cocoapro™ that reduces the cocoa bean's exposure to high temperatures, thereby retaining the efficacy of flavanols, which are often destroyed during traditional processing.
Mars Botanical scientists and university scientists with whom they collaborate, as well as other scientists not associated with Mars Botanical, have examined cocoa flavanols' potential circulatory health benefits. Heiss et al. (2010) found that consuming cocoa flavanols daily more than doubled the amount of circulating angiogenic cells—cells that repair and maintain blood vessels—in the blood. Sorond et al. (2008) showed that consuming flavanol-rich cocoa improved the cerebral blood flow in elderly subjects. Reid et al. (2010) concluded that dark chocolate reduced systolic hypertension and diastolic pre-hypertension but did not significantly reduce mean blood pressure less than 140 mmHg systolic or 80 mmHg diastolic.
Mars Inc. and Barry Callebaut AG in February 2010 signed a cross-licensing and cooperation agreement to create a standard of measuring cocoa flavanols based on scientific studies as well as to develop a uniform message to communicate the amounts. The companies emphasize that just because a chocolate product has a higher percent of cacao, is a dark chocolate, or claims that antioxidant content is the main benefit of cocoa does not mean that the product contains enough flavanols to impart a benefit.
--- PAGE BREAK ---
You Got What in My Chocolate ?
Back in the 1970s, a commercial for Reese's Peanut Butter Cups exclaimed, "You got peanut butter in my chocolate!" Now, the statement could be made about a variety of ingredients like probiotics, vitamins, minerals, and fruits with high levels of antioxidants being added to chocolate confections.
"Over the last decade, chocolate makers have been responding to consumers' drive to live healthier lifestyles," says Curtis Vreeland, a chocolate market analyst with Packaged Facts. "Their efforts have brought us portion-controlled packaging, sugar-free sweets, heart-healthy dark chocolate, and fortified confections of unbelievable variety and veracity."
Barry Callebaut developed a process to produce on an industrial scale chocolate containing the probiotics Lactobacillus and Bifidobacterium. Maramor Chocolates makes chocolate confections fortified with probiotics and with omega-3 fatty acids. Dagoba Organic Chocolates offers Superfruit Bar with açai berries, currants, goji berries, and 74% cacao. Endangered Species Chocolate makes chocolate bars with ingredients like açai berries, goji berries, maca, goldenberries, and lucuma.
Extreme Measures
So what trends are predicted to drive sales less than they have in the past? Extreme dark chocolate is one (Packaged Facts, 2010). Why? Well, with extreme dark chocolate, the product is just too bitter for many consumers, and when you want a sweet treat, you expect it to have some sweetness to it, says Kara Nielsen, Trendologist, Center for Culinary Development. Extreme dark chocolate has cacao percentages around 80% or greater, which indeed is quite bitter and can be off-putting to people accustomed to milk chocolate and even to some people who like dark chocolate. A popular trend noted by Packaged Facts is extreme milk chocolate, also called dark milk chocolate. It has cacao percentages that range from about the mid-40s to the upper 50s. The exciting thing about dark milk chocolate, explains Nielsen, is that it is the best of both worlds since there is a more pronounced chocolate flavor than you get with milk chocolate, but it offers both creamy milk and caramelized milk notes that dark chocolate does not.
Karen Nachay, a Member of IFT, is Associate Editor of Food Technology magazine ([email protected]).