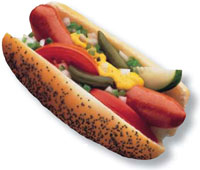 For some Chicagoans, there's nothing better than biting into a juicy, Chicago-style hot dog garnished with tomatoes, onion, sweet pickle relish, and mustard—never ketchup, as its diehard fans will be sure to inform you. Of course, that's just one of the distinctive food experiences for which Chicago is famous. Other local favorites include flambeed saganaki cheese available in Greektown restaurants, dim sum brunch in Chinatown, or even an exotic dinner of molecular cuisine served in an avant-garde eatery. For food lovers, the list of Chicago gastronomic options is long and—as these examples illustrate—deliciously diverse.
The same might be said of the array of educational, informational, and professional opportunities awaiting attendees at IFT's Chicago-style 2010 Annual Meeting & Food Expo® July 17–20. With about 115 sessions and 1,900 technical presentations slated, the Annual Meeting's Scientific Program is unparalleled in terms of the breadth and depth of its content. The Food Expo attracts the largest number of global food industry suppliers in North America; more than 900 exhibitors will be on hand at Chicago's McCormick Place. And this year's event delivers added value—two expos for a single Processing Suppliers Association's PROCESS EXPO trade show will be co-located with IFT's Annual Meeting & Food Expo. (See sidebar on page 38 for more information about PROCESS EXPO.)
Together, the scientific program, IFT Food Expo, and PROCESS EXPO provide a one-stop destination for information, ideas, and solutions to many of the professional challenges facing food scientists and other food industry professionals. It's no wonder that more than 20,000 attendees and exhibitors are expected to arrive in Chicago from all corners of the world to participate in this year's events.
Cultivating Innovation
It's impossible to underestimate the importance of innovation in today's food industry, and IFT is doing its part to link innovators with those interested in investing in and potentially commercializing new processes and technologies.
• IPEx. After a very successful first year in 2009, the Intellectual Property Exchange (IPEx) is returning to the 2010 Annual Meeting & Food Expo. This business partnering event is designed to connect those currently holding intellectual property (IP) rights such as patents with those who are looking to purchase or license IP. It will be held from 2:30–4:30 p.m. on Sunday, July 18, in McCormick Place.
• IP Management. To complement IPEx, IFT is offering a session focused on intellectual property management for scientists involved in the development of new ingredients, products, processes, and packaging. The session will bring together legal, corporate, and university perspectives on topics such as managing litigation, identifying and offering technologies for licensing, and much more. It will be held from 1:30-3p.m. on Sunday in McCormick Place.
New Open Innovation Program. This year, IFT is unveiling its first open innovation program. This new initiative will provide exhibitors with unique access to the current strategic innovation requirements of a number of major food companies.
Here's how it works. Exhibitors have been invited to submit proposals that provide potential solutions to the strategic needs posed by food companies including General Mills, Kraft Foods, McCormick, and Sara Lee. Submissions from suppliers will be evaluated by the food companies, and selected exhibitors will be invited to participate in private, face-to-face meetings with food company representatives during the Food Expo.
--- PAGE BREAK ---
Nanoscience Conference Returns
Back for a fifth year, the IFT International Food Nanoscience Conference will precede the Annual Meeting & Food Expo. Themed "Food Nanomaterials: Safety and Regulations, Government Investments, and Industry Needs," the conference will be held from 8 a.m. to 4:30 p.m. on Saturday, July 17, at the Hilton Chicago. This year's conference will highlight the recent advances in safety and toxicological assessment of nanomaterials developed for—or relevant to—food application. The keynote address will be based on a recently completed research report by IFT in collaboration with the U.S. Food and Drug Administration (FDA), Grocery Manufacturers Association, the North American branch of the International Life Sciences Institute (ILSI-NA), and the Nanotechnology Characterization Laboratory of the National Cancer Institute through a contract with Cantox Health Sciences International. Bernadene Magnuson, Senior Scientific and Regulatory Consultant with Cantox, is the nanoscience conference keynote speaker.
Pre-Meeting Learning
Want to fit a lot of learning into a relatively brief period of time? Then IFT's Pre-Annual Meeting Short Courses may be for you. These one-or two-day courses deliver focused educational content taught by experts in their fields. The courses, which are offered on Friday, July 16, and Saturday, July 17, at the Hilton Chicago, are highly interactive and incorporate group exercises, case studies, best practices, practical applications, and more in a collaborative, collegial environment.
The course schedule this year features six new offerings: "Nutrition for the Food Scientist," "Managing Risks Associated with Food Ingredient Safety," "Sensory Evaluation: Current Developments and Applications," "Food Processing & Packaging for Product Developers," "Product Development for Food Processing and Packaging Professionals," and "Recent Advances in the Development of Grain-Based Products Promoting Health." Returning favorite courses are "Ingredient Applications for Product Innovation and Consumer Health," "Labeling Requirements and Implications for Foods Marketed in the U.S.," "Microencapsulation in Food Applications," and "Developing Effective Influencing Skills."
Acknowledging Achievement
The atmosphere will be celebratory during the annual Awards Celebration, which is scheduled for 5:30–6:45 p.m. Saturday at McCormick Place. At this annual event, IFT will pay tribute to some of its highest achievers and most dedicated volunteers. The honorees will include 12 IFT Achievement Award laureates, 17 newly elected Fellows, and recipients of the IFT Student Association (IFTSA) Excellence in Leadership Awards. Incoming IFT President Bob Gravani will deliver remarks at the event, where he will be joined on stage by IFT President Marianne Gillette and Executive Vice President Barbara Byrd Keenan.
A Networking Reception immediately following the Awards Celebration will allow plenty of time for those who attend to socialize while savoring Chicago-style cuisine and entertainment.
Pink on High Performance
Speakers at the Annual Meeting Keynote Session frequently challenge conventional thinking, and this year is no exception. Keynoter Daniel Pink, best-selling author of the book A Whole New Mind, will use four decades of behavioral research to provide insights into why the traditional approach to high performance backfires in most organizations. In what promises to be a provocative and entertaining session, Pink will demonstrate how many common organizational incentives don't deliver as desired and can, instead, reduce both creativity and job satisfaction. A contributing editor at Wired magazine, Pink is a frequent guest on television and radio programs and a consultant to companies in the areas of human resources, communication, and innovation. His presentation, "Drive—What the Science of Motivation Can Teach You About High Performance," is sponsored by SweetSuprise.com.
The keynote session will include remarks by Executive Vice President Keenan and a video presentation highlighting important events and achievements for IFT in the past year. In addition, winners of the IFT Food Expo Innovation Awards competition will be announced.
--- PAGE BREAK ---
Scientific Program
As it does every year, the Annual Meeting Scientific Program will bring together leading food science thinkers for a wide-ranging educational forum. The program format has been revamped and is organized around key focus areas within the industry and based on the core sciences that provide a foundation for the food science discipline. The key focus area program tracks are as follows: Food Safety & Defense; Food, Health, & Nutrition; Emerging Technologies & Ingredient Innovations; Food Processing & Packaging; Product Development; Sustainability; Public Policy, Food Laws & Regulations; and Education and Professional Development. Core science program tracks include Food Chemistry, Food Microbiology, Food Engineering, and Sensory Science. This new organizational approach was developed in response to input from IFT members.
"We have been fortunate to have the input of many active and dedicated IFT members to help launch our new scientific program format," said Bob Gallatin, IFT Professional Member and Chair of the Annual Meeting Scientific Program Advisory Panel. "We believe the 2010 program will offer attendees the opportunity to find numerous technical sessions highlighting new research and cutting-edge technologies."
Track General Sessions

Five of the 12 Scientific Program tracks will include a 90-minute general session on a topic of broad interest to attendees. Here's what is scheduled.
• 10:30 a.m. Sunday, Emerging Technologies & Ingredient Innovations track, "Creating Positive Environments for Technology Innovation: What Works and What Doesn't?"
• 10:30 a.m. Sunday, Product Development track, "An Essential Market Update for Product Development in Today's Challenging Economic Environment;"
• 1:30 p.m. Sunday, Food Safety & Defense track, "Food Safety in an Emerging Regulatory Environment: Impact on the Food Industry and the Consumer;"
• 10:30 a.m. Monday, July 19, Sustainability track, "Making Sense of Sustainability: What Consumers Really Think;"
• 8:30 a.m. Tuesday, July 20, Food Processing & Packaging track, "Communicating the Contributions of Processed Foods and Addressing Public Perceptions."
Division Lecturers
Twelve divisions have invited accomplished professionals to present 90-minute sessions on leading-edge research topics. A breakout of presentation times, divisions, speakers, and topics is as follows:
• 1:30 p.m. Sunday, International Div., Dennis Keefe, Center for Food Safety and Applied Nutrition, FDA, "International Standards for Food Safety and Health Claims;"
• 1:30 p.m. Sunday, Quality Assurance Div., David Acheson, Leavitt Partners, "Food Safety in an Emerging Regulatory Environment: Impact on the Food Industry and the Consumer;"
• 8:30 a.m. Monday, Food Laws & Regulations Div., John Bode, Olson, Frank, Weeda, Terman, Bode, Matz, "Evolutionary Changes in Revolutionary Times;"
--- PAGE BREAK ---
• 10:30 a.m. Monday, Nonthermal Processing Div., Marc E. Hendrikx, Lab of Food Technology and Leuven Food Science and Nutrition Research Center, "An Update of High-pressure Processing of Foods;"
• 10:30 a.m. Monday, Food Chemistry Div., Pamela White, Iowa State University, "Understanding Dietary Fiber: Source, Definitions, and Impact on Food Quality and Health Implications;"
• 10:30 a.m. Monday, Product Development Div., Demian Dressler, The Dog Cancer Vet, "Innovations in Biofunctional Ingredients for Optimizing Pet Health;"
• 10:30 a.m. Monday, Biotechnology Div., Sharon Bomer Lauritsen, Biotechnology Industry Organization, Public Policy Technical Session;
• 1:30 p.m. Monday, Food Microbiology Div., Mark A. Harrison, University of Georgia, Food Microbiology Technical Session;
• 1:30 p.m. Monday, Food Engineering Div., Shelly J. Schmidt, University of Illinois, "Applications of Water in Food Quality;"
• 1:30 p.m. Monday, Quality Assurance Div., Kathy Musa-Veloso, Cantox Health Sciences Intl., "Health Claims for Food and Supplements: Meeting the Evidence-based Requirements;"
• 1:30 p.m. Monday, Sensory & Consumer Sciences Div., Howard Schutz, University of California, Davis, "The Ever Changing Roles of Sensory Science and Its Applications in Product Development;"
• 1:30 p.m. Monday, Aquatic Food Products Div., E. Spencer Garrett III, NOAA Fisheries, "Sustainability of Global Fish Stocks and Aquaculture to Food ciency;"
• 8:30 a.m. Tuesday, Nutrition Div., Ben van Ommen, TNO Quality of Life, "Nutrigenomics, Nutritional Phenotype, and Delivery of Personalized Nutrition;"
• 8:30 a.m. Tuesday, Nonthermal Processing Div., C. Patrick Dunne, U.S. Army Natick Soldier Research, Development & Engineering Center, "Novel Processes and Food Safety for Military and Space Feeding;"
• 8:30 a.m. Tuesday, Sensory & Consumer Sciences Div., Howard R. Moskowitz, Moskowitz Jacobs Inc., "Blurring the Roles Between Sensory and Market Research to Advance Consumer Understanding;"
• 10:30 a.m. Tuesday, Product Development Div., Gerald Darsch, U.S. Army Natick Soldier Research, Development & Engineering Center, "Combat Ration Science;"
• 10:30 a.m. Tuesday, Sensory & Consumer Sciences Div., David Thomson, Founder of Brandphonics Feeding Directorate, "Understanding Consumer Attitudes and Behaviors."
Get Up Early, Learn More!
Reinforcing the conventional wisdom that the early bird gets worm, IFT is offering early morning educational Sunrise Sessions on Sunday and Tuesday. Four sessions are slated for 7:30–8:30 a.m. Sunday. They are "Nanoscale Science for Food: A Primer;" "How to Obtain and Manage AFRI Competitive Grants," "Case Studies: Risk Assessment for Food Allergens," and "The Role of Water in Food Quality." On Tuesday, from 7:15–8:15 a.m., three Sunrise Sessions are scheduled: "Food Science: Wow, What a Major!" "Product Development 101: How Do We Put the Pieces Together?" and "Fundamentals of Sustainability in the Food Industry."
And just in case all of the valuable information presented in the sessions isn't enough to persuade Annual Meeting attendees to rise and shine, coffee for Sunrise Session attendees will be available courtesy of Ajinomoto.
--- PAGE BREAK ---
Virtual Poster Access
Again this year, IFT is offering Annual Meeting attendees a helpful tool for better tapping into the wealth of knowledge and information available in the technical research papers presented as posters. IFT's virtual poster system uses state-of-the art technology that allows those who use it to search for specific research topics; view individual sections of each virtual poster; see available multi-media, including video, pictures, and graphics; and send comments and feedback to authors. Access to the virtual poster site is free to full, paid 2010 conference attendees.
Expo Excitement
There's nothing quite like a walk through the aisles of the IFT Food Expo to provide a sense of what is new, different, and exciting within the food industry. Plan for a long walk this year—Food Expo exhibitors will occupy more than 232,000 square feet of space in McCormick Place, where they will be showcasing the latest ingredients, instruments, processing equipment, and packaging. More than 120 new exhibitors will be on hand this year. Expo hours are noon to 5 p.m. Sunday, 10 a.m. to 5 p.m. Monday, and 10 a.m. to 4 p.m. Tuesday. Here's a look at some of the highlights of this year's Expo.
• Trend & Solution Tours. These self-guided tours of the Food Expo floor made their debut this year, and they'll be back this summer with even more exhibitors participating. The roster of participants includes 54 companies representing 71 products.
The themes for this year's tours are as follows: "Taste Modification," "Ingredients for Functional Foods," "Reducing Formulation Costs," and "Weight Management." A fifth tour, themed "Food Safety," will span the IFT Food Expo and PROCESS EXPO show floors. Print guides for all tours will be located at the entrances to the Food Expo.
• Food Expo Innovation Awards. Presented each year, these awards pay tribute to ingenuity and achievement by exhibitors. Products, technologies, ingredients, instrumentation, equipment, or services that were commercially introduced since January 1, 2009, were eligible for the awards competition. New applications of existing products/services commercially introduced since January 1, 2009, also were eligible. Some of this year's winners will be on hand to discuss their entries in a session that begins at 3 p.m. on Sunday in the Special Events Pavilion on the Expo floor.
• Exhibitor Spotlight Presentations. Participating exhibitors will offer in-depth information in these 45-minute presentations held in a meeting room on the show floor.
• Innova Pavilion. The "Taste the Trend" Pavilion presented by Innova Market Insights is designed to deliver insights and inspiration from all corners of the globe. This year's Innova display will feature in-depth analysis of the issues driving the food and beverage landscape with the objective of providing new tools and tactics for overcoming key regulatory, formulation, packaging, and product development hurdles. The topics of sustainability and sodium reduction will receive special attention.
Members of the Innova Market Insights team will be on hand to answer questions and guide visitors through the display. A dedicated Web site will contain complete content from all of the presentations on display at the Pavilion so that the learning and insights can easily continue after the Food Expo has concluded.
• Mintel Pavilion. Each day of the Expo, Mintel's new product experts, Lynn Dornblaser and Dave Jago, will provide a trend presentation, with insights drawn from Mintel's Global New Products Database, Mintel Menu Insights, and Mintel Oxygen reports. During the presentations, they will discuss the importance of key products from around the world, and after the talk, attendees will have the opportunity to see and sample some of these products.
This year's presentation topics are as follows: "Baby Boomers: A Generation in Search of New Products;" "Satiety: The Next Big Thing in Weight Management;" and "Simple Ingredient Statements: Clear Language for Confused Consumers."
--- PAGE BREAK ---
• IFT/RCA Culinology Presentation. Teams of research and development professionals will demonstrate how they integrate culinary arts and food science to develop innovative food products in the always popular IFT/RCA event. Sponsored by the Almond Board of California, the culinology presentation will be held at 12:15 p.m. Sunday in the Special Events Pavilion.
• Informational Sessions. Two other presentations at the Special Events Pavilion will help keep attendees informed. "Health & Wellness in a Package: Giving the Consumer a Reason to Believe in Dairy and Dairy Ingredients" is slated for 11 a.m. to 1 p.m. on Monday. "Applying Key Lessons Learned from the International Society of Beverage Technologists" will be presented from noon to 1 p.m. on Tuesday.
• Taste for Science Receptions. Expo attendees looking for a place to take a break and enjoy some refreshments will find it during the Taste for Science receptions held on the show floor from 3-5p.m. Sunday and Monday. During each reception, cash bars will be available, with a portion of the proceeds going to the IFT Foundation. In addition, a number of exhibitors will support the reception by serving appetizers and food samples.
• networkNOW! This online professional matchmaking tool will make it easier for attendees at the Annual Meeting & Food Expo to quickly and easily connect with others for productive networking, business development, and more.
Student Association Activities
Competitions, awards, and social events are on the agenda for members of the IFT Student Association (IFTSA) during the Annual Meeting & Food Expo. Some of the highlights are listed here; for more information, stop by the IFTSA booth in McCormick Place.
• Developing Solutions for Developing Countries. Now in its second year, this competition requires student teams to use scientific skills and innovative thinking to create products and/or processes that can improve the quality of life for people in developing nations. Sponsored in part by General Mills, with additional support from McCormick, the competition, slated to begin at 9 a.m. Monday in McCormick Place, features both an international and a domestic component.
• Disney – IFTSA Product Development Competition. Themed "Nutritious Foods for Kids," this competition asks student teams to develop a healthful snack that incorporates a fruit or vegetable and is targeted to children under the age of 12. The finals will begin at 2 p.m. Monday in the Special Events Pavilion.
• IFTSA Product Development Competition. Product concepts created by finalist teams will be evaluated by judges in the final phase of this competition, which is sponsored by Mars. This competition has several components, including an oral competition that begins at noon on Sunday in McCormick Place and a poster competition that begins at 8 a.m. Monday in McCormick Place.
• IFTSA Mixer and Welcome Assembly. Mixing and mingling are the goal at this annual IFTSA gathering, which provides those who attend with an opportunity to view Chapter of the Year displays. It will be held on Monday evening at the Hilton Chicago. PepsiCo sponsors the IFTSA Mixer and Chapter of the Year competition. Following the Mixer, IFTSA will host its annual Welcome Assembly, where student leaders will be introduced and winners of the Fun Run, product development competitions, Chapter of the Year Award, Most Improved Chapter Award, and Excellence in Leadership Award sponsored by Campbell's will be recognized. (This year marks the 10th anniversary of the Excellence in Leadership Award.)
--- PAGE BREAK ---
• College Bowl Competition. The finalists—from universities representing eight geographic regions—have been chosen, and the competition promises to be intense in this annual contest, which follows the Welcome Assembly on Monday evening. The College Bowl—which marks its 25th anniversary this year—tests the knowledge of student teams in the areas of food science and technology, history of foods and food processing, food law, and general IFT and food-related facts. It is sponsored by Gerber Products/ Nestlé Nutrition, PepsiCo, Nestlé Purina, and McCormick.
• Undergraduate Research Competition. Finalists from six universities will compete in the "new and improved" version of this established competition, which features both an oral and a poster component and is open to undergraduate students who have been participating in an independent research project.
• Professional Development Oral Sessions. These special sessions are offered for students who are presenting posters but want to refine their oral presentation skills and present their research orally as well, receiving constructive input from industry professionals. Students chosen to participate will present their research from 4:30– 5:30 p.m. on Sunday and Monday. • Student Association Party. Last but not least under the heading of IFTSA activities, is the Student Association Party. All students are invited to join in the fun at this informal event scheduled for Tuesday evening on the rooftop of Citizen Bar, 364 W. Erie St.
Town Hall Meeting
IFT's Board of Directors will convene a Town Hall Meeting on Sunday from 4:30–5:30 p.m. in McCormick Place. All IFT members are invited to attend this annual event to learn more about IFT's current programs and to ask questions of IFT's Board of Directors.
New Professionals Mixer
Scheduled for 5:30–7:30 p.m. Sunday at Daddy O's Pub in the Hyatt Regency Hotel, the mixer provides a great opportunity for newcomers to the profession to relax and socialize.
Tapping Into Talent
The IFT Employment Bureau will be open from 8:30 a.m. to 5:30 p.m. Sunday through Tuesday, providing job seekers and prospective employers with a convenient place to come together for pre-scheduled face-to-face meetings. Candidates and employers who wish to participate in the Employment Bureau must register online. Before the Employment Bureau opens, a Career Fair from noon to 5 p.m. on Saturday will provide an opportunity for informal professional interaction between job seekers and food company representatives. Entry into the career fair is free with an Annual Meeting & Food Expo badge. Candidates should bring resumes.
Take a Field Trip
Who says field trips are only for school-age students? Certainly not IFT! IFT's Technical Field Trips allow participants to visit local businesses and gain an insider's view of the ways in which food science and technology are applied in the real world. On the agenda this year are trips to McDonald's Corp. and Hamburger University, FONA International, Knechtel, and Vanee Foods Co.
Countdown to the Meeting & Expo
Interested in more detailed information on the content of the Scientific Program sessions and an advance peek at what Food Expo exhibitors will be showcasing? Food Technology editors have laid out many of the highlights on the pages that follow.
You'll also find a full list of Food Expo exhibitors and their booth numbers plus the Scientific Program as of press time. The complete Scientific Program, abstracts, and exhibitor descriptions are available online at www.ift.org/IFT10. So get ready for a Chicago-style Annual Meeting & Food Expo. We'll be working hard to make it a memorable, meaningful experience, and we're confident you'll find that Chicago is IFT's kind of town!
--- PAGE BREAK ---
---
Registration Information
To register, or for more information on the Annual Meeting & Food Expo agenda, visit
www.ift.org/IFT10
. On site registration is available through Tuesday, July 20.
---
IFT's 2010 Exposition Neighbor: PROCESS EXPO
This year s Annual Meeting & Food Expo will be co located at McCormick Place with PROCESS EXPO, managed by the Food Processing Suppliers Association. PROCESS EXPO is a comprehensive event that features packaging and processing exhibitors. More specifically, it provides food and bev erage professionals with answers to questions ranging from automation to food safety.
The IFT/PROCESS EXPO co location presents a rare opportunity to gain insight from the educa tion, information, and other resources available from the IFT Food Expo while having simultaneous access to PROCESS EXPO s modern trends and timely solutions for food processing and packaging. Attendees will have this singular occasion to enhance their skills with relevant education, build new supplier relationships, and share ideas with peers. More importantly, the co location will provide the chance to gain a better understanding of the interrelated stages involved in the delivery of food products.
All registrants for the IFT Annual Meeting & Food Expo will have complimentary access to PROCESS EXPO.
-Toni Tarver
---
New Ways to Stay Connected With IFT
IFT is using the social media channels LinkedIn, Facebook, Twitter, and Flickr to communicate about highlights and changes for the Annual Meeting & Food Expo as well as to allow those on site to engage in the virtual IFT community.
On site, Annual Meeting & Food Expo staffers will be using Twitter (twitter/IFT10) to help drive traffic to events and notify attendees of schedule changes. Flickr (flickr/IFT) will be used to allow participants to upload their photos, which will be shared in the Grand Concourse of McCormick Place South on a Flickr Wall and also may be featured as part of IFT Live, the electronic show daily.
Follow Annual Meeting & Food Expo activity at twitter/IFT10, and be sure to use the #IFT10 hashtag when tweeting about the event.
If you are not already on LinkedIn, Facebook, Twitter, or Flickr, consider joining these social net working sites and search for the Institute of Food Technologists or IFT.
In addition, smartphone users will have a new tool to help them stay informed and plan their schedules ChirpE. Activated just prior to the start of the Annual Meeting & Food Expo, this easy to use mobile site may be accessed by typing www.chirpe.com/IFT10 into a mobile browser.
--- PAGE BREAK ---
---
Show Chicago That IFT Cares
IFT's anti-hunger initiative began with the 2008 IFT Annual Meeting & Food Expo in New Orleans, La., and has continued every year. This year, IFT will strive to reduce hunger in its hometown by donating time, energy, and money to the Greater Chicago Food Depository (GCFD).
Earlier this year, GCFD and Feeding America, its parent organization, released a study which indicates that more than 678,000 people in Chicago and Cook County, Ill., annually receive emergency food—that is a 36% increase since 2006. Every week in Chicago and Cook County, approximately 142,400 men, women, and children receive emergency food assistance from facilities served by GCFD. Children under the age of 18 make up 37% of that number.
According to Kate Maehr, GCFD Executive Director, the organization will have to sustain higher levels of demand for the foreseeable future. With Cook County's unemployment rate nearing 11%, it is easy to under-stand why demand could remain high for an extended period of time.
Vicki Escarra, President and CEO of Feeding America, is saddened by the fact that one in every six people who reside in the United States struggle to choose between food and basic necessities: "These are choices that no one should have to make."
IFT members who want to volunteer time or donate money to improve the lives of underserved Chicago residents can sign up when they register for the meeting. Volunteer time slots are 8 a.m. to noon and 12:30–4:30 p.m. on Saturday, July 17, and 8 a.m. to noon Wednesday, July 21. Transportation to and from the food depository will be provided for IFT Cares volunteers. Participation is $15 for attendees and $10 for IFT Student Association members. —Toni Tarver
---
Fun Run and More Mark IFT Foundation Anniversary
This year, the IFT Foundation celebrates 25 years of sup-porting and promoting service, education, and research that advance global access to safe and nutritious food. Since 1985 the IFT Foundation has provided more than $10 million in support of programs and services that expand the influence of food science and technology. These include career guidance initiatives, continuing education programs, undergraduate and graduate scholarships, and scientific materials. IFT will celebrate this quarter-century achieve-ment with special activities during the 2010 Annual Meeting & Food Expo.
Besides activities commemorating its silver anniversary, the IFT Foundation will sponsor two other notable events at the Annual Meeting & Food Expo. First, the annual Fun Run, co-sponsored by the IFT Student Association, will take place on Monday, July 19, at 6:15 a.m. Celebrating its 10th anniversary this year, the Fun Run is a 5K (3.1 mile) run or walk that raises money for student scholarships. This activity has helped fund more than 4,000 undergraduate and graduate food science scholarships. Advance registration for the Fun Run is $25 ($15 for full-time students); on-site registration is $30.
The second noteworthy event will be a session titled "Estate Planning: The Role of Charitable Giving," scheduled for 3:30 p.m. Monday. Sponsored by the IFT Foundation's Legacy Circle, this session will include discussions on the legal mechanisms of planned giving. More specifically, presenters will converse on topics such as creating trusts, determining the distribution of personal assets, reducing estate and gift taxes, and perpetuating personal philanthropic values.
—Toni Tarver
---
Mary Ellen Kuhn
is Managing Editor of
Food Technology
magazine (
[email protected]
).