Representing more than 70 billion meal and snack occasions—and 49% of the U.S. food dollar—restaurant industry sales are expected to reach $580 billion this year (NRA, 2010). On a typical day, more than 130 million Americans are foodservice patrons. Eating places are projected to account for sales of $388.5 billion; retail, vending, recreation, and mobile sales will total $55.2 billion; noncommercial foodservice $47.6 billion; managed services $40.9 billion; bars and taverns $18.8 billion; and military restaurant services $2.1 billion (NRA, 2010).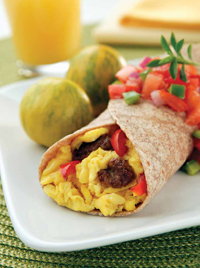 Despite the television star status of celebrity chefs, restaurants still set the culinary pace for the mainstream consumer packaged food/beverage industry by allowing consumers to experiment with new foods, flavors, and forms. Frequently, restaurants are also the barometer for emerging food trends. This article will discuss the most likely post-recession behaviors among foodservice diners, up-and-coming culinary/flavor trends, healthy dining developments, and other future industry directions.
Traffic Troubles
When adjusted for inflation, restaurant industry sales are expected to decline 0.1% in 2010, following a 1.2% drop in 2008 and a 2.9% drop in 2009 (NRA, 2010). Although there are some signs of improvement, nine in 10 consumers still planned to watch their spending on food away from home as of June 2010 (NPD, 2010a). Half (50%) of consumers were still very concerned about the economy in May 2010; 41% were somewhat concerned (Technomic, 2010a). Six in 10 adults (58%) still eat out less frequently than they used to (IRI, 2010). Half of consumers were more likely to eat dinner at home in July than they were during a three-month period in the winter and spring (Harris, 2010).
Although fewer diners were trying to economize in restaurants this year vs last year, 27% are still choosing less expensive restaurants more often, 27% are ordering less expensive items, 22% are using coupons more often, 21% are not ordering as many items, and 24% are watching their per item spending (NPD, 2010b). In May 2010, the number of consumers who reported that they planned to dine out at full-service restaurants one or more times per week in the next six months was up 10% compared to March 2009. For fast-food restaurants, the total was up 21%, and for fast casual, it was up 9% (Technomic, 2010a; Figure 1).

Tabulations from the NPD Group for the second quarter of 2010 showed that U.S. restaurant traffic declined for the eighth consecutive quarter. For the year ended May 2010, restaurant visits were down by 3%, while restaurant consumer spending declined 1%—the first drop in dollars noted by NPD since it began tracking in 1976 (NPD, 2010c).
--- PAGE BREAK ---
Traffic in quick-service restaurants (QSRs)—which, along with fast-casual restaurants, are among the best-performing foodservice segments—was down 2% for the year ended in March 2010. For mid-scale restaurants, traffic was -4%, casual dining -3%, noncommercial -7%, and fine dining -6% (NPD, 2010d). Improved performance in the morning meal daypart and in QSRs (led by the pizza category), along with relatively stable snack sales, helped to soften traffic declines.
Young adults, who are among the heaviest users of restaurants, continued to cut back on their restaurant visits for the fifth straight year. From May 2008 to May 2010, annual per capita meal and snack occasions fell from 242 to 216 for those ages 18–24 and from 257 to 238 for those ages 25–34 (NPD, 2010e). Adults ages 55–64 remain the highest per capita spenders at restaurants (NRA, 2010). The NPD Group predicts that U.S. restaurant visits will grow less than 1% a year over the next decade, slower than the 1.1% population growth (NPD, 2010f).
Hot Concepts
Even in 2009's down economy, quite a few limited-service chains experienced tremendous sales growth, with Five Guys Burgers & Fries and Tim Horton's leading the pack (Technomic, 2010b). The snack/appetizer concept Wingstop and two Asian-based eateries—Noodles & Co. and Pei Wei Asian Diner—also made the top 10 list along with perennial favorite Chipotle Mexican Grill.
Buffalo Wild Wings Grill & Bar, BJ's Restaurant & Brewhouse, Johnny Rockets, and Cheddar's Casual Café topped the list of the fastest-growing full-service restaurants for 2009. IHOP, Steak 'n Shake, Olive Garden, Texas Roadhouse, Old Chicago Restaurants, and Dave & Buster's rounded out the list (Technomic, 2010b).
In 2009, McDonald's remained at the top of the list of America's largest chain restaurants, with U.S. sales up 2.9%. In descending order by dollar sales, Subway, Burger King, Wendy's, Starbucks, Taco Bell, Dunkin' Donuts, Pizza Hut, KFC, and Applebee's Neighborhood Grill & Bar completed the top 10 list (Technomic, 2010b).
The limited-service menu categories experiencing the largest increases in sales were bakery cafés, donut shops, and Mexican chains. Asian was the only full-service menu category to experience an increase in sales in 2009. RA Sushi Bar Restaurant, Stir Crazy Fresh Asian Grill, and HuHot Mongolian Grill helped drive double-digit sales increases. Italian, family style, and varied menu registered sales declines that were smaller than average (Technomic, 2010b).
Half (51%) of food ordered in restaurants is still eaten on-premise, one-third (33%) is carried out, and 16% is delivered (Technomic, 2010c). Baby Boomers account for the largest proportion of dinein orders; less than half of Gen Y and Gen X orders are eaten at a restaurant (Technomic, 2010c).
One in five Gen Y (20%) and Gen X (18%) orders are for delivery; take-out was similar across all age groups in 2010. Half (49%) of adults are ordering foods for delivery at the same rate as last year; 17% are doing so more frequently (Technomic, 2010c).
--- PAGE BREAK ---
Nearly one in five consumers (17%) visited a QSR simply because it has a drive-through (NPD, 2010g). One in four consumers (26%) ordered from a mobile food truck in 2010 (Technomic, 2010c).
Use of supermarket prepared foods/take-out is at an all-time high (Technomic, 2010a). Sales reached $13 billion in 2010 and are projected to top $14 billion by 2011 (Packaged Facts, 2010a). The number of shoppers buying prepared foods one or more times per week more than doubled from November to May to a total of 33%; the number of those buying prepared foods 2–3 times a month also rose to 33%. Chicken/turkey, sandwiches, deli, and leaf salads are still the top choices (NPD, 2010g). Those ages 25–34, single men, households with young children, and households with incomes of $75,000+ were the heaviest users (FMI, 2009). Restaurant brands crossing over to grocery (e.g., California Pizza Kitchen and P.F. Chang's) represent an opportunity for expanding foodservice brand equity.
Online ordering is a hot new tool for consumers; 17% of those ages 24–34 order food online. One-fourth of all Domino's pizza orders are now placed online. In fact, online ordering, coupled with Domino's new pizza recipe, helped the chain boost its pizza sales by 23% over 2009 (Meyer, 2010).
Analyzing Sales by Daypart
Although traffic was flat vs a year ago, breakfast and snacks were bright spots for restaurants in the first quarter of 2010. Traffic at supper, which has fallen for the past  our years, declined by 4%; lunch visits were down by 2% (NPD, 2010d). Specialty coffee and breakfast sandwiches, the two fastest-growing menu items, helped boost a.m. daypart sales (NPD, 2010h).
In July, 37% of adults ate breakfast at a QSR chain. McDonald's has a 46% share of the morning daypart, Dunkin' Donuts and Starbucks each have 18%, and Burger King has 12% (Nation's Restaurant News, 2010). Restaurant breakfast sales are expected to hit $37 billion this year (Nation's Restaurant News, 2010).
About one-third of those who patronize restaurants for breakfast look for a meal priced under $3 (Packaged Facts, 2010b). Just under two-thirds (63%) say it is important that the breakfast item is filling, 48% say it is important for it to be healthy (Technomic, 2010d). Bob Evans' new "Fit from the Farm" menu includes a vegetable omelet and a fresh fruit plate; Subway offers egg whites and light whole wheat muffins.
Jack in the Box's new premium grilled breakfast sandwich is served on artisan bread. Manhattan Bagel's egg white breakfast sandwiches are taking an Italian or Southwestern twist. Tomatillo, pico de gallo, and pesto are among the sauces growing on morning menus (Glazer, 2010).
American regional items such as biscuits and gravy, grits, chicken fried steak, and hickory smoked ham represent popular new directions. Hardee's has Smoked Sausage Biscuit and Loaded Biscuits and Gravy on the menu.
American Culinary Federation (ACF) chefs cite ethnic-inspired breakfast items, e.g., Asian-flavored syrups, scrambled eggs with chorizo, and coconut milk pancakes; traditional ethnic breakfast items, e.g., huevos rancheros, Japanese shakshuka (an Israeli egg dish), and ashta (Lebanese cream); and seafood breakfast items as hot trends for 2010 (NRA, 2009a).
--- PAGE BREAK ---
Although convenience stores are still the No.1 source of snacks away from home, Americans are snacking more than ever before at restaurants (Jennings, 2010). NPD reports that afternoon snack servings in QSRs fell by 1% for the year ended March 2010, however, snacks still topped breakfast, which was down by 2%, and lunch, down by 3% (Jennings, 2010). Snack-sized portions rank third on QSR operators' list of what's hot for 2010, just behind healthy kids' meals and energy drinks (NRA, 2009b).
NPD Group reports that snack traffic is strongest in the midmorning followed by the mid-afternoon and evening. Nonalcoholic snack "happy hours" are gaining in popularity. Sonic's happy hour drinks and Slushes are sold at half price from 2 p.m. to 4 p.m. Combo platters are also increasing in QSRs.
Au Bon Pain, Dunkin' Donuts, and others are packaging small-bite bundles, e.g., trail mixes, gummies, etc., at the checkout. Other snacks are going ethnic or upscale, e.g., McDonald's Angus Snack Wrap. Popeye's "Louisiana Travelers" menu features a Loaded Chicken Wrap with red beans and rice.
The hot trend to mini ethnic sandwiches and mini morsels aligns perfectly with today's young Gen Y restaurant snackers. Central and South American pupusas, Cuban pastelitos, Jamaican meat pies, and Middle Eastern shawarma should all have strong appeal.
About one out of four consumers would like to see more snacks and appetizers on the menu at fast-casual (27%) and fast-food (24%) restaurants (Technomic, 2010e). The majority of consumers (56%) think any price point above $1.99 is too high. Those ages 18–24 are most likely to snack outside the home. More than half (55%) at least occasionally buy snacks from QSRs (Technomic, 2010e).
Adding Flavor Appeal
Just over one-third (36%) of consumers are more interested in trying new flavors now than they were a year ago (Technomic, 2009a). When it comes to basic flavors, 72% say they enjoy the flavor of grilled foods, followed by savory, spicy, sweet, and smoky flavor notes. Women have a greater preference for savory, sweet, herbal, fruity, and salty flavors; men prefer spicy and smoky foods (Technomic, 2009a; Figure 2).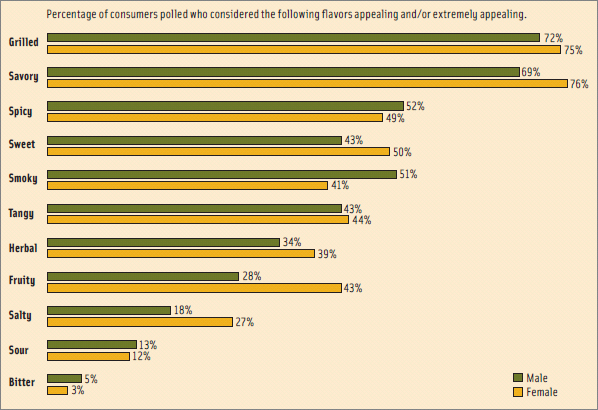 Along with grilling, ACF chefs named braising, smoking, poaching in oil/confit, curing, pickling, searing/sautéing, and roasting as the hot restaurant preparation methods for 2010, along with trendy liquid nitrogen chilling/freezing and sous vide cooking (NRA, 2009a). Crusting, e.g., with sesame or horseradish, remains in vogue.
--- PAGE BREAK ---
Diners report they expect to eat more baked (45%), grilled (44%), broiled (40%), oven-roasted (38%), charbroiled (26%), and wood-fired (14%) preparations this year. Only 8% expect to eat more pan-fried, and 4% expect to have more deep-fried foods (Technomic, 2009b). Higher fried food orders are expected for men and women ages 25–34. The drop-off in ordering fried foods occurs around age 45; dips encourage restaurant goers to order fried foods (Technomic, 2009b).
Nearly two-thirds of diners find dips, sauces, and marinades appealing in restaurants, and more than half (53%) like spreads/glazes. In addition, more than half (55%) want a greater variety of dipping sauces/condiments, led by men ages 25–34 (Technomic, 2009c). Sweet dipping sauces have higher appeal to women, e.g., honey mustard and sweet/sour sauce. One-third would like ranch and cheese sauces served with fries and onion rings.
Among Asian sauces, teriyaki, ginger (paired with more than 500 combinations, e.g., wasabi, ponzu, plum, etc.), hoisin, and peanut sauce are gaining on menus, as are garlic, horseradish, curry, black bean, and tzatziki sauces (MenuMine, 2009).
Four in 10 consumers enjoy guacamole and nacho cheese sauce on Mexican appetizers, 30% enjoy a sweet dip for Asian appetizers, and 29% enjoy soy sauce. Sesame and ginger flavors have very high appeal to diners (Technomic, 2009a).
More than one-third of consumers would order teriyaki, guacamole, sun-dried tomato, chipotle, sweet onion, basil parmesan, roasted red pepper, pesto, pico de gallo, and Cajun toppings on restaurant sandwiches (Technomic, 2010f).
Regional ethnic, ethnic fusion, North African, Latin American, Southeast Asian, and Peruvian are the trendy ethnic cuisines, according to ACF chefs. While eight in 10 diners are still most likely to order Chinese, Italian, and Mexican cuisine, 72% are interested in Spanish, 71% Hawaiian, 69% Tex- Mex, 66% Greek, 66% Caribbean, and 62% Mediterranean (Technomic, 2009a). Half of diners say they would probably/definitely order Japanese/sushi; just over four in 10 would probably/definitely order Indian cuisine. Gen Xers and Gen Yers are the most interested in Asian cuisines other than Chinese (Japanese, Thai, and Indian).
The American regional trend is going to be a strong draw for diners; 58% say they "really enjoy" American foods; those ages 18–24 are the most likely to purchase them (NASFT, 2009). (See "Rediscovering American Foods and Flavors" in the December 2009 issue of Food Technology.) Texas, New York-style, Southwestern, Southern, and St. Louis-style top the list of Americana descriptors on U.S. menus (Mintel Menu Insights, 2010).
While garlic and pepper are the leading seasonings used on restaurant entrees, oregano, parsley, basil, cinnamon, rosemary, lime, sesame, cilantro, chili, ginger, cumin, dill, saffron, and curry have the most appeal when it comes to ethnic flavors/ingredients (Technomic, 2009a).
--- PAGE BREAK ---
Seasonings that are attracting the attention of ACF chefs include black garlic; flavored, regional, and smoked salts; ethnic condiments, e.g., raita (an Indian yogurt-based condiment), chimichurri, Sriracha (Thai hot sauce), chutney, and soy sauce; infused and specialty oils, e.g., truffle, sesame, grapeseed, and hazelnut; and flower syrups/essences (NRA, 2009a). Umami is still a hot trend for 58% of ACF chefs.
Menu Maneuvers
Sandwiches were the items most frequently added to chain restaurant menus in the first eight months of 2010, accounting for 15% of the 3,700 items added, followed by desserts, entrees, beverages, and breakfast items (MenuMine, 2010).
Fried calamari, mozzarella cheese sticks, chicken fingers, nachos, wings, oysters on the half shell, and crab cakes were the appetizers most frequently added; steamed mussels, bruschetta, spring rolls, and nachos with beef/steak also made the top 20 new item list (MenuMine, 2010).
When it comes to appetizers, fried items, led by mozzarella sticks and onion rings, are ordered most often (Technomic, 2009c). Although consumers say Mexican-style appetizers are more appealing than Asian, 80% of diners sometimes order egg rolls, making them the most commonly ordered ethnic appetizer.
Among bread appetizers, garlic bread, bread-sticks, and cheese bread are ordered most frequently; among seafood appetizers, shrimp cocktail and crab cakes are favored (Technomic, 2009c). Sliders, combination platters, and Mexican/Asian appetizers will remain trendy this year. ACF chefs cite appetizer salads and soups as the next up-and-coming trend (NRA, 2009a).
Ethnic and international soups (e.g., miso and menudo) and stews (e.g., ribollita and bouillabaisse) are also expected to get more attention. Beef stew, jambalaya, cioppino, chicken stew, goulash, and lamb stew are among the popular stew offerings served up in chain restaurants. When it comes to chili, vegetarian, turkey, chile verde, and chili con carne are noteworthy (Menu Mine, 2010).
ACF chefs predict hot trends will include Asian-inspired entrée salads (e.g., Vietnamese rice or noodle salads and Japanese seaweed salads) and rustic bread and grain salads (NRA, 2009a). Greek, Southern, Chinese, Japanese, French, Cajun/Creole, and Thai were among the top new descriptors for salads added to menus; black bean, baked potato, gumbo, and wonton make the list of popular new soup additions (MenuMine, 2010).
Locally sourced meats, half/smaller portions for a smaller price, sustainable seafood, nontraditional fish, and new fabricated cuts of meat are expected to remain among the trendy high-end main dish menu offerings in 2010 (NRA, 2010). Tapas, mezze, and dim sum continue to have strong appeal. About half of ACF chefs say vegetarian and vegan entrées are gaining in popularity.
--- PAGE BREAK ---
American cuisines, including Southern, American BBQ, Cajun/Creole, Western, Pacific Northwest, American spicy/hot, and Hawaiian, were among the new center-of-the-plate items added in 2010, along with Japanese and English dishes (MenuMine, 2010). Chicken parmesan, shrimp scampi, teriyaki entrees, veal parmigiana, sweet and sour entrées, stir-fry entrées, beef stroganoff, and veal Marsala are among the latest menu additions in chain restaurants (MenuMine, 2010).
As older diners begin to drive the restaurant business, expect side dishes to become a critical dinner element because restaurant patrons will seek a nutritionally balanced plate that includes a protein, starch, and one or two sides. Right after fries and potatoes, rice, pasta, baked beans, and prepared salads remain America's favorite side dishes (Mintel, 2010).
The list of trendy new sides includes sweet potatoes, specialty potatoes (e.g., purple, fingerling, and baby Dutch yellow), pureed potatoes, cauliflower, and parsnips (NRA, 2009a). Ancient/hearty grains (e.g., quinoa, brown/wild rice, buckwheat, barley, and lentils), exotic forms of rice, couscous, polenta, and grits may also be attention-getters in restaurants. Japanese, American spicy/hot, Indian, and Spanish are among the new side dish cuisines appearing on chain menus (MenuMine, 2010).
Stir-fried rice, risotto, paella, and fried rice are among the new rice platforms added to chain menus. Pad thai, udon, rice noodles, chow mein, Yakisoba noodle entrees, and lo mein noodles also are popular (MenuMine, 2010).
With non-fried vegetables ranking sixth on the "most ordered list" for diners age 50+, expect the demand for produce across the menu to increase (NPD, 2009). Vegetarian entrées, mixed vegetables, eggplant parmesan, vegetable stir-fry dishes, and casseroles are also among new menu additions (MenuMine, 2010).
With interest in Americana-style cuisine heating up, ACF chefs cite root vegetables (e.g., parsnips, rutabaga, and beets); fresh beans/peas (e.g., fava, sweet, and snow); and dark, bitter greens (e.g., collards, kale, beet tops, and chard) as hot this year (NRA, 2009a). Watch for shiitake, straw, enokitake, chanterelle, and morel mushrooms to appear in more foodservice dishes, too.
Fruits are moving onto restaurant menus as sides, toppings, sauces, and desserts; 50% of ACF chefs cite fresh fruit desserts among the hot trends for 2010. Superfruits such as açai, goji berry, and mangosteen remain trendy in 2010 along with exotic fruits including durian, passion fruit, dragon, paw paw, and guava. Pomegranate, fig, persimmon, coconut, and watermelon are also gaining menu momentum (NRA, 2009a).
Expect to see more artisan and rustic baked goods using specialty flours including those made from kamut, spelt, and amaranth. Flatbreads, e.g., naan, papadum, lavash, pitas, and tortillas, will get increased attention, according to ACF chefs, as will whole-grain breads.
--- PAGE BREAK ---
Burgers still top the list of America's favorite sandwiches, followed by deli varieties, tacos/burritos, subs/hoagies/heroes, and breakfast sandwiches. Hot dogs and salad sandwiches have gained in popularity over the past two years. Chicken breast is the most popular dinner sandwich, along with roast beef and steak. Deli meats and bacon lead for lunch (Technomic, 2010f).
Italian, whole-wheat/whole-grain, French, and sourdough bread are favorite sandwich breads; cheddar, Swiss, mozzarella, provolone, American, and Monterey Jack are the preferred sandwich cheeses. Mayonnaise and Miracle Whip salad dressing/sandwich spread are Americans' top choices in condiments; half of diners reach for honey mustard, ketchup, yellow mustard, barbecue sauce, or ranch dressing (Technomic, 2010f).
One in four diners would like to see more ethnic handheld sandwiches such as stromboli or Mexican tortas (Technomic, 2010f). Expect classic sandwiches such as Reubens to continue to appeal to older foodservice patrons.
Although appetizer, dessert, and beverage orders continue to fall off during tough times, diners are likely to splurge for trendy meal endings. While bite-sized mini desserts and tasting flights are still the hot desserts, look for artisan/house-made ice cream, savory desserts, gelato/sorbet, drinkable desserts, fresh fruit, ethnic desserts, and cheese plates to tempt restaurant patrons as well (NRA, 2009a).
Specialty iced teas (e.g., Thai-style), flavored organic coffee, aqua fresco, and green tea are expected to set the pace in the nonalcoholic beverage segment. McDonald's has credited its expanded McCafé specialty coffees and new fruit smoothies for its recent U.S. sales boost. Sports drinks and energy beverages are also being added to many QSR menus.
Locally produced and organic wine and beer and culinary cocktails made with savory, fresh ingredients are expected to drive the trendy alcoholic beverage segment, according to ACF chefs (NRA, 2009a). Watch for an influx of South American cocktails, including caipirinhas, pisco sours, and mojitos, as well other nontraditional liquors/cocktails from foreign countries.
Keeping It Healthy
Healthful kids meals top the list of what's hot for 2010 among QSR operators; nutritionally balanced/healthy kids meals ranked sixth out of 217 items overall on ACF chefs' trendy list for this year (NRA, 2009a,b). Seven in 10 chefs (69%) also cited fruit/vegetable side dishes for children, just above children's entrée salads and ethnic-inspired children's dishes, as a hot culinary trend.
Gluten-free, now a $1.6 billion grocery category, is also a strong menu contender, ranking seventh on QSR operators' hot list and ninth among ACF chefs (Nielsen, 2010). Along with specific instructions for kids' menus, the U.S. Dietary Guidelines Advisory Committee also called for a significant reduction in sodium intake, which means that lower-sodium menu items will likely be the next big nutritional and formulation challenge for the foodservice industry.
--- PAGE BREAK ---
Just under half of diners (46%) say they're choosing healthier items when away from home; women are significantly more interested in healthful options than men (Restaurants & Institutions, 2010). One-third (32%) said their lunch selections away from home were influenced by a healthy menu claim; 27% said they were influenced by an all-natural menu claim. Those ages 18–24, followed by those 25–34, are the most influenced by these claims (Packaged Facts, 2010c).
For the year ended June 2010, the number of menu items labeled as healthy grew by 65%, vegetarian options were up 12%, and menu items containing fruits/vegetables grew by 10% (Mintel Menu Insights, 2010). Fortified items are also moving onto menus. Life'sDHA™ is featured in 16 varieties of salad dressings and sandwich toppings available at Quiznos. Subway offers a new 9-grain bread with omega-3s along with its Fuze® fresh-brewed iced tea, which is naturally high in antioxidants.
Two-thirds of restaurant diners report that nutritional data disclosure on menus has affected their menu choices; 20% say it has had a great impact, and 47% say it has had somewhat of an impact. A year ago, only half said the same (Technomic, 2010c). Six in 10 (61%) sought out lower-calorie alternatives, 36% opted for smaller portions, 35% no longer ordered certain items, and 33% ordered fewer foods/drinks from restaurants.
It is clear that, in addition to keeping up with the continually evolving taste preferences of their customers, foodservice operators must be increasingly attuned to the nutritional profiles of their offerings.
A. Elizabeth Sloan, a Professional Member of IFT and Contributing Editor of Food Technology, is President, Sloan Trends Inc., 2958 Sunset Hills, Suite 202, Escondido, CA 92025 ([email protected]).