It's hard to believe but this past IFT Annual Meeting & Food Expo marked the beginning of the second decade of our event in the 21st century. (Or to put it another way, this was the 11th meeting of this century, if you count the year 2000 as the first one.) In any case, it seemed only like yesterday that we were wondering if Y2K would mean the end of civilization (ingredients included).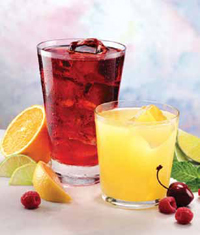 When covering this year's event, I couldn't help thinking back on some of the major ingredient developments of the first decade and how these developments were reflected at each Annual Meeting & Food Expo. Certainly on the economic side, the latter end of the past decade presented a rather gloomy scenario for the food industry; at the same time, partly because of this economic climate, many new replacers and extenders for more costly ingredients gained position in the spotlight as formulators searched for shortcuts and other cost-effective approaches. (One company this year launched at Annual Meeting & Food Expo what it termed a "microsite" designed to showcase starch-based alternatives that are less expensive and can maintain consumer appeal, product texture, and processing performance.) Another possible "silver lining" was that this climate may have helped stimulate the development of new sauces; more exciting flavors, especially those from around the globe; and more authentic ethnic preparations, to be used in conjunction with foods utilizing less expensive ingredients.
With the growing attention on the reduction of ingredients such as salt and sugar, the use of new flavor enhancers/masking agents was given a real shot in the arm. The exploration of this area continues to become more sophisticated, and it wouldn't surprise me if we saw more developments at the molecular level.
Over the past decade, fats and oils moved into focus. A variety of these ingredients were created to replace trans fats in the formulation. And more recently, healthier fats and oils are being created as a possible alternative to saturated fats. Oils with enhanced seed traits continue to emerge. In the future, we should gain a better understanding of the distinctions of each fat and the kinds of nutrition and functionality benefits that each offer.
Other exciting developments that evolved over this past decade included the application of whole grains and gluten alternatives, more authentic flavors, and the development of prototypes that may help in the curbing of such major challenges as obesity and diabetes.
And, of course, the evolution of ingredients continues. This year, one ingredient company held a joint press conference with a food manufacturer that uses the ingredient in the marketplace. That could have interesting consequences on how future ingredient development is approached. When looking at the following highlights of the Food Expo, it would prove rewarding to keep in mind how these developments reflect the major trends of the first decade and how they might influence future decades.
Brazilian Facility Produces Gelatin
A leading global gelatin supplier, Gelnex, announced the start-up of its third production facility in 12 years at a media event. The new facility, which produces bovine gelatin, is located in Araguaina, a northern Brazilian city, and is situated near raw material sources, reducing transportation costs, increasing efficiency, and facilitating traceability.
Gelnex was the result of a collaboration between Hector Cobelo, a major developer of the Brazilian gelatin industry, and Michael Lerner, an American businessman and descendent of the Leiner family, whose name has been linked to the gelatin industry since 1776. Their objective was to start a gelatin company that would pioneer the production of Type A pigkin gelatin in South America. In November 1998, Gelnex opened the first pigskin gelatin manufacturing plant in South America, located in Ita, in the state of Santa Catarina, Brazil. In October 2004, the company opened a second plant located in Nazario, in the state of Goias, Brazil, to produce beefskin gelatin. Both plants are also strategically located near raw material sources.
--- PAGE BREAK ---
With its corporate office in Brazil, the company specializes in offering high-quality pigskin and beefskin gelatin with functionality suited for use in a number of applications such as marshmallows and gelled confectionery, dairy products, gelled desserts, ice cream, and pharmaceutical capsules. A protein obtained from the partial hydrolysis of collagen, gelatin is capable of producing clear, thermo-reversible gels that melt at body temperature. Its functionality properties include gelling agent, thickener, stabilizer, film former, protective colloid, emulsifier, foaming agent, beverage clarification, protein fortification, and adhesive agent.
"All three of our plants take advantage of location and advanced technology to reduce energy demands, enhance water conservation, and use renewable sources," said Felipe Chaluppe, the company's Vice President, Sales and Marketing. "This newest plant is the culmination of all we have learned, and all of the latest technologies, such as solar photovoltaic systems, solar water heating, wastewater recycling, and use of renewable biomass fuels."
More information about these facilities can be obtained from Gelnex USA, Manhasset, N.Y. (phone 516-869-1623, www.gelnex.com).
The ABCs (and DEFs) of Stevia
A new stevia product, SG95 from PureCircle USA Inc., Oakbrook, Ill. (phone 866-960-8242, www.purecircle.com), provides food and beverage manufacturers a low-cost solution to partial sugar and calorie reduction. The company recently received an FDA GRAS "No Objection" letter for this product, enabling it to offer a wider and more flexible array of stevia solutions to manufacturers in the U.S. market.
Along with seven previously approved steviol glycosides, SG95 includes new ones, Rebaudioside D and Rebaudioside F, both of which are receiving GRAS No Objection for the first time. The high-purity sweetener delivers taste and consistency, as well as pricing well below sugar. Products can be formulated with both SG95 and sugar to achieve a low-cost solution for partial sugar and calorie reduction. With the company's high-purity Reb A 97, SG95 will provide customers with an expanded range of options to improves products across their portfolios. The company is prepared for its immediate commercialization.
At the IFT Food Expo, the company also launched Steviacane, the first new product from Natural Sweet Ventures, a joint venture between PureCircle and Imperial Sugar. Steviacane provides an innovative sweet solution with the same sweetness as sugar but with fewer calories and less added sugar. It is produced through a special proprietary compound crystallization process that binds pure cane sugar and Reb A stevia together. By doing so, Steviacane reportedly achieves a more consistent, uniform dispersion of sweetness and an improved sweetness profile over a simple blend of sugar and stevia. Naturally sweet Steviacane combines the benefits of the highintensity sweetness of stevia with the taste and bulking characteristics of cane sugar. Available in crystallized and liquid formats, it can be used in any food or beverage application that currently uses sugar or high fructose corn syrup, and it is similar to sugar in terms of temperature stability, bake-stability, and pH stability.
PureCircle also discussed the creation of the Global Stevia Institute (www.globalsteviainstitute.com), which will serve as an educational resource center for members of the industry and the public looking for existing, science-based information about stevia. It consists of a scientific advisory board and expert panel that will provide educational opportunities through health professional events and via its website. PureCircle provided investments for resources and expertise to advance the knowledge base of the natural high-intensity sweetness category, thereby creating the Global Stevia Institute.
--- PAGE BREAK ---
New Oils Popping Up in the Marketplace
Heart-healthier ingredients utilizing omega-9 canola oil were launched by Dow AgroSciences, Indianapolis, Ind. (phone 800-678-2388, www.Omega9Oils.com), at a press conference. The company's new Omega-9 Oils Ingredient Solutions can help food manufacturers eliminate trans fats and reduce saturated fat without compromising food quality, functionality, or performance, while increasing monounsaturated (omega-9) fat levels in their products.
The ingredients, which may be used to produce better-for-you baked goods, snacks, and packaged foods, are available as customized oils, spray oils, and shortenings. Omega-9 shortening, for example, maintains important product functionality qualities, including flavor, shelf life, texture, and mouthfeel.
"We believe that quality and progress shouldn't require a compromise," said David Dzisiak, Commercial Leader Oils for Dow AgroSciences. " Through extensive product formulation research and development, our omega-9 solutions team works to ensure our customized solutions help companies improve the health profile of a product, without changing the key attributes their customers expect from their favorite brand."
Using its canola oil solutions, the company partnered with Indiana-based Weaver Popcorn Company, a producer of more than 30% of the world's popcorn, to develop a healthier product formulation for the Pop Weaver brand of microwave popcorn (Butter, Extra Butter, and Light Butter). The new formulation entirely replaces the popcorn manufacturer's existing product line, and is already in the marketplace. It has more than a 30% reduction in total fat, including 60% less saturated fat, while delivering the rich buttery flavor of the previous version.
The Weaver Popcorn Company was also present at the press conference, discussing its specific needs and how the canola oil solution helped meet those needs. Samples of popcorn were available for tasting.
According to Dzisiak, Dow AgroSciences understands that the oil and shortening needs of each manufacturer are often unique, with specific application requirements. To meet this need, the company's omega-9 solutions team has the resources and technology, along with the technical and product formulation expertise, to provide the best solutions for food manufacturers.
A Sorghum Solution
Grain sorghum originated in Africa and India, and is one of the oldest known grains. Around the world, it is used in such foods as porridges, breads, cookies, and tortillas. Color varieties of sorghum range from dark brown to red to white.
A new sorghum flour from Archer Daniels Midland Co., Decatur, Ill. (phone 800-637-5843, www.adm.com), was developed for use in gluten-free and multigrain applications. Its light color and neutral flavor makes the flour suitable for such products as cakes, cookies, breads, pizza crust, muffins, and pancakes.
"With sorghum flour, we can offer customers a glutenfree solution that is more economical than most specialty flours," said Brook Carson, ADM Technical Products and Market Manager. Processed similar to wheat flour, white sorghum flour has a bland flavor that can be beneficial because it does not add an unfamiliar or distinctive taste. A whole-grain white sorghum flour can be used to provide nutritional benefits associated with whole grains.
--- PAGE BREAK ---
The company featured a prototype gluten-free brownie that demonstrated the functionality benefits of the sorghum flour. To create this indulgent formulation, the ingredient was used with Vegefull bean powder as a replacement for traditional wheat flour and then combined with DeZaan™ cocoa and Ambrosia®  chocolate. Sorghum flour can also be used in combination with other flours or starches, depending on the application. For example, a gluten- free bun may use sorghum flour and gluten-free starches while a gluten-free chocolate chip cookie may require a blend of multiple gluten-free flours to achieve optimum flavor, color, and texture. A whole-grain sorghum pancake can be created using white sorghum flour and whole-grain sorghum flour.
New Concepts for Snack Pellets
Snack concepts, in a variety of flavors, shapes, and forms, were showcased by J.R. Short, Kankakee, Ill. (phone 815-263-5344, www.shortmill.com). For example, a Chocolate Marshmallow Snack is a multigrain shape that includes cocoa powder and marshmallow flavor internally in the extruded pellet. The technology used helps snack manufacturers develop new products that deliver distinct flavor profiles without adding topical seasoning generally used with pelletbased snacks.
"Imagine munching on this sweet, multi-grain snack on your morning commute without worrying about sugar or icing on your fingers," said Terry Gieseke, the company's Director of Sales and Marketing. "This concept also has great foodservice potential. "When the cocoa marshmallow treat is air popped, it can provide a full ounce serving (about 22 pieces) for 100 calories.
Next month's Ingredients section will look at other snack prototypes, including sweet potato snacks, corn straws, and high-fiber twists.
Blueberry Biscuitry?
A biscuit formulation, Blueberry Biscuit Stick, showcased the functionality of blueberry ingredients. The prototype, presented by U.S. Highbush Blueberry Council, Folsom, Calif. (phone 650-824-6395, www.blueberry.org), is a small, bite-sized treat that can be eaten on the go. Easy to handle, it can be incorporated into quick breakfasts, at-desk lunches, and busy-schedule snacks.
The use of blueberries can provide the biscuit with a number of advantages, including taste, sweetness, color, textural properties, and antioxidant potential. The wide variety of blueberry formats available year round allows a range of choices to suit any product developer's needs. This formula can be used as a starting point for adding blueberries to other biscuit products, such as biscuit balls, biscuit crisps, biscuit squares, gluten-free biscotti, and biscuit "bursts" (with blueberry filling).
A copy of a free handout, The Art of Blueberry Biscuitry, is available that discusses the latest advancements in "biscuitology," and the different ways that blueberries can be included in the formula.
Formulating with Flaxseed
To expand its product line, Grain Processing Corp., Muscatine, Iowa (phone 563-264-4265, www.grainprocessing.com), has formed an alliance with Enreco Inc., Newton, Wis., to offer Sterling Choice® flaxseed. This ingredient was highlighted in a number of prototypes including gluten-free cinnamon rolls, pizza crust, gluten-free snack chips, and fruit smoothies.
Whole and ground flaxseed ingredients are easy to add to a wide range of applications. Flaxseed, which has a pleasant flavor and slightly sweet and nutty aroma, pairs well with whole-grain products but can also be formulated into milder flavored and textured products. Whole flaxseed can be used especially for its visual appeal, whereas ground flaxseed unlocks the nutritional benefits to a greater extent and provides ingredient functionality.
--- PAGE BREAK ---
The most apparent functional characteristic of ground flaxseed is adding moistness to finished products, especially bakery items and gluten-free formulations, and it can be used as a partial replacement for saturated fat. Prototypes highlighted the compatibility of flaxseed with starches, oat fiber, and other ingredients from GPC. For example, the gluten-free cinnamon rolls demonstrated how these ingredients can be used to overcome functionality challenges associated with gluten-free bakery products. Pure-Dent® B700 corn starch works as a clean-flavored bulking agent and improves the dough consistency when rolled. Inscosity® B656 modified food starch supports cell structure development and provides volume and moisture retention in the finished product.
Sterling Choice Smooth Grind golden flaxseed was added for its nutritional benefits, including ALA omega-3 fatty acids and fiber content, allowing for the cinnamon rolls to attain the status of "an excellent source of ALA omega-3 fatty acids." A fiber claim was difficult to achieve, so whole grain content was targeted using whole-grain sorghum and buckwheat flours. The glutenfree cinnamon rolls contain at least one-half of a whole-grain serving, qualifying for the Whole Grains Council basic stamp at 8+ grams per cinnamon roll.
Taste Platform Updated
A new taste platform for flavors was launched by Symrise, Teterboro, N.J. (phone 201-462-2389, www.symrise.com), at a press conference. The platform is an updated version of a previous strategic platform, taste for life, and is designed to reflect changing consumer preferences with respect to lifestyle and nutrition, trying to find a balance between "holistic health and pure pleasure."
According to Emmanuel Laroche, the company's Vice President, Marketing & Consumer Insight North America, the new taste for life platform is an evolution of the previous one which was introduced successfully in 2006 and emphasized product solutions for health only. Today, the new platform encompasses all of the company's taste solutions. In a singled branded platform, it connects consumer desires, the requirements of the industry, and the company's comprehensive and multifaceted competencies and expertise.
With this platform, the company helps its customers to position their brands and products in this middle ground between "holistic health" and "pure pleasure." In this middle area, Symrise has currently identified "five pillars" for positioning product developments. A variety of food and beverage prototypes were created to showcase taste solutions that represent these following five pillars.
• Stay Vital. Taste solutions are created for products with functional value that deliver active benefits for a healthy lifestyle. Citrus Energy Iced Tea featured the company's masking and citrus competencies, and Vanilla Bars employed a soy-masking technology.
• Lighten Up. Taste solutions, developed for food items that have less salt, fat, or sugar, provide full flavor and do not compromise on taste impression. Java 'n' Fruita, a low-sugar refreshing fruit fusion beverage blending fruit, ginseng, and coffee, used SymLife Sweet Technology; Granola Clusters were made with SymLife Sweet Technology; and Asianinspired Broth featured SymLife Salt and Umami Technologies.
• Be Natural. These taste solutions are made from natural ingredients. Vanilla Bean Cake highlighted vanilla competency and a Tzatziki Dip was made with enzyme-modified cheese and natural seasonings that are free of trans fats, monosodium glutamate, and artificial flavors and colors.
• Just Enjoy. For foods that give consumers an authentic experience, these taste solutions offer full-bodied flavors and indulgent taste traditions. Prototypes included North African Snack Seasonings (Citrus Piri Piri and Harissa), and Cheddar, Spicy Mustard, and Ale Sauce.
• Get Excited. And if you're looking to impart sensations to your products, these taste solutions are designed to awaken consumer's senses. Grilling sauces tantalize taste buds with American and globally inspired flavors. Prototype products are made with OptaBreeze cooling technology, OptaFlow mouthwatering technology, and OptaHeat heat technology.
--- PAGE BREAK ---
Developing Better-for-You Cheeses
Following a year-long development project, Sargento Food Ingredients, Plymouth, Wis. (phone 800-795-7090, www.sargentofoodingredients.com), rolled out a line of natural cheeses that are said to have 25% less sodium while providing the flavor and melting characteristics of its regular counterparts. The products were developed using a patent-pending cheese-making process without the use of salt replacers or flavor-masking ingredients.
"We were able to successfully reduce sodium levels with salt replacers, but the cheese never passed our stringent sensory hurdles," explained John Brody, the company's Technology Principal R&D. "In the end, we gave up on salt replacers and just removed 25% of the sodium."
Currently, five varieties of reducedsodium natural cheeses are available in various formats—Mild Cheddar (shredded), Whole Milk Mozzarella (shredded), Provolone (sliced), Colby Jack (sliced, sticks, and cubed), and String (cubed). As with other Sargento cheeses, the reduced-sodium versions can be custom packaged to suit specific manufacturing needs and can be added to salads, entrees, soups, or meal kits.
In addition to the reduced-sodium natural cheeses, the company's Better-for-You line included reduced-fat natural cheeses. These products are made with 2% milk, offering a 33% fat reduction while retaining taste and texture characteristics. Varieties include Mild Cheddar, Medium Cheddar, Sharp Cheddar, Pepper Jack, Colby Jack, Provolone, Swiss, Part-Skim Mozzarella, String, Four Cheese Italian, and Four Cheese Mexican. Available in a variety of formats and packaging, they may be added to salads, sandwiches, entrees, soups, or meal kits.
The company also showcased its new Duets™ portion-control packaging system, which reduces material and handling costs while increasing efficiency. The system, which features a single pouch with two portion-control compartments, may be used for pizza, wraps, tacos, casseroles, quesadillas, frozen potatoes/vegetable, meal kits, frozen bread, and salad.
Station Showcases Sea Salt Solutions
At its newly designed booth, aptly called a "Salt Inspiration Station," Morton Salt, a K+S Group Co., Chicago, Ill. (phone 312-807-2513, www.mortonsalt.com), highlighted a variety of sea salt grades. These salt salts and the distinctive characteristics of each one are explained in a free brochure, "She sells sea salt." Say that title 10 times really fast.
California Pure Sea Salt, for example, is a natural sea salt harvested from the water taken from the San Francisco Bay using solar evaporation. The salty water is concentrated in an open shallow pond and then crystallized into pure sea salt through evaporation via solar heat and wind. The harvested salt is then washed, dried, and screened to optimum size—coarse, medium, and fine. This is a food grade salt that is generally recognized as safe, and is suitable for use in products labeled as organic. Applications include food grade salt brine, spice blends, grinder salt, and fishery salt.
Refined Sea Salt is a food-grade, granulated salt created by dissolving sea salt harvested from water taken from the San Francisco Bay into a brine solution that is then recrystallized using a vacuum pan production method. The salt crystals produced in this process are cubical in shape and extremely uniform in size. The salt is screened to the size of table salt, and there are no additives. (Also available is TFC Refined Sea Salt, which is the same size as Refined Sea Salt except that it has been treated with a trace of sodium ferrocyanide, an anticaking agent.)
Applications for refined sea salt include vegetable canning, soups, meat, poultry, cheese, and dough salt.
Extra Fine Refined Sea Salt is the same as Refined Sea Salt except that it is screened to the smaller "extra fine" size. The extra-fine salt crystals are a mixture of whole and fragmented cubes. Applications include salted nuts, potato chips, soup bases, and snack seasonings.
The Morton Salt brochure features a chart comparing the chemical properties, physical properties, and packaging of each sea salt.
--- PAGE BREAK ---
Saying Wee-Wee-Wee to New Concentrate
A new natural concentrate from Butter Buds Food Ingredients, Racine, Wis. (phone 262-598-9900, www.bbuds.com), can impart bacon flavor along with fatty richness and mouthfeel. The ingredient, Butter Buds Bacon, is suitable for vegetarian food products as it contains no animal fat. It may be labeled as "Bacon Type Flavor" or "Natural Flavor," and has been granted the kosher Parve certification.
The highly concentrated bacon flavor, spraydried on a maltodextrin carrier, is based on the same technology used to make the other Butter Buds natural concentrates (butter, cream, cheese, cocoa, and beer). Flavor characteristics for this latest addition can be described as savory, meaty, bacon flavor with fatty background notes. Available as a white powder, it offers the aroma of a strong bacon concentrate.
The concentrate is said to be effective in such applications as snack seasonings, processed cheeses, salad dressings, sauces, and dips. It may also be used in a brine solution or meat marinades to add rich, savory notes to poultry and meats. Usage level is recommended at 0.1-2.0% of total batch weight. Highlighted formulations using the concentrate included Bacon Chip Seasoning, Chili con Carne Soup, and Bacon Alfredo Sauce Mix.
The powdered ingredient consists of maltodextrin, bacon type flavor (sunflower oil, smoke flavor, with other natural flavors), rice starch, salt, and tocopherol (vitamin E).
Fermenting Ideas for Sodium Reduction
Two new products from Kikkoman Sales USA, Inc., San Francisco, Calif. (phone 415-229-3605, www.kikkomanusa.com), are designed to naturally enhance flavor and meet the demand for reduced-sodium formulations. Both products are made using the same essential ingredients found in soy sauce.
Kikkoman NFE Natural Flavor Enhancer, available in liquid and powdered forms, works as both a flavor enhancer and salt enhancer. Developed with proprietary fermentation technology, this savory flavor booster has neutral taste, low color, and strong umami characteristics. It can be used to bring out the inherent flavor in a broad range of product categories, and can elevate the salt perception in almost any sodium-reduced offering.
Kikkoman Less Sodium PTN (Premium Total Nitrogen) is a tamari-style soy sauce, featuring high-impact soy sauce flavor, with the added benefit of reduced sodium. During manufacturing, the company uses a proprietary process to remove excess salt, resulting in a soy sauce with stronger flavor and no dilution. The higher amino acid content offers increased flavor enhancement properties. Its flavor can withstand the harshest production and cooking environments.
Kikkoman NFE was used to reduce sodium and replace monosodium glutamate in such prototype dishes as French onion dip served with potato chips, tomato soup, balsamic vinaigrette salad dressing, and pork stir fry. Szechuan green beans featured Kikkoman Dehydrated Soy Sauce KF-1, as a crisp, shelfstable, and ready-to-eat snack.
--- PAGE BREAK ---
Solutions for Every Meal of the Day

Under the theme, "An App for Every Flavor Situation," Wixon Inc., St. Francis, Wis. (phone 414-769-30000, www.wixon.com), developed a menu that provides flavor system applications for every meal of the day and a solution for every flavor situation. The prototypes were designed by the company's Corporate Chef, Judson McLester, better known as Chef Jud.
Omelet Sticks, a golden-fried portable breakfast of reduced-sodium bacon, is wrapped in seasoned potatoes and infused with a herb seasoning. It was served with Maple Brown Sugar Ketchup, made with Magnifique Sugar Lift technology to enhance sweetness on the go.
Antonjitos, Mexican-inspired street food, are grilled flat bread layered with shredded hickory-smoked mole-seasoned cabbage, Orange Goji Berry Vinaigrette, and Aji Amarillo Annatto marinated chicken. The vinaigrette is developed with Mag-nifique Sour Away; Mag-nifique Sweet Lift for a synergistic effect with sugar that enhances perceived sweetness; and Garam Masala seasoning. The chicken is enhanced with Aji Amarillo seasoning that features KCLean Salt, an all-natural flavor modifier that matches the taste and texture of regular salt with half the sodium, and Wix-Fresh Umami to enhance natural flavors.
Thai Slider with Coconut Coleslaw highlights a Thai flavor system. A pan-seared blend of beef, pork, and chicken, along with water chestnuts, coconut milk, and Thai seasoning, is served on a yeast-raised roll topped with coconut coleslaw. Made with Wix-Fresh Miner Max, the protein technology provides an antioxidant benefit while potentiating savory notes and inhibiting oxidation. The slider is also prepared with Wix-Fresh Umami.
At its snack station, Wixon showcased prototypes that are low in sodium and sugar. Sweet flavors of honey, sugar, and tomato combined with the zest of Worcestershire, smoke, and chili peppers help create the tangy BBQ Baby Back Ribs Potato Chips. Made with Sweet Lift and KCLean Salt, sugar is reduced by 34% and sodium by 38%. French Toast Corn Puffs feature a medley of cinnamon, nutmeg, vanilla, and maple, combined with butter and white and brown sugars. Sweet Lift reduces the sugar content by 43%. Cheeseburger Potato Chips, flavored with beef, cheese, onion, dill pickle, tomato, and mustard, is made with KCLean Salt, offering a 24% reduction in sodium. Sweet Potato Pie Chips infuse brown and white sugar with vanilla and marshmallow. A blend of spices, including cinnamon, nutmeg, allspice, ginger, and cloves, round out this chip with a 51% reduction in sugar from Sweet Lift.
All of these items can be washed down with the Skinny Margarita, described as a cocktail with no guilt. Made with Magnifique for Stevia, it contains zero sugar and reduced calories.
Quenching Desires for Vanilla and Other Flavors
The versatility of vanilla as an ingredient was demonstrated by Virginia Dare, Brooklyn, N.Y. (phone 718-788-1776, www.virginiadare.com), during a media event held at the Chopping Block, a premier cooking school. Vanilla was used in a number of dishes prepared by chefs and members of the media in a hands-on, interactive demonstration.
The event started with welcome appetizers, which included Endive Spear with Blue Cheese and Vanilla Mousse, Goat Cheese Tartlets with Fresh Tomato and Vanilla Relish, and Vanilla-Buttered Popcorn. The vanilla mousse featured classic Bourbon from Madagascar, chosen because its subtle complex flavor pairs well with rich, decadent foods. The relish was made with high-grade Indonesian vanilla, which has a clean, sweet profile and is good for harmonizing multiple flavors. The popcorn uses vanilla (Indonesian early pick) that has a smoky character that helps push the popcorn flavor through the butter.
--- PAGE BREAK ---
The dinner menu included Summer Squash Salad with Pine Nuts and Citrus-Vanilla Vinaigrette, Walleye Pike with Sweet Corn and Vanilla Coulis, and New Potato Salad with Smoky Vanilla Aioli. The vanilla used in the vinaigrette was a Bourbon from Madagascar but of different cultivation and curing process than the one used in the mousse—this one was more caramelic and fruity, complementing the citrus. The coulis featured a Mexican "type" vanilla which offers more complex aromatics and body than Bourbon, and may be used as an alternative to real Mexican, which is scarce and very expensive. In the aioli, an Indian Fair Trade Certified Vanilla was used that provides a clean, creamy profile that complements the garlic, eggy notes of aioli.
And for dessert, there were Profiteroles (cream puffs) with Chocolate Ice Cream and Vanilla Sauce. The cream puffs used a Tahitian "type" vanilla from Papua New Guinea—a different species that is popular in gourmet foods, especially in Europe. The sauce is made with a Ugandan vanilla, similar to the one used in the vinaigrette but with stronger chocolate notes that provide a bridge between the vanilla cream puff and the chocolate ice cream.
Not too surprising, vanilla also played an important part at the company's booth. The most delicate aromatics and complex, full-bodied flavor profiles were experienced in vanilla tea beverages. Blood orange vanilla cream and mangosteen vanilla orchid beverages were highlighted. Vanilla flavors, extracts, concentrates, and oleoresins are made from beans from every commercially viable origin.
In addition to the varieties of vanilla, Virginia Dare featured trendy new flavors, various masking flavors, and assorted teas under its "Garden of Flavors" theme. Some of the other concepts included nectarine-jasmine green tea, black currant raspberry black tea, and candies (peach honey rooibus and berry black tea pectin) made with sweetener/sugar alternatives that demonstrated the company's masking capabilities.
New Line of Whole-Grain Pastas Launched
A new generation of whole-grain pasta was introduced by ConAgra Mills, Omaha, Neb. (phone 402-240-5153, www.conagramills.com) and The J.M. Swank Co., a national ingredients distributor. The line of pasta is based on Ultragrain, a whole wheat flour that combines the nutrition of whole grain with the taste, texture, and appearance of whole flour.
Ultragrain Pastas are said to have a mild flavor, smooth texture, lighter color, and no brown specks—the same benefits of traditional refined flour pasta—in addition to whole-grain nutrition and fiber. Varieties available include penne, macaroni, rotini, and spaghetti, all made with 51% Ultragrain  and a 51% whole 9-grain orzo made with Ultagrain, Sustagrain (an ultra-high fiber whole grain with three times the soluble and total fiber of oats), amaranth, quinoa, teff, sorghum, millet, and other whole grains.
ConAgra showcased the new line of whole-grain pastas in a number of prototypes, including Mediterranean Salad with 9-Grain Orzo, Short Rib Ragu with Ultragrain Penne, and Wisconsin Cheddar Mac & Cheese with Ultragrain Macaroni.
In addition to the whole-grain pastas, the company also featured its other ingredients, including Eagle Mills®  Gluten-Free All-Purpose Multigrain Flour Blend, Ancient Grains, and Mumbai Gold™ Fresh Chakki Atta. Prototypes that utilized these ingredients included Gluten-Free Orange and Pistachio Biscotti and Pizza Bianco with Spinach, Ricotta, and Mozzarella on a Sustagrain® Crust.
--- PAGE BREAK ---
Starches Offer Cost-Effective Alternatives

"Our IFT prototypes and live cooking demonstrations show manufacturers how starch-based solutions can help them create innovative products that excel in texture, health, clarity, and value," said Terry Thomas, Vice President-General Manager North America, National Starch Food Innovation, Bridgewater, N.J. (phone 908-685-5555, www.foodinnovation.com). "Starch ingredients also serve as an excellent alternative to costly ingredients, which can dramatically reduce formulating costs."
Product concepts represented four major product categories—bakery, dairy, savory, and beverage.
For example, a brownie contained Homecraft Create 765, a specialty flour that can reduce fat content while maintaining texture and sensory properties. Hi-maize® 260 resistant starch  and Hi-maize whole-grain corn flour were also presented in a whole-grain savory cornbread and a fritter.
A creamy low-fat chipotle ranch sour cream dip was made with Precisa Cream 20 texturizing solution that replaces part of the cream without compromising on consumer appeal. Other dairy prototypes that featured starch solutions included a flavored yogurt and Fromage Frais, an indulgent dessert with a European flair.
A fortified beverage, Coola Jazz, showcased Q-Naturale® natural emulsifier and Nutriose® soluble fiber. Other prototypes, clear and alcoholic beverages, demonstrated the superior performance and clarity of the emulsifier.
Savory prototypes included Chilled Sweet Pea Soup with Mascarpone Mint Gelato (made with Homecraft Gold for fat reduction without loss of texture and Nutriose FB06 for fiber enrichment); Smoked Tomato Soup (containing Novation Prima 600 for heat and freeze/thaw stability) served with Cheddar-Apricot Fritters; and Carrot Ginger Soup (made with Precisa Cream 50 for cream reduction without loss of texture).
Also highlighted were gluten-free dishes. These included Smoked Mac 'n Cheese Sauce served with gluten-free pasta; and Gluten-Free Breaded Chicken Strips with Aji Amarillo Yellow Pepper Sauce.
The company also launched its new microsite (valuematters2national.com, a part of foodinnovation.com) which is designed to showcase starch-based alternatives that can replace costly ingredients or improve processing while maintaining consumer appeal, product texture, processing performance, and shelf life.
From Breakfast Bites to Dairy "Soothies"
The dairy ingredients program of U.S. Dairy Export Council (USDEC), managed by DMI, Rosemont, Ill. (phone 847-803-2000, www.innovatewithdairy.com), supports new prototype developments in the U.S. market. Recent research is available that demonstrates how U.S. dairy ingredients can contribute to improved taste, functionality, and nutritional benefits that meet consumer demands. Included are the latest findings from the Innovation Center for U.S. Dairy which highlight new consumer research and marketing potential for dairy in the emerging snack category. The results of this study will be highlighted in the October Ingredients section focusing on snack ingredient developments.
--- PAGE BREAK ---
A variety of prototype foods and beverages that incorporate value-added dairy ingredients were highlighted by USDEC. These prototypes demonstrate innovative solutions that can help solve many of today's formulation challenges.
For example, start the morning with portable, protein-rich Breakfast Bites. The prototype has 70% more protein than similar on-the-go products in the marketplace and a serving that has 40% less sodium as well. Its filling consists of a blend of IQF frozen scrambled eggs, diced yellow onion and green bell pepper, Cheddar and Romano cheeses, and black pepper. The portable product is made with milk protein concentrate for adding dairy protein and calcium while helping to build body and texture of the bread; nonfat dry milk powder for helping to build body and texture of the bread and contributing to the browning of the crust; whey permeate for enhancing flavors and salt perception and improving surface browning while providing a clean dairy flavor; whey protein concentrate for boosting protein content; and cheese/butter for distinctive and exciting taste.
Cheesy Dip for Veggies can help entice children and teens to eat their vegetables by appealing to their love of pizza. The all-natural layered cheese dip can be served with raw veggies such as carrots and celery. It starts with a layer of Neufchatel cheese, then covered with a veggie pizza sauce and topped with mozzarella and Parmesan cheeses. This fun snack can be served warm or cold.
Coconut Cream Tartlet evokes memories of grandma's cream pie with portion-controlled creamy indulgence. This dessert prototype contains coconut cream pie filling served in a buttery pie shell. It is made with whole milk, which contributes a rich dairy flavor and provides structure, texture, and stability; heavy cream for providing a creamy texture and smooth mouthfeel, as well as rich dairy notes that complement the coconut flavor; and unsalted butter for adding flavor and flaky texture to crust.
Protein Chiller is a novel, on-a-stick frozen snack that may be positioned as an alternative to snack bars. A serving has 120 calories and 3 grams of fat, and is an excellent source of protein (12 g) and calcium (265 mg). It contains whole milk, milk protein concentrate, and whey protein isolate.
And do you want to unwind after a long day? Try Honey Lavender Soothie for an upscale taste experience that combines milk with the flavors of honey and lavender. The warm, creamy milk-based prototype, patterned after popular smoothies, is an excellent source of protein and calcium. It contains low-fat milk and whey protein concentrate.
Dairy Proteins Address Functionality Challenges
Dairy-based protein ingredients from Fonterra (USA) Inc., Chicago, Ill, (phone 847-928-1869, www.fonterranorthamerica.com), were showcased in a number of prototypes demonstrating their functionality and nutritional benefits.
For example, a functional milk protein, DeluxeProtein™, can enhance the taste and texture of a thick, creamy Greek-style yogurt. The ingredient may be used in place of starches and other stabilizers, and provides nutritional benefits.
A next-generation whey protein concentrate powder, PowerProtein™515, delivers specific functionality for aeration in protein bars. An indulgent nougat bar demonstrated the ingredient's ability to provide a light fluffy texture as well as an excellent source of protein.
A full range of whey protein isolates, under the name ClearProtein™, are designed for clear, clean-tasting powdered and ready-to-drink applications.
A reduced-salt savory cheddar cheese was developed that has a distinctive semi-mature flavor profile, a uniform cream color, and a firm smooth body. The product contains 40% less salt than standard cheeses, enabling food manufacturers to produce applications lower in sodium.
--- PAGE BREAK ---
Darker Caramel Color Has Superior Acid Stability
An acid-proof Class One caramel color was developed by D.D. Williamson, Louisville, Ky. (phone 502-895-2438, www.ddwilliamson.com), for its North American customers. The darkest Class One caramel color in its product line, this new addition provides stability below pH 2.5.
"Caramel Color 520 provides a new option—flavor and beverage developers can now select a darker Class One with acid stability," said Greg Kreder, Product Development Scientist for the company. "It is minimally processed and demonstrates superior stability in acid compared to standard Class One caramel colors."
For customers exporting to the European Union, the new caramel color may be labeled as "Color Plain Caramel" or "Burnt Sugar" depending on the function the product is serving in the food or beverage application. If flavor rather than color represents the purpose, then "Burnt Sugar" is a label option.
Protein Systems Offer Functionality Solutions
Protein systems from Glanbia Nutritionals, Monroe, Wis. (phone 608-329-2800, www.glanbianutritionals.com), demonstrated functionality properties in a number of prototypes. One solution, OptiSol® 5000, may be used to replace fats, gums, and gluten in baked goods, tortillas, and pasta while improving flavor, texture, and shelf stability.
Dairy-based OptiSol 1200 improves flavor, texture, color, and antioxidant properties in processed meat applications. Quesadillas featured a choice of naturally cured ham or Southwest ground turkey that highlight the application possibilities of the ingredient.
OptiSol 1000 exhibited superior emulsification properties in a chipotle ranch sauce. The emulsifying protein systems increase thermal stability, salt tolerance, pH tolerance, and shear stability in formulations including sauces, soups, dressings, and dairy-based dips.
A Cluster of Ideas
Custom whole-grain clusters from 21st Century Grain Processing, Kansas City, Mo. (phone 816-994-7619, www.21stcenturygrain.com), have application in hot and ready-to-eat cereals, granola and energy bars, and toppings for frozen desserts and dairy products. These customdesigned coated grain-based ingredients can help enhance taste, texture, appearance, and nutritional profiles. Some examples of prototype concepts might include fruit-and-nut-flavored, custom-coated grains for soft-serve ice cream, savory granola clusters for use in trail mixes, and chocolate-drenched clusters for bar-type products.
British Division Offers Broad Portfolio
High-value ingredients, including enzymes, yeast extracts, specialty lipids, emulsifiers, extruded ingredients, and proteins are available from United Kingdom-based ABF Ingredients Ltd., a division of Associated British Foods (phone 44-1733-555032, www.abfingredients.com). The division consists of a range of ingredient companies operating under their own identities and business models. They include AB Enzymes, Abitec, Ohly, and PGP International.
20:20 Vision?
While it may be difficult to believe that the first decade of this century has already passed, here's another somewhat startling thought: 2020 is just around the corner, and it will be here before we know it.
With the new developments occurring, including those highlighted in this article, it will be interesting to speculate if the food industry will make headway in solving—or at least addressing—many of the challenges we are faced with today. What will their vision be like a decade from now? Hopefully, it will be a 20:20 one—a vision that correctly identifies the issues and takes the appropriate steps to solve them.
--- PAGE BREAK ---
Let's IngredienTalk!
Over the past four months, Senior Editor Don Pszczola's weekly blog has covered such topics as clean labeling, salt reduction, "sin taxes," portion sizes, and the Gulf disaster. If you're an IFT member, you can share your view on these and many other issues by clicking on "Join the Community" at www.ift.org.
---
SAMPLING THE EXPO
SAMPLING THE EXPO
Sweet sushi!
In the spirit of sushi-type preparations, a sweet "sushi" treat was created by Gold Coast Ingredients, Commerce, Calif. (phone 323-724-8935, www.goldcoastinc.com). The treat consisted of puffed rice crispies (bed of rice), flavored fruit snack (fish), pistachio paste (wasabi mustard), and chocolate sauce for dipping (soy sauce). The prototype featured several of the company's flavors—natural coconut cream, natural mango, natural and artificial strawberry, natural and artificial toasted marshmallow, and artificial guava.
---
Make mine Moroccan mint
A variety of clear beverages showcased new flavor distillates, part of the Treattarome line developed by Treatt USA, Lakeland, Fla. (phone 863-668-9500, www.treatt.com). On this year's menu were Moroccan Mint with Lemongrass, Blackcurrant Iced Tea, Watermelon Orange, Lemon Ginger, Orange/Tangerine Spice, and Strawberry Margarita. Flavor distillates used in these formulations included spearmint, iced tea, blackcurrant, watermelon, ginger, and strawberry.
---
Tasty torta
A savory application, Chicken Tinga Torta, featured authentic Hispanic flavors from Bell Flavors & Fragrances, Northbrook, Ill. (phone 847-291-8300, www.bellff.com), along with a sodium reduction system. Shredded chicken (Natural Flavor Enhancer for Salt Replacement and Natural Chicken Flavor Powder) is nestled inside freshly baked telera bread and topped with a zesty Roasted Guajillo Salsa (Natural Umami Rich Type Flavor and Natural Oregano Flavor WONF ). The torta is then finished with Fire-Roasted Pico de Gallo (Natural Garlic Flavor WONF and Natural Watercress Flavor WONF ). With this dish, sip a Yellow Curry Coconut Water (Natural Yellow Curry Type Flavor and Coconut Water Type Flavor) and Cupucau Still Beverage (Natural & Artificial Cupuacu Type Flavor). --- PAGE BREAK ---
---
Great (mousse) balls of fire!
Gum systems from Gum Technology Corp., Tucson, Ariz. (phone 520-888-5500, www.gumtech.com), can be effectively used in Mousse Balls and Unholy Cheeseburger Ravioli. In Chai Mousse and Chocolate Espresso Dream Mousse, both served in a ball form, a blend of lambda carrageenans holds aeration and provides an instant and smooth, creamy texture. Unholy Cheeseburger Ravioli, made with gums from the Coyote Brand line, features the flavors of a cheeseburger. 
---
Almonds + ale
A tasting experience that paired different flavored almonds with different brands of ale was provided by the Almond Board of California, Modesto, Calif. (phone 209-549-8262, www.AlmondBoard.com). Attendees were able to enjoy the bittersweet character of both ingredients, combined with their distinctive textural contrasts. Pairings included Chocolate Almonds and Guinness (a bitter dark malt), Beer-and-Bacon Glazed Almonds and Blue Moon (an ale containing white wheat and oats), and Ginger-Citrus Almonds and Sierra Nevada Summerfest (an ale "hoppier" than Guinness). 
---
A gumball rally?
Crunchy gumballs utilize a gum system, TicaPAN Quick Crunch, developed by TIC Gums Inc., White Marsh, Md. (phone 410-273-7300, www.ticgums.com). An alternative to gum arabic, this system is incorporated into the coating to enhance the crunch of the shell. The ingredient has binding and viscosity properties comparable to those of gum arabic but it dries faster and lends a crunchier texture to the finished shell. 
---
Indian dishes inspire new flavor technologies
Indian-inspired prototypes, Chicken Tikka and Jeera Rice Pilaf, awaken the senses with mouthwatering flavors and rich aromas. The dishes feature new technologies developed by Griffith Laboratories, Alsip, Ill. (phone 708-239-4202, www.griffithlaboratories.com). OptiYield™ is a customizable technology that provides improved yield effectiveness and eating qualities of meat products. NaRedux™ is a new solution for reducing sodium without compromising taste and product functionality. 
---
Low-sodium broths
Meat and poultry ingredients from International Dehydrated Foods Inc., Springfield, Mo. (phone 417-881-7820, www.idf.com), include two new frozen broths—a mild, light roasted flavor and a mild savory savory. These options are positioned as natural, cost-effective, and low-sodium.
by Donald E. Pszczola, Senior Editor, Food Technology magazine ([email protected]).